Writing about travel was not my passion before. But I started gaining interest when I see people writing about their visit to lovely places. My boundary was limited to Facebook and Instagram, like many other people. Most of them are too limited to social networks because they actually cannot find a way to express themselves or they are too busy with their Job life, their family and many other things. But without a happy face life is not "life", right? People should do what they want not for others happiness but for themselves. I built my interest when I actually fell in love with the beauty of nature. When you hit yourself with nature, only then you can realize.
Today I will share with you my experience on my trip to Jammu, situated by the Himalayan foothills. Jammu looks splendid and beautiful and also called a city of the temples, so I took one of the famous ancient temples of Hindu goddess "VAISHNO MATA TEMPLE", to visit, as the temple is situated on the lap of the mountain, Trikuta… the triple peak, where lies the holy shrine of Vaishno Devi. Trikuta mountain is covered like a green thick bed sheet, and the view is so wonderful, I surely can say that I can stare at this beauty for a whole day.
So the best time to visit Vaishno Devi is between the months of March and October. I went there with my relatives by train on 5th April in the year of 2017. Now a new railway station is opened at Katra, making it easier to reach Jammu. You don't need to rent a car, cab or bus, you can get a direct train from there. When I was deboarded, my jaw literally dropped… the view was just explainable, so we started clicking pictures.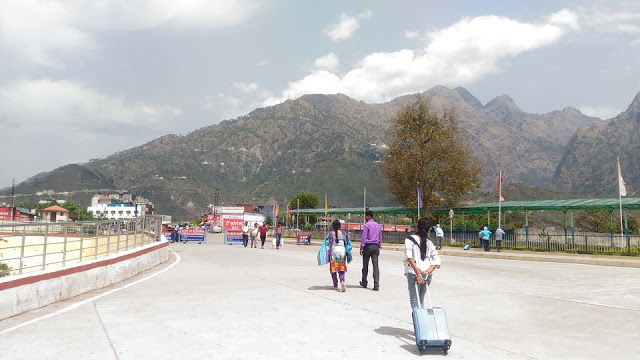 We started our journey towards Vaishno Mata temple in the evening, here I must tell you for the best time to track the mountain is in the evening because at that time the sunlight is low, the weather is good so it will be easier for the pilgrims to enjoy clear, cleaner and scenic views. The entire route has been designed in such a way that there are no steps and the path has an average and smooth gradient of one in 12, which has been further enhanced with interlocking anti-skid tiles to make walking easier for pilgrims. You can take a horse ride but I hate horse riding because I think they don't listen to their master...haha just joking.
That day the weather was good and comfortable, guys here you please note, never carry more than One bag with winter wear while trekking because it makes you feel tired also, no need to carry a bottle of water for unnecessary load, you can easily find mineral water there from the shop.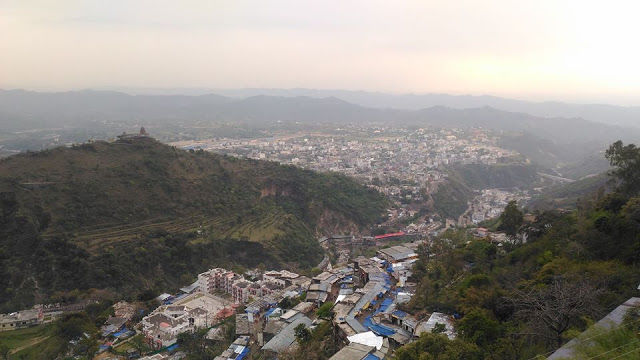 "Jay Mata Di"...people started shouting by the name of Mata Rani, so we also joined them. Actually, we Hindus believe if we shout by the name of God, we feel more powerful, strong and we can break all the difficulties which come in our way also by this we divert our mind from getting tired of walking because it's a long way to the temple.
Everything was fine but suddenly the weather turned bad. Heavy rainfall started, within a second, a thick fog came as we were unable to see anything even in the distance of one hand. We just keep going by holding each other's hand. Till now we can see only white foggy things around us but within a minute it was just a dark black, street light also gone, now you can imagine what was the condition at that time. We got scared and took shelter in a nearby hotel but not for more than 1 hr because we had to reach down within the next morning. So, without any delay we started walking, I was too tired to walk, and my mind was continuously saying "please god, I can't walk more", it is already 2.30 am yet cannot see the Mandir now. After some time, I finally saw the Mandir and took a sigh of relief …thank God. My cousins were also shouting with a happy face.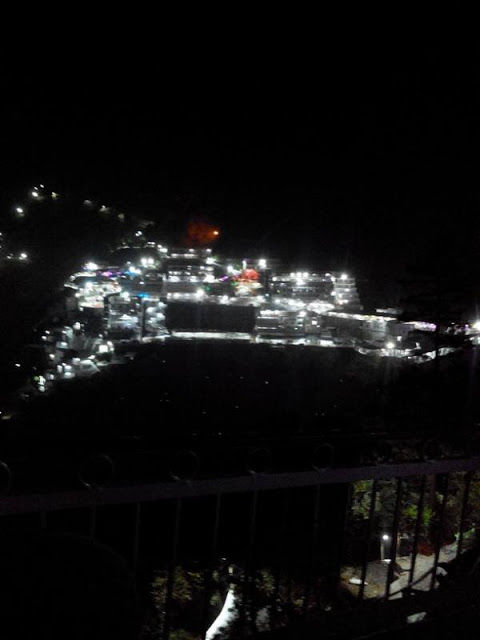 It was already cold, and we were totally wet. Somehow, we entered the Mandir, prayed for a happy life and then we started planning to come back down. But again it started raining heavily, this time, accompanied by storm too…what a combination. I never saw this face of nature, but we did not stop walking. Finally, it was 5 AM in the morning, and my legs were paining very badly, I was not in a condition to walk anymore, and was continuously praying to God for taking me to our hotel as soon as possible. Finally, we reached our hotel and slept for a minimum of 8 to 9 hrs…next morning we took a train and came back to Delhi.
That was my personal experience, a person with a stroke of bad luck….hahaha But everyone should go to the place, many newly married couples go there to pray for their new life.
If you like, please comment and share.