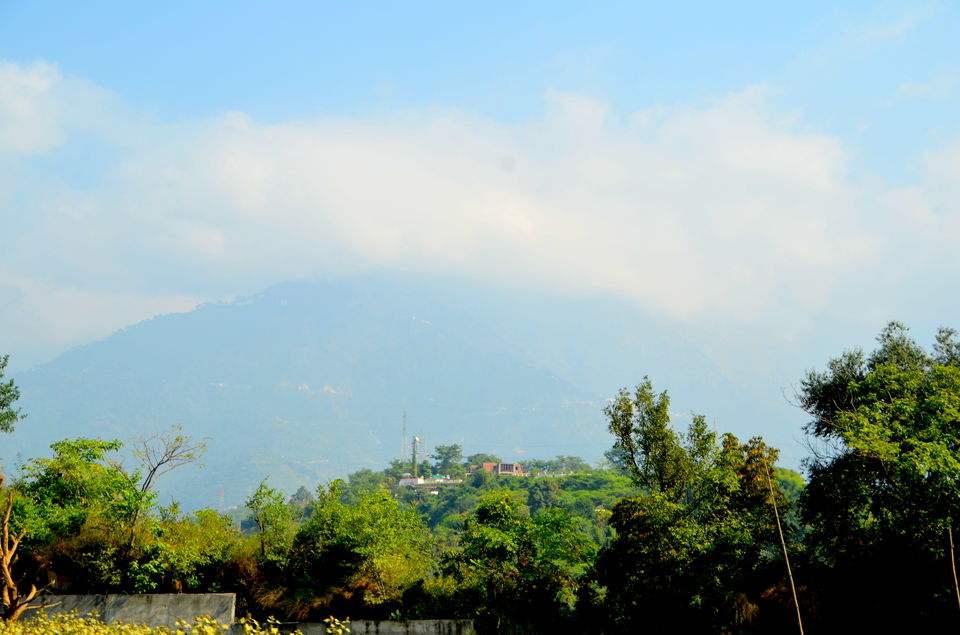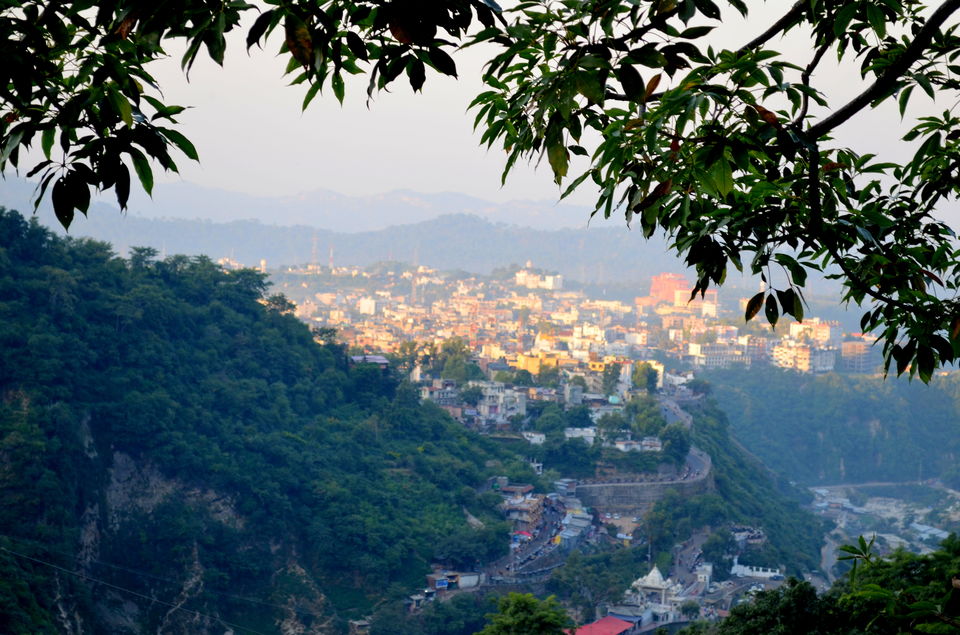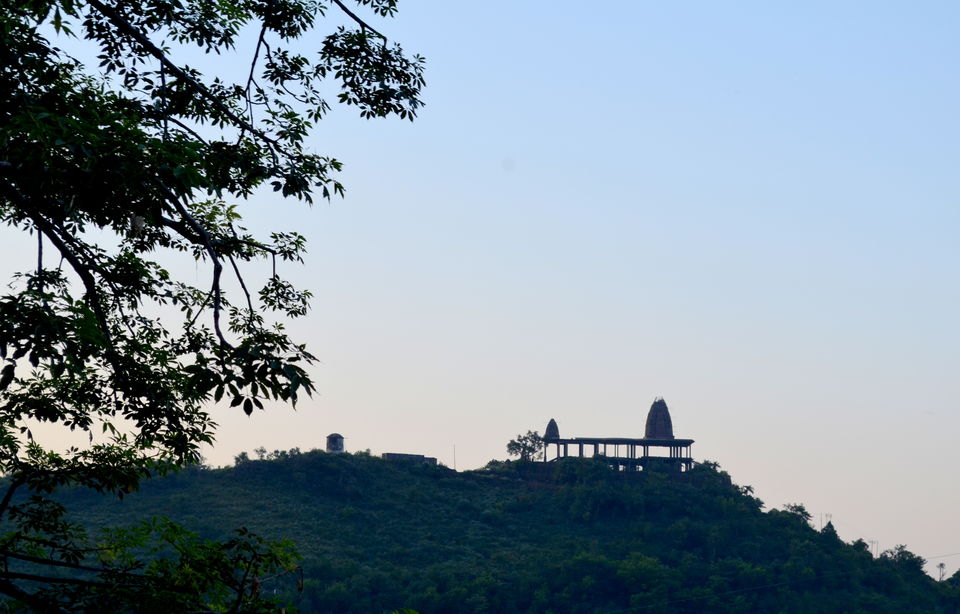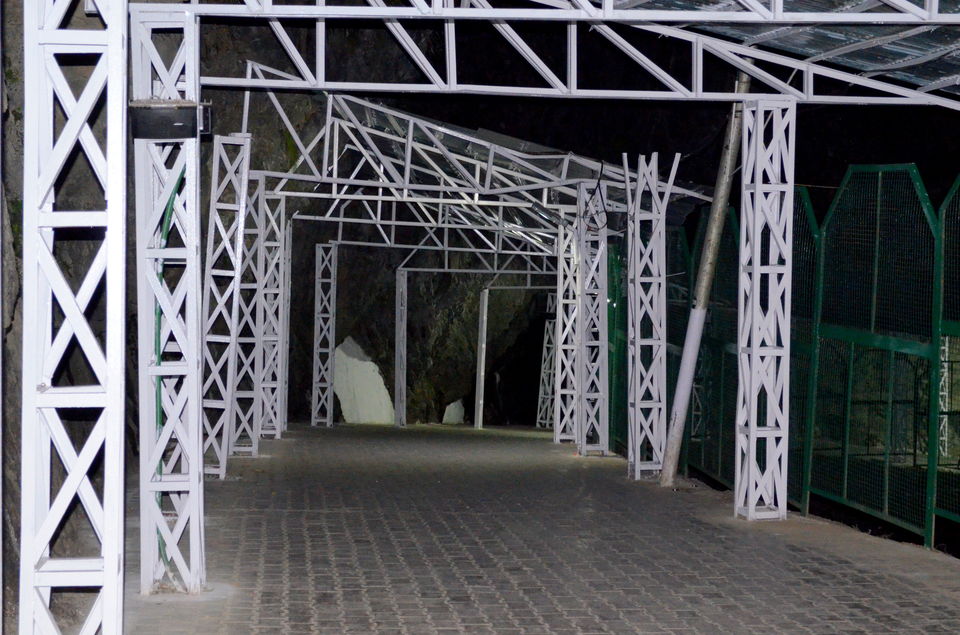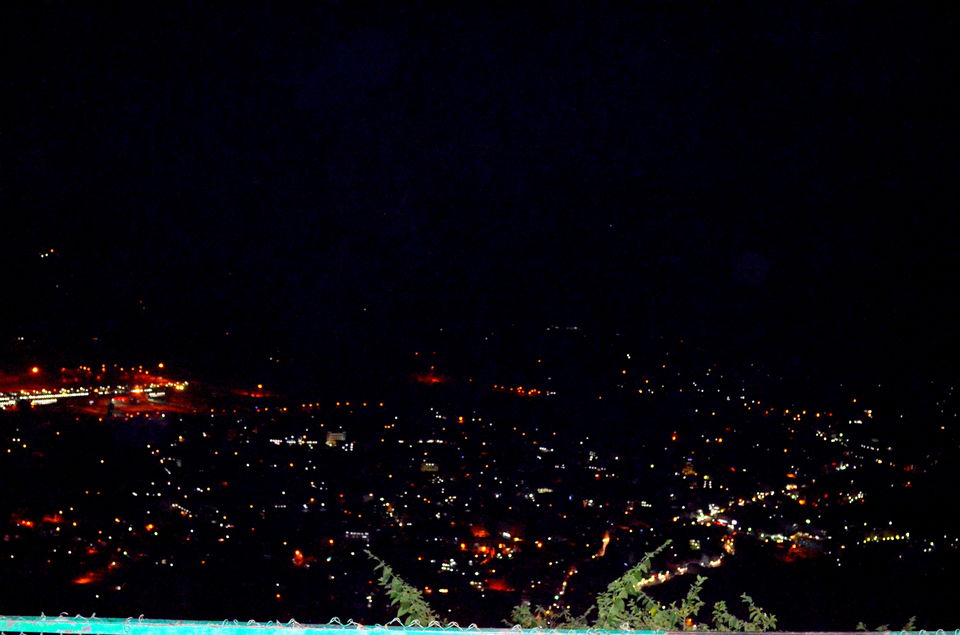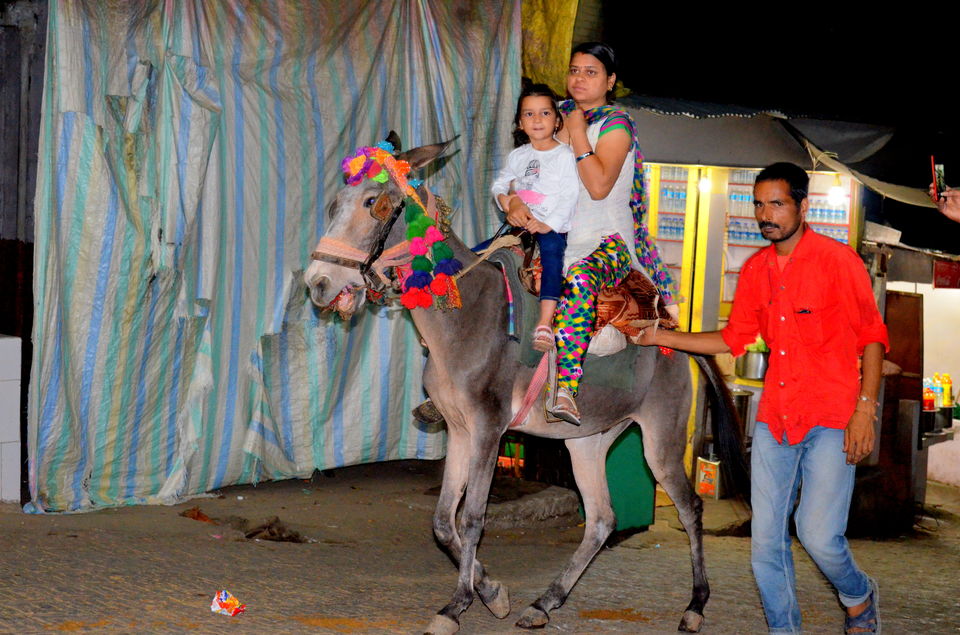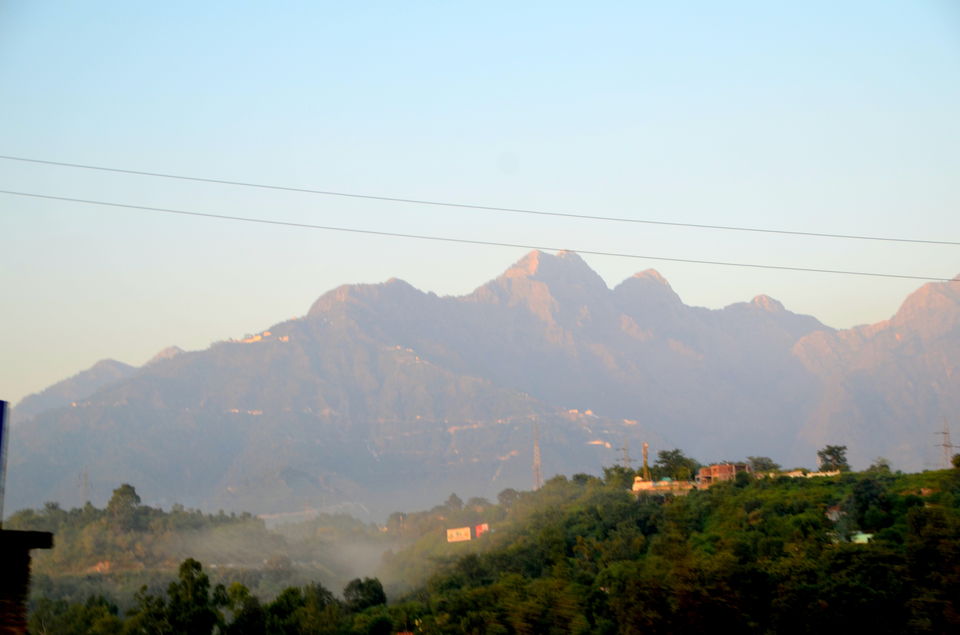 Mata Vaishno devi temple is a holy place of Hindu Religion situated in Trikuta hills of Himalaya in Reasi district of Jammu & Kashmir.
The nearest town in the foot hills is Katra and is situated approximate 14 kms from the Bus Stand / Railway Station of Katra. Helicopter service also available from Katra to Sanjhi Chhat which is approximate 2 Kms far away from temple. Please note that Helicopter service is available only in the clear weather.
We travelled from Srinagar to Jammu by Indigo flight; Arrived Jammu by 4 PM. Took a Prepaid taxi from Jammu Airport to Katra, which is around 50 kms from Jammu Airport.
Arrived Katra by evening 5.30 PM and the road is really good for drive and we can reach within 1.5 hours from Jammu.
Crossed few tunnels on the way to Katra.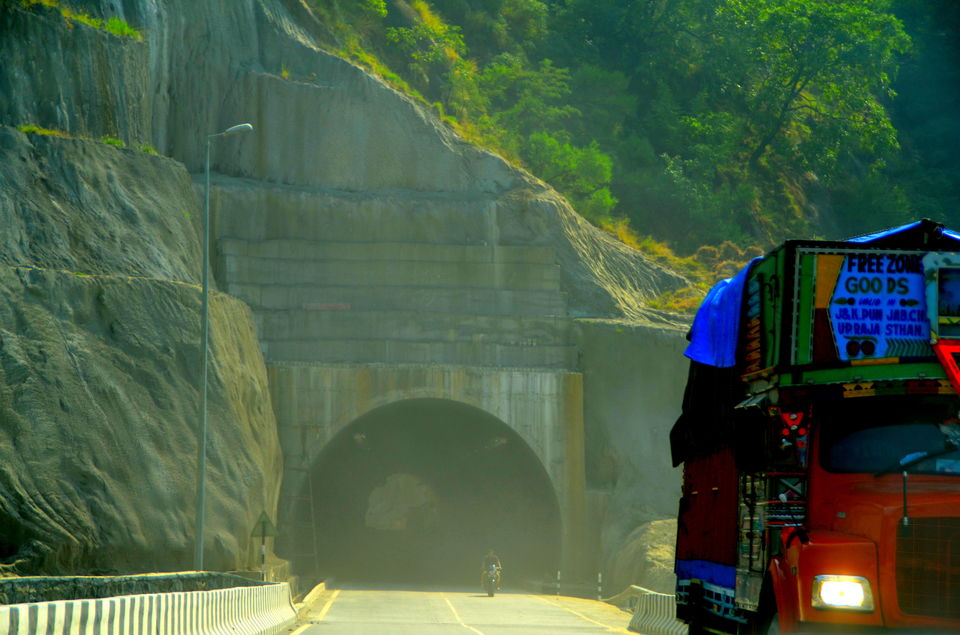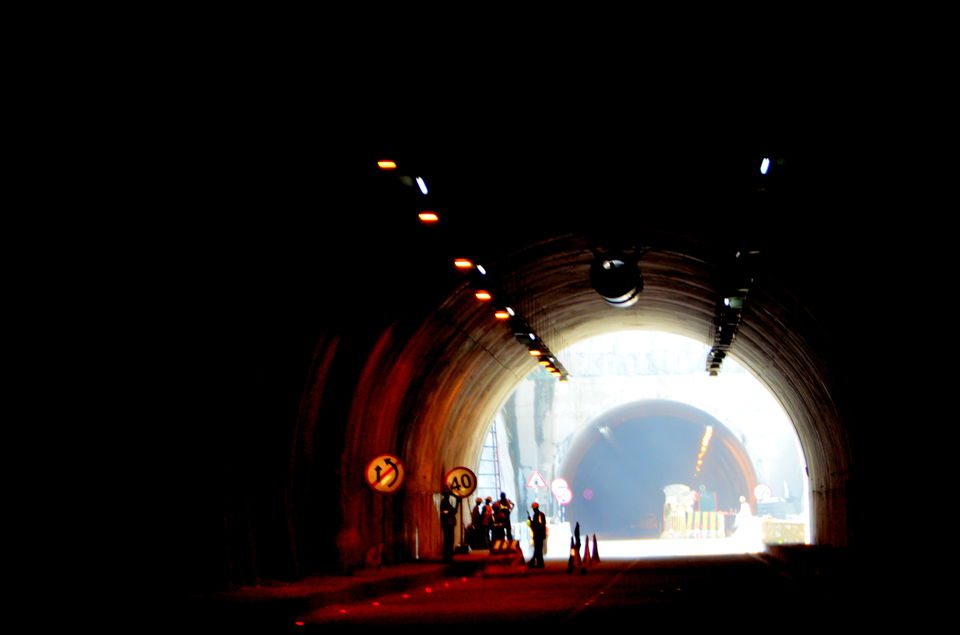 After arrival to Katra Bus-stand, we decided to go to temple immediately as we are in short of time and we couldn't able to get the Helicopter, in advance. We tried for tickets online from more than 3 weeks prior, but the booking always says "You are in Queue". Hence, decided to go by trek.
Note that the temple remains open 24 hours.
Dropped our luggage in Clock roam offered by J & K tourism, Just next to Katra Bus stand.
It is mandatory to collect Bhawan Yatra ticket, which will be provided next to Katra Bus stand and No pilgrimage will be allowed to the temple (even to trek), without this pass.
The Mighty Vaishno Devi temple Hill. The actual temple will be on the other side of this hill and you can't see the temple from Katra town.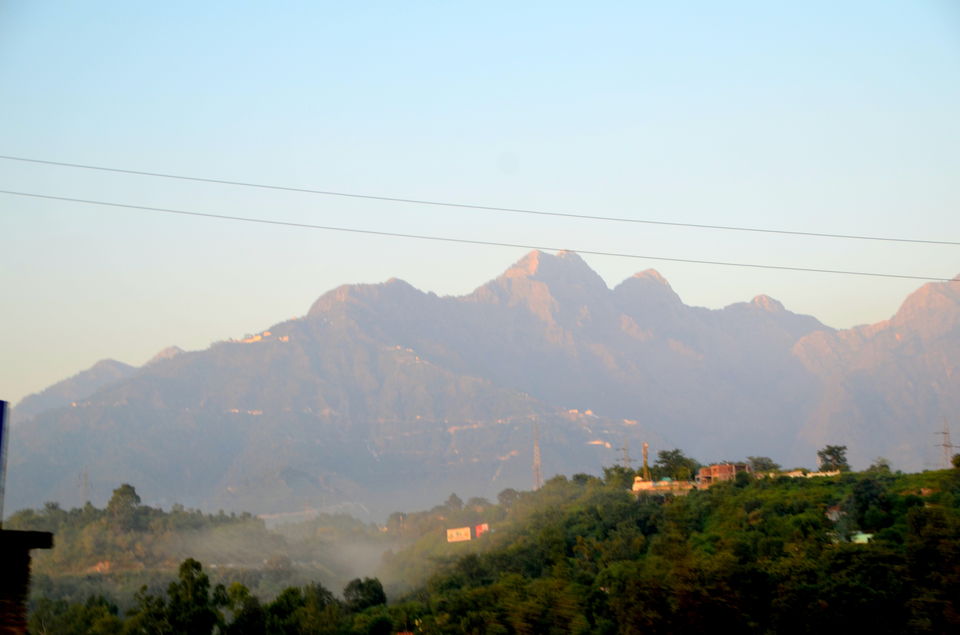 We entered in Main entrance by 6.30 PM, had a quick checking at front check-post, and moved on by walk, which we later realized that is is really tough to do so.
The path has been badly designed, it is a continuous climb. Normally, mountain paths (even motorable roads) are designed to climb up, level out for some time, come down for a bit, before starting to climb again. That gives rest to your leg muscles.
Even the benches on the path are slanting, and you have to put your weight on your legs to keep from slipping. Pathway to go up he Hill.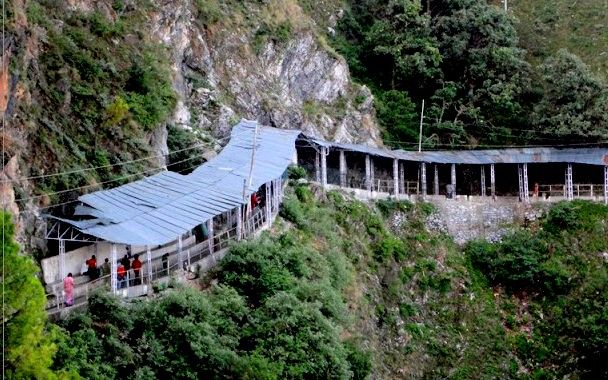 Weather was pleasant, some road side shopes and shopkeeper welcomed us. We bought some JAI MATA DI written ribons to tie on foreheads. Some pony-walas tried to convince us to hire them, but we preferred to walk.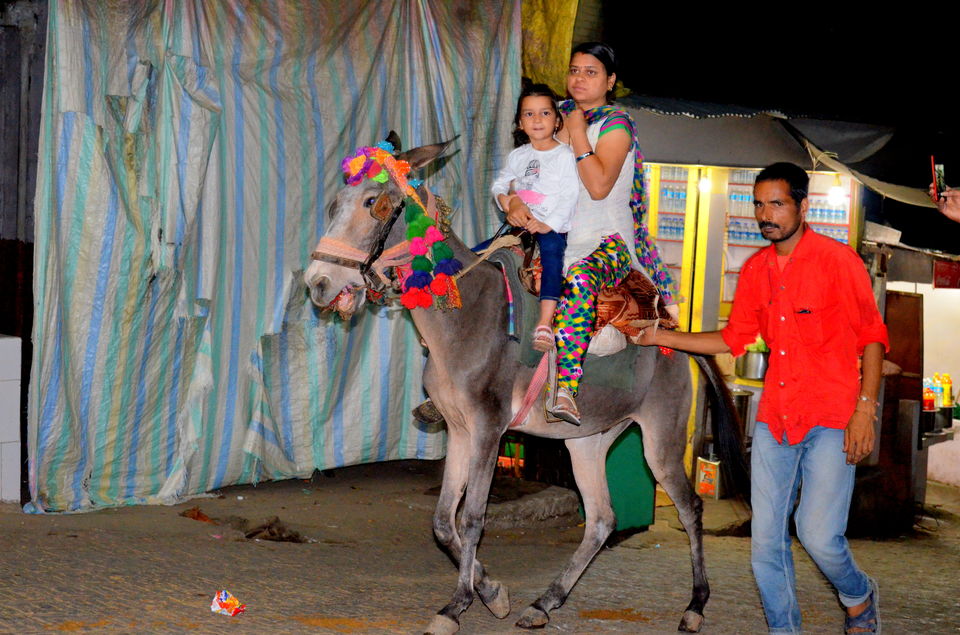 The main temple at Bhawan houses a natural rock form, which Devi assumed after killing Bhairon and immersing herself into mediation forever, known as the Pindies with three distinct heads belonging to three different Goddesses namely Maha Kali, Maha Lakshmi and Maha Saraswati from right to left.
We set out in the evening, got through the entry and saw horses answering their nature's call wherever they wanted and spoiling the pathway.
Standing at the base we tried to locate Bhawan somewhere up the hill but all we could see was the coiling pathway carved across the mountain with steep valleys on the other side. Full of energy in the beginning, we made our way through shops selling souvenirs, music CDs and idols. We stopped to refuel at Café Coffee Day.
Note that you have 2 options to climb up the hill, One is the walkway (little longer) and another is the steps way, which is really tough after sometime, but saves little time. On the wall near first step, one can read the total count of staircase.
The very best thing which I can't stop admiring is the Food & water service, which is being offered the entire 14 kms pathway with the normal prices.
Pathway with sliding rocks at some places. As we were going up the temperature was going down. On our way enjoyed coffee and other snacks, and with short breaks we kept moving, and crossed Sanjhi Chhat with longer break there.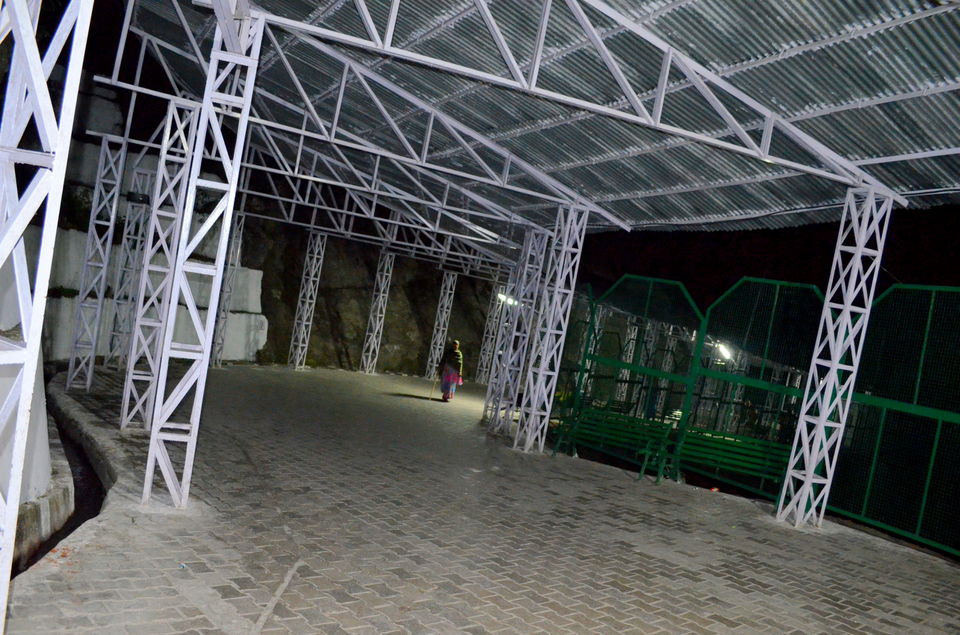 After few breaks, we reached Bhawan around 2 am. Had a bath and Peaceful Darshan of Mata Vaishno Devi and there were not even 10 devotees along with us during that time.
Looking back, the one thing that surprises me is the enthusiasm with which we reached Bhawan. Pilgrims try to comfort themselves with slogans of Jai Mata Di every now and then, hoping that devotion would take their minds off their tiredness. In our case, though, whether it was the calories in food that gave us the energy, or may be the blessing of Mata Vaishno Devi, we thoroughly enjoyed our hike and took some blessings home in return.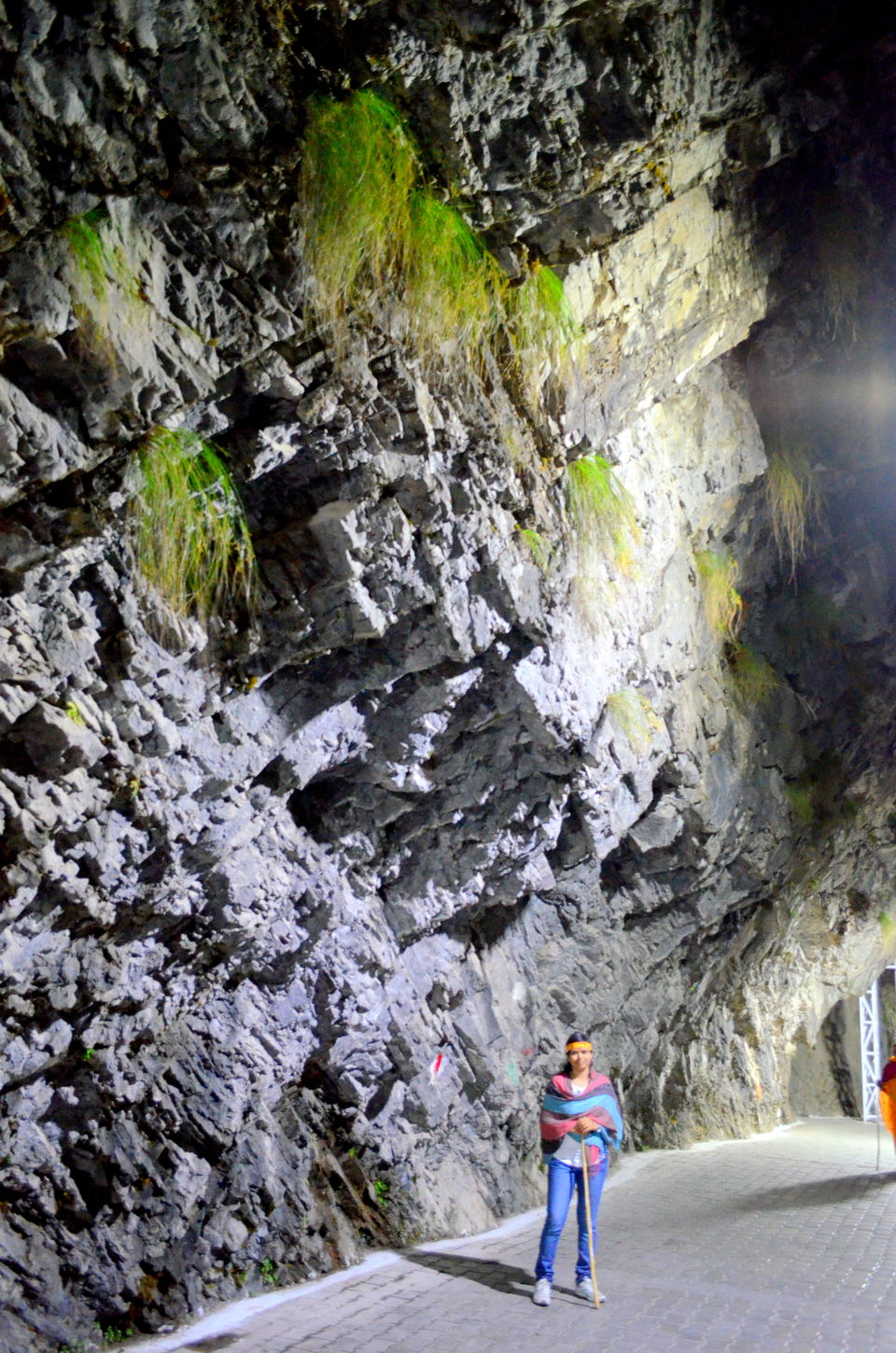 Night view of Katra town from up the hill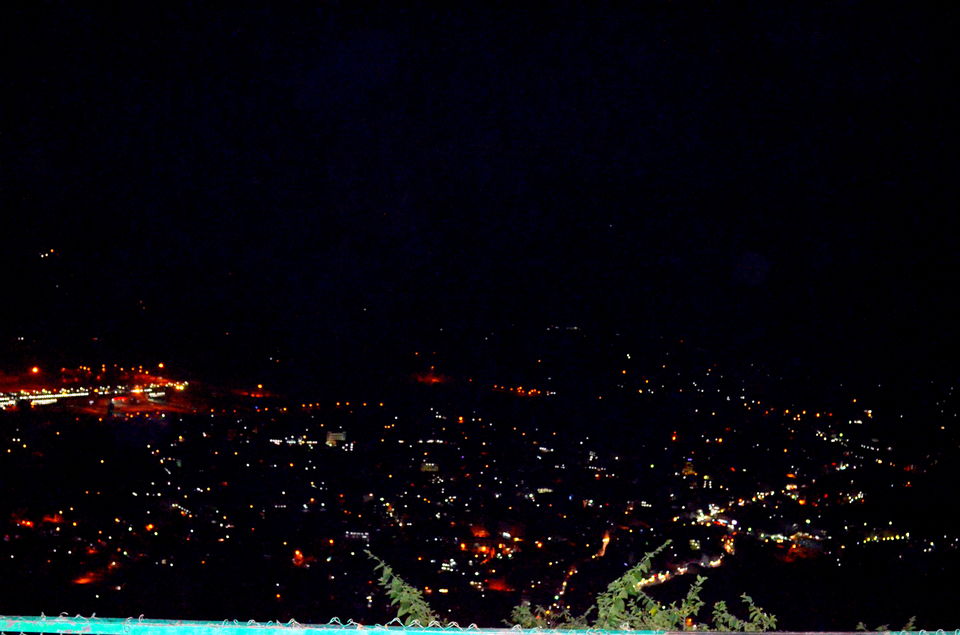 Decided to return back to Katra, we started by 3 AM and arrived Katra by Morning 9 AM. Took a Hotel in Katra to take some rest till evening and returned to Jammu in evening.
Captured the beautiful view of Shiv temple from holy Trikuta Hills of the Shivalik Hill Range.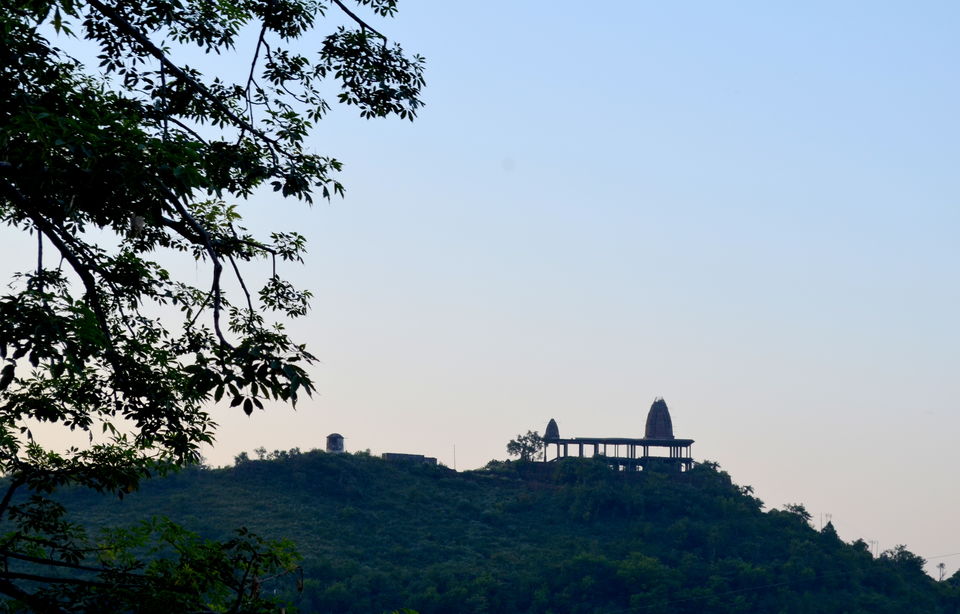 View of katra town, while getting down the Vaishno Devi Hill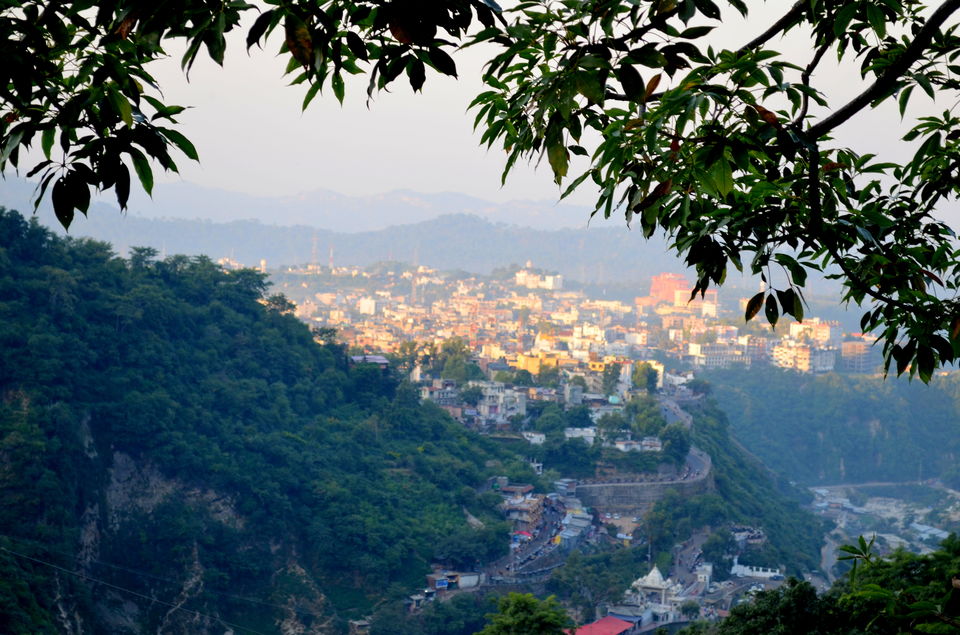 Airbase at Sanjhi-Chhat. Devotees come in chopers till here, rest of the journey they cover on ponies or on-foot.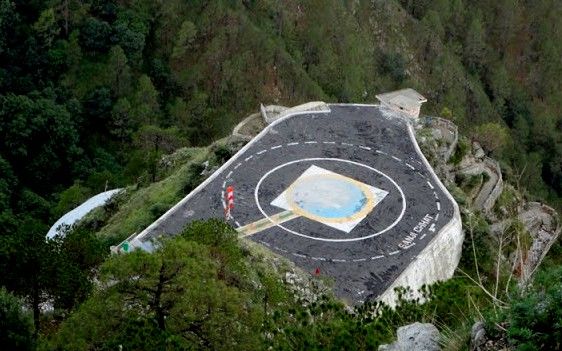 Things to remember -
1. The whole journey, up and down, is nearly 34 kms.
2. Helicopter service is available between Katra and Sanjichatt for a little above Rs 1250 /-, reducing the six-hour hike to 30 minutes. The helipad is 2.5 km away from Bhawan.
3. If you want to spend a night above, limited rooms are available at Adhkuwari, Sanjichatt and Bhawan and prior online booking is recommended.
4. None of the Prepaid Connections outside the state work in Jammu, due to Security reasons.
5. Palki is a big chair carried by 4 persons, charges around Rs 4000 per visit. Most of the old aged people prefer this.
I gotta say though, the vibes u get over there are so pure and good, u may never want to leave. Some people (including us) try doing it in one day but honestly speaking...its better if u spend the night there too.
Jai Mata Di....!!!