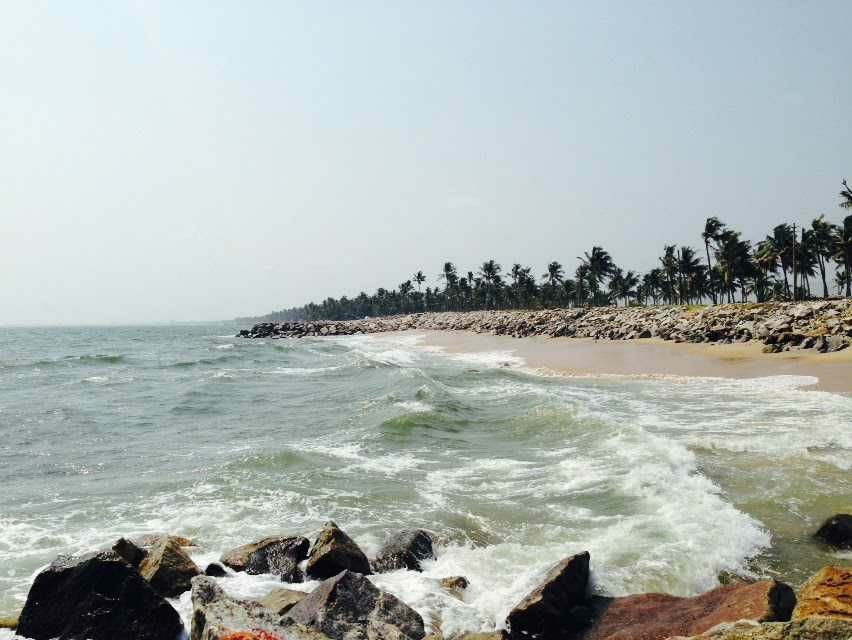 We started our journey on 27 April by train from Bangalore to Kochi and we reached Kochi on 28 April morning. In Kochi, we rented 3 bikes Vintage bullet, Avenger and Pulsar. From there we started our journey to Alleppey it took us 1h 30 min to reach there.
Alleppey in Kerela is one of the most beautiful places in India. It was my first time when I went to Alleppey and after reaching there I was mesmerized by the beauty. The boathouse experience was also good, the best part of the boathouse is the bed which was placed at the center of the boat after seeing that bed we all five friends jumped on that bed like anything because we were so tired of riding bikes. Then the boat took us to the backwaters of Kerala which was so beautiful that I can't explain in words.
After completing Alleppey that day only we decided to ride to Varkala which took us 4 hours to reach there. We started our journey at 8 pm from Alleppey and we reached Varkala around 12.
Then we started searching for a hotel to stay for 5 to 6 hours so that we can take some rest. After taking rest went to Varkala beach. Varkala beach is one of the cleanest beaches in India.
While returning from the beach to our hotel our bullet clutch wire broked and we thought that it's just a wire anyone can fix this. So we went to the local mechanic he told that he has to open the engine to fix this. After listening to that we scolded the mechanic, after scolding him we towed our bike to Royal Enfield showroom where he took 4 hours only to analyze the problem after analyzing he told he can't fix it because he is not feeling well. We told him at least tell us who can fix this so he gave us the contact no. Of that guy and we went to him and that guy was the same guy whom we scolded before ???? he told us that he will not fix it. So we towed our bike to our hotel in Varkala and thought to take some rest.
So we thought that we have to tow the bike to Kochi because we don't have another option left because next day was Sunday and chota hathi vendors were asking too much money. So we went to the local vendors and asked for 1 kg of rope and a big plastic sheet because it was raining at that time after listing to our item list vendors started questioning us that why you need this item, tell us otherwise we will call cops. They thought that we murdered someone at we have to dispose of the body. Then they went with us to the hotel to Check that we are telling truth or not . After seeing our bike condition then they believed us and gave us the item. Then we tied the rope to the bullet leg guard with avenger back hook and we started towing our bike at 10 pm back to Kochi which took us more than 10 hours to reach there.
It was one of the hell experience but it was fun.
Kerela is a very beautiful state must visit.????????