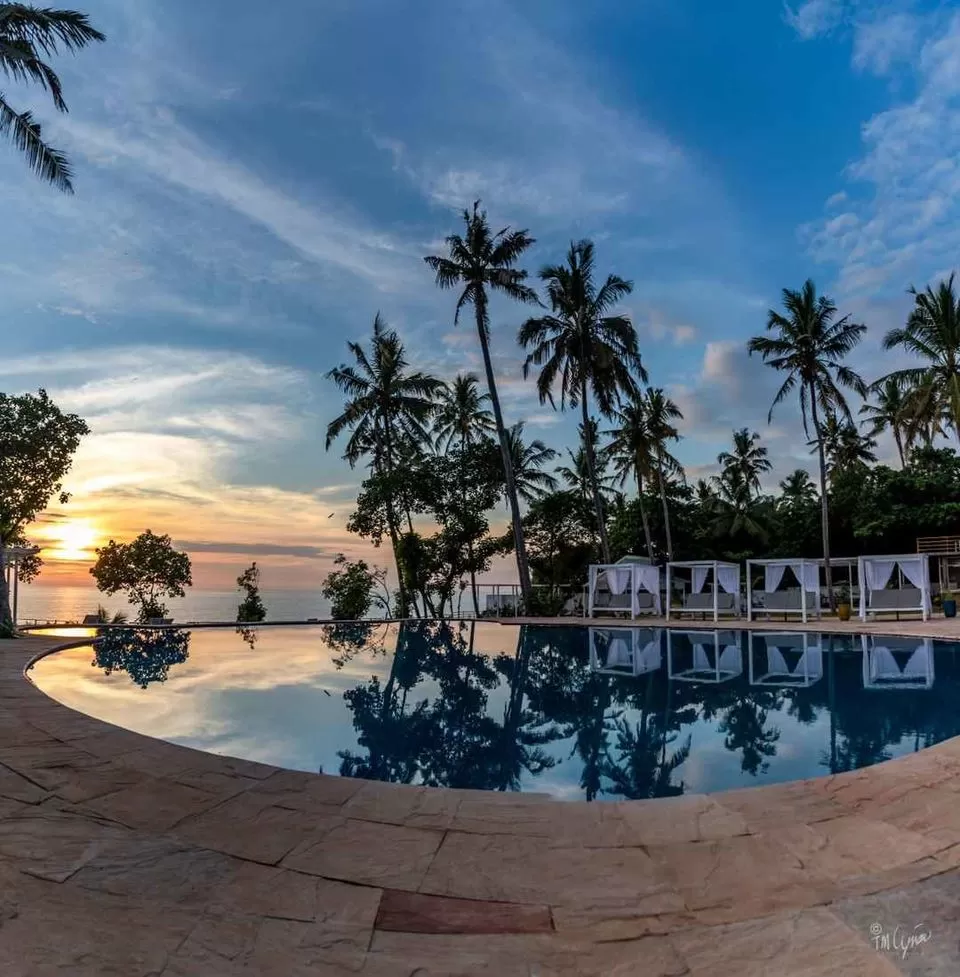 Set amid a beautiful setting about 10 km away from the calm and quiet hamlet of Varkala in Kerala, Varkala Beach, also known as Papanasam Beach. It is a beautiful stretch of sand renowned for its solitude with the backdrop of Arabian Sea against the cliffs of Kerala.
This guide will take you through every detail about Varkala beach.
Everything You Want To Know About Varkala Beach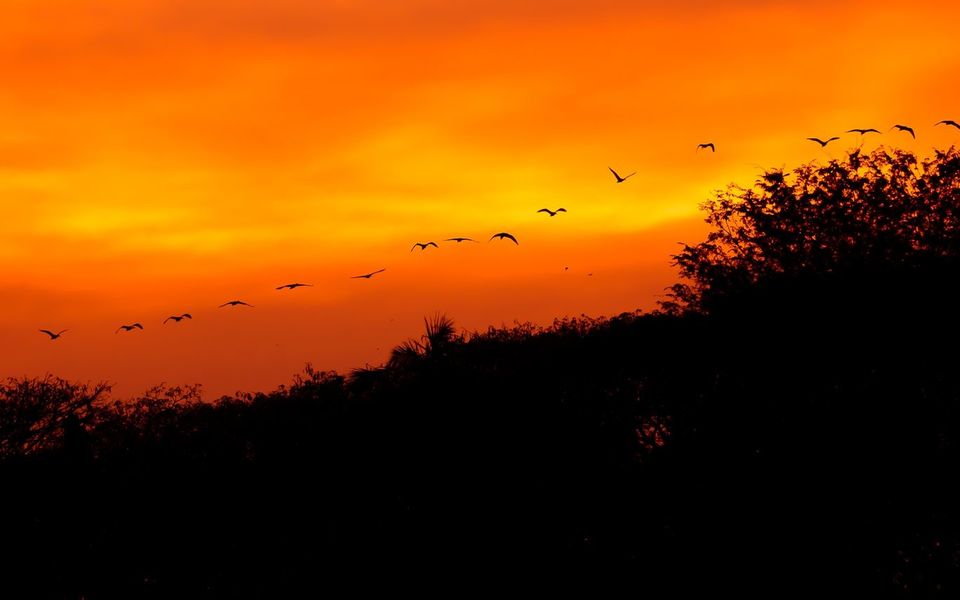 Varkala is an important hub for neighbouring places like Attingal, Kadakkavur, Edava, Kallambalam , Kappil, Parippally and Kili. Varkala is a haven for sun-bathing and swimming. The evening views of the sunset are worth lingering over. There are several small restaurants and snack shops near and around Papasnanam beach, which attracts the maximum visitors both for leisure as well as for religious reasons.
Best Time to Visit Varkala Beach
Best time to enjoy the beach at its best is between the months of late December and March. The weather is dry and sunny with the temperature hovering around 30 degrees Celcius. Avoid travelling during the months of April and May when the climate is hot and humid.
How To Get To Varkala?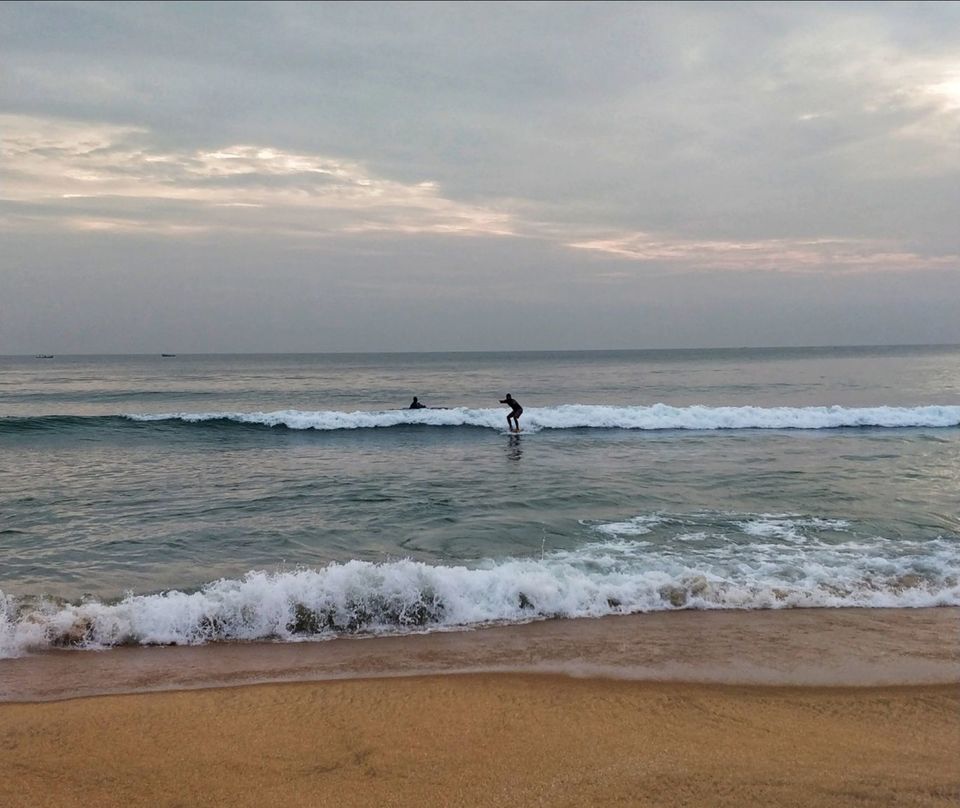 The nearest airports to Varkala are Cochin International Airport (199km from Varkala) and Trivandrum International Airport (41 km from Varkala).
You can hire a private cab, book a bus or take a train to Varkala from Cochin or Trivandrum, all type of transportation is easily available.
How To Reach Varkala Beach?
Getting around the small town of Varkala, which is mainly 3 km inland, is pretty easy. One can easily hire an auto-rickshaw to commute between the places.
Other than that, exploring the place on foot is also quite popular among the tourists.
Things To Do In and Around Varkala Beach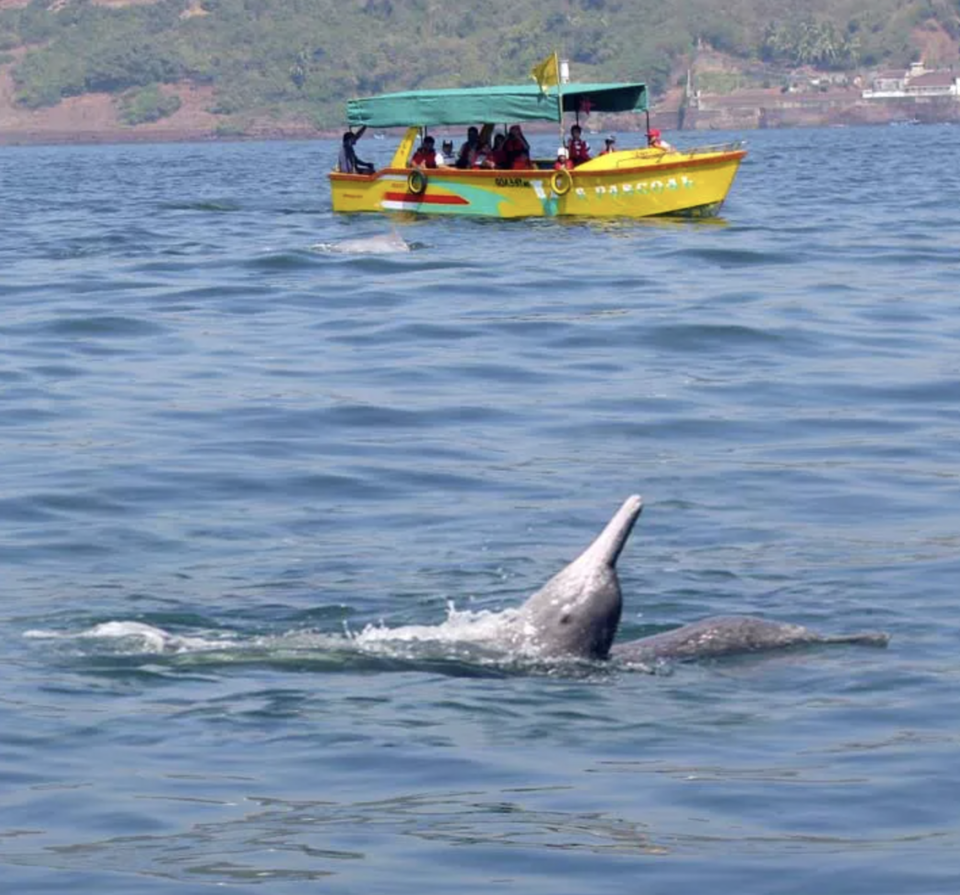 1. Go dolphin watching: Varkala Beach is also known as the Pearl of the Arabian Sea, which is basically a cliff beach situated in the coastal city of Kerala, Thiruvananthapuram. Dolphin spotting here is one of the coolest things to experience. 2 Hours boat ride and you get a chance to spot hoards of dolphins.
2. Water Sports: Varkala is the only place in South India where you can witness the confluence of hills with the sea. Towering, rocky cliffs edging out towards calm waters of the Arabian sea make for the perfect sight to engage in some of the most exciting water sports that you can engage in and one of the most fun things to do in Varkala.
Adventure seekers will find themselves completely at home enjoying jet skiing, parasailing, and banana boat rides. If you are looking for an adrenaline rush and some goosebumps-inducing experiences, this is the place to be for you.
3. Enjoy at Varkala Cliff: Varkala beach and cliff are a ten minutes' drive away from the town and provide a peaceful environment to soak in the natural beauty, dig your toes into the sand and experience relaxation like never before. The long, winding stretch of cliffs is lined by tall and beautiful coconut trees on both the sides and a paved footpath runs along the entire length.
ou can also enjoy various snacks on the cliff and buy a bunch of knick-knacks from the handicraft shops. The immaculate Varkala beach can be reached by climbing down the steps from the top of the cliff.
4. Visit Janardhana Swami Temple: Visiting Janardhana Swami Temple is one of the most religious experiences and most important things to do in Varkala for cultural buffs and devotees of the Hindu religion. Besides, the marvelous architecture of the temple also attracts architects alike. The high arched entrance and tile roof make for an opulent and grandiose styled building.
The proximity of the temple to the beach also allows one to take a leisurely walk in the sun after spending some time at the temple. Visit the temple in March/April to enjoy the main festival Arattu where people pay homage to their ancestors.
5. Anjengo Fort and Light House: Since Anjego Fort and Light House are located only a small distance from each other, visiting the them at Anchuthengu is one of the most interesting things to do in Varkala. The fort is remembered as one of the most important historical sites as it was the first British settlement in India.
The architectural design is admirable in itself and the picturesque settings make it an ideal spot for a picnic. The lighthouse is also known to have guided British ships to shore and from the vantage point, it offers awe-inspiring views of the sea. The European architecture is a tourist attraction too.
6. Attend Yoga Classes: Kerala is a hub for yoga and dabbling in some of these classes can be one of the most interesting activities in Varkala. There is a deluge of studios and ashramas offering yoga classes to noobs and experienced practitioners in Varkala. Whether you are a beginning and looking to learn the basics of the trade or want to deepen your skills, there is something for everyone here.
Experience meditation and soul searching at the next level with the help of some of the most authentic teachers and expert gurus. Most of the schools are surrounded by natural greenery, palm trees and offer classes in open, pollution free environs – thus adding to the serene experience.
7. Visit Varkala Lighthouse: One of the most notable structures in the district is the lighthouse that was built in the 18th century by the British rulers. Visiting the lighthouse if one of the most fun filled activities in Varkala – the pinnacle of the structure offers a bird's eye view of the spectacular vistas around, the azure waters of the Arabian sea and the pristine shores of the nearby beaches.
The European style architecture of the lighthouse also serves to act as a tourist hotbed. The eminent building with its provincial structure and eye-pleasing perspective of the nearby territories is a must visit tourist destination in Varkala.
8. Explore the Local Culture at Varkala Culture Center: If you are looking to explore the traditional culture of Kerala and want to understand authentic art forms of the state, you must pay a visit to the Varkala Culture Center near the north cliff. The spectacularly designed building hosts a cultural evening every evening during the tourist season which consists of dance performances in the authentic Kathakali style by artists well trained in the art form.
The whole experience is one of its kind and transports you to an otherworldly dimension. You can also enjoy the martial prowess of Kalaripayattu masters here.
9: Shopping: For the fashionistas and shopping lovers in you, there is nothing better than grabbing a friend and spend an afternoon in a shopping frenzy in the winding streets of Varkala. The lanes in the city are full of shops that sell everything from hippie clothing, Indian wear, and bamboo products, to Kerala-exclusive perfumes, incense sticks, soaps and oils, and funky jewelry.
You can also hunt for an array of Tibetan handmade products like musical bowls, flutes, prayer flags, and conches. Get some bargain deals and find beautiful and unique products at Varkala.
Where To Stay Near Varkala Beach?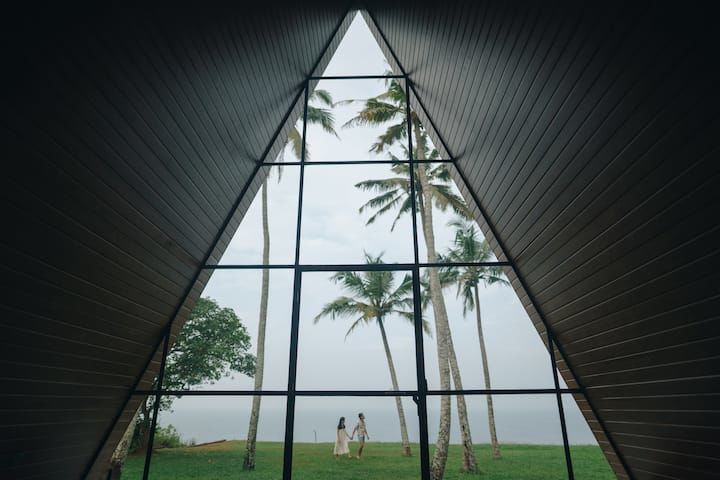 1. Elixir Cliff Beach Resort and Spa
Set in Varkala, 1.5 km from Aaliyirakkm Beach, Elixir Cliff Beach Resort and Spa offers accommodation with a restaurant, free private parking, a seasonal outdoor swimming pool and a fitness center.
The cost for 2 people here would be approximately Rs 9600, and you can book the property here - and read more about the luxurious experience here on Tripoto.
2. Zostel, Varkala
Pastel green and blue building with a horde of coconut trees on three sides and the Arabian Sea in the front, Zostel Varkala is a backpacking hostel dotted with pretty spaces. It provides a kickass sea view from the rooftop and all the rooms. A chirpy reception welcomes you into the hostel, where you'll be guided further with elaborate and vivid wall art that paints the lives of men and women on its salty shores.
3. Pura Vida, Magnolia Guest House, InDa Hotel
Pura vida. Its literal translation is "pure life." More than just a phrase, it is a way of living. Set on the south cliff of Varkala, in Kerala, we found the perfect spot for you to STOP, relax and reflect on where you are are heading, The lush green garden overlooking the Arabian sea, palm trees swaying over your head under the blue sky and golden sand beaches just steps away, all come together to shift the mind to a dimension very few places are able to.
4. Trip is Life
Located on the cliff facing the sea in Varkala, Trip is Life's A-frame cabin is a unique and private space to give yourself a perfect break. You get complete privacy with the comfort of a sea-facing stay and a private garden.
5. The Lost Hostel
Located on the famous Cliffs & beaches of Varkala, The Lost Hostel Varkala - Helipad offers a sea view with unique facilities in a relaxing and peaceful atmosphere.
You'll find ample options for staying in Varkala, and pick the one that suits your budget. If you're going with your partner and feel like indulging a bit, you can stay at one of the boutique beachside properties. Otherwise, for backpackers and budget travelers, Varkala has a wide range of hostels as well.
Places to Eat In Varkala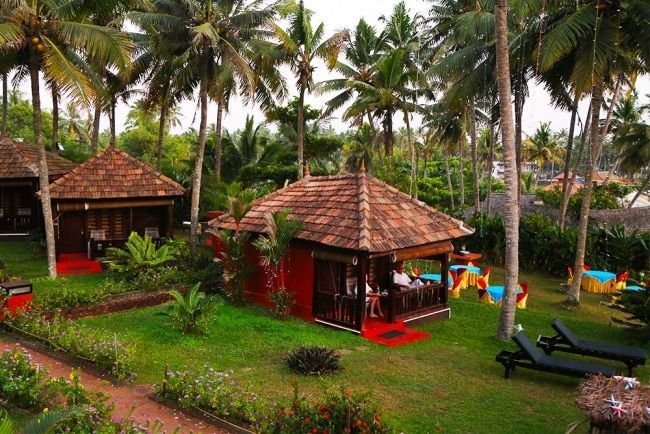 1. Darjeeling Cafe, North Cliff
A massive dreamcatcher adorns the entrance of this cafe that is dressed in fairy lights and laced with a mood that will make you groove as soon as you are seated. The drinks here are fun and affordable, making this the best place on the North Cliff to get drunk. You can try their Surprise Drink (don't ask, just order!) with a platter of pan-fried calamari on the side.
2. Blue Water, Odayam Beach
A resort located by the Odayam Beach, Blue Water is a hidden treasure. I suggest that you go for a swim in the beach early in the morning and stop by Blue Water for a hearty breakfast.
3. Trip is Life, South Cliff
Dine at the edge of the cliff and watch a lovely sunset as you sip on their watermelon mojito and indulge in their sandwiches.
4. Soul and Surf, South Cliff
Although Soul and Surf has a limited menu, I thoroughly relished every single dish I had here. I wish that I could go back for more. If you are heading there, do try their mezze platter, Meen Pollichathu (fish wrapped in banana leaf) and prawn tacos.
5. Abba, North Cliff
Abba has one of the most extensive menus in Varkala. Head here for the lovely ambiance and try their beef chilly, sip on a pina colada and enjoy their bakery items. If you're going there on a particularly hot day, you must have their peach iced tea.
A few travel tips for Varkala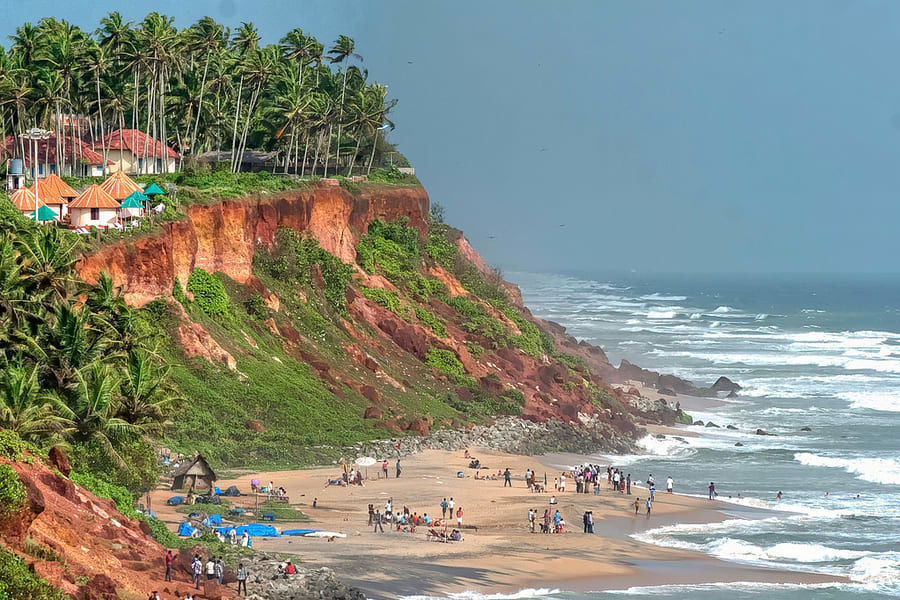 1. Do not underestimate the Kerala sun. Varkala can get extremely hot, so try and complete all your outdoor activities during early morning or evening hours. It goes without saying, a hat, shades and sunscreen should be your best friends while in Varkala.
2. Getting around in Varkala is quite convenient. You can hire a scooty or take easily available autos to travel around the town.
3. Most restaurants and cafes that are not situated on the North Cliff do not serve alcohol. So if that's a priority for you, do call and check beforehand.
I hope this guide has got your wanderlust going! If you like a good tropical vacay, Varkala checks all the boxes.
Ready to travel for free? Earn credits and redeem them on Tripoto's weekend getaways, hotel stays and vacation packages after the pandemic is over!
Explore the best of travel inspiration on Tripoto Instagram!