It's clean, and it is beautiful. It is colorful and it floats
Now this is the first one in India and third in Asia. We now have this very special market in Kolkata. We are the pioneers to bring this home first so that you need not fly to Thailand to experience this.
I read about it a little late actually, somewhere in April and it was launched in January this year. I am blogging about this market roughly eight months after I had been to that place because I wanted to visit the market again in the night before I capture the overall experience in words here.
The afternoon was really hot, the day we decided to explore this market. A train to Sealdah cost us INR 10, then a bus from 45 series to Patuli followed by an auto dropped us to Floating Market for INR 7.
I just loved the surroundings. There was hardly any crowd there at that time, as it was pretty hot. I am sure the morning rounds of purchase were done by then.
The market is roughly four hundred metres long, with over a hundred boats and over two hundred shops selling all sorts of food - Vegetables, fruits, tea, snack and many more.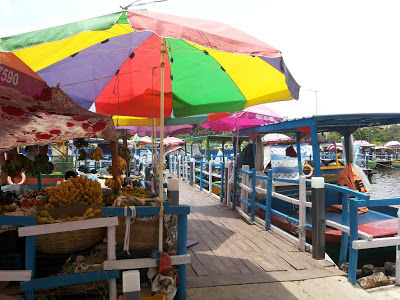 Before I went there, I thought the boats will be stationed near the border of the lake and the buyers will transact from the piece of land close to it. Well, that would not be exciting enough. You actually get to explore the market through the walkways on the water body itself, and you can reach any part of the market, any shop easily, walking on those.
We obviously did not go there to buy vegetables and come back in train. We just chilled, clicked photographs, sat in one of the boats to have tea and biscuits. The tea seller asked us to be back in the evening to see the light and the fountain.
The lake at Patuli in South Kolkata, after this transformation, can be a potential tourist spot. This floating market located in Baishnabghata Patuli Township near EM Bypass and remain for more than twelve hours and there is absolutely no fees to enter this market.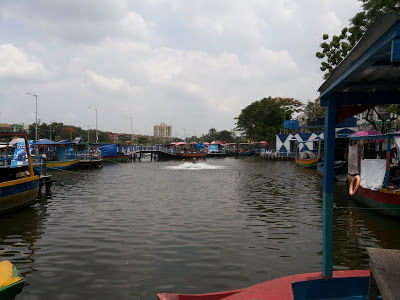 The idea to establish this lake as a market area was primarily to create a revenue stream for the sellers who were displaced due to widening of EM Bypass.
So your next visit to Howrah Bridge or Vidyasagar Setu or Victoria Memorial may not quite assist in rehabilitating a population how your transactions in Floating Market sure will.
The prices are reasonable and produce was definitely fresh. The enthusiasm of the sellers and their latent pride to possess a shop there which is unique and one of its kind, is another thing you pick from there.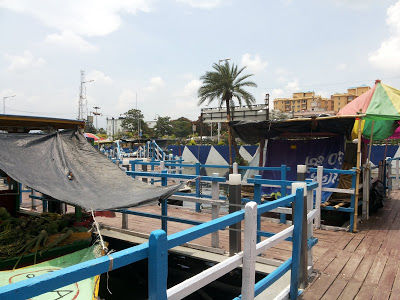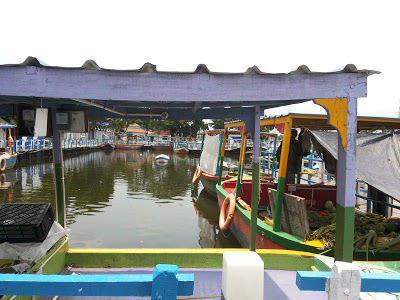 The lawlessness at Rabindra Sarobar on 13th November 2018, regardless of strict prohibitions/ initiatives from National Green Tribunal/ Law should forewarn us about other water bodies well in advance and our sensitivity quotient towards environment
Originally published here