If you thought that Thailand is all about beaches, parties and the Khao San Road, then you are wrong my friend! Thailand, once known as 'the Venice of Asia', has redefined affordable and luxury shopping with its amazing 'floating markets' that are mostly located in the capital city of Bangkok.
These 5 floating markets of Bangkok are worth visiting, and if you get someone from the host community to accompany you, then you'll undoubtedly have the best experience ever!
Amphawa Floating Market.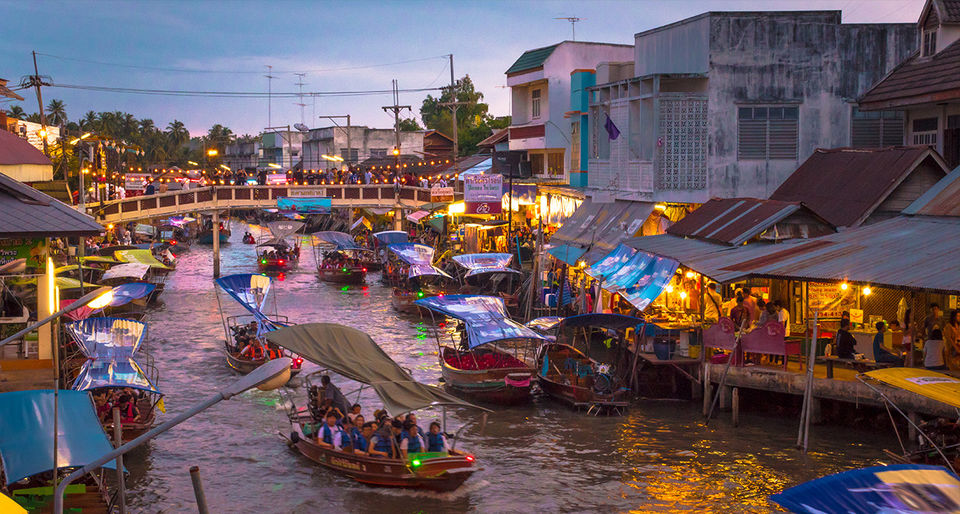 The Amphawa Floating Market is located approximately 50 km southeast of Bangkok, on a small canal of the Mae Khlong River. Hundreds of people visit this Disneyland-like market on weekends, which is open from 12 PM to 8PM.
Sit on a little boat and enjoy bowlful of delicious noodles, as you float on the canal. There are thousands of sellers, and each one has different things to offer you.
Damnoen Saduak Floating Market.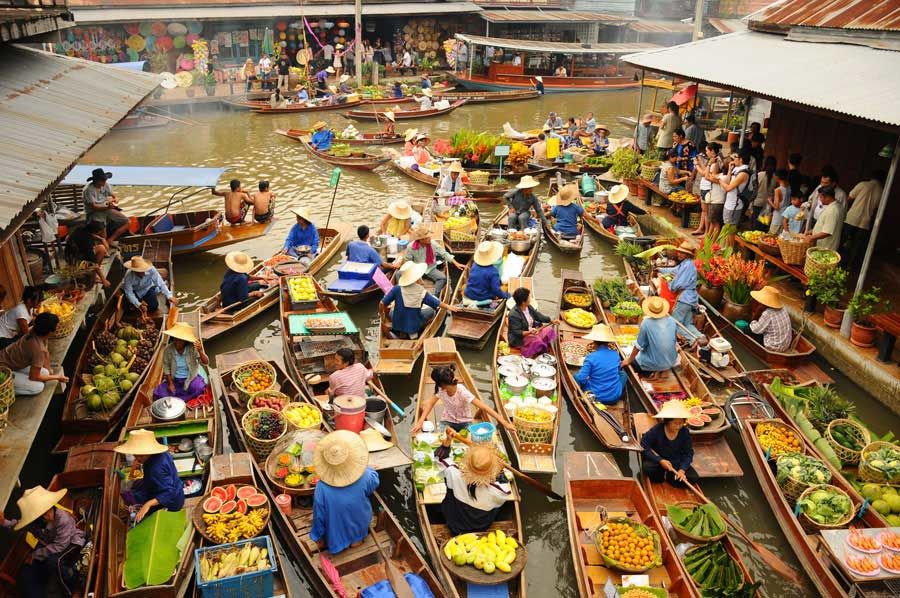 This is the most popular floating market, and it's about an hour and a half's drive from Bangkok. You'll be able to see the local ladies with their wooden sticks that they use to take the money from you as you purchase goods from them.
This is a perfect place to take photographs, if you want to capture the bustling scenario with an array of boats. This market might be overcrowded during the weekends, and if you are more keen to have some peaceful time, then ask your boatman to sail you through the traffic, and take you to a distant area which has a beautiful canopy of trees.
Bang Phli Floating Market.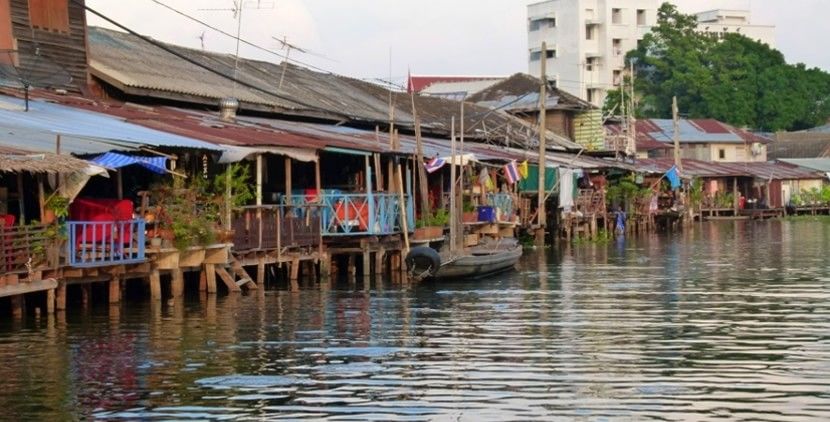 Located at a distance of 29 km from Bangkok, it's definitely worth the trip if you want to see traditional Thailand. You won't find enough touristy stuff here, neither will you hear much of English, but you will definitely get the chance to mingle with local people and eat delicious local food, including grilled squid and fried octopus!
October is the best time to visit this market, when the lotus throwing festival takes place. You'll totally fall in love with the ambiance of the market during this time.
Taling Chan Floating Market.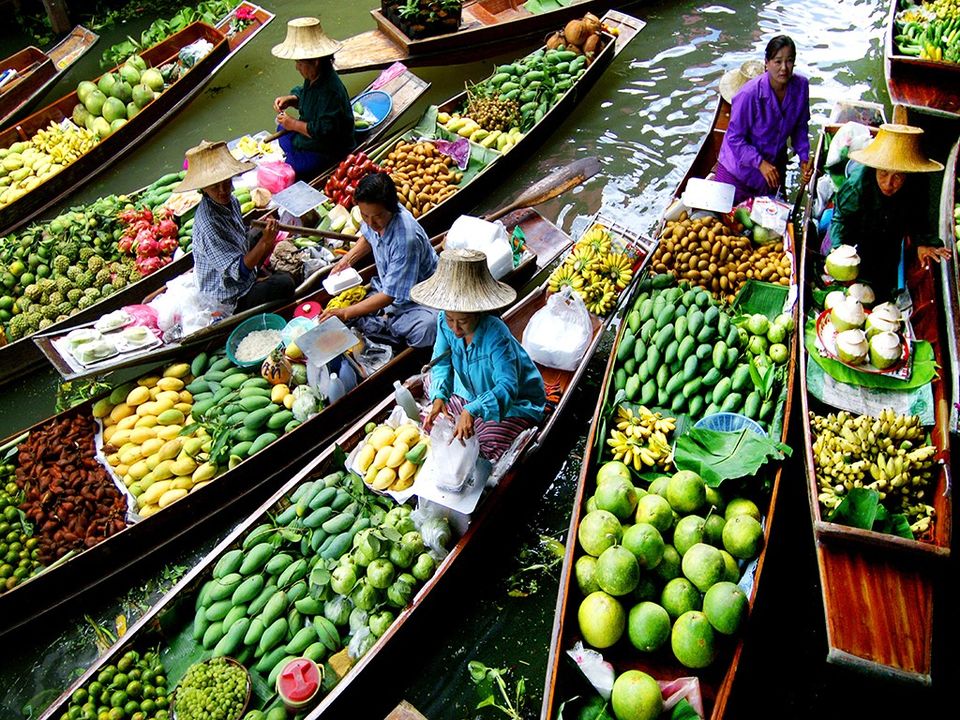 This one is fairly closer to Bangkok, and not many tourists visit this market as it's mostly a food market preferred by the locals, rather than catering to the sale of souvenirs to tourists. However, if you are a foodie and you want to try authentic Thai food at a cheaper price, then this is the place to be.
You can also enjoy Thai foot massage sitting on a longtail boat, in this market. Change has already begun and many sellers are trying to introduce items that will attract tourists - make sure to visit the Taling Chan market before it loses its 'local' essence.
Khlong Lat Mayom Floating Market.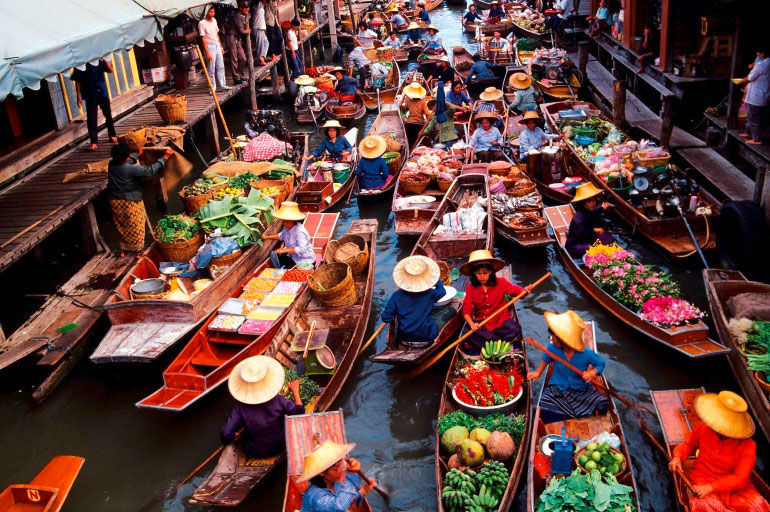 A paradise of serenity, this floating market is located in southern Bangkok and it's a place where time seems to pause - no one is in hurry, and everyone has a gleamy smile on their face (You'll surely know why Thailand is called 'The Land of Smiles').
Everything here appears to be an uncomplicated puzzle, with chefs cooking their dishes slowly, vendors letting you see their products even if you don't buy, and craftsmen greet you to see their handwork.
Exploring the floating markets of Thailand will be an one of a kind experience.
Not just the food (which definitely is the USP of these markets), but the people and the entire ambiance would enhance the story of your journey to Thailand. Don't miss out these beautiful floating markets, as they would essentially redefine your dining and shopping experience.