I'm sure most of us roll our eyes every time we come across those quotes and sayings about inner beauty, that often drip with a good amount of saccharine. Beauty is not in the face; beauty is a light in the heart . If that isn't corny enough, here's another one. Outer beauty attracts, but inner beauty captivates. But no matter how much we scoff at such seemingly silly lines, if we looked deeper, we'd realise they echo of wisdom and inspire us to be more profound versions of ourselves.
This rule is not just limited to people, it also extends to places. Most of us may be thrilled by the idea of holidaying on a yacht in Saint-Tropez or setting off on a romantic Mediterranean getaway, but there's a lot more to travel than just experiencing fine things in life. Some of the best travel destinations in the world may lack such refinement but they exude a charm that leaves few travellers unmoved.
Now let's bring this home. When you think of India, which is the one city that that emanates a unique quality that has stood the test of time? Which is the one place that is synonymous with an unmatched rawness that keeps drawing you back for more? I'm sure there are no prizes for guessing I'm talking about the endearing chaos that is the City of Joy – Calcutta.
The unique thing about Calcutta (now Kolkata, but I pride myself in being somewhat old school) is, there's no other city quite like it. People often tend to love it or hate it. To do the former, you have to look beyond what it offers on the surface – an eyesore of overwhelm and chaos – and instead, look at how much you're willing accept and embrace.
Being a Bengali, I'm prepared to take the flak for admitting, that this beautifully mad city of paradoxes, conflicting emotions, old world charm, frustrating stop-start-stop traffic and intellectual and cultural vibrancy, can be unsightly for someone who isn't prepared to give in to it. But once you let yourself succumb to it's allure, there's no looking back.
So without further ado, let's dive into some of the things that make Calcutta, Calcutta!
Jump abroad the prehistoric tram!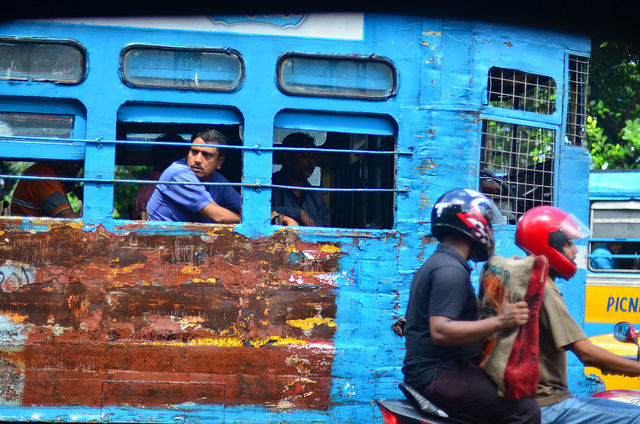 It'd be fair to give you a heads up on the fact you may reach your destination quicker if you walked than if you chose to get on one of these archaic trams –the only ones in the country. But that doesn't take away from the fun of it!
On to other bizarre ways of transport: the hand-pulled rickshaw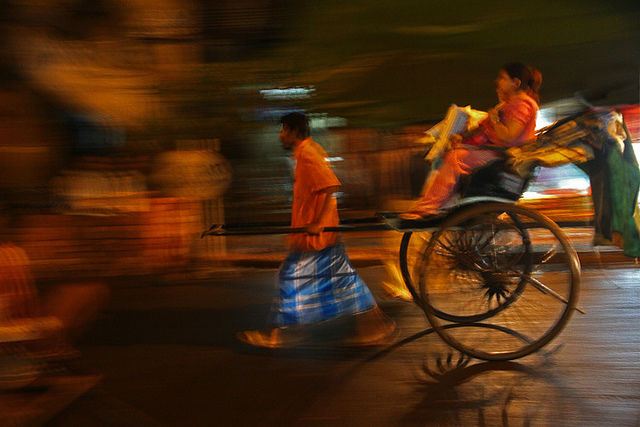 Although at a personal level I would like to do away with this one, it definitely has a place on the list that makes Calcutta essentially Calcutta. The tonga is recognised as one of the greatest symbols of Calcutta but there has been much debate about eliminating these on humanitarian grounds. Let's hope this is implemented soon!
Calcutta Police in their sparkling uniform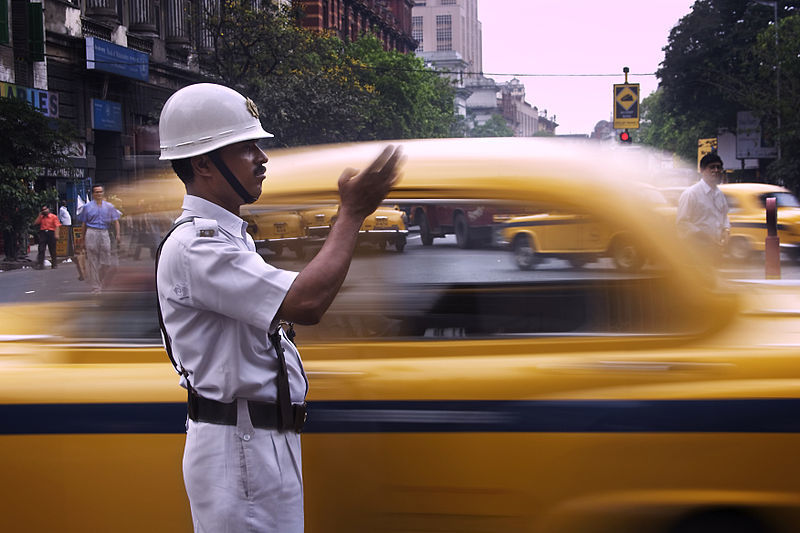 It should be noted that the role of Calcutta Police under the British rule was associated with colonial administration. Post-independence, the police force was re-organised with a view to consolidate India's newfound freedom. This is when the evolution of Calcutta Police – a stable unit of a free society – took place. Their impeccable uniform is the first thing you notice, and it sets them apart instantly!
India's very own Chinatown is right here!
Also known as Terreti Bazaar, this is the only Chinatown in India and it's here in Calcutta. With some super cool experiences to offer, the place is an odd mix of Chinese and Indian elements. From restaurants that are open till the wee hours of dawn to authentic Chinese herbs, sauces, spices and mushrooms on sale, you get everything under the sun here. If you're feeling adventurous break into the Lion Dance, buy a Chinese newspaper as a souvenir or get a handcrafted shoe made!
Go pandal-hopping during Durgo Pujo – an absolute carnival
Irrespective of whether you're Bengali or not, this is something everyone must experience firsthand! Nothing even remotely compares to Durgo Pujo in Calcutta. A mad frenzy envelopes the city as people excitedly scurry about, decked up in their finest clothes. And if there's anything that beats the atmosphere of creativity, fun and frolic it is the mouth-watering food.
Some of the largest stadiums are, yep you guessed it, in Calcutta!
If you are a sports fanatic, Calcutta may just be the city for you. Not only does it boast of Salt Lake Stadium – the largest stadium in India and the second largest football stadium in the world, but it also is home to Eden Gardens Cricket Stadium, which happens to be the third stadium in the world with the highest sitting capacity. It can accommodate approximately 70,000 people.
Who needs to go to Thailand to experience a floating market when you can head to Calcutta?
Thailand tour package 3 days 2 nights, Thailand tour package from Chennai, Thailand tour package from Delhi
The primary aim of this initiative was to rehabilitate vendors and shopkeepers of the the Patuli market who were displaced due to a certain reconstruction project that aimed at widening a bypass. This led to the demolition of the market. This unique floating market has close to 114 boats with around 280 shops. From fresh vegetables and fruits to poultry, fish and meat, you name it you got it. If you want to get a quick facial done, head to one of the two salons there!
Last but definitely not the least, orgasm-inducing food!
I simply had to save the best for last. Being the self proclaimed foodie that I am, a visit to Calcutta almost always leaves me with an embarrassing food baby. You can either find me gorging on delicious mutton biryani from Arsalan, chello kebabs from Peter Cat, roadside puchkas or eagerly anticipating my next meal. Never mind the fact, I probably have to run an ultra marathon to work off those calories. Watching your weight can wait, the food here is just too good to pass up!
Have you ever been to Calcutta? Do you love it or hate it? Share your experience with Tripoto!
Check out Tripoto's YouTube channel for some super cool travel videos!