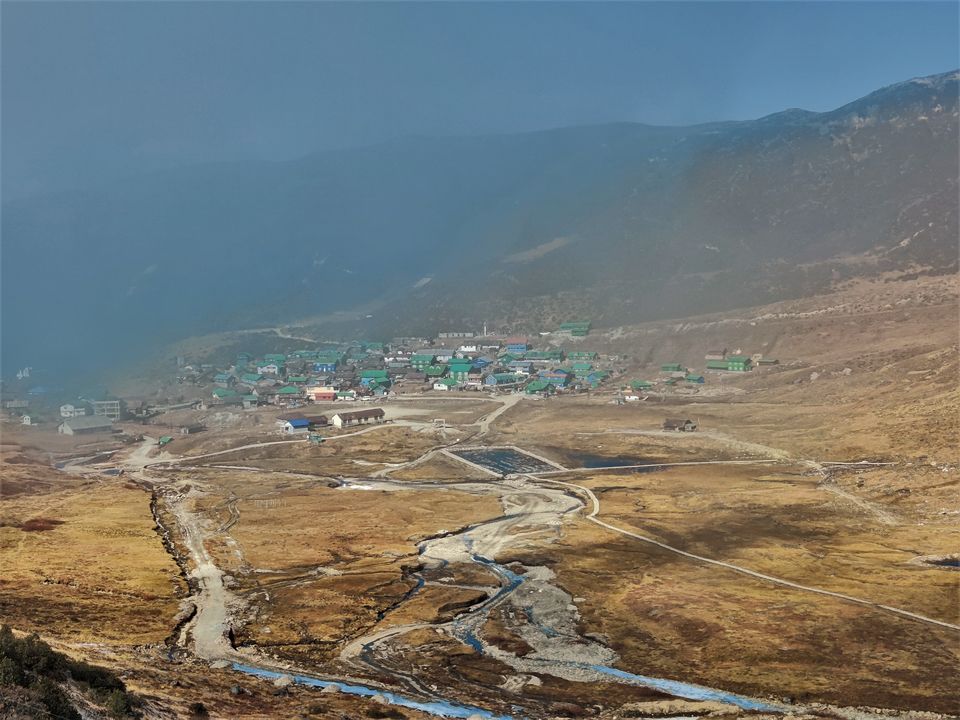 So, after almost 10 months of staying at home, with couple of weekend travels, we finally decided to visit Sikkim this December. All the last-minute bookings, packing for winter, shopping for the trip had got us excited to explore this state. This was our first state in North-East India and we were thrilled and anxious at the same time…By we, I mean me – Malavika and my husband – Priyank.
We decided to take 9 days to explore Sikkim. In our trip we covered Gangtok, Nathula pass, Changu lake, Zuluk Old silk route, Gurudongmar lake, Yumthang valley, Zero point. But today I would like to write down about our unique experience in Nathang valley or locally known as Gnathang valley.
It all started with a slight deviation from the plan, where we were supposed to stay in Zuluk for the night. Weather in East Sikkim is totally unpredictable due to which we had to stay the night in Nathang valley.
Located at 13200 ft above sea level, surrounded by mountains which didn't have the white caps yet and temperature which rarely goes above 3°C, this small hamlet is for adventure seekers. Some call it Ladakh of East Sikkim, but I don't like to compare any place with its famous counterpart. The entire region is an army base, where you can see things like tankers, bunkers etc. which cannot be captured from your lens, but can be from your eyes! It's a proud moment for any Indian to just drive through these remote areas fearlessly.
In the age where we look at google reviews, check photos, make a reservation way ahead of our travel, we stayed at a homestay that didn't exist in Google. This humble abode of ours for the night, surprised us by its simplicity, hospitality, humble hosts.
It was about 4 in the evening when we reached this place from Gangtok. We were exhausted with the journey and fueled ourselves with maggis', innumerable cups of chai on our way. As the insta trends say, we were having maggi in mountains and pop-corn in pahad. You might be wondering why not eat local, but it's always a questionable thought to vegetarians, no offence!
As the evening passed, we chatted with fellow travelers who came to this place with blind faith just like us. Hearing their stories, trips they had taken etc. we couldn't keep track of time and we reached a point where we couldn't keep our bodies up and running and decided to doze off for the day. Staying in these rooms that overlooked the mountains which looked like Mars - as much as we were excited, we had no idea about the long night ahead of us!
Due to chilly temperature, altitude,4 layers of clothing and not so comfortable beds, we didn't get a good night's sleep or any sleep at all that night! which was totally worth it as there was something waiting for us at the window – Geminids meteor showers! This was totally an unexpected experience to see meteor showers which were clearly visible to the naked eye…We rather enjoyed those moments in dark, silence and clearly all the Marvel movie possibilities 😉 than spending our time in setting up the camera for pictures (That's actually a different funny story altogether 😉)
To end it all, what we always learn by travelling is to stay humble, always expect the unexpected and be prepared for surprises!