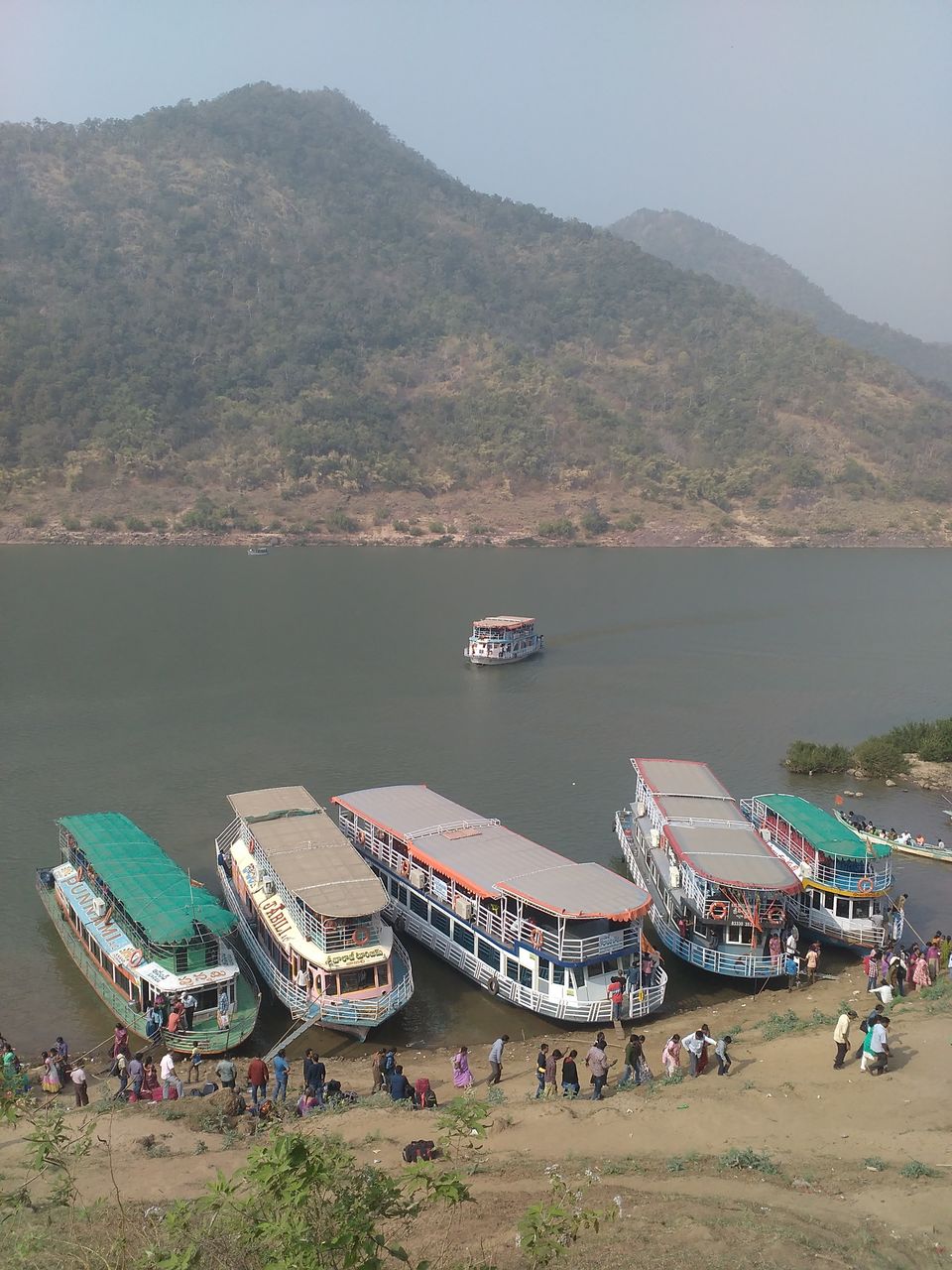 The river Godavari passes through these mountains called Paapi Kondalu which are spread in three districts viz., Khammam, East Godavari and West Godavari. One has to see to believe what people talk about the beauty of these mountains.
Finally, we decided to visit this place. We booked our tickets by APSRTC Garuda service from Hyderabad along with another family friend's family. So we were a group of 6. Having had our dinner we boarded the bus at night and reached Rajahmundry at 06.00 AM.
We freshened up at Hotel La Hospin at Rajahmundry on the bank of River Godavari. Hurriedly had our complimentary breakfast with a host of items including Toast with Butter, juices, Coffee/Tea.
We went straight to the Tour Operator who arranged a bus for all the tourists who booked a boat ride through him. We were taken by bus to the place where the boat was docked. It was an a/c boat with sitting arrangement at the top of the boat to enjoy the view of river Godavari passing through the majestic paapi kondalu. A stage was set for dance and entertainment and loud glaring music was being played.
We had booked a day package, while a few families booked night package where accommodation was arranged in huts in the island at Paapi Kondalu. The package included breakfast and lunch on board. Exciting to read, but worst to eat. So better eat breakfast of your choice before you leave at Rajahmundry and also pack some snacks with you.
Since the Government of Andhra Pradesh is constructing a project on the River Godavari, the Paapi Kondalu will be submerged with the completion of the project. So, better visit this place before the project takes its final shape.
Its worth a visit. You will be awestruck at the natural beauty of these mountains. I had never seen such magnificent mountains before.
We returned back at 06.00 PM and by the time we reached our hotel, it was 07.30 PM. We had our dinner and retired for the day.
The next day, we hired a Innova and and went towards Bhadrachalam. On the way, we enjoyed ourselves in the refreshing stream of cool waters on the way where there was a waterfall. The highlight of this visit was a hanging bridge on the way, where we stopped and spend a good one hour seeing the beauty of the place. Another specialty about Rajahmundry is its unique dish called Bamboo Chicken. Chicken marinated in curd and masalas stuffed inside bamboos and is prepared on firewood abundantly available in the forests. I have posted photos of Bamboo Chicken.
We returned back late in the evening, went to the local market at Rajahmundry and had our dinner. One interesting thing we observed was the banana market at Rajahmundry. I have posted a picture of this market which looks so unique.
Our tickets were booked by train in the return journey from Rajahmundry to Hyderabad. Night journey, so that we would be in Hyderabad by the next morning.
Back home, life as usual, boring and hackneyed. Office - Home - Office. Such outings and trips are always refreshing.
So, soak yourselves in the beauty of nature once in a while.
Where my words failed to impress upon you the beauty of these mountains, let my pictures do the talking. I have posted pictures clicked during the trip with my Lenovo A 6000.