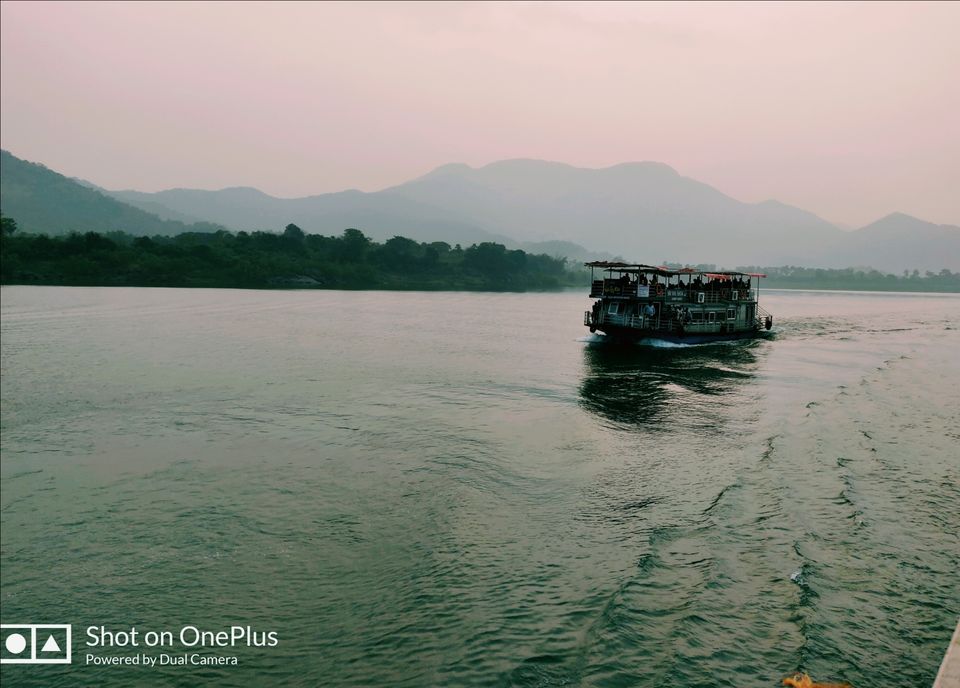 Located amidst lush green hills Papikondalu is one of
the best tourist spot for nature lovers in South India. Papikondalu hills is located in the border confluence of East Godavari and West Godavari districts in Andhra Pradesh and Khammam district in Telangana.
A boat⛵ trip on the Godavari River to the Hills is amazing. People can choose variety of boat trips depending on their budget and time. Boat operators Tourists provide boat rides to Papikondalu hills from Rajahmundary, Bhadrachalam and Kunavaram. We chose a two days and one night itinerary to Papikondalu hills.
We started our journey from Hyderabad to Rajahmundary by train. We reached Rajahmundary on December 8 early morning and from where our boat ride was scheduled to Papikondalu hills. After eating some local breakfast in Rajahmundary we reached our pick up point at Rajahmundry Kotipalli bus stop, where a scheduled bus was waiting for us.
We took the bus and reached our boat pick up point within two hours. We also crossed Polavaram project site as well on our way. We witnessed multiple huge boats for travel purposes to Papikondalu hills. Our boat was waiting for us at Singanapalli Revu.
Majority of the boats ⛵ have AC compartments as the weather is really hot and humid. Better to wear loose and comfortable clothes during the boat Journey. The boat staff provided us breakfast as soon as we entered the boat.  The boats are maintained well and the staff keep the audience engaged with music, dance and stunts.
The staff make sure that even the tourists dance to keep everyone entertained during the boat Journey. The best part about this trip is the boat Journey amidst the lush green hills and Godavari river. People who are fond of water will surely enjoy the boat river. Short treks to hill temples along the way is thrown into the trip, along with scenic views and food.
 
The boat provides charge Rs 3,000 per trip for the adults and Rs 2,500 for children (5 to 10) years. The packages include pick up from Rajahmundry kotipalli bus stop, Breakfast, Vegetarian Lunch, Evening Snacks with Tea and Non-Veg dinner. Night accommodation at Sivagiri Bamboo Huts with camp fire.
The package also includes Breakfast, Non-Veg Lunch and evening Snacks with Tea and Dropping at Rajahmundry kotipalli bus stop on the second day.
Facilities available in the boat ⛵ :
Boat Manager with Staff members and Guide.
Ground floor with seating having Toilet.
Ist floor in open deck with dias and audio system.
Complimentary entertainment programmes.
Places to explore : Papikondalu, Perantapalli, Sivagiri Camp Site.
View on boat⛵ : Polavaram Project Area, Devipatnam.
Tour schedule of the itinerary we booked:
1st Day
7:30 am- We were picked up from Rajahmundry kotipalli bus stop and we traveled by road to singanapalli revu.
10.30 AM- We checked into the Boat. Breakfast was provided  to us in the Boat.
11.00 am ⛵ Boat journey. via Devipatnam.
1.00 pm Vegetarian lunch was provided to us  during boat journey.
3.00 pm- We reached Perantapalli Tribal Village. Visit Ramakrishna muni vatika which was established by Late Poojya Swamiji Balananda Saraswathi during 1927. After the darshan of Swayambu Lingakara Sri Veereswa Swamy and local sight seeing then our boat moved journey towards the Camp site.
4.30 pm- We reached Bamboo huts situated on the bank of River godavari at Sivagari Tribal Village of Khammam district.
We were provided evening snacks, Non Veg. Dinner and accommodation in Sivagiri Bamboo Huts with a camp fire at the resort..
2nd Day
6.00am- A local guide took us for  sight seeing by walk in the Forest area and nearby villages.
9.00am- Breakfast was provided to us at the camping🏕️ site. Free time for local sight seeing.
12.30 Noon- Non-Veg lunch
3.00pm-  Boat pick was arranged for us for the return journey by boat⛵
6.30pm- We  Reached to singanapalli revu.
7.00 PM to 8 PM- We were dropped to Rajahmundary Kotipalli bus stop by road journey.
Whoever wanted to extend their trip to Bhadrachalam were provided a boat drop to Bhadrachalam and the boat providers charged Rs 100 for the drop.  As we only planned to visit Papikondalu we reached back to Hyderabad in a return train 🚆 journey. Papikondalu is a must visit place for nature lovers and water lovers.
Point to be noted : There is no mobile Network once you board the boat and until you reach back to Singanapalli Revu so keep your family and loved once informed that they cannot call you or reach you for two days if your opting for this trip!
#Papikondalu #AndhraPradesh #Rajahmundary #Godavari #Hills #Bhadrachalam #luxurygateways #AndhraPardeshtourism