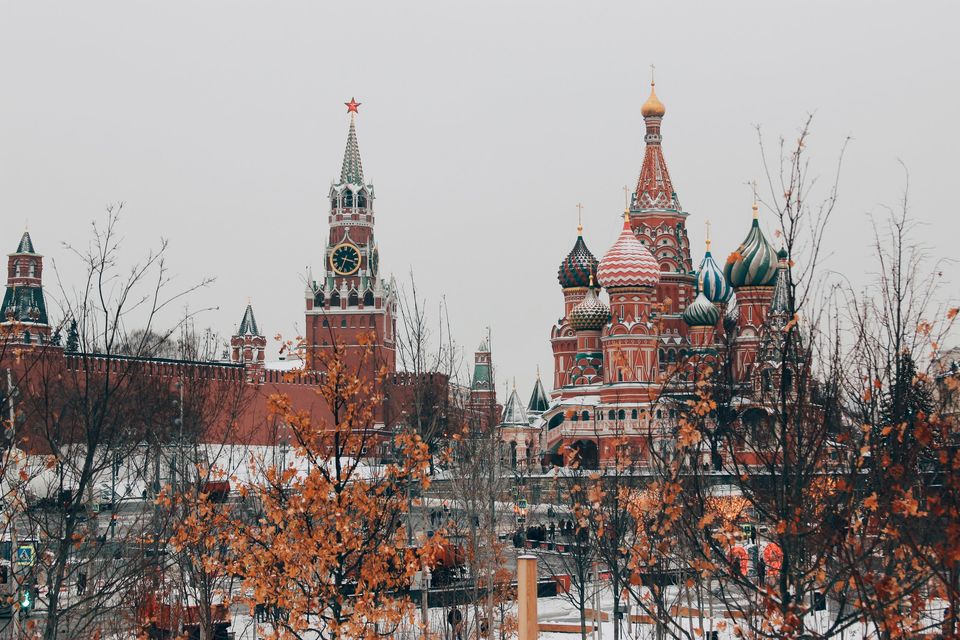 Ravishing Russia
Russia – earlier part of USSR (Union of Soviet Socialist Republics – popularly known as Soviet Union) became independent country after the dissolution of Soviet Union in December 1991. It is arguable world's largest country which stretches from Eastern Europe to Northern Asia. Russia is a land of exclamation marks, it is twice as large as Canada, which is second largest country of the world. It is spread across 11 time zones and incorporates one of the most diverse land mass where you will find deserts to snowcapped mountains, from deep dark forests to plain land. It is home to Europe's longest river Volga and largest Lake Ladoga. Who does not know that it also hosts world's deepest lake, Baikal. What's more, the country also records lowest temperature outside North Pole and South Pole.
Some Useful Information before you travel:
Currency in Russia: Russian Ruble
Current Exchange Rate: 1INR = 1.01 Russian Ruble (Almost Equal)
Russian Plug: Same as European
Safety in Russia: Russia is pretty safe, however you always need to be extra cautious, just as you should be in a tourist country while you are travelling. Specially beware of pick pockets in crowded places at tourist hotspots.
Language: Russian – please note not many Russians are good with English. It can be difficult to get directions. Ideally go to a café or Restaurant if you get lost and they will guide you.
Sim Card: Roaming in Russia can be pretty expensive, so it is advisable to have a local sim card for using internet and after that you are sorted. Sim card can be easily procured at the Airport by producing valid id proof.
Major Airports: Two major transit points in Russia are Moscow and St.Petersburg
Time Zone: India is 2.5 hours ahead of Russia
DAY 1 – Arrive ST. PETERSBURG. PULKOVO AIRPORT, HEADING TO THE CITY CENTRE, EVENING TOUR AROUND THE CITY.
Depending on your arrival time on your first day in Russia, you can either spend the entire day exploring the city or you head to the hotel and just sleep.
If you have some time before sleep, you can head to the Nevsky Prospekt metro station and just walk around the city centre. Nevesky Prospekt- means Nevesky Avenue or street.I strongly recommend walking the entire Nevsky Prospekt from the start (near Dvortsovy Bridge) to Ploshad Alexandra Nevskogo. This street which is about 4.5 Km Long is the main street of St.Petersburg and needs an entire day to explore.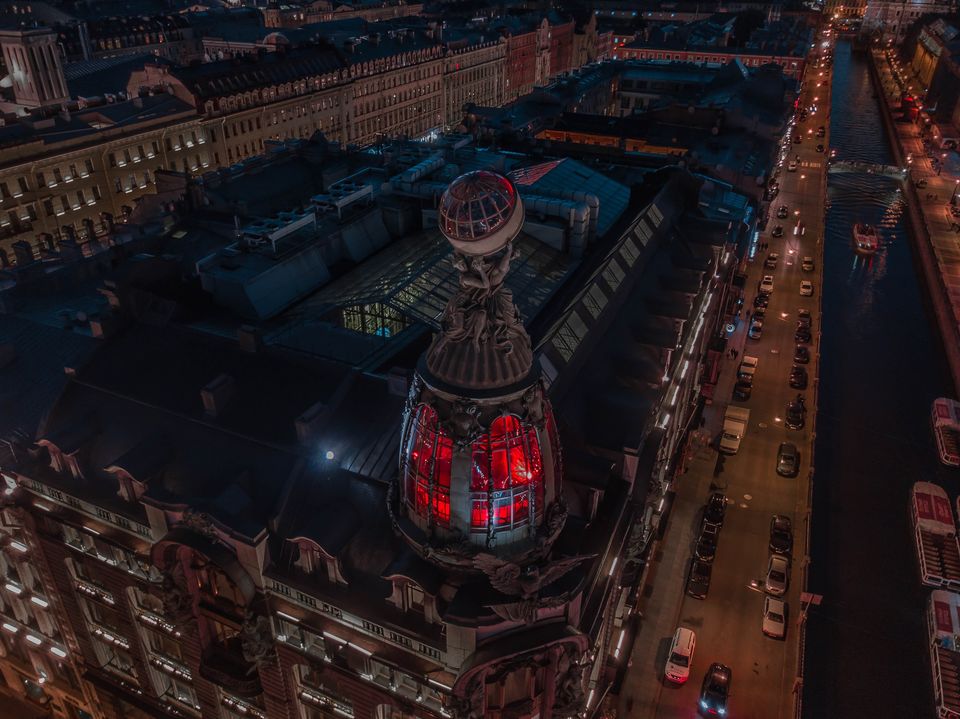 Some notable monuments on the street are Stroganov Palace (yes the famous Beef Stroganov is named after Stroganov Family)- this palace serves as Museum of Fine Arts, Winter Palace-once home to Russian Tsars now serves as Hermitage museum, Vorontsov Palace – currently serves as a military college and not open to public viewing and last but not the least – Kazan Cathedral- you got to see this to admire its beauty to fullest.
I believe that after this walk, you will be already pretty tired. If you're felling adventures and would like to try Russian food for dinner- hop into any café or restaurant and you will not be disappointed and if you wish to play safe check out Indian Restaurants such as Great Punjab, Tandoor or Namaste.
DAY 2: PETERHOF PALACE AND THE CANAL BOAT TOUR
Well, on the second day of your trip to Russia, I recommend heading to the Peterhof Palace – one of the most stunning palaces in St. Petersburg. The Palace is about 40 KM from city centre and very well connected with all modes of public transport. If you're visiting Russia in summer- which is advisable - you will be able to explore the marvellous Peterhof Park with the fountains as well. The fountains usually starts from end of April and is a not to be missed attraction. Typically it remains in operation till end of October and after that winter takes over.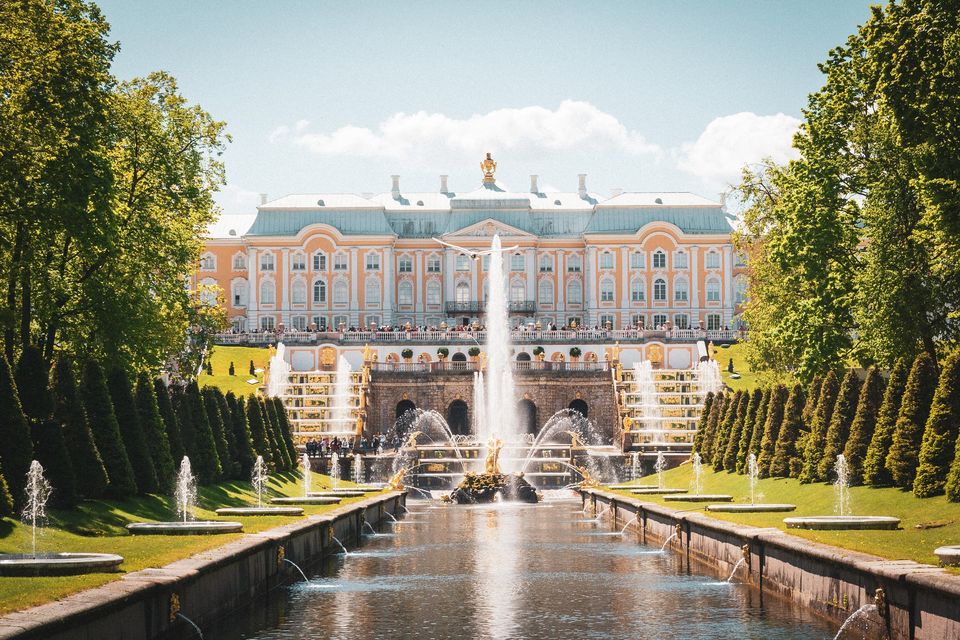 I recommend a private tour along with guide with pick up and drop to your hotel, which will solve all your problems of transport, tickets and language. This is the easiest way to reach and explore the attraction. However if you are on a budget, there are various public transport modes and routes which will help you reach there.
After the tiring day, I recommend a relaxing Canal Boat Tour. There are multiple tours available with different routes. Simply pick up the one which is nearest to your hotel. Most experience will be same apart from the surrounding sights. If you are keen on trying something upscale, try a Cruise Dinner at Volga Ship Restaurant.
DAY 3: EXPLORING THE CATHERINE PALACE, EXPLORING THE REST OF THE CITY CENTRE, THEATRE AT NIGHT
Let me tell you that your third day in St. Petersburg will be equally exciting as the first two days. Today I recommend exploring another stunning place – The Catherine Palace located in Tsarskoye Selo town close to St. Petersburg. It would take you about 1 hour to get there and again, as mentioned earlier as well, it is easier if you go for a private tour.
Catherine Palace is probably the most beautiful palace in entire Russia, and it's famous for its Amber room and its giant ballroom, there is so much you can do inside the palace! However, besides the palace, there is also a stunning park and a couple of other historical buildings in Tsarskoye Selo town.
Please note that there are not much decent options to eat around near the palace and the park so I would recommend to carry some snacks and sandwiches and have a proper meal once you reach back to the city.
Depending upon the time you come back to the city you can either go and watch a theatre or Opera, if not visit some famous pubs of the city and if you just want to relax just sip a coffee at some of the best cafes around. You can also go for opening of the bridges which happens at night. The best bridge to look at would be the Dvortsovy Bridge next to the Winter Palace (the Hermitage). Check with the locals or your hotel for bridge opening time.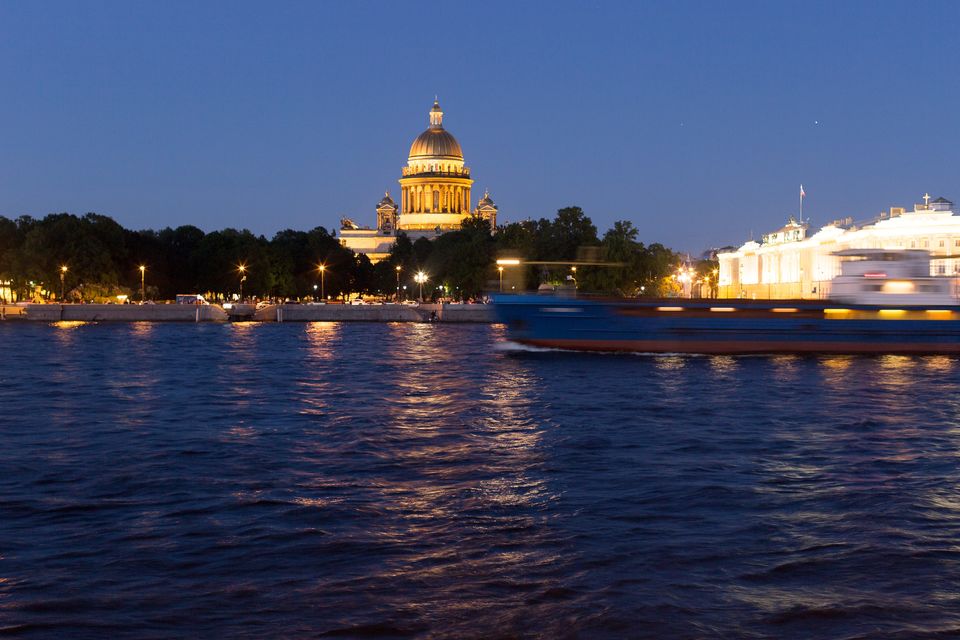 DAY 4: HERMITAGE MUSEUM & PETER ISAAC'S CATHEDRAL, TAKING A SPEED TRAIN TO MOSCOW
Ideally the fourth day in St. Petersburg should be your last day in the town, head to the Hermitage. Get the private tour with guide to skip the queue and know this place in much better manner.
Hermitage is gigantic in size just as other things in Russia and has a beautiful collection of art and the world's best masterpieces. You should ideally spend about 2-3 hours here.
After visiting the Hermitage, you can walk to Isaac's Cathedral; St. Isaac's Cathedral is a former cathedral that is now a museum. It's very impressive inside; however, if you're fit enough and you wish to challenge yourself, you can also explore the Colonnades of the Cathedral. From the top of the colonnades, you can see the panorama of St. Petersburg, and it's stunning. It's definitely one of the best views you can find in the city.
Once you finish the sightseeing, pick up your luggage from the hotel and catch a speed train to Moscow. This is an experience in itself. This journey is about 4 hours and it is full of natural beauty. Make sure you catch late afternoon train so you reach Moscow in time.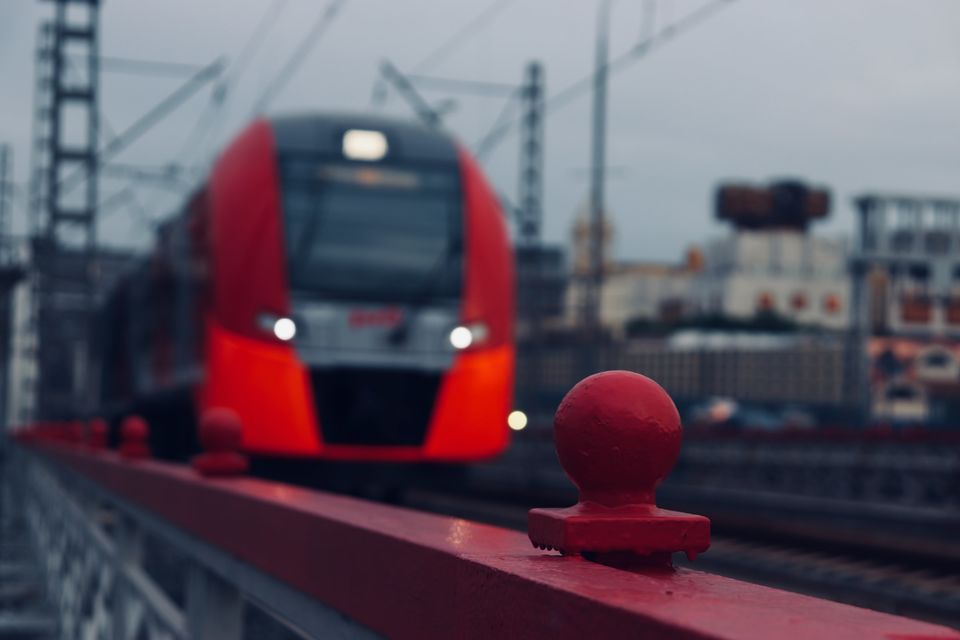 DAY 5: EXPLORE THE RED SQUARE, ITS MUSEUMS AND THE CITY CENTRE OF MOSCOW
Wohooo!!! You have made it to Moscow. Travel in Russia is to follow a simple template- take a private tour, they will take you to all the main highlights of the city and give proper information without challenging the language. If you are on your own and would like to explore, head to the Red Square first.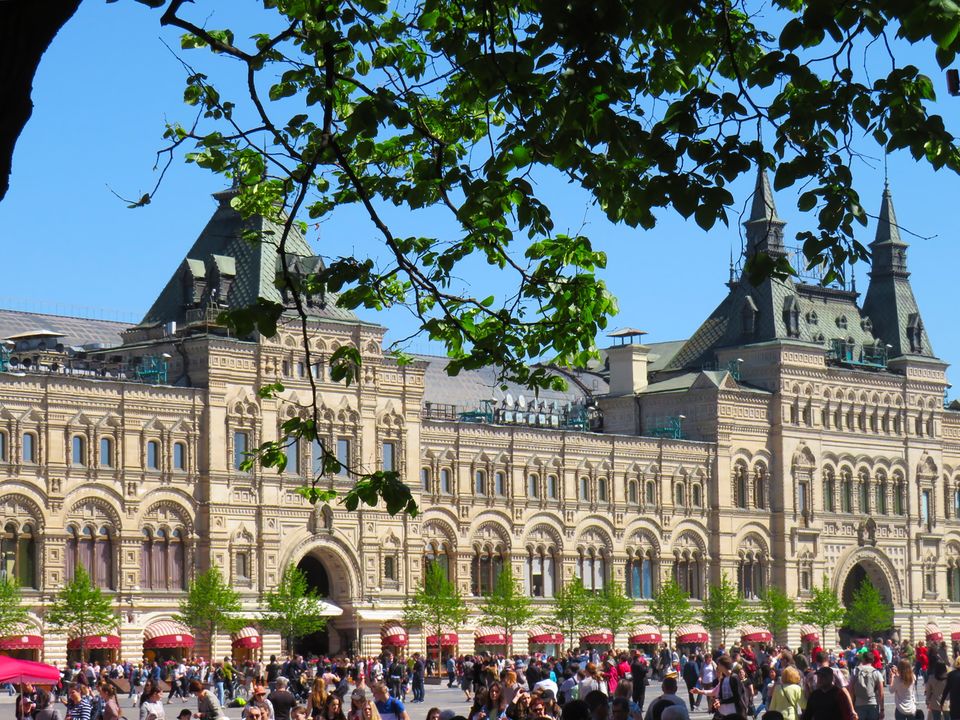 The most important museums on the Red Square are the Armoury Chamber and the Assumption Cathedral – they are definitely worth paying a visit. Another place to explore on the Red Square is the historical department store GUM, where you can either have lunch or try one of the best ice creams.
There are couple of good Indian restaurants around like Khajuraho and Curry up.
DAY 6: IZMAILOVO KREMLIN, MOSCOW CATHEDRAL & EXPLORING THE CITY CENTRE
On your second day in Moscow and the 6th day of your weeklong trip to Russia, head to the Izmailovo Kremlin. Izmailovo Kremlin looks very different from the Kremlin on the Red Square, however, it's very pretty as well. It's a wonderful place to look for souvenirs.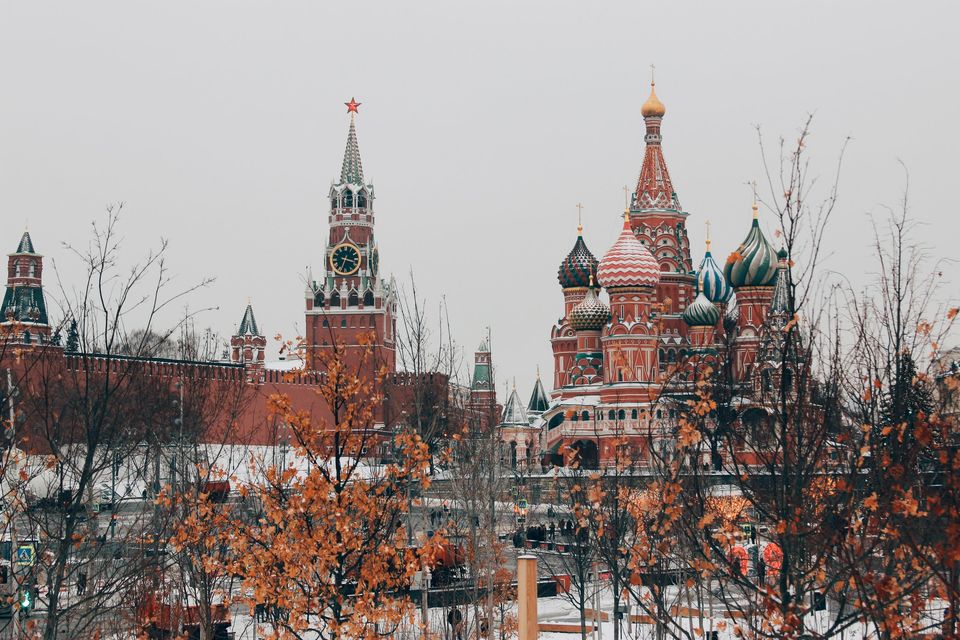 Another must-visit attraction in Moscow is the Moscow Cathedral – Cathedral of Christ the Saviour. The entrance is free as it's a functioning cathedral and it's very big inside and pretty amazing.
Day 7: Moscow
The city center of Moscow is pretty big, and there are some nice places to visit. Head to the Bolshoi theatre to see the building and walk around the streets of Moscow. Make sure to check out Stary Arbat street – one of the oldest streets in Moscow and once with the most restaurants and shops. Check out the Zaryadie Park close to the Kremlin and walk to Lubyanka.
Day 8: Departure
Here comes an end to one of the most fascinating tour.
Get in touch with me to know more!!!