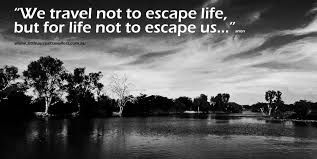 Travelling is enjoying life; travelling is about getting closer to people, to nature and the beauty that the world has in itself and which it truly bestows on all living beings to enjoy! One simply does not need a reason to travel. It can become a way of life. Celebrate world tourism day the right way by traveling and the reason should be to love the world. Here are a few reasons which I think are enough to convince anyone to travel on this auspicious day!
Travel to escape from the monotonous life!
Following a routine regularly for days and days can certainly make your life boring, and you simply get tired of the whole thing even when you are not facing any problems in life. This is the time when you simply pack your bag and head to a destination that can fill bliss in you. Give yourself a break and you deserve it! Relax and enjoy the beauty of the world. Know how much ready you are to experiment with a different new lifestyle in a new place.
Travel makes you wiser, smarter
It is not just the books that provide knowledge, but getting outside of it and knowing the real world is the best way to be smarter and wiser. The more you get closer to the unknown parts of the world, the more you are equipped with knowledge in different fields. It is not just the people here or their culture, but the geography, the climate, the true essence of the place cannot be experienced from the book. The World Tourism Day too comes with a purpose, and that is to reach out to people and get to know them.
Travel to expand your horizon
Let go off your prejudices. Travel to distant places and see how different people are. Get closer to people and know their way of life, their perspective and the way they look at the world and you will definitely love it. Different regions will make you realize how things are different from your part of the world. You get to socialize, interact, establish new connections and experience every different customs and beliefs which will provide knowledge that will widen your horizon. Do not limit yourself to just a few places that you are accustomed to.
Travel for fun
The real fun is being in a place where there is something unexpected at every corner; it can be the food, the beauty of nature, the people and their customs, the way of life anything. Excitement is very important in life, and when you enter zones that are new to you, you will definitely explore a new world and unfold the secrets of a world that would otherwise never know existed from your part of the world. Travelling during World Tourism Day, which falls on 27 th September, provides greater joy as there are themes arranged for the tourists, along with different activities and competitions
Travel for memory
What memory would come up to your mind when someone asks you about what was exciting enough in the past? You certainly won't tell them about the new car or the new project that you handled. You would tell your experience about the new places you visited and share the 'on the road' experiences through the photographs that you have taken and the videos that were so exciting.
By exploring and traveling the world, you explore yourself and see how as a person you have developed and are ready to accept the world as it is with different religions, people, culture, nature, and more.
Happy World Tourism Day to all Travelers out there !
This Article was originally posted on my blog