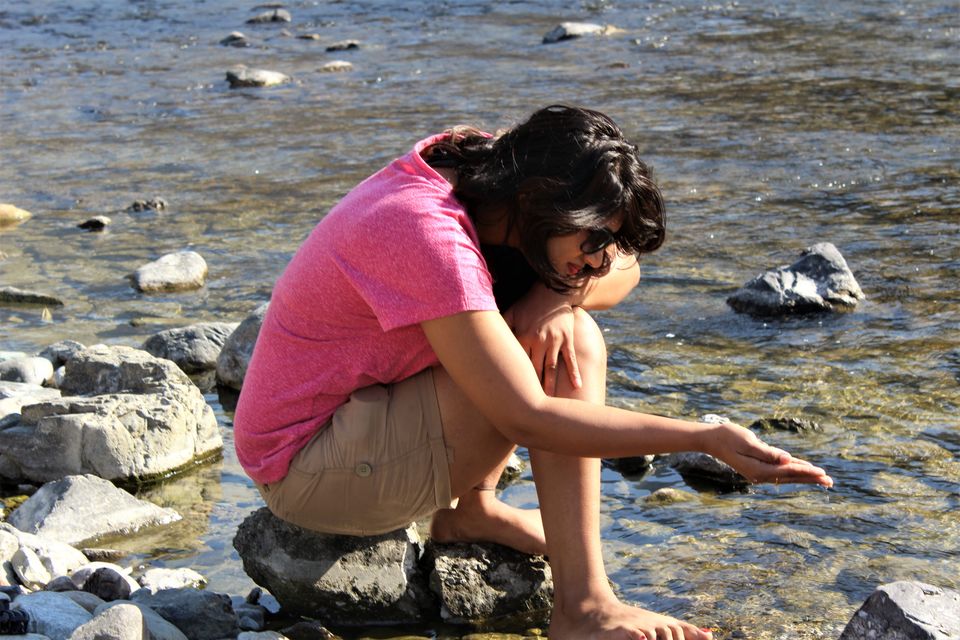 A gate way to Spirituality and a Magnet to thrills (White river rafting) too.. YOGA CAPITAL OF WORLD @ R I S H I K E S H @....
It was a fine morning that I was getting bored with humdrum life of mine. I was going through my old diaries to kill time, there I encountered with my bucket list :) I didn't even thought for a second time and called my best buddy. We just love quick plans about travelling, which is quite impossible when you need approvals from your leads. But, are we the kind of personalities to drop the plan just because of others never give a sound to us?
Finally, the day had come, March 21st we boarded the flight, after 2 hours of journey reached Delhi. We were excited with no plan, but with destination in mind, didn't even know how to reach Rishikesh, after all this is the first time we dared to make it on our own.
Reached ISBT and inquired then got into the bus around 8 AM and after 7 hours of bus ride we reached Rishikesh. At the Rishikesh bus stop we were in search of where to reside for the night, when an army man came to me and asked from where am coming and why was I here, explained him the situation and he suggested me one guy. He explained everything, we got a place for the night stay. hurrah....I decided to go for rafting immediately. This is, of course, ridiculous and laughable. Unfortunately, but it was 5 pm, rafting closed, so these wandering feet and minds had to sleep in order to get ready for another good day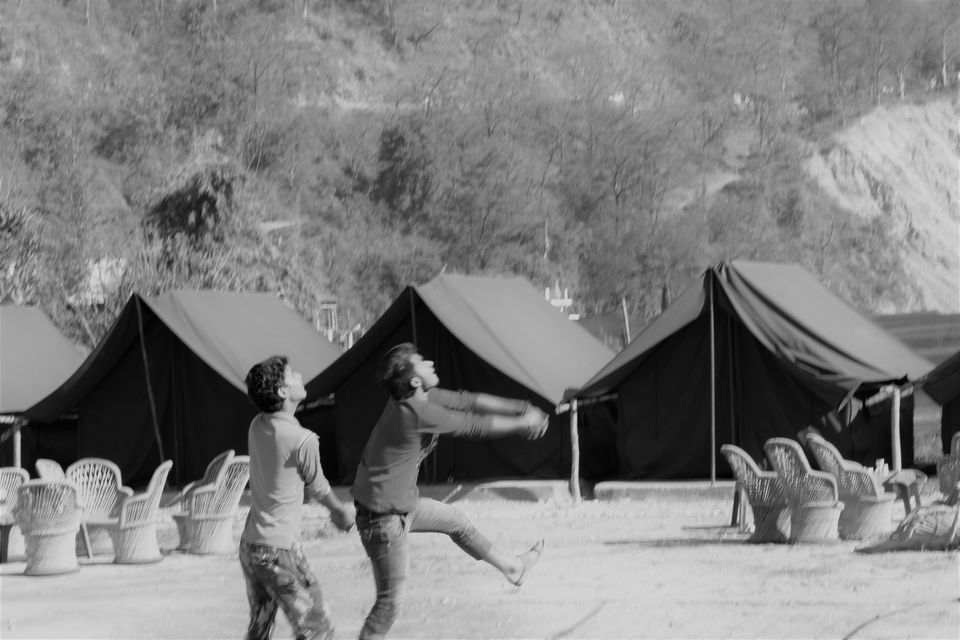 The camp was near Rishikesh and on the river side too, until the time our vehicle reached, we thought of sitting beside the river Ganga and enjoyed the bountiful and fresh breeze. It takes you to an entirely different world. The Ganga Aarti can be witnessed at various locations in Rishikesh. The tradition of Ganga Aarti with veda mantras, is really wonderful to see and listen.
The vehicle had come, after 40 min of bumpy ride, reached camp site, had another group in our vehicle, they are also from Hyderabad. After settling our bags at the tent and taking a full 360 view of the picturesque landscape that we were in, we decided to take a walk around the place, but it was 7 pm and dark, I sat gaping at the beautiful picturesque view of the black mountains silver lined by the moonlight. Dinner served around 8 pm followed by bonfire and music.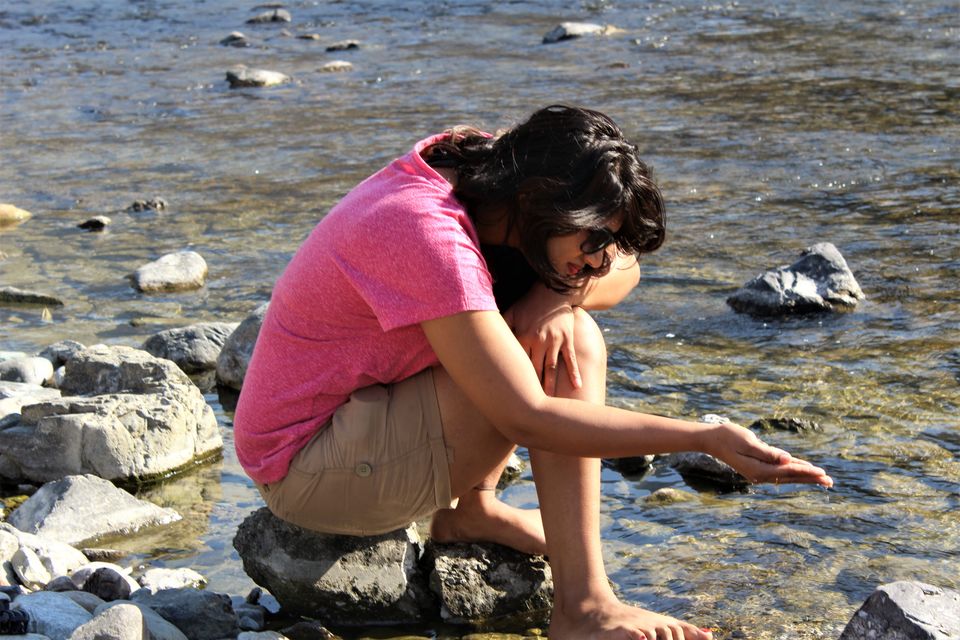 The sound of flowing stream really gives a good night sleep, kind of a feel closer to mother nature. Anyway Sunday was reserved for volleyball and water rappelling. good night !!
Next morning, There was a certain chill in the air and I was really looking forward to sunrise which was sure to change the scenery in a matter of minutes. I thought of exploring out that I didn't do last night cause of late arrival, we walked through river, clicked some pictures over there, sat in the tranquility offered by the river,watching the horizon change in mountain which I absolutely love forever.
Time for breakfast, had yummy breakfast and played volley ball for some time and here we were ready to go. I was too excited and scared at the same time, we stepped into our rafting boats and the guide told us what we have to do during the rafting time.We just took our mobile phones and our wallets which later the instructor kept in the water proof bag tucked in raft.
Our course it was 18km which included with 9 rapids. These rapids actually had names for each one of them, which were kept by Sir Edmund Hilary when he took on the course himself on a kayak starting from Garhwal region (Gangotri Glacier) and names were kept like in one rapid like he dropped his cash and named it cashflow, the other one felt like roller-coaster and the name stayed. One was return to sender where water after hitting the rock came again and made a whirlpool at center of the course and you can actually feel it :D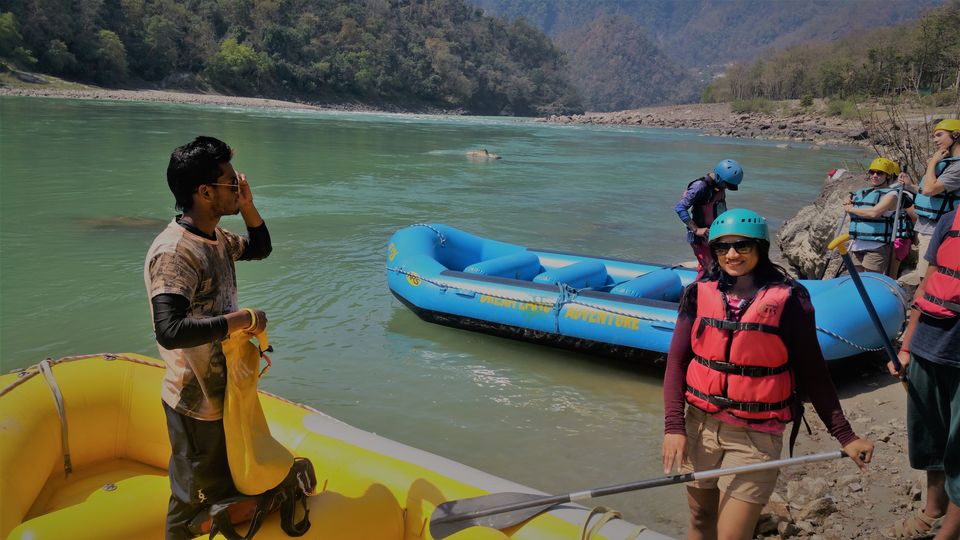 Time to raft, wait wait did i hold it the way it has to be ?
Just after a low tide passed I had no idea that in between of this journey, they will push you into the water, I didn't even know how to swim and I am scared of water and biting my lips I know I couldn't do it so, I glared at Bharani and he was shouting noting gonna happen I am here jump jump...." chalo ab nahi toh kabi nahi' let's go for it and I dropped myself in water in just milliseconds, like leaving behind everything to dive into a whole new world. Trust me I was benumbed for few seconds, couldn't think beyond surviving. Thanks to Life Jacket that my face came up over the water. This experience was amazingly awesome. We were laughing hard and playing like we couldn't even breathe properly, shivering feet and hands weren't able to experience it over.
Rishikesh:
The gigantic mountains standing tall in the backdrop with the turquoise blue waters gushing beneath. This place situated in foothills of Himalayas is a mini heaven on Earth and is considered as the starting point of Chaar dham yatra namely: Badrinath, Kedarnath, Gangotri and Yamnotri. The place with innumerable temples and sadhus. This is Rishikesh.
Best time to visit:
Rishikesh is located at the Himalayan foot hills, it provides a cool and pleasant escape during the hotter months. Therefore, the best time to visit is between March and April, and September to October.
Rishikesh is best avoided during the monsoon months from July to August, as it receives heavy rain. So, Rafting and other adventurous activities are also closed during this time.
Adventure:
You can experience many adventurous activities which include trekking, White water rafting, Bungee jumping and many more. There are many such organizers and agents who will do the arrangements for you @ EACH STEP of the adventure trip.
Accommodation:
There are many hotels in Rishikesh with all kind of tariff range. During peak season, expect the tariff to be on higher side. Besides there are some really good Ashrams which provide accommodation at very nominal rates and those are very comfortable.
place where we were,
http://www.riverraftingrishikesh.com/camp-19-jungle-camp-neelkanth-road.html
http://www.riverraftinginrishikesh.co/package/shivpuri-beach-camp-from-shivpuri-to-rishikesh-best-river-rafting-and-best-camping-deal/
Not me, look at the temple back of me
Places to visit:
1. Vashista Goofa
2. Neelkanth Mahadev Temple
3. Trayambakeshwar Temple,
4. Ramjula
5. Lakshmanjula
6. Triveni Ghat
7. Gita Bhavan
8. Swarg Ashram,
9. Parmarth Niketan
For shopping lovers do visit, Tibetan market, you will get all kind of cloths with good quality.
What Rishikesh does for me:
Struck with wanderlust is to make me fall in love with the heavenly waters and the peaceful spiritual atmosphere.
Sad part:
Because of Holi, we didn't get a slot for Bungee jump... So, this wandering feet have to move to another lovely place THAT we never heard.
I am gonna take you guys to that place in next coming one until then keep smiling..
being a traveler I can't tell which part was the best but Uttarakhand one was quite awesome,