We choose "Cobra", Yes "The Cobra trail" for River Rafting through dense forest of Western Ghats at Agumbe. It was a 26 KM extensive trail which offers great views.
We started from Bangalore after breakfast on a bright sunny day. After Exploring the Submerged Rosary Church Near Hassan And Famous Belur Temple we entered into those curvy ghats and were passing through coffee plantations and forest reserves of western ghats. It was all green, Different shades of greens, Even mile stones had thin layer of green algae. Their were no shops and restaurants till miles. we have planned to reach sunset point Agumbe at dusk but were little late, it was already dark, no network to check google maps and we can't find anyone till miles to ask for direction. So we decided to enter a private property to ask direction. The journey was something like what it looks in this video.
Finally we reached, it was all wet and dark, it seems to be inside forest reserve. After delicious dinner we went to sleep in out tents.
As soon as we reached to starting point for River Rafting it started raining. we got a quick introductory lesson and then we started to raft. It was mesmerizing, I saw dense forest on both the sides while drifting in our rafts through the forest reserve. It reminded me of the movie "Anaconda" although we were rafting at Cobra capital instead of anaconda.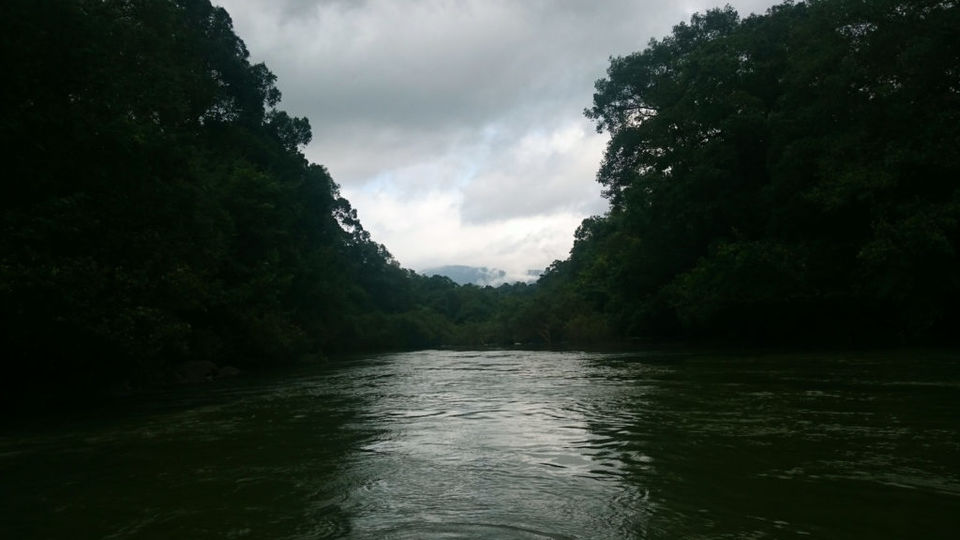 We jumped into the green water several times on the way. seethanadi is a monsoon river and water level sores with rain, although rapids were not very high and dangerous. After many jumps and traversing through long distance we saw backyards of people, we were crossing small villages on the way.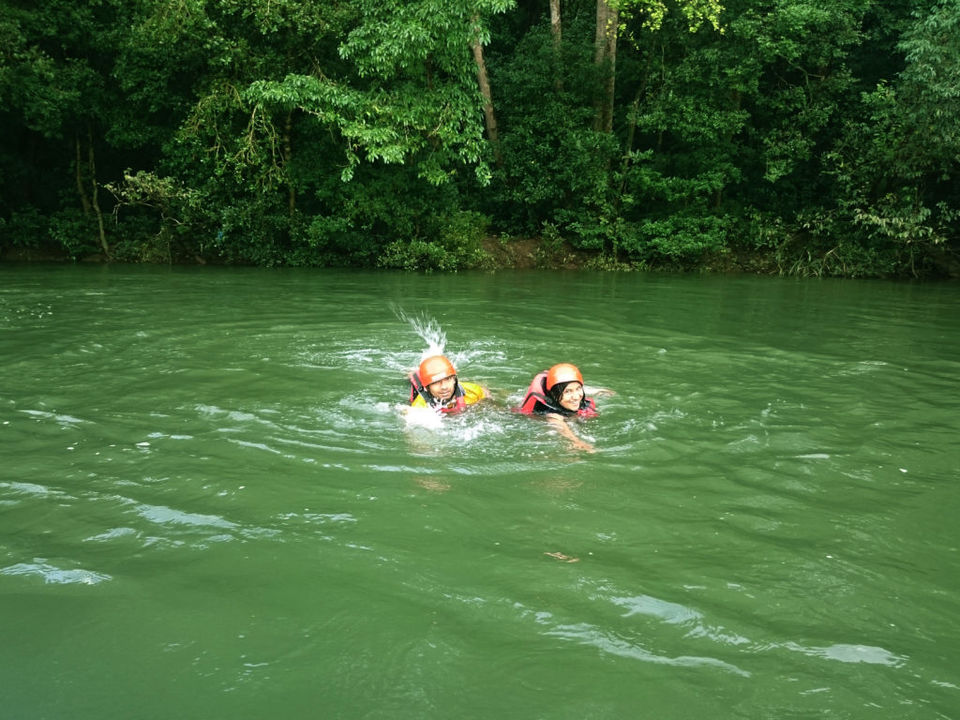 The journey was so beautiful that I lost the track of time, It became quite dark due to clouds and it was raining cats and dogs. we got tired and at this point I got little worried and asked if we can end our journey, but they suggested to raft a little more otherwise we have to walk a long distance to reach main road. After some time rain slowed down and we reached the destination.
How to Reach
Mangalore is the nearest international Airport 95 Km from seethanadi Nature's Camp.
Udupi is around 40 kms.
Mysuru 330 km.
Bangalore 400 km.
From above mentioned cities you can get KSRTC run buses, but I will suggest to hire a cab/taxi so visiting nearby places will be easier and comfortable.
Where to Stay
We stayed at Seethanadi Nature's camp. It is centrally located and very near from all major tourist places in Agumbe. They have very basic amenities and good freshly cooked local food, their are no restaurants or eat outs nearby, So we ate all meals at Seethanadi Nature's camp. They have option of 2 bed tents and 3 bed tents with attached bathrooms. The campsite is on the bank of River and you listen the sound of running water, crickets, birds, frogs all the time. If you want to be close to nature then you will love to stay here, But if you seek luxury this place is definitely not for you, frequent power cut, weak network connection, monkeys, frogs and leaches will scare you for sure.
Top nearby places to see
Sunset point - It is a scenic drive through Agumbe Ghats on the way to Sunset point make sure you enjoy that journey along with the destination. Reach early as we missed the sunset only by 20-30 minutes.
Jogi Gundi Falls
Onake Abbi Falls
Koodlu Theertha Falls
Barkana Falls
WaterFalls are usually closed during monsoon as water level sores and slippery paths make it little dangerous to visit.
Top tips
Agumbe is know as "The Cherrapunji of the South" and receives high rainfall so be equipped with umbrella, raincoats, extra sets of cloths which dry out quickly, mosquito repellent, torch, snacks, Footwear which go good in rainy season.
Their are very less eat outs so plan where you are going to eat before hand.
Travel during day time as much as possible because ghats are steep, no street lights and very sparsely populated area makes it very dark during late evening and night.