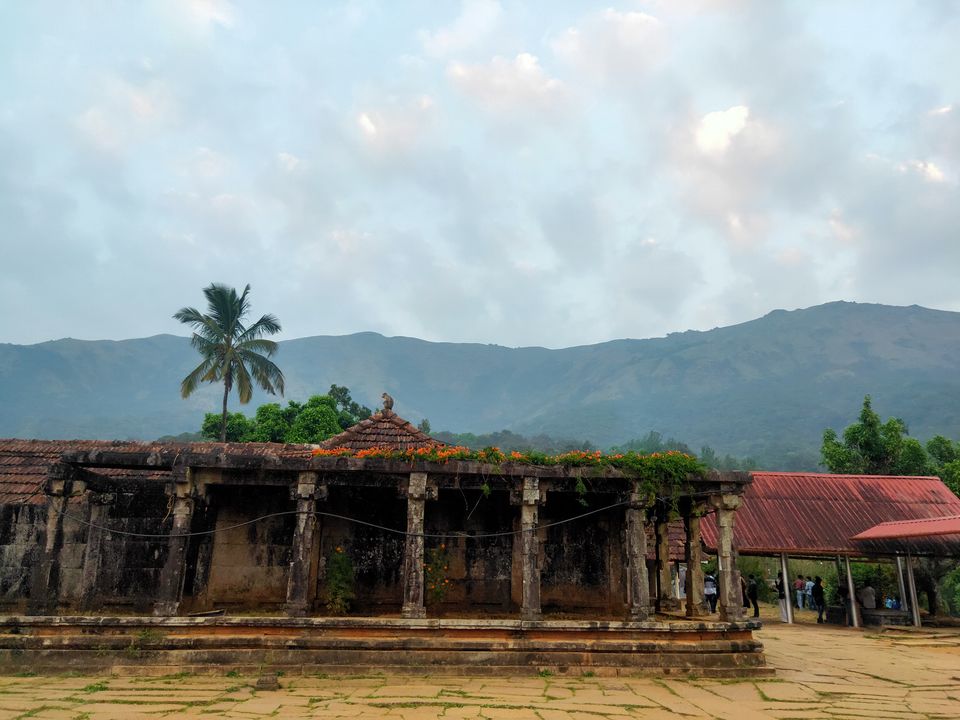 Wayanad is a great place for a road trip as there are lot of tourist attractions spread all over the district and also there are two tiger reserves nearby - Bandipur in Karnataka & Mudumalai in Tamilnadu, which offers an unforgettable drive through the forests watching the wild life.
Myself and wife planned a three days road trip to Wayanad on last Christmas day - 25th December, 2020. Most tourist spots in Wayanad were not opened to public then because of Covid-19. Since we were planning only for refreshing road journey and a peaceful stay for 3 days, we didn't cared much about the tourist attractions.
We started our journey at morning 7 o'clock from home in Thrissur. Since it was a Christmas day, the roads were not busy. First day we had planned to visit Thirunelli temple and booked the stay at Ktdc hotel at Thirunelli. We were taking Thrissur - Kunnamkulam - Kuttipuram - Kottakkal - Ramanattukara - Kunnamangalam - Thamarassery - Vythiri - Kalpetta - Mananthavady - Thirunelli route. At around 11-30 a.m we reached at Thamarassery in Kozhikode. After this the ghat road to Wayanad starts. This is a beautiful road passing through the forests with 9 hairpin bends. The drive through here was very refreshing. We had lunch from "1980's A Nostalgic" restaurant located at Kalpetta bypass at around 1 o'clock. After that we continued our journey to Thirunelli.
At around 2-30 p.m, we reached Mananthavady. From here there is around 30 km to Thirunelli, which passes through the dense forest ranges of Wayanad wildlife sanctuary. This drive was a great experience even though we were not lucky enough to spot any animals on the way. The road was almost empty after taking the deviation to Thirunelli from Mananthavady - Kutta road. We drove slowly enjoying the beauty of forests.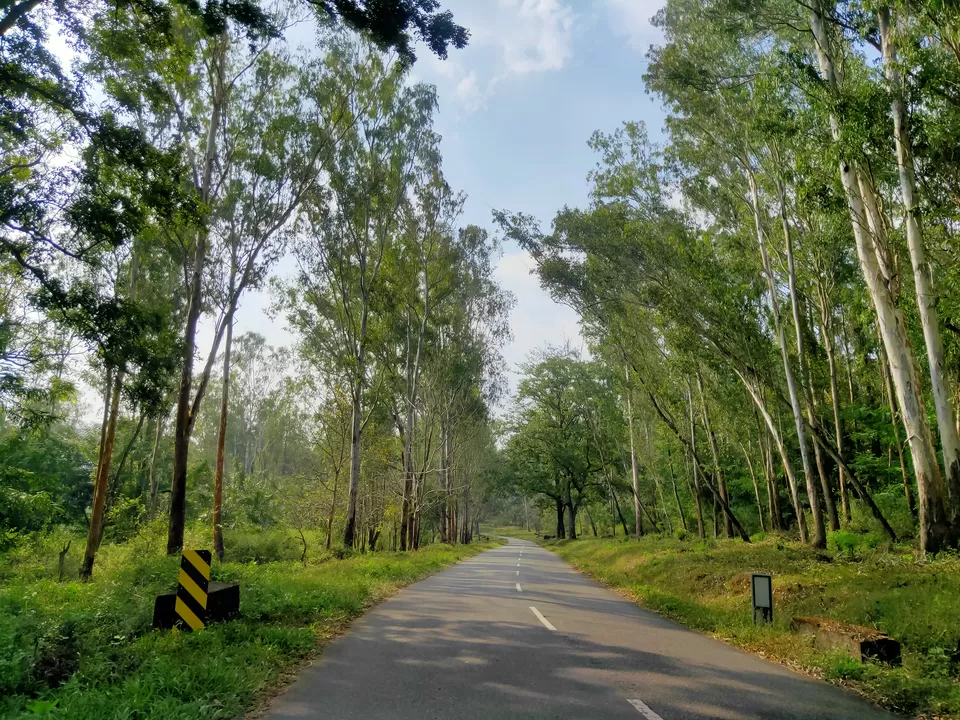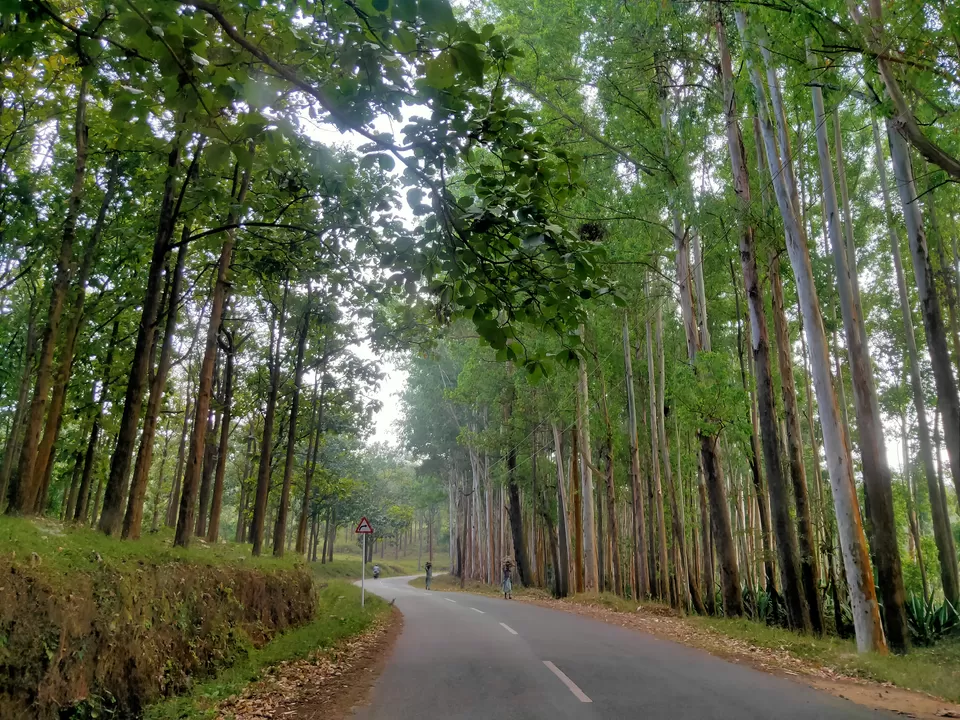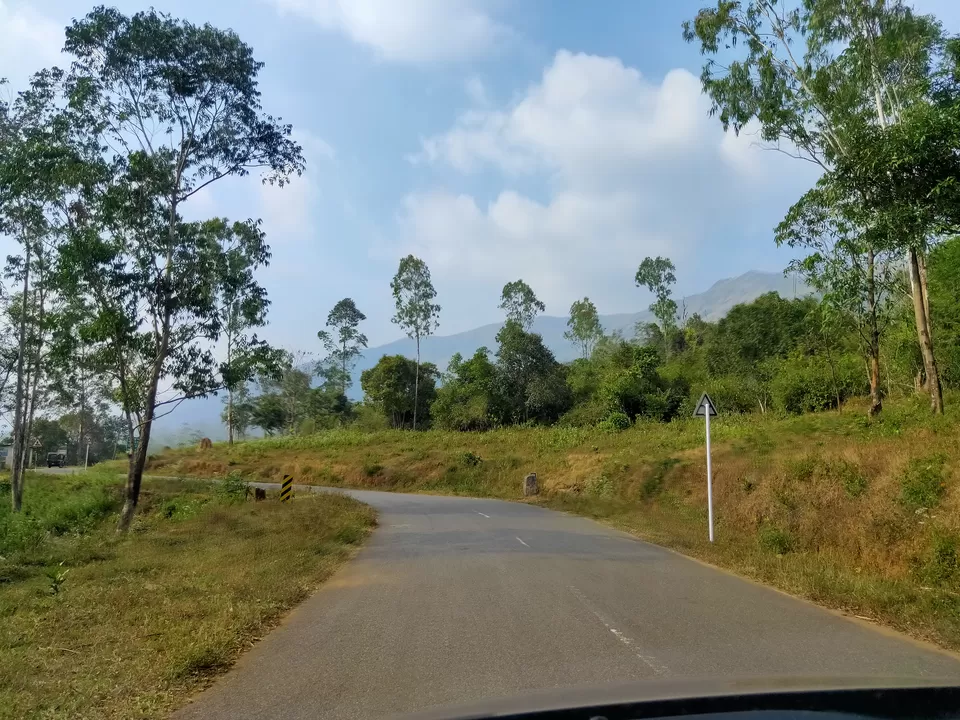 After an hour of drive, we reached our hotel. It was a small budget property maintained by Kerala tourism department. Since Thirunelli is more of a pilgrimage place than a tourist attraction, the options for stay is limited. We decided to rest for a while and visit the temple at evening.
After a couple of hours rest, we went to the temple. It was only at a distance of one and half kilometers from our hotel. There was ample parking space available near the temple. There were lot of visitors in the temple.
Thirunelli temple is an ancient temple dedicated to Lord Vishnu situated inside Thirunelli forest. We can get a glimpse of mesmerizing Brahmagiri hills in the background of the temple. Located in the midst of forest, near to Brahmagiri hills, how much more peaceful a temple can be.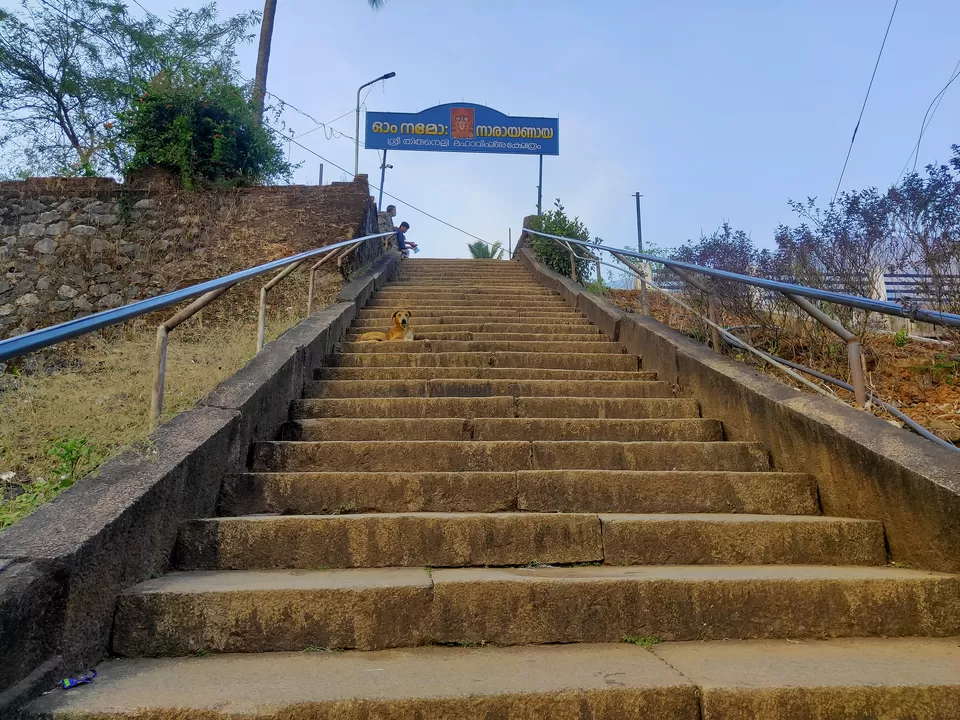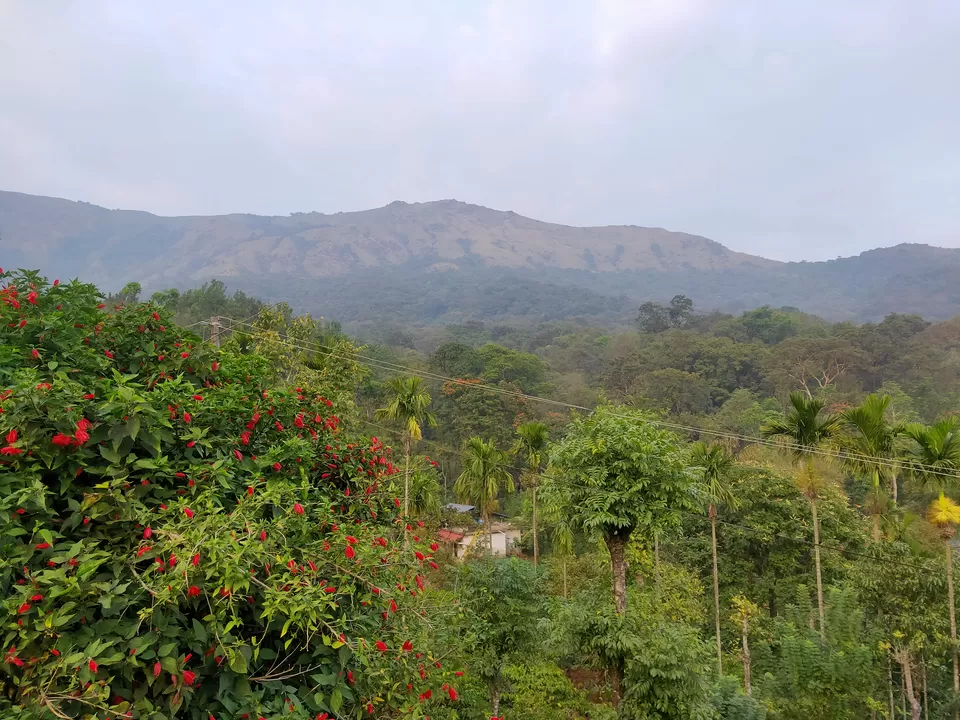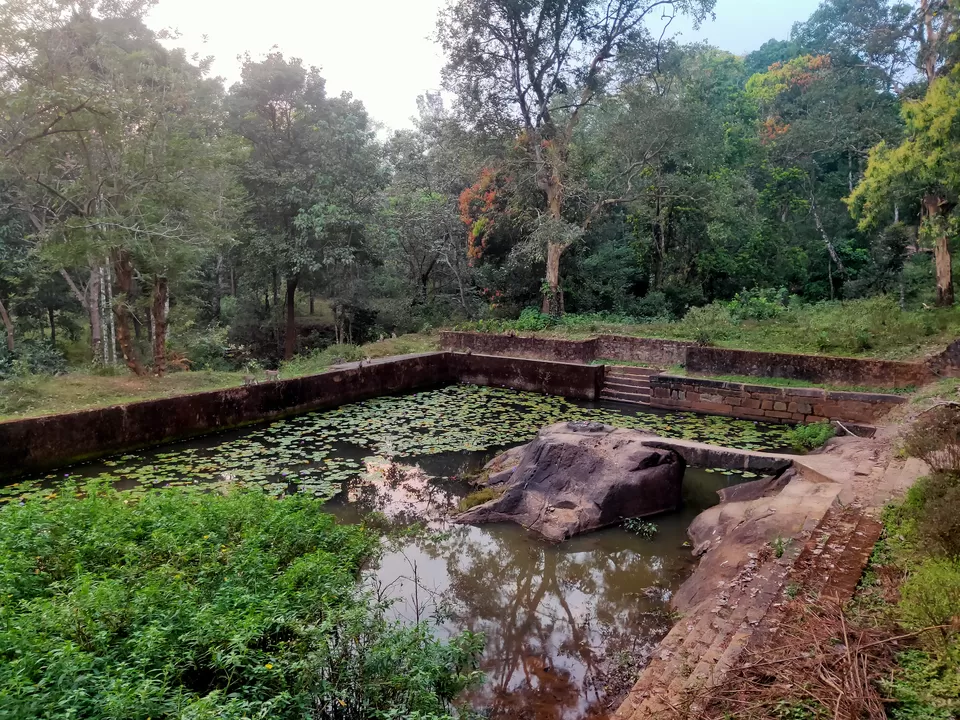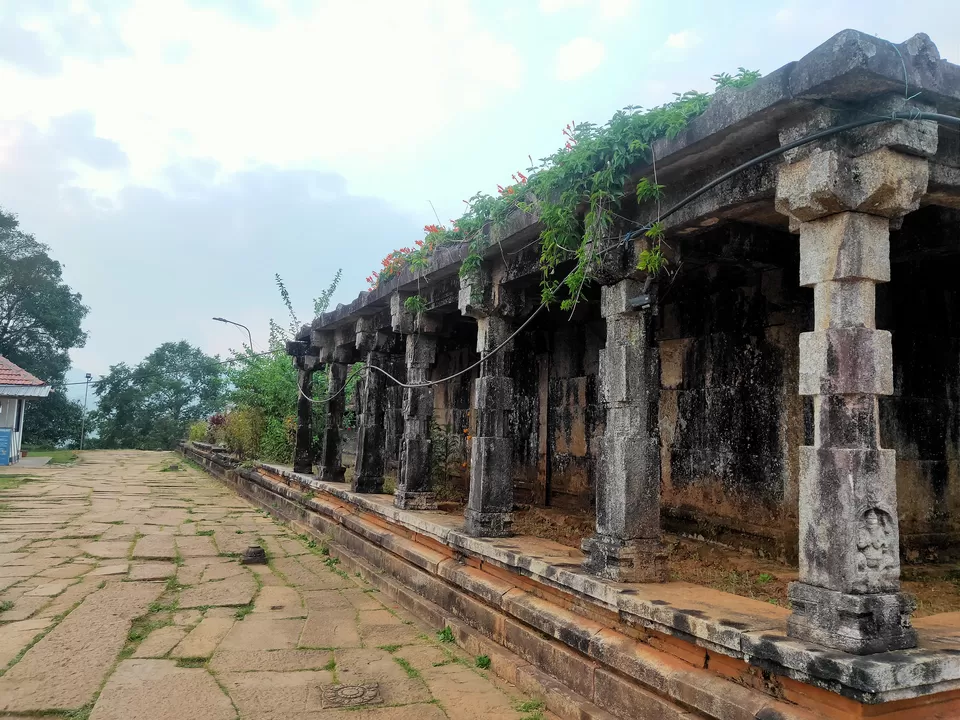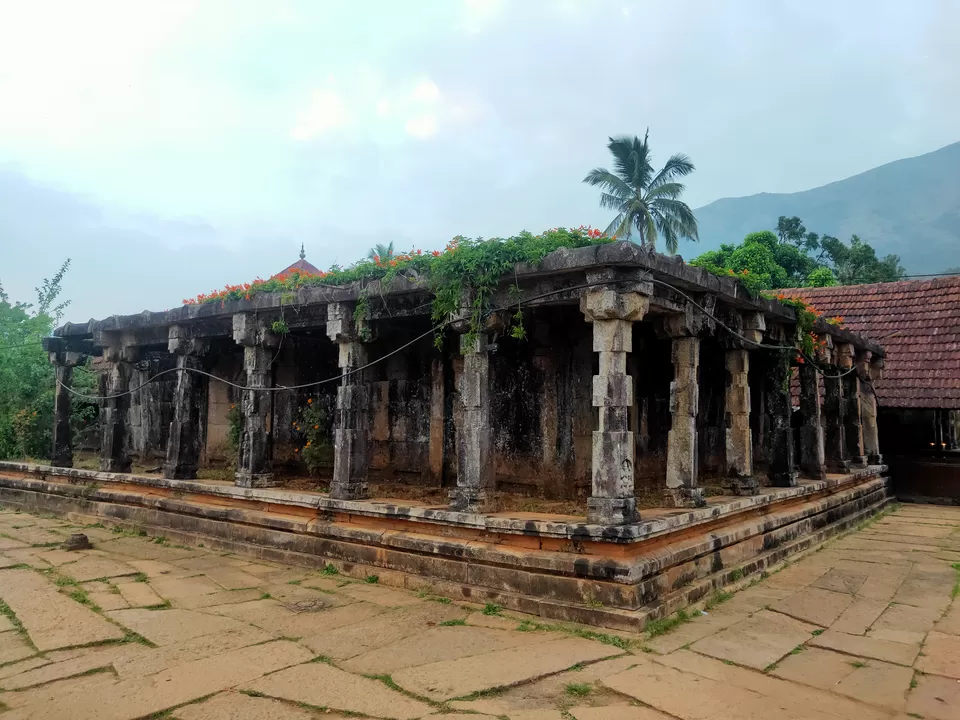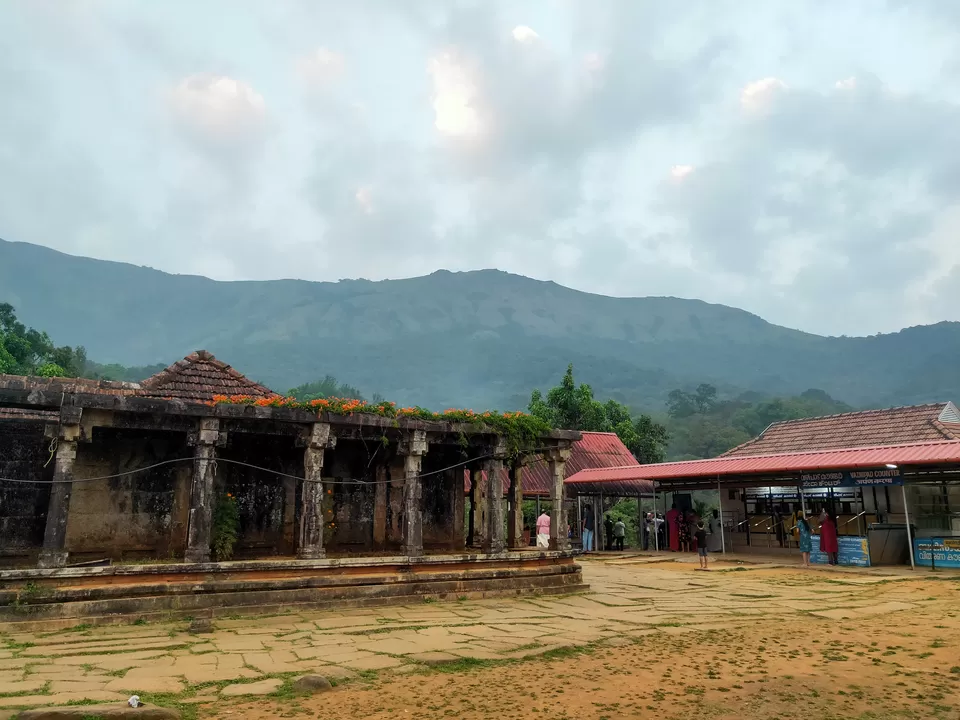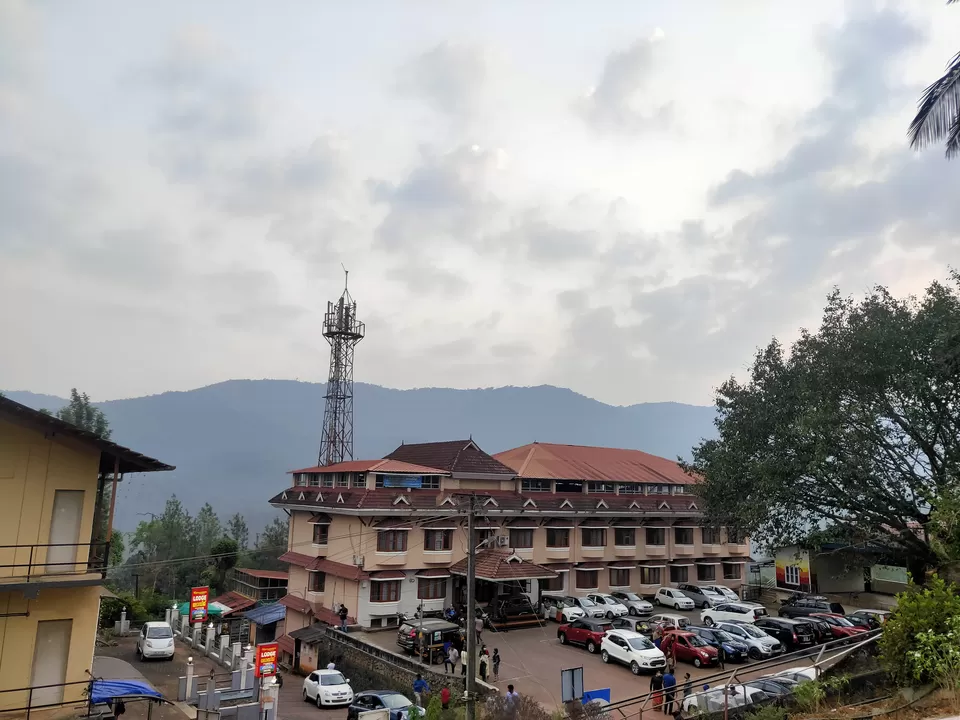 We spent almost an hour at the temple surroundings and it was an unforgettable memory. After this we drove back to the hotel and as it was dark we missed the small deviation to hotel from main road. It took us a 1 km more drive to get a place to turn the car back as the roads were narrow with forest on both sides. This was a scary experience then. We reached hotel and had dinner and went to sleep early as the weather was so cool.
We woke up at morning 7 and went outside of the hotel for a small walk. It was so cold outside and views of forests nearby hotel area was so refreshing to start the day. After spending half an hour nearby the hotel enjoying the nature we went back and had breakfast. We checked out from hotel at around 9 o'clock.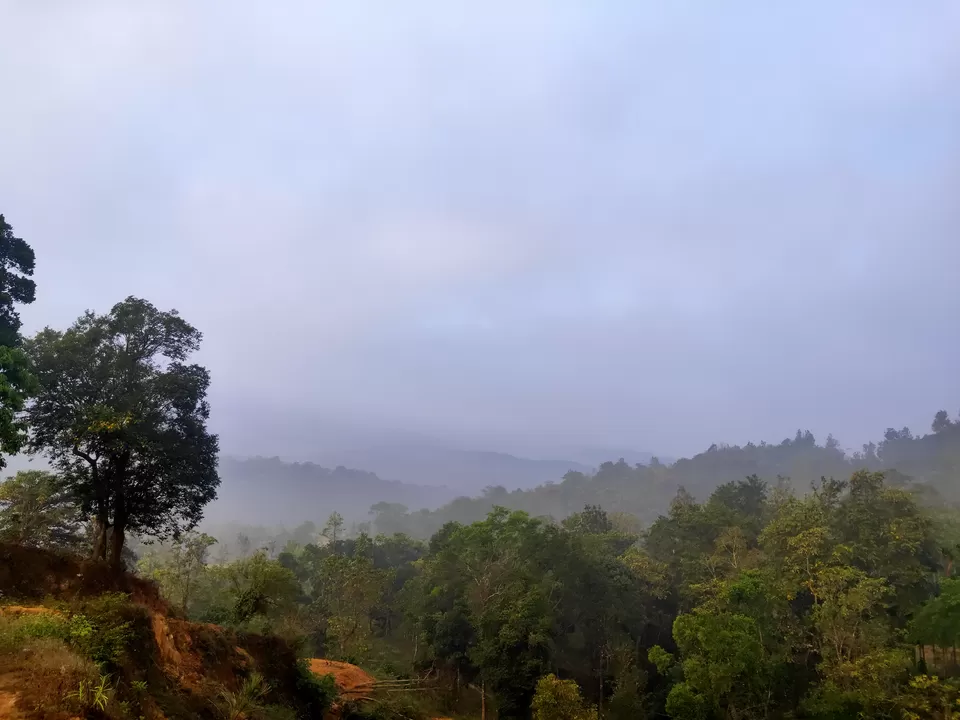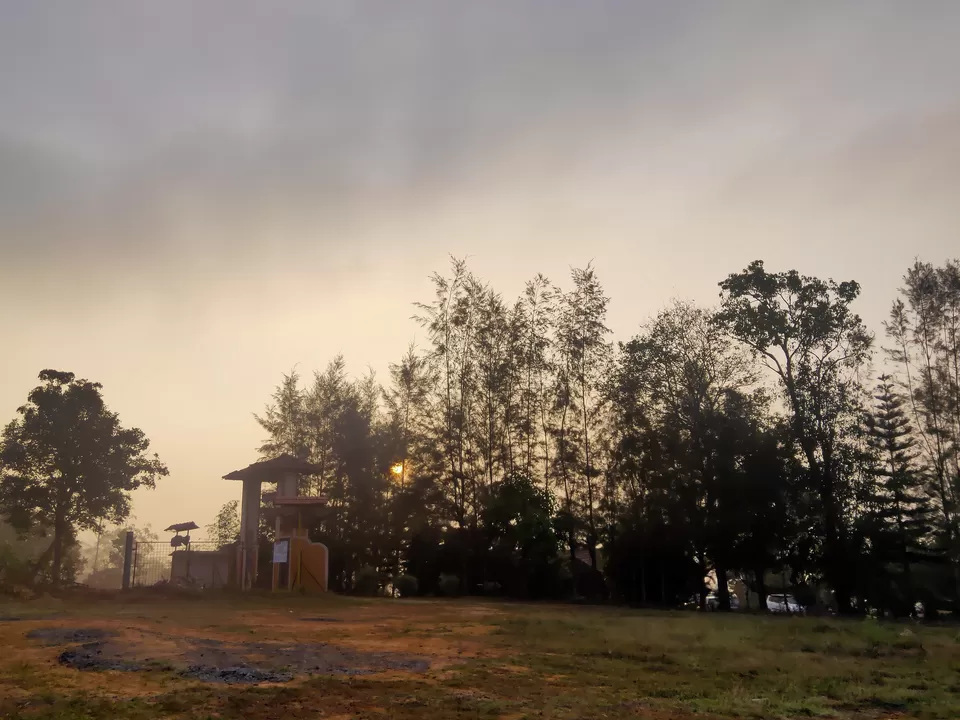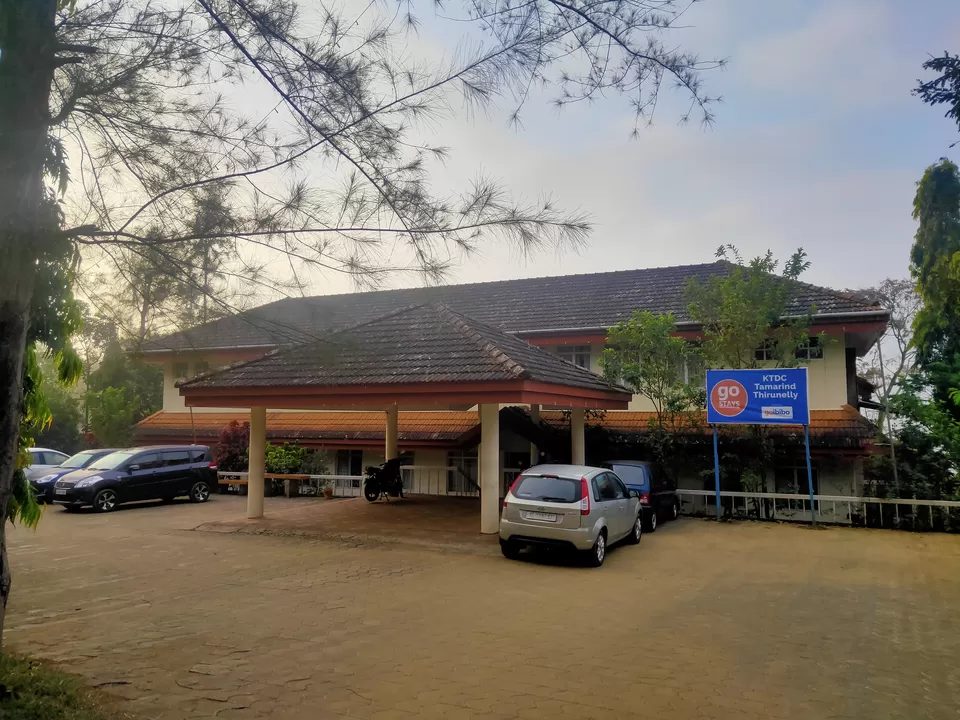 Our next destination was Sulthan Bathery, a major town in Wayanad sharing border with Karnataka and Tamilnadu. We had booked a room at Ktdc Pepper Grove hotel there. It is a nice budget hotel providing good stay and services at reasonable price. We drove along the beautiful forest roads of Wayanad. After 2 hours of drive, we reached at hotel. We took rest for half an hour and decided to take a ride along the ever beautiful forests of Muthanga in Kerala, Bandipur in Karnataka and Mudumalai in Tamilnadu.
This is a 150km triangular route starting from Sulthan Bathery in Kerala to Gundlupete in Karnataka via Muthanga forest & Bandipur forest and from there to Gudalur in Tamilnadu via Bandipur Tiger reserve & Mudumalai Tiger reserve and back to Sulthan Bathery via Devarshola. 3 states, 3 forests and 2 Tiger reserves, this is what we cover when we completes this triangular road trip!
This is one of the best routes I have travelled and if you are a nature/forest lover this will never disappoint you. We started at around 12 o'clock and passed through the beautiful forests of Muthanga. The road was almost empty with very few vehicles and so ride was so enjoyable. After one and a half hours of drive we reached near Gundlupete and had lunch from a restaurant there.
After lunch we headed towards Gudalur in Tamilnadu. After an 8 km ride in this route, comes a small junction called Sri Hangala from where the deviation towards Himavad Gopalaswamy hills starts. From there a 6 km drive along the beautiful road will take us to the Gopalaswamy hills check post. This road is so beautiful with very straight stretches with distant views of hills on all sides. We reached the check post at around 3 p.m.
From there we have to take a Karnataka forest department bus to go all the way to the top where the famous Himavad Gopalaswamy Betta temple is located. It is a 5 km drive which takes around 15 minutes as the road is very narrow and steep passing through the forest. Once we reach the top, we can get distant view of valleys and small villages around Gundlupete and also nearby hills coming under Bandipur tiger reserve.
Himvad Gopalaswamy temple (Himavad means covered in mist) is an ancient temple dedicated to Lord Krishna. Since there was no other buildings or houses around the temple and being at top of the hill, the temple and surroundings were so peaceful. We spent almost an hour there and the weather was so cool with strong wind all the time.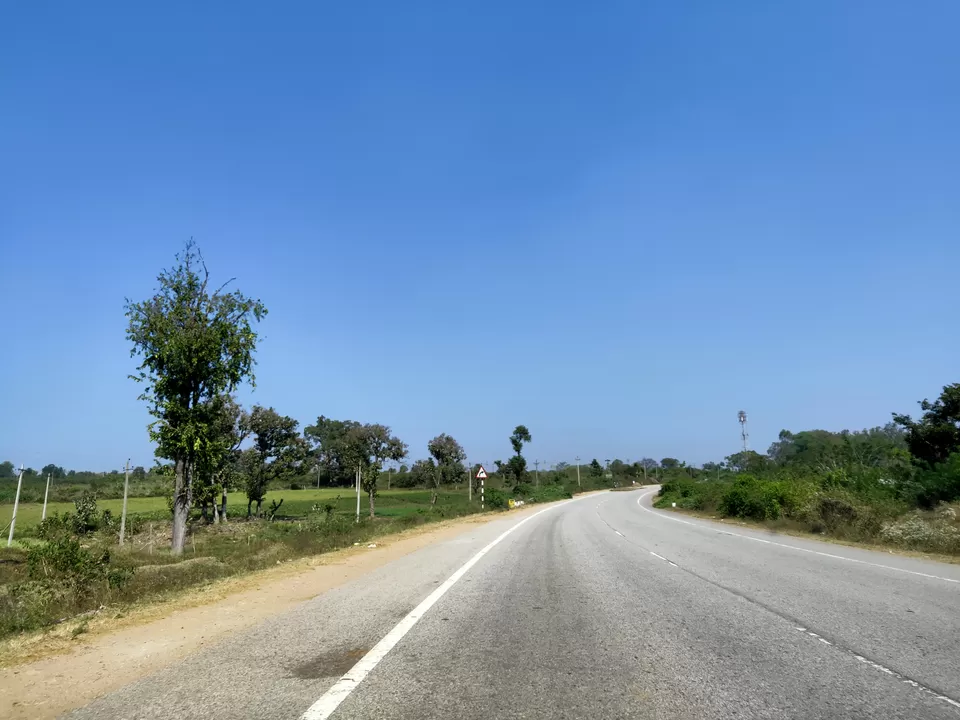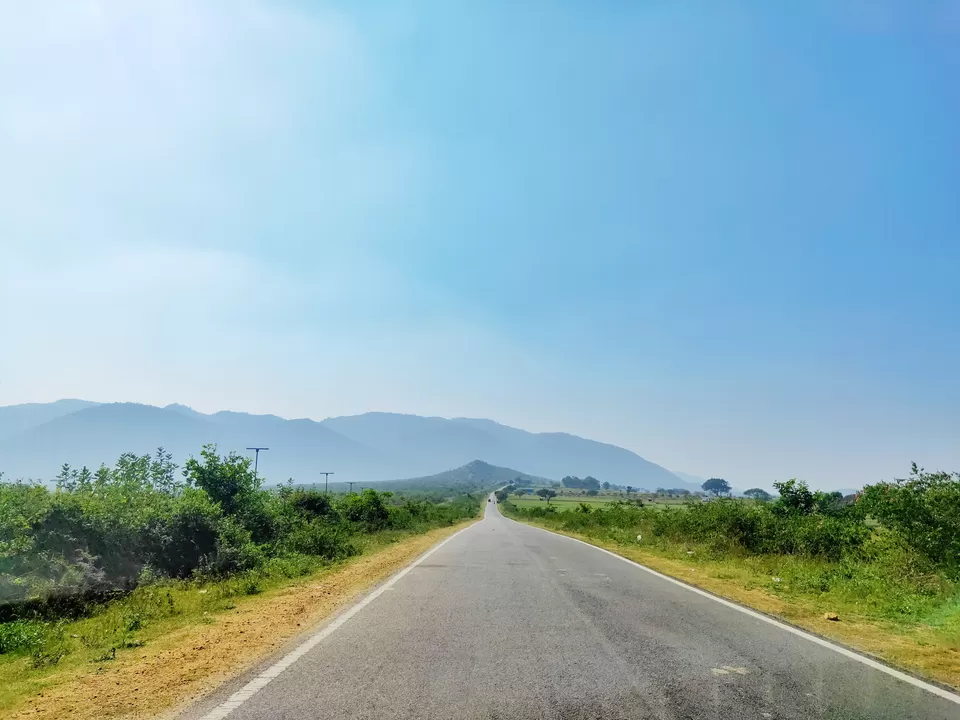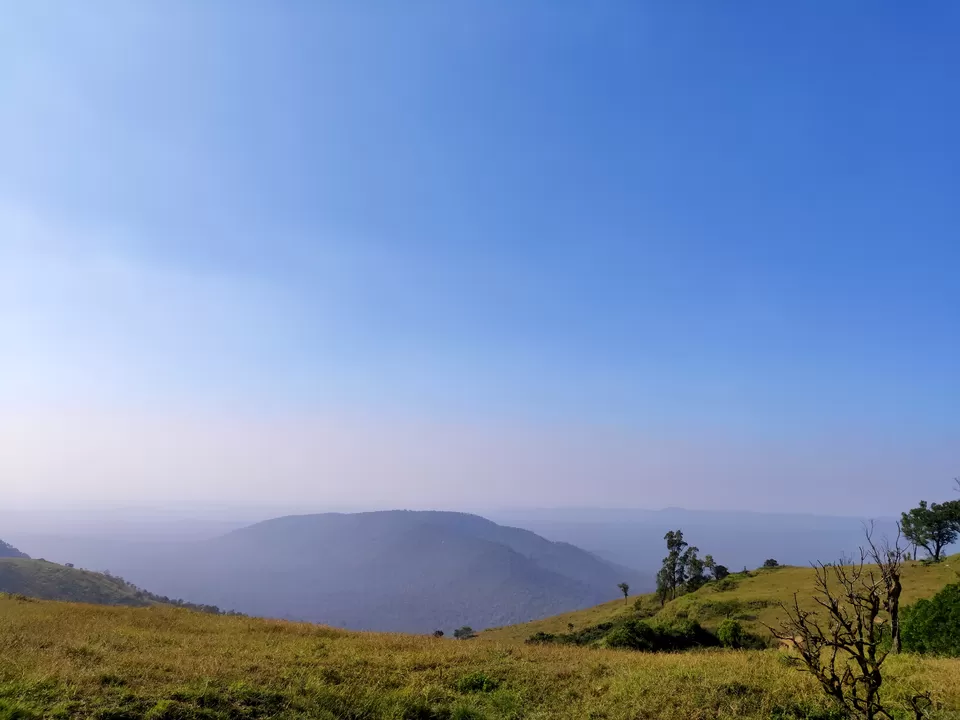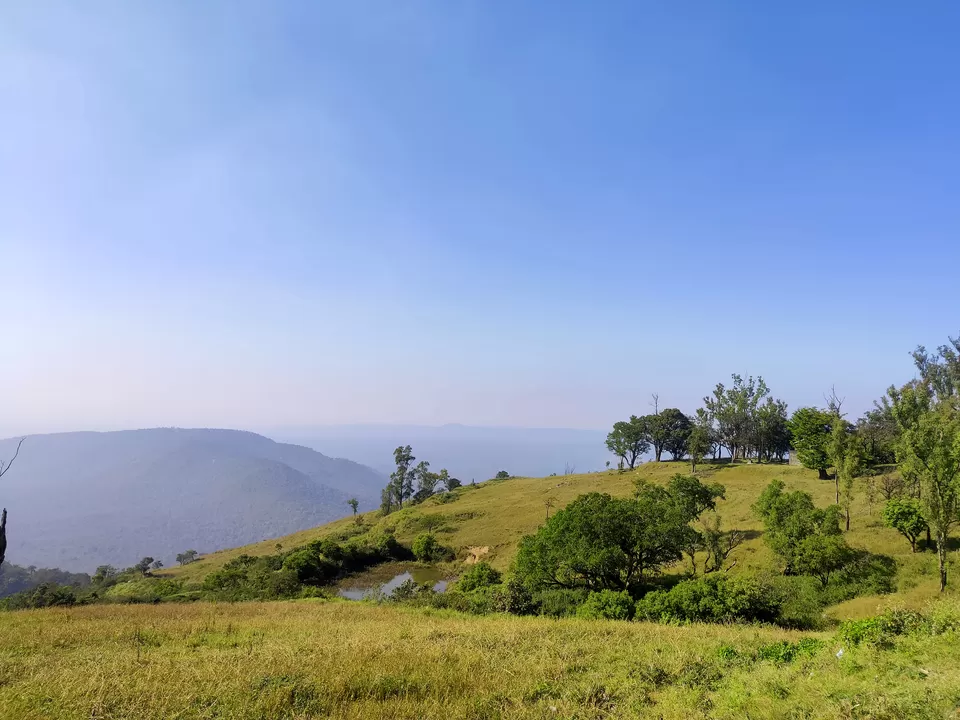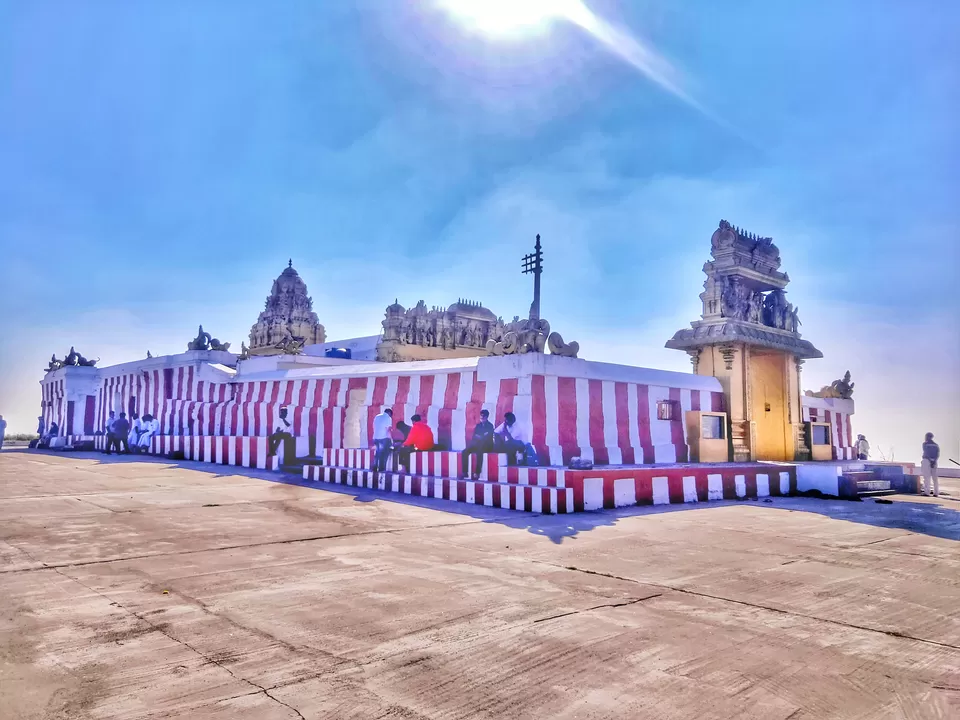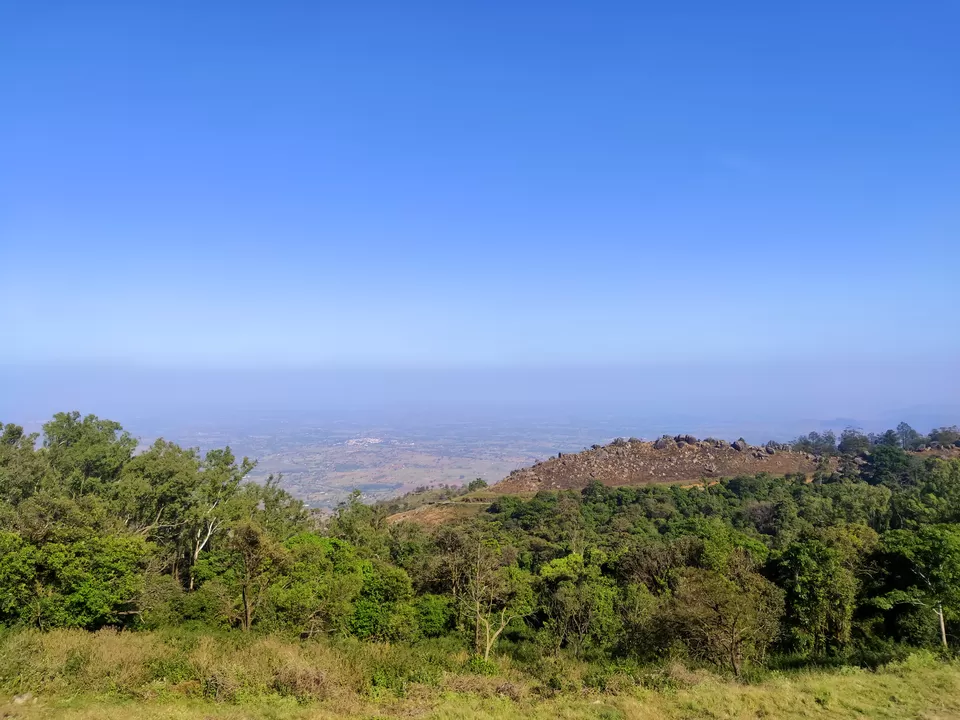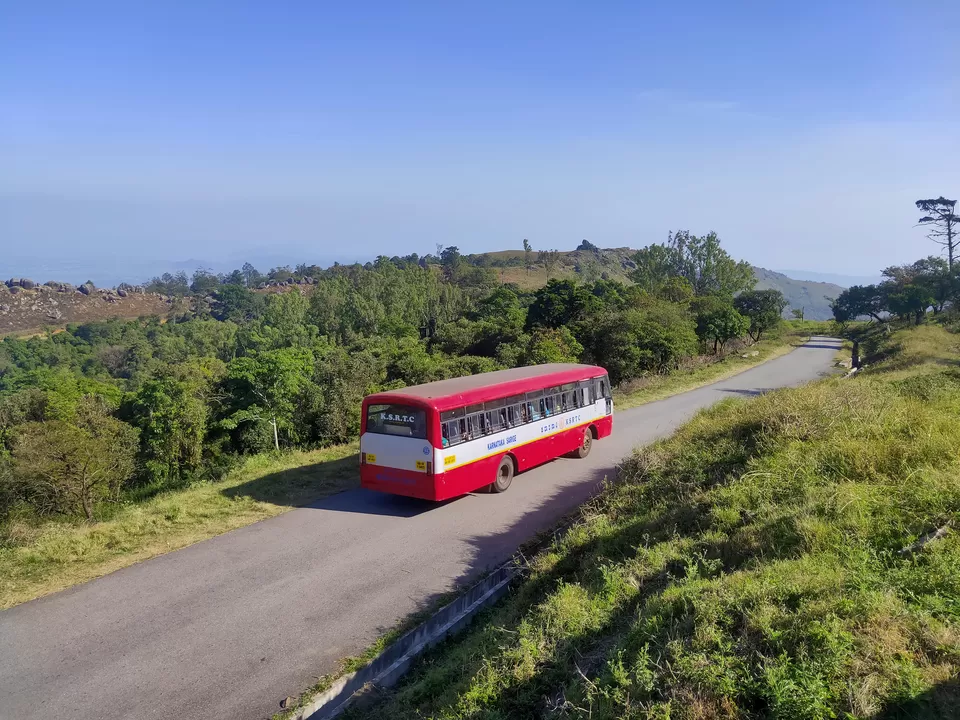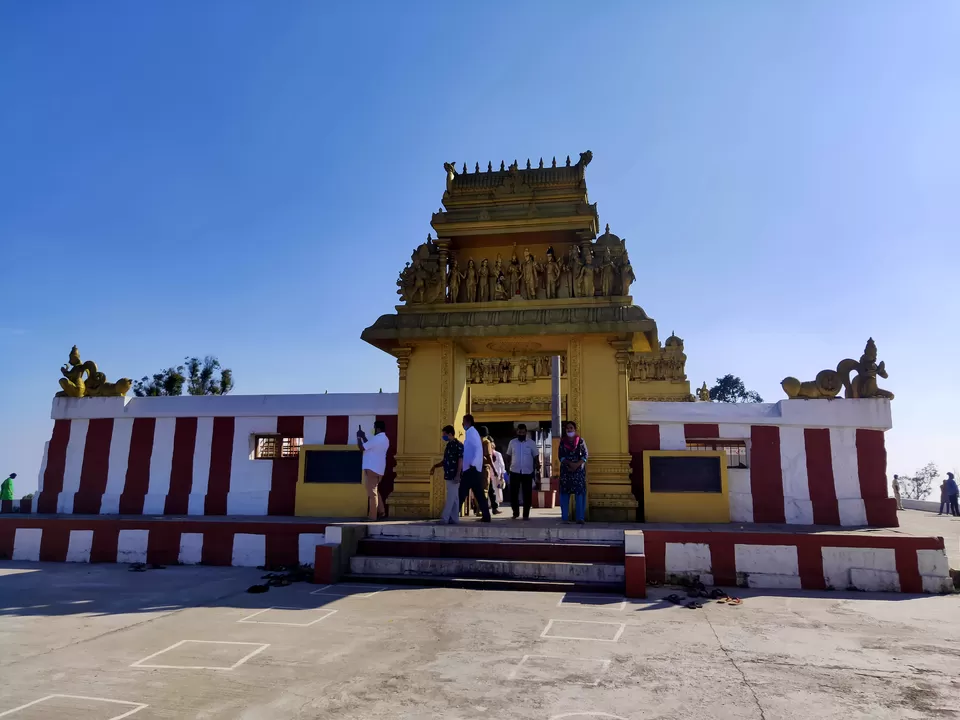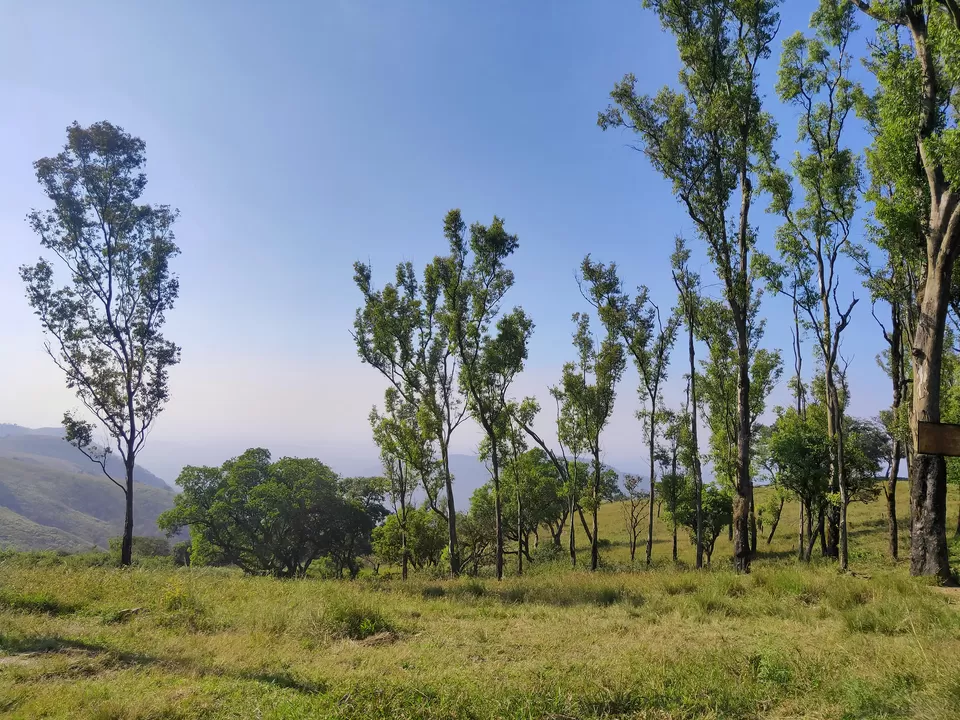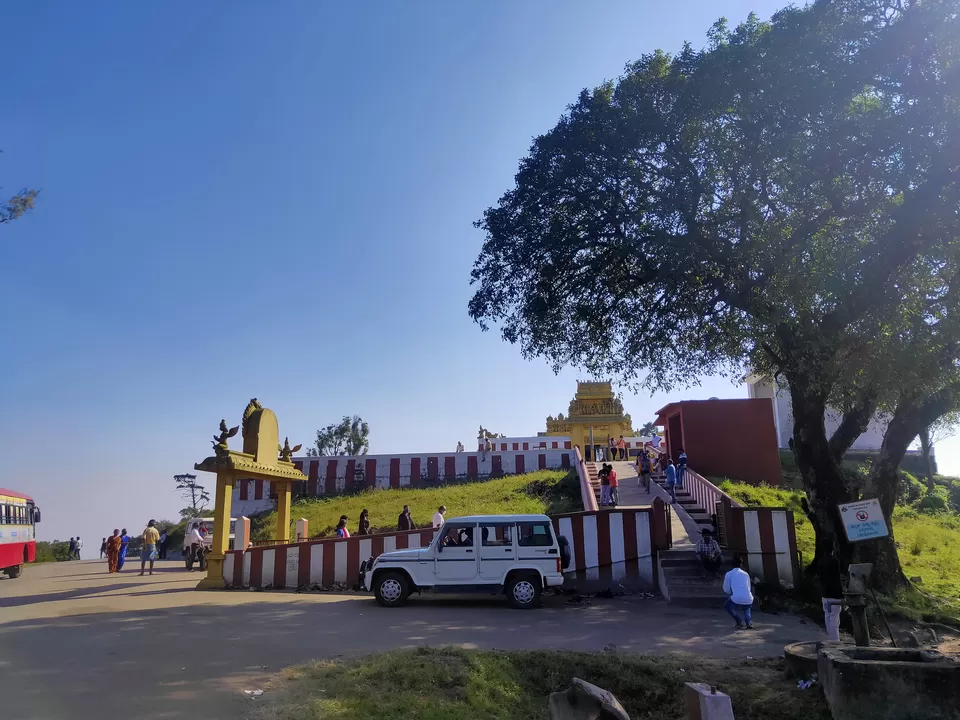 We started our drive back to Gudalur which is passing through Bandipur tiger reserve and Mudumalai tiger reserve. This is one of the best route to have a road trip. The road is passing through thick forests on both sides. We can see wildlife so close. There is jungle safari offered by Mudumalai and Bandipur forest department on this route. We were able to spot herds of deer, boars, peacocks, monkeys & elephants on the way. This ride was an unforgettable experience of the whole trip. We reached Gudalur at around 6 p.m.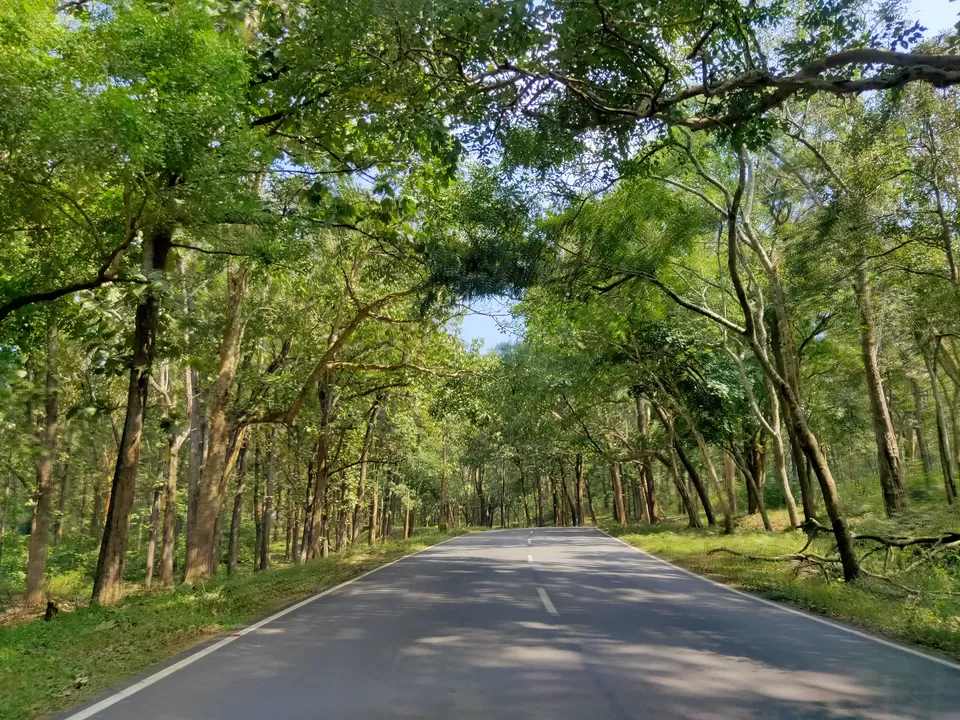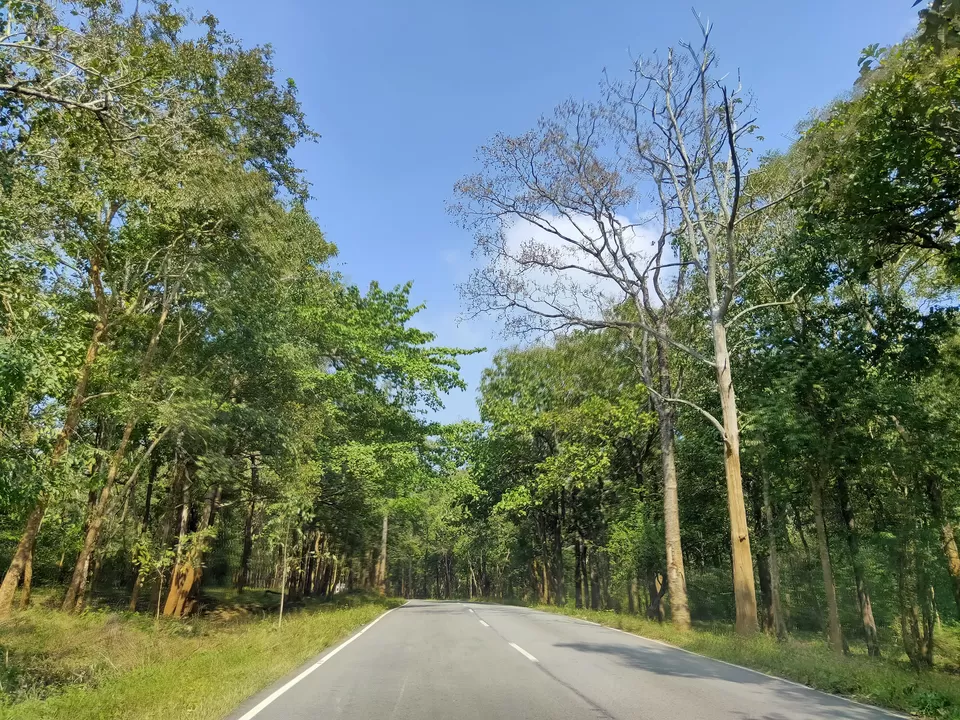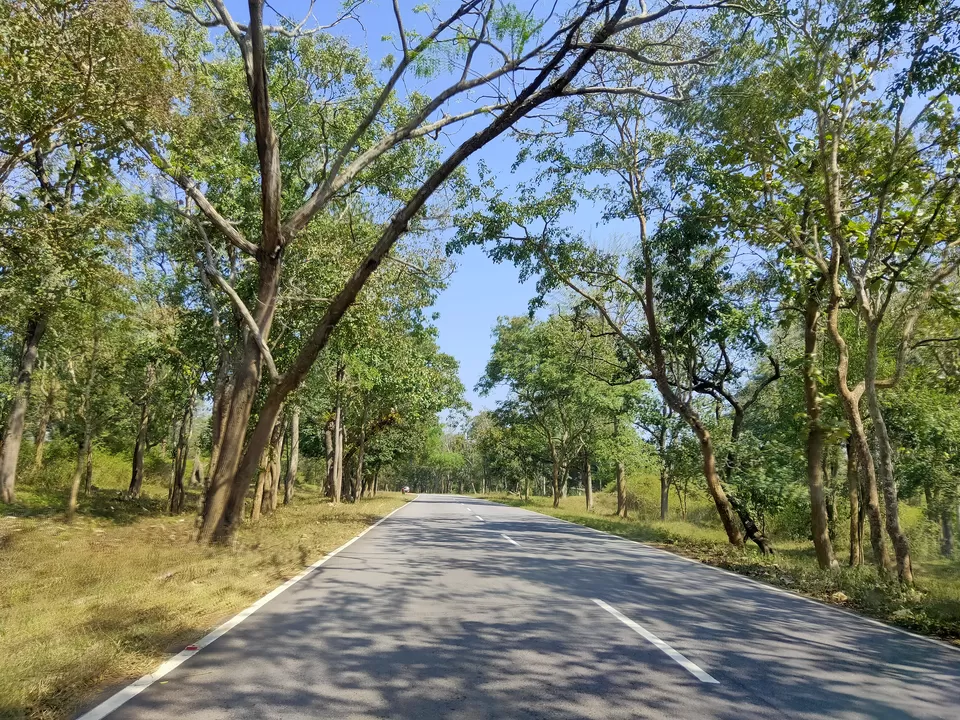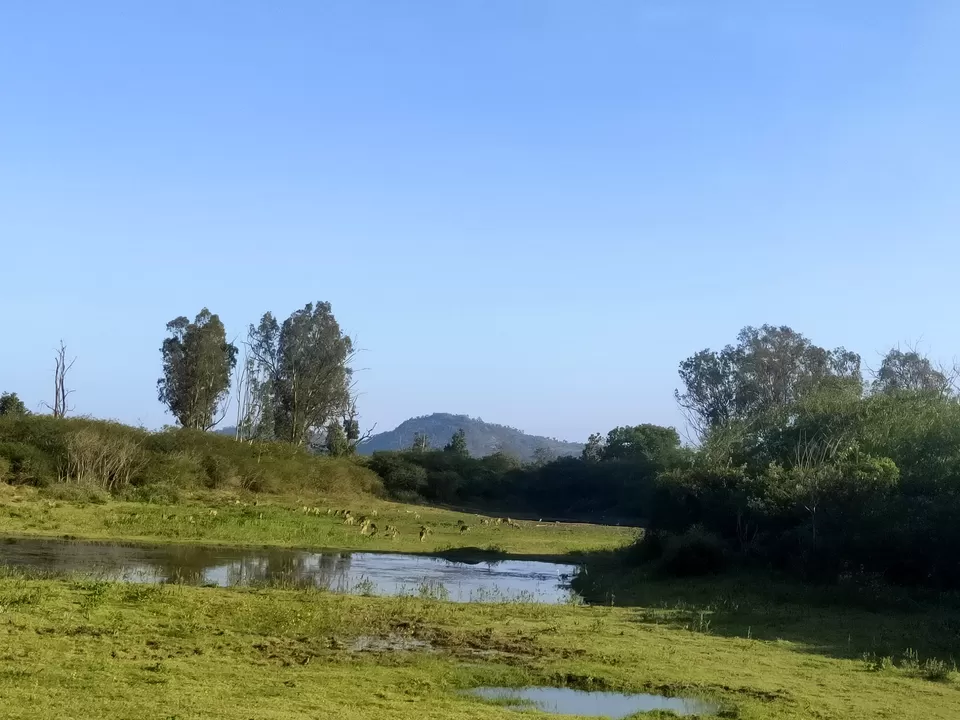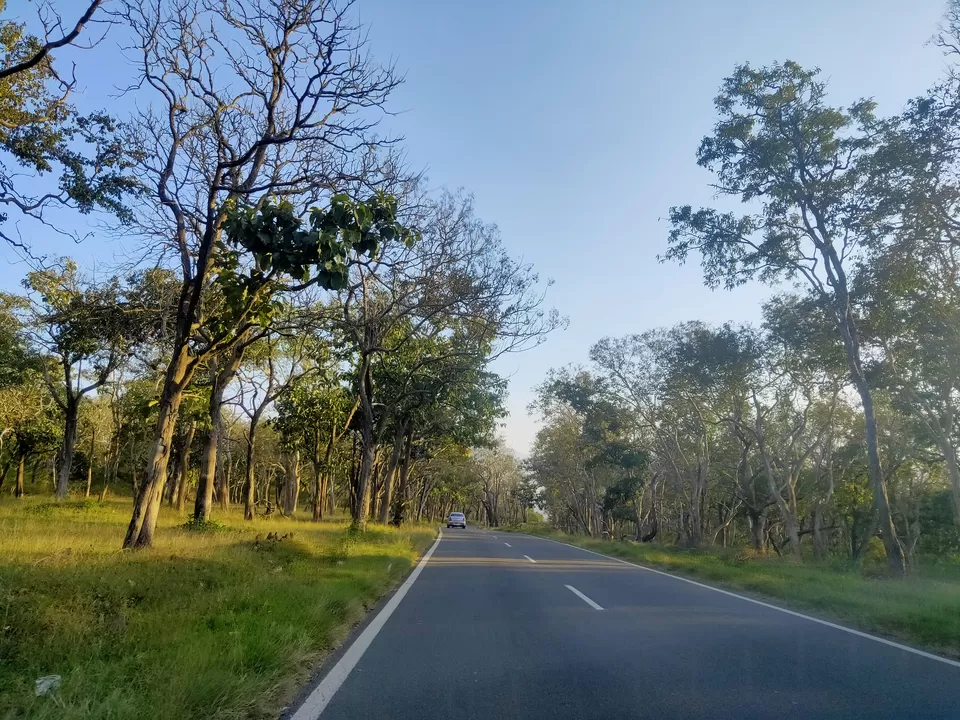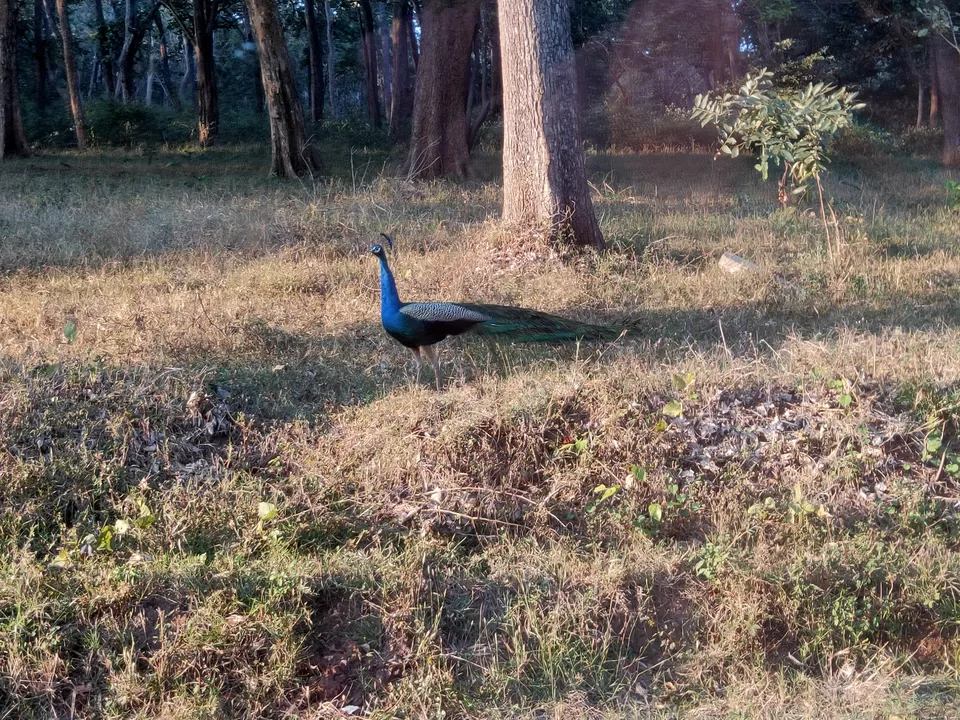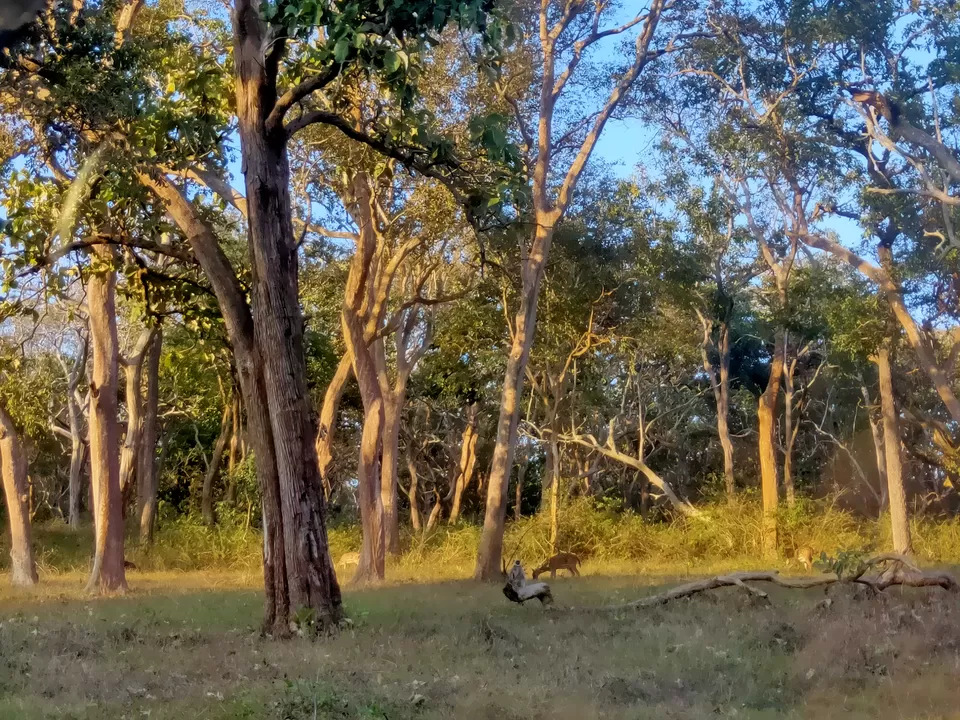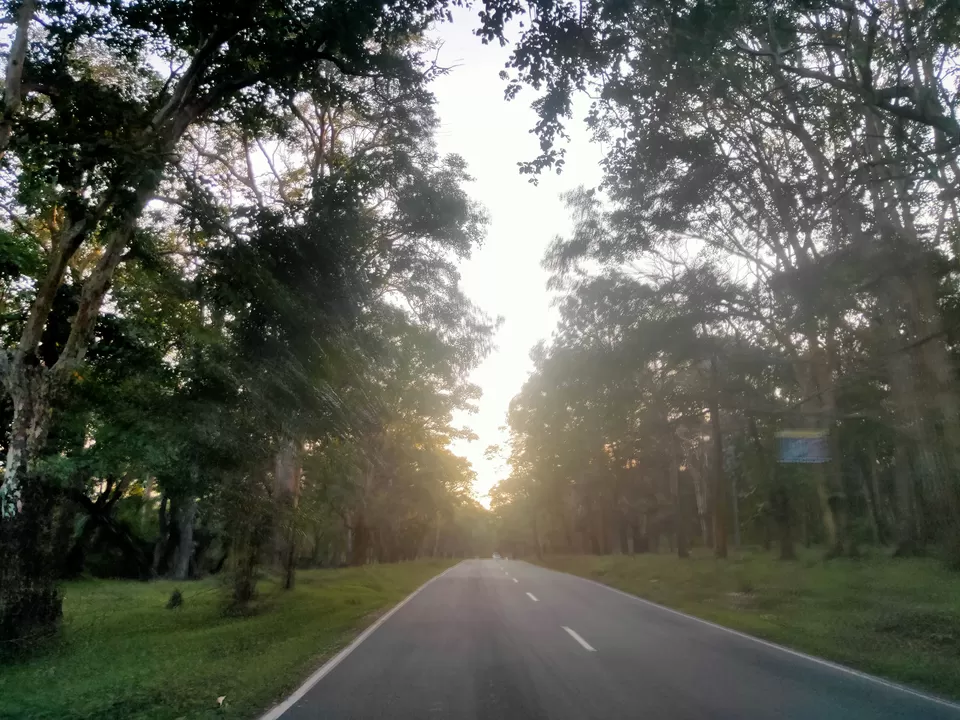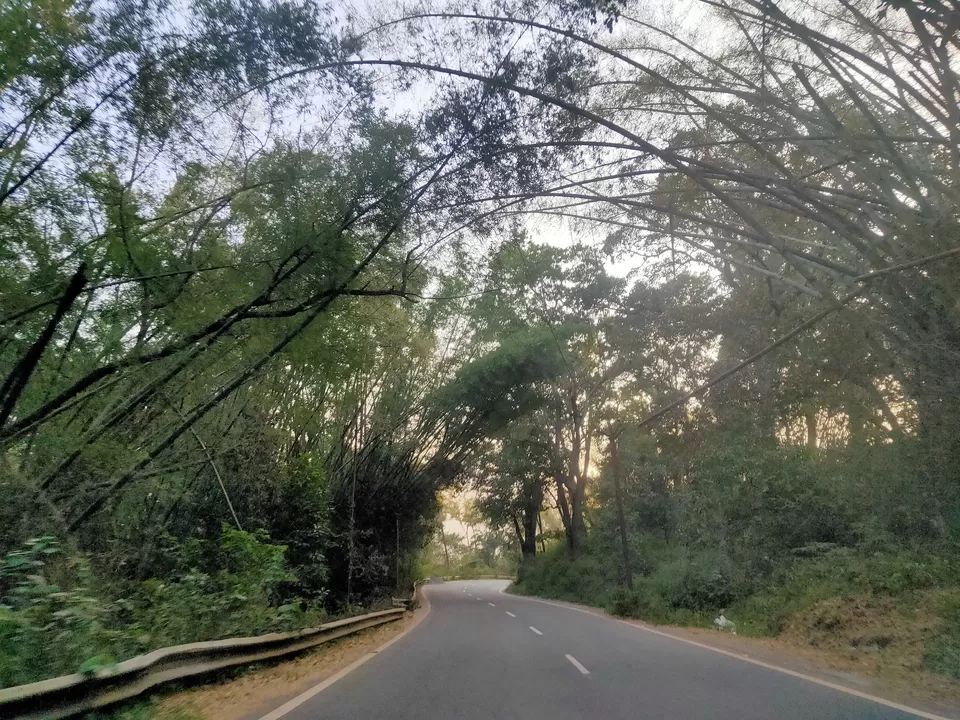 Gudalur is a major town in Nilgiri district of Tamilnadu. It is a major junction on the Mysore - Ooty highway. Roads towards Nilambur, Ooty, Mysore & Sulthan Bathery splits from here. We took the Sulthan Bathery road which is again a beautiful road along forests and tea plantations passing through Devarshola & Noolpuzha villages. Unfortunately it became dark then and we were not able to get the views on the way. The road was almost empty with very few vehicles passing by and with minimum street lights. We had seen caution boards of elephant crossing at many places which was freightning. Only very few junctions or towns were there on the way and after passing these places the road becomes desolate again. After around one and a half hours of drive, at around 7-30 p.m, we reached at Sulthan Bathery town. For dinner, we bought parcel from Chicking restaurant located inside Mint mall and had it from our hotel room. After that we went to sleep as we were so tired after the long drive for the day.
We woke up and had a good breakfast from hotel restaurant. After that we checked out from hotel at around 9 o'clock. We decided to visit one of the nearest tourist spot from Sulthan Bathery - Edakkal caves. Located at around 13 km from Sulthan Bathery, it is two ancient natural caves formed on Ambukuthi hills.
We reached the parking of Edakkal caves and at morning itself the place was filled with tourists. From here to reach Edakkal caves we need to trek around 1km. Once we complete this trek we reach the bottom of the caves. From there we need to climb around 300 steps to reach the top of the hill to enter the caves. It was a great experience to spent some time inside the caves seeing the rock carvings which gives us a glimpse of ancient times and also the view from the top of the hill is astonishing.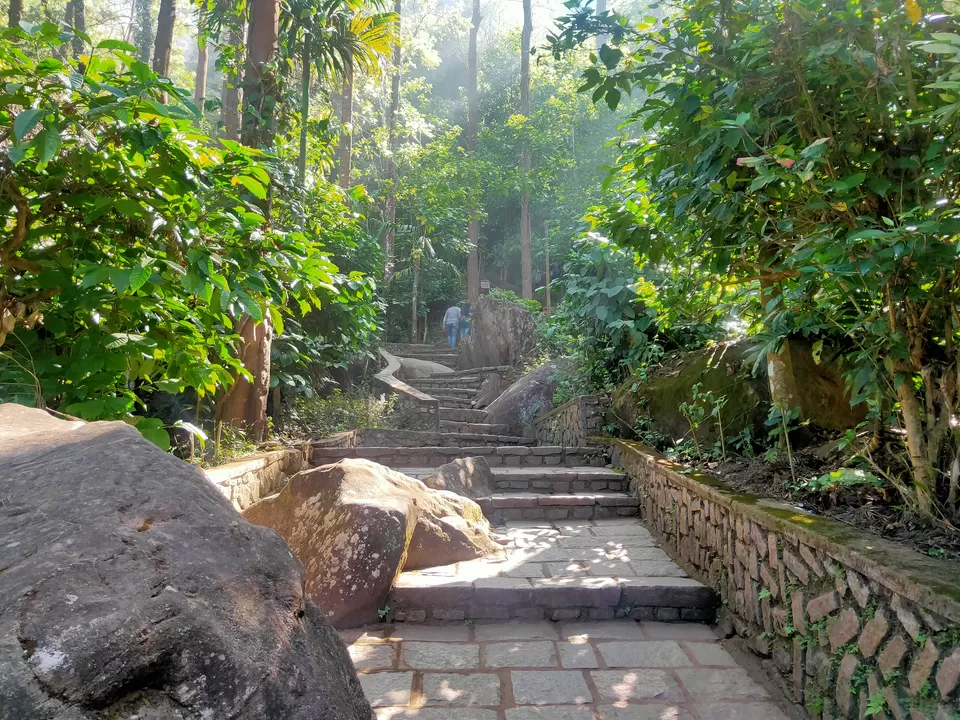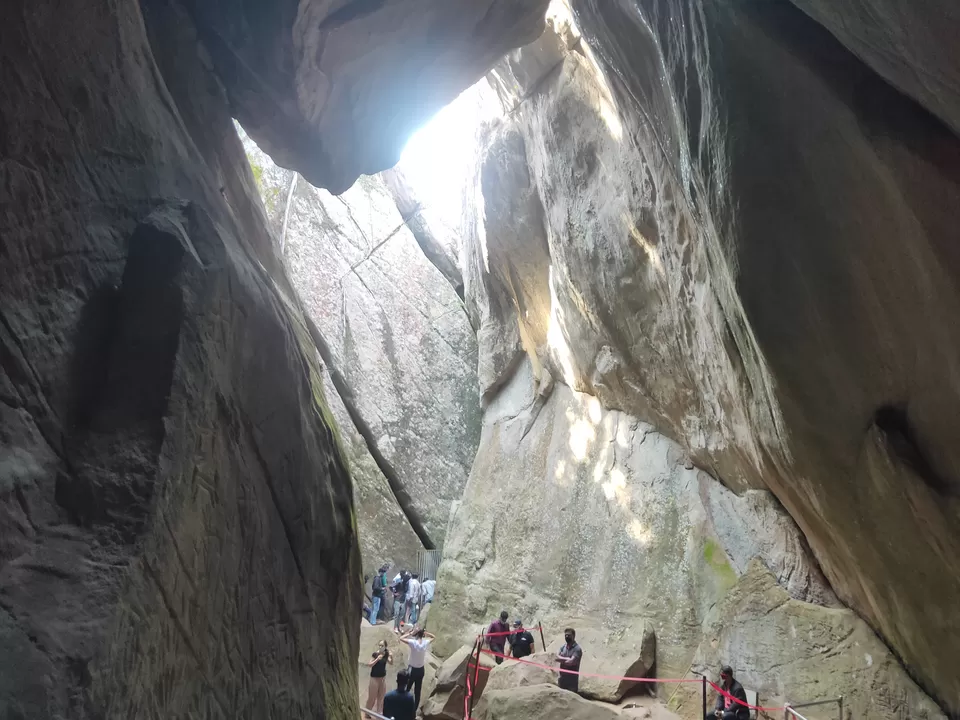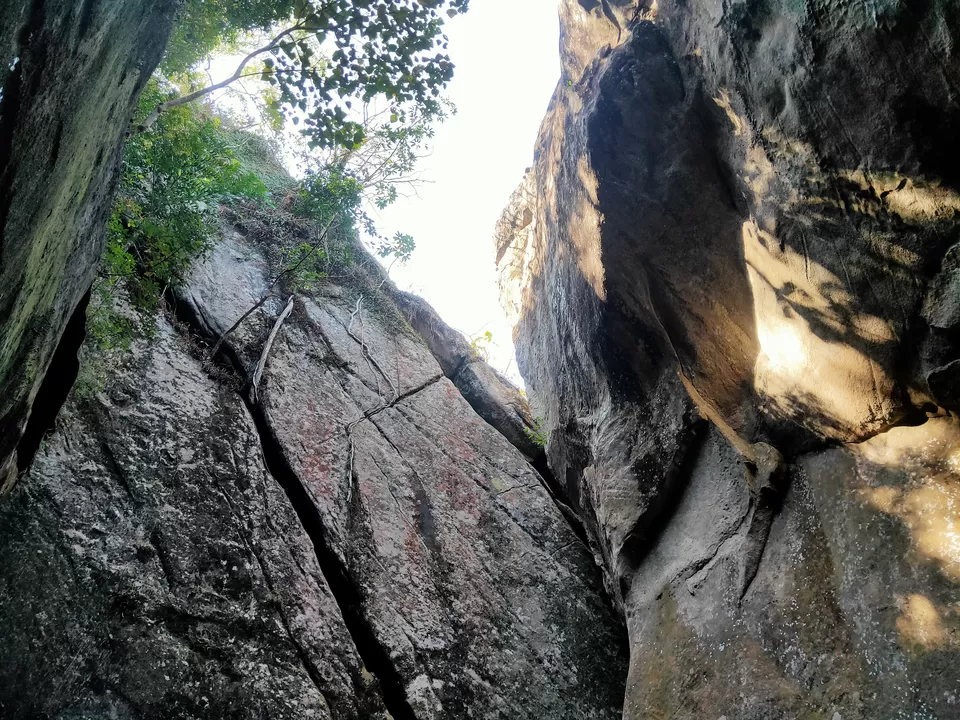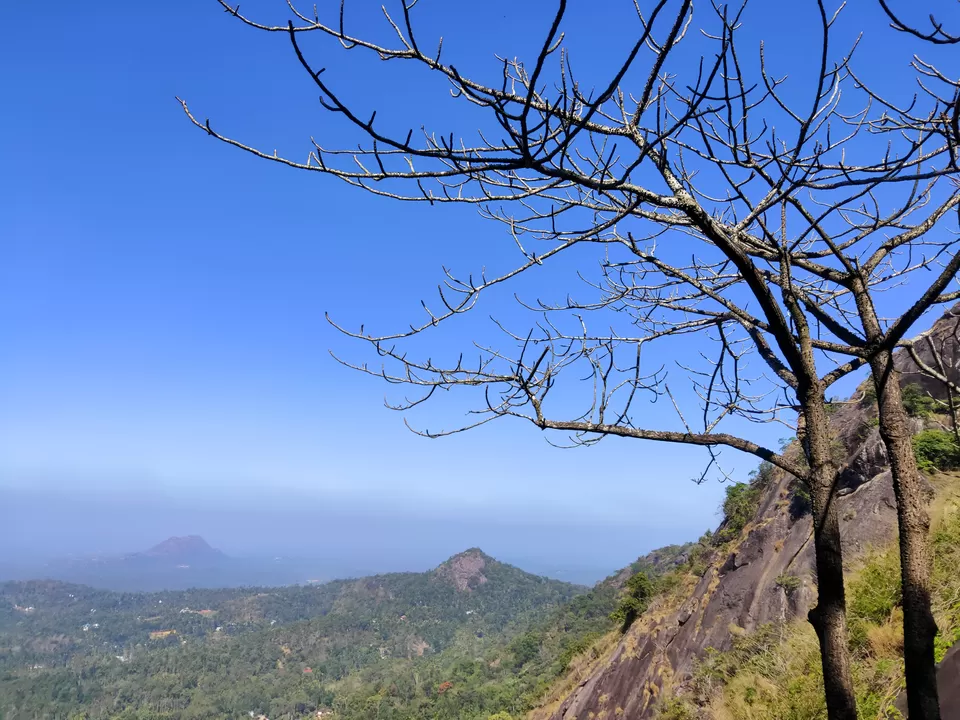 We spent around 15 minutes at the top and after that we climbed down and went back to the parking. Since it was morning and all the way to the caves were covered by forest on both sides we were not much tired. It took us around two hours for the entire visit. At around 11-30 a.m, we started our journey back to home. We decided to have lunch from Malabar Masala restaurant at Kozhikode bypass. We reached there at around 3 p.m and had a delicious lunch and then continued the return journey. We reached back home at around 7 p.m after an unforgettable road trip. This was one of the trips I have been waiting for so long and it all ended well and was above our expectations.