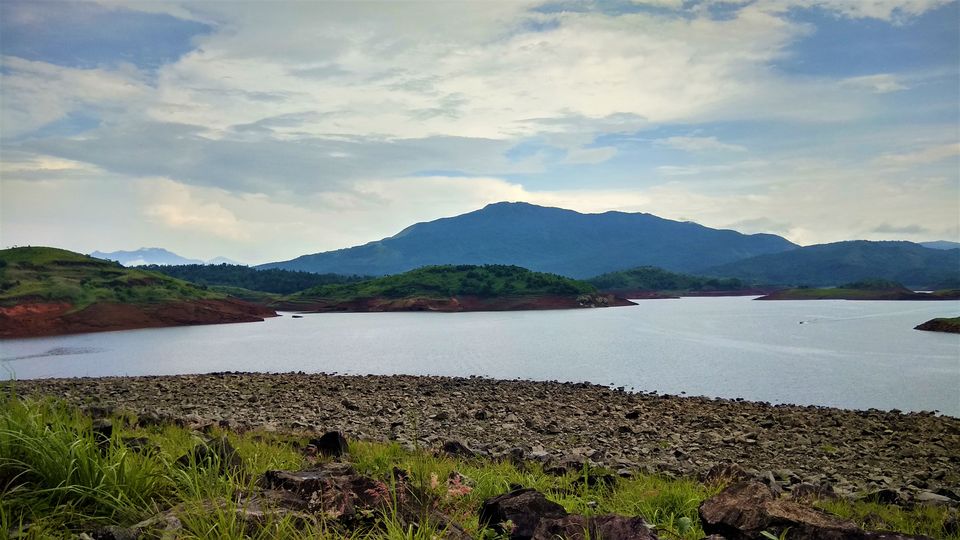 When going a trip by public transportation, there are several challenges we may face all along. We cannot follow our plans strictly as the buses or trains may be running late and so on. I already knew this as I have done many trips using public transportation and I love the experience we get from that. I believe once in a while we should go on a trip coming down from our comfort level. The views that we get from the side window of a bus or train is entirely different from the one we get from an car. People who have experienced that will never forget that.
So myself and a friend planned a 3 days trip to Wayanad & Mudumalai relying on public transportation. We were not sure about how frequent are the buses in this places. All we knew is that both this places don't have a railway line. So we decided to start the trip on Saturday, May 12th 2018 from Thrissur.
At around 8 a.m, we started the journey to Kozhikode on the Kannur intercity express. We reached Kozhikode at around 11 a.m. From the railway station, we took an auto to Ksrtc bus stand from where there are many buses to different parts of Wayanad. Wayanad is a district in North Kerala where the tourist places are spread all over the district. There is large distance between many tourist places in Wayanad. So we may need an considerable amount of time for travelling between the tourist spots. A good knowledge and planning is a must before visiting Wayanad. Since I had already visited there two times, I was some what familiar with the places.
So at around 11-30 a.m we got the bus to Kattapana, which is an main town in Wayanad. The bus was going at a moderate speed and the views along the way was becoming more and more greenish as we moved away from city. The famous Thamarassery churam (mountain pass) is the gateway to Wayanad district. The 14 km road through the mountain with thick forest consists of 9 hair pin bends. We would feel an coolness once we start ascending the uphill road. At the top of the pass there is a view point known as Lakkidi view point. Since we were going by the bus, we were not able to get down there and enjoy the views as buses don't usually stops there. After 10 mins from Lakkidi, we reached our first destination - Vythiri at around 1-30 p.m.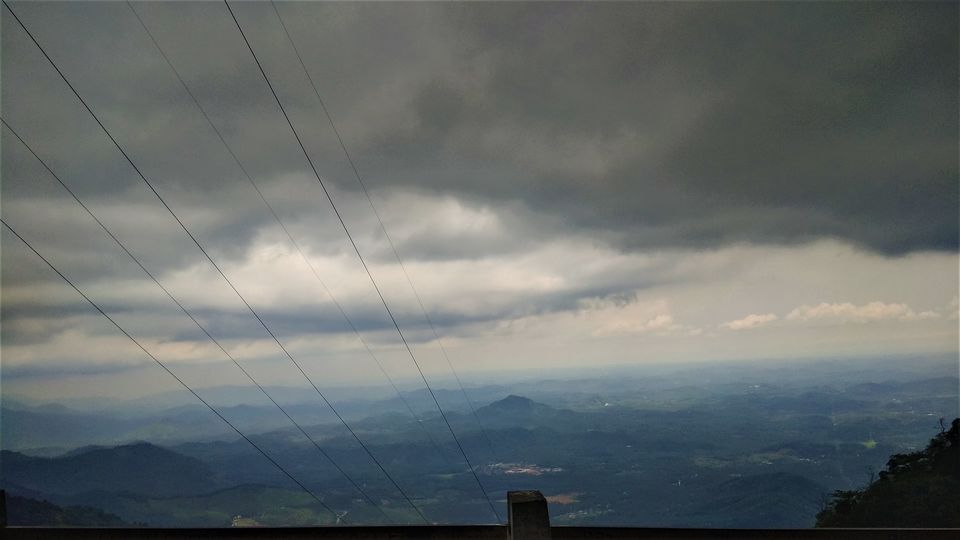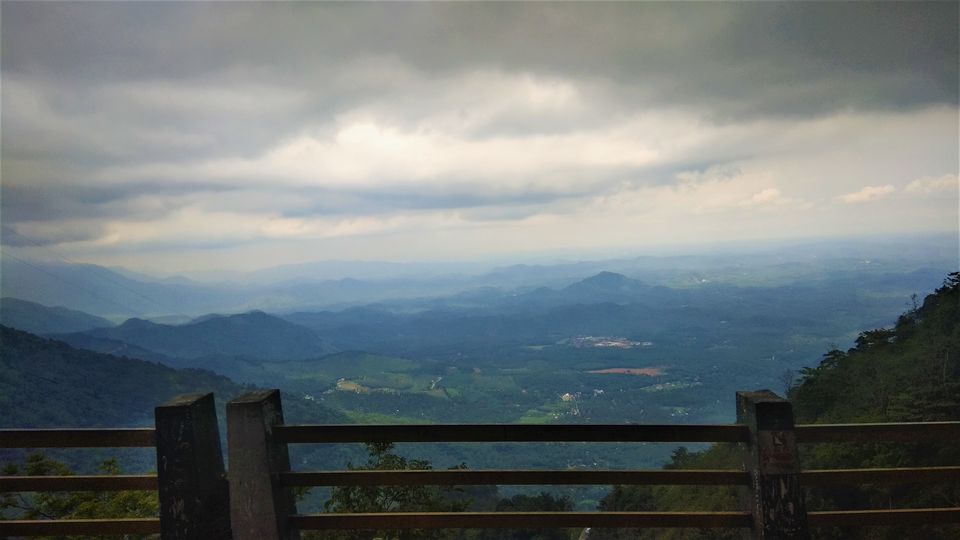 Vythiri is a small village at Wayanad which is the nearest town center to the beautiful Pookode Lake. We had lunch from an small restaurant in the town itself. After that we took an auto to the lake. It was just 2 km from the center. The lake was little crowded. It was a scenic fresh water lake famous for its aerial view shape similar to the map of India. Lake is surrounded by lush green forest and was very calm and peaceful. There is boating facility available there. After 10 mins of us reaching there, it started to rain. It was a great experience to watch the lake during rain. We spent half an hour there and then returned back to Vythiri town.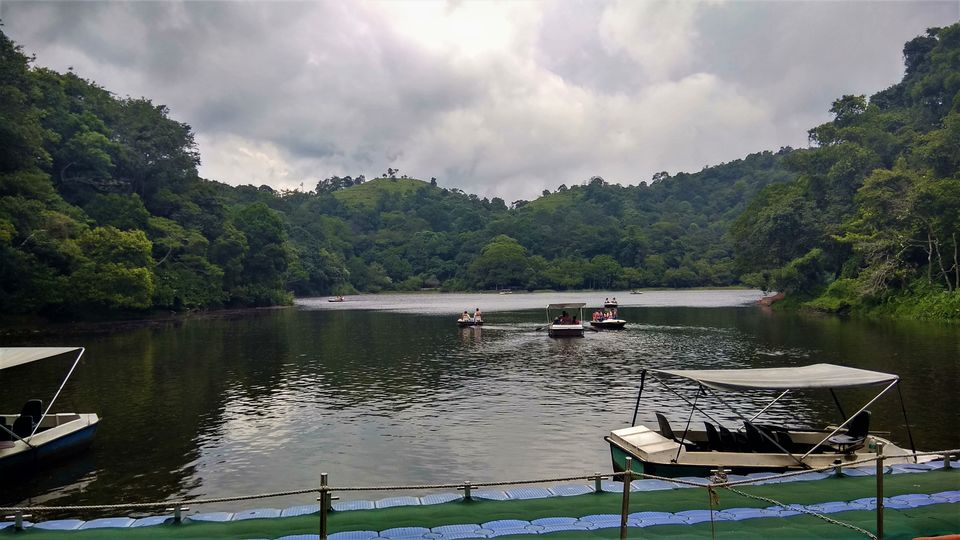 We then took a bus to Kalpetta which was around 12 km from Vythiri. We reached Kalpetta at 3 p.m. We were planning to go to Banasura Sagar dam next. For that we took a bus from Kalpetta to Padinjarathara which is the nearest town to Banasura Sagar dam. Padinjarathara is a small town at a distance of 20 km from Kalpetta along the Mananthavady route. We reached there at 4 p.m. From there we took a auto to the dam which was at a distance of 3 km.
Banasura Sagar dam is the largest earth dam in India located at the foot of Banasura hills across the Kabini river. It is one of the most important tourist destination in Wayanad. The place was full of tourists. We took the tickets and went inside. From the entrance to the top of dam there is a distance of around 1 km and there were pick up vans and jeeps available at a rate of 10 Rs per person in case we don't want to walk all the way. We took an jeep and a 5 mins ride got us to the top of dam. It was a massive dam with a long walk way on top. The view of surrounding hills and reservoir was a pleasure to the eyes. Boating was available and a ride in speed boat across the dam will be something to cherish forever. Since it was evening, the weather was not much hot. I will suggest to visit this place at morning or evening as noon time becomes extremely hot. At the time of our visit there was a flower show going on near the ticket counter area of dam. We spent almost one hour around dam and small park there.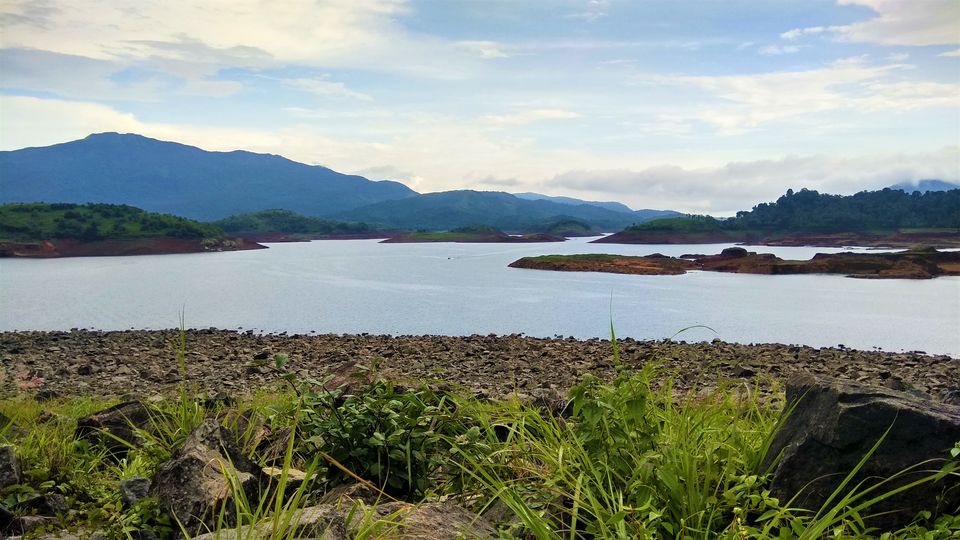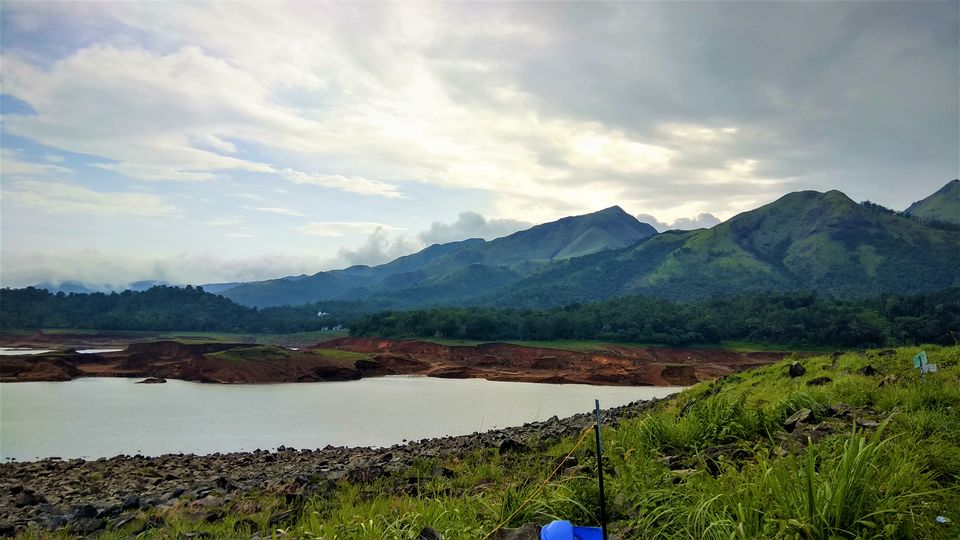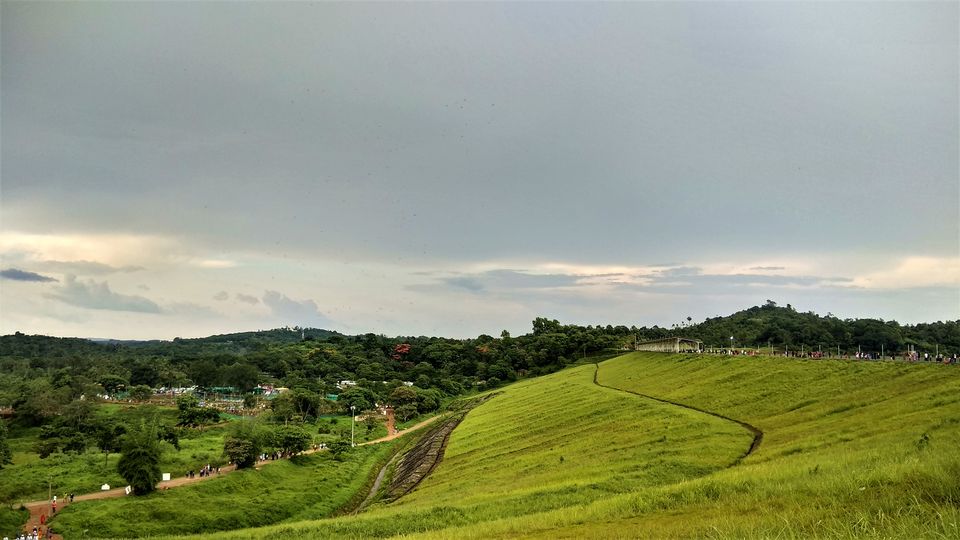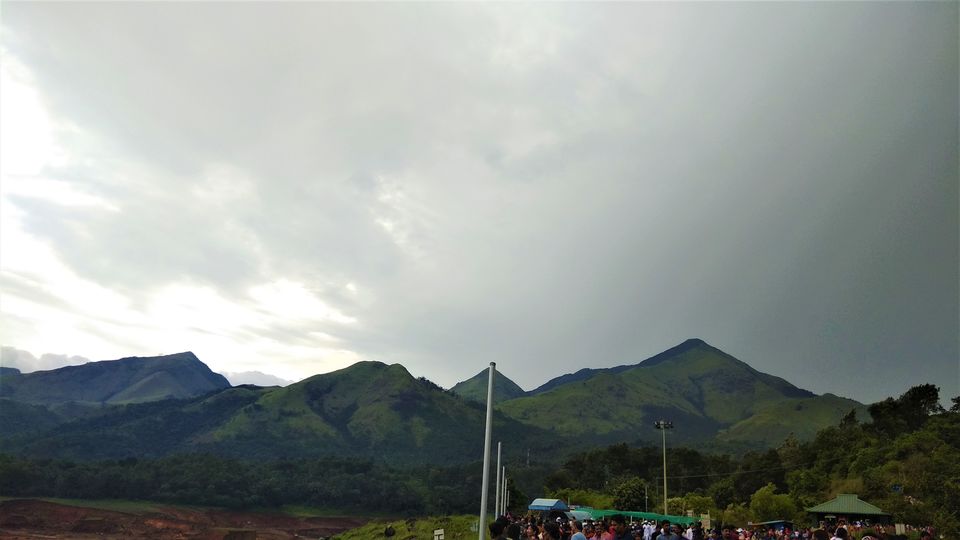 After visiting the dam, we then took an auto back to Padinjarathara and then took an bus to Mananthavady where we had booked our room in an small budget hotel in town area. After an 45 mins bus ride for the distance of 20 km, we reached Mananthavady at around 7 p.m. There are lot of budget accommodation available at Mananthavady and is the nearest town to the famous Kuruva Dweep. We had dinner from an near by small restaurant and went to sleep at around 9.
Next day we woke up at morning 6 o'clock. Our plan was to visit Kuruva dweep. Kuruva dweep is a group of islands located on Kabini river. It is one of the most visited places in Wayanad. We came to knew that only a fixed number of people are allowed for the entry to islands which was allocated as first come first serve basis (I am not aware of the current situation). So we decided to take an early morning bus to Kattikulam and from there take an auto to Kuruva. We reached bus stand at 6-30 a.m. We got a bus going to Kattikulam soon. Only few passengers were there from stand, but on the way lot of people boarded and it became full packed. The route was so beautiful passing through the small villages and green forests. As it was early morning, the weather was so cool. It is a 10 km journey from Mananthavady to Kattikulam and we reached there at around 7-15 a.m. From there it is another 6 km to Kuruva. We hired an auto at an charge of 180 Rs and it took around 20 mins to reach the place.
When we reached there, the place was already filled with tourists. We stood on the queue for buying tickets. The tickets counter opens only at 8-30 and we stood there for more than 1 hour as there was no other option. We were lucky enough to get the tickets and our number was almost last of the allocated tickets. We thought that the entry was allowed as per our token number. So we just went to an near by restaurant and had breakfast. After that we spent almost one hour just wandering there. At around 10-30 a.m we went to the entry point and then we came to knew that the entry was not based on token number but anyone who has a token can enter by standing in queue there. We just lost around 1 hour there not knowing this.
After our tickets are verified, we can take a bamboo raft to cross the river to enter the first island. It was a great experience even if it was just a 10 mins rafting. After reaching the island we can walk there through the paths separated from forests on either side. It was a wonderful experience to walk inside those islands having beautiful green forests with small streams on the sides. We can cross small streams to reach next island. It was overall a great place to spent time with our friends or family. We spent almost one and half hours there and then returned back to the entry point. Since there weren't any bus services to this place, we took the auto back to Kattikulam. From there we took an bus back to Mananthavady.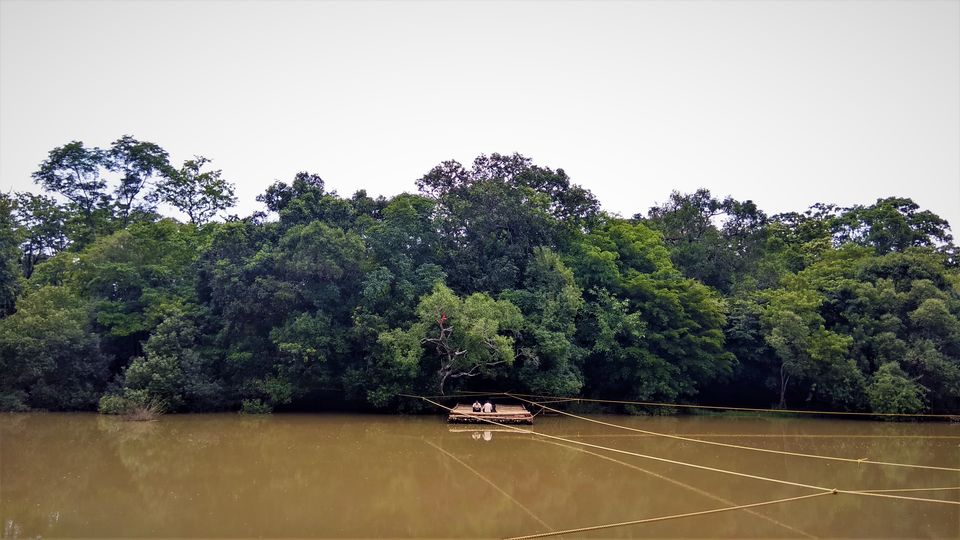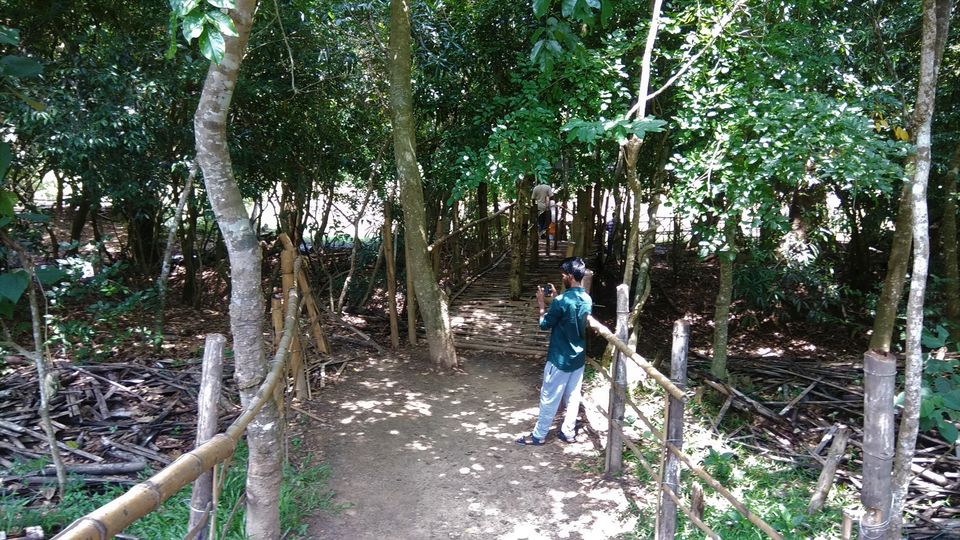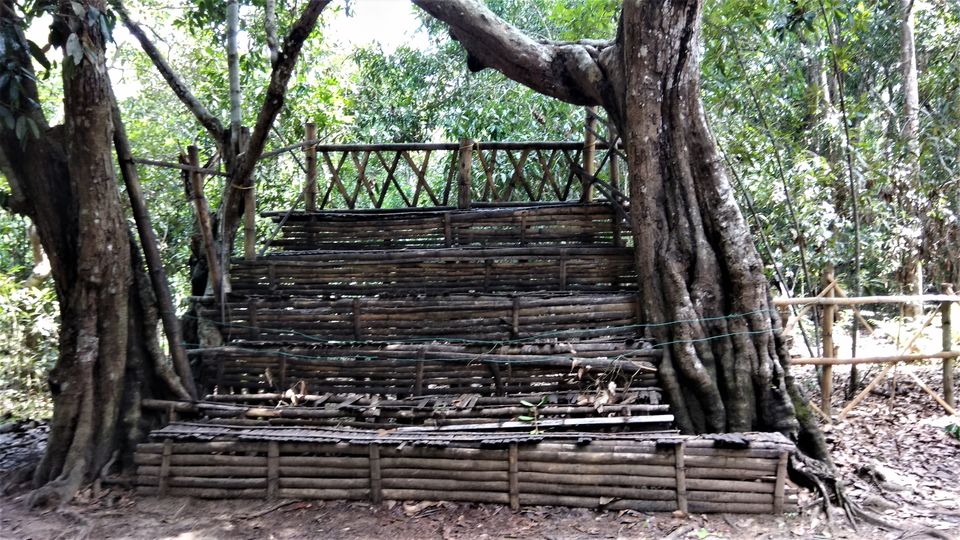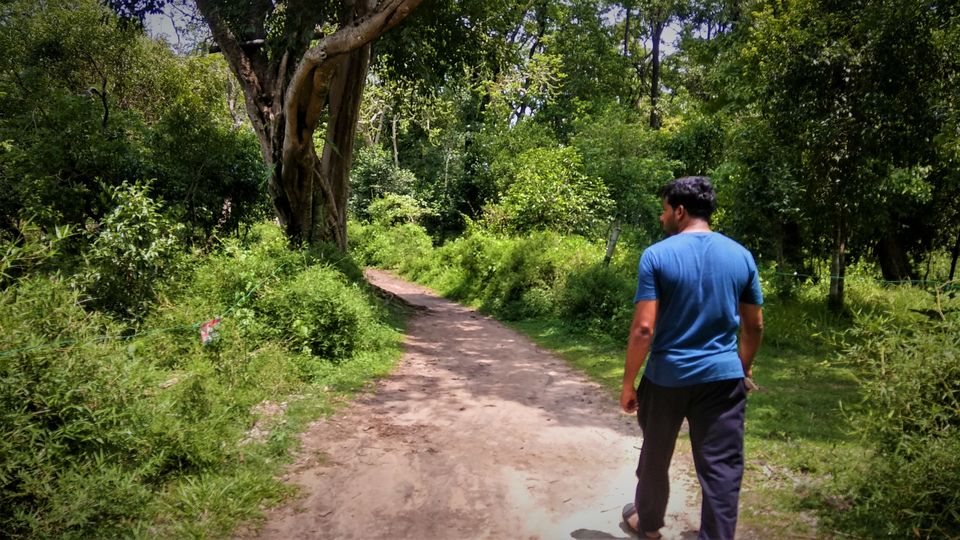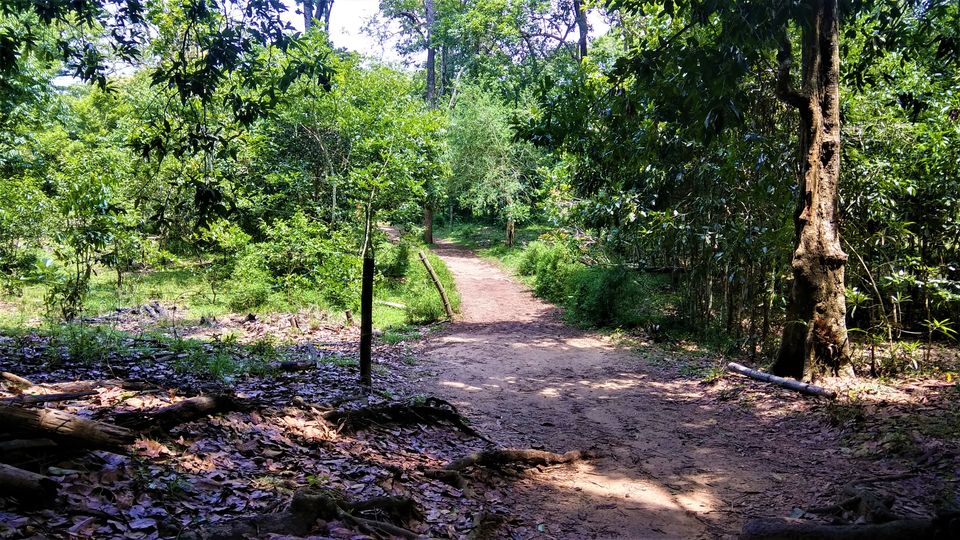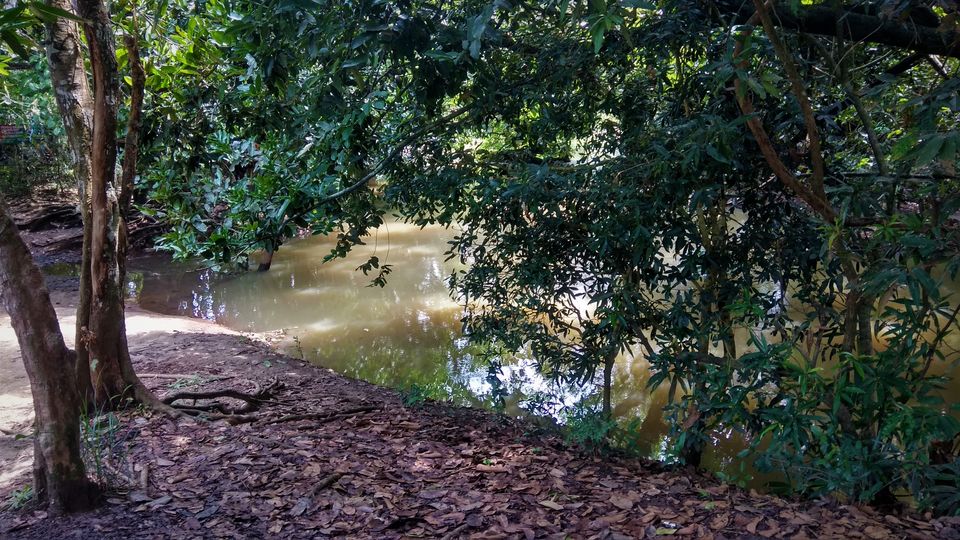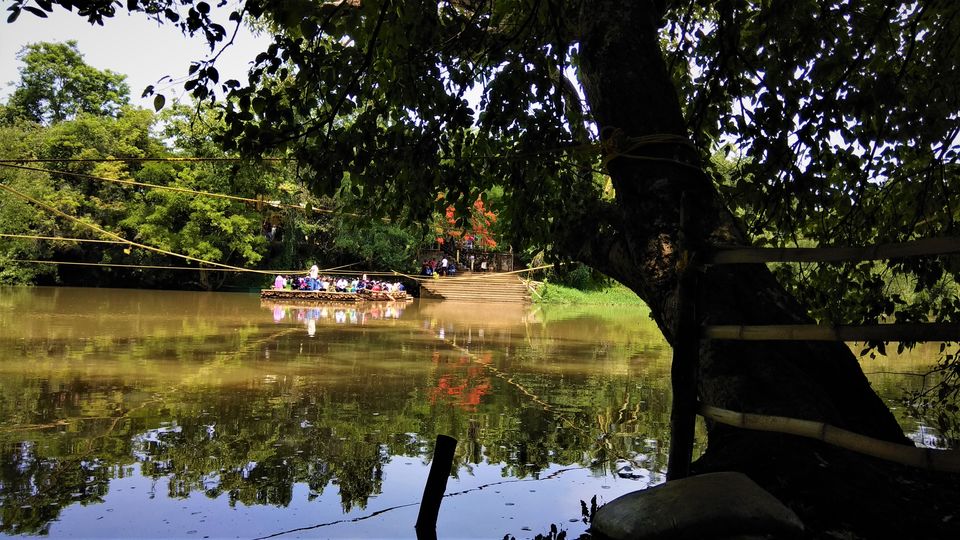 We reached Mananthavady at 1 p.m. We had lunch from an restaurant and went to hotel for a quick rest. At around 2 o'clock we decided to visit the Edakal caves. It is situated at a distance of 45 km from Mananthavady near by Sulthan Bathery. We took a bus to Sulthan Bathery first. This bus route was very beautiful passing through some villages and forests. Everything was green on both sides of the road. We really enjoyed the ride. It normally takes one and half hours to reach Bathery from Mananthavady. But that day because of some blocks on road, it took more than 2 hours to reach there. Sulthan Bathery is one of the biggest towns in Wayanad and it is at an equal distance from state boundaries of Karnataka and Tamilnadu.
After reaching the Bathery stand, we took an bus to Ambalavayal to reach Edakal cave. At this time we were already aware that we were not able to enter the caves as entry time closes at 4-30 p.m. The bus was going at a very slow pace and around 4-45, we reached at a junction just before Ambalavayal from where the road to Edakal caves splits. We got down from bus and enquired at a near by shop and they told us that the entry time would be over. We were disappointed a bit, but it was okay as no matter what, we were enjoying the journey.
We then took an return bus to Sulthan Bathery and from there again took a bus back to Mananthavady. At around 7-30 p.m we reached back at our hotel. Even if we were not able to visit Edakkal caves, we really enjoyed the bus ride. We rested for some time and then went to have dinner. After dinner we decided to go for an movie. There was an nice theatre near to our hotel - Jos Cinemas. We watched the malayalam movie 'Aravindante Athidhikal' which turned out to be a nice feel good movie to end our day. After the movie, at around 11-30 p.m we reached back at our room and went to sleep.
Next day morning we woke up at 8. We haven't got much plans for today but just to take a bus ride along the beautiful forest route of Sulthan Bathery - Muthanga - Gundlupet - Bandipur - Mudumalai and if possible do a wildlife safari at Mudumalai Tiger Reserve. We checked out from hotel and had breakfast from an near by restaurant. Then we went to bus stand to take a bus to Sulthan Bathery. At around 9-30 a.m we got the bus and after an one and half hours of journey through the beautiful landscapes of Wayanad, we reached Bathery KSRTC stand at around 11 a.m. Then we took a bus to Gundlupet passing through the beautiful Muthanga forest. It was a beautiful journey along the green forests.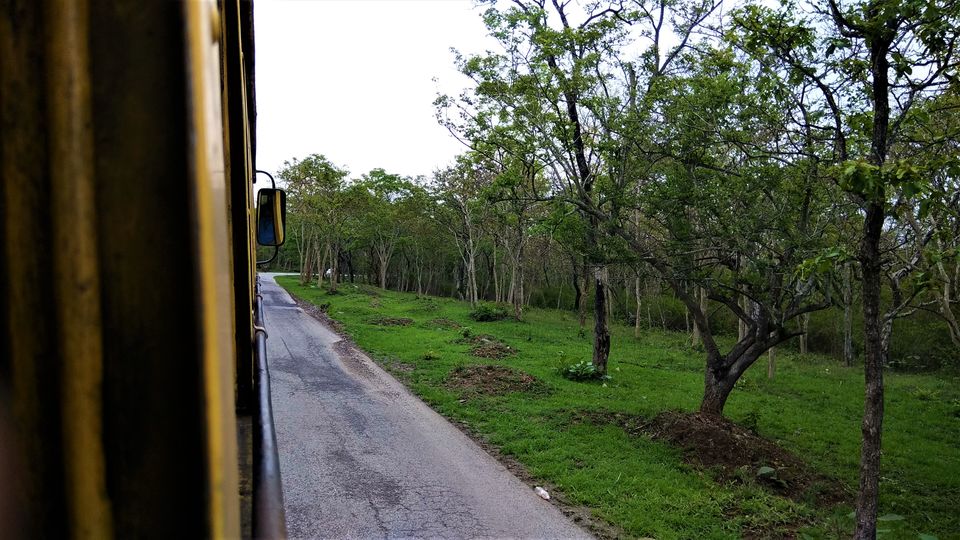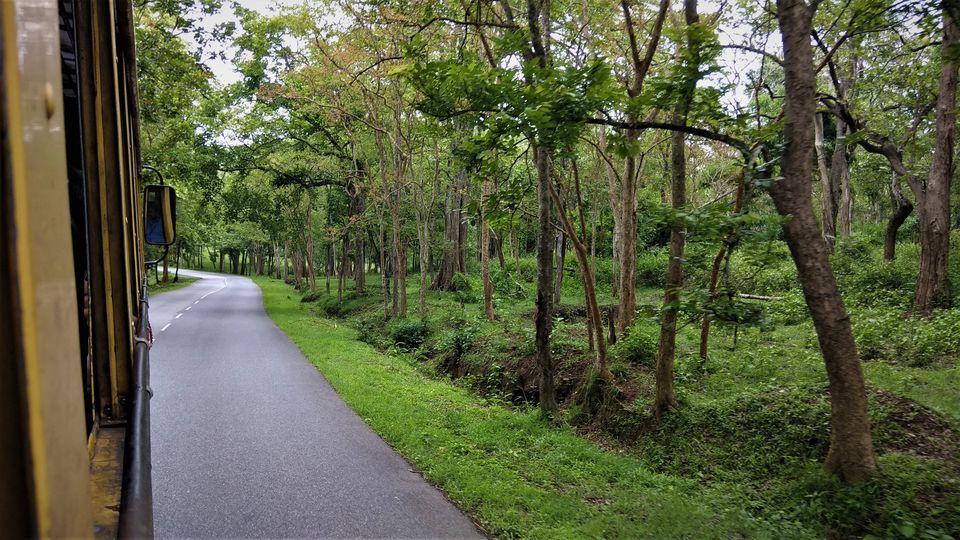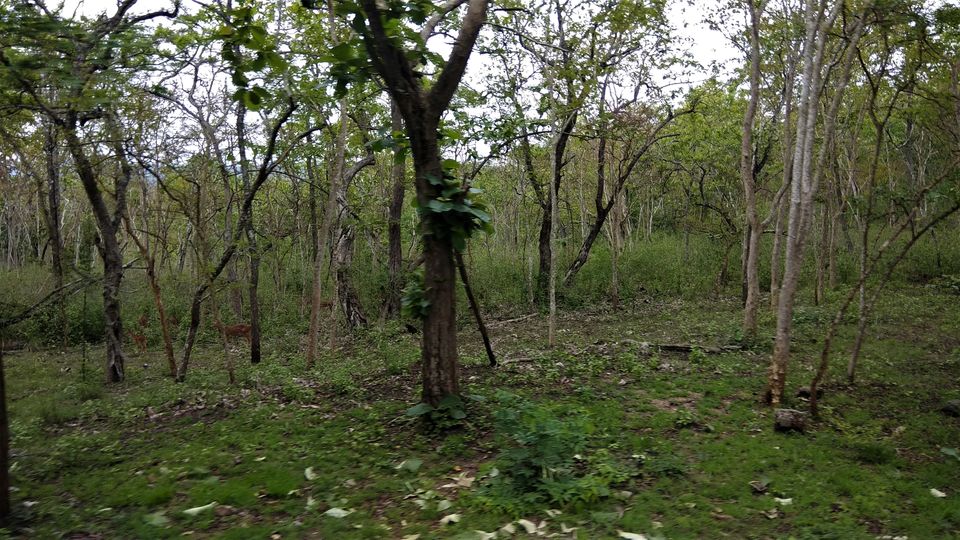 We can take a circular journey through 3 states and 3 wildlife sanctuaries within three hours starting from Muthanga in Kerala and then heading to Gundlupet and taking a U - turn towards Bandipur in Karnataka and then Mudumalai at Tamilnadu. Since we were going by bus we have to first get bus towards Gundlupet and from there another bus to Mudumalai via Bandipur. After an one and half hours of bus ride through the beautiful forest of Muthanga spotting some deers and peacocks, we reached Gundlupet bus stand at around 12-30 p.m. Gundlupet is a small town in Karnataka. We had lunch from an restaurant around 500 metres from bus stand. After that we went back to stand to catch a bus to Mudumalai. We can take buses coming from Mysore and Bangalore towards Ooty to go Mudumalai or Bandipur. At around 1-30 p.m, we got a bus which was going to Ooty from Mysore.
After a 15 mins ride from stand, we will enter the Bandipur tiger reserve. On this way is the junction where the road to famous Himavad Gopalaswamy Temple starts. We were not able to visit there as we didn't got much time. After entering Bandipur forests the views were spectacular. We were able to spot a lot of deers all the way. The forest was not much green compared to that it would be on monsoons, but still it is a great experience to take a ride through this route any day in the year. We spotted deers, peacocks, elephants and wild boar on the way. After an 45 mins more of the exciting journey, at around 2-30 p.m we reached at Theppakadu where the Mudumalai wildlife offices and forest stays are located.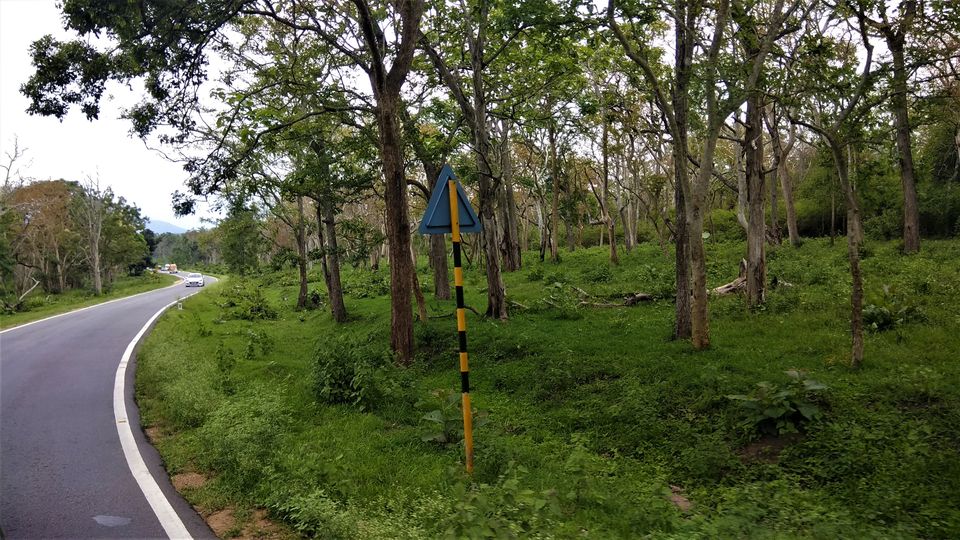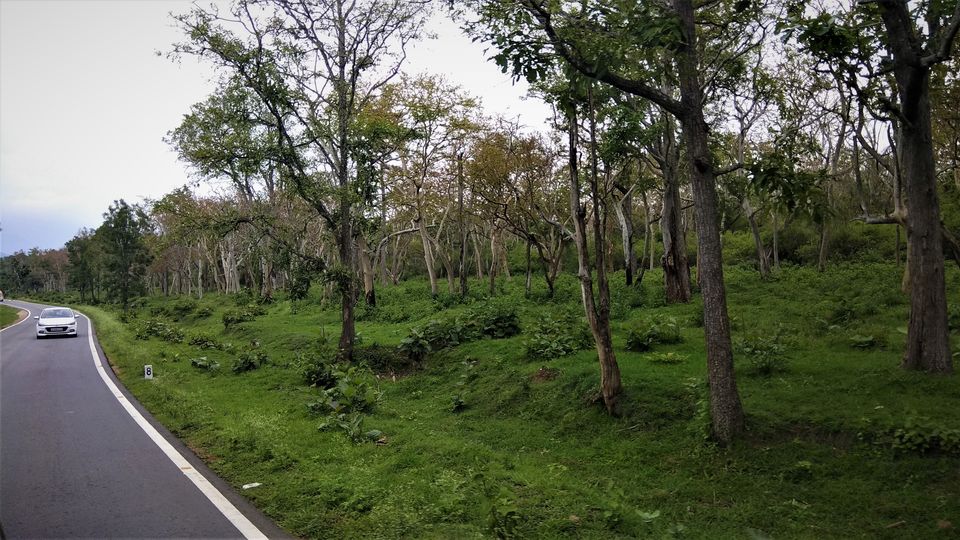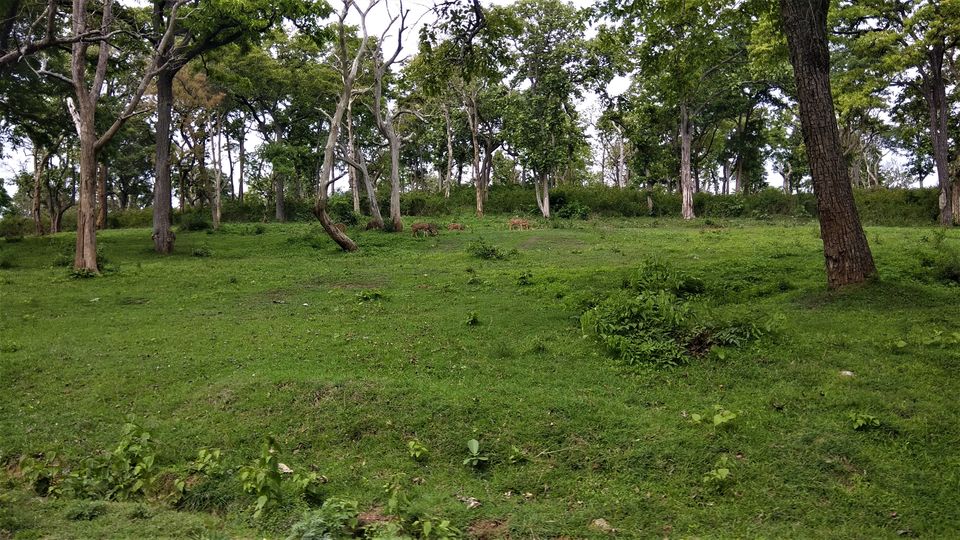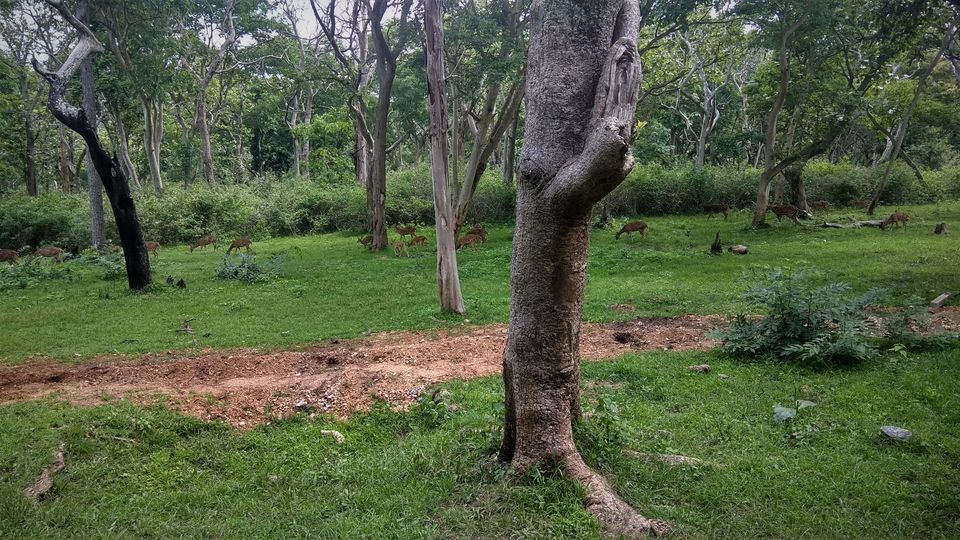 It was a beautiful place in the middle of forest with an office, restaurant, some cottages for tourists, etc. Near by there we saw a herd of deer on the road side. We went to the office and booked for the evening safari in the van. As it starts only at 3 p.m, we spent some time around the office clicking some photos. It was really a cool place to spent some time.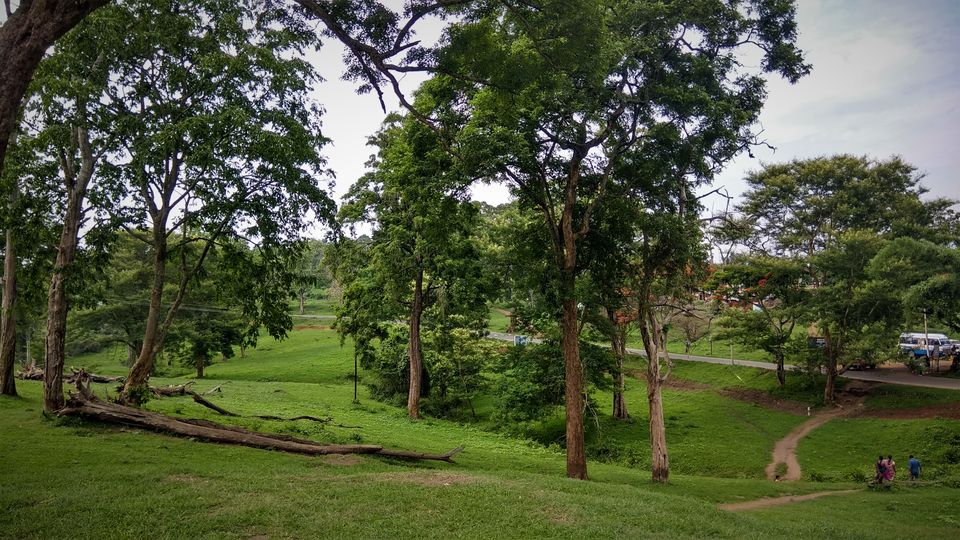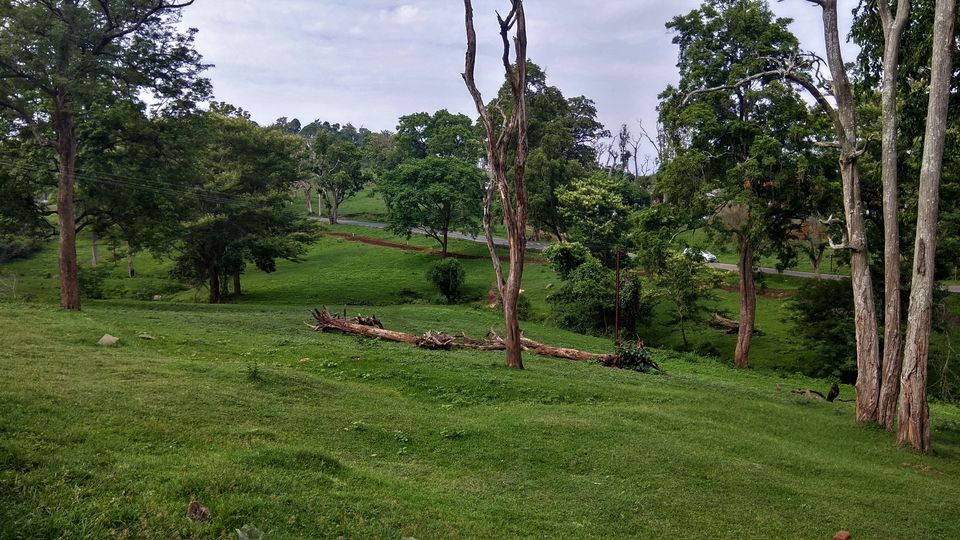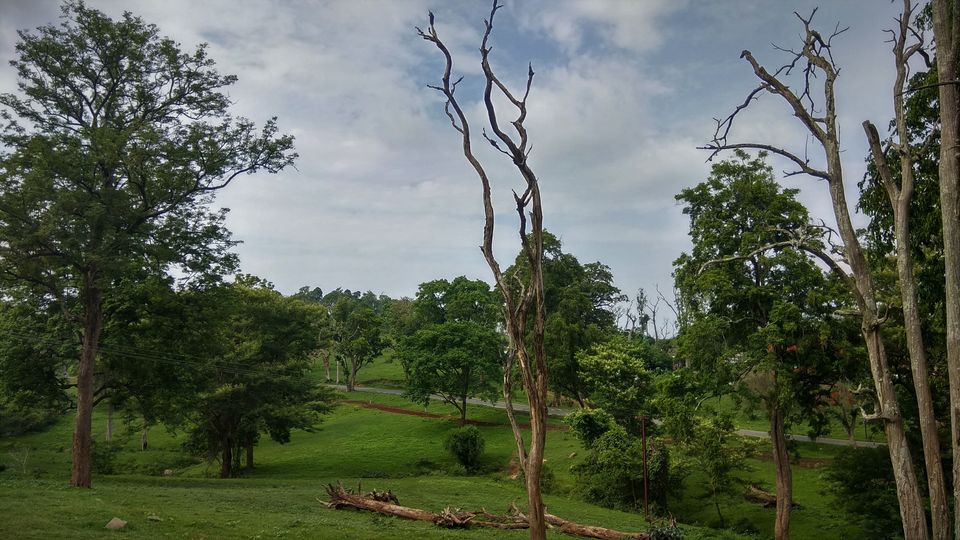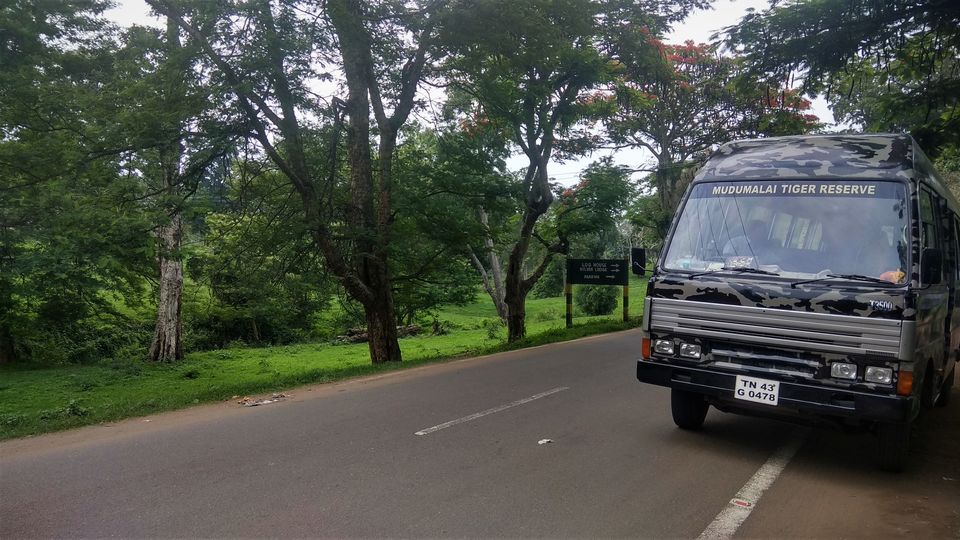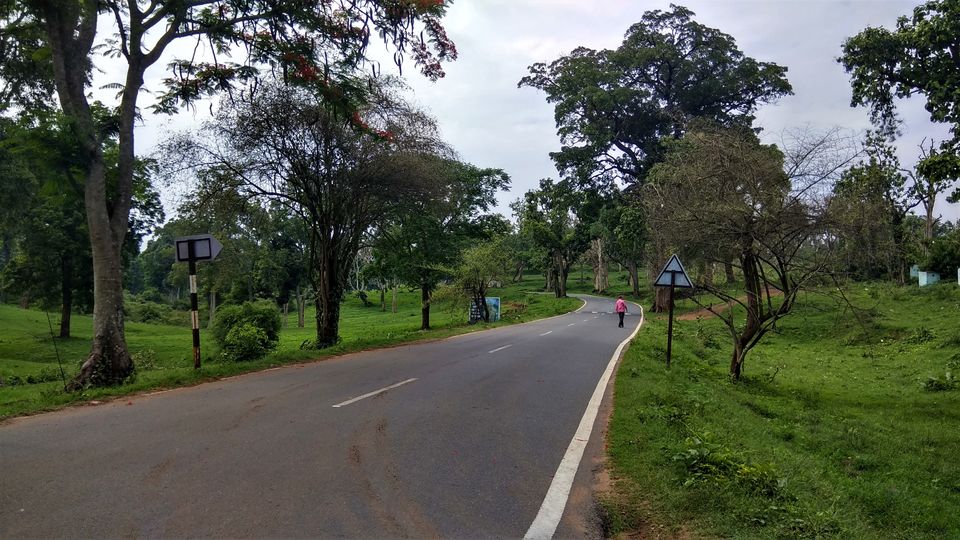 The safari started at 3 and our van was full of tourists mostly from North India. It is an one hour safari in which they take us deep inside the forests where only forest department vehicles are allowed. We were lucky enough to spot bisons, elephants, sambar deer, peacock, etc. But we couldn't spot any tigers or leopards. Anyways we were overall happy about the safari as it was a nice experience to spent some time inside the forest. We reached back at the safari office at 4 p.m.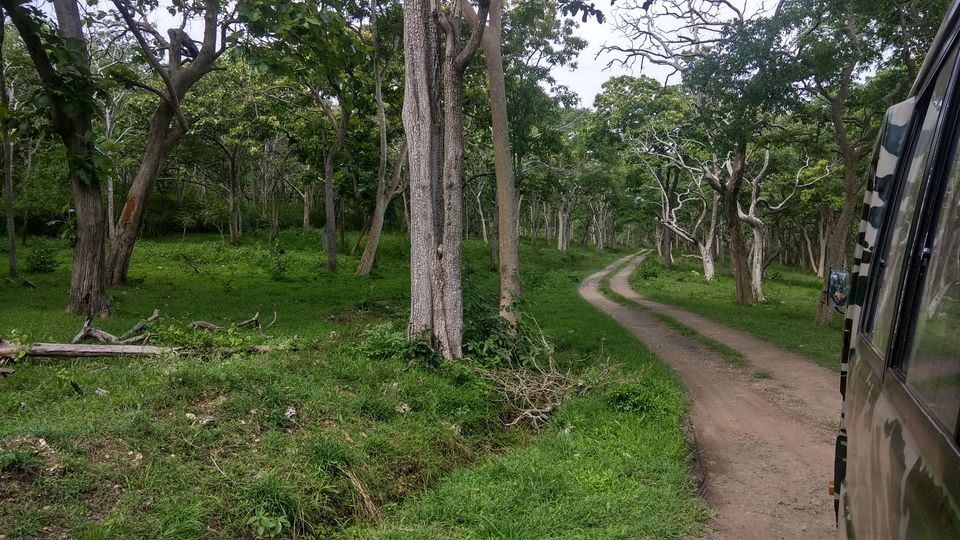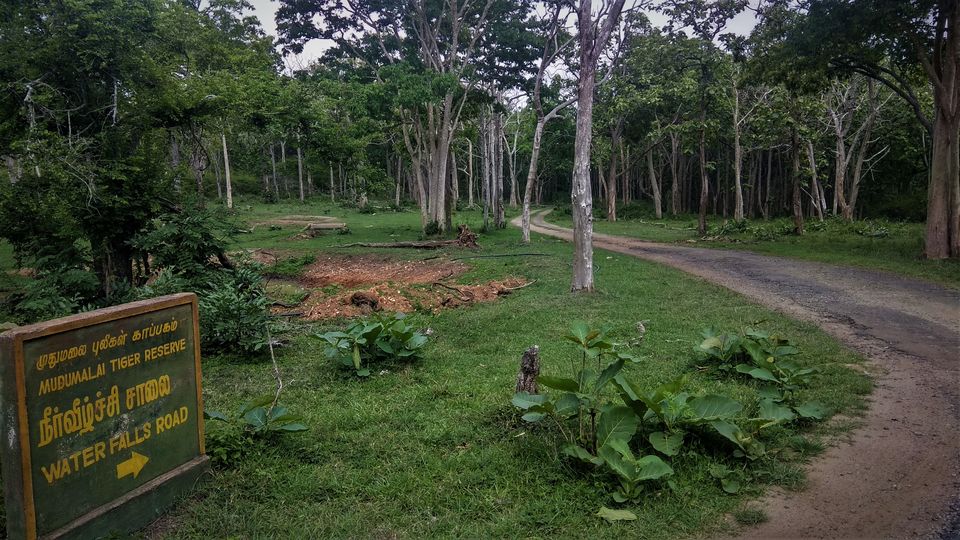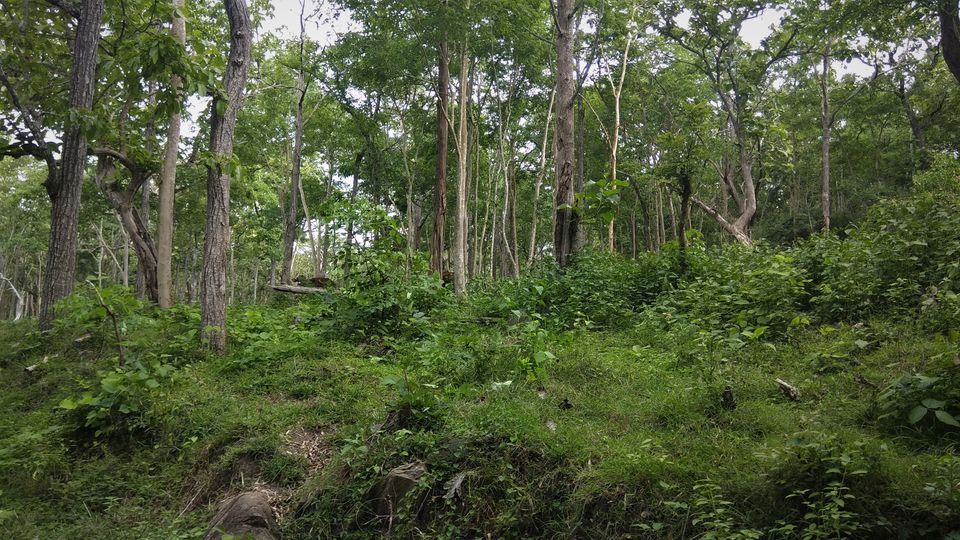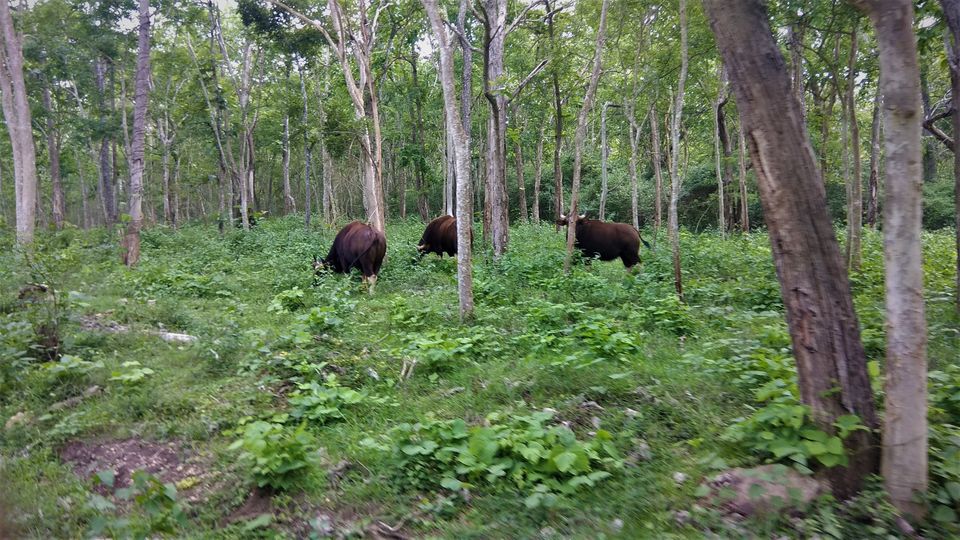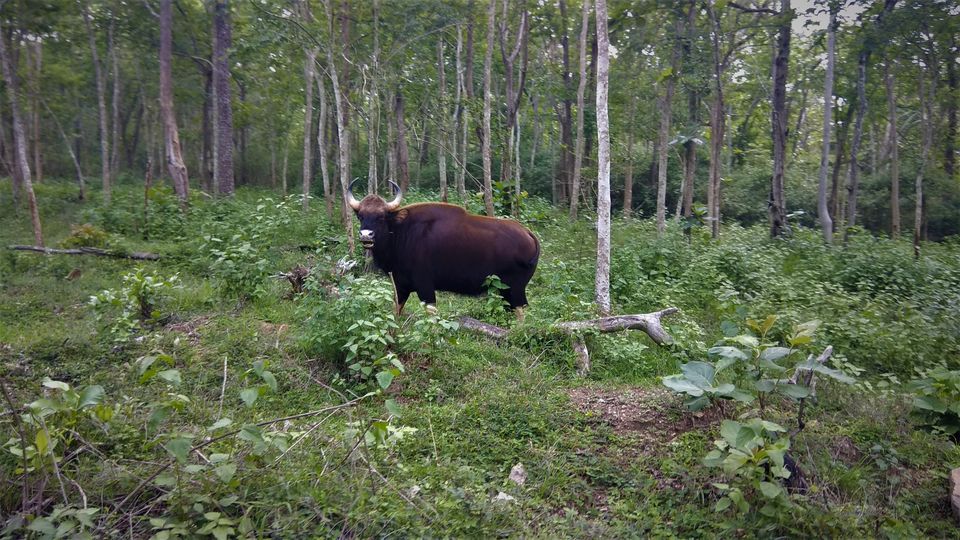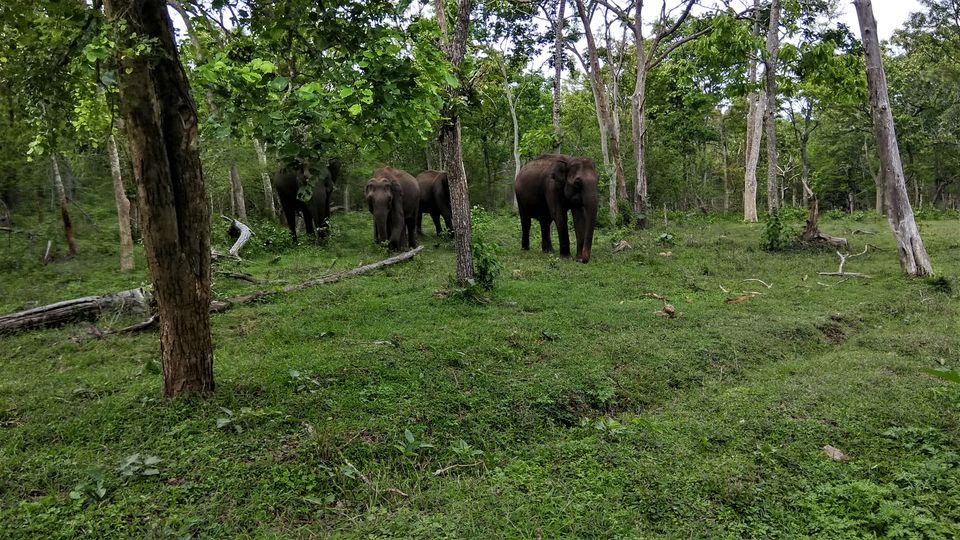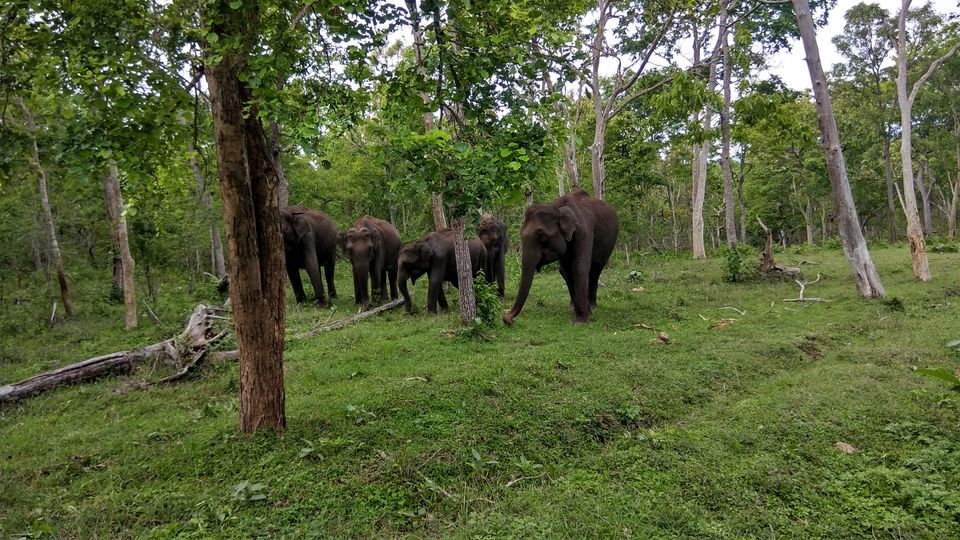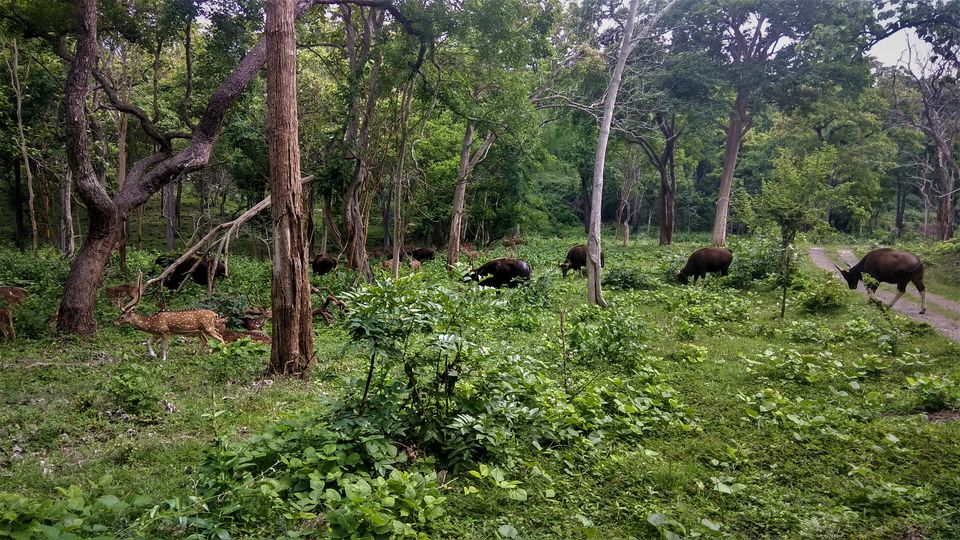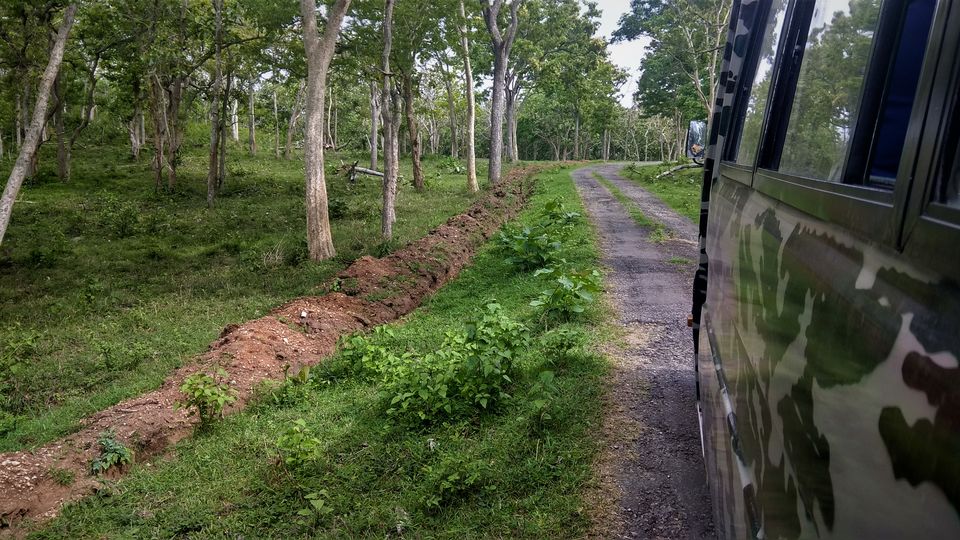 We then got a bus to Gudalur at 4-30. It was so crowded and we didn't got a seat to sit. But it was just a 30 mins ride and we reached at Gudalur bus stand. Gudalur is the gateway to Nilgiris. It is an important town for people going towards Ooty from Mysore, Bangalore and North Kerala side. We got a bus to Nilambur from there. After a 2 hours journey, we reached Nilambur town at around 7-30 p.m. My friend went to railway station as he was taking the train to go to his work place, Trivandrum. I went to the ksrtc bus stand from where there was a bus to my home town Thrissur at 8-30 p.m. I had dinner from an near by restaurant and waited for the bus. The bus came on time and after an 3 hours journey I reached Thrissur bus stand and at around midnight reached back at my home. This is by no doubt one of the best trips in my life and I have learned a lot from this trip. I would love to repeat this journey once again in my life during an monsoon time.