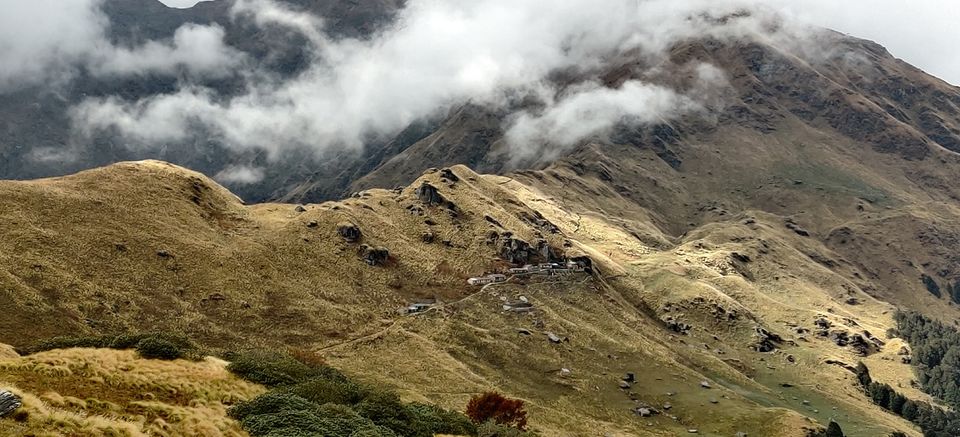 Situated in the Himalayan mountains, the Rudranath Temple is considered a moderate to difficult trek of 22 km long (total 44 km). Whenever you make an itinerary for Rudranath temple, make sure that you are physically fit and healthy. If you have respiratory or any other type of disease that causes difficulty in breathing, then you should not travel to Rudranath temple on foot.
The length of this trek and the steep steep climb make this trek even more difficult. During the trek to Rudranath temple, you reach the temple through alpine meadows, dense forests and deep valleys. And these dense forests and deep valleys make your Rudranath trek interesting and memorable.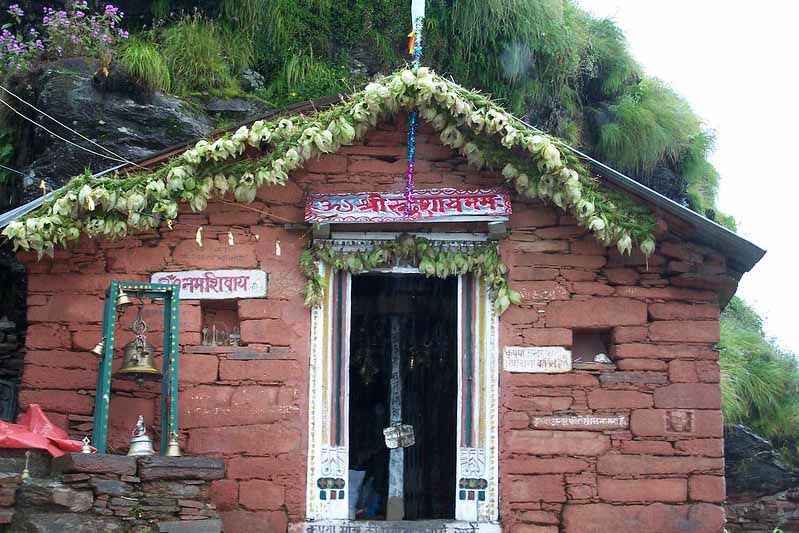 Rudranath is the highly revered temple of Lord Shiva is peacefully adorned in the Garhwal Himalayas. It is the fourth temple to visit in the circuit of Panch Kedar pilgrimage.
the exhilarating trek to Rudranath temple can be either commenced from Sagar village or Urgam village which is in chamoli district of uttrakhand. Gopeshwar is the base camp of the trek.
Rudranath temple is the toughest one to reach in comparison with other temples of Panch Kedar. The Himalayan peaks adding to the glory of Rudranath are Nanda Devi, Trishul and Nanda Ghunti.
we reached at sagar village from faridabad (Haryana) after a overnight journey of distance 467 km in the morning around 7:30 am. after a long journey we were bit tired for the rudranath summit, so we decided to freshen up to the nearest hotel called rudra. After a good bath and a delicious pahadi breakfast we decided to go up to rudranath kedar.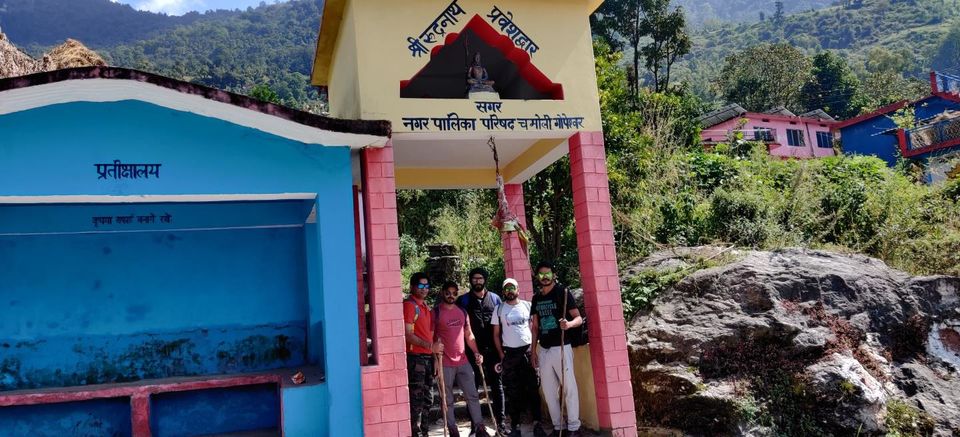 we started our journey at 9:30 am from sagar village and our first stop was chandrakoti (distance 2km), and there we met an amazing local person I don't remember his name but there was something lovely happend to us, it was hot at that time around 11:30am, He offered us juice of buransh flower and it was deliciously amazing and so healthy. one must have that juice for strength and further climb. click to see what happend..!!
https://drive.google.com/file/d/1p2Fc5xezyA7CXlIYxPS5nEFlbyhLa0iR/view?usp=sharing
So we had that BURANSH flower juice and started again for another 2km towards PUNG BUGYAL (Bugyal stands for open wide grass land). It was quite easy to be there, in another one hour we were at PUNG BUGYAL. there we rested for half hour and we had our lunch, and almost everything was there in the food tent. (chawal,dal,sabzi,roti,maggi,tea,coffee).Pung bugyal was a small grass land surrounded by the mountains and clouds you can see by your self by clicking on the link below.
https://drive.google.com/file/d/152awy-qe49SUR709JkmizG28KVzU5UF0/view?usp=sharing
our next stop was MOULI KHARAK, now we have to walk a bit higher speed as its a steep climb of 4km through the jungle but it was heaven feeling. it was so silent and peaceful that one can hear his/her own heart. I cannot express my feeling, what actually u can hear is birds chirping and air. Our guide SHIV told us about the place that its toughest KEDAR from all of the PANCH KEDAR. (Kedarnath, madhmaheshwar, tungnath, rudranath, kalpnath) and we started feeling the toughness. One must carry the water bottle and basic packet food, so that whenever they feel tired just have them and start walking.
Three hours of climbing we reached to mouli kharak, as we reached the point of mouli kharak we saw only one tent and it was about to close but shiv told to the tent owner that allows us to stay, he was discussing with the tent owner suddenly shiv told us to move a bit forward to 1 more km as the another stoppage i.e LEUTI BUGYAL was there on upside. But we found this place mouli kharak beautiful. it was situated at near to cliff and view was amazing, from there i can see the pung bugyal down and panar bugyal cliff on upside. so we stayed there for one night. our first day was bit difficult but we were happy.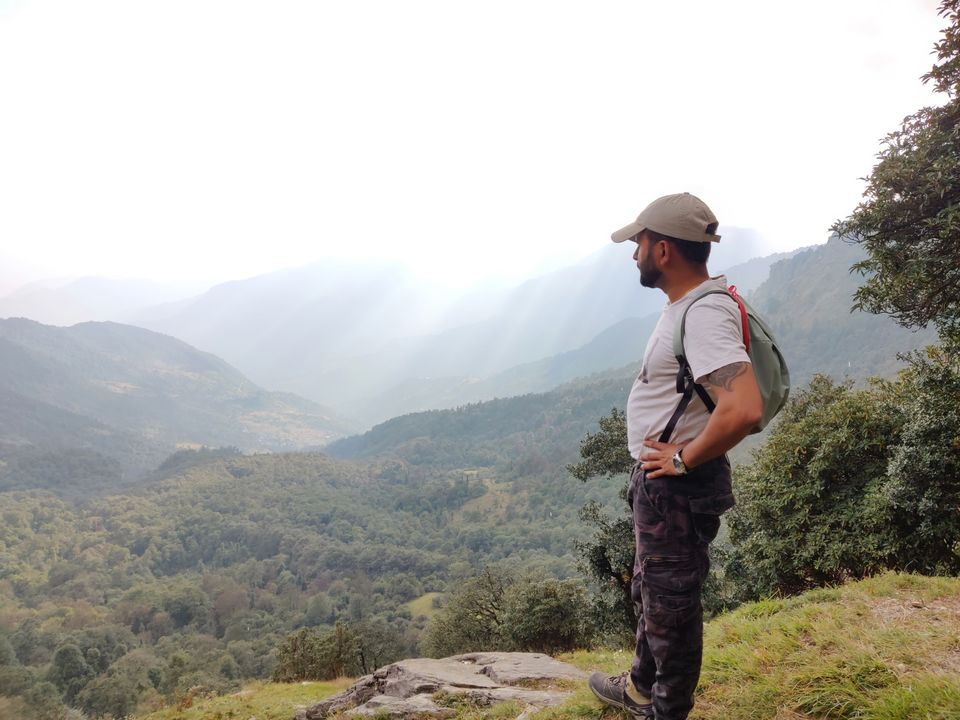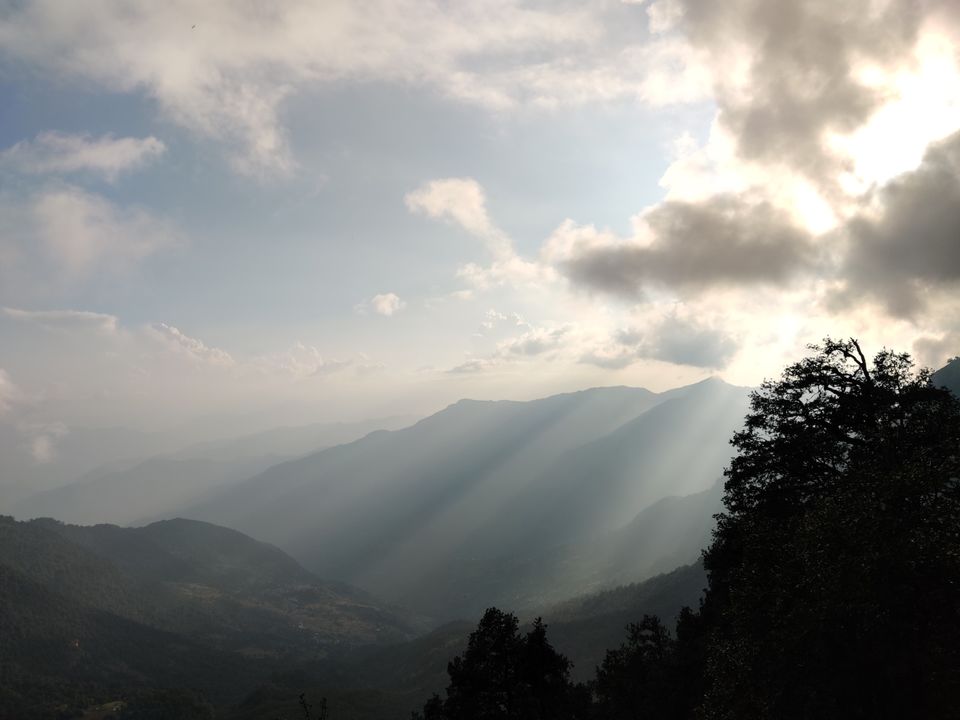 https://drive.google.com/file/d/1I72Fu9AtWuco0zgPDeoUKP5ufhFm-xVK/view?usp=sharing
We woke up around 6:00 am and we did some exercise like a small walk and body stretching then we had our breakfast and preparing for the climb towards PANAR BUGYAL.
https://drive.google.com/file/d/1tBfkyX0zXWIJQ8yJyha-QxImtcZaIB7X/view?usp=sharing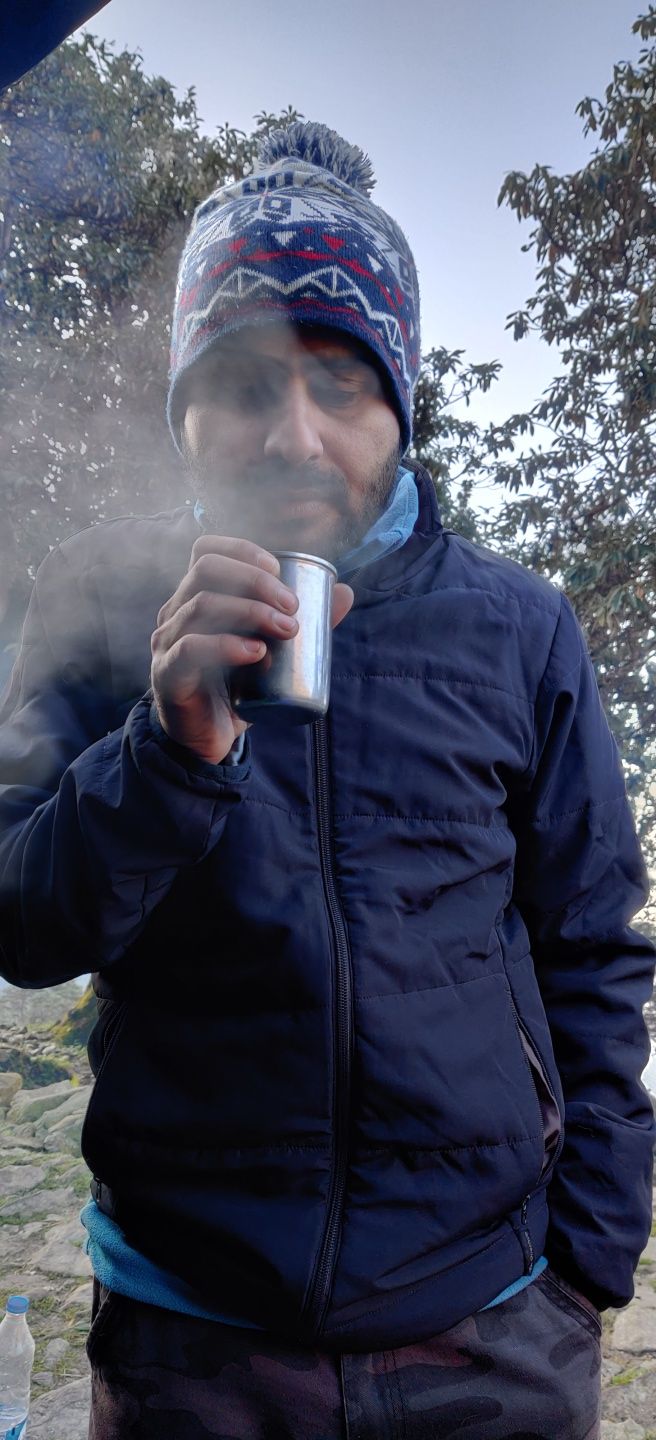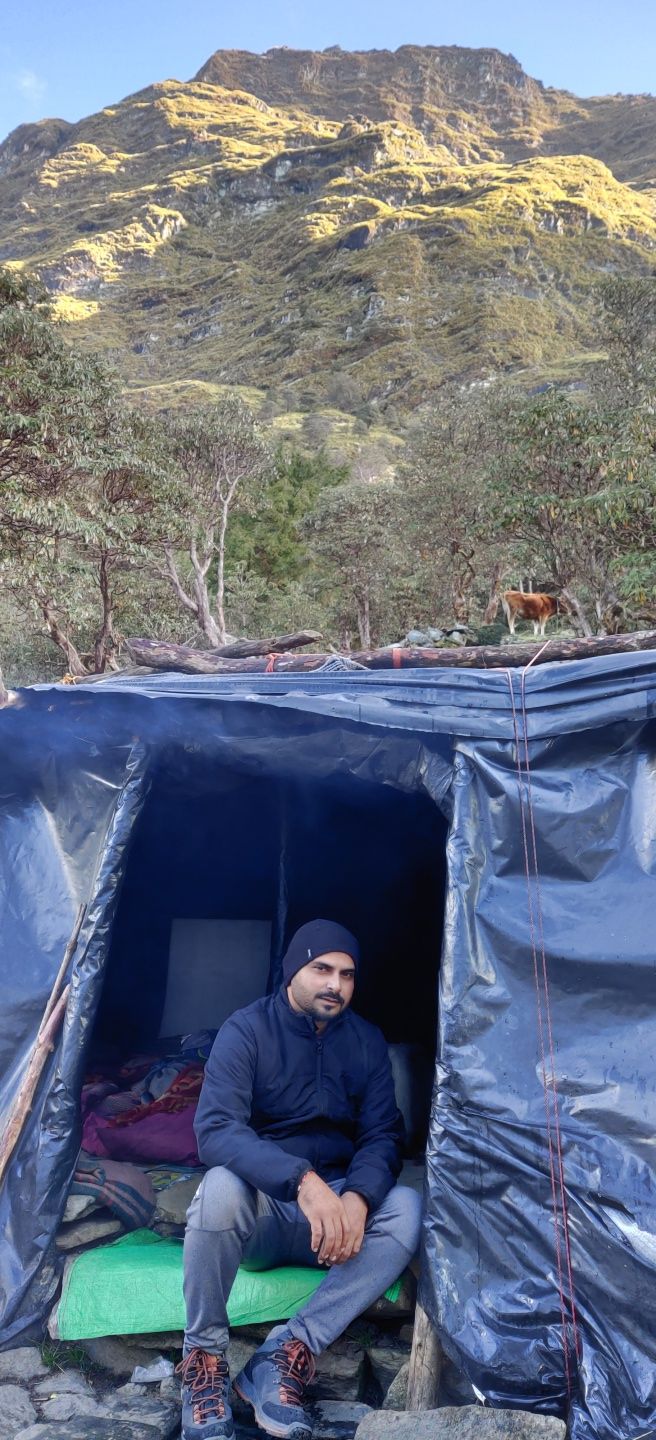 Around 7:00 am we start climbing and reached to LEUTI BUGYAL this was the place shiv our guide was talking about, it was 1km climb. there we stayed for 10 mints and we enjoyed the DHOOP (sunrays). Aahaa it was lovely feeling, Because it was bit cold and windy in the morning, and sunrays were like the feeling shared. You can see here.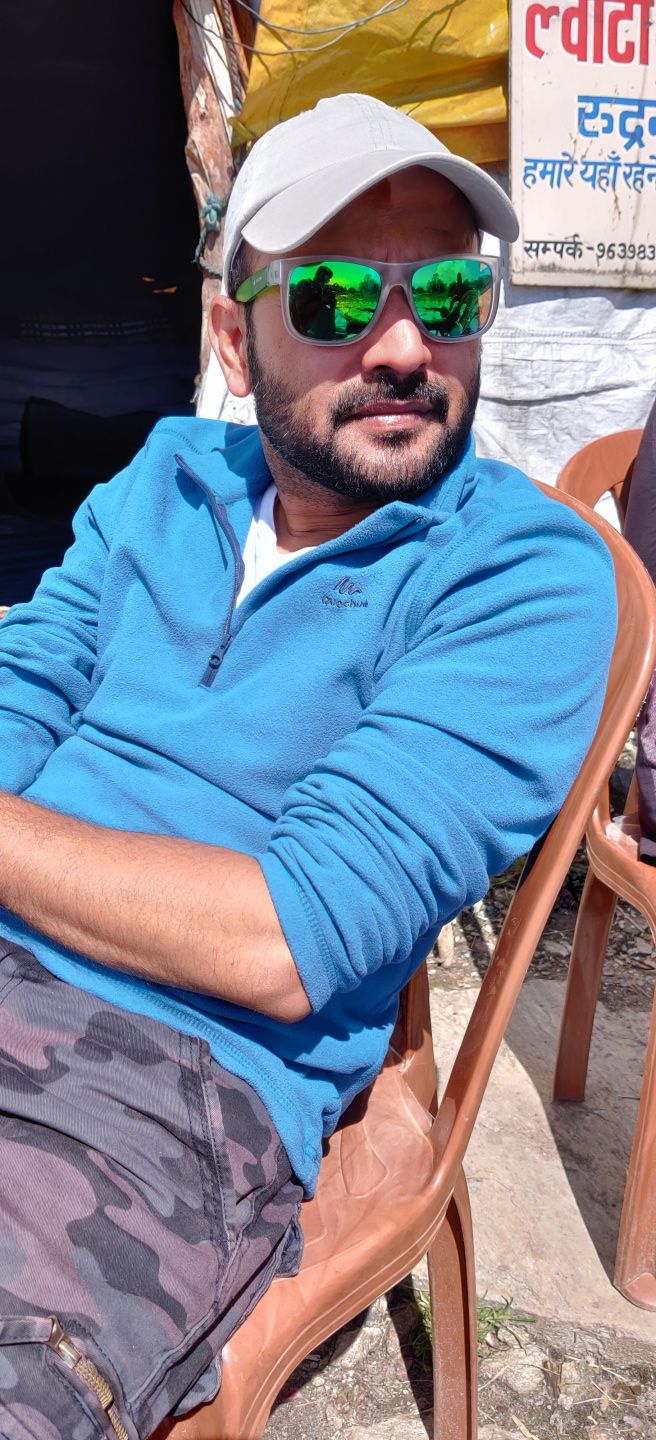 bit of rest gives you power to move forward, so we started again and after 2 hours of climbing through clouds and narrows trails watching the landscapes, we reached panar bugyal which is the most beautiful place through out the trek, as we reached there we noticed the tremendous beauty which i cannot explain in words, one of the highest ranges of the garhwal mountains like nanda devi, mount trishul, nanda ghunti were visible to us. it was mesmerizing moment. we were witnessing a very big meadow and clouds.
Local people told us that panar bugyal is one of the biggest bugyals in Uttarakhand and they also revealed us that here the weather changes in every one minute, means we can see by ourselves that clouds comes and moves like whooffff. It was the best part of the trek for all of us. we had our second day lunch at panar bugyal after staying there for 40 mints we moved towards Pitradhar.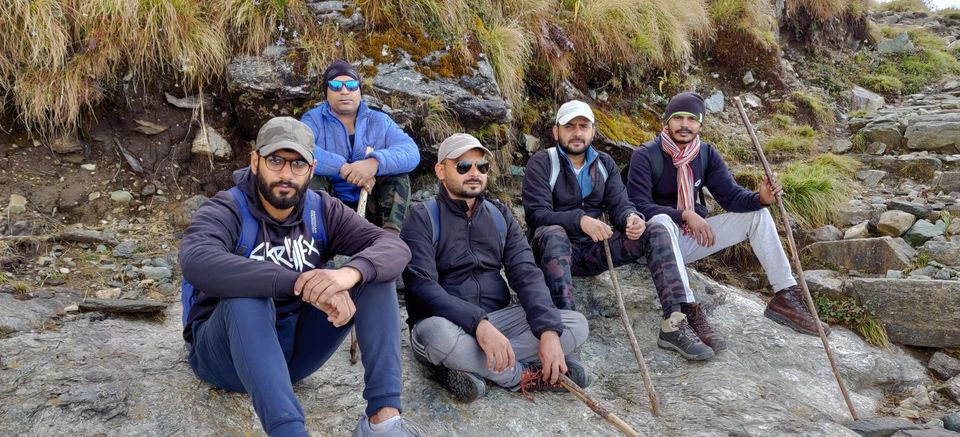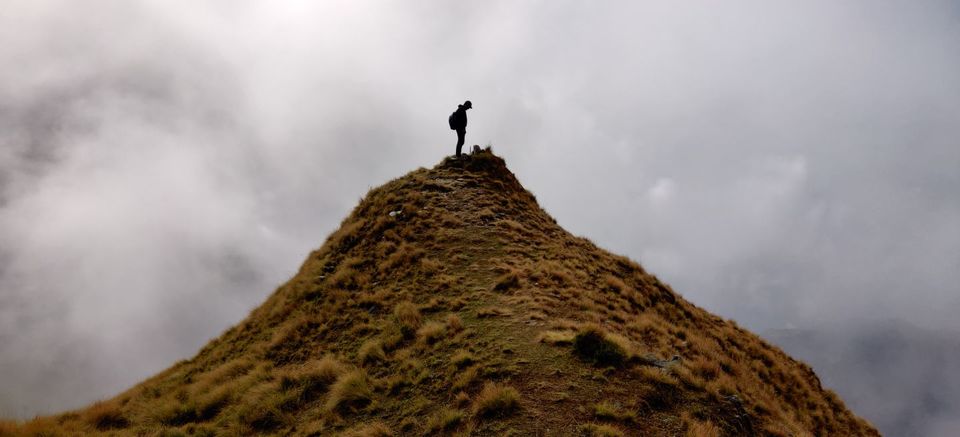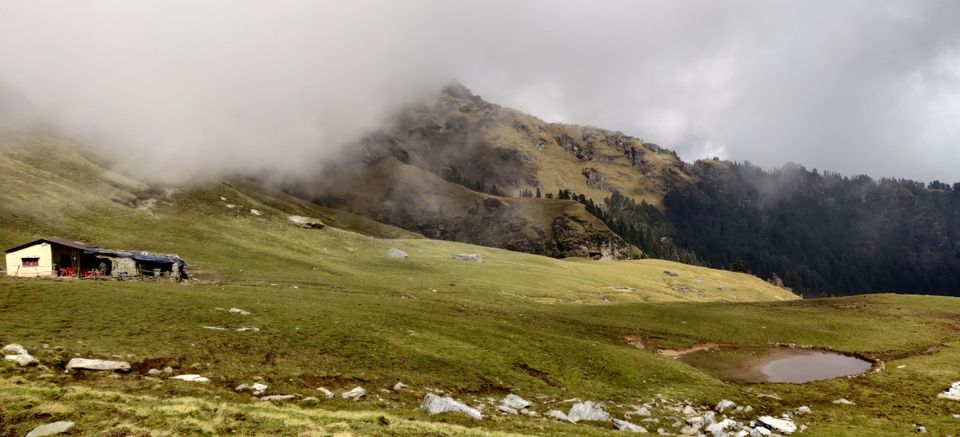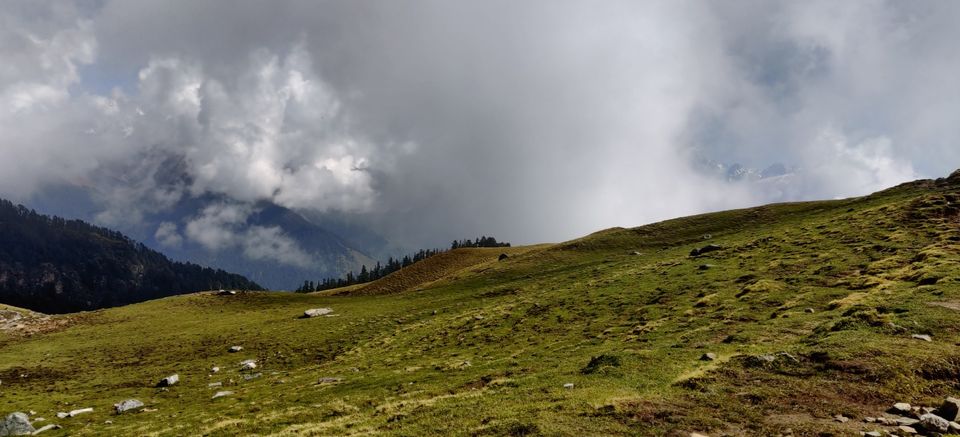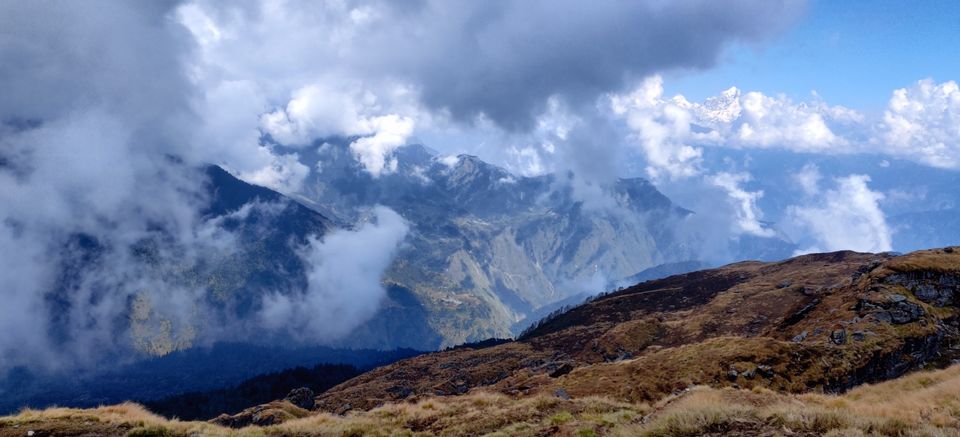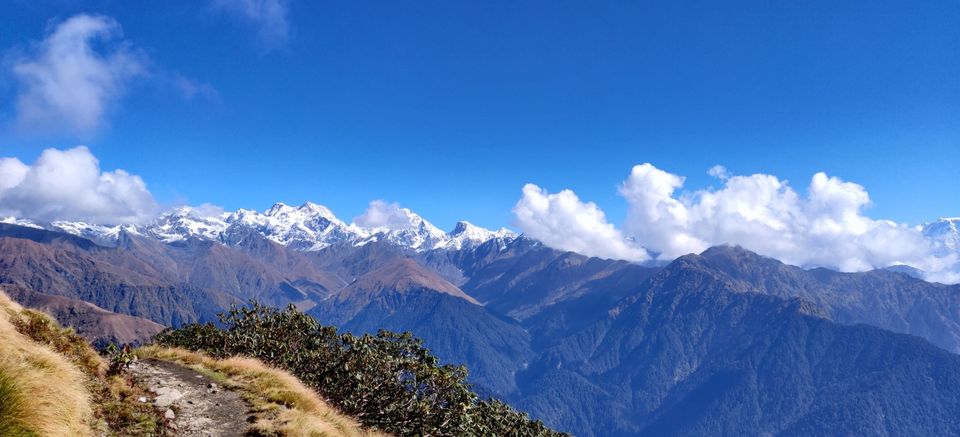 panar bugyal to pitradhar and towards panchganga was 7km. Now this time we were climbing like we were walking means the climb was not high it was smooth and beautiful, as we were walking on the meadows on narrows trails but lovely atmosphere. Happiness was on his peak in our minds. This time we were on the the plain but on the top mountains. A walk of 7km and small climb took us near to the first darshan of toughest kedar RUDRANATH. this was the first time we were witnessing the SHIVA'S DEN.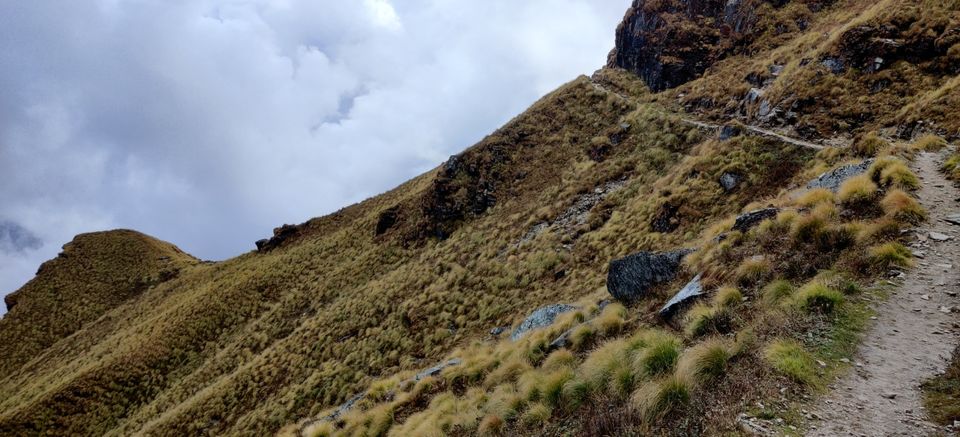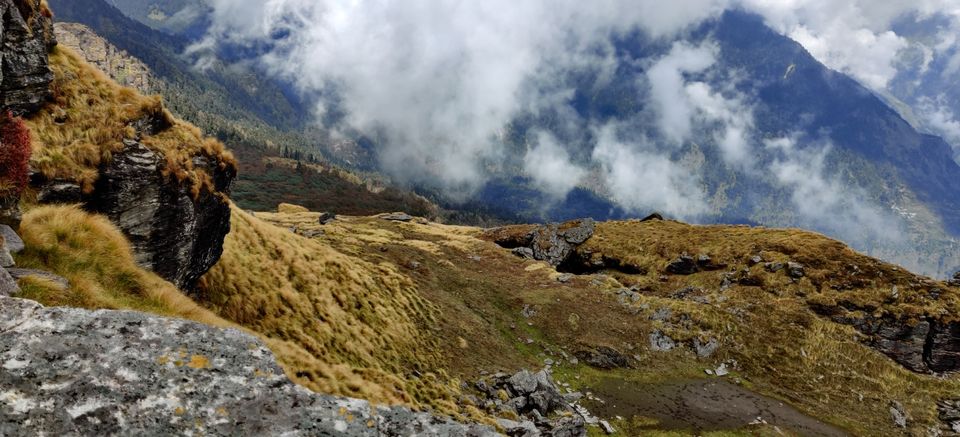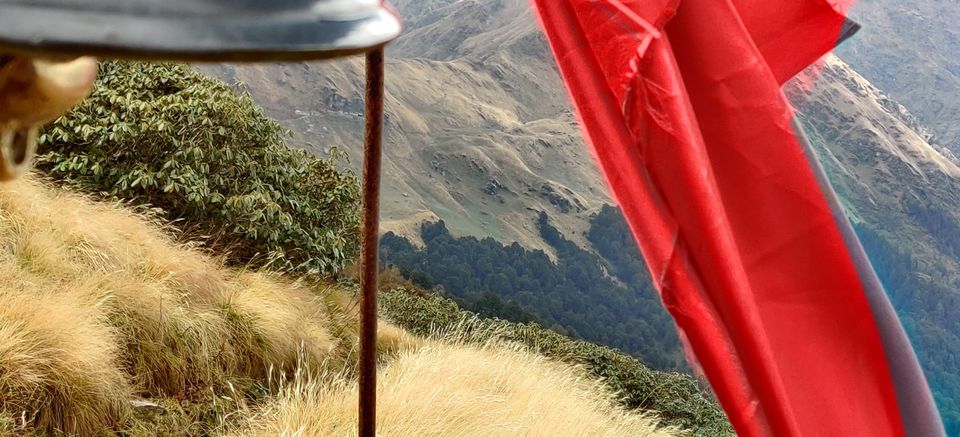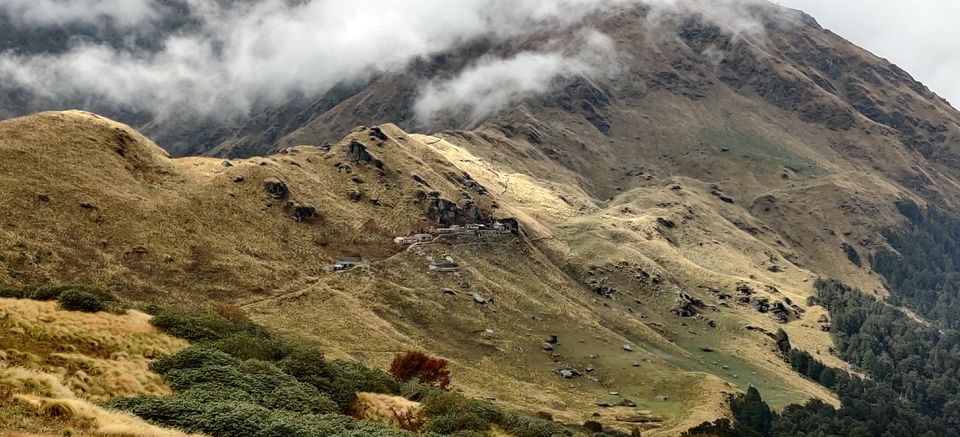 From this place to the place that we were watching was 4 km and we jumped with happiness and started walking like playing with mountains. In 1 and half hour we were at TINKU bhaiya's Camp, the only camp who hosted arround 50 people, and it was raining with 6 degree temperature and time was 5pm. Our guide helped us like SHIVA. He arranged everything for us tent food water blankets woods everything means everything and yes if he was not with us we were not able to reach there as simply as we reached. according to the time we only can attend the aarti in the evening and then we can have the DARSHAN of Mahadeva, and we attended the aarti got the prasad and move back to our tent for a nice sleep as it was so cold outside. At night temperature goes around minus 3 degree and that we witnessed when we woke up...let me show you this view and the morning ice everywhere.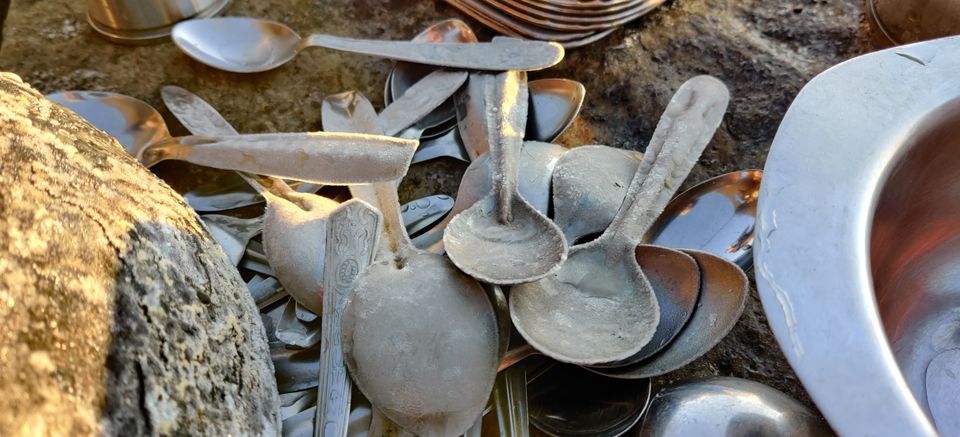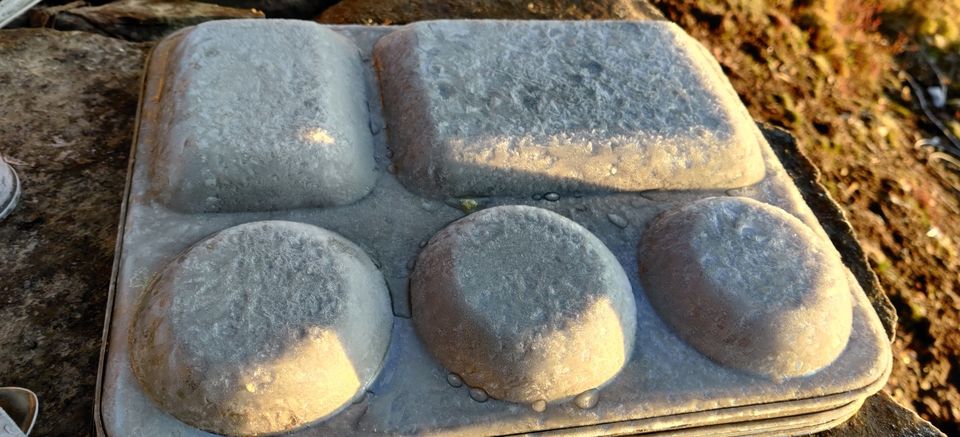 So finally we did darshan of mahadeva again in the morning and started our journery back to sagar village. we started descending at 8 am third day and reached to sagar village around 4pm. it was so relaxing and peaceful for us that we did it. And we were feeling healthy and motivated for our next trek that was going to begin very next day, MADHMAHESHWAR kedar. Yes the next day we were going to do the second kedar.
thank you..!! I will meet you with another experience.
!!HAR HAR MAHADEV!!