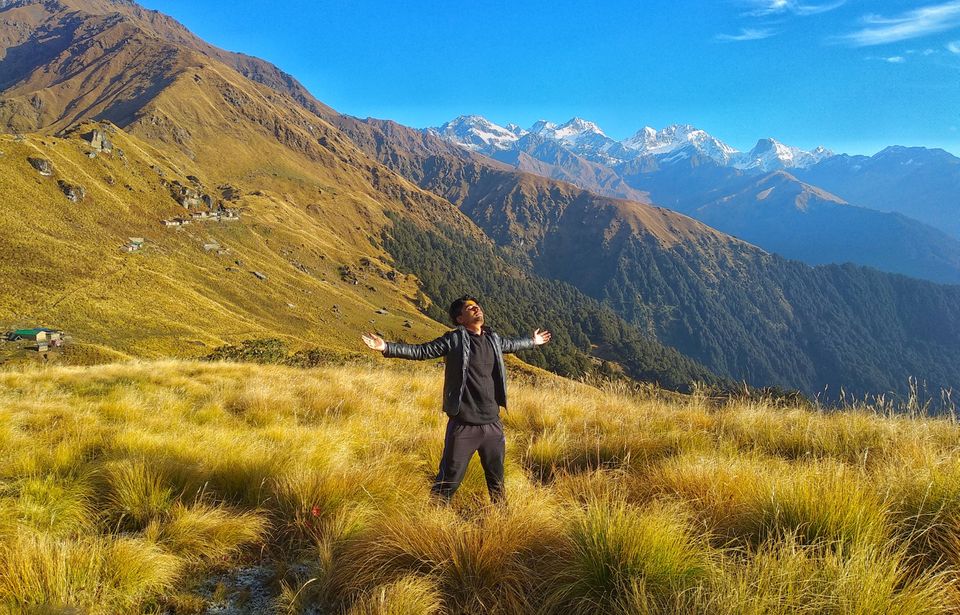 Rudranath is one of the "Panchkedar tracks"(18kms) dedicated to Lord Shiva in Uttrakhand. It is situated in the Chamoli district of Uttrakhand at the altitude of 11400ft. This scenic track will fill you with beautiful scenes of alpines and snowy mountains.
We started our journey from Dehradun at morning 6.30am with the aim of reaching at Gopeshwar around 5-6 pm. Dehradun to Gopeshwar is 255 km via Rishikesh- Devprayag route and takes around 10-11 hr depending upon the road traffic and conditions. Rather than going to the usual route, we took alternative route of Rishikesh-tehri-srinagar route. It is around 298 kms and have very low traffic density.
We reached at Chamba (88kms) around 10.30am where we pick one of our friend. From there we reached Srinagar(94kms) at 2pm. In between we stopped at different stations to took photos and snacks. We were not feeling hungry and targeted Rudraprayag (30km ahead) for lunch. After around 3pm we were in Rudraprayag. We searched for the proper food (dal chawal) but couldn't find anything. Now we have to settled for Fast food. After Filling our tummies we started again our journey to Gopeshwar (72kms) at 3.40pm. At around 7.30 we were in Gopeshwar and finally reached our destination of Sagar village (2km).
You can easily find the hotels in Sagar village at affordable prices. Five of us took a room at 1000r at Hariyali resort Sagar. Rooms are good but we didn't like the food which is okay for me. I advised you to buy thali which cost 100r/person rather than different items separately. We ordered different items and paid 1000r which wasn't ideal.
Next day we started late and started the track from Sagar at 7.30am. We couldn't have the breakfast and after eating some snacks started the track. After tracking around 1.30 kms, there was a small tent where we ate the Maggie to fill up our gases. We were five and two of us were not used to of tracking. They were the reason, we have to track slow and stop at small distances.
After tracking around 4km, we reached at "Pung bugyal" where we get to eat paranthas. We took some photos there.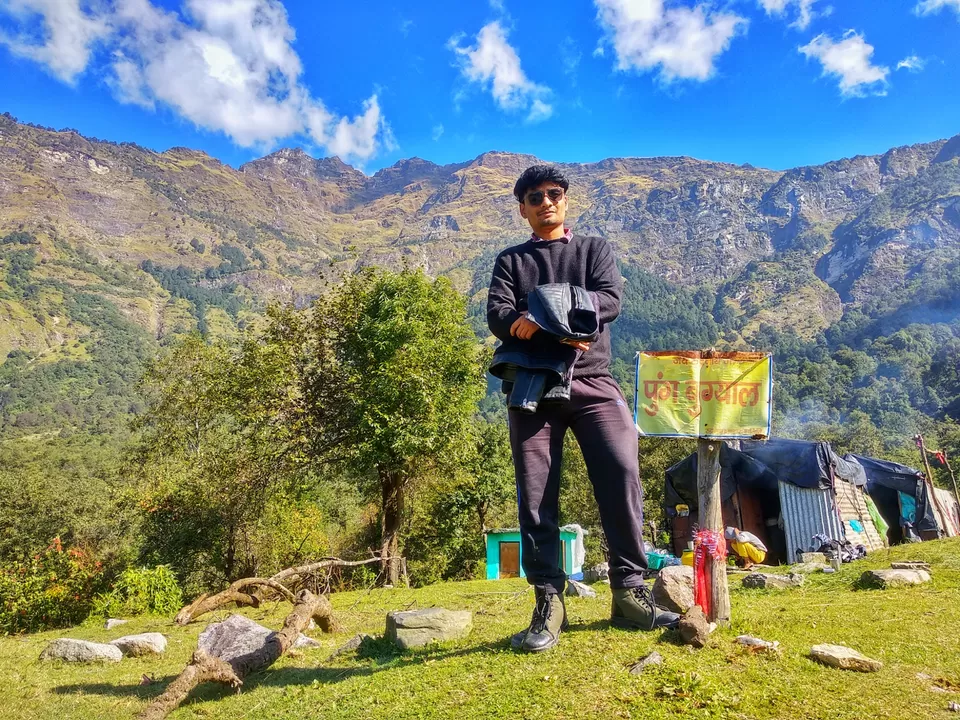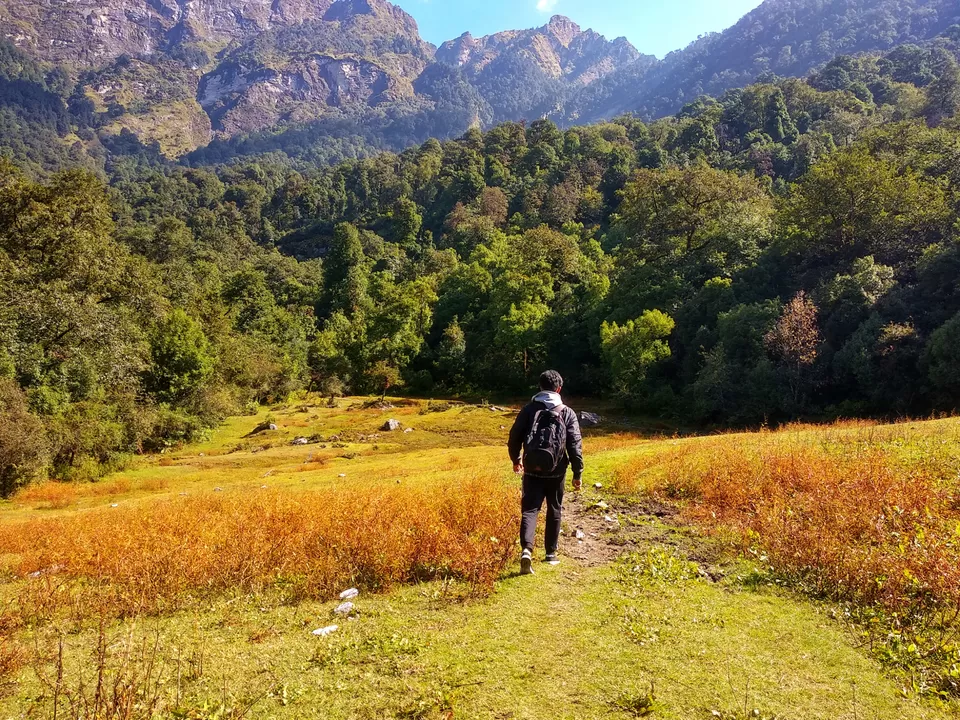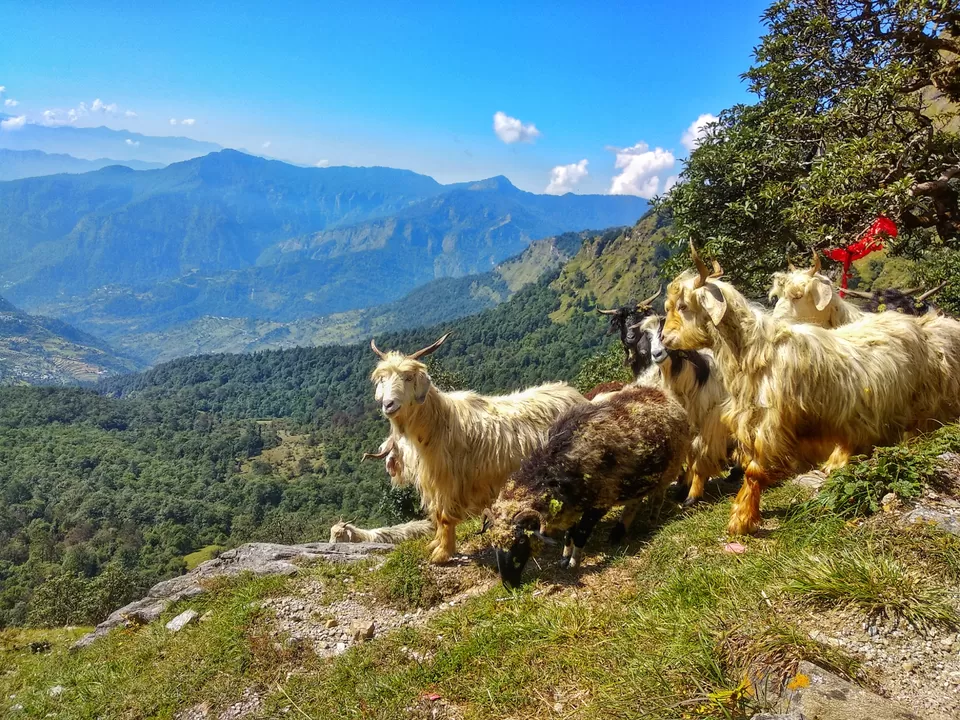 Our next station was set to "Lweti bugyal". This time two of us decided to leave others behind and track according to our speed. Lweti bugyal was approx 4km where we stopped for a tea. After taking tea we again started our journey to "Panar bugyal". This distance is considered hardest in the track as it takes you to very steep heights. We were full of energy till now and reached Panar bugyal walking slowly taking small breaks comfortably.
As we reached Panar bugyal, it was already 1.00pm and we were craving for food. There is a small tent which provide food to the tracker, but at that moment he doesn't have Maggie and told us to go Pitra Dhar (3km more) for food.
Rather than taking some rest we decided to reach Pitra Dhar for Lunch and take some rest. Panar bugyal to Pitra Dhar takes you to the a high altitude area where timber line vanishes and beautiful alpines starts to show.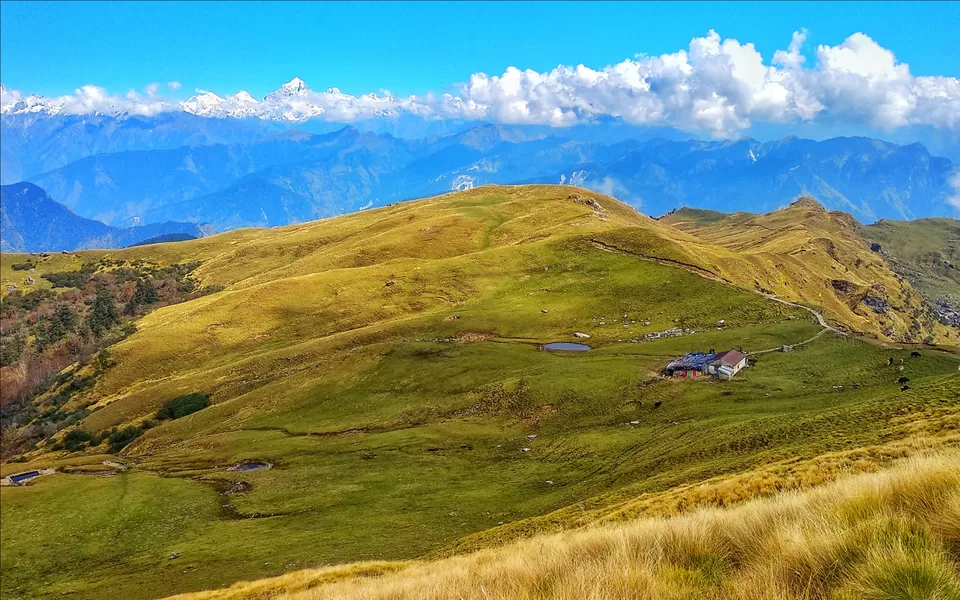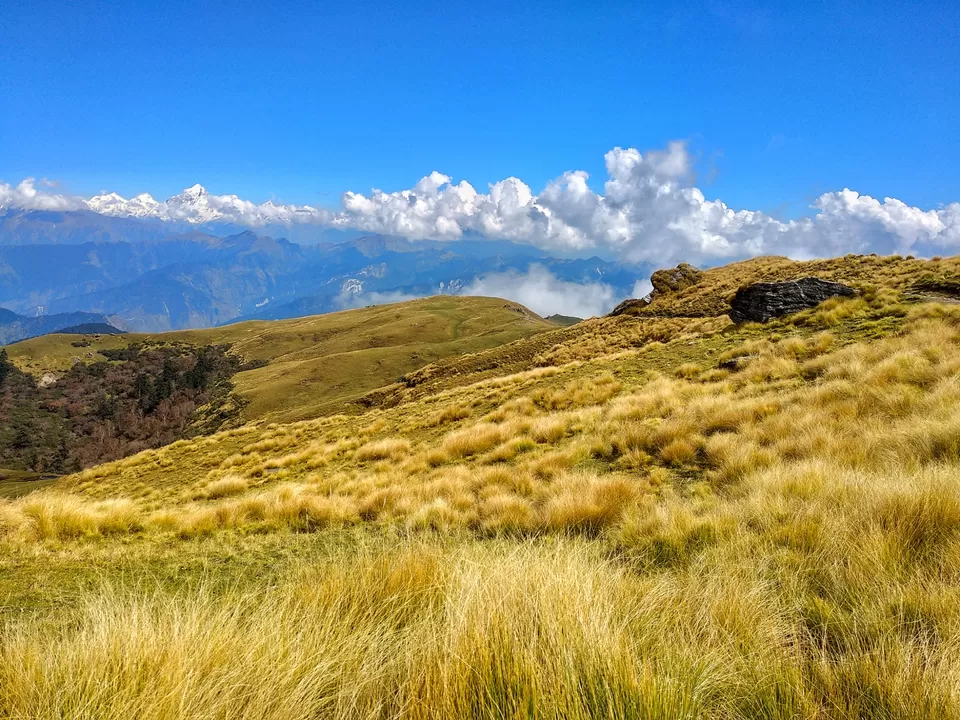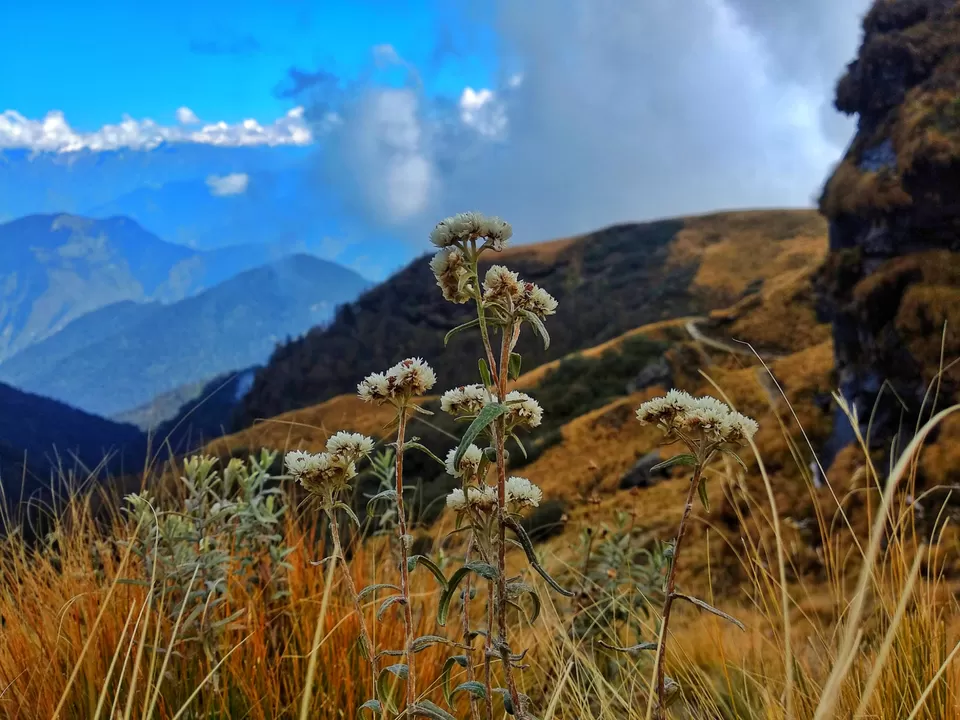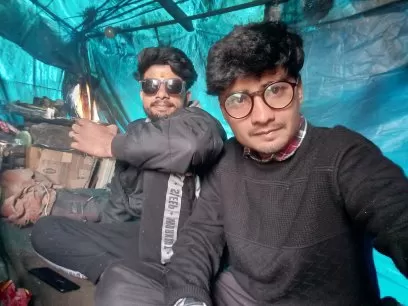 This distance turned out to be the hardest for us. We were hungry, altitude was increasing and we were exhausted. We were forced to take rest in small distances as oxygen level suddenly drops there.
This requires strong will power and patience to achieve such heights. Sometimes two of us were seeing strange sounds and scenes in the route. One hill to another to another, this 3-4 km journey was longest. After struggling for this far we reached Pitra Dhar at 3.30pm. Pitradhar is the highest point in the whole track.
We took lunch there and waited for our other three friends. There are some spot where you can find mobile networks. Pitradhar has one spot too, so we called home.
Our wait became too long when they couldn't even reach there at 6.00pm. Because I wanted to watch the sunrise in the temple, I suggested to go ahead. So we started our journey to Rudranath temple(3-4kms). This last distance is easiest as it takes you to lower altitude. This time of year sun sets early and visibility becomes low after 6pm.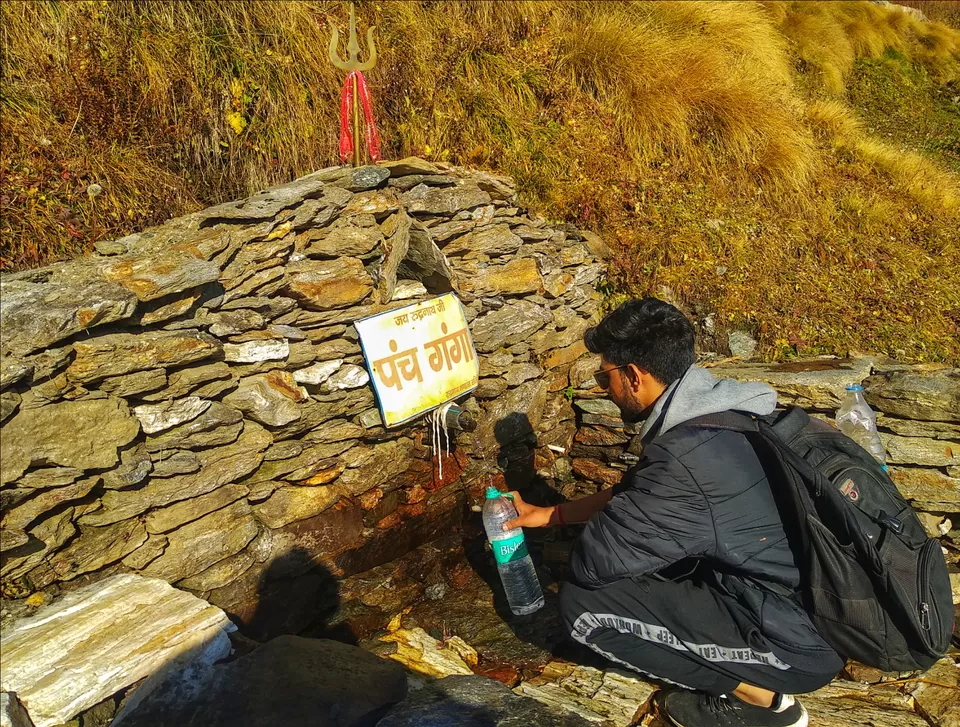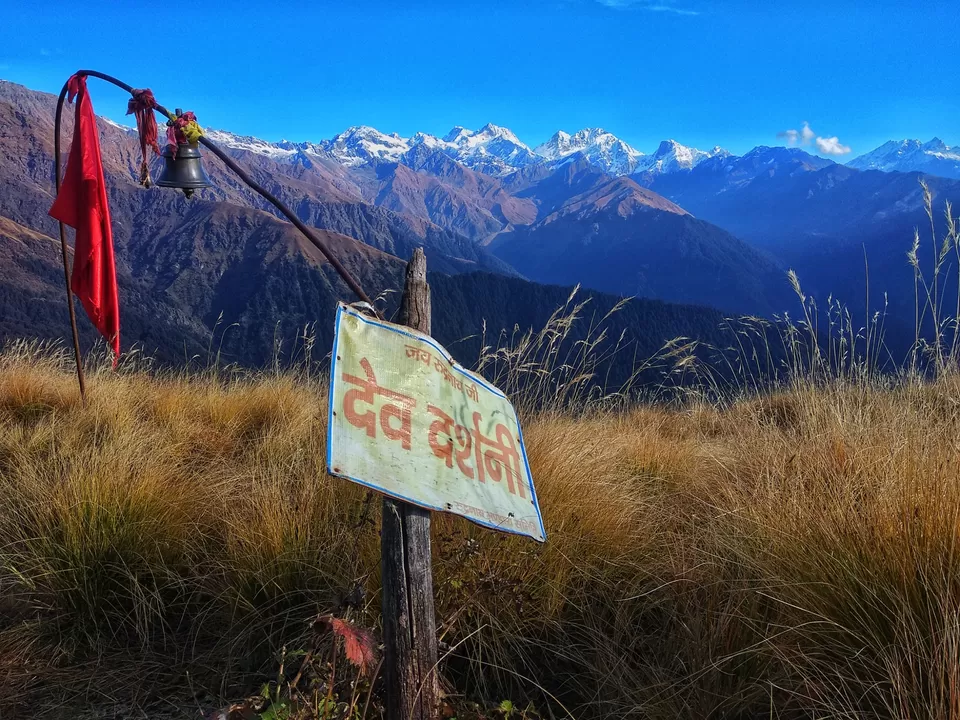 Next stop is Panchaganga(2kms) where you can have place to stay. But we Decided to go ahead to reach temple. We were tracking under the moon light. A thought of wild animals came to me and my friend became frightened. Even though there is no jungle, timber line was far below from there but this was a new place. You don't know what can happen. This thought works as an accelerator and we reached at temple at 7.30pm. There is good arrangement for stay at affordable prices. You can have food+ stay at cost of 400r. We took the dinner with pain killer and lost in dreams.
Next day morning we visited this beautiful temple. Scene around us was imaginary.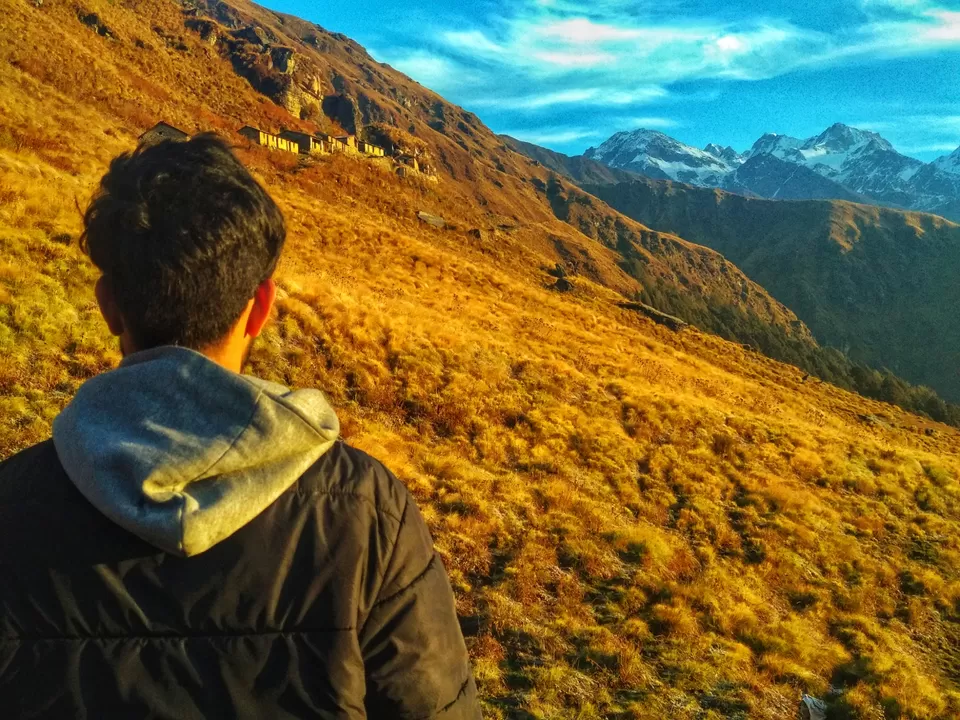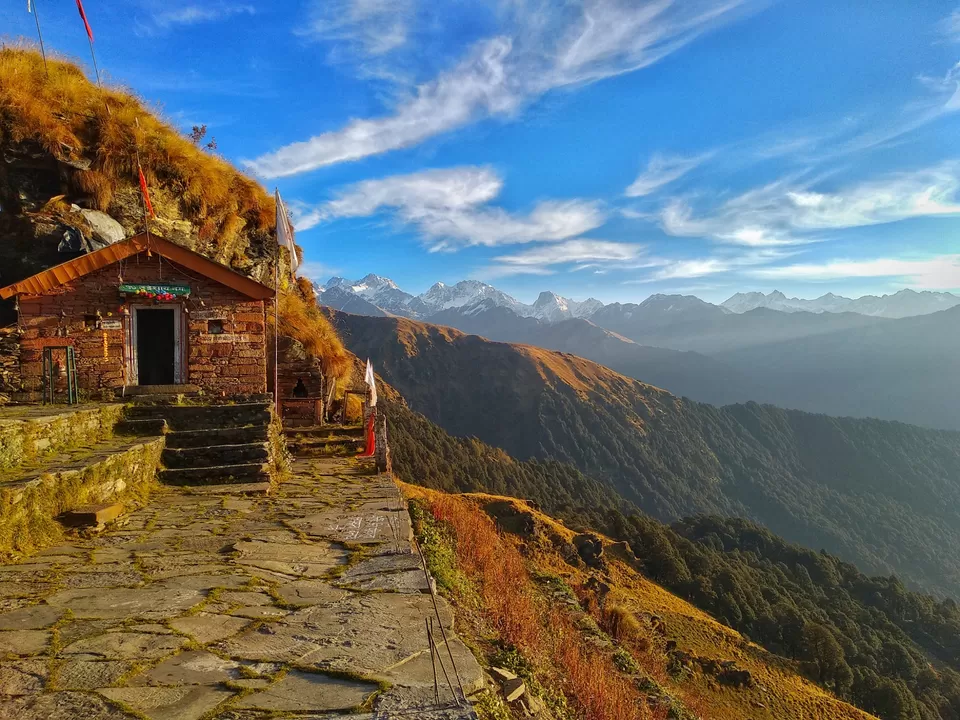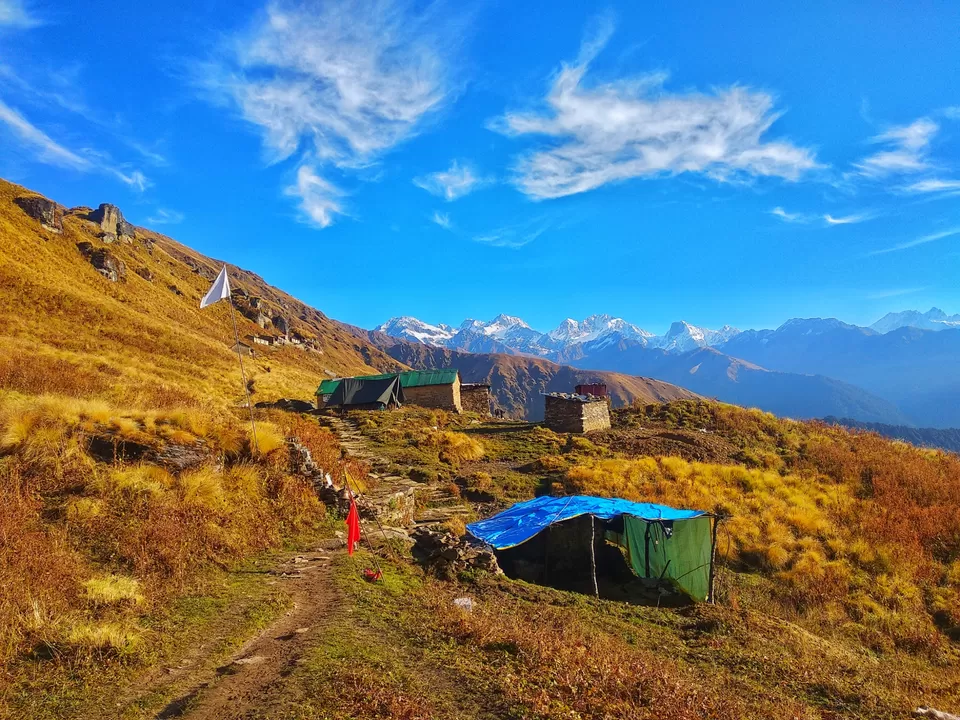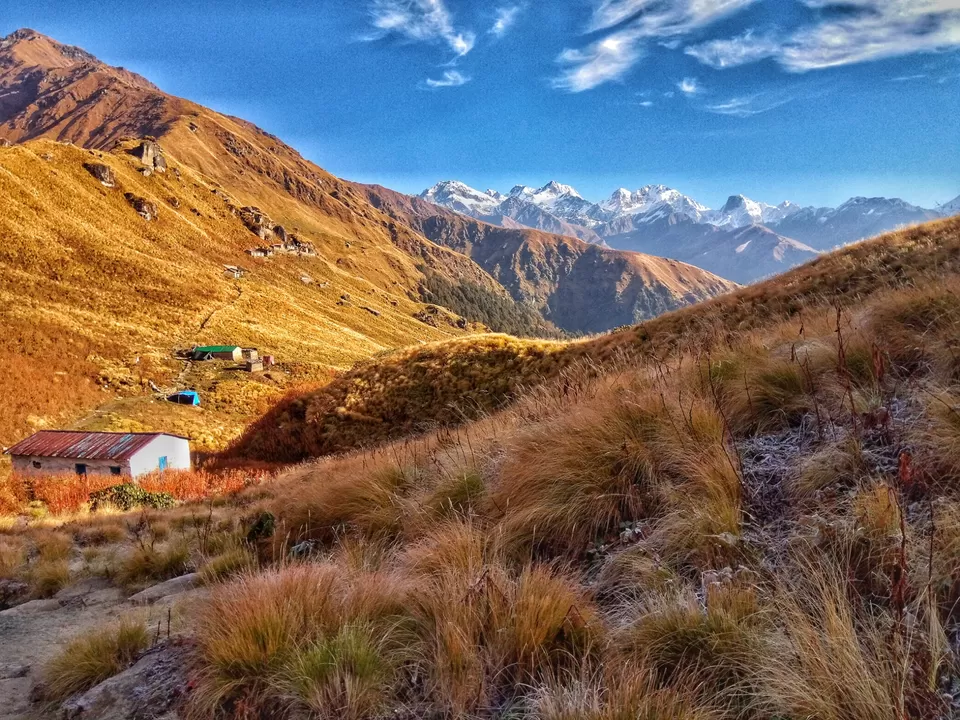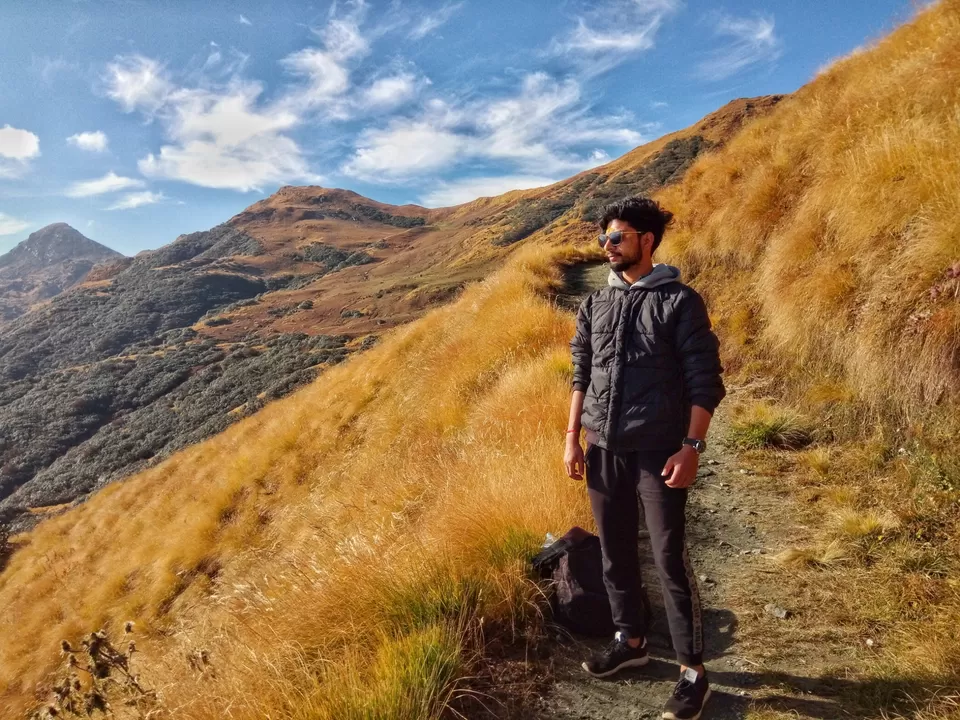 Other trackers were going back with different route through anusuya temple(21km), but we went back with the same route to meet our friends.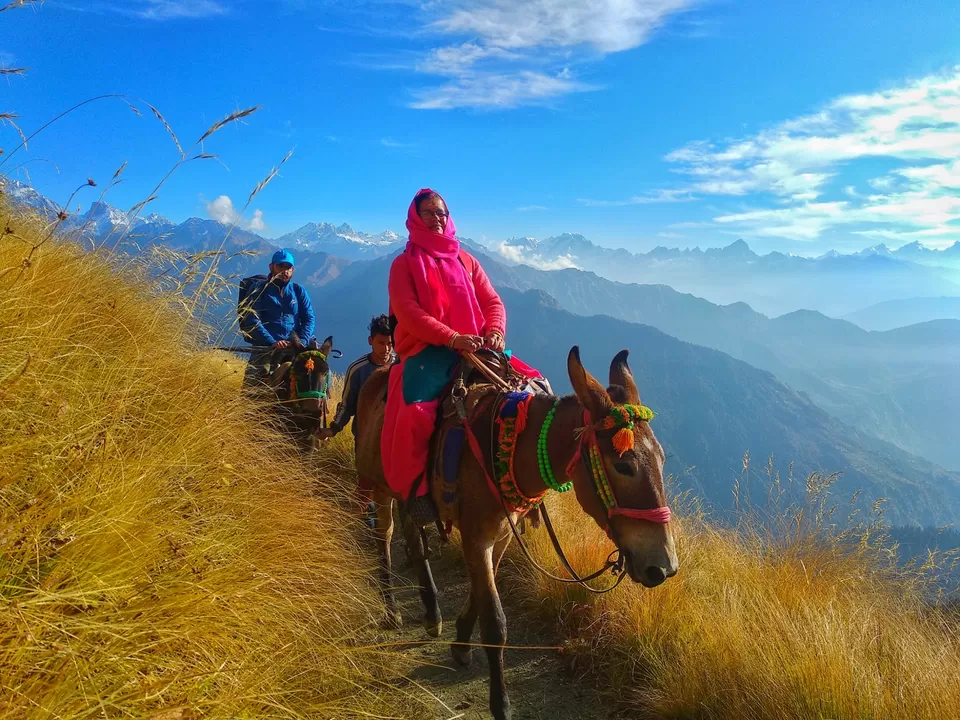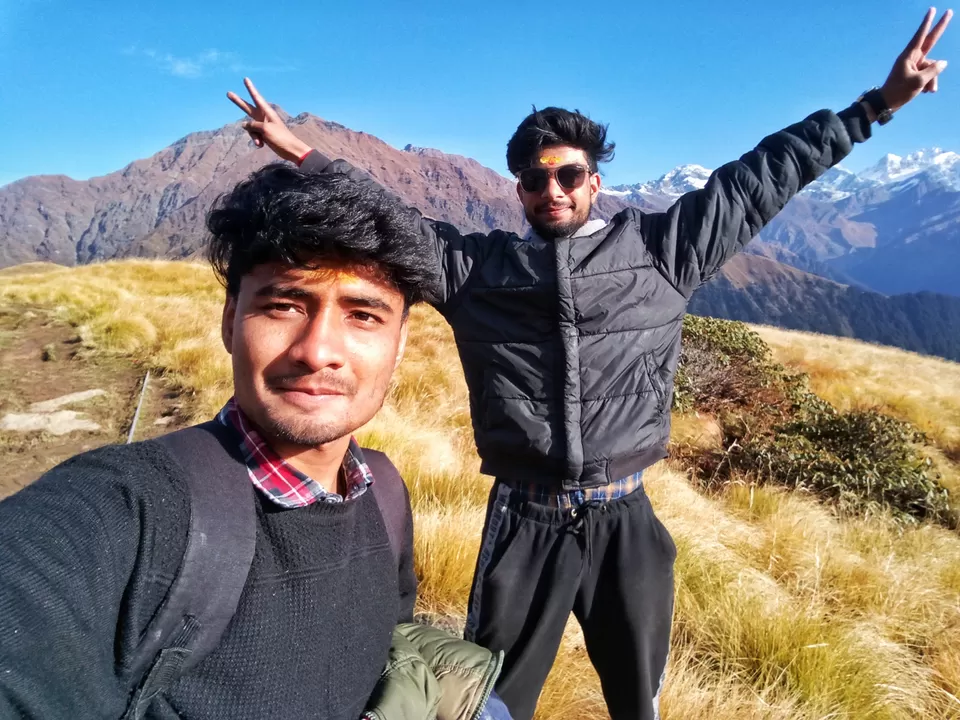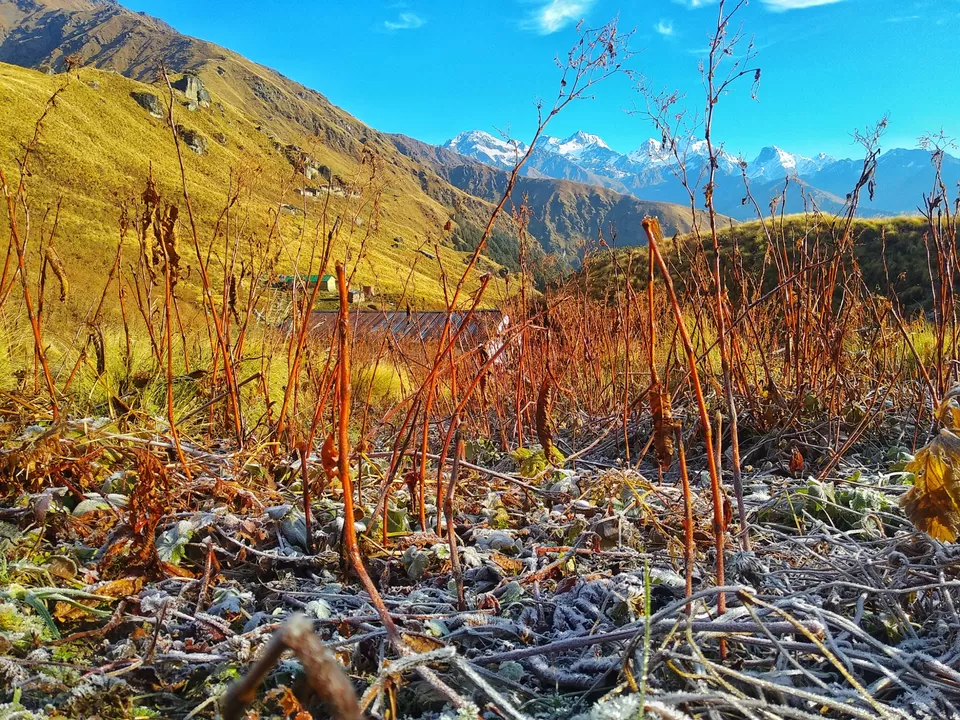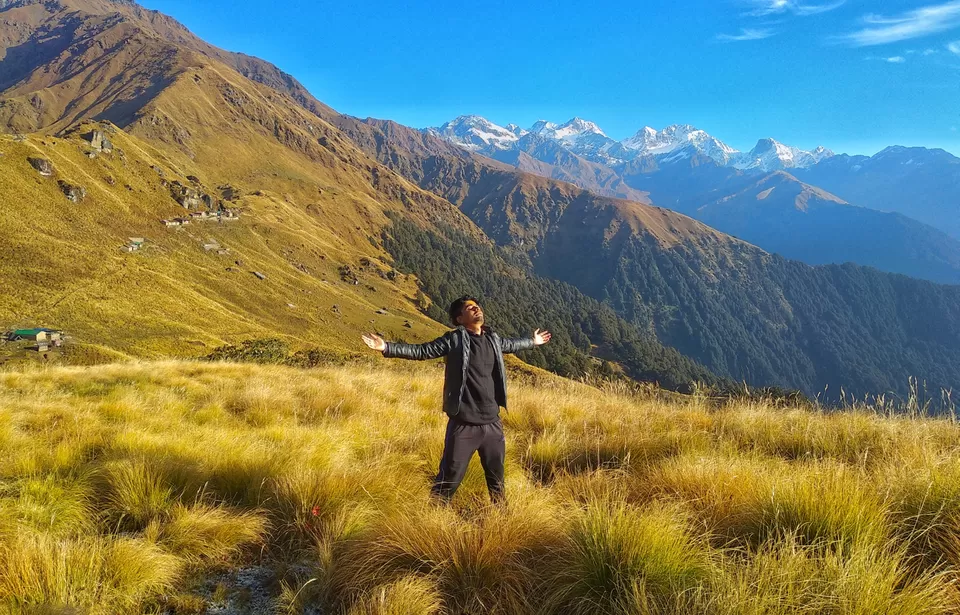 We met many visitors talked to them and enjoyed this journey. Most of them were Bengalis and they were very friendly.
Our friends met us in Panchganga and told us their story. They stayed at Pitradhar and one one of them vomited last night. He was crying with the headache and shivering very hard. After giving him pain killer and 2 glass of wine, he slept.
Next day we get back to Dehradun via Devprayag route.