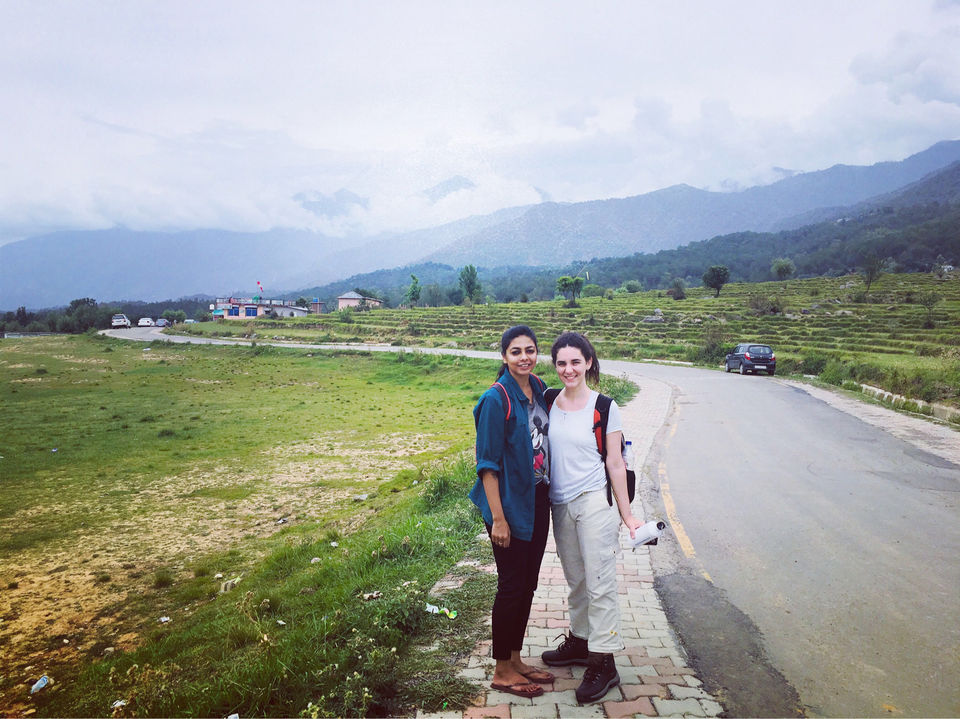 It was a pleasant evening in Bir, just after the rain, and clouds were making some way for orange sunlight to beam in. I asked her, would you like to explore the monasteries around?
I met Belen in Dharamshala, Himachal Pradesh. An Argentinean girl in her mid-thirties, tall and pretty with a funny accent like someone is singing a Spanish song and I am reading the subtitles in English. It was a coincidence that we were in the same hostel in Dharamshala but a bigger co-incidence was we shared the same cab to Bir after. There was an uncanny similarity between us I can't keep a finger on. We connected instantly and stayed at the same hostel again in Bir. "Good Idea Meg!I too have a café on my list. Let's go out" So we ditched our third friend, Karthik who was too lazy to step out after a sumptuous Indian meal. Bir is a small town with monasteries and few cafes but also has a huge paragliding landing site with gliders looking like happy birds in the magnificent sky.
We strolled around the lanes and stopped few passersby asking our way to the huge Chokling Monastery in Bir Colony. Fluttering colorful prayer flags, giant prayer inscribed stones at the entrance and colossal stairway up to the temple's entrance were enthralling. Passing visitors and monks we made our way up to the entrance and could see a kind of preparation inside the temple. A huge gathering of monks was cleaning costumes and long swords. We sat there to absorb the beauty of the place. A kind man told us there is a festival tomorrow and they are preparing for it. I looked at Belen. "Ah, Meg, We are leaving tomorrow. So sad" She frowned.
Looking around, I could see kids playing, few monks chatting, women giggling, engaged in conversations and a small pup struggling to catch a ball. Aren't we all are same? Lost in our own world?
Suddenly there was a loud thump, a gong, and all monks gathered in a circle outside the temple.The clank of swords, moving gracefully in a circle, balancing each poses, they started practicing for their big performance tomorrow. What a delightful surprise. Has someone heard we are leaving the next day? Captivated by the performance, I thanked the Universe.
We were surprisingly calm, maybe because it felt like musical meditation or maybe it was the surroundings. Belen googled the way to the Nyima café on her list, and we sat outside in the garden after ordering our coffee. "Meg, Can I ask you something?". "Oh Sure",I said. "In India can you marry someone you love? I mean, what you say in English…. like only meet the girl or boy through parents? I read it somewhere about India"
"Arranged marriage, you mean?" I chuckled. "Yes. We surely can marry anyone we love. It just that we should have the audacity to preserve the one we love, for some, to convince parents and maybe both for some of us.
Her eyes lightened. Oh, Meg, you explain differently and it makes me think we all are same. She gleamed. #strangertofriend