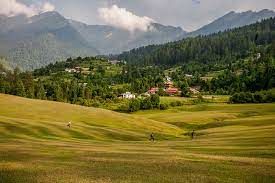 The Kullu Valley is known as the "Valley of Gods," and there is a village named Shangarh in Sainj Valley that is renowned for the Shangchul Mahadev Temple.
Sainj Valley is a lovely wonderland located 45 kilometres from Kullu in Himachal Pradesh! You are not alone if you have never heard of the spot. At about 1233 metres in elevation, the valley begins very close to the water. Shangarh, a moderately famous location in Sainj Valley, is also known.
Two wooden temples stood in the meadows, seemingly serving as a resting place for the Devtas. The main temple, however, was located in the centre of the village and was devoted to the local deity known as Shungchul Mahadev. A new house-like building was being constructed right next to it, most likely for temple priests. It is said that the temple caught fire a few years ago, prompting a visit from some ministers who donated funds for its reconstruction. Shangarh has also grown in popularity since then.
The meadows are considered so holy that even high-ranking dignitaries, police officers, and others enter the temple thus keeping their caps and belts outside, and any who disobey are cursed. One of the locals related a storey about a man who drank alcohol in the meadows and was hit by lightning the next day! Faith and folklore are inextricably linked! They don't! This village is also notorious for being friendly to people who elope for marriage due to social vices! Isn't it crazy how certain distant corners of our nation may be strict about those values at times, and yet there are others that know no inequalities and go against what's seen as A Standard!!
Sainj is the ideal counter-argument to those who argue that Himachal Pradesh is overly touristy and that there are no off-the-beaten-path destinations left to discover! Unaffected by modern-day tourism, Sainj is the place to encounter visitors, not tourists, and engage with locals when taking in the scenery.
The valley is located along the Sainj River in the Great Himalayan National Park's foothills. As a result, the valley's villagers are protected under the Wildlife Protection Act.
Shangarh or Sainj promises breathtaking scenery, lush meadows, seclusion and solitude from the rest of the world – all while nestled in the lap of the Himalayas. Sainj is the ultimate offbeat experience waiting to unfold, with plenty of treks and trails to discover and a population that is incredibly friendly and supportive. If these aren't enough to persuade you, I'm not sure what is.