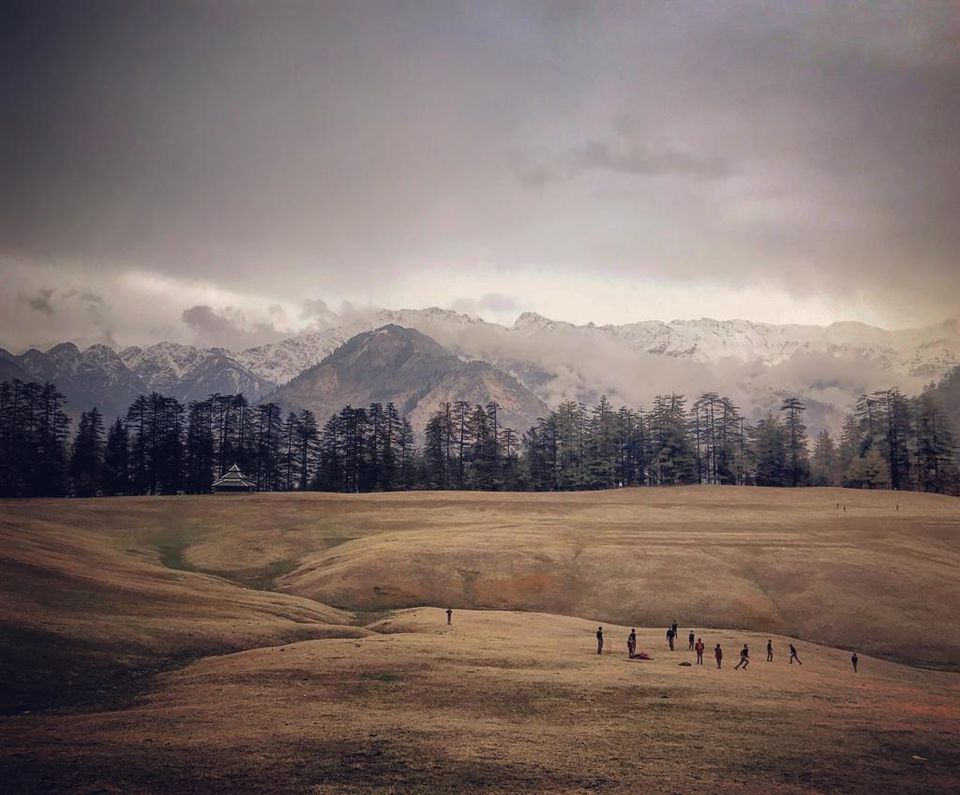 It was Day 3 already! Last two days just zoomed by in a jiffy and today was the day of reluctant retreat! We woke up to zero visibility with the clouds spamming the landscape. I wished it rained harder so that we had a genuine reason to stay back. But Mahi anyway had some guests coming to Shangarh and therefore we decided to move today itself. Also the picture he and the other bloggers painted of Shangarh, got us even more curious to explore the place. I am forever battling dilemmas to see new places or spend time at the ones already stayed at and loved with all my heart! But then again one must give a fair chance to all the unseen ones too! Right?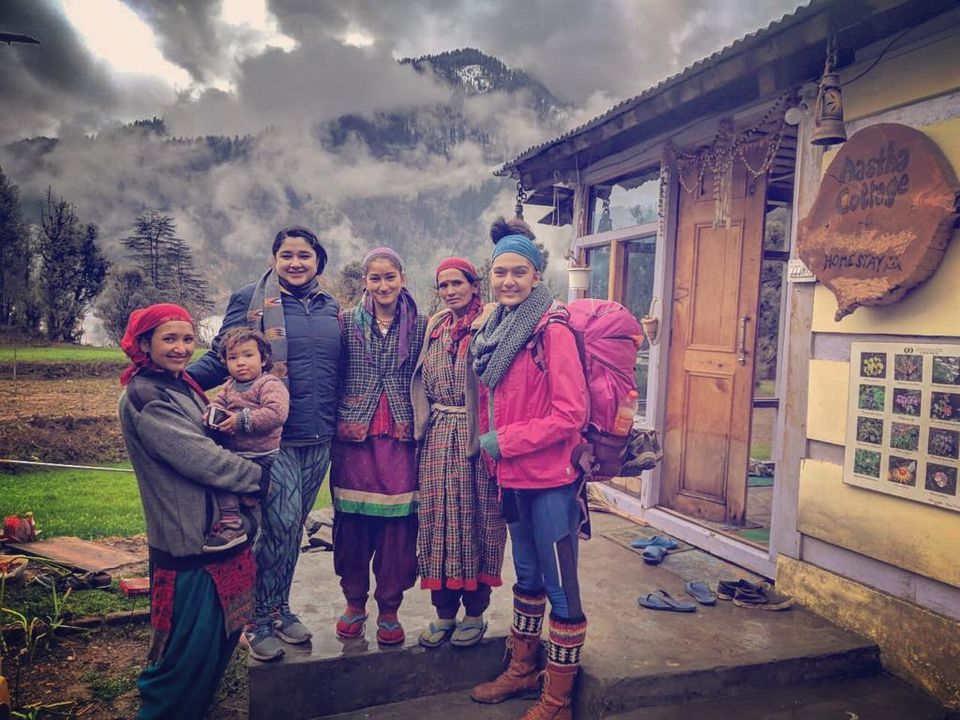 After bidding a not so keen goodbye to the entire family, we trekked down to Lower Nahi Village to catch an SUV, for the road to Shangarh, didn't really define roads too well! And guess who loyally accompanied us till the lower village? Whitey! It broke my heart to bid goodbye to him! I might have been a Doggie Mommy( biologically) in some alter life!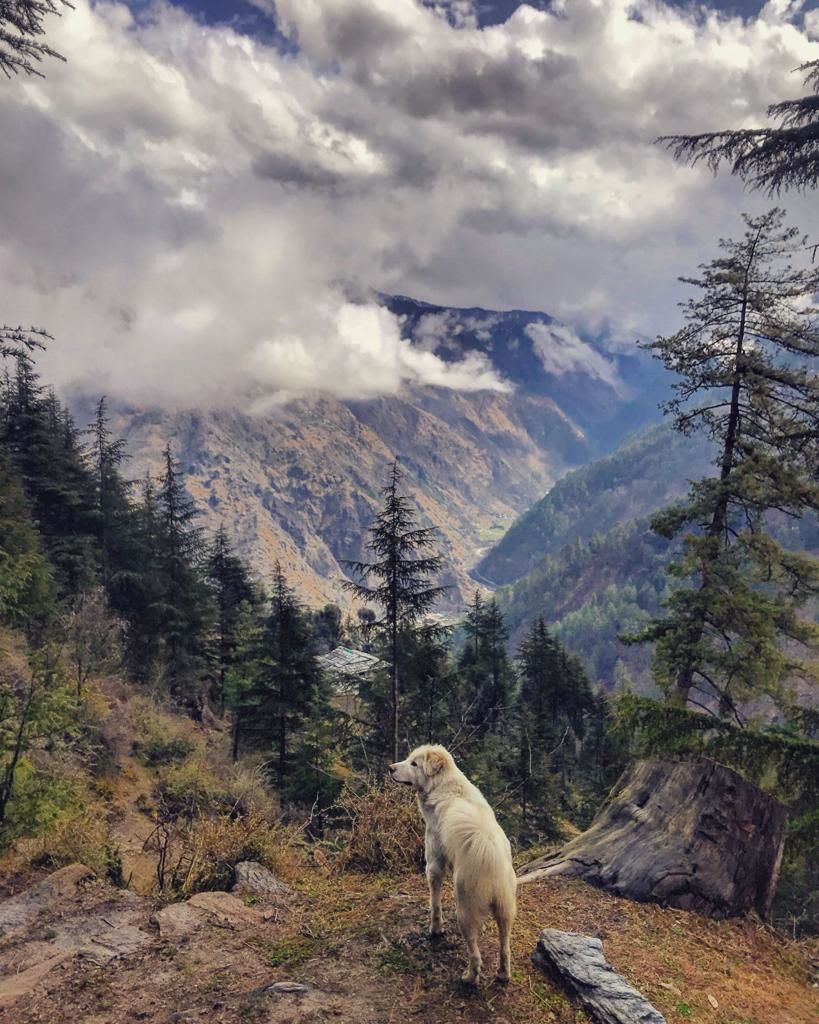 While getting into the mini truck, i asked the driver if it were okay to sit in the open backspace. Mahi didn't approve of the idea but then A girl's gotta do what a girl's gotta do! So me and Tripti hopped into the back carrier, fell here and there a million times, laughed like maniacs, screamed our guts out every time the vehicle slid a bit in the slush, got goosebumps not only because the cold air kissed us gently but also because the views were no less than a picture of a dreamland turning into life!
Enroute while driving along the hustling Sainj river, we crossed the Ropa Complex where the Gate of the GHNP lies. The complex also provides guest rooms at reasonable charges. The non existent roads were extremely slushy and made it difficult for the driver to maneuver along the hairpin bends. Traffic jams here were made of tons of sheep flocking by. This place didn't know of mob and noise. We could now see the Upper Nahi village far away on the mountain. A little farther a beautiful 5 tiered temple caught my eye! It stood away from civilisation in Shanshar. There were villages wayyy high up on the mountains. I told myself in my head that id come explore them someday!
The famed meadows of Shangarh lived up to its name! The school kids played cricket there and fleeting clouds danced around. Two wooden temples rested on the meadows and were apparently known as resting place for the Devtas. The main temple however rested in the middle of the village dedicated to the local deity called Shungchul Mahadev. A new house like structure was being built right next to it, probably a place dedicated to the temple priests. It is said that the the temple caught fire a few years back, which led to a visit of some ministers who gave funds for construction of the same. Shangarh also gained fame since then.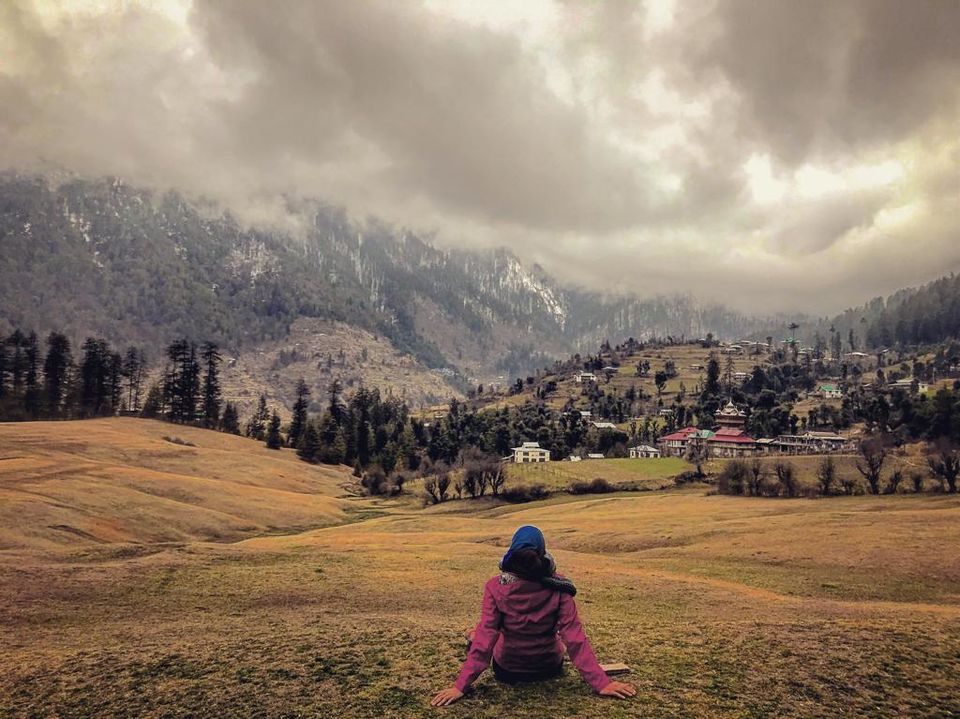 The meadows are considered so sacred that even high level dignitaries, police officials etc enter temple leaving their caps and belts outside and those who disobey are cursed eventually. One of the locals gave an instance where a man drank alcohol on the meadows and was struck by lightning the very same day! Faith and folklore have a perennial bond! Don't they! This particular village is also known to be kind towards people who elope for marriages due to societal vices! Isn't it amazing how these remote corners of our country at times are rigid on certain beliefs and then there are some who know no disparities and go against what's called A NORM!!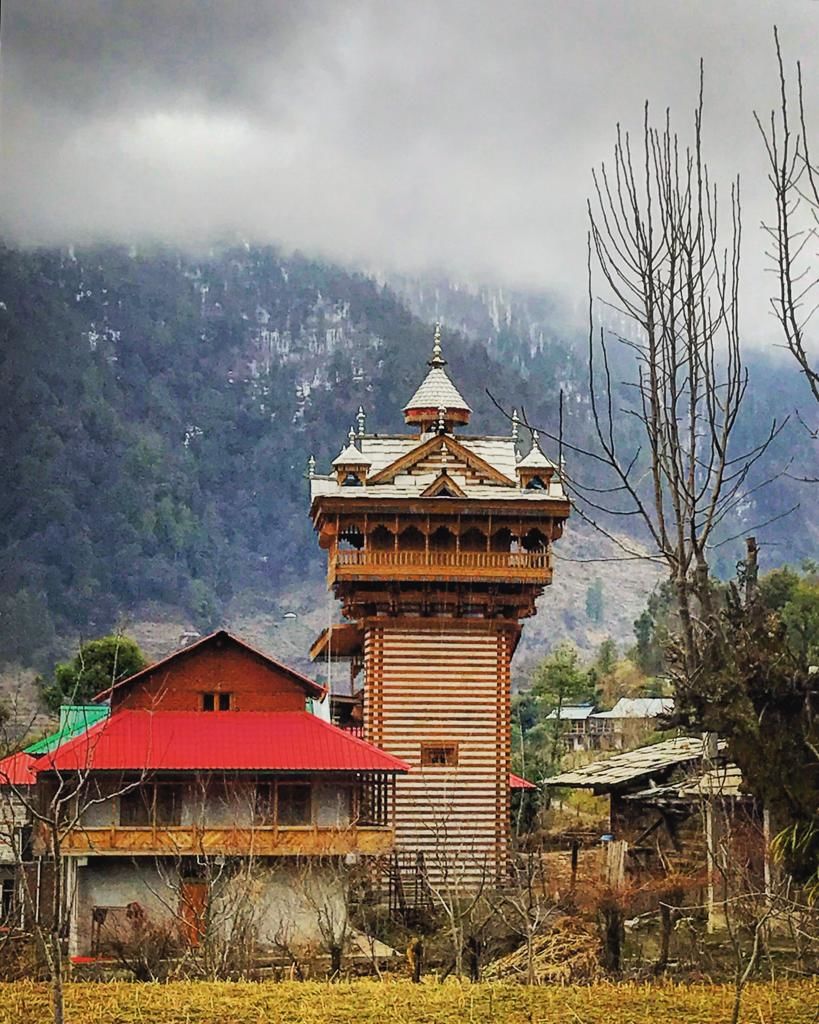 The Shungchul Mahadev reminds many of the Chaini Kothi Temple in Banjaar near Jibhi. The wooden Katth Kuni structure is a marvel of architecture with grand carvings and multiple storeys.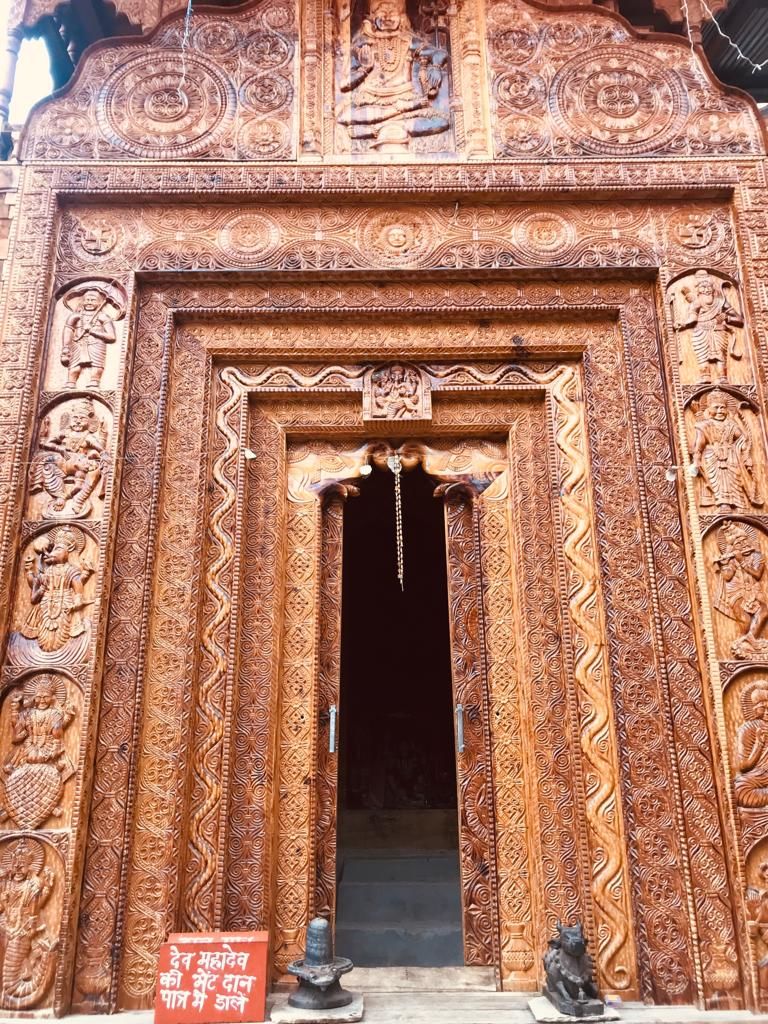 We moved forward and walked around the lower village, the slush making it uneasy to run around yet the urge to see more didn't seem to cease. The cows grazing outside in the slight drizzle with clouds rising up over the slanting roofs, appeared like the smoke billowing out of the chimneys. We climbed up to our homestay where Naresh, Mahis cousin welcomed us to his abode with a shy smile. Mahi and Naresh were poles apart. He and his family had just started with the homestay service and we were their first guests. The washrooms were not even done up yet, but the stay was comfortable. I've learnt to be a tad less fussy about my stays over the last few months. I think the hosts and their warmth make all the difference.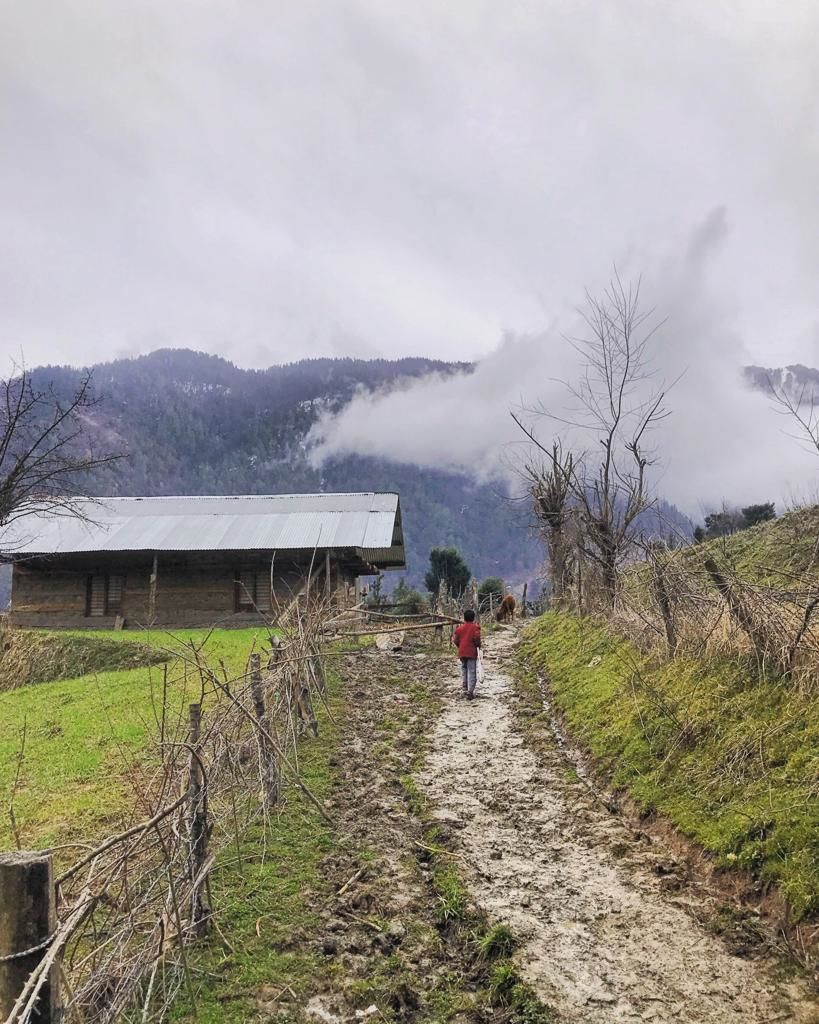 The weather was all packed up by afternoon and the sky began to turn grey. The cold wind got meaner and Mahi I and Tripti huddled around the heater while Naresh, another PUBG addict, was glued to his phone screen. By around 4:30, my feet itched to get out and walk the village bylanes. While these three decided to light the fire outside,i set out for my evening walk. The village lanes were all slushy and tiny riverlets gushed by. Many pipes had burst and the water flowed with heavy cascades as though it were some waterfall. The clouds had engulfed the lower hamlets of Shangarh. I decided to take random trails winding through the deodar forests. The paths were adorned with the brown winter leaves shed around and stones and rocks that slid down the hill due to heavy rains. A little far away i saw a house ;like many others throwing smoke out of its chimney. A girl and two boys played cricket outside in its grassy courtyard. I decided to go down and ask them if i could be their audience, promising them that i'd cheer them on, on hitting sixes and fours.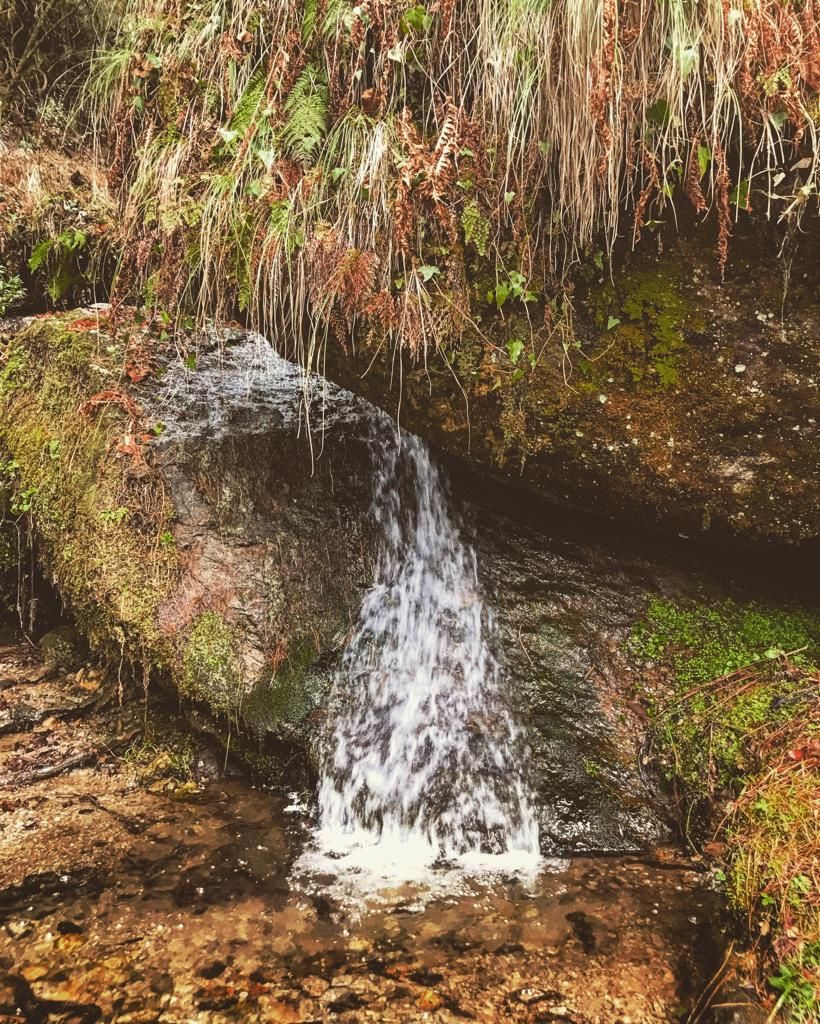 So this was an all new cricket i watched here! Every time the batsman hit the ball, it went rolling downhill and the bowler who was also the fielder would run all the way down to grab the ball while the batsman would go on making runs! The grass was wet and slippery and the girl whose turn was to bowl would everytime throw the ball high in the air and her brother at the wicket would hit it harder, throwing the ball farther than farthest. The sister while climbing back to the pitch, tried to catch hold of her breath, when i decided to give her my tiny bit of bowling knowledge! 'Pinky, agar is baar bhi bhaagna hai then ball ko hawa mein udaana but agar out karna hai, ball ground ke bilkul pass wicket pe nazar rakh ke marna" Well, it didn't get her a wicket but it surely helped her sticking around the pitch and not running after the ball!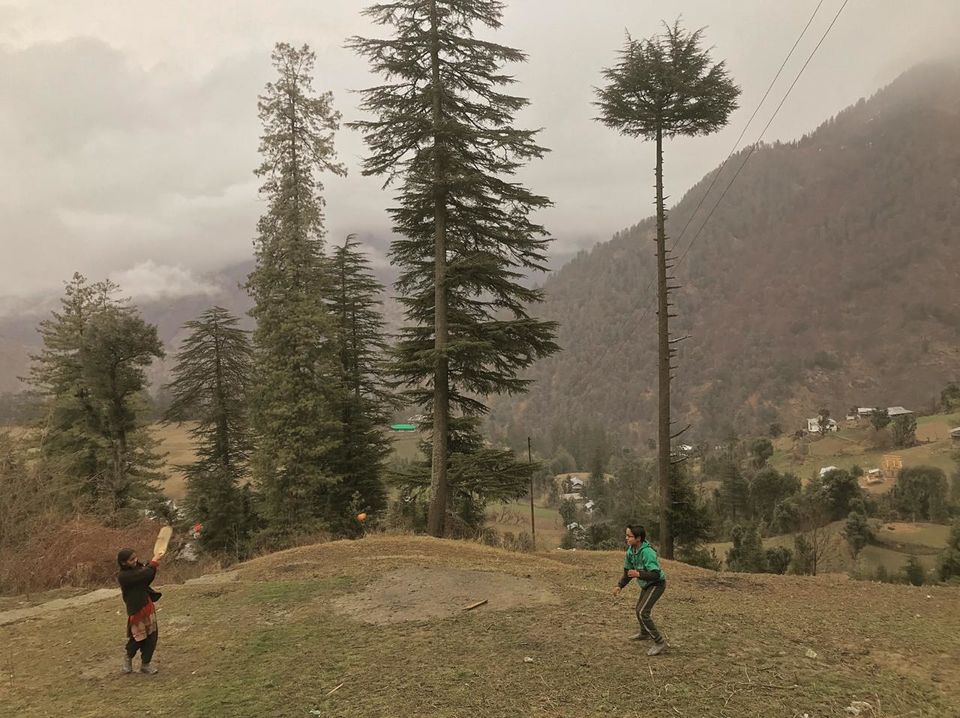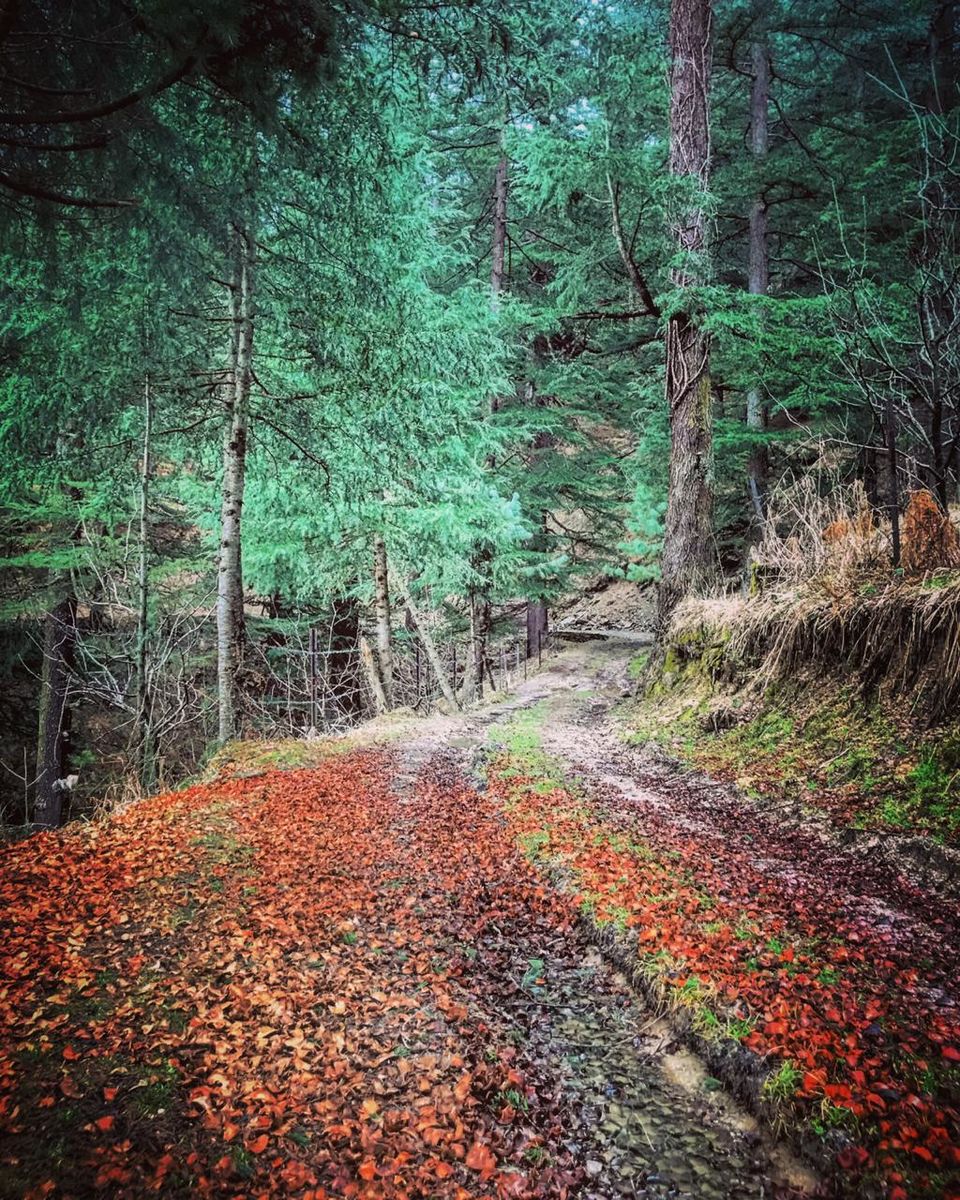 Just when i decided to join them on the pitch, the grey clouds metamorphosed into rain drops that got only heavier. Luckily i was carrying my rain jacket. I bid the kids goodbye and decided to go back uphill,taking the forest trail. The riverlets got louder and the clouds rose up from the hamlets below, dressing up the mountains like never before. Walking all alone in these trails in rain is all that my heart yearned for! Little did i know that an hour later, another beautiful surprise awaited me!
I got back to Mahi. Naresh and Trips warming up their hands around the fire that was struggling to stay on under the tree cover. After moving inside for a cup of tea, the rain later seemed to sober down. While peeping outside the window, i realised that the rain had fallen quiet only to give way to the fairy tale snowflakes! The nature Gods were being more than kind to us and i couldn't thank them enough for we were lucky to have witnessed this season's last snowfall in Shangarh!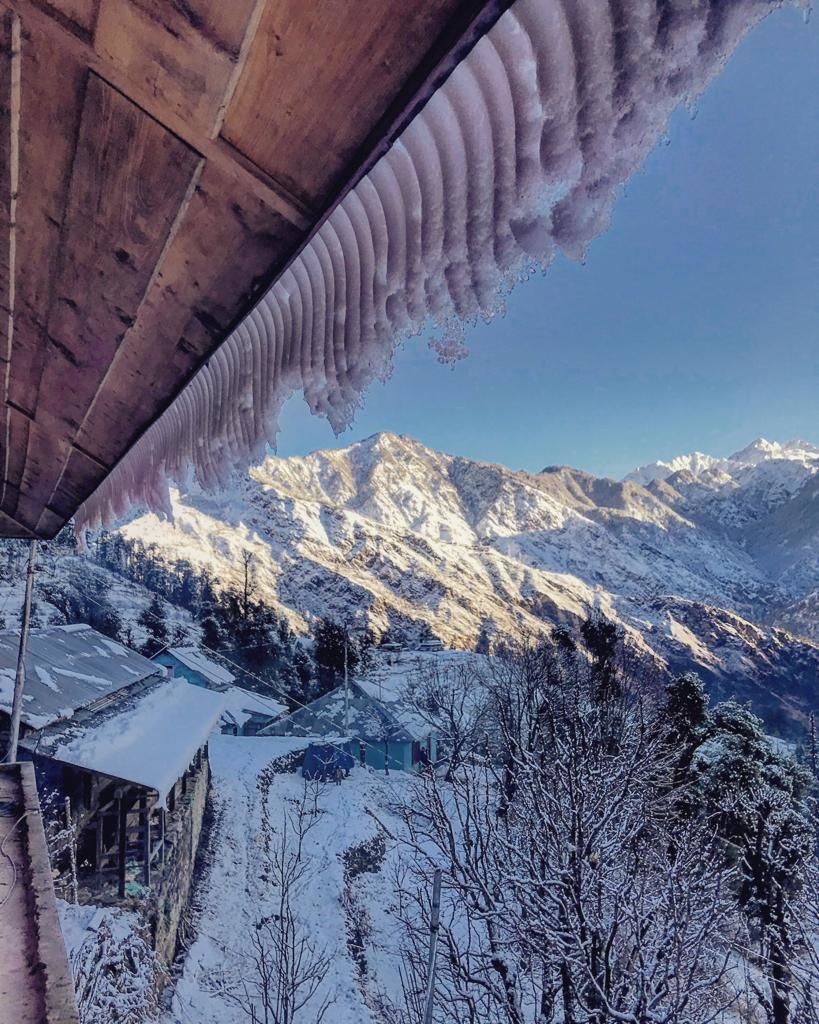 Later that night while it snowed outside our glass windows, we sat down talking about life, how enriching travel is, Mahi telling us about his experiences with the travellers from all over India and some famous travel bloggers! While the snow didn't seem to be in a mood to stop, our conversations too lasted till midnight. Our plan of trekking up to a nearby waterfall and the village rest house wouldn't have worked out the following day for the snowfall made the paths even more slippery and the water pipes in the forest rest house burst due to cold. We hated to go to sleep with the idea of leaving tomorrow already, but like they say ' All good things must come to an end'!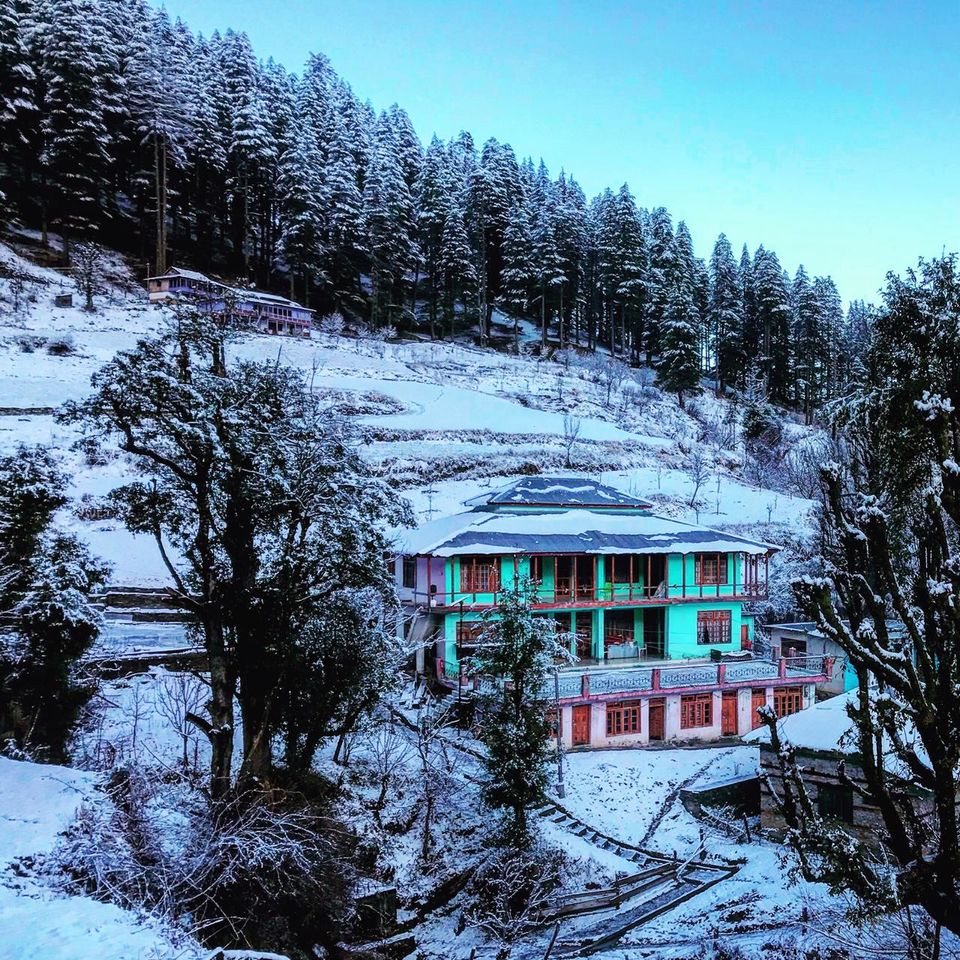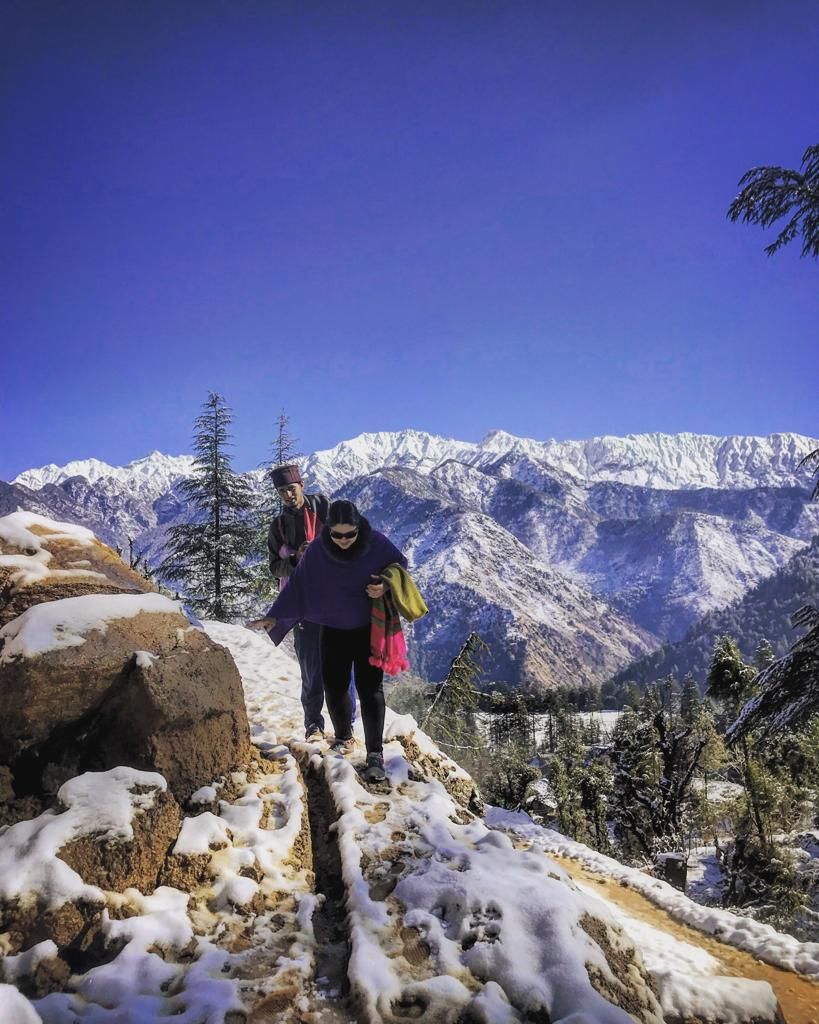 The next morning, the landscape looked surreal, as though the snow gods had sprinkled white powder all over the mountains, trees, roads, houses, lampposts….just anything and everything that met our eyes! Shangarh lived up to its name and left me wanting to explore it more and more.. But i knew, this had to wait...may be even for a couple of months. Till then i decided to leave a tiny lil piece of me with her temples and mountains and cricket pitches.
Until next time!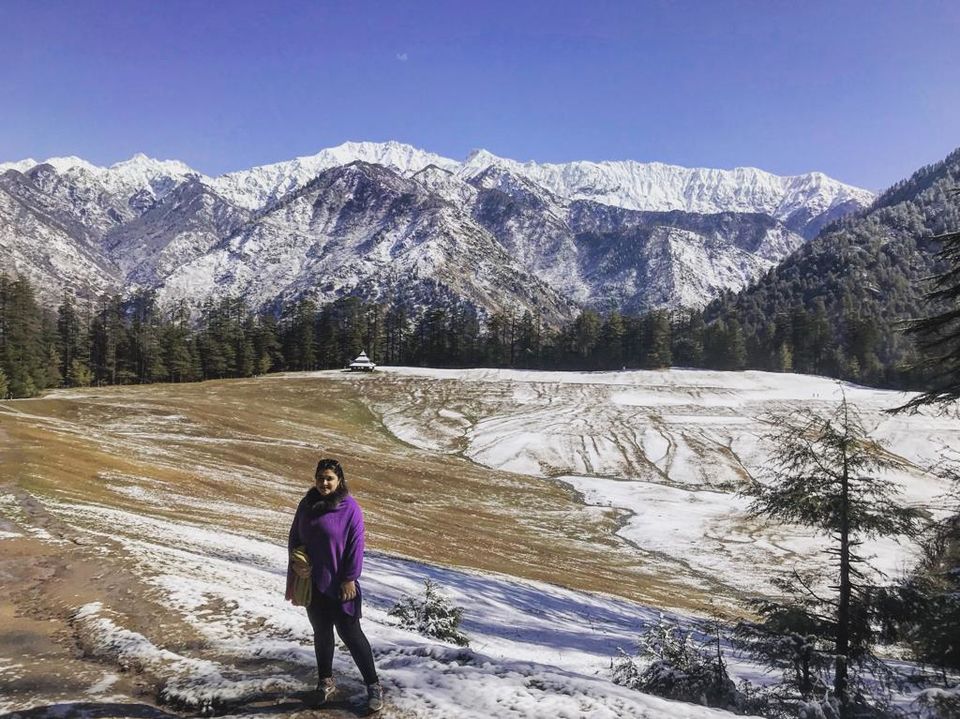 TRAVEL INFO AND THINGS TO DO IN SHANGARH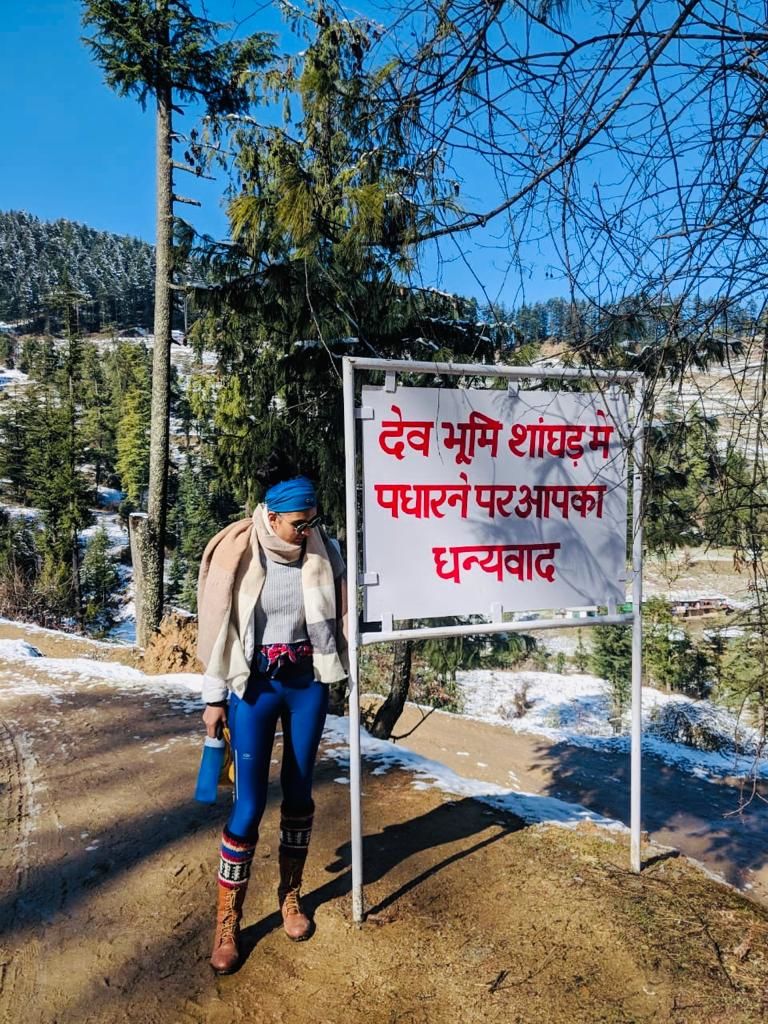 Shangarh is located in Sainj Valley in Himachal Pradesh at about 6300ft amsl. It's famous for its celestial meadows, majestic temples with kath kuni architecture and offers a plethora of untamed trails for hikes. It hugs the GHNP ( great himalayan national park) and the valley is often called the valley of birds.
The ideal weather to visit Shangarh would be March to June, Sep end to November
Catch a bus going on the mandi or manali route and get down at Aut tunnel. From here take a bus to Ropa if you get one or catch a bus to Sainj bus stop and thereafter take a shared cab to Shangarh. A daily HRTC bus plies from Kullu to Shangarh.
There is a beautiful hiking trail from Upper Nahi Village to Shangarh crossing untouched meadows and hidden temples ( read about Upper Nahi here) that offers incredible views.Must do if one has no time constraints.
Shangarh being so close to GHNP in itself has various hikes to offer. A short hike to a local waterfall can be done.
Apart from visiting the meadows and the famous Shangarh temple, one can even trek up to the Forest Rest House where the room charges are Rs 500 per day. The rest house is made of wooden walls and even has the old age British charm of fireplace etc.
Homestays Available
The homestay we stayed at was not even completed yet but one can call up Mahi to arrange one. His contact details...8679139227( whatsapp number)
Snowline HomeStay 7807607331, 9816425422, 8894820083