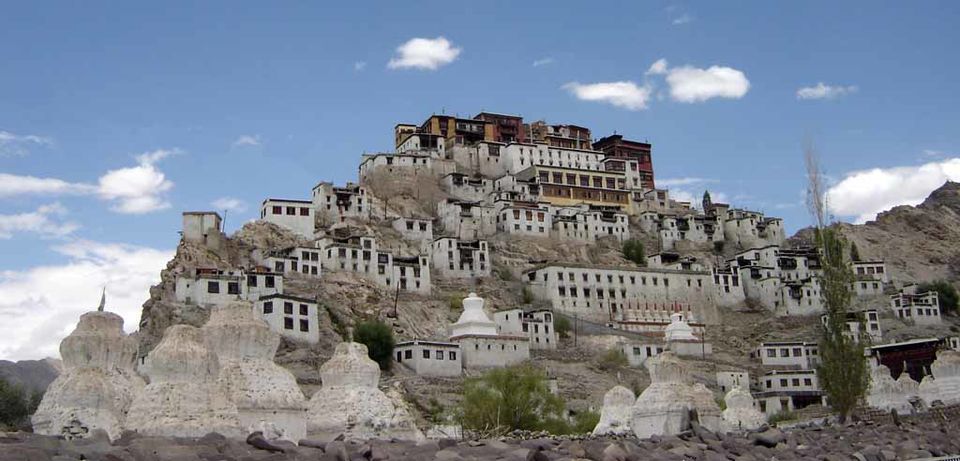 The Spituk Monastery is a Buddhist Monastery located approximately 8 kilometres from Leh, also known as Spituk Gompa. A gigantic statue of Kali presented annually at the Festival of Gustor has 100 monks and one of the most spectacular monasteries in India. It is renowned for its antique, iconic, old masks and many Thangka artworks by the Buddhists.
In the 11th century, the Spituk Monastery was built in Ladakh to help develop an outstanding religious community. Spituk monastery is on a hill, like other monasteries in Ladakh. The Indus River runs in the distance behind the monastery with the Himalayans' snowcapped peaks. The monastery was built by Od-De, Lha Lama Changchub Od's elder brother and belonged to the Gelugpa sect or Yellow Hat order of the Buddhism of Tibet.
In the main sanctuary of the Gompa, there is an idol of Lord Buddha and a small image of Amitayus, the long-lived god. In front of Buddha's statue is a vast, sacred wax bowl with continuous blazing fire. For one year, this flame burns and is changed on a holy day. Also, part of the square is an impressive picture of Mahakaal. The lofty throne, constructed specifically for the Dalai Lama, is another feature of the main prayer hall. Besides this trone, there is an unseen entrance leading to a gloomy ancient church that includes pictures of his followers and Lord Buddha, Zong-Kha-Pa.