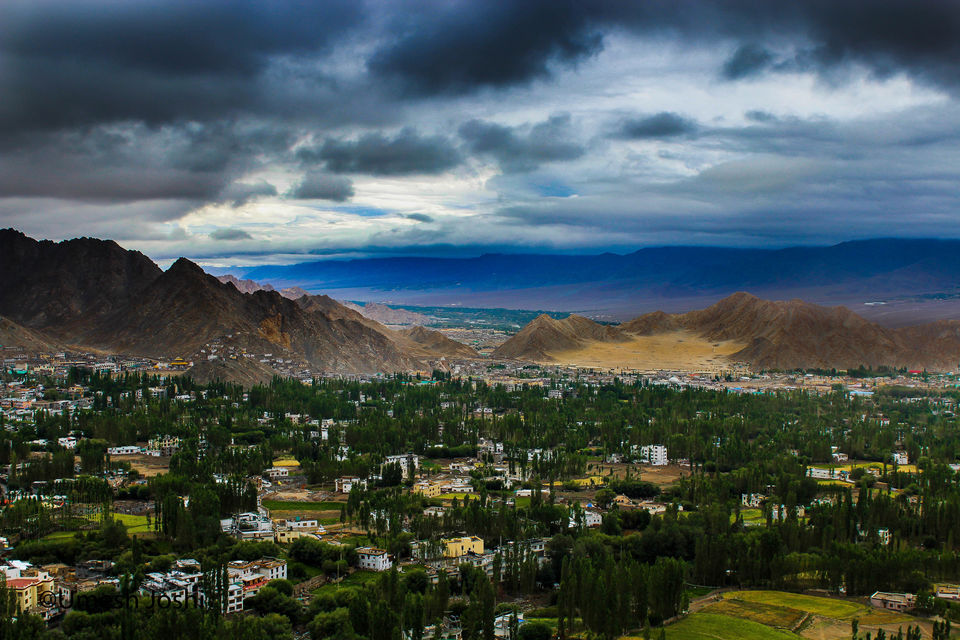 ABOUT STOK KANGRI TREK
For Stok Kangri Trek Complete Album Click On This Link
Stok trek is one of the most beautiful Himalayan treks but there is something which makes this trek different from all other treks and that's the main reason to attract tourist from every corner of the word and that is its height. At 20,187 feet Stok Kangri is the highest trekkable summit in India.
Everything about it is unique, the scenery, temperature and atmosphere. It lies in the beautiful area of Leh-Ladakh, one of the most fascinating places in India which is the most adventurous place for the trekking lovers and Bikers. The entire trek is full of natural beauty and there is a lot of hidden grandeur for trekkers to explore. Stok Kangri peak provides you the entire view of Zanskar and the Indus Valley. The summit offers you a 360 degree panoramic view of Stok mountain ranges. The wide and open surroundings give you a royal feeling. Towards the north, you would get a view of the Karakoram range. The Saser Kangri dominates the sky in the north along with the Karakoram, and the Zansker ranges in the south.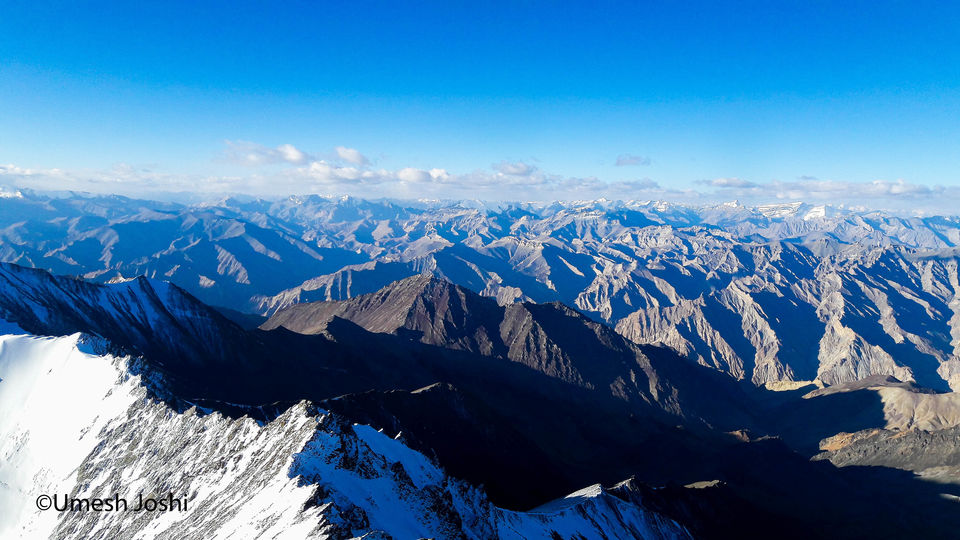 Stok kangri trek the name that creates many pictures in mind of those who have not travelled in Leh region. While some picture, lush green hills, snow-clad mountain, rivers and waterfalls, others think of it is a cold and isolated desert valley. Whatever the picture is, it still attracts thousands of trekkers every year. When you will go through with blog or videos you will find different stories, some people said its easy trek and they completed it easily, but some could not because of Altitude Mountain Sickness (AMS) or it's too cold or snow fall and even some lost in those valleys and never came back.
From my experience I can say, it's not trail or ascend of the Stok Kangri which stop you, it's the rapid gain in altitude which not allows your body to acclimatize to the changes that stop you. It's so easy to get AMS on this trail. You need to be extremely sensible and cautious here as every day you are gaining approx. 2000 feet height and on summit day its 4000.
As per Mountain rules your body need at least 1-day rest after 1000 feet gain. You should be strong, physically as well as mentally, as you are going to struggle with nature, snow storms, cold temp, high Altitude in this trek.
HIGHLIGHTS OF THIS TREK
-> Trekking till base camp is not very tiring, which itself a big achievement as you would be able to achieve the height of 16300 feet quite easily, which is quite close to Everest base camp and the best part what I found in this trek is "you don't need to walk too many hours to reach base camp", 3-4 hours walk a day is max you need to walk.
-> There were warm and cozy dhabas at each camp site which provide you all eatables as well as camps, but it's advisable to carry your camps.
-> Leh treks are totally different from Himachal and Uttrakhand treks in terms of scenic beauty, it's a different experience, you would be able to see some splendid views of the Stok mountain ranges, every day you will see different views of Landscapes.
-> The last day "Summit day" will give you a totally different experience. You start your trek at night time which generally doesn't happen to other treks. Moreover, you will get a chance to do snow trekking in summers as well "Only in summit Day".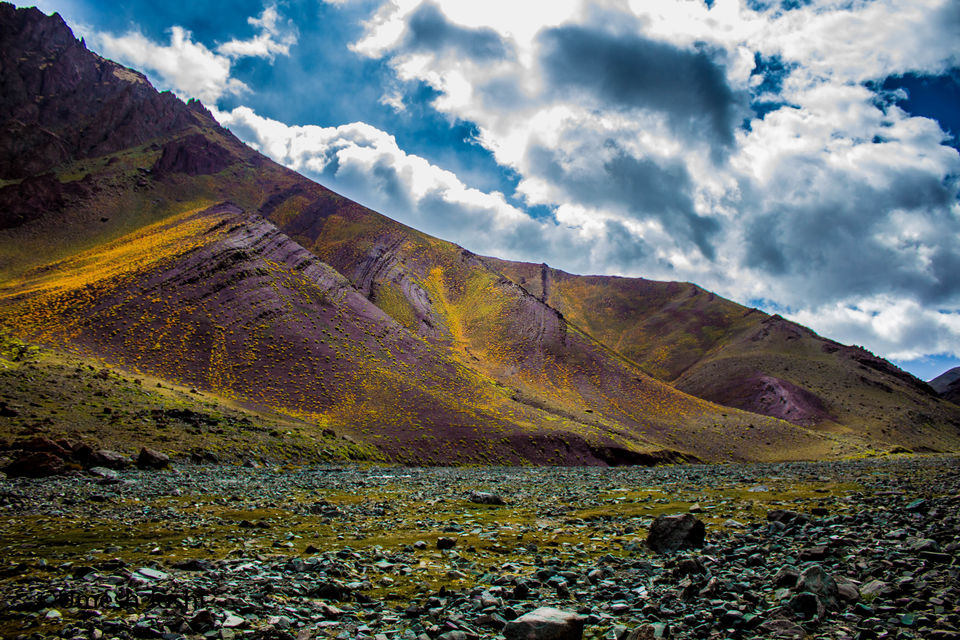 FEW TIPS FOR AN UNFORGETTABLE EXPERIENCE
-> You can reach Leh by taking a short duration flight which takes hardly 1:30 hour or you can choose another option by road by seeing the beauty of nature which takes almost 3 days.
-> There are 2 ways to reach Leh by road, either go by "Manali–Leh" road or you can choose "Jammu—Srinagar" route, both are beautiful route with mesmerizing scenic beauty.
-> The tourist season here is short, lasting only from June to September before the road gets blocked by snow, making travel around the region almost impossible.
-> If you are going for a trekking, best to choose flight option, it will save your time and give you extra days for acclimatization. Two days Acclimatization is must for anyone before starting trek as you landed at 11000 feet from sea level in just few hours, so your body needs some time to adapt these sudden changes.
-> It's better to take some rest on day one or you can choose to explore Leh local market at eve time.
-> In each camp site there are Tea maggi shops, so if you are your own you don't need to worry about food and no need to carry a lot with yourself.
-> The peak can be trekked between starting of July till end of September.
-> Trekking in September is quite tough due to snow fall so my advice, plan it between July – August.
-> Drink as much as water during trek, its life saver and it will help you to acclimatize your body and keep your oxygen level fit.
-> Carry head lamps instead of torch will help you in summit day when you have to travel at night time.
-> Carry good Jacket and Gloves which can work on minus 10-degree temp, as normal jackets will not work, and you will regret later. Apart from jacket you would be required at least 2-3 pair of thermals, it would be extremely cold on last night.
-> Carry at least one thermosteel water bottle for the last day trekking.
-> Most important water proof trekking shoes, after this trek I came to know how important is water-proof shoes especially on snow treks.
PREPARATION
I should say this is not a trek for first time trekkers but still if someone wants to give a try, Start your preparation at least 2 months before this trek as last day "Summit Day" is really a challenging one, compare to other days where you have to just walk 2-4 hours max, here on final day you have to walk for a 12 – 14 hour and trekking at night on Snow is bit tricky task and it becomes more challenging when you have to walk by putting Crampons on your shoes. AMS is another issue. The Stok Kangri trail gains altitude rapidly.
• Aim for 5 km running in 30 minutes.
• Do breathing exercise which helps you a lot during this trek especially.
• Practice to drink as much as water you can.
• You can go for Diamox course if you want, discuss this with your trek leader or your physician.

The planning Stage:
This trip was planned without any planning. We booked Chader trek but due to heavy snowfall and landslide we could not reached there. Our tour operator asked to choose any other trip, so without wasting much time we decided to go for Stok kangri. One of my friends told me that this is the highest trekkable peak in India and that sounds interesting and fascinating to me. Even without checking details thoroughly I just booked it. There was one more reason to choose this trek that we wanted to do trekking in Leh this time. Leh always makes me excited and trekking in leh has some different experience as compare to Himanchal or Uttarakhand. Moreover, the desire to go higher, to challenge you, to stand on top of a 6,150m mountain is something which attracted me. Trips like this make you realize what you are capable of.
Package details
After thorough search, we decided to book our package from Thrillophilia , we coordinated with shyam@thrillophilia.com and I must say it was really a good experience, I am happy with the services provided by the Thrillophilia. The trip was well planned and executed extremely well by the tour operators.
STORY TIME
Day 1 Fight Delhi to Leh (11500 feet)
Our flight was scheduled at 5:30 AM, so our day started with full of rush. We reached airport at 4:30 AM and after standing in queue for 30 minutes we came to know that our flight has been changed and timing of new flight was 9:30 AM. That is the same flight by which our 2 trekking batch mates Abnish and Ritesh were going, so now we were 4 people going in same flight, we met in airport and had some chit chat. At 10:00 AM our flight "Spice Jet' departed from Delhi T3, we reached Leh at 11:30 AM.
Our Guest house was near to leh market, so we took a cab and in next 15 minutes we reached there. We met other batch mates Parul, Erik and Tony who all were already there from last 2 days. That was our first day in Leh so we decided to spend it in easy way in market.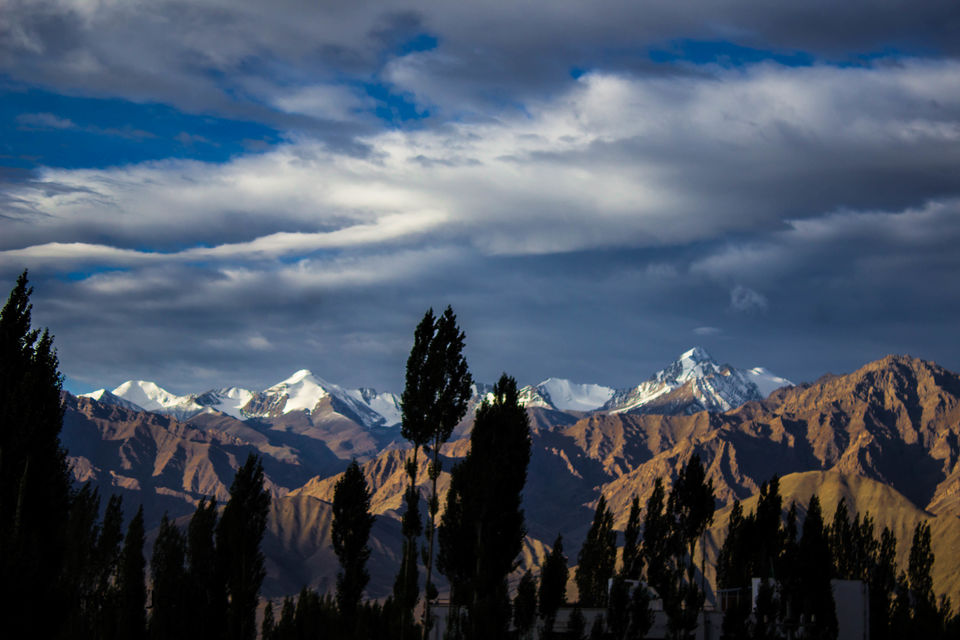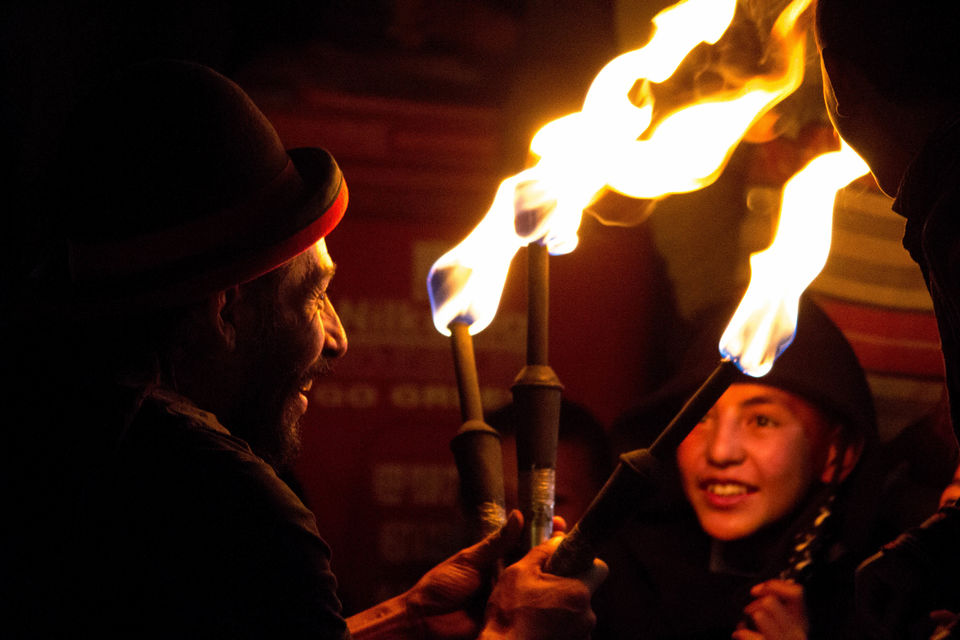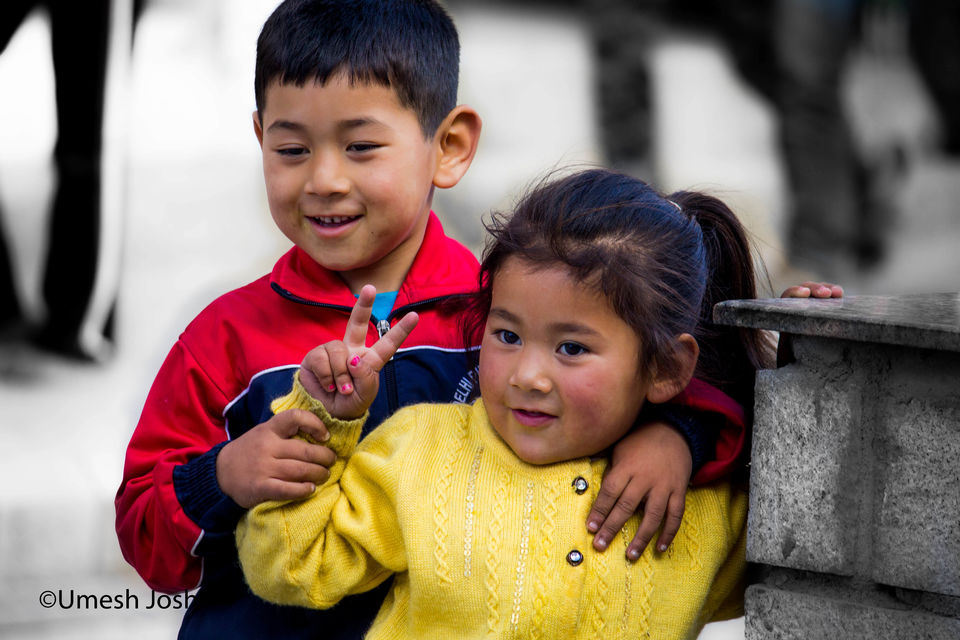 Day 2 Acclimatization day (Walk to nearby places like Shanti stupa, Leh Palace and local market)
As per itinerary second day was for acclimatization or rest day. At morning some of us went to Leh palace while we decided to visit Shanti Stupa and after that we spent some time in local market, had some good Israili food and came back to the Guest house. While other decided to take rest, while Anjali and I spent time by playing ludo and cards.
We met with Salman our trek coordinator, Evening time was briefing, planning and questionnaire time and during this we introduced ourselves and today we came to know that we are 8 people going in this batch "Umi, Anjali, Abnish, Ritesh, Parul, Tony, Erik, Hemant".
Apart from shanti stupa and Leh place you can visit to Monasteries and temples which are in town or you can visit magnetic hill (25 Km) or Khardungla pass (40 Km) which are not very far from town and can be easily covered and you don't need any permit to visit these places. Or if you don't want to be drained yourself just relax in your guest house and enjoy the weather and natural beauty of leh or if you wish you can explore local market.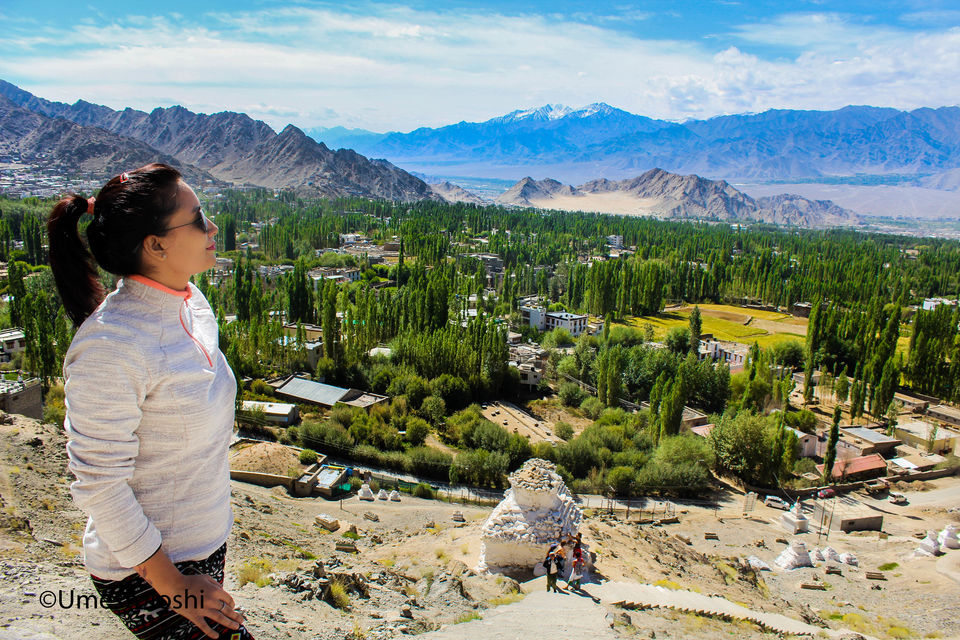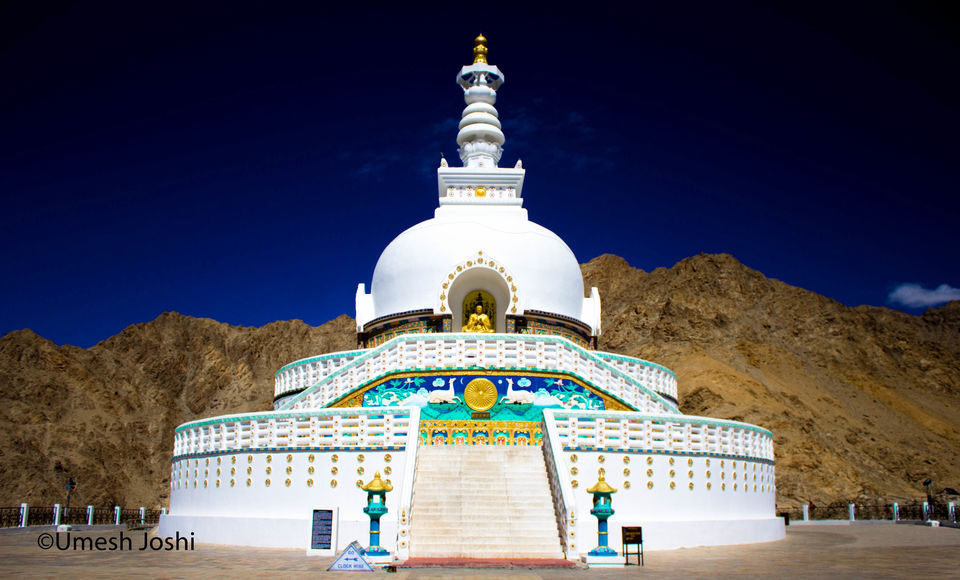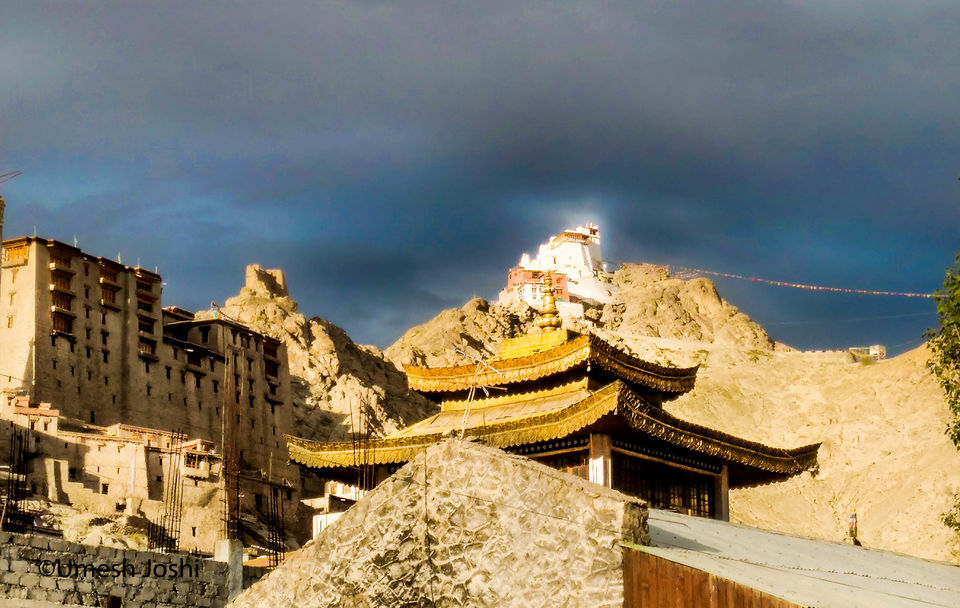 Day 03. Leh(11500 ft.) -- Stok Village-- Chang Ma (13087 ft.)
Finally, out first day of trekking, that was the day for which I was desperately waiting from last 2 days. The day starts with a short drive to Stok village from where your trekking starts. The distance between Leh city to Stok village is approx. 12-15 km and it takes hardly 30 mins to reach there. If this is your first visit you will love this drive, you will see the beautiful landscapes all around you, it's very different from mountains which exist in Himachal and Uttarakhand or any other region. They have very different color and texture, it will give you a feeling like you are travelling out of world, some other alien world, trust me this is how we felt when we travelled leh first time in 2014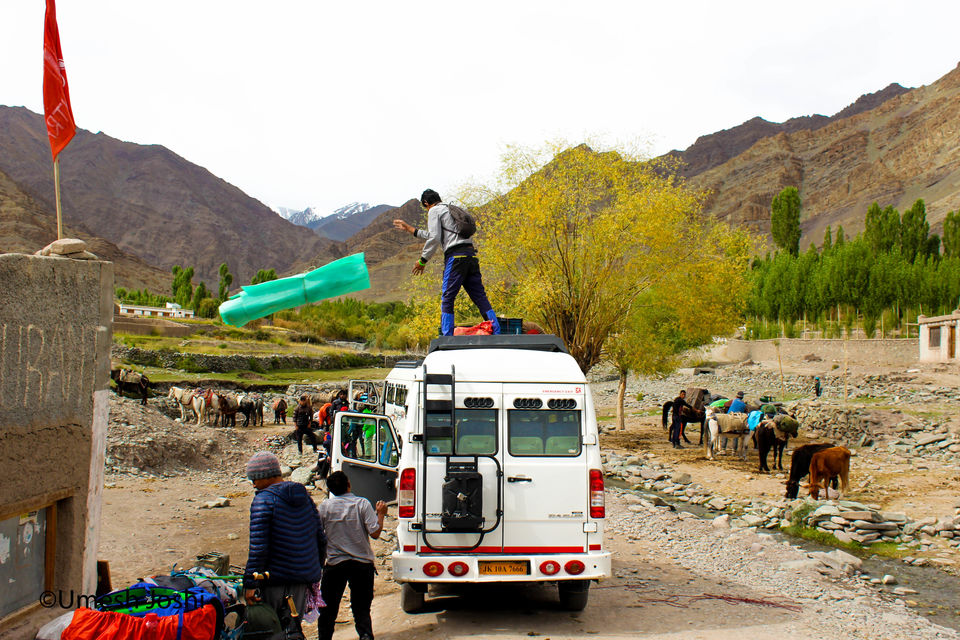 Once you will reach the Stok village you will find crowd of people there as this is the starting point of Stok trek. Today you will trek for 4 hours to reach your first camp site which is Chang Ma. During today's trekking you will cross some water streams and this one is not very difficult for anyone who has prior trekking experience. The challenge would be only walking on rocky paths in most of the places you will not find any trek.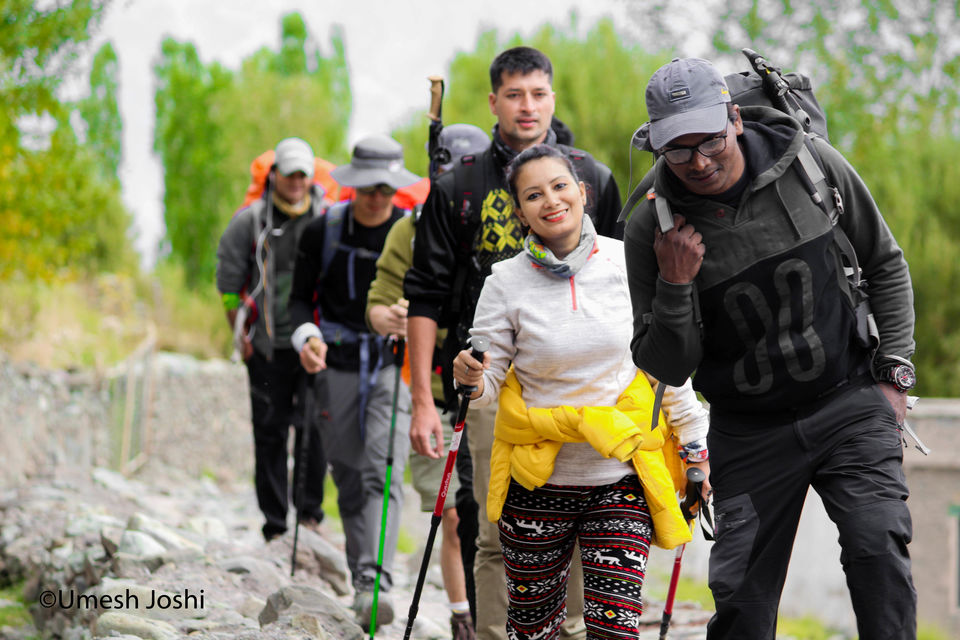 Just before the camp site there is one maggi shop (Dhaba) where you will find most of the basic eatables, they provide tent as well; in case if you plan to visit this trek without carrying your camps but it's always a good idea to carry your camp.
We started around 11 am from Stok village and we reached Chang Ma around 3 PM, after that we helped our team to setup camps. In next few minutes they served us tea and biscuits and then lunch.
It's almost 5 pm and few of us decided to take a walk to nearby mountains while few decided to gossip.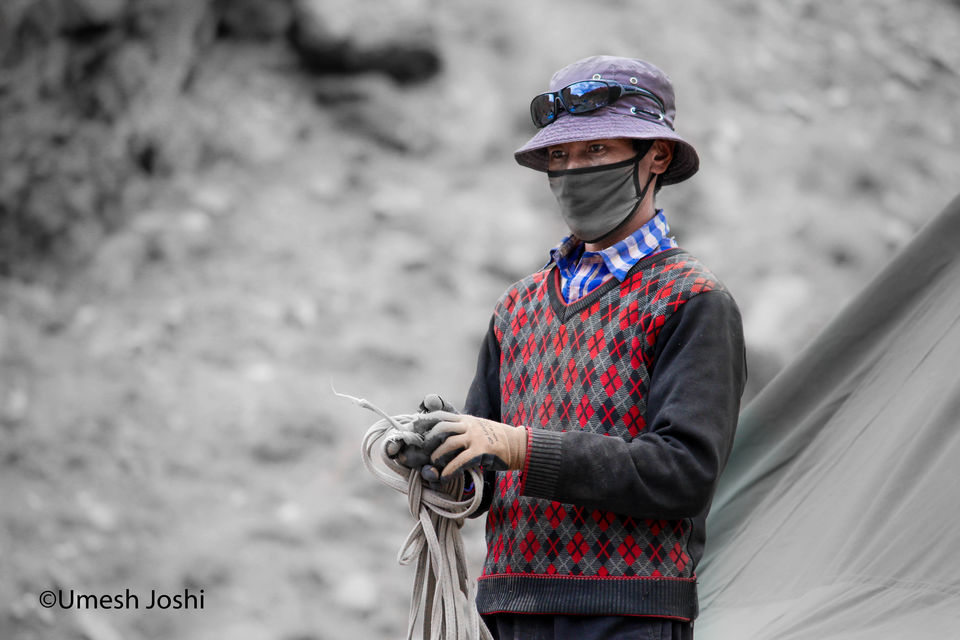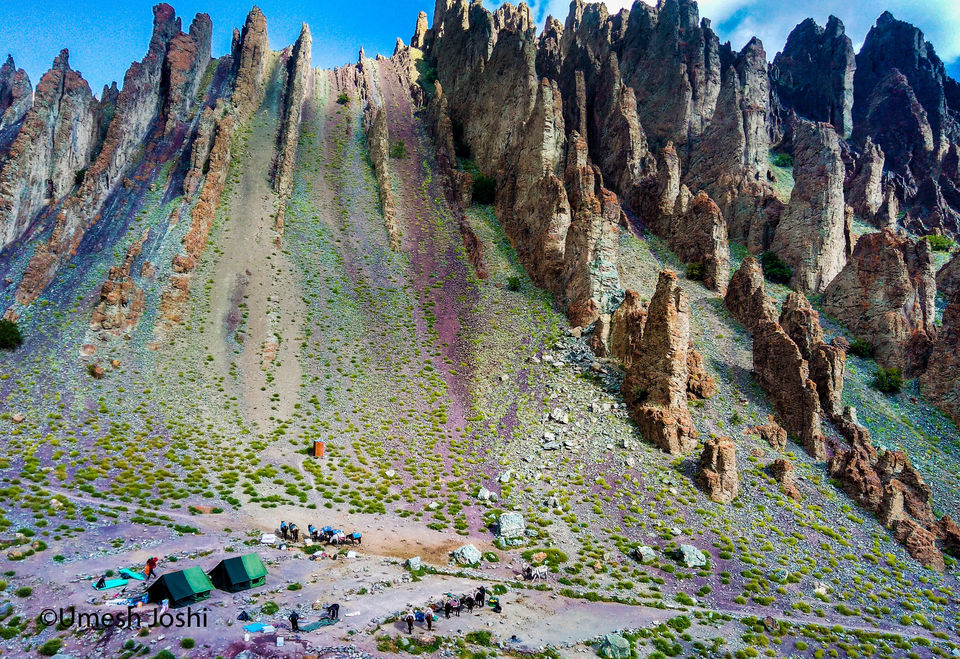 Day 4: Chang Ma (13087 ft.) to Mankorma (14200 ft.)
Next morning we woke up with the voices of horses which tighten nearby our camps, they started doing movement in the early hours approx 5 AM.
After having breakfast at 8:00 AM we started for next camp site which was Mankorma, today start was different than last day. It started with steep climb which was not very lengthy, it remained only few minutes and once you will reach the top of this mountain you will find a totally different view, that was actually awesome, it again gives you a feel of alien valley :-P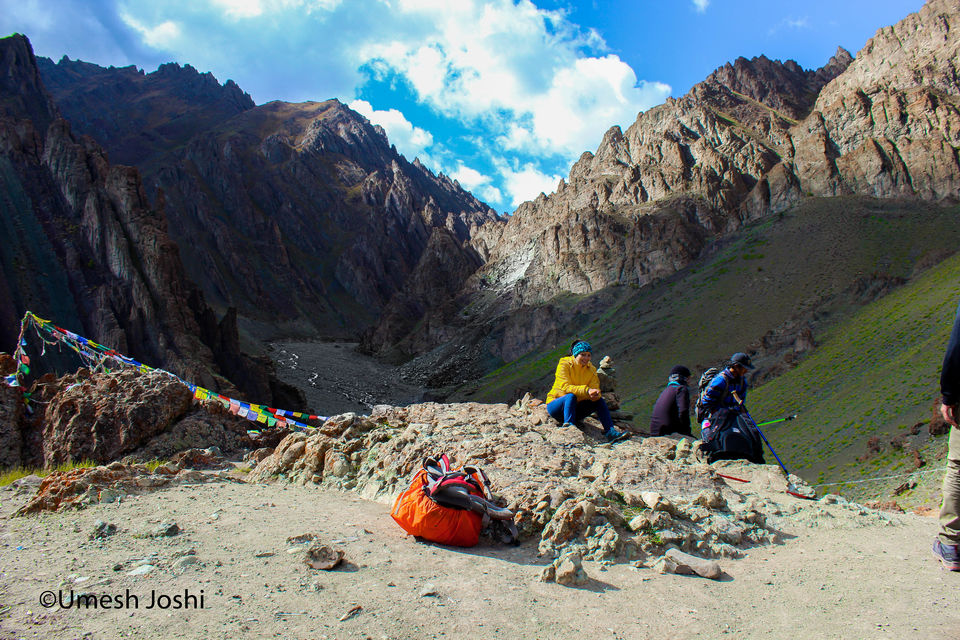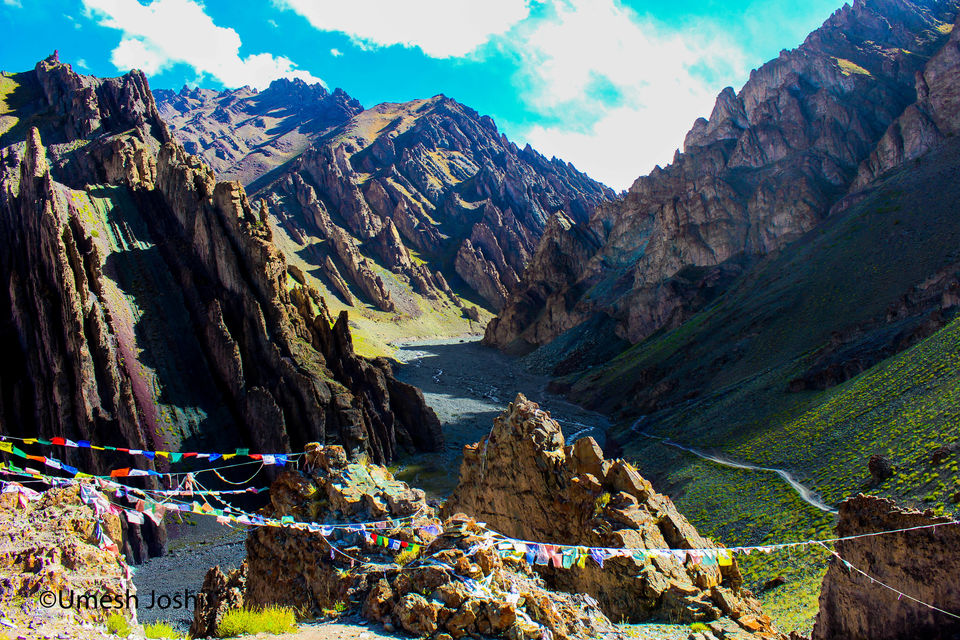 We clicked some photographs and continued our trekking to Mankorma, in next few hours we took multiple breaks and at last we reached out base camp at approx 12:00 PM.
During trek we got a chance to see some delicate little creatures (blue sheep - Bharals). It was beautiful to see little goats hopping over streams. Today's journey was not very challenging but its bit difficult due to altitude issue and due to which Some felt sickness like headache during today's journey and they decided to offload their bags for further journey.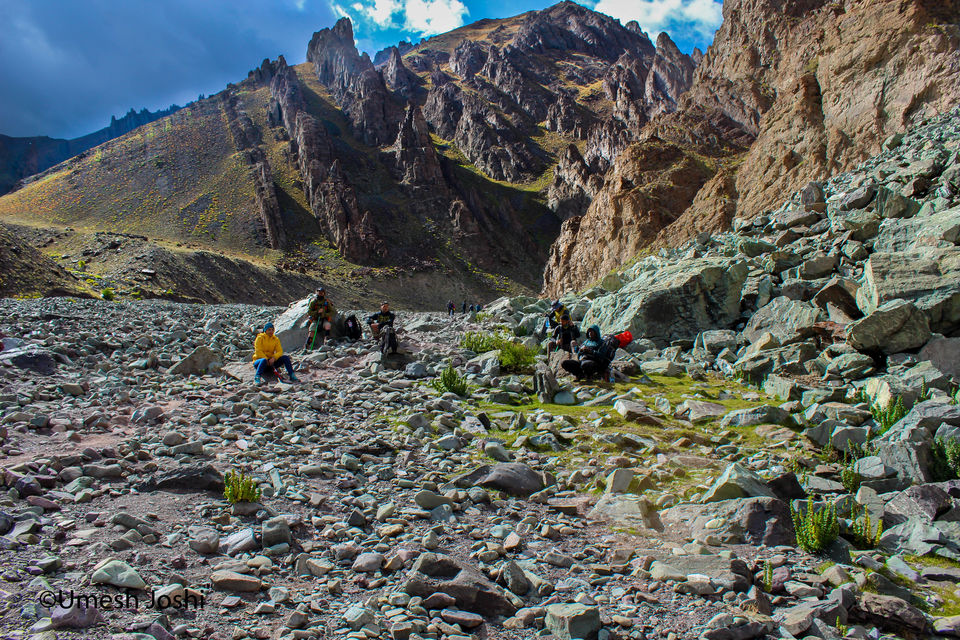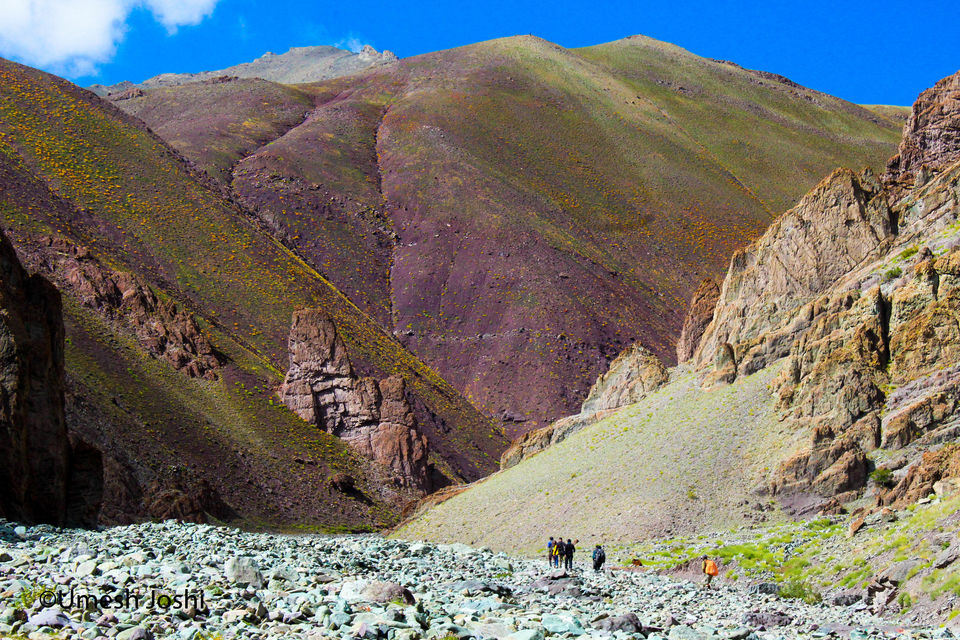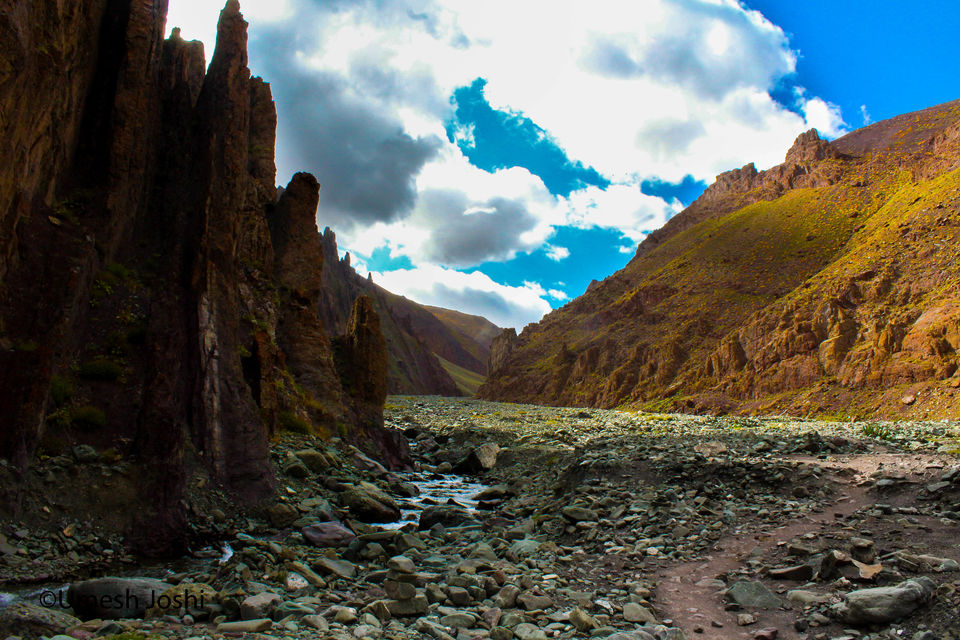 Today we had enough time in our hand so after having lunch we decided to play card games and today Hemant introduced a new game (Mafia and Civilians war), for next few hours we played teen patii and later we decided to share some stories. Eve time was Story time, that was a good way to knowing each other. Everyone shared their past experiences whether it's related to job, trekking, hobby or anything, by doing this we spent all our evening and it was dinner time.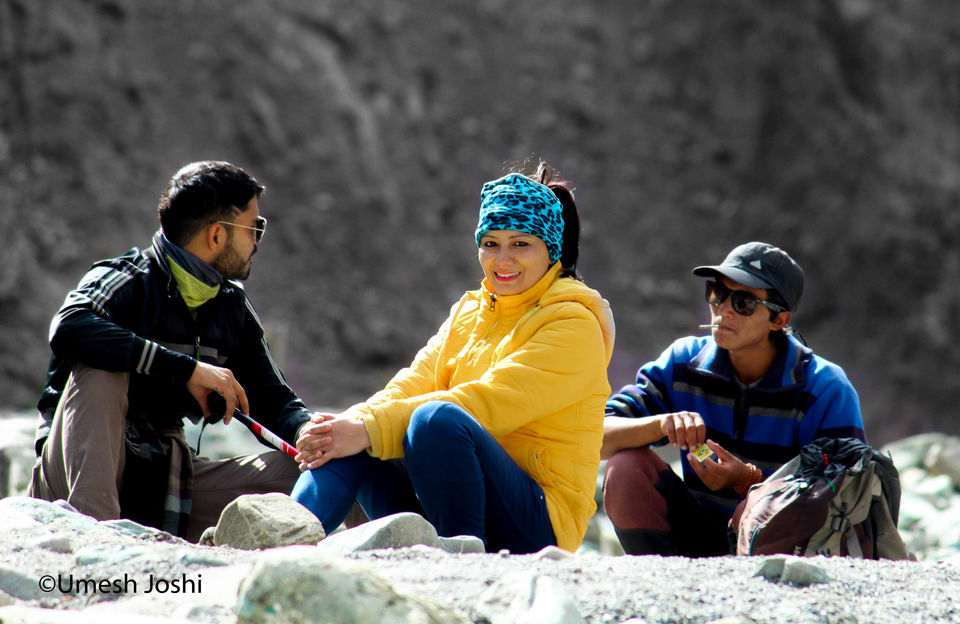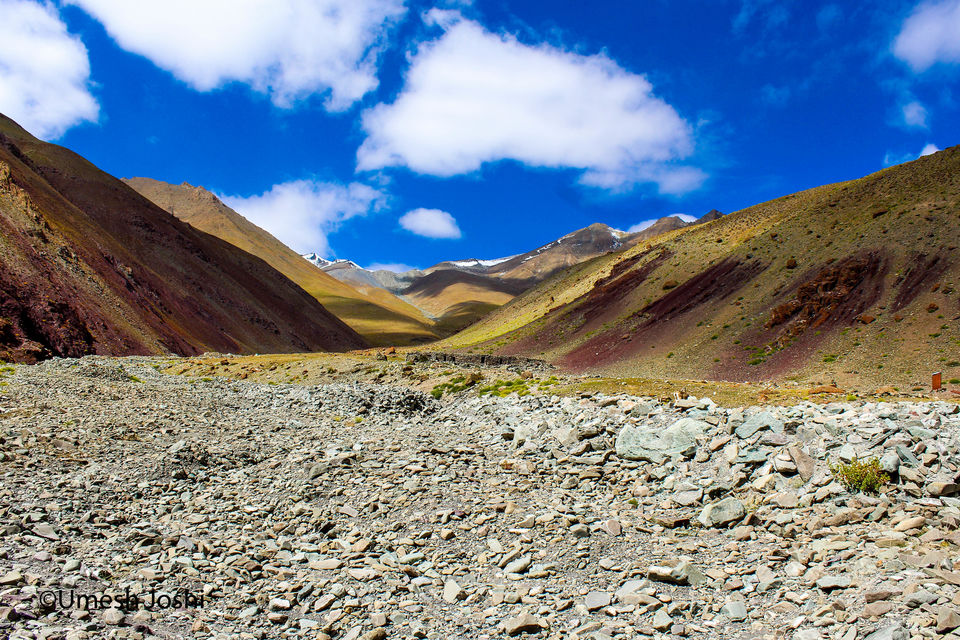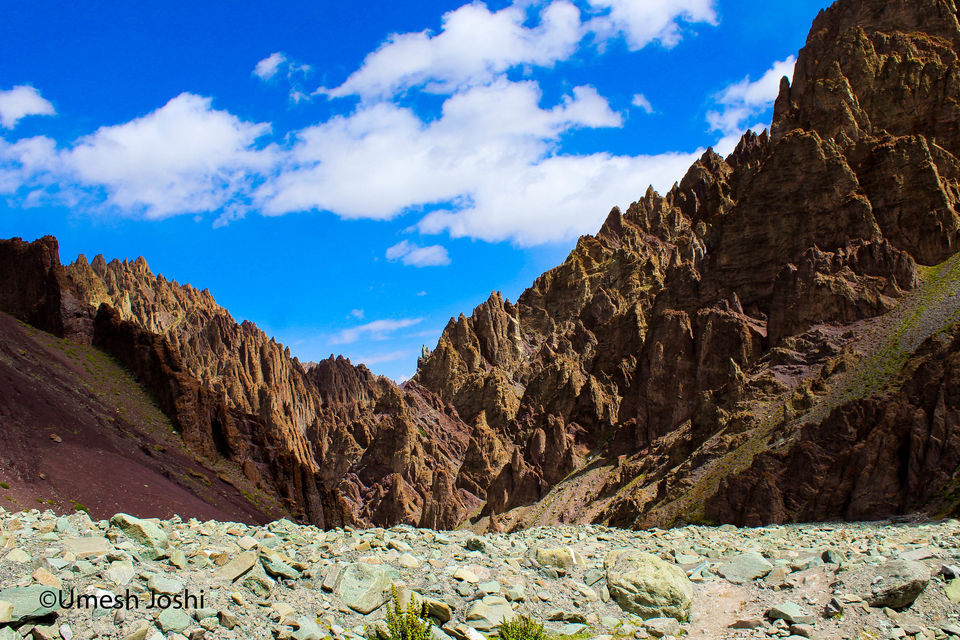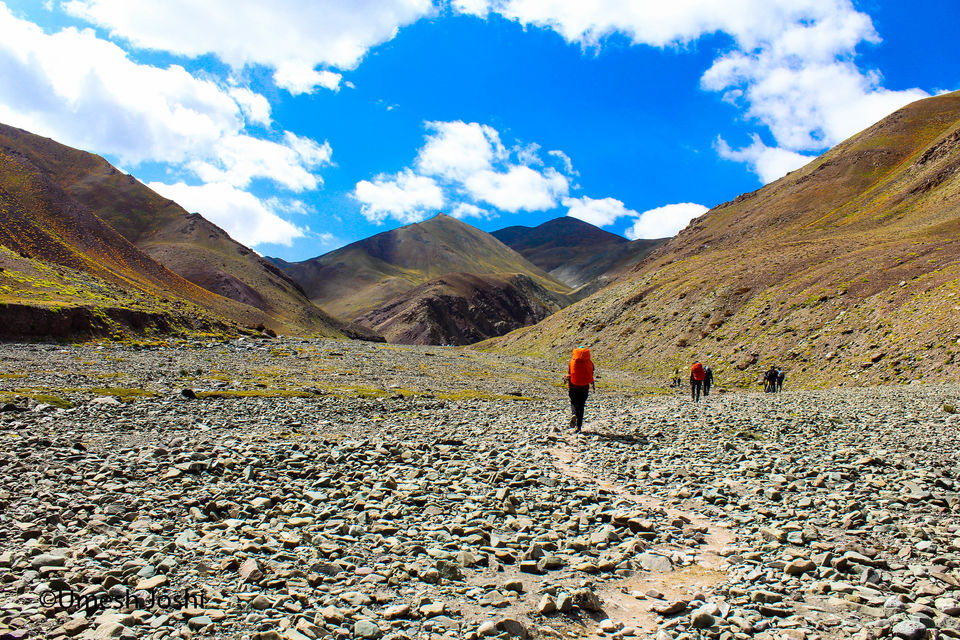 Day 05. Trek Mankorma (14200 ft.) to Base camp (16300 ft.)
That day was started with different feeling as we were about to reach base camp which is in 16300 ft. height. We started at 8 AM and reached at 12 PM in base camp, we setup our camps few meters before the base camp as base camp location was fully occupied and our trek leader informed us that there is water constraint so it's a good idea to stop here as one frozen kind of stream was running by the nearby place and it would be easy for kitchen staff to get water from there to do their daily tasks. We fixed our camps in grassy area and after that once again its tea time.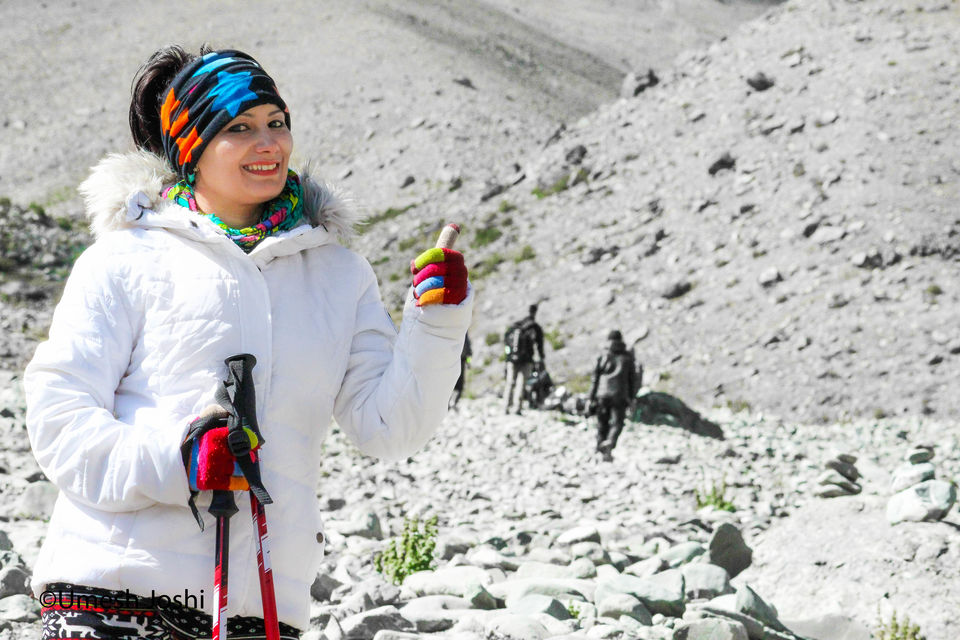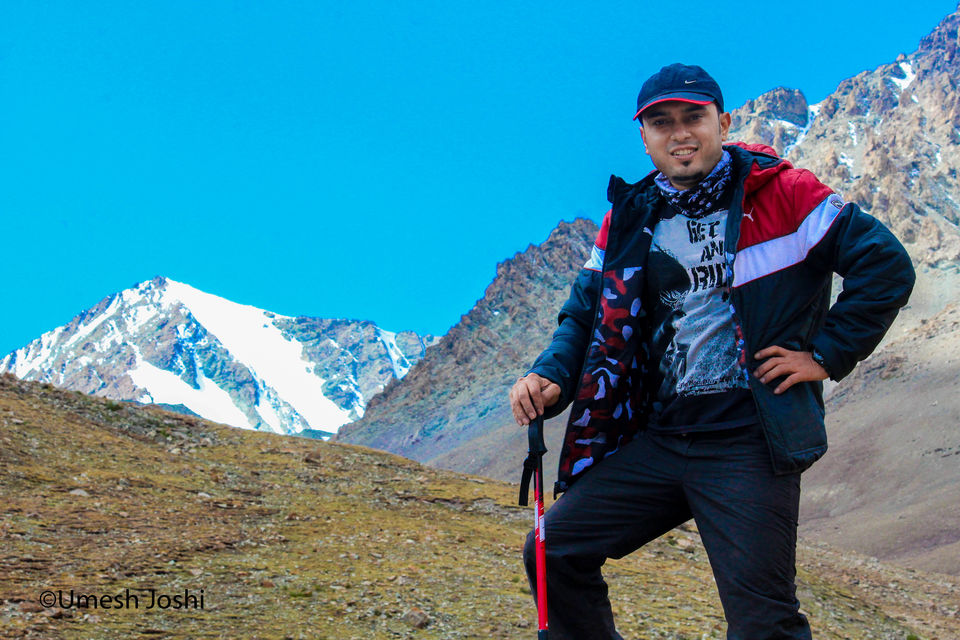 This location is quite different from previous camp sites, from here Glaciers are clearly visible, temperature was very cold and this place was quite open and not surrounded by big mountains. During the day time, few of us walked to the upper areas of the campsite to enjoy the views of the surroundings. There are some beautiful peaks like Gulap Kangri, Parcha Kangri and many others. Some decided to take rest in the base camp.
At eve time during briefing we were informed about next day plan, next day is going to be totally different from last 6 days, Summit attempt was the only single topic of that day discussion. First discussion started with the possibilities of going summit as per trek coordinators weather is changing in bad shape due to which they could not confirm us the possibilities of going to summit. There was a tense situation in camp, everyone was scared, it was clearly visible in every one's face. We were all anxious as we were going to attempt to summit the next night.
After telling possibilities of summit, Salman checked the oxygen level of everyone, it was quite interesting device, I never heard about this device before that, as per Salman your oxygen level should be above 75 in base camp then only they consider you fit for summit and It was found ok for all. After that it was dinner time, Today's dinner menu was quite interesting, we were served Chinese food "chowmein, fried rice, machurian"????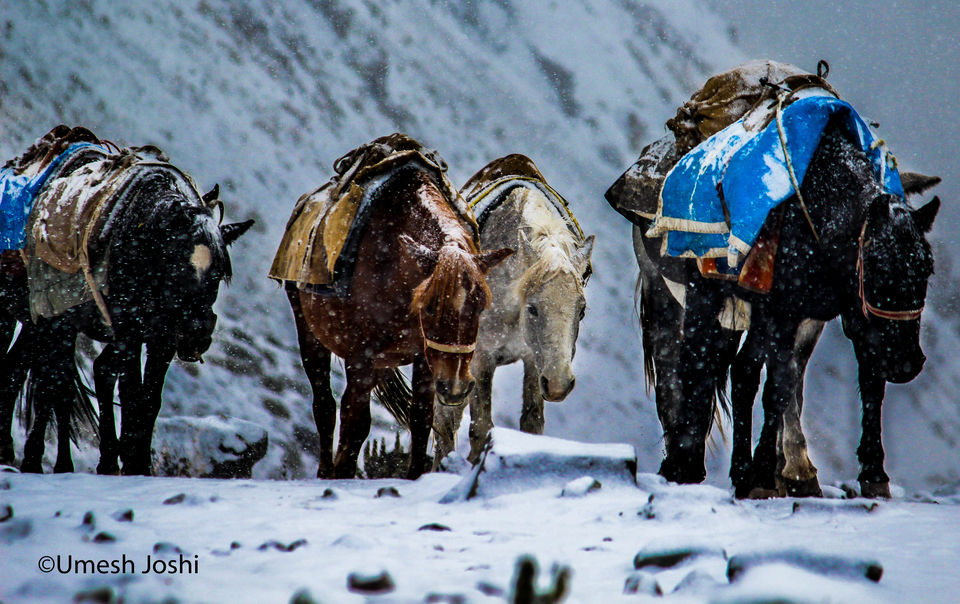 Day 06. Acclimatization Day (Rest day + training Day)
Next morning, we woke up around 5 AM we found whole valley has been filled with snow, It was really a pleasant moment for me, that moment last for next 3-4 hours, we had our breakfast and after that it was time to go for a acclimatization walk, It has been decided that today morning we will walk till advance base camp. Today was the big day for us because tonight itself we were heading out for the summit.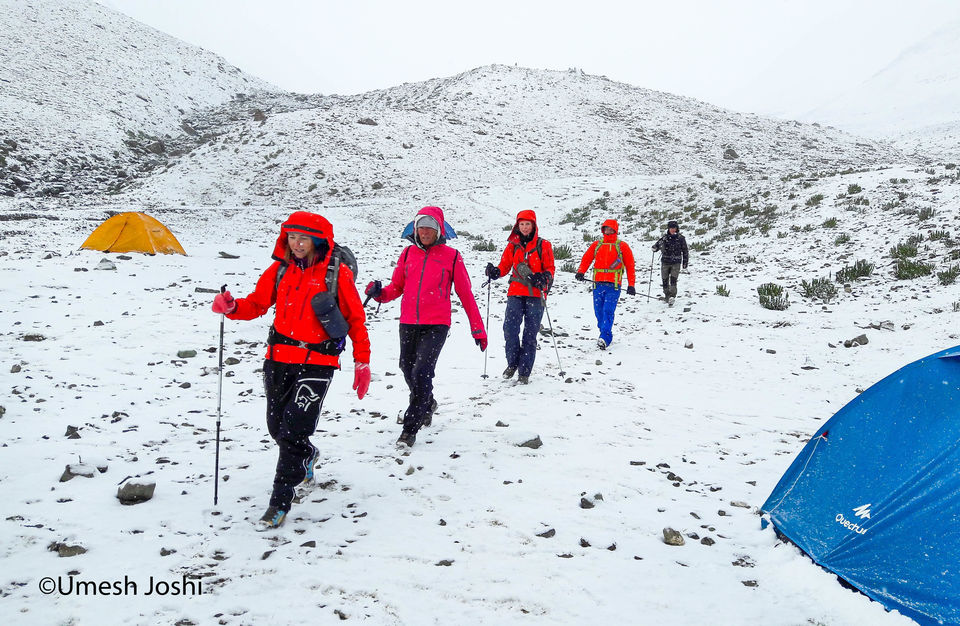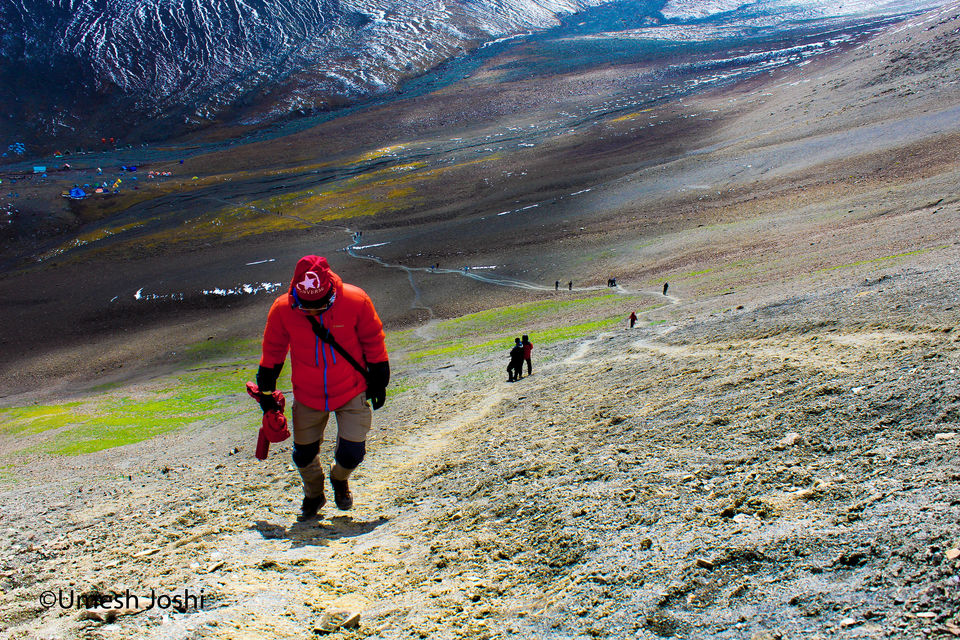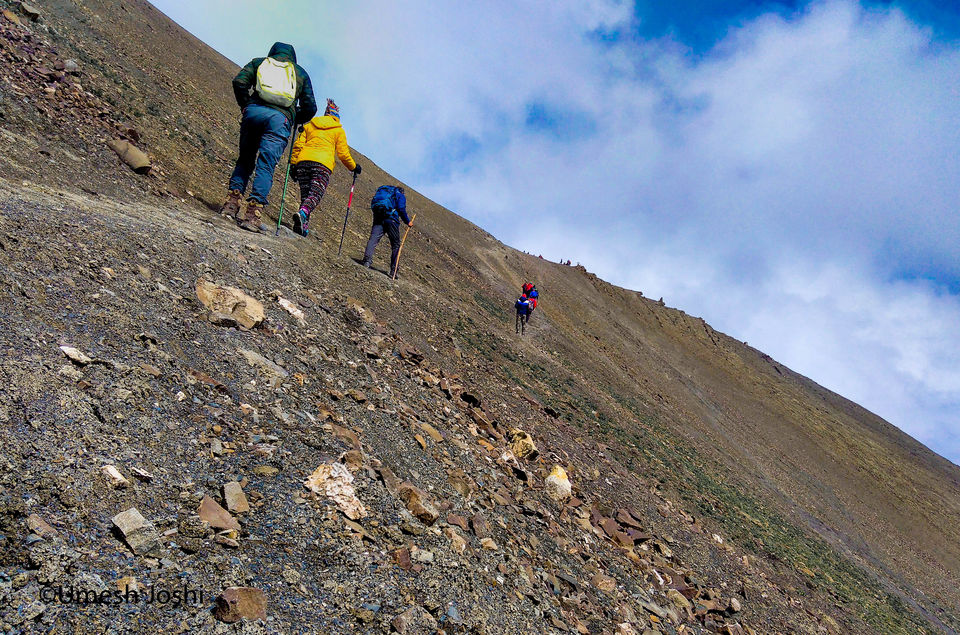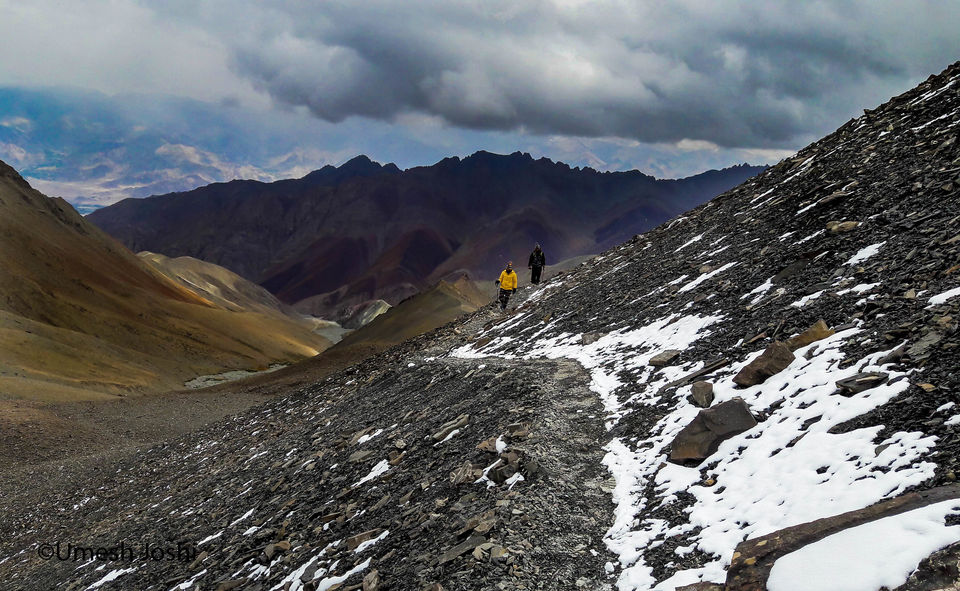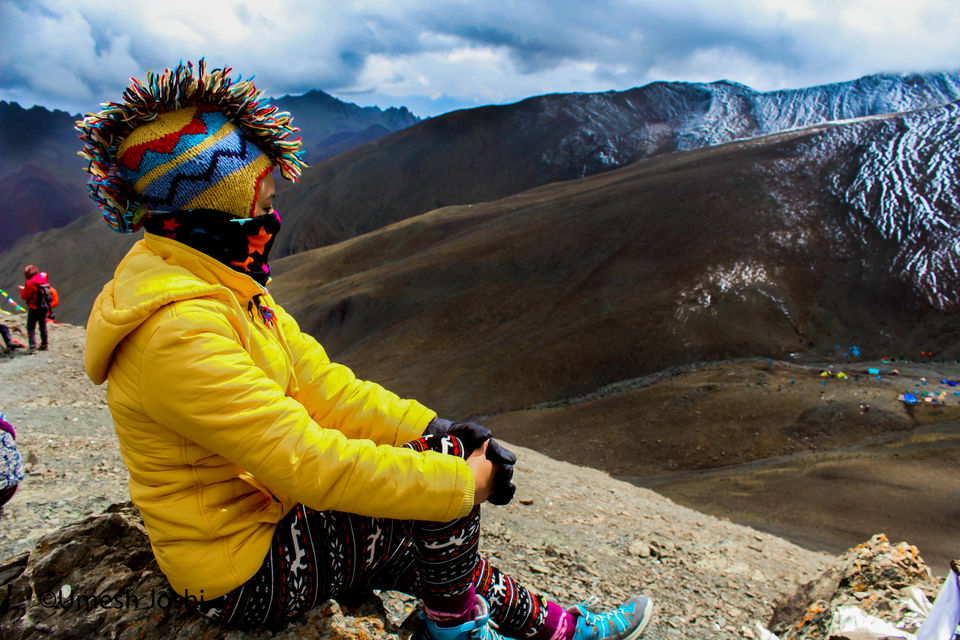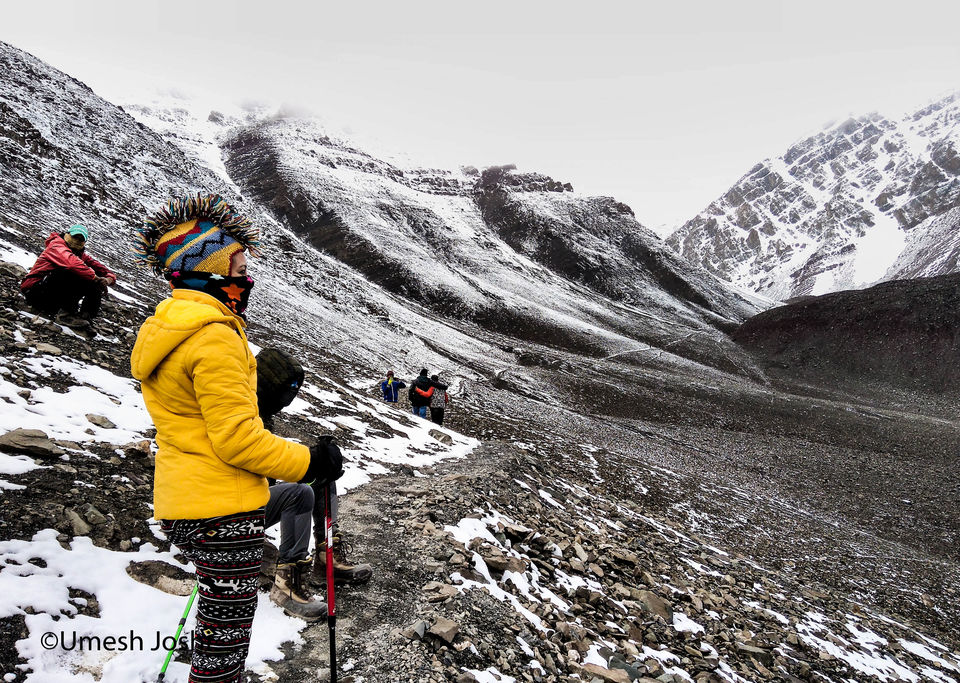 In last 5 days we did not trek such a steep height, we reached on top of the point from where you can see the 360 degree view of valley. After capturing some good moments in my camera we started for ABC (Advance base camp) but we asked to return from the half way and we came back to our camps around 12 PM.
After lunch we advised to sleep as much as possible because today we were going to start our trek at night time between 9-10 PM. We had our lunch and tried to sleep, that's a pain area for me, I cannot sleep in day time, so Anjali and I spent time by doing photography and packing. At 5 PM we asked for tea break and during that time our trek leaders taught us how to use crampons, we practiced it many times and then we were just waiting for final call, till now it was not decided if we are going for summit or not as weather is still not in a good mood, it's all over cloudy.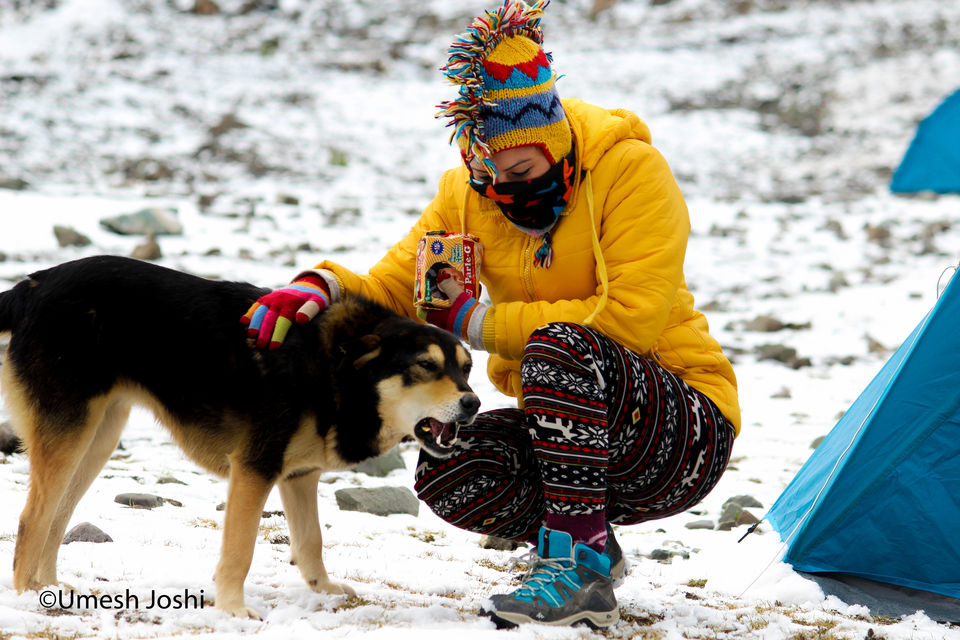 At 7:00 PM we were served light food in today's dinner, porridge and green tea, after that final briefing started where we were informed about the possibilities and challenges that are involved during today's trek and once again Salman checked our oxygen level for the last time.
At 9:00 PM we were asked to do our packing and they provided us one packet of breakfast to everyone, with immense excitement we got ready.
At 9:45 we started the trekking. We walked only few meters when Salman informed us that Parul is not coming, unfortunately he was not feeling well due to AMS issue, so he decided to stay back and we all started once again.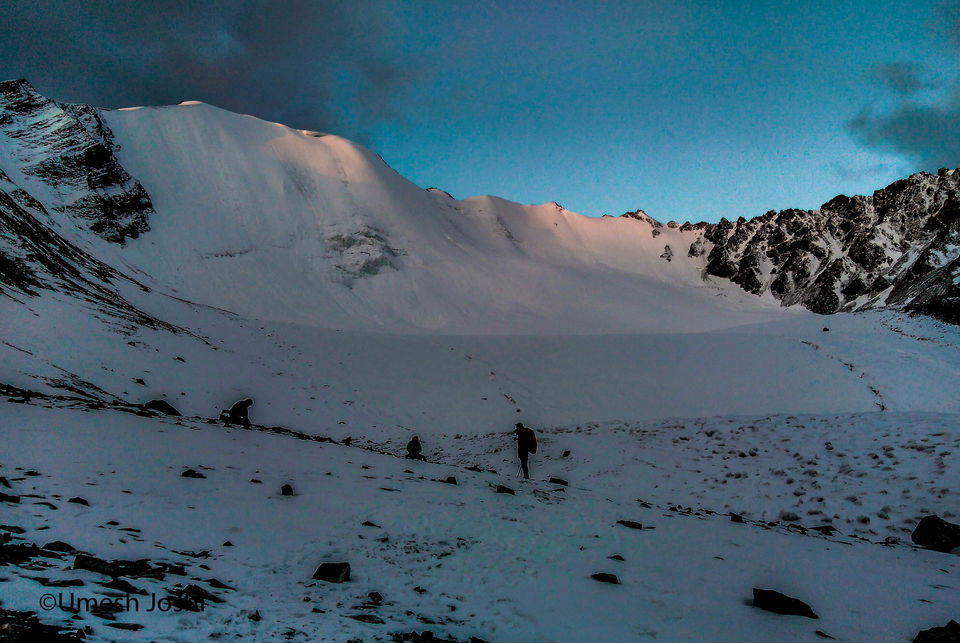 Day 06. (night time ) Base camp (16300 ft.) to Stok Kangri (20187 ft.) back to base camp.
This is a long climb, so you should be mentally strong as well as psychologically prepared for this. It would take somewhere between 10 – 12 hours for average climbers to complete this last day trek. Slow climbers may take another 2 to 3 hours in addition.
That night was very cold when we started and we started feeling the deficiency of oxygen from very beginning of the trek while this was the same trek where we walked at morning time but this time it became more difficult, after every few meter we were taking breaks, temperature was very low and wind was too strong which was making all of us breathless within a short distance.
Its 12 am and that was the time to do some celebration, its Ritesh's B'day, we celebrated it with cake and by the time we crossed advance base camp.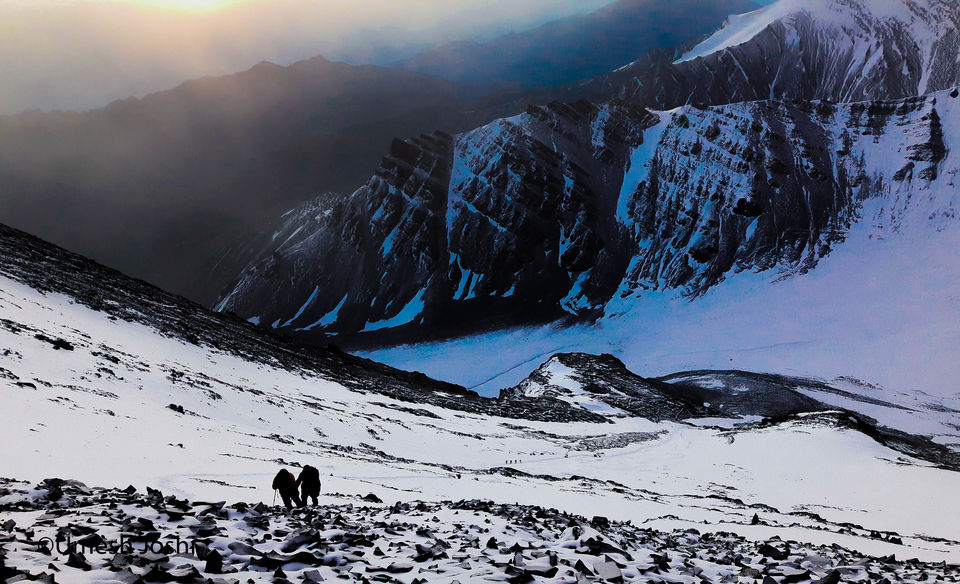 Now we were near to Glacier when Stenzin (one of our trek leaders) asked us to put Crampons on shoes, temperature was approx. minus 10 and putting crampons in such a situation was painful job and especially when you don't have proper place to sit, it's all over ice, it was very hard to find any place where you can sit for a moment.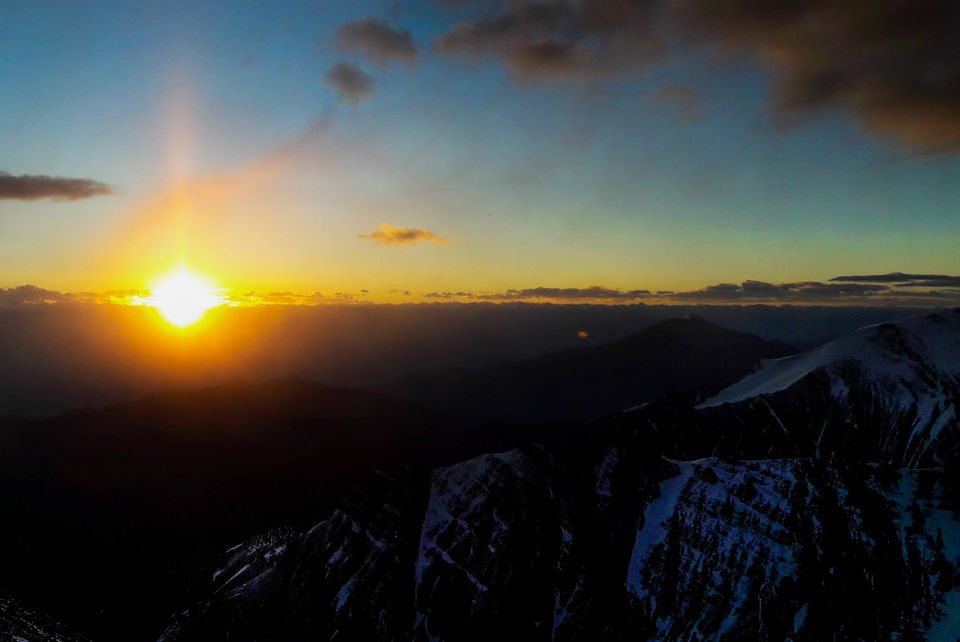 The glacier part was the cruelest part of this trek, and there were some rough patches which we had to cross. We did this exercise twice in next 1 hour, it was very irritating, What we learnt in base camp we forget all that, our fingers were not working and most of us were not able to put crampons and every time Stenzin and there was one more guy Rigzin from kitchen staff was helping people to fix it. It was very difficult to walk in such a platform which was not totally covered with ice, it was quite rocky and on the top of that there is a thin layer of snow due to which it's difficult for anyone to get an idea where to put your step, we lost our grip on the trek and slept many times but we kept walking towards summit.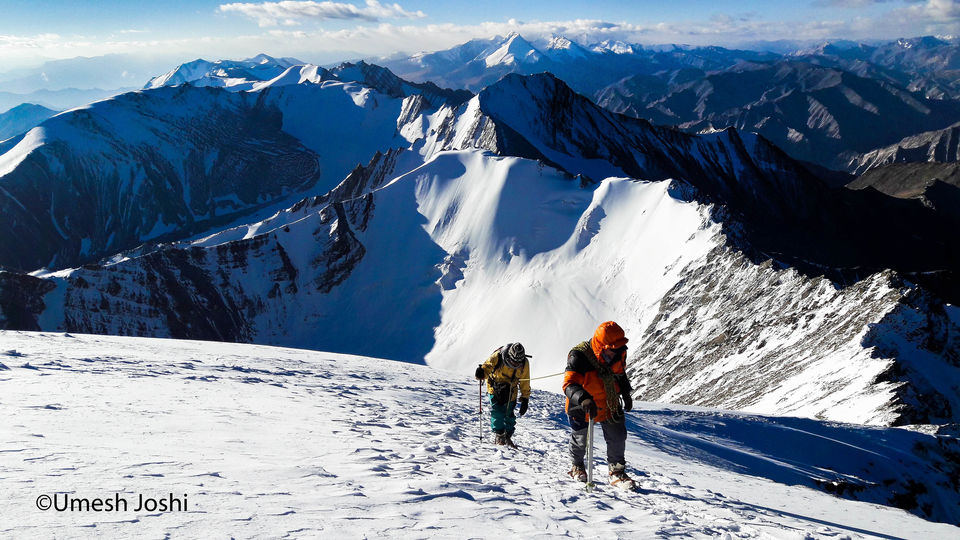 We were tired and now every step was becoming very tough, I don't know about other people but I was feeling sleepy, I just wanted to take a nap, it was making me feel like a dead man walking in the snow… its really a difficult job to walk at mid night by putting so much load on yourself. Now it's almost 2 AM and we could not see anything except a big mountain in our front, there was no end and we kept walking on the trek by following Stenzin's instructions.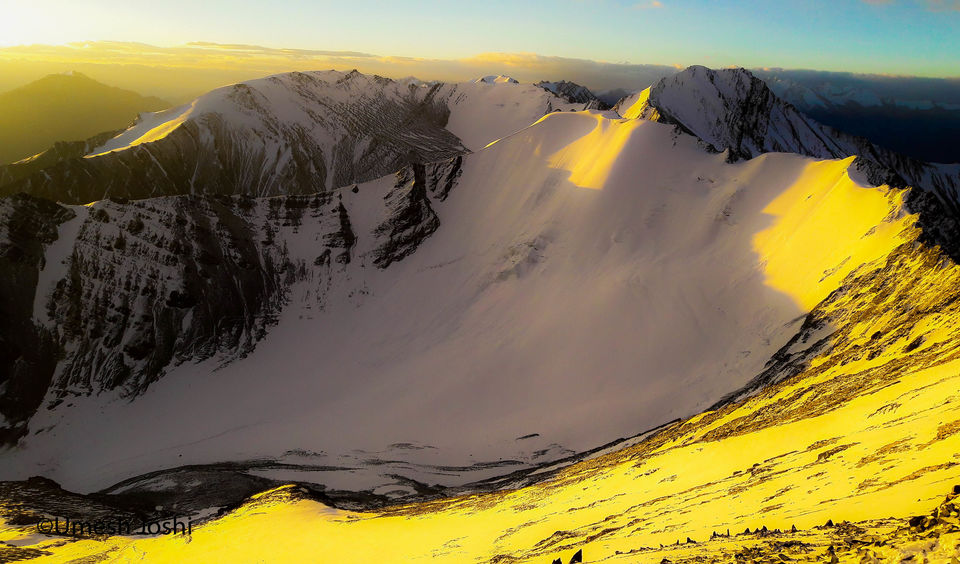 The worst part of tonight trek was there was no any place to sit and take some rest, and the water which we were carrying with us, it's like frozen water, it's very difficult to drink, now its 4 AM and still we needed to walk for 3 hours more to reach summit, one of us decided to return to base camp, 2 more people joined him, now we 4 were left. I discussed with Anjali and due to some challenges and with lot of confusions. With heavy heart we also decided to return back to the base camp, now only 2 people left who still wanted to complete it "Hemant and Erik" we all returned with regrets while Hemant and Erik moved towards to summit with Stenzin. But sometimes things don't work out, and that's okay, we live and we learn.
We returned just before one point "So Called – Shoulder", we took some snaps and returned to our base camps while our 2 friends were still going towards summit. While we were returning we were discussing about the chances of Hemant and Erik to complete the trek.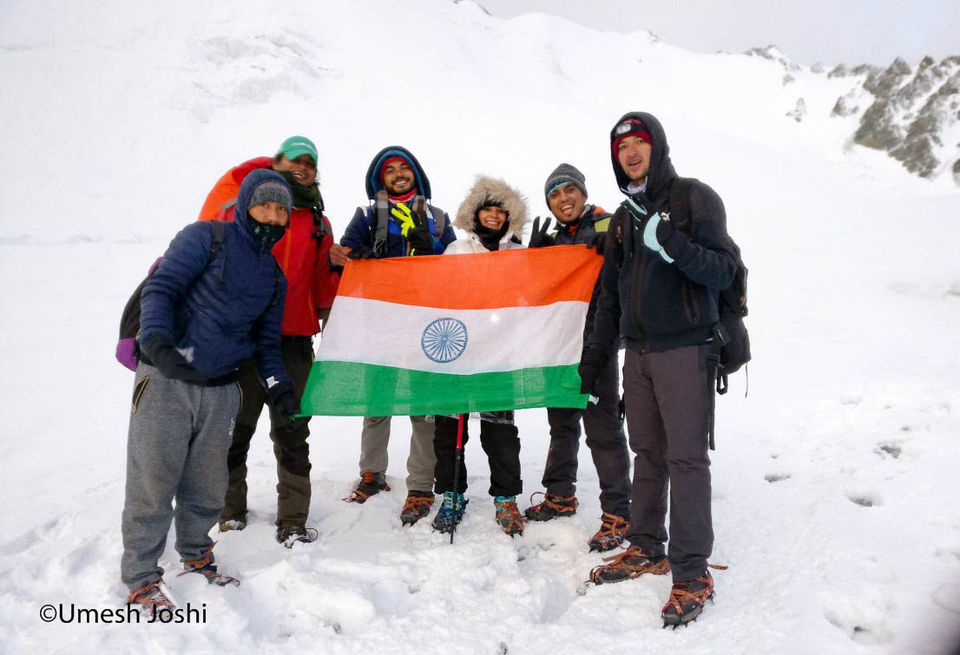 We reached our camp at around 7:30 AM, With lot of disappointment we entered in our camp and started our packing, I wanted to sleep but today weather was very clear, and day was too hot moreover there were lot of thoughts going in my mind so we decided to do our packing and around 10 AM I heard some voices outside and when I checked it was Erik, I rushed to Erik and wanted to know if they completed it or not and how the things looks in other side which I missed. He shared his story and he told us how they completed summit, wow !!! Bravo Erik.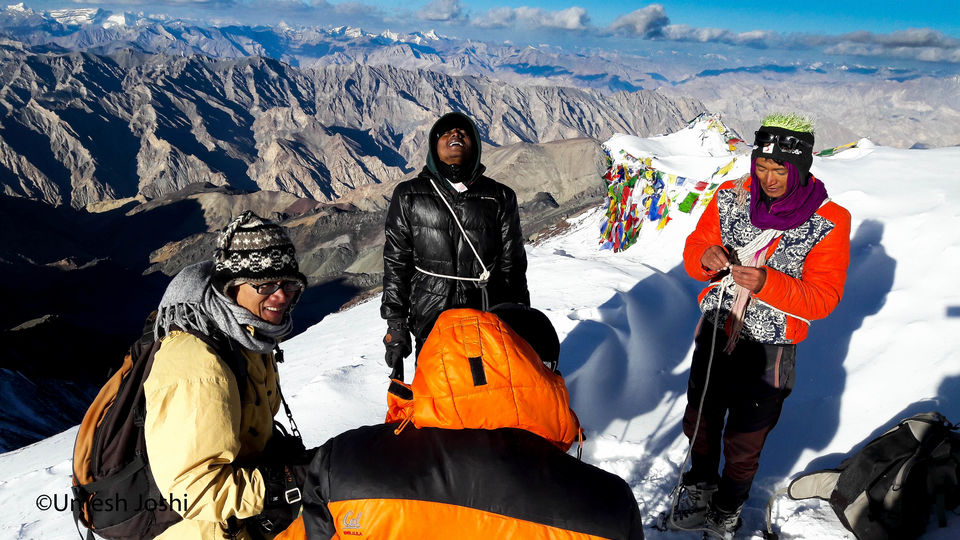 After congratulating to Erik and seeing pics in his mobile I entered in my camp and told complete story to Anjali, I was very disappointed and blaming my preparations repeatedly, I did a big mistake by not checking videos and blogs before making the plan, Anjali was trying to console me and for next one month we were keep discussing about this trek and mistakes on every second day. We decided to do this trek next time again if we will get the opportunity.
Most of the people in our batch decided to return to Leh that day itself, as there was no logic to spending a complete day in the same location and our enthusiasm has been finished, so after having lunch at 1 PM we started back to Stok village, in the meantime Hemant also returned, He was very tired so he decided to take some rest, I wanted to hear his story but that was not the right time, I did not want to disturb him so I just congratulated and left him in his camp .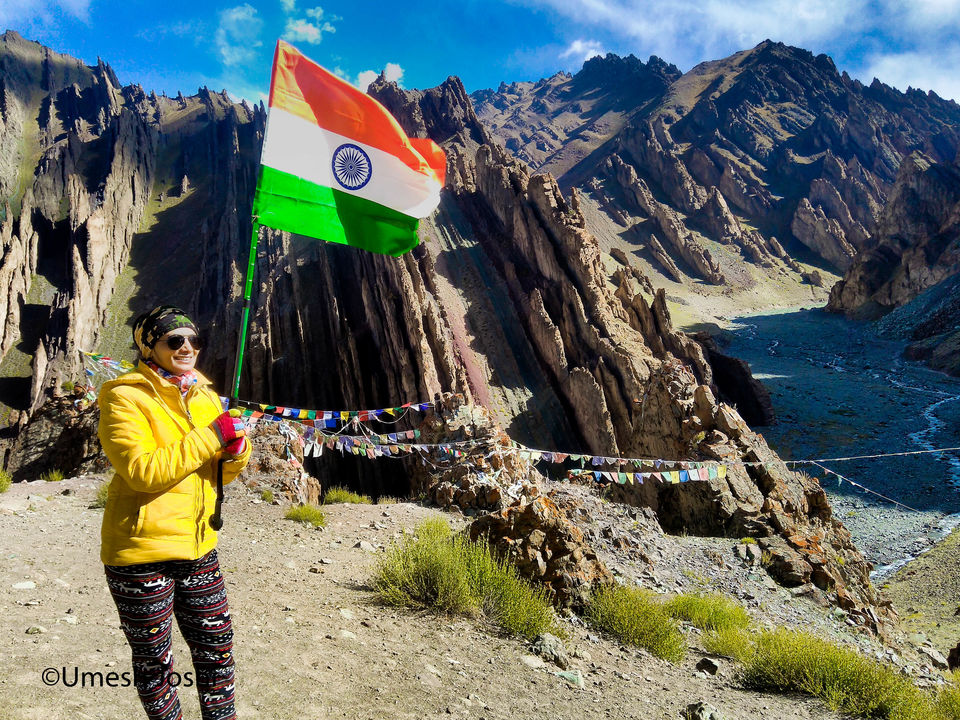 We reached at Stok village approx 5:30 PM. We waited for other people kitchen staff and Hemant for next 2 hours and finally they reached, and we moved to Leh city. At 8 PM we reached our guest house. We went outside for dinner and during that time I got an opportunity to hear the experience of Hemant, he told us the complete story, how at one moment he decided to return back but then how Stenzin helped them and how they completed this trek.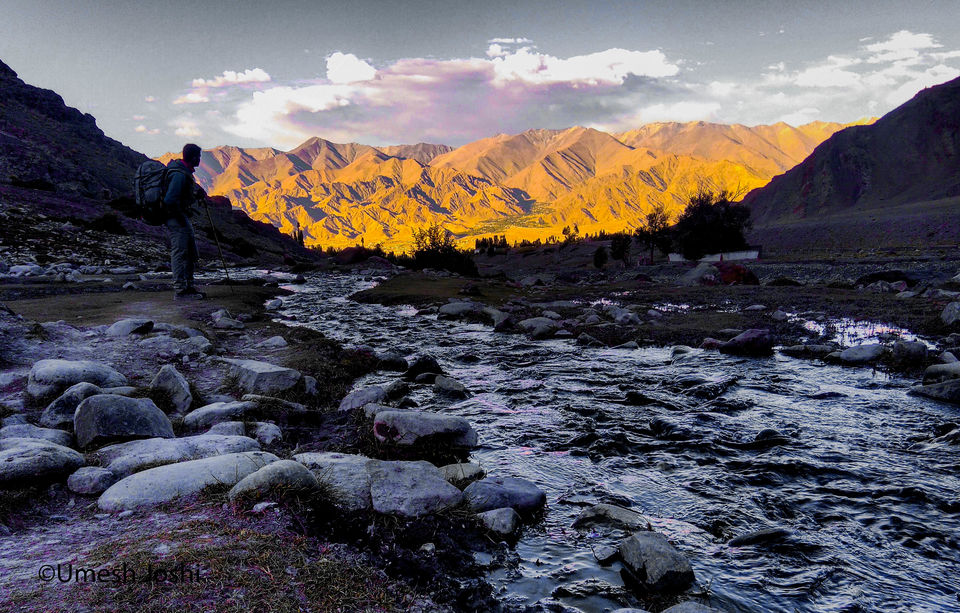 Day 07. Base camp (16300 ft.) – Leh( 11500 feet)
Few of us have travelled to khardungla pass while we decided to go for a city walk , We spent our last day in exploring leh , we explored Tukcha main road , upper Tukcha road, Fort road and all small markets exists in Leh city by walk. We started our day with Israili breakfast "Chicken Lafa" in "Gesmo", one of the best places to have food in Leh, not very costly and good quality.
In these few days we tried food in different café's and we were not disappointed by any one so I can say, most of the restaurants providing good food there. You can try Lamyuru, word garden café, Himalyan café (in main leh market), La Piazzetta and I forget few names, but I think all were good.
Day 8. Leh – Delhi - Time to say good bye to Leh and return to your home town with awesome memories.
We took flight at 11 am from Leh airport to Delhi.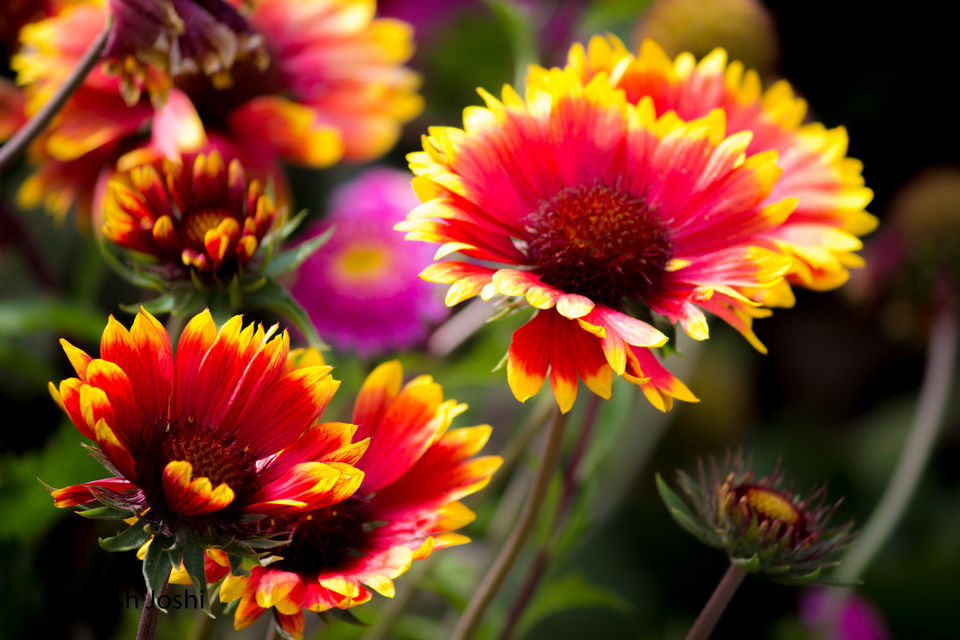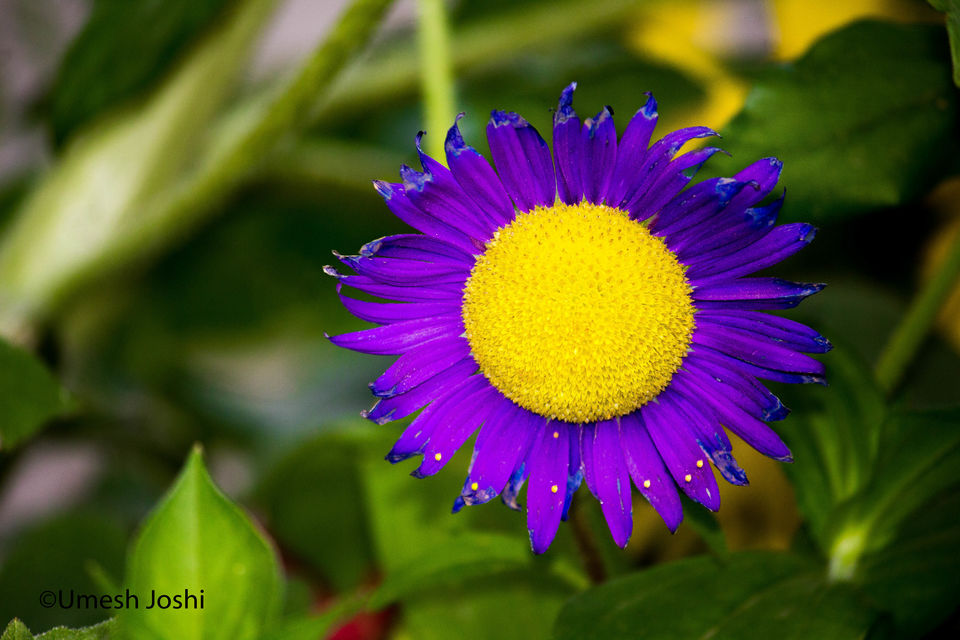 To experience the splendor of nature, just spend some time camping, you will be amazed to see a shiny deep blue sky with infinite stars, hundreds of shooting stars, full moon at the shore, mountain shadows and water reflections – this would be a feeling of dream come true! Words can't describe the feeling when you will have a stargazing experience from your tent. Take pictures and keep the memories forever! A journey to Stok trek is an experience that you will never forget for the rest of your life.
****************************************************************************
Thanks for your patience for reading my experiences as they truly come from my heart and are totally unedited version of my journey. Hope this helps in case you are making up your mind for this delightful journey.
Stay adventurous
Umi/Anjali
For Stok Kangri Trek Complete Album Click This Link
Contest entry for The Adventurer Blog Contest May 2018 by Bikat Adventures