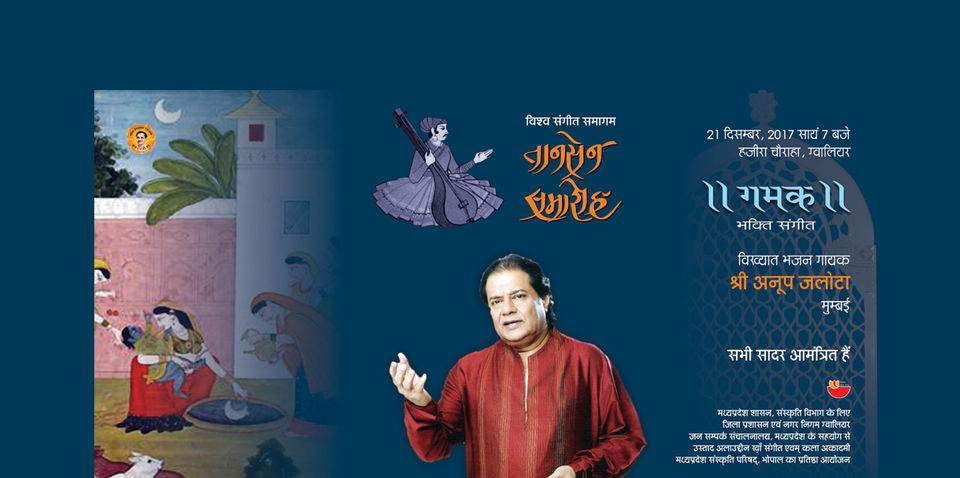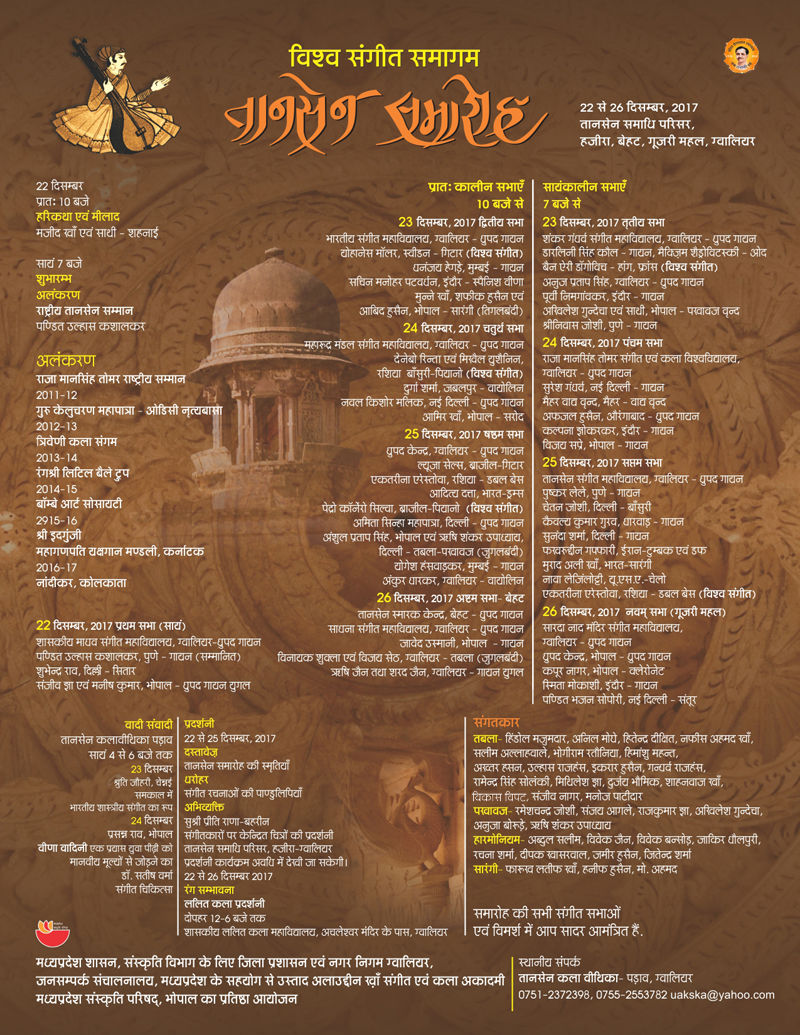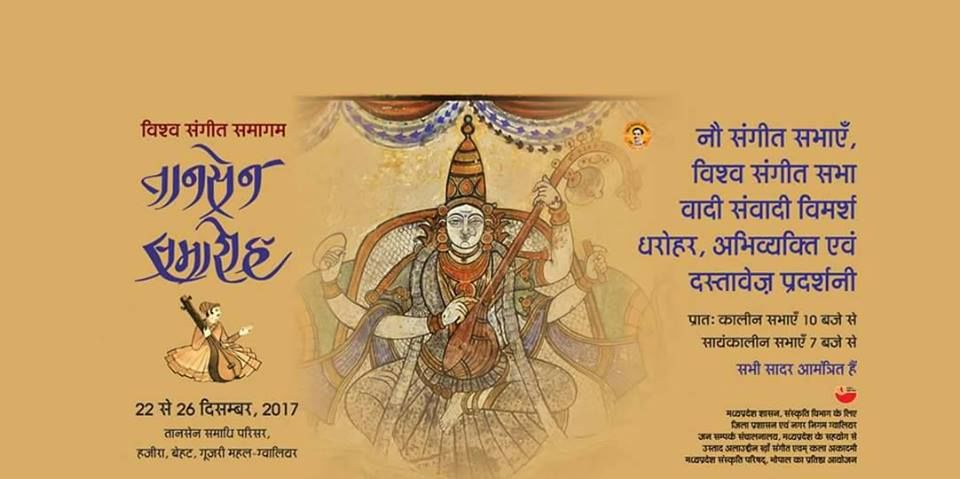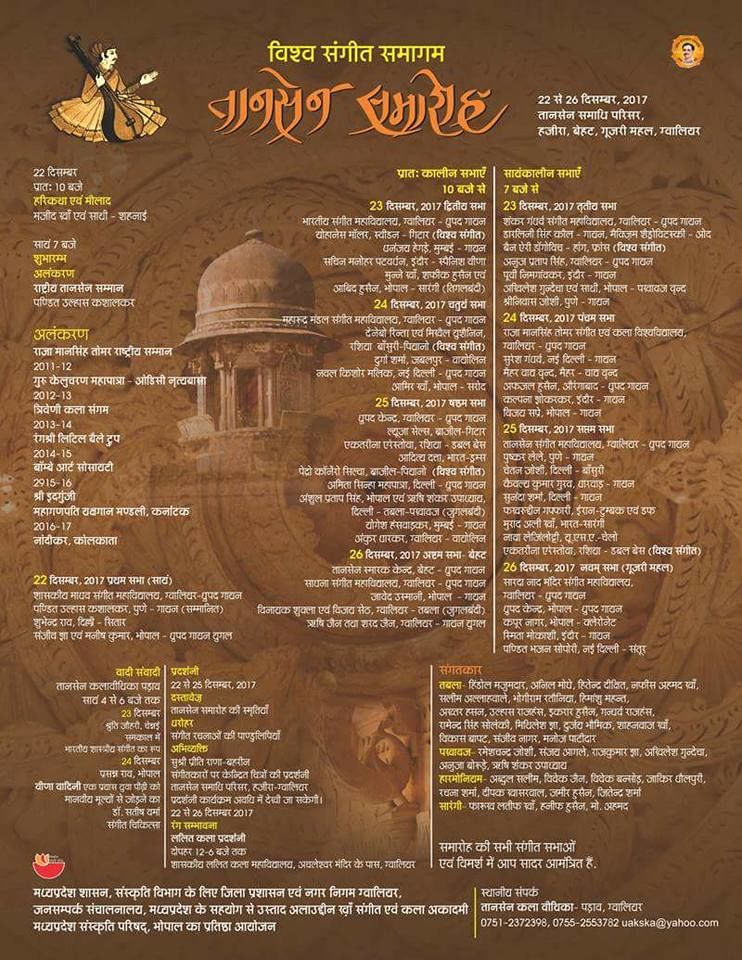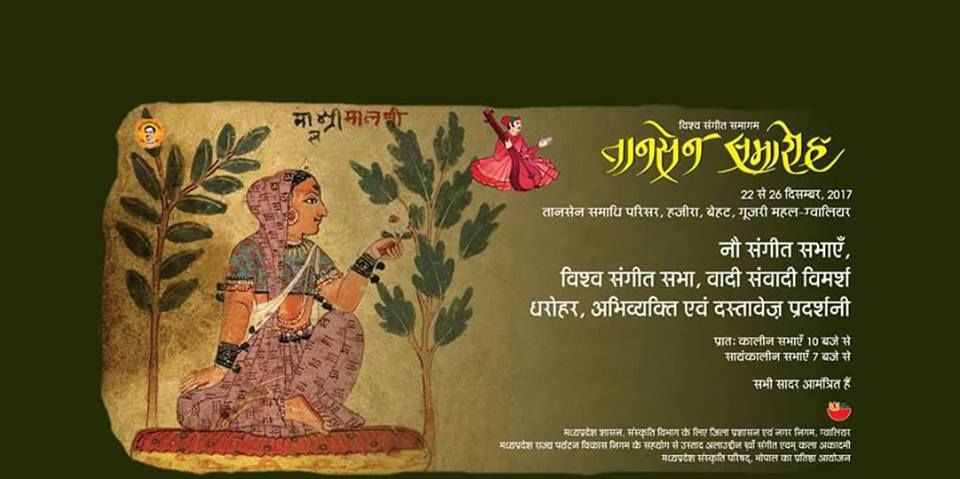 About Tansen:
Mian Tansen (born 1493 or 1506 as Ramtanu Misra – died 1586 or 1589 as Tansen) was a prominent Indian classical music composer, musician and vocalist, known for a large number of compositions, and also an instrumentalist who popularised and improved the plucked rabab (of Central Asian origin). He was among the Navaratnas (nine jewels) at the court of the Mughal Emperor Jalal ud-din Akbar. Akbar gave him the title Mian, an honorific, meaning learned man.
Tansen as a historical personality is difficult to extract from the extensive legend that surrounds him. His father Mukund Misra was a wealthy poet and accomplished musician, who for some time was a temple priest in Varanasi. Tansen's name as a child was Ramtanu.
He was born at a time when a number of Persian and Central Asian motifs were fusing with Indian classical music; his influence was central to create the Hindustani classical ethos as we know today. A number of descendants and disciples have also considerably enriched the tradition. Almost all gharanas of Hindustani classical music claim some connection with the Tansen lineage. According to legend, he was noted for his imitations of animal calls and birdsong.
The bulk of Tansen's biography as it is handed down in the musical literature consists of legends. Among the legends about Tansen are stories of his bringing down the rains with Raga Megh Malhar and lighting lamps with the legendary raga Deepak. Raga Megh Malhar is still in the mainstream repertoire, but raga Deepak is no longer known; three different variants exist in the Bilawal, Poorvi and Khamaj thaats. It is not clear which, if any, corresponds to the Deepak of Tansen's time. There is a popular myth that it disappeared because it could indeed bring fire, and so was simply too dangerous to sing. Other legends tell of his ability to bring wild animals to listen with attention (or to talk their language). Once, a wild white elephant was captured, but it was fierce and could not be tamed. Finally, Tansen sang to the elephant who calmed down and the emperor was able to ride him. Such was the power of his music that when he used to sing in the court of Akbar, it is said that candles used to light up automatically.
Many admirers are convinced that his death was caused by a fire while he was singing the raga Deepaka.
Wazir Khan who is of Saraswati Devi Lineage, attended a conference on music in Kolkata where number of Rajas and Nawabs were present, including Raja of Gauripur. Wazir Khan along with other musicians performed there. Before the performance he asked the attendant at the conference hall to put off the candles in one of the Chandelier's of the conference hall. He started playing the Rudra Veena and it happened for a moment that the Chandelier lit up in the glow of candles and the very next moment it came crashing down to the ground.
According to one version of the story, Tansen died on 26 April 1586 in Delhi, and that Akbar and much of his court attended the funeral procession.Other versions give 6th May, 1589 as the year of his death. Tansen was buried in the mausoleum complex of his Sufi master Shaikh Muhammad Ghaus in Gwalior. According to legend, Tansen's son Bilas Khan, in his grief, composed Bilaskhani Todi.
Every year in December, an annual festival, the Tansen Samaroh, is held in Gwalior to celebrate Tansen.
About Tansen Samaroh:
Tansen Samaroh is celebrated every year in the month of December in Behat village of Gwalior district, Madhya Pradesh. It is a 4 day musical extravaganza . Artist and music lovers from all over the world gather here to pay tribute to the Great Indian Musical Maestro Tansen. The event is organized near the tomb of Tansen by the Academy of the department of culture, Government of Madhya Pradesh. Artists from all over India are invited to deliver vocal and instrumental performances.
Tansen Samaroh is organized jointly by Ustad Alauddin Khan Kala Evam Sangeet Academy and Department Of Culture, Govt. of Madhya Pradesh.
Images and information credit goes to: http://tansensamaroh.com/
Happy traveling
Fir milege kahi kisi roj ghumte firte :)