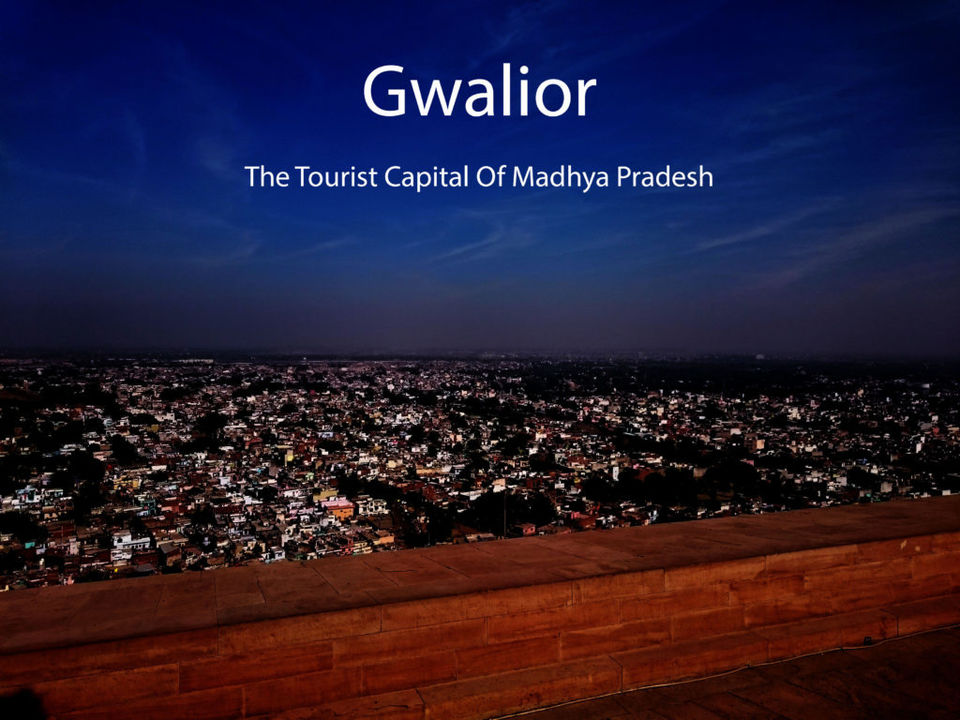 Once upon a time Surya Sen Pal chieftain of Shilhonia village was on a hunting trip and lost his way in the forest. On a secluded solitary rocky hill he met the sage Gwalipa. Upon asking the sage for some drinking water, he was led to the pond Surajkund, where the waters not only quenched his thirst but cured him of leprosy. Out of gratitude he built a wall on the hill to protect the other sages from wild animals, later he built a palace inside the fort, which was named "Gwalior" after the sage, And this how Gwalior got it's name. Gwalior is beautiful city famous for Gwalior fort and other buildings with alluring architecture. A Budget-friendly destination for traveller's especially who are in love with historic places like me.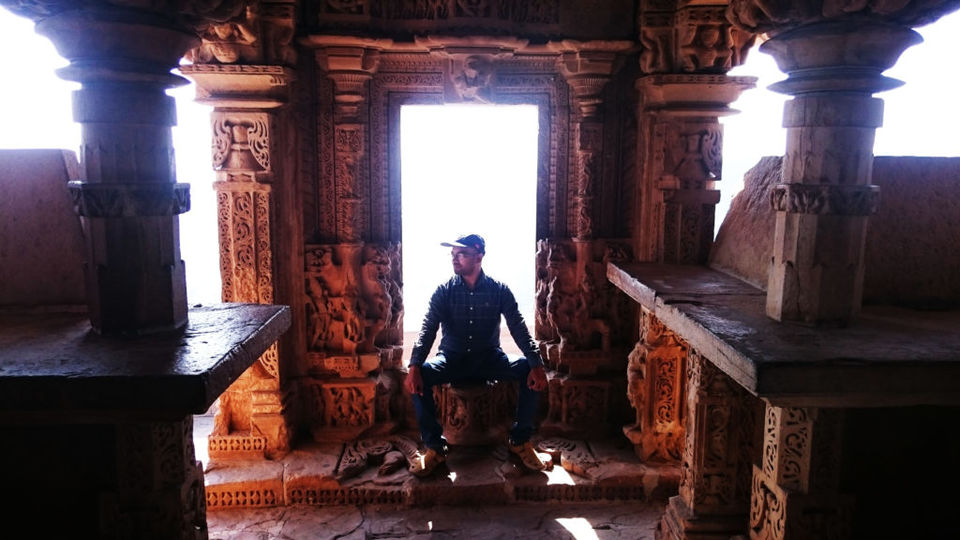 Top places to see in Gwalior
Gwalior fort - The best thing about Gwalior fort is that the interior parts of fort is open for public the lower floors and bhul bhuaiya. In most of the forts in India these places are closed for public. Gwalior fort is an 8th-century hill fort. It is built on an outcrop of Vindhayan sandstone on a rocky hill called Gopachal. Gwalior fort has seen many rulers from Pal, Gurjara-pratihara, Turkic,Tomar, Suri, Mughal, raizada, to Scindia.
As fort is on hill top and the whole campus has many beautiful buildings, which are scattered over a large area. You can get a government run cab service and a guide at the entrance of fort. although the rates are fixed by government you can still ask for some discount in off seasons. I will recommend to hire a guide because he can provide right information and cultural and historical importance of the place. Usually guide will take to the monuments at a very fast pace and simultaneously tells you the stories and importance of the places, So many times you don't get time to click photos and just absorb the beauty, for this problem you have two solutions either you can revisit the places you liked more after the guide's assistance is ended or you can ask him to slow down a little bit.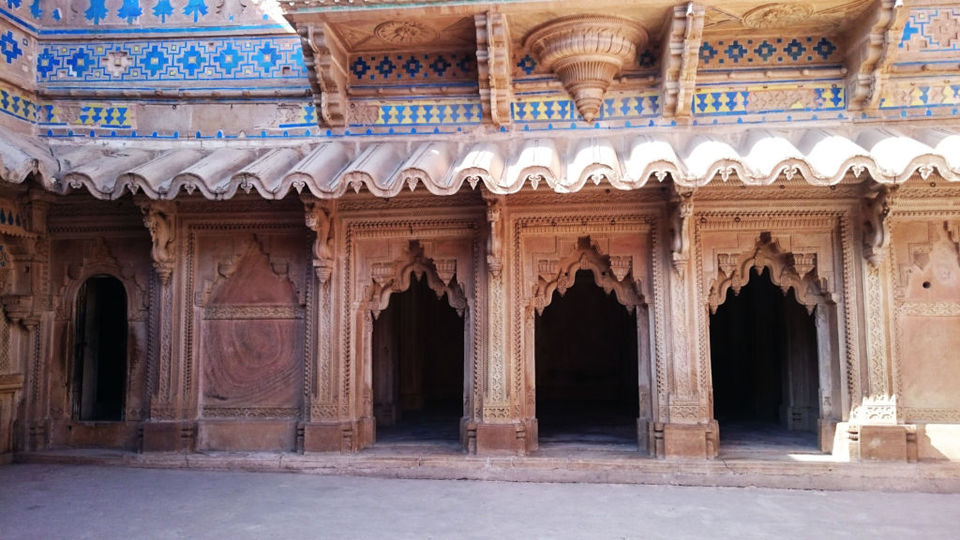 Gwalior fort campus also have many captivating buildings
When you climb the hill from main entrance gate to the palace, Magnificent idols are carved by cutting the rocks in the hills usually the cab won't stop there you need to ask them if you want to stop. although these idols are gigantic and few are as tall as 42 feet and visible from distance.
Man Mandir palace and Gujari Mahal museum - Gurjari Mahal and Man Mandir are the two main palaces. Gujari Mahal has a very interesting story behind it which I am leaving on tourist guide to tell you, Gujari Mahal is now converted to a museum. Man Mandir lower floors and bhul bhulaiya is open for public.
Teli ka mandir - It is both the loftiest and oldest surviving structure within the fort but when we visited it was poorly maintained and the interior was filthy.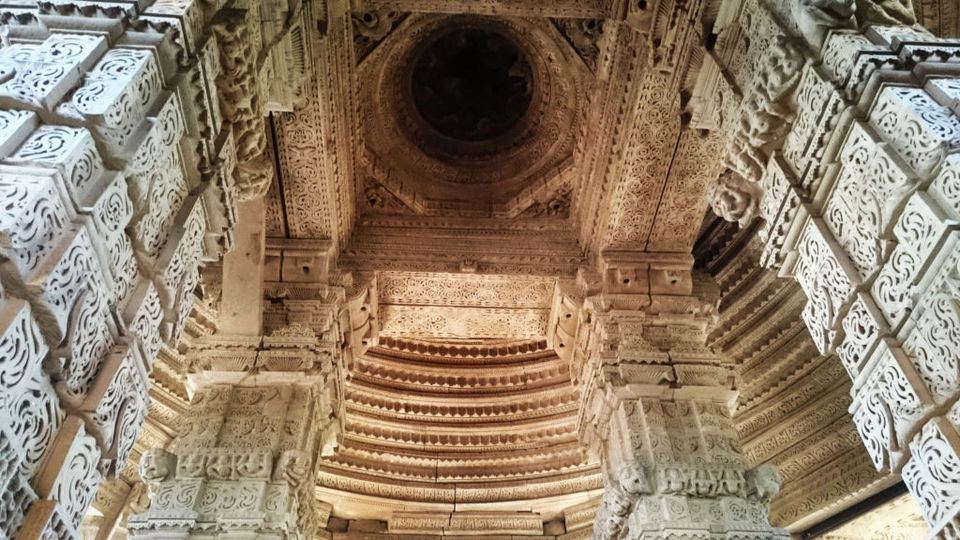 Saas-bahu temple - This is my favorite structureamong all the architectures. both the temples have exquisite carving and stunning view of the city. few more remarkable structures are Hathi Pol, Garuda monument, Karn mahal, Vikram mahal, Chhatri of Bhim Singh Rana, sun temple, Gurudwara Data Bandi.
The Scindias Jaivilas palace - Jaivilas palace is a Spectacular palace and the museum very well maintained. It's stupendous european architecture will leave you mesmerized, especially The Durbar hall. you need at-least 2 hour to explore. You can visit between 10 am to 5 pm, museum closed on Monday and all National holidays.
Top things to do in Gwalior
Attend Gwalior fair - The fair is one of the most colorful fairs of India. It is basically a trade fair and famous for cattle trade but further divided into several sectors you can visit shilp bazar which is famous for handmade artifacts articles, I personally liked only shilp bazar as it offers lots of things for shopping and was little less chaotic then other sectors. It starts in the second week of January and continues until February.
Tansen Music Festival - The Tansen Sangeet Samaroh is celebrated every year on the Tansen Tomb in Gwalior during the month of December.
- This Museum of Music has been set up in the old ancestral house of musician Hafiz Ali Khan. It houses ancient instruments of the Indian masters of the past. It also houses an impressive collection of photographs and documents.
How to reach Gwalior
Gwalior is well connected via air, rail and road. There are direct flights from Mumbai and Delhi. I have seen many tourists traveling from Agra to Khajuraho, my suggestion to them would be to add one day stop to Gwalior on the way.
Distance from major tourist destinations
Delhi - 350 km
Agra - 120 km
Jaipur - 345 km
Khajuraho - 282 km
Top nearby places to see
Agra - (120 km) Agra theTaj Nagari needs no introduction. I have seen many people traveling to khajuraho after visiting Agra, I will suggest to make Gwalior a one day stop on the way.
Jhansi - (103 km) Jhansi City of Rani Lakshmi Bai. Jhansi Fort is a must visit place in Jhansi.
Orchha - (124 KM) Chaturbhuj Temple, Orchha Fort, Ram Raja Temple, Chhatris Cenotaphs, Jahangir Mahal and many more places. Orchha is a very beautiful city on the bank of Betwa river
Top tips
Best time to visit Gwalior is winter November to February, avoid summer as it is very difficult to explore the fort in hot weather as temperature easily crosses 40 degree celsius.
keep time for exploring the Gwalior fort as well as Jaivilas palace because both places are pretty vast and lots of monuments to explore in fort.
If your budget permits Stay in a Heritage Hotel. Usha kiran palace and Deo bagh both are magnificent Heritage Hotel. Staying at heritage hotel is definitely a kingly experience.