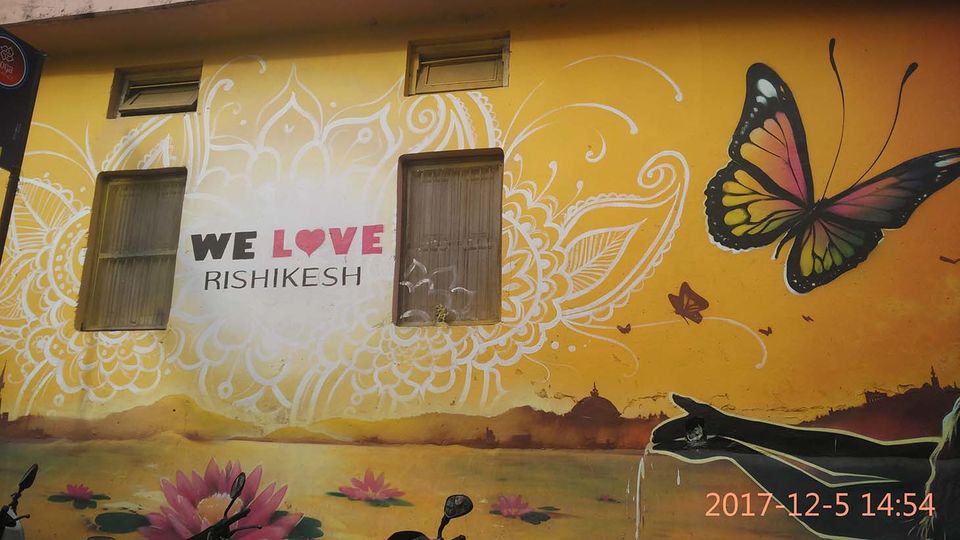 I had always wanted to go to Rishikesh. The place fascinated me. I had heard so many different versions about it. It is a place, I, myself had visited when I was a child...but had no recollections except a few photographs....a happy place where I had gone with my parents and sisters in the early seventies.......memories of cloudy mountain roads, hanging bridges, pony rides and lots of saffron attired sadhus and sadhvis......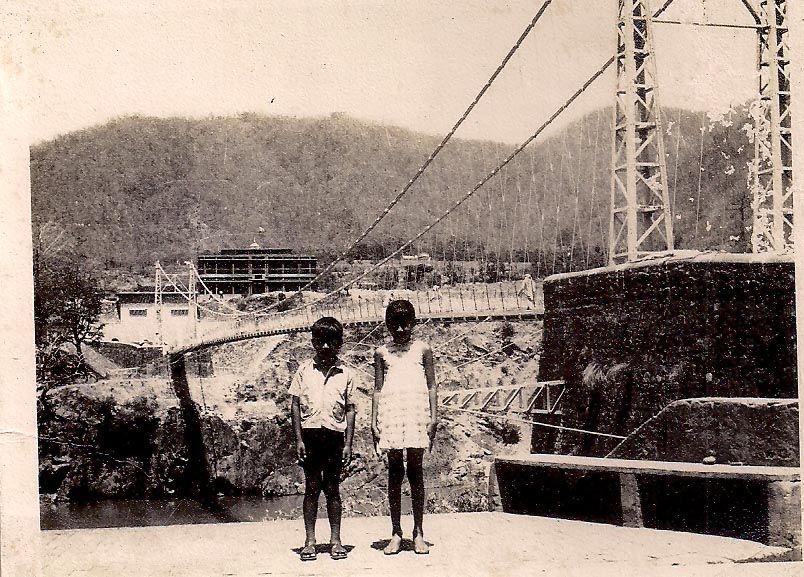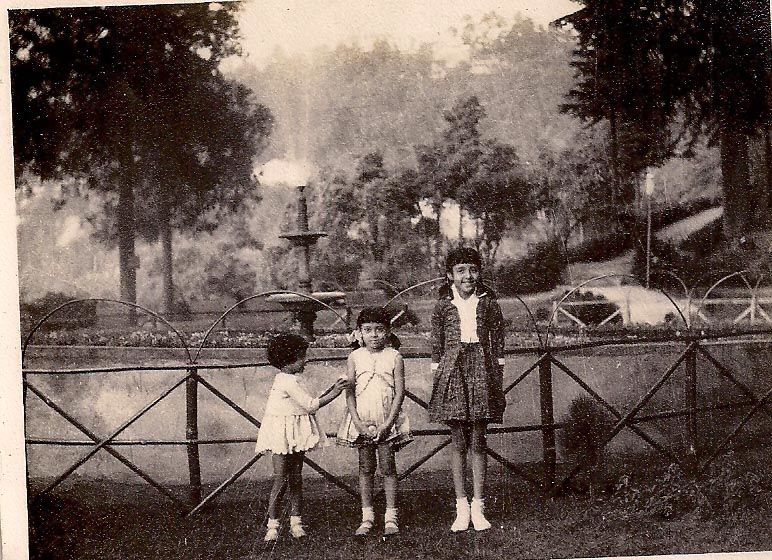 Ironically, it was probably the time when the Beatles too visited this place....which inspired their artistic creativity to spin out a music album in which was featured the now famed song: The Happy Rishikesh song
On the other hand,most of my NRI friends, in their visits to India , besides Rajasthan, would plan a visit to Shivpuri in Rishikesh for river rafting camps........so visiting Rishikesh was always a priority.
Thus, having been invited for a wedding in Haridwar, I decided to keep a day aside for a rendezvous with Rishikesh. We hired a cab for 8 hours at Rs 1500. Having an early breakfast, we decided to start at around 12 noon so that we would reach Rishikesh at around 1.30pm in time for lunch at Beatles Cafe , near Laxman Jhula. We reached the approach road to Laxman Jhula, at lunch time, and trudged down the winding path in between shops .....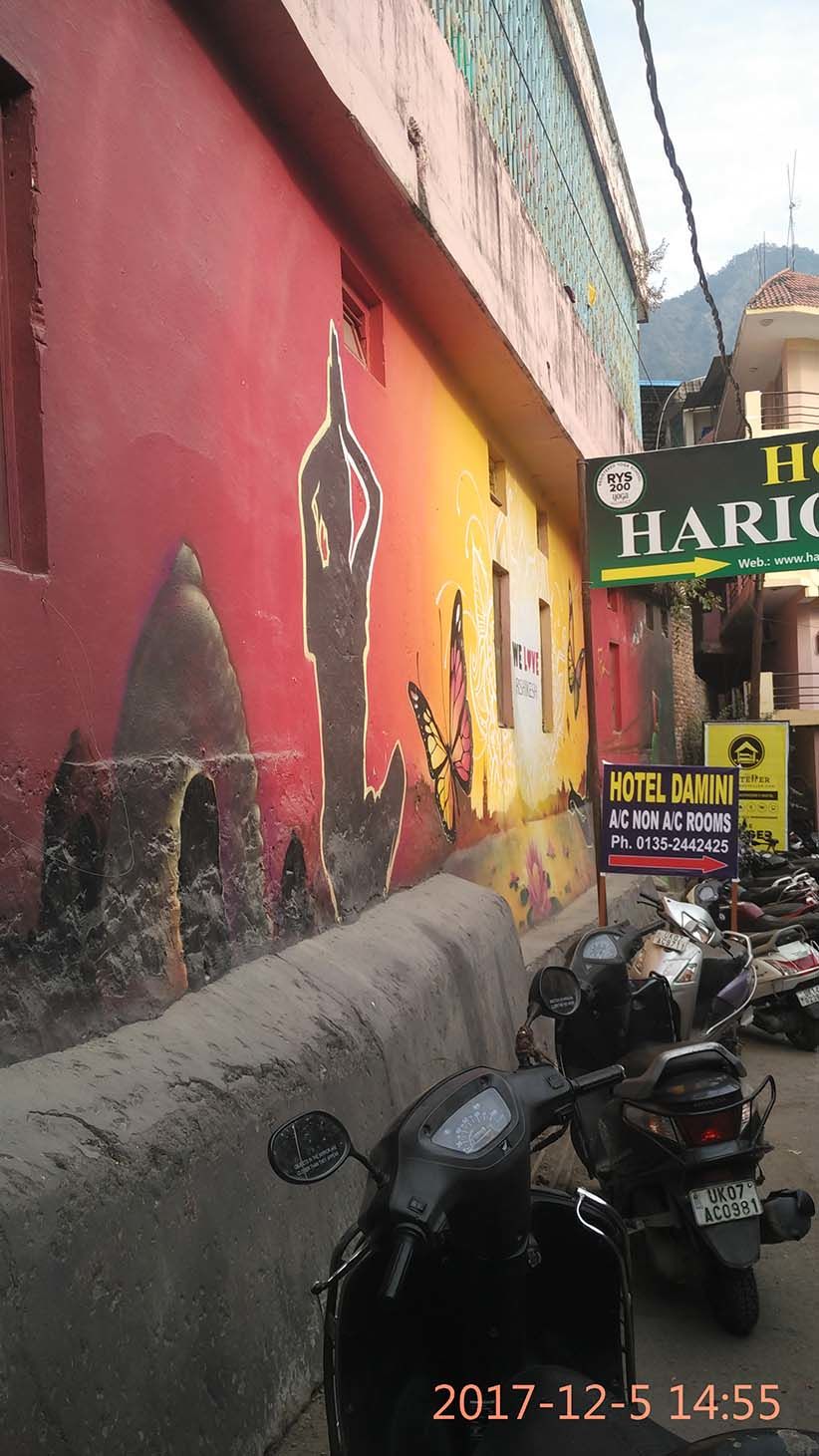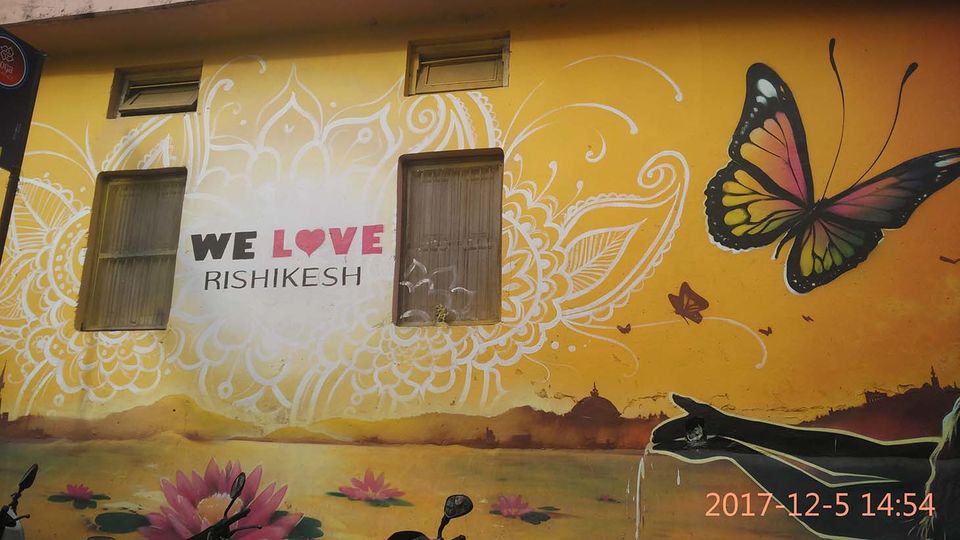 Reached Beatles Cafe, which was tucked away in this lane... and saw this....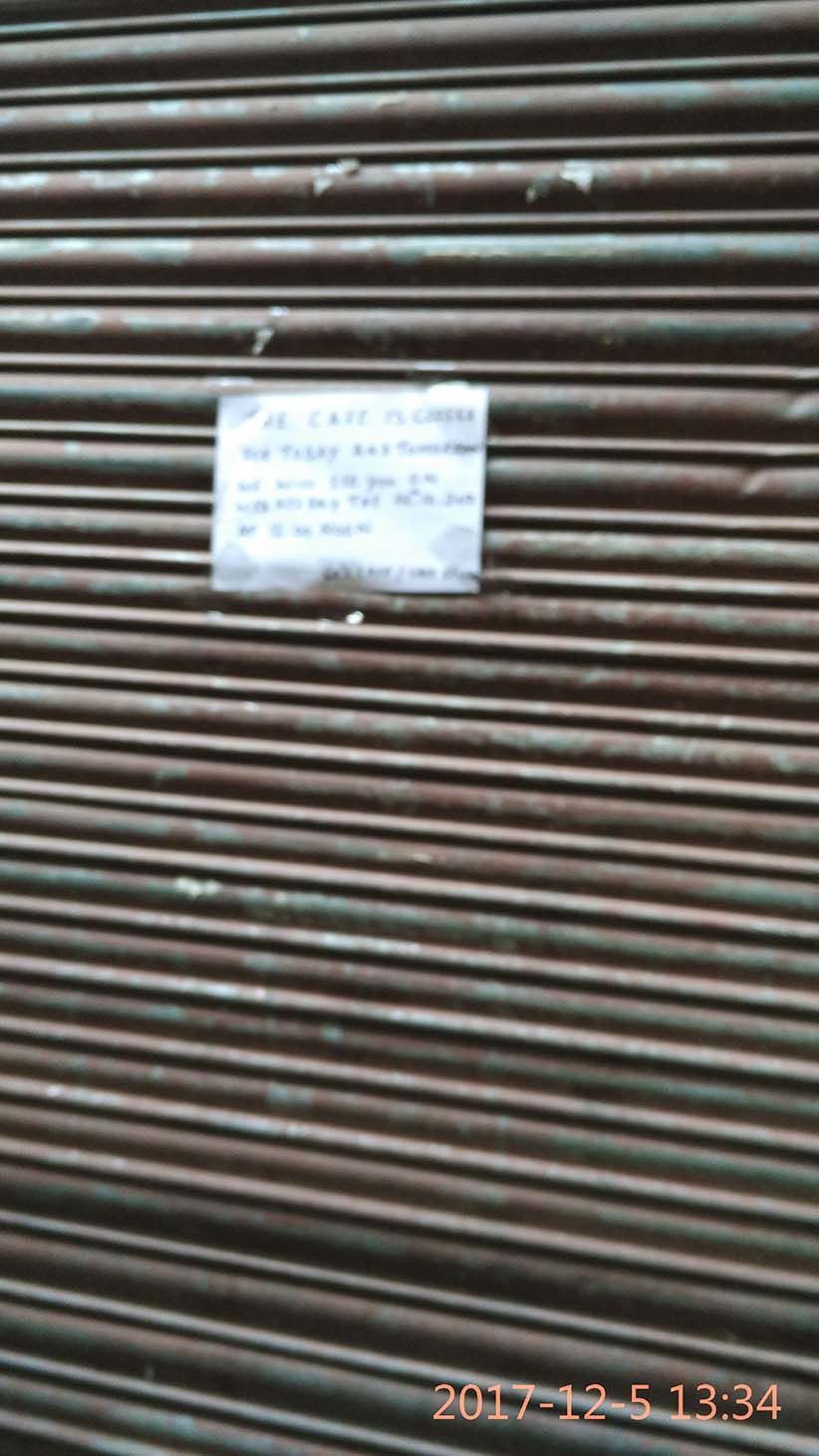 ....It was closed...:( Apparently every Tuesday it is closed....for those who are interested. Peeped through the gap below the rolling shutters...the place seemed nice and open to the skies..
We started looking around for other cafes and came across..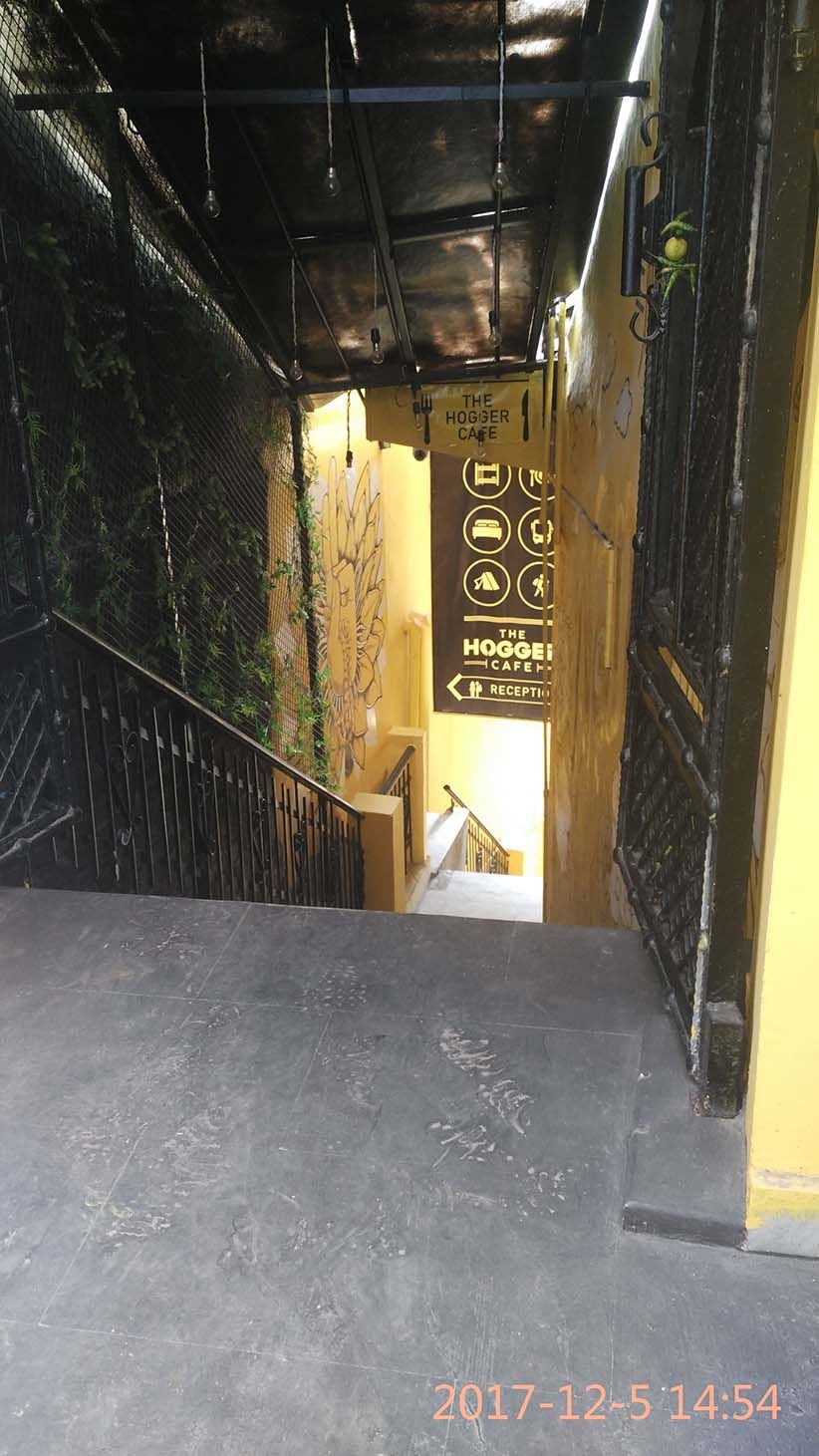 ...the Hogger Cafe, which seemed interesting ...
....but chose the Tat cafe, which is just beside the Beatles Cafe.....we walked into this place which had low seating arrangements all around...and opened upto the sky and river at one end.....
There were a lot of back-packers, international tourists and some Indians too....some engaged in lively discussions, some sitting with their laptops, some lazily looking at the painting like nature outside...and others just connecting with each other..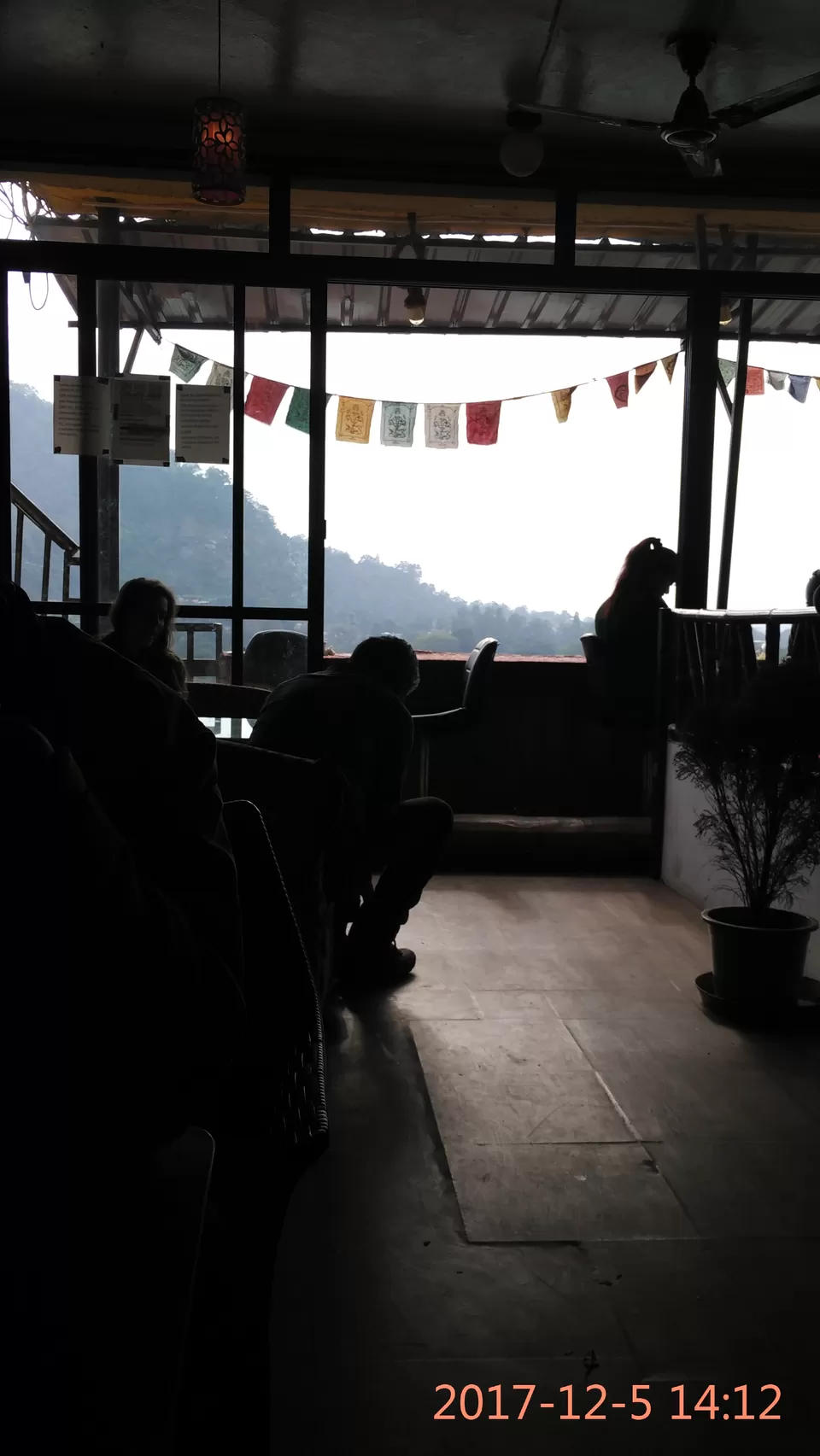 ......my disappointment at the Beatles cafe being closed was more or less assuaged. I could almost visualize the Beatles group sitting cross legged in the slightly raised platform with low height tables involved in a lively discussion about the lyrics of a song....as was a group of international tourists...obviously not about lyrics though...
...there was a book shelf lined up with books on yoga, spirituality and health foods...the atmosphere being one of....you don't just come here to eat......
....there was a leisurely feel to the place, almost like a ...home away from home for the back-packers.......and this cute bundle added to that feel of happiness....and stole everyone's heart away..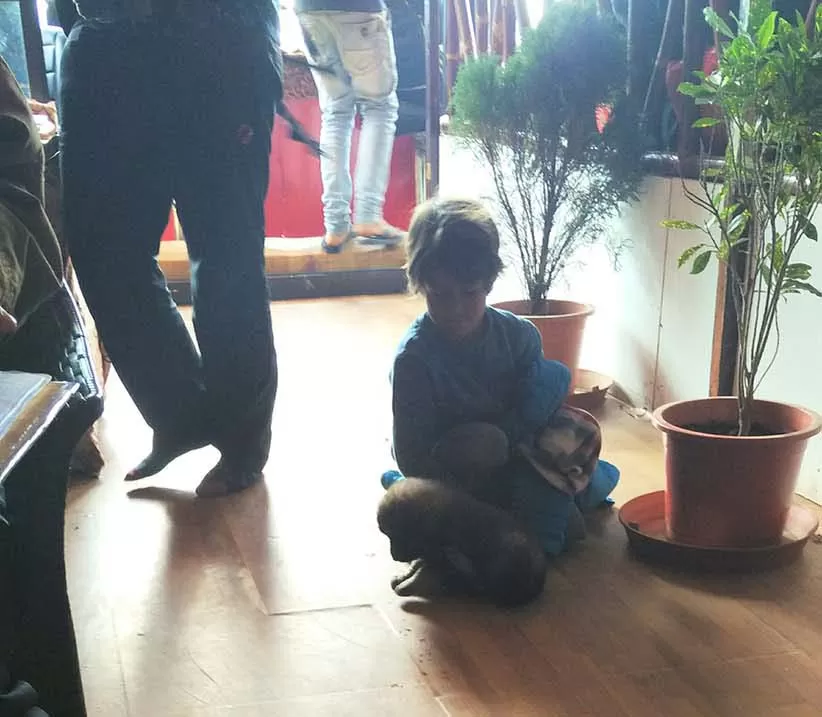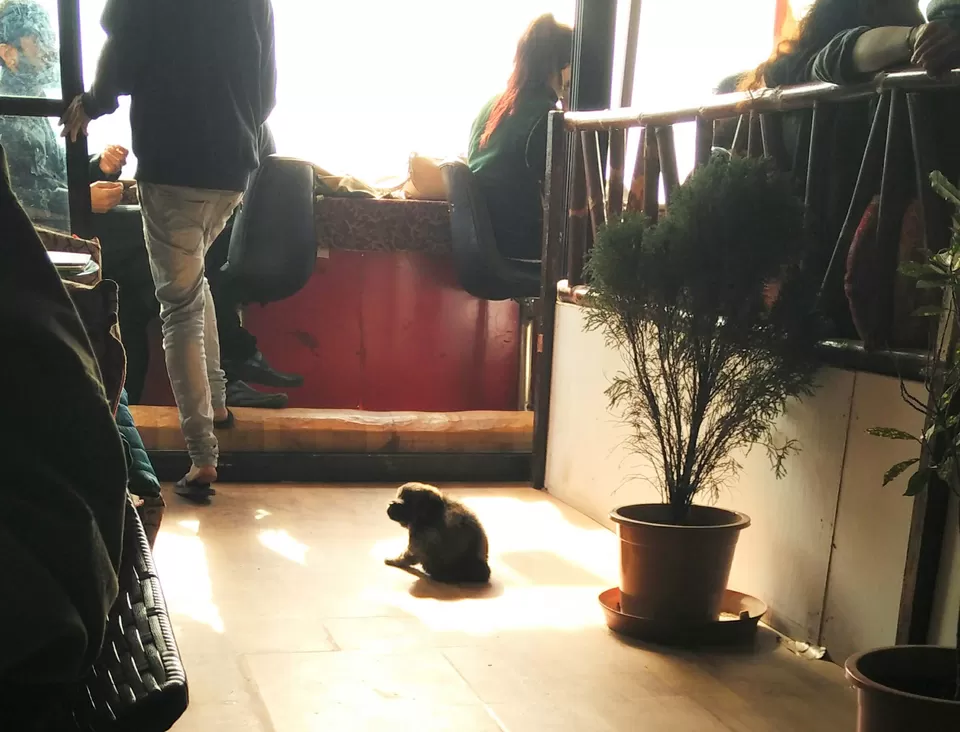 ....and , of course, that explains why our simple fare of Grilled vegetable platter and home made pizza took ages to hit our table...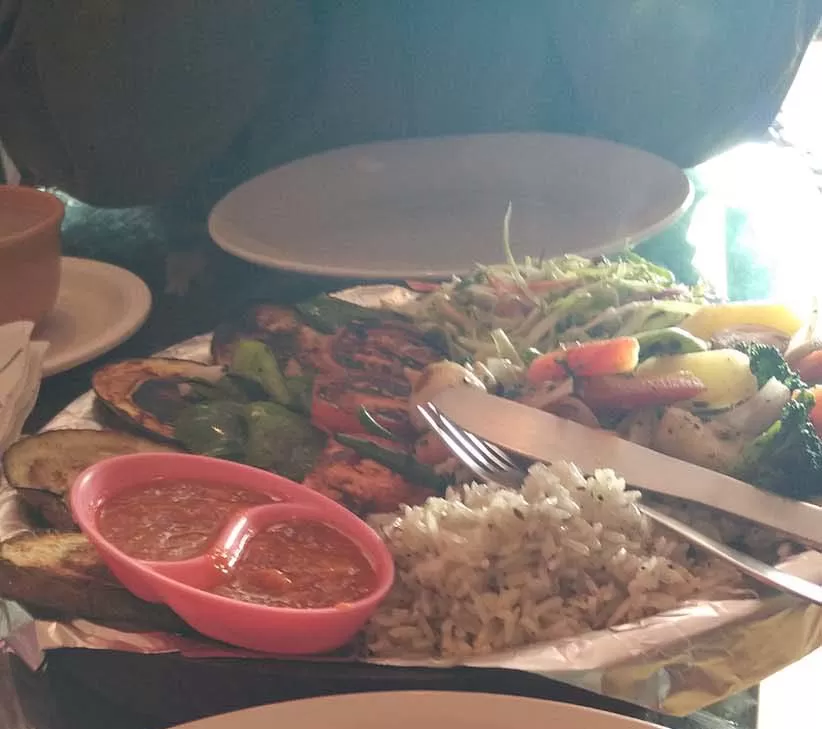 The jutting out balcony overlooking an exotically emerald colored Ganges.....must have been and is, I reckoned, a huge inspiration for the Beatles and for anyone else..
After experiencing Rishikesh through the perspective of these youngsters made me understand why Indian youngsters , too, are now back-packing all around the world....wanting to enrichen their lives with the stories and sounds of totally different cultures....no wonder they say, there is no better education than travelling...
After a filling and healthy meal, we headed back to our cab. Our next stop was the Ganga Aarti at Parmarth Niketan. He dropped us at Ram Jhula and promised to be waiting for us when we finished. The approach to the iron suspension bridge is either by stairs or by inclined road. We chose the stairs....but on reaching the jhula knew it was a bad choice , as the stairs were a bit steep, though not too many. The road approach, on the other hand, we discovered, was not too steep.
As we stepped onto the swaying jhula bridge, we had to dodge a lot of two wheelers ( one can hire these two wheelers, only makes sense for those who would find it physically challenging to walk the distance)......and this picture got clicked on my highly sensitive mobile, by mistake.....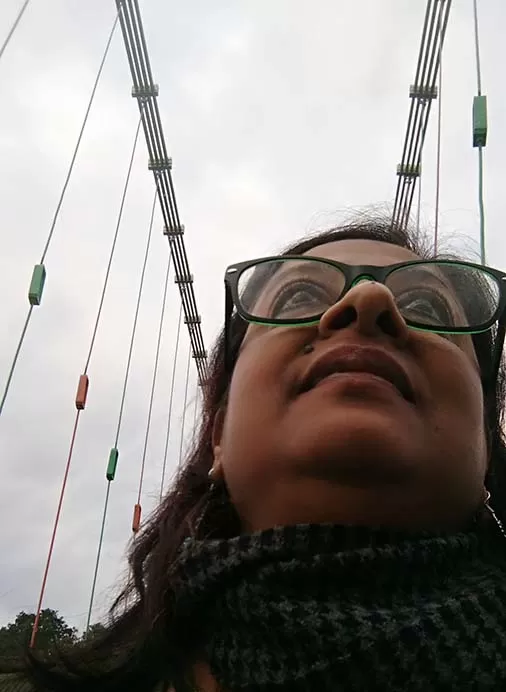 Crossing the Ram Jhula, we saw the famed Chotiwala restaurant (for those who are interested in a hearty Indian lunch).....we started walking through the lane lined up by shops towards Parmarth Niketan, dodging cows of all sizes and asking for directions, once in a while. As we were walking, I couldn't ignore feeling an angry-sadness at how these shops and stalls have robbed the natural charm of this once ethereally naturally beautiful place.
We reached the Ashram. It was almost 3.30 pm.
..walked around the place....met a woman who was staying in one of the rooms, charged @ Rs 1000 with standard facilities like AC and geyser. This woman had come for the famed Potli, herbal oil massages and the shirodhara oil treaments. On asking her, why not in kerala, she told me, a Brazilian tourist had told her that in Kerala it is far more expensive and here it is far better. She also shared with me a shameful secret I had known all along..:)....that these tourists knew more about our country than we do!
We, accidentally, came across a huge canteen, where we had piping hot tea with samosas and gulab jamuns. We walked to the reception enquired about the Aart timings. We were told to reach the gates across the road, towards the ghat, at around 4.30pm if we wanted good vantage points.
The gates opened at 4.45pm (these timings are important small details)....we went and chose stairs to the left of the aisle, towards the aisle side.
It was a beautiful evening....the young choir members and the crowd started to troop in...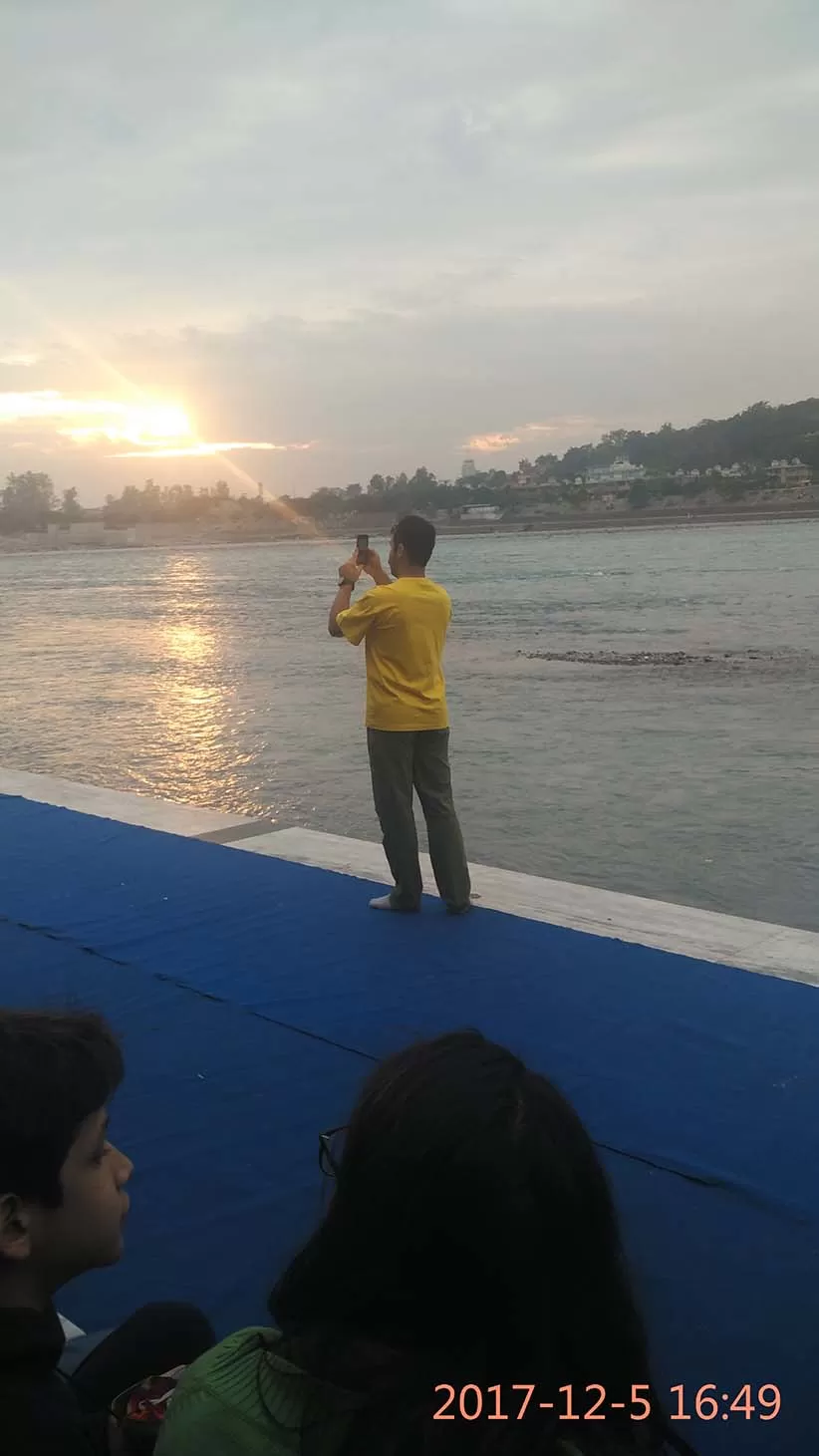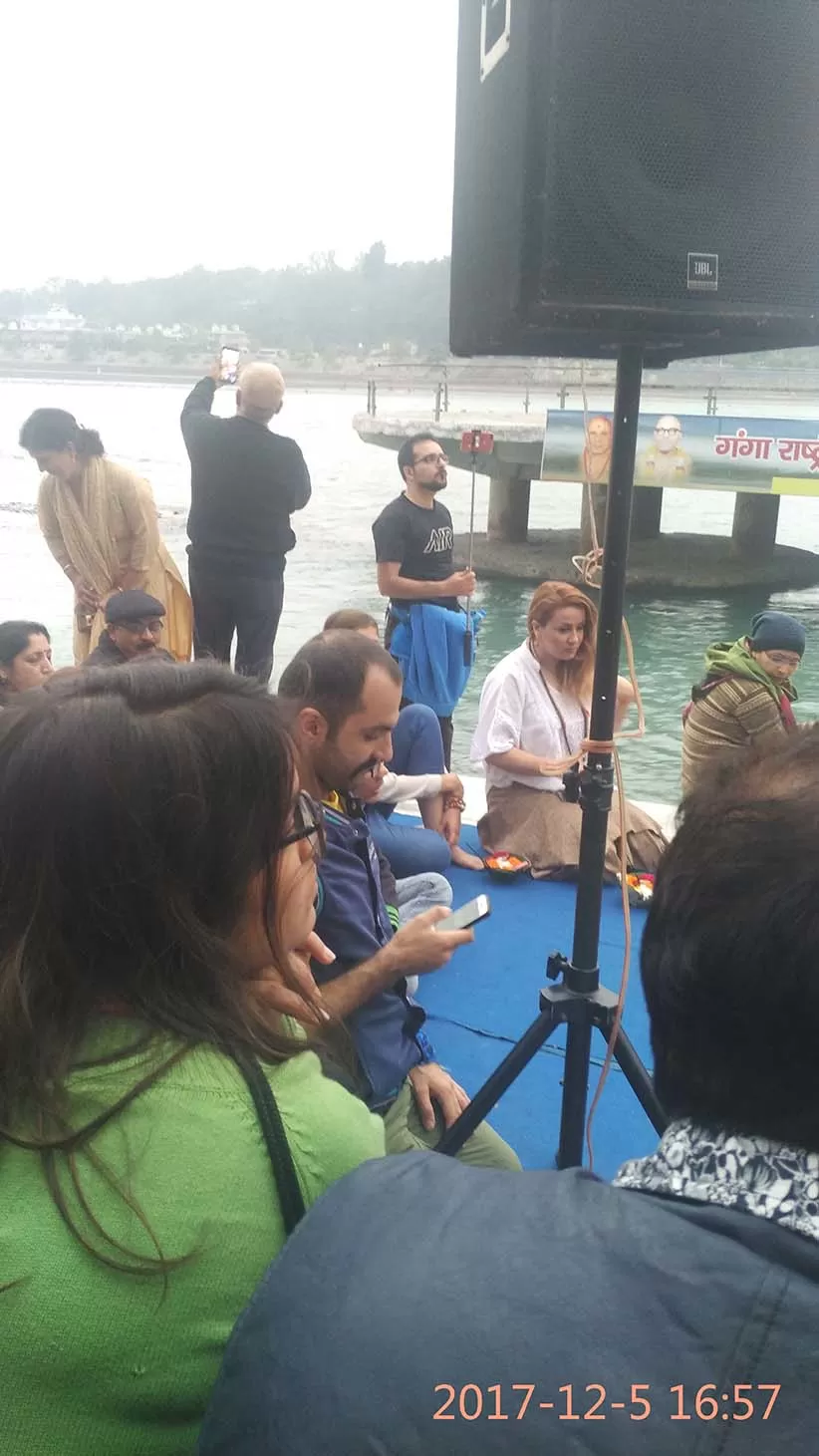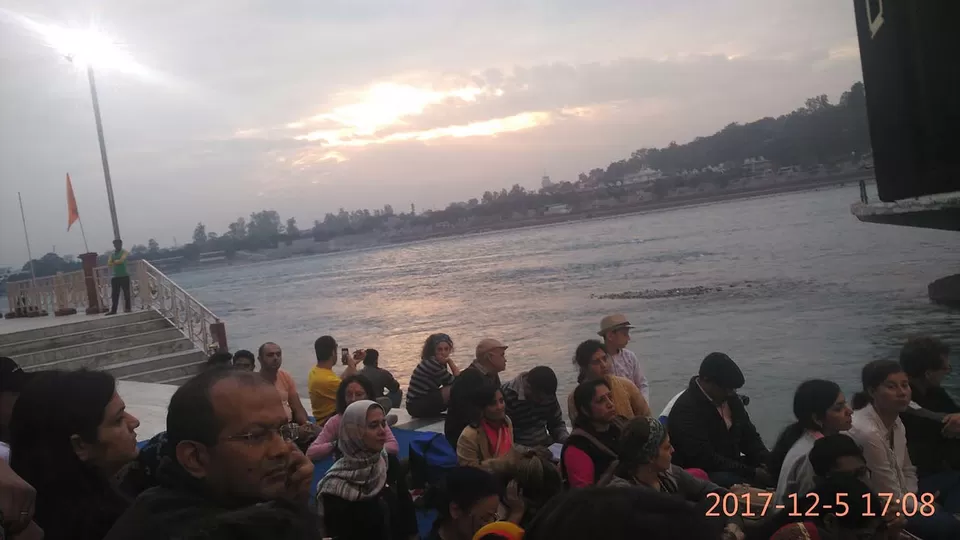 ....and the well managed Aarti and evening prayers began...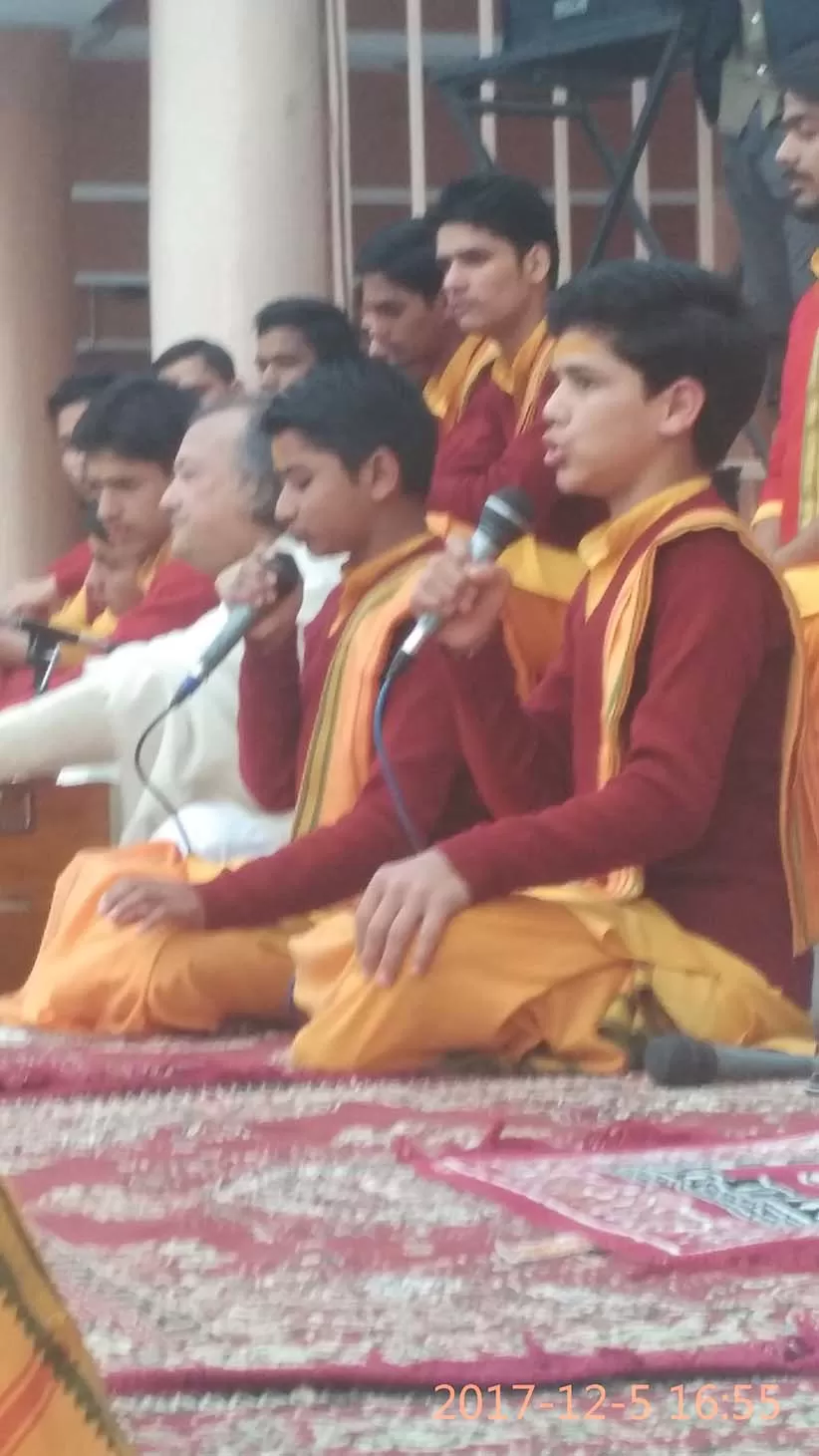 .....what a powerful rendition by these young, highly disciplined boys....such a pleasure to see and hear...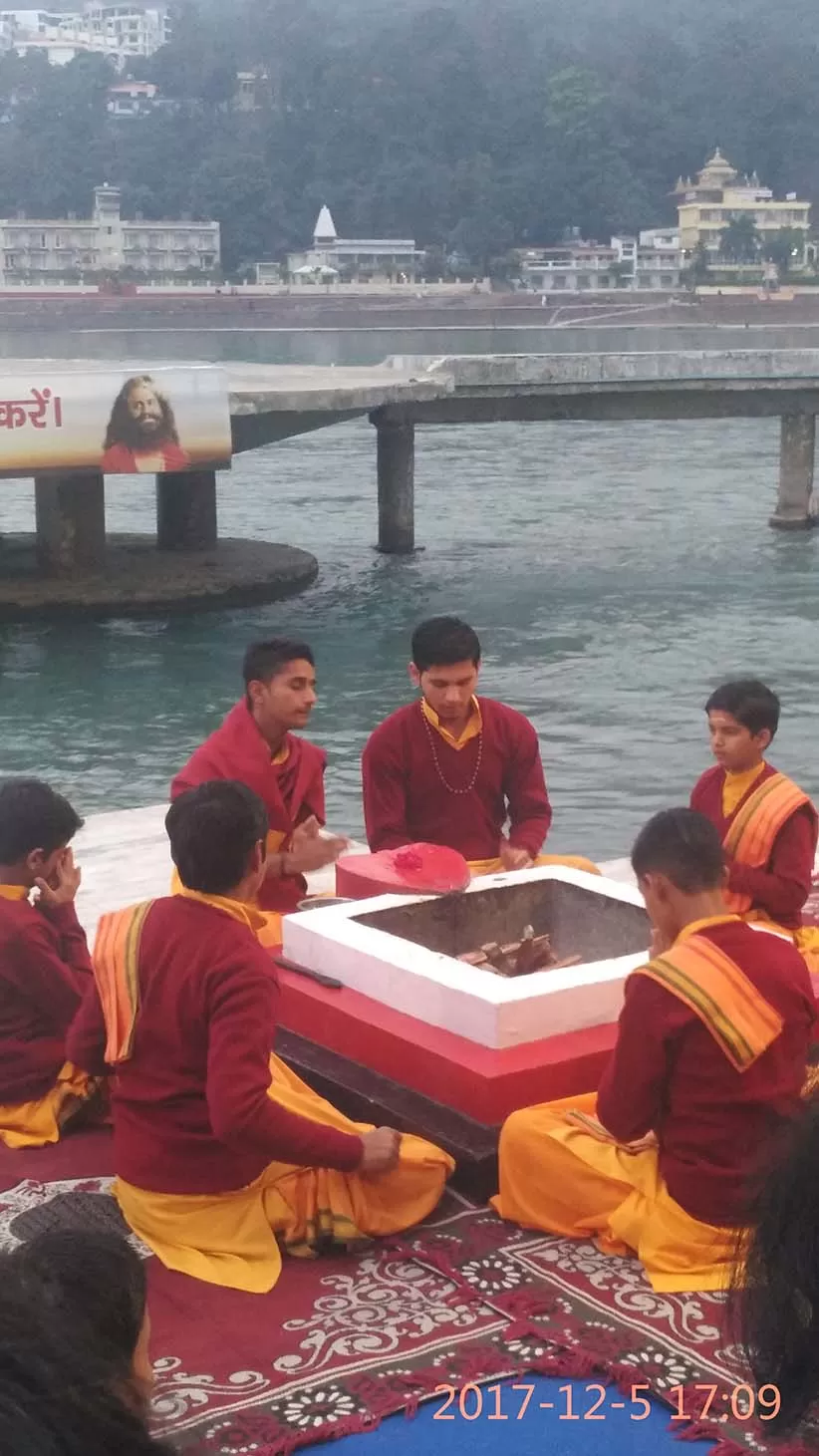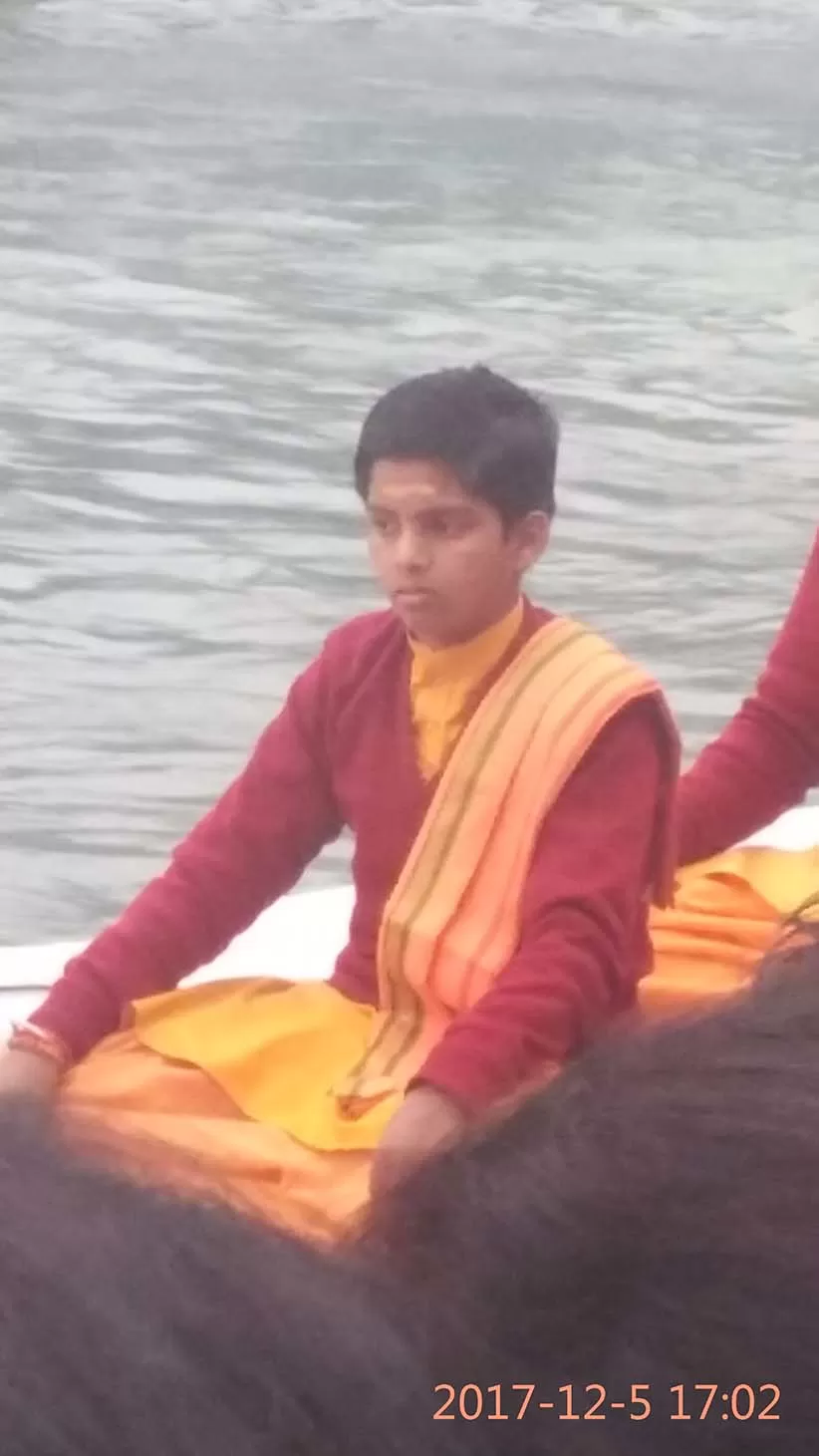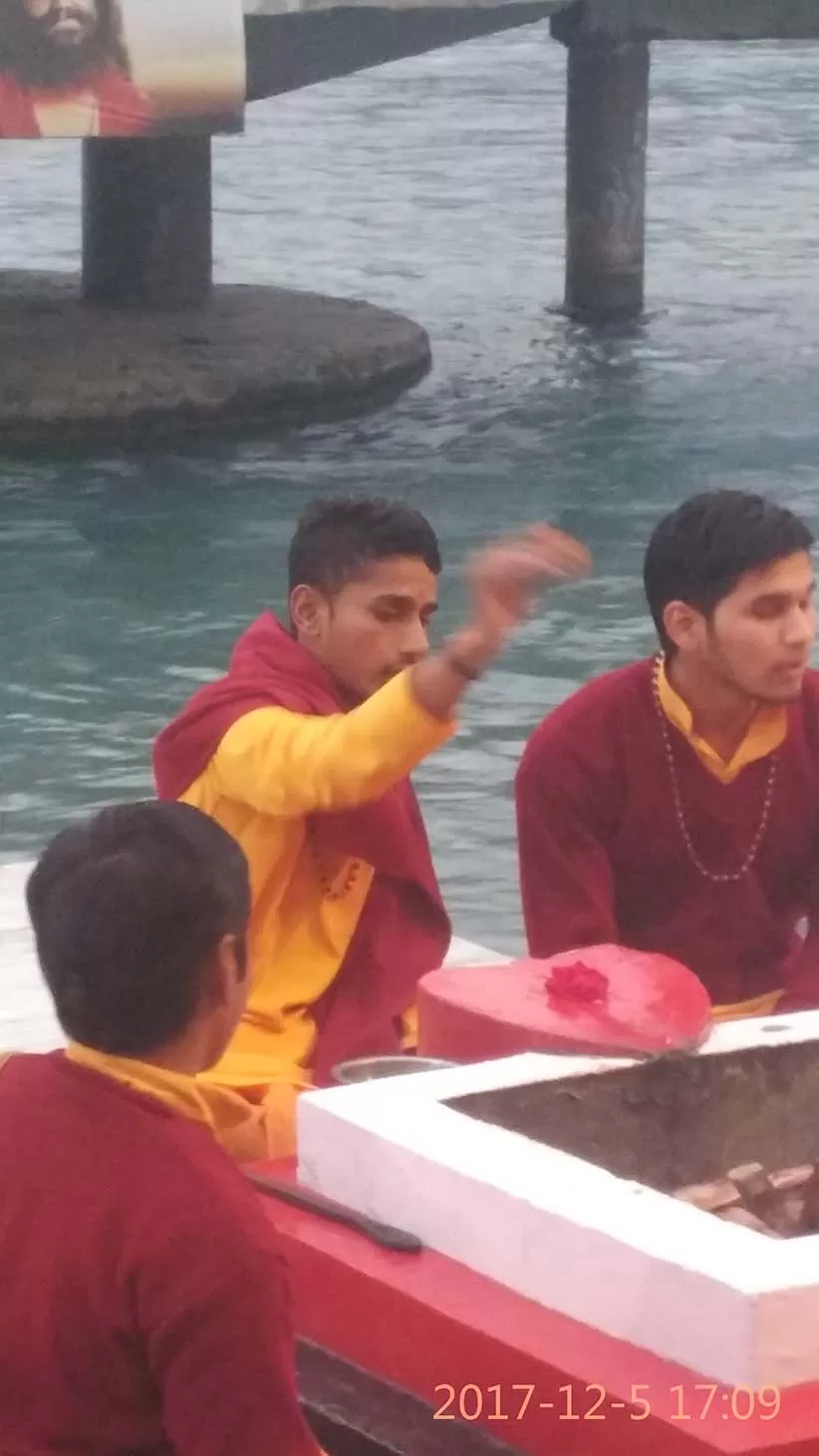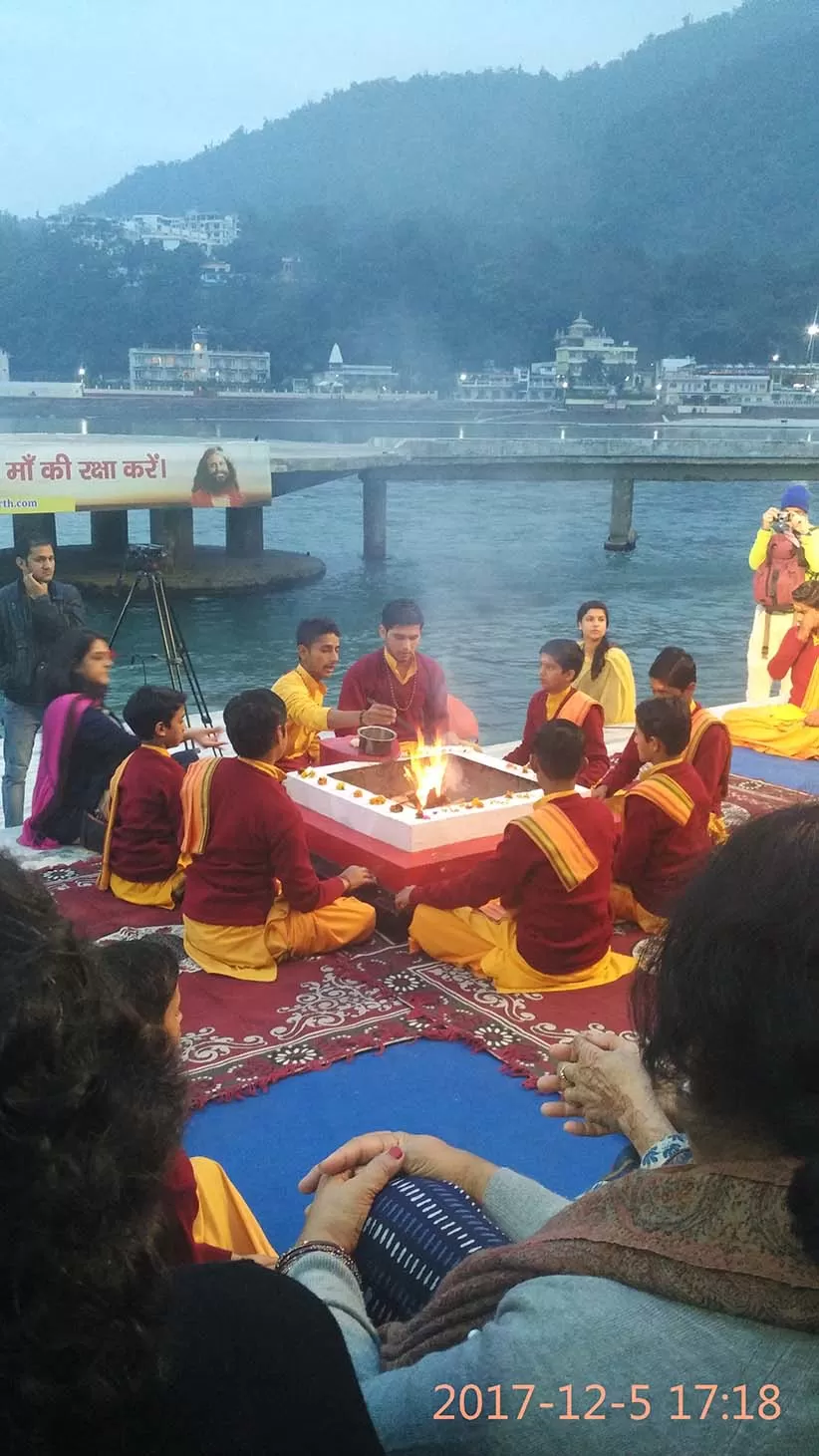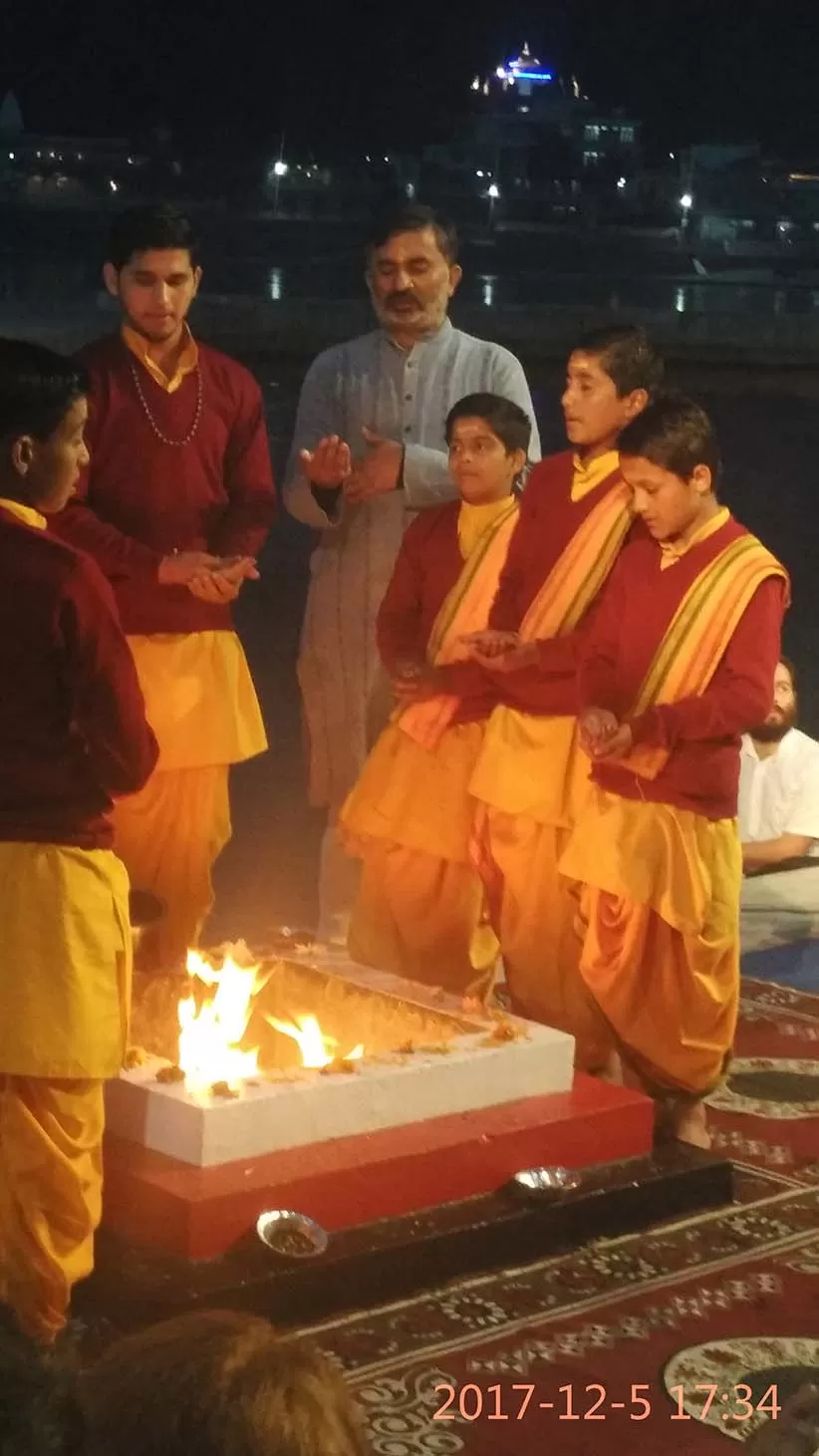 ....some of the mantra renditions on the Ganges ghat at Rishikesh, that day, touched a core in my heart...that made me feel and wonder at the unison of the sky, the clouds, the water, the air, the mountains and the people all around me...it was truely some of the beautiful moments I have ever experienced....as the Maha Mrityunjaya mantras rent the air....sharing ...
....the moods, the rapture......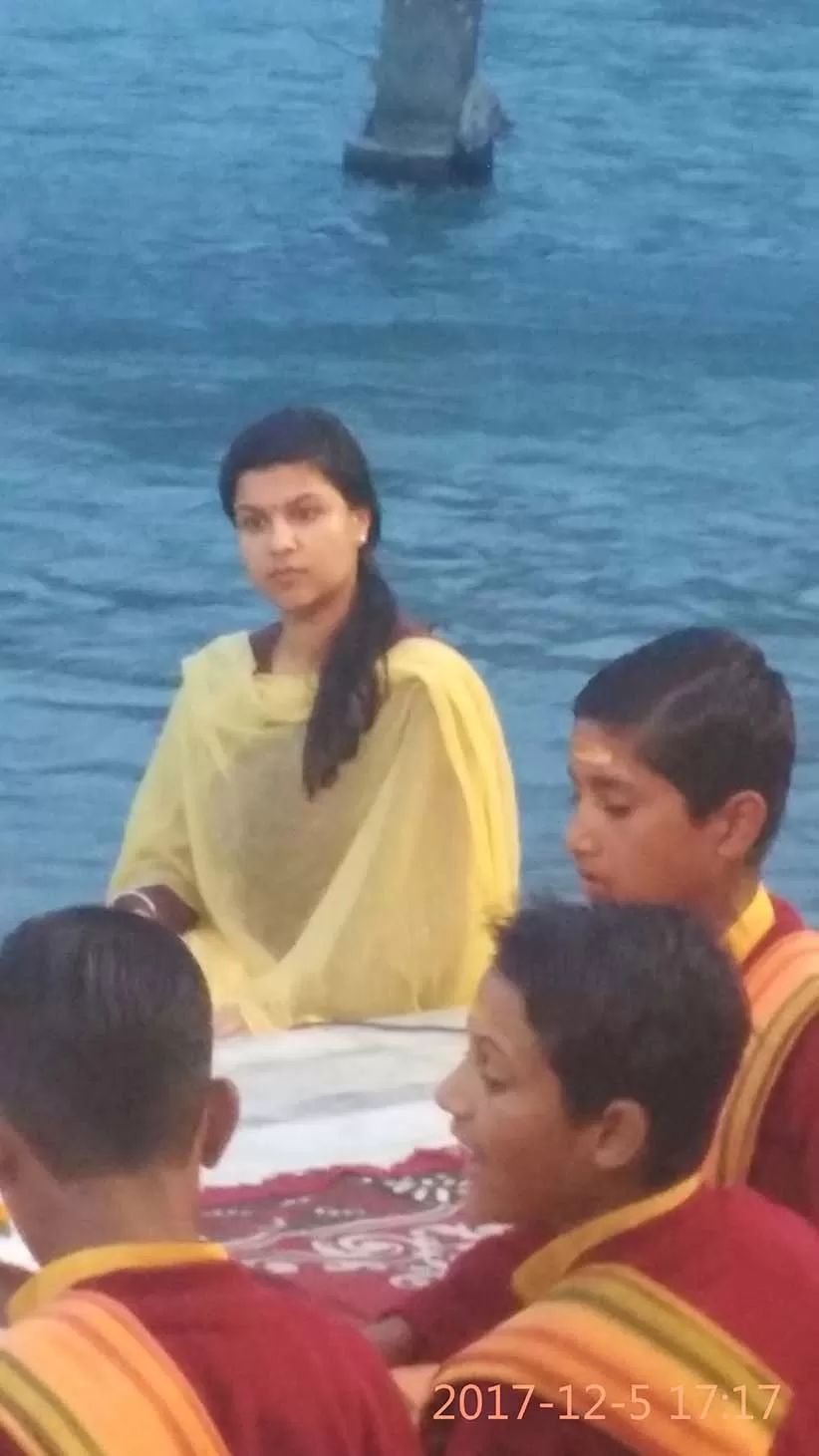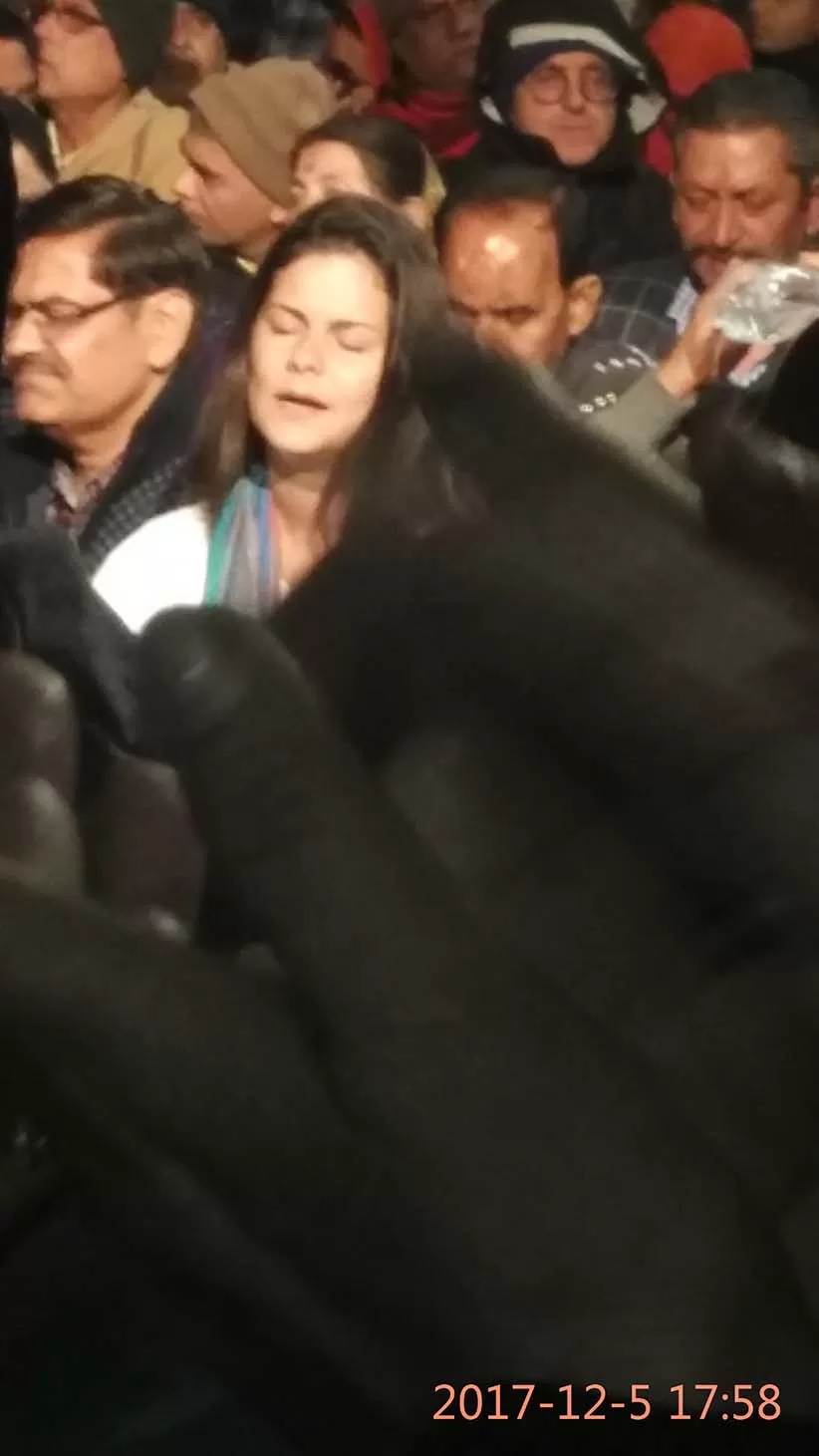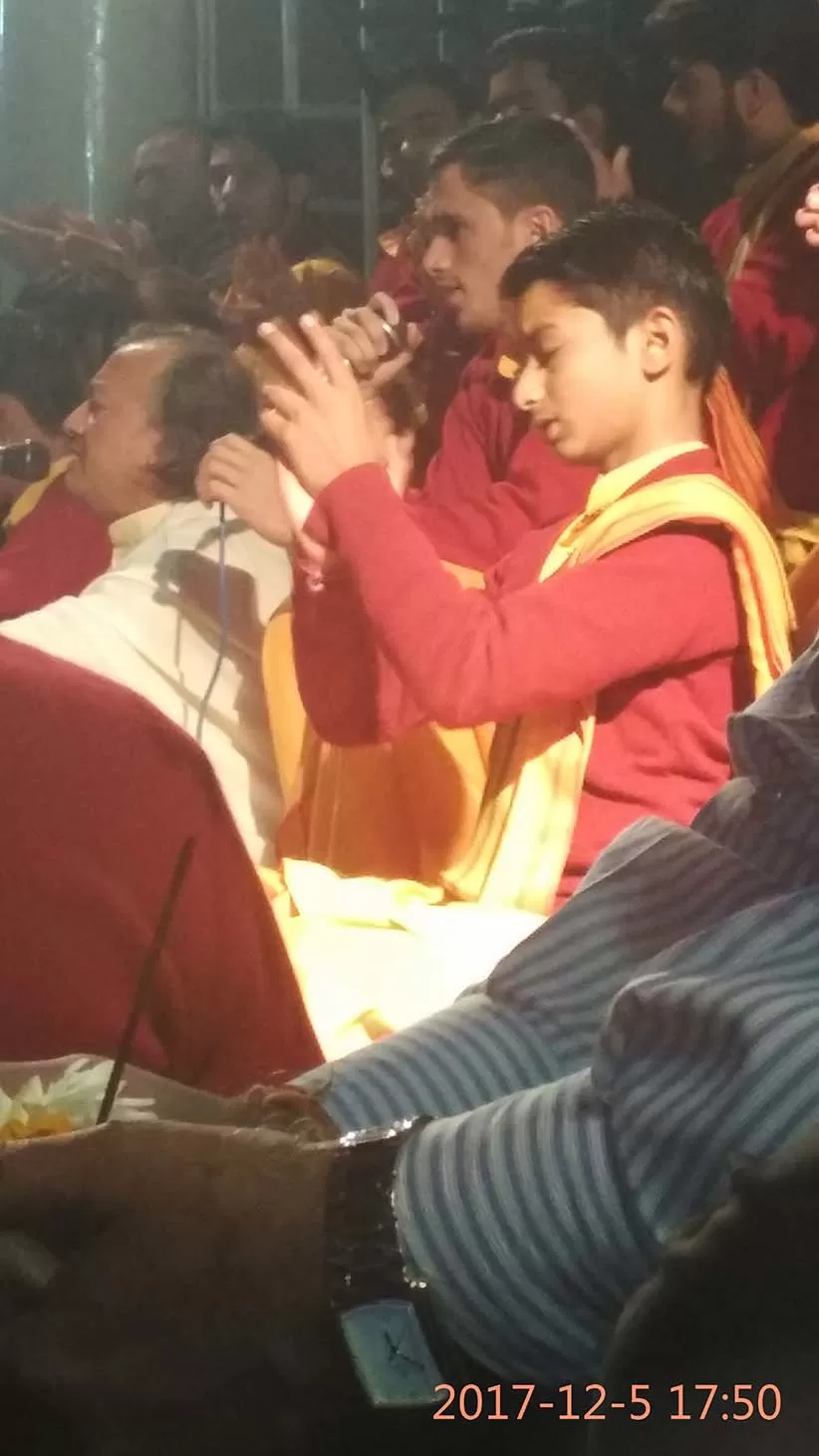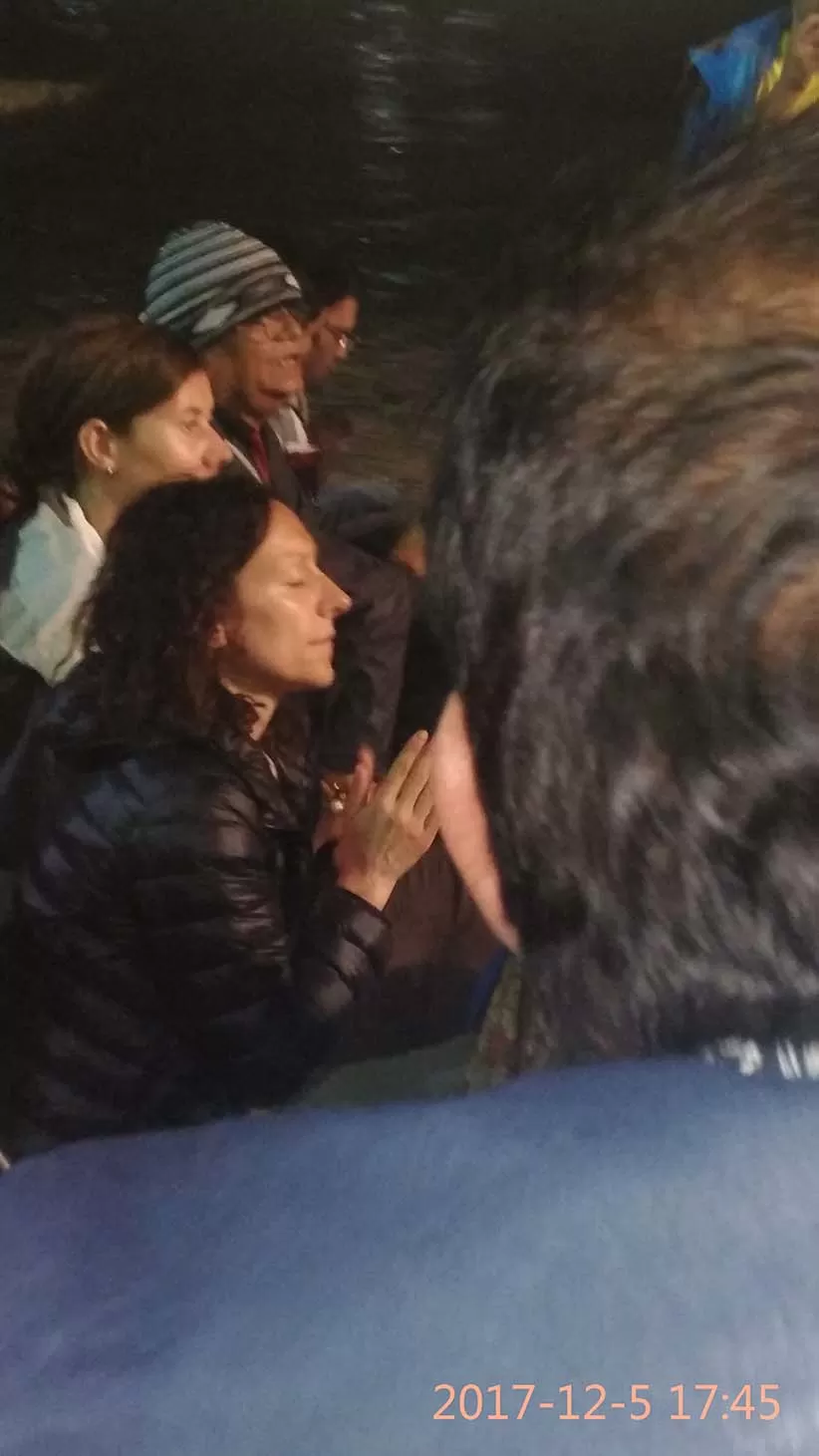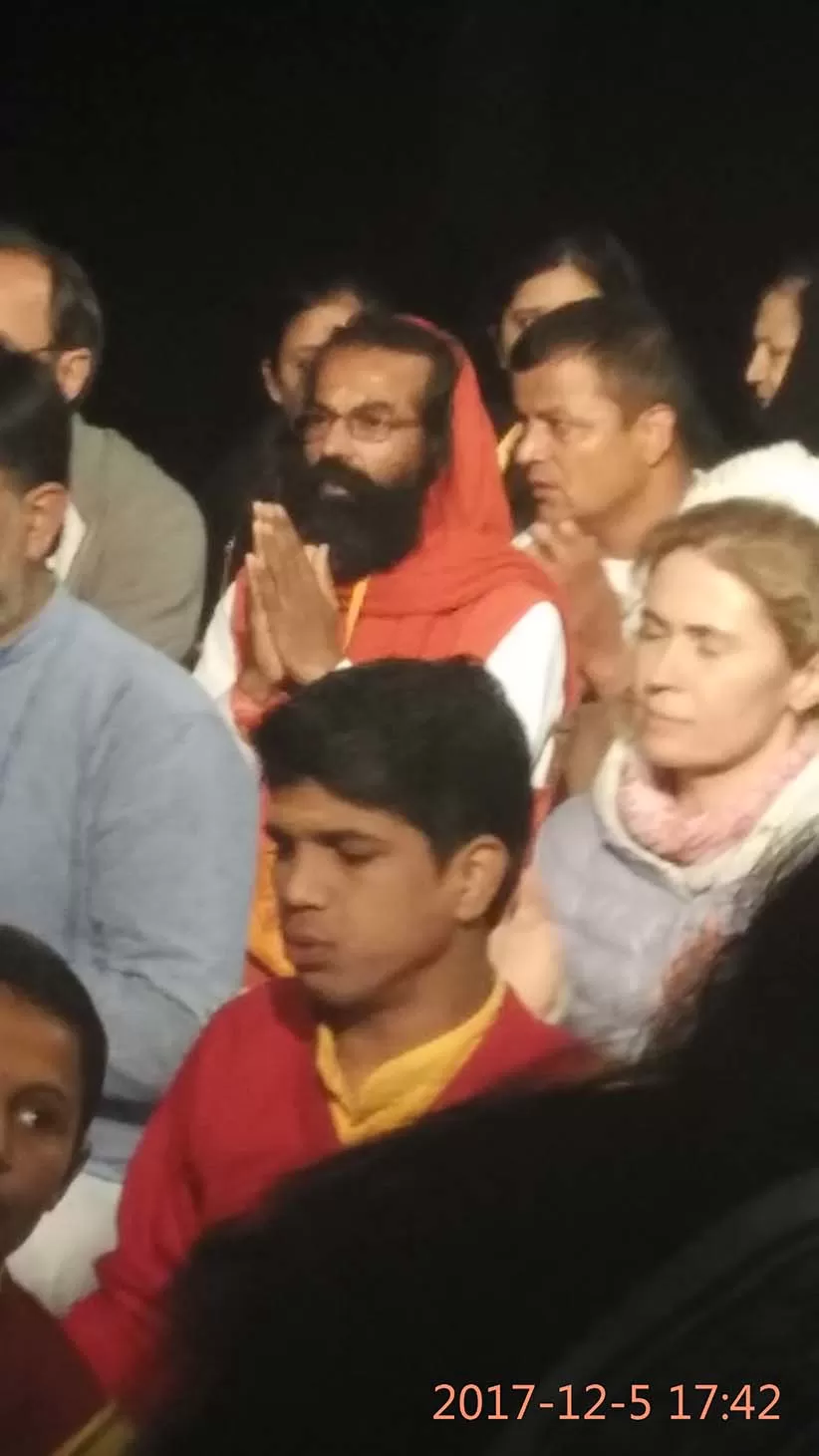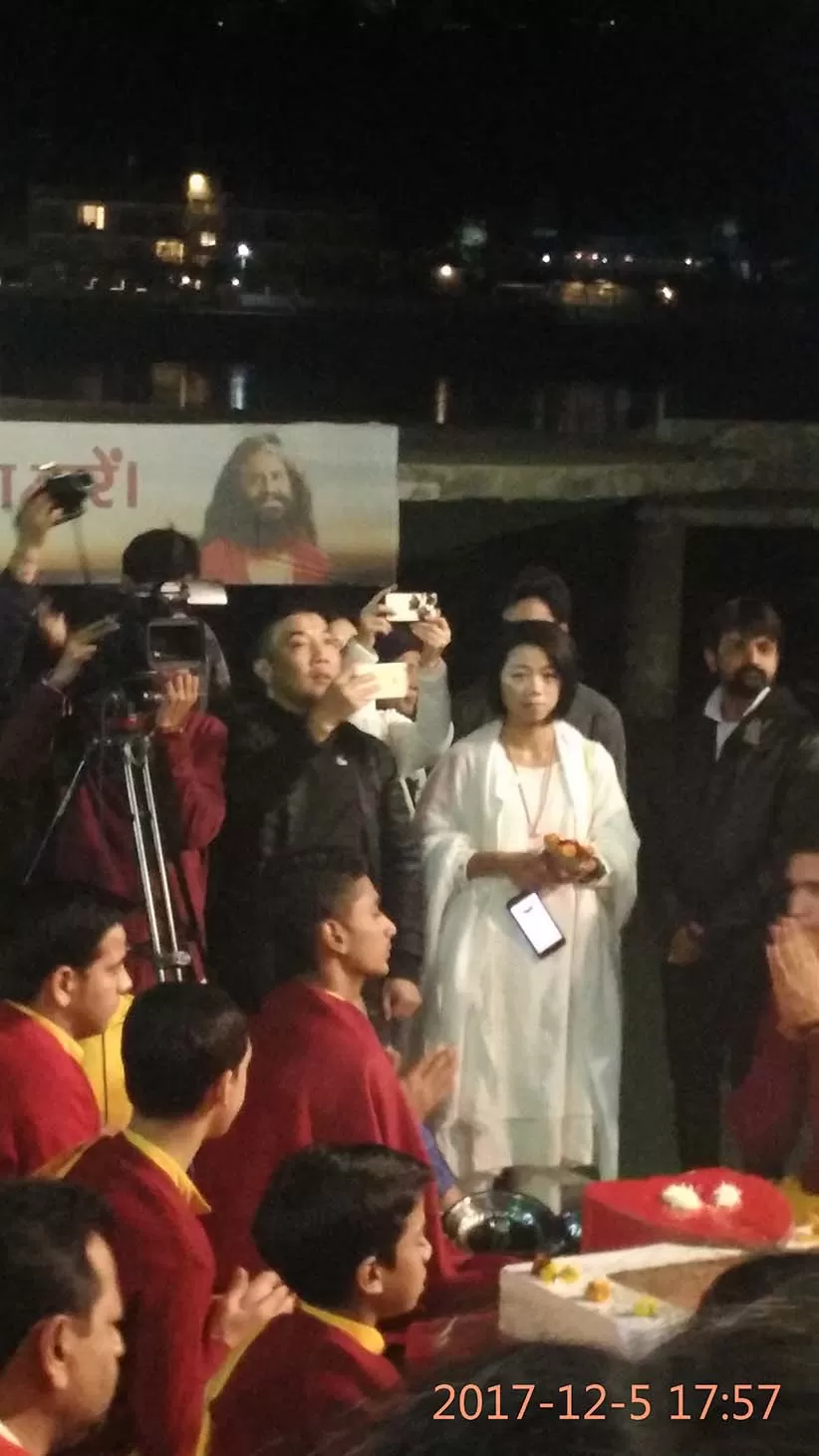 ......the photographer....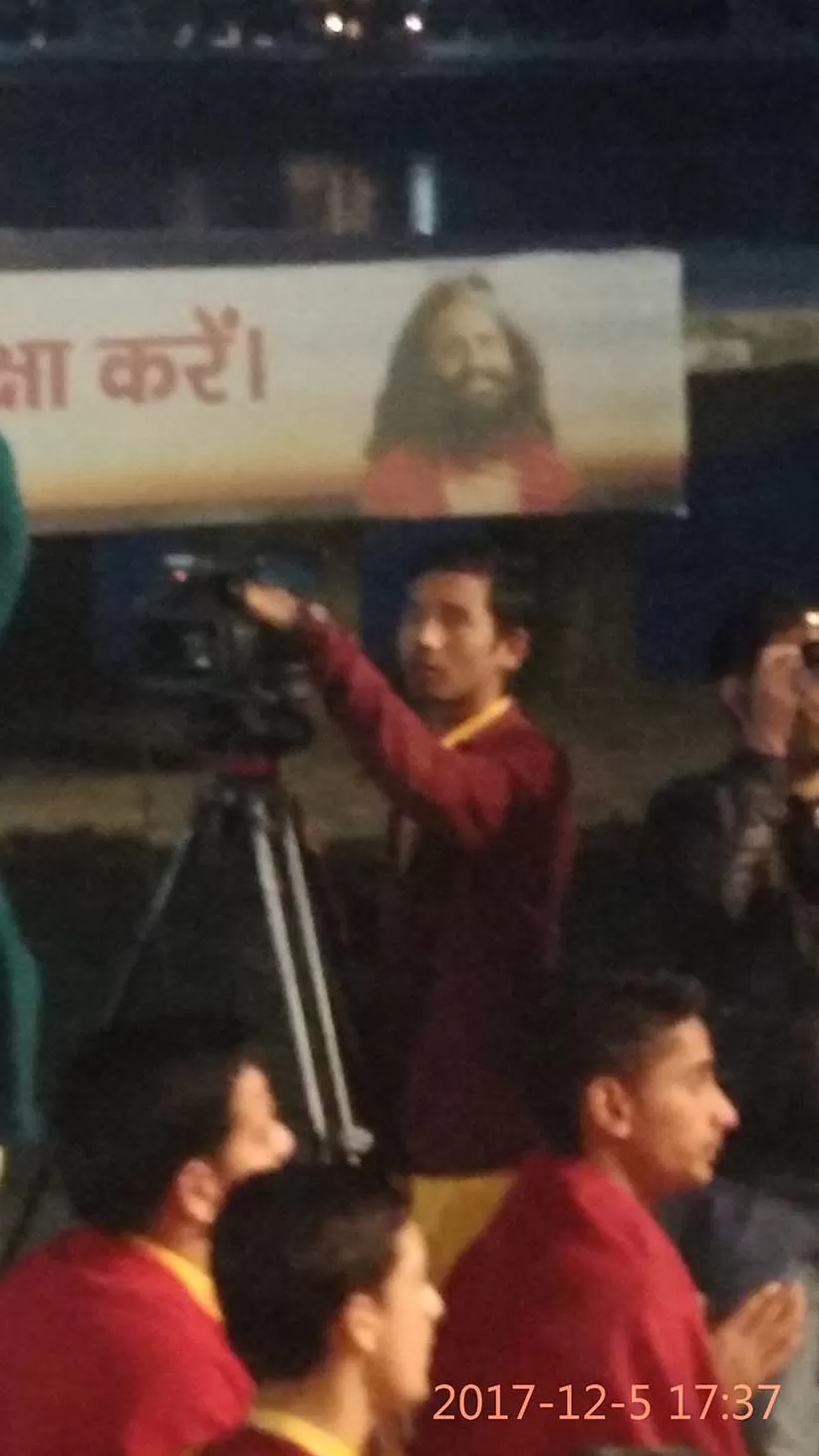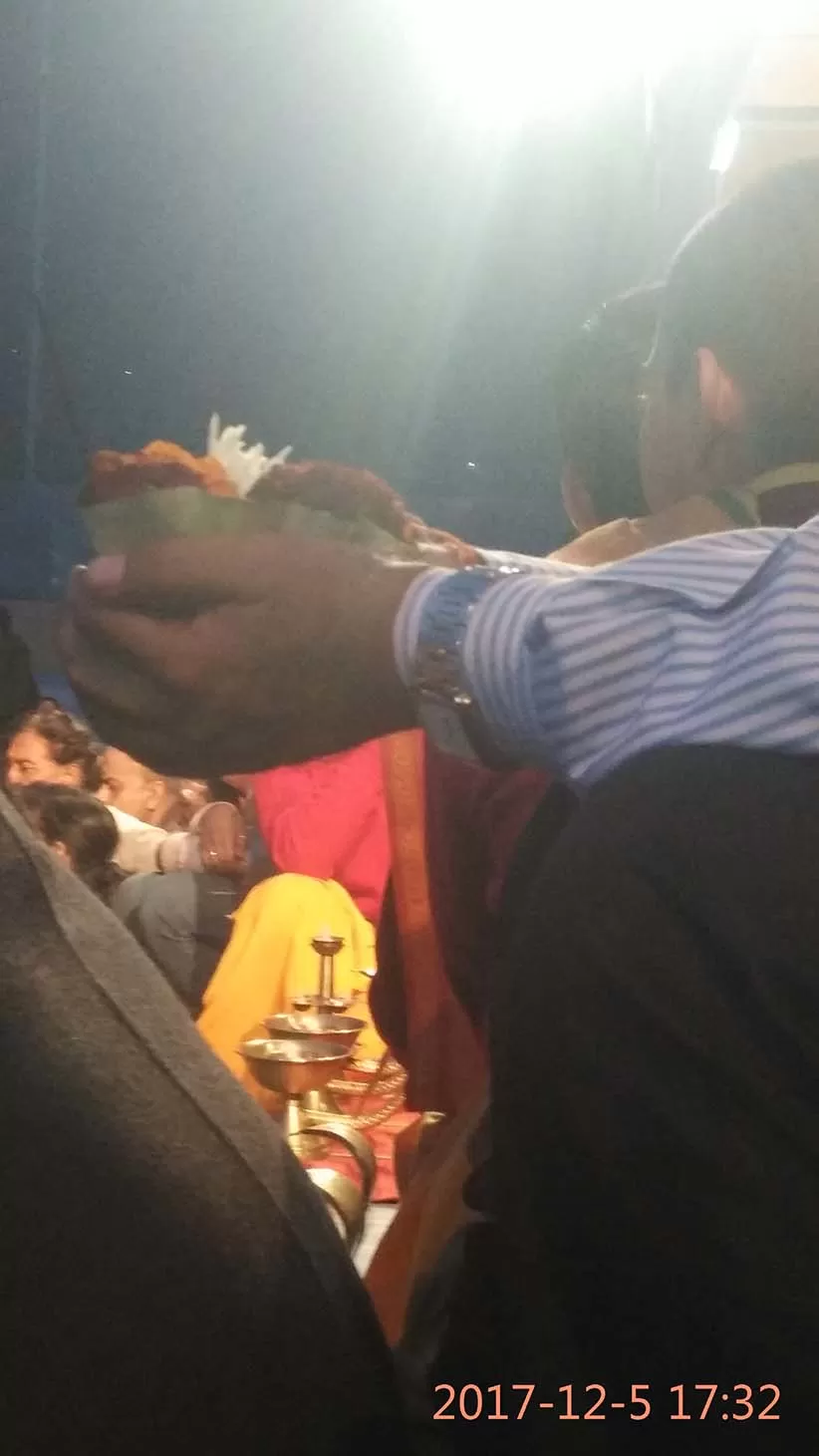 .....jai gange mata.....strains filled the air....
......the Final Ganga aarti.
For me, Rishikesh is just not a geographical place. It is an incredible, diversified experience....I only wish Next time, I can make it to the river rafting experience that the youngsters took off for, to the camps in Shivpuri, upstream.
Frequent Searches Leading To This Page:-
weekend getaways to rishikesh, weekend trip to rishikesh, weekend holidays to rishikesh, family trip to rishikesh, weekend travel in rishikesh