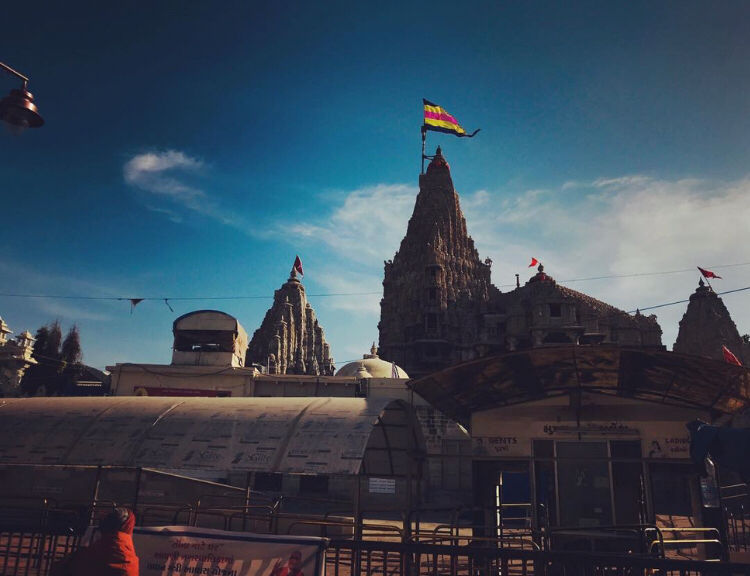 There is only this life; this moment. That is the only thing we can be sure of. Everything else is only theory.
- Amish Tripathi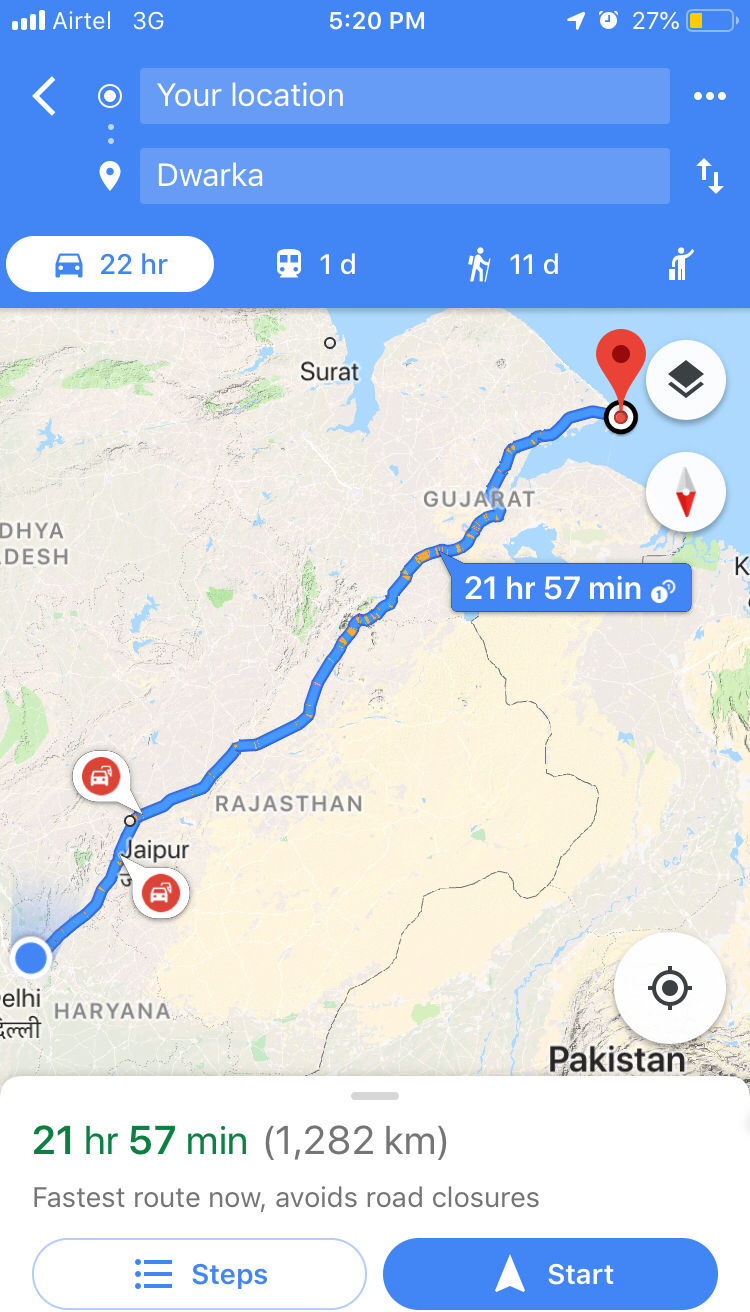 Keeping the theories to some rest, I prefer to travel for making my moments count. After hell lot of meticulous planning, research and bungling up, we finally left for the trip calling us to be taken since long back. Let me bring this before you that, this is just a kind of trip that almost anyone would love to take but such things happen only once in a while. Yes! It was some 8 days long road trip which is surely gonna crave in you some lifetime travel goals. For letting it go easy on you, I have broke it into pieces to keep it more focused and exciting throughout.
The entire length of series is going to speak of Dwarka, Beyt Dwarka, Nageshwar Jyotirling, Porbandar, West Coast Drive, Madhavpur, Somnath Jyotirling, Gir Forest, the great Rann of Kutch and Dholavira- A Harappan village.
Our fancy road trip started at around 17:30 from Delhi without any stops in mind. Apart from pit stopping for midway snacks and restrooms we have sincerely championed it till our first destination. We hit the Gujarat border somewhere during the dark sky leaving the immaculate roads of Rajasthan to some not so good roads of the host state. Still, it has some beautiful breathtaking views with salt pits on both sides of the roads to windmills ushering you once in a while. Over all the drive is scenic and fun and gives you good vibes when you are starting your holiday.
We reached Dwarka by around 14:00 and surfed a stay for us online. It was in the heart of the city which made all places just a stone throw away from us. The night long drive automatically pushed us to sleep for some good time till it alarmed for Sunset. Missing a sunset at places like this is sheer crime where you get to see the sun sinking in the ocean. That's gem of a beauty to be beheld. We reached the beach when it was almost into the sea and have been able to have just a ounce of it.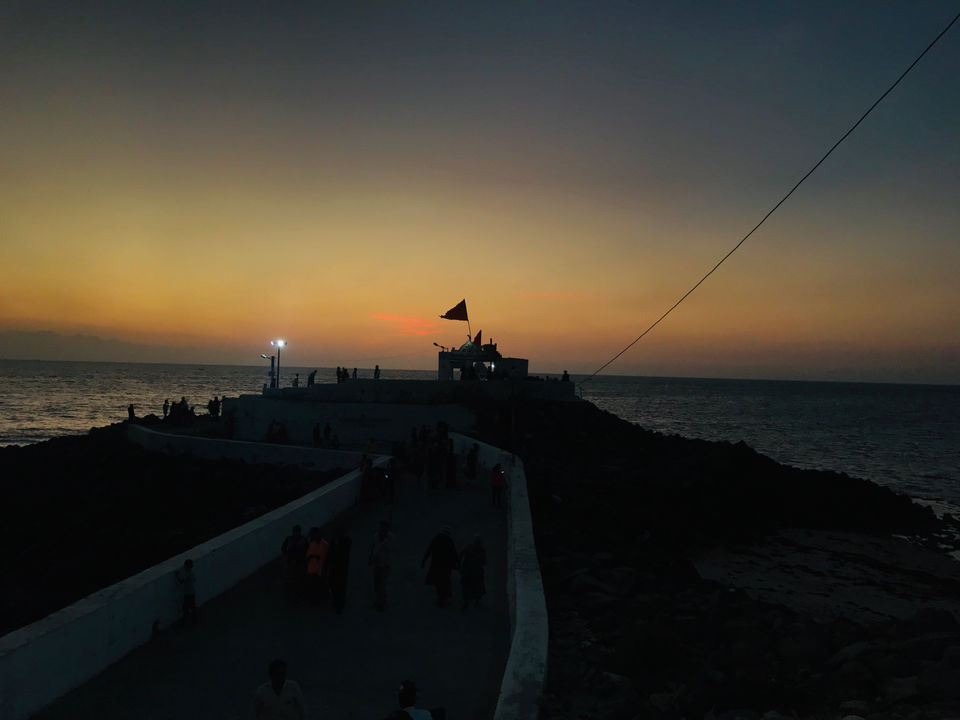 The beach houses a very divine temple of Lord Shiva where we sat for some good half an hour. Since it was twilight, the evening aarti prep up was already in place and started soon. The tranquil sea breeze, temple bells and the fragrance of incense sticks have really lit up the place. Though this was nowhere in the laundry list of our things to do but is surely gonna be in the memories for long. After having some street foods at the beach we preferred walking down the streets of the city towards the Dwarkadhish Temple.
Being situated amid the congested markets, it's a walk only zone, although preferably. Though we did not had the plan to get inside the Temple today but the idea was to whiff around for some yummy city foods. The first hunt was a craving Rabdi just opposite the main entrance of the temple. It was so very tempting that it did not took a nanosecond for our minds to tell us to eat it. After finishing off our plates we started exploring some other eateries. Asking some locals we got to know few names which was quite enough for us to keep up with our food expedition. While forging ahead towards the dinner destination we came across this lorry standing by the side of the street. Let me admit that we were actually lured by the hootings of the seller, 'Dwarka me aa kar Dabeli nahi khaaya toh kya khaaya.' And let me tell you, it was really worth that stop and we ate almost multiple plates of them.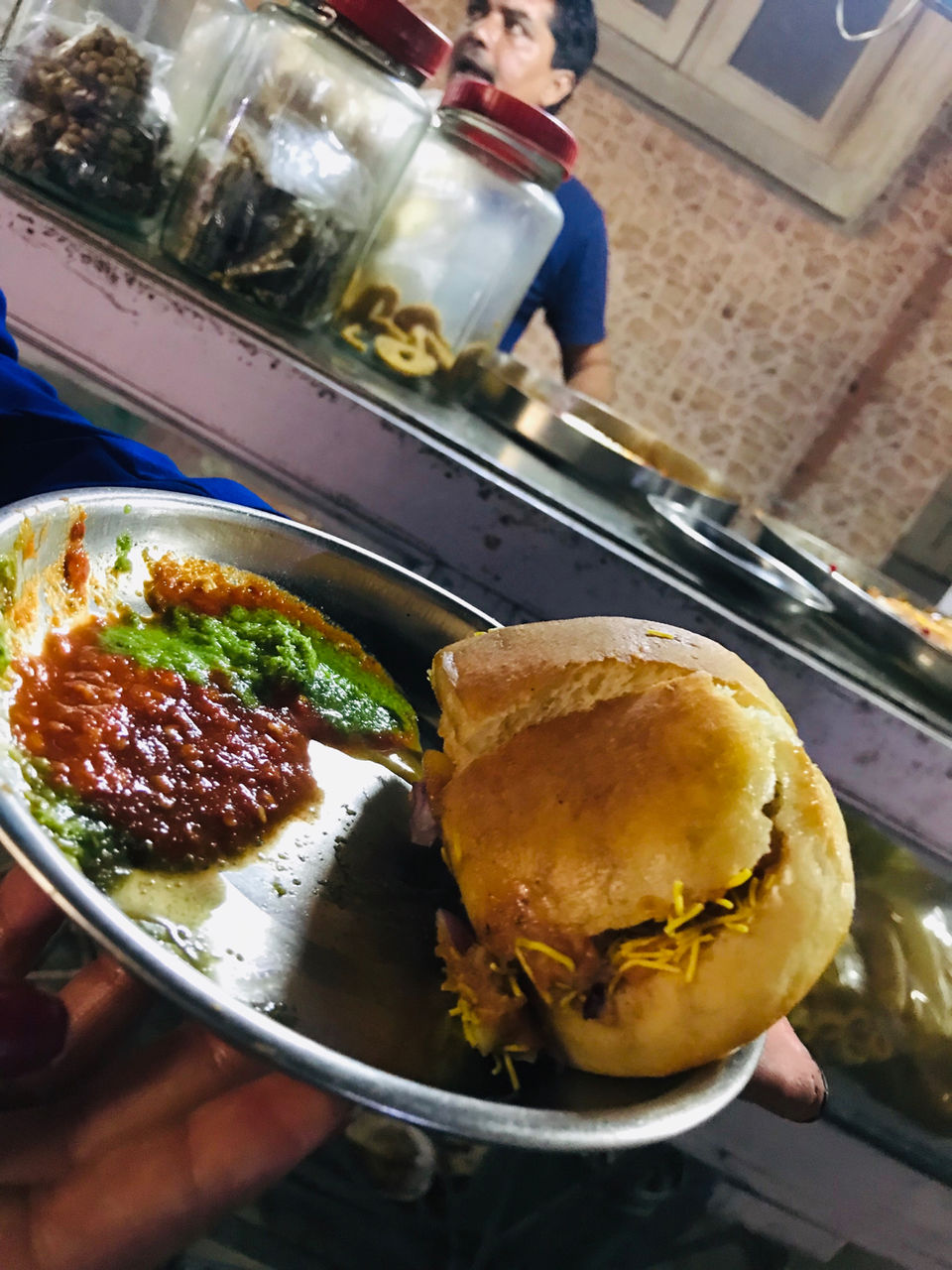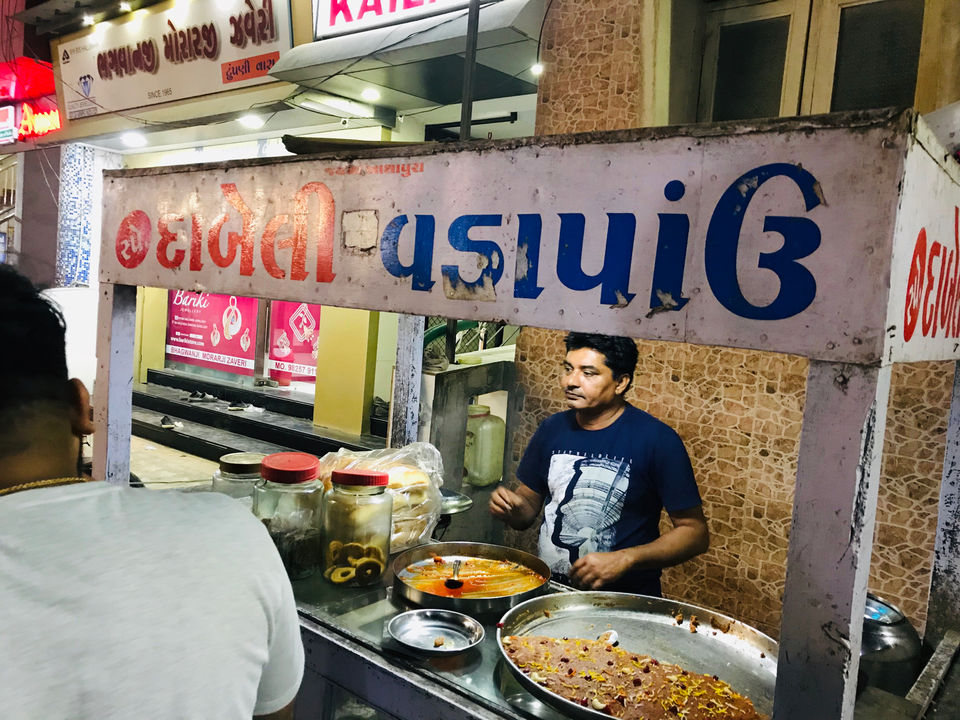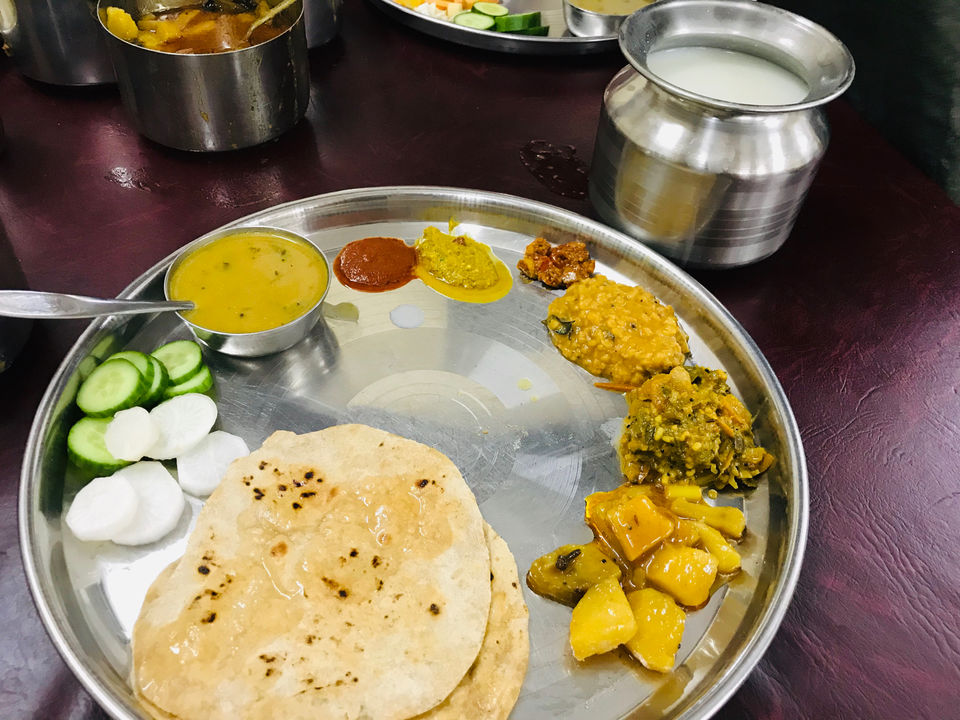 The seller was quite generous and gregarious. We asked him too for the best dinner option to which he said, Shrinath ji restaurant chale jao, bahut mazza aayega. We followed his words and headed to the place. There are two restaurant there by the same name and the one which we were recommended to go was the one at first floor but to our misery, that was closed to the reason unknown. We somehow settled eating at the second one and headed towards the stay as we had to start our day really early the next morning.
Dwarka being a coastal region, is a bit relenting on winters which provides you the luxuries of having cold water bath even when there's tough winters across the country. Mornings are way less lazier so you can plan starting your day when it's dawning. Going by the promise to see all the sunrises during the trip, we have experienced majestic sunrise from the Hotel terrace before we had breakfast of the regional Faafda-Jalebi-Dhokla.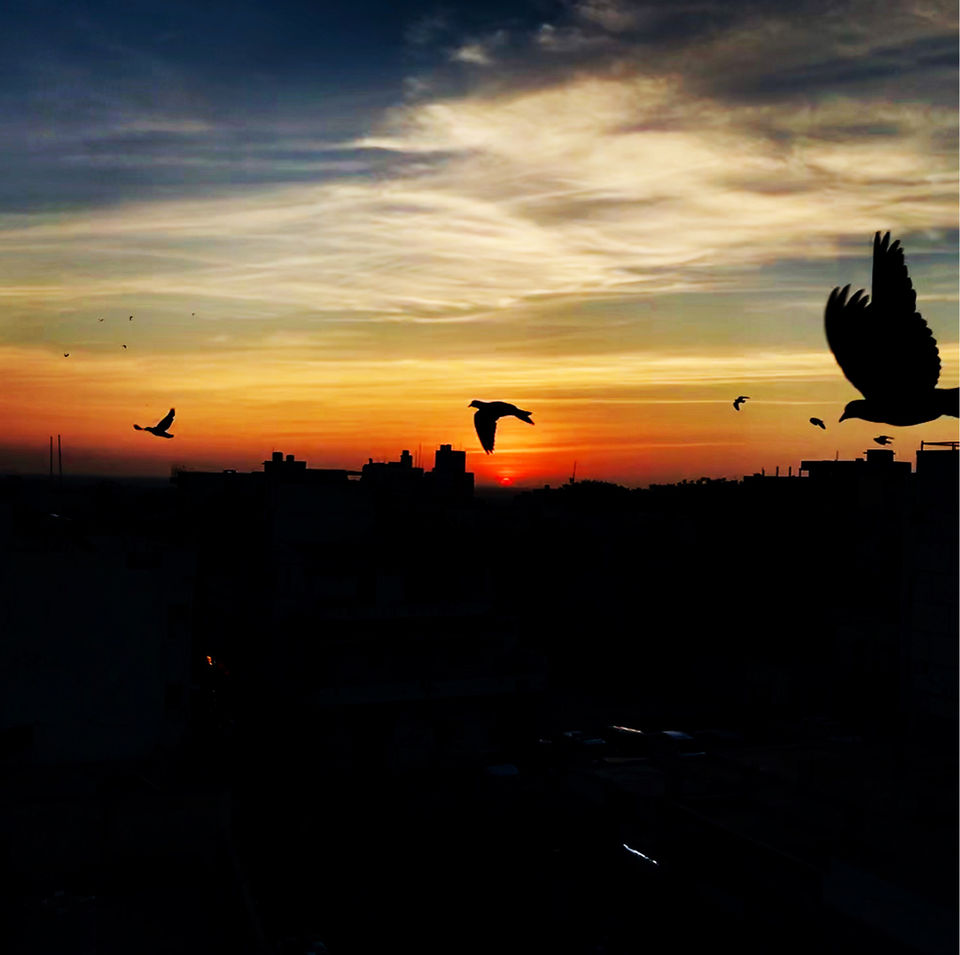 The approach of Beyt Dwarka is through Okha from where you have to take ferry of some 20-25 minutes before you reach the Island. The roads are moreover not a challenge in this patch excepting few glitches near Mithapur. Overall, we were able to make it upto the Okha jetty point in some 45-50 minutes at comfortable driving speed. There were plethora of ferries doing the rounds till Island which saved us waiting time and we directly boarded one the moment we reached the point.
The boats are generally crowded as we have seen commuters standing as well due to lack of seats. Considering the journey not being very stretched, it won't hurt you much even if you have no seat to rest. They charge you reasonably (₹ 20 per person) which is surely not gonna burn a hole in your pocket too. The moment the boat graduate towards Island, it is picturesque beauty to observe. The Seagulls beleaguering the boat and hovering all the way down till the destination. The passengers throw them some food in the air which they pluck and eat and this act of play continues as a live and cheerful entertainment till you reach the Island of Beyt.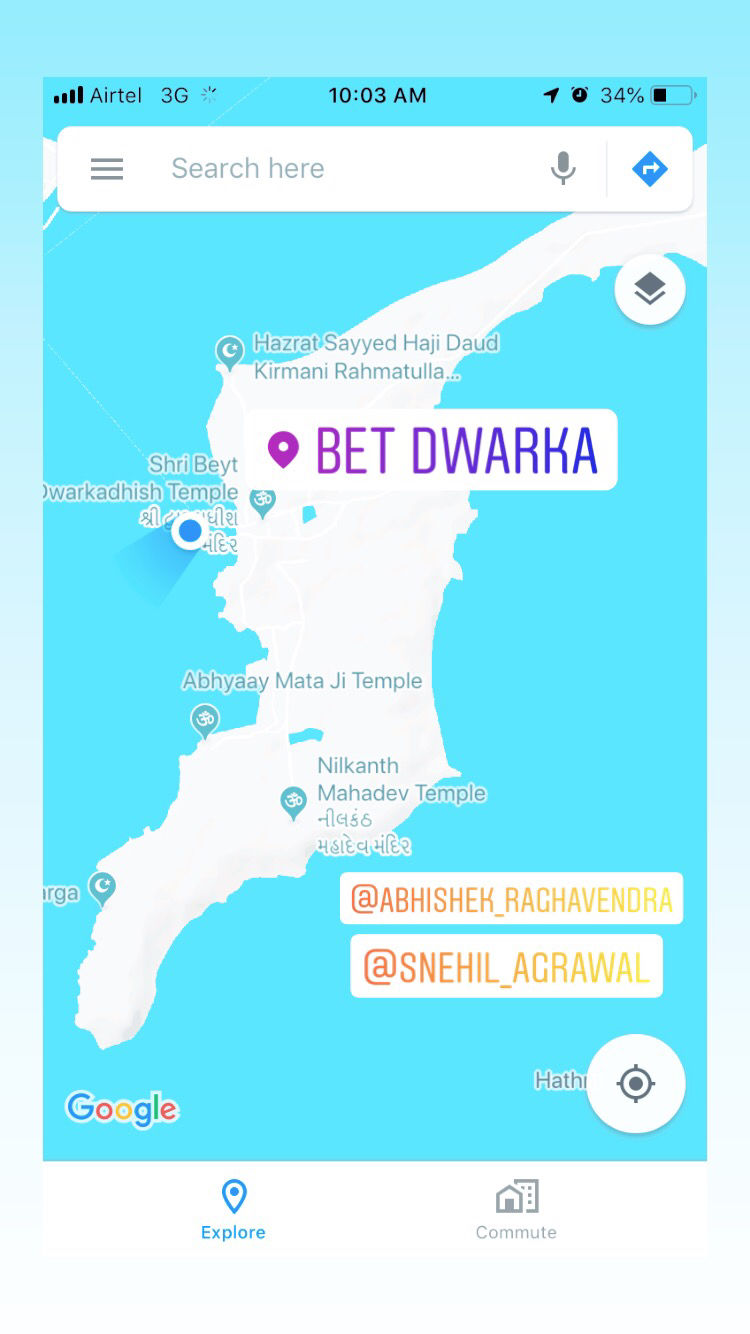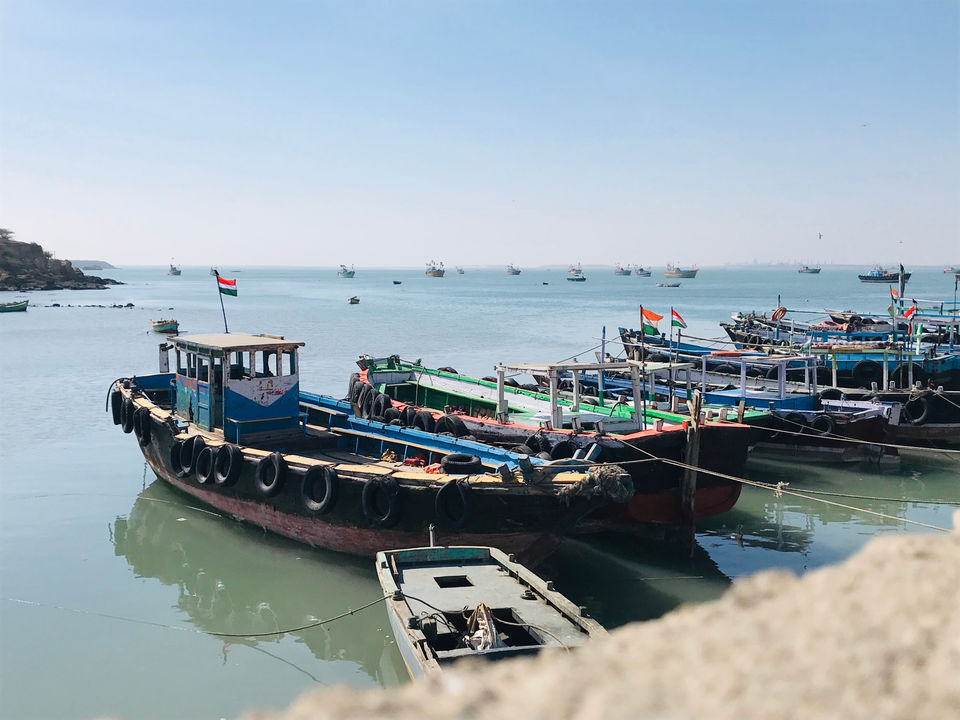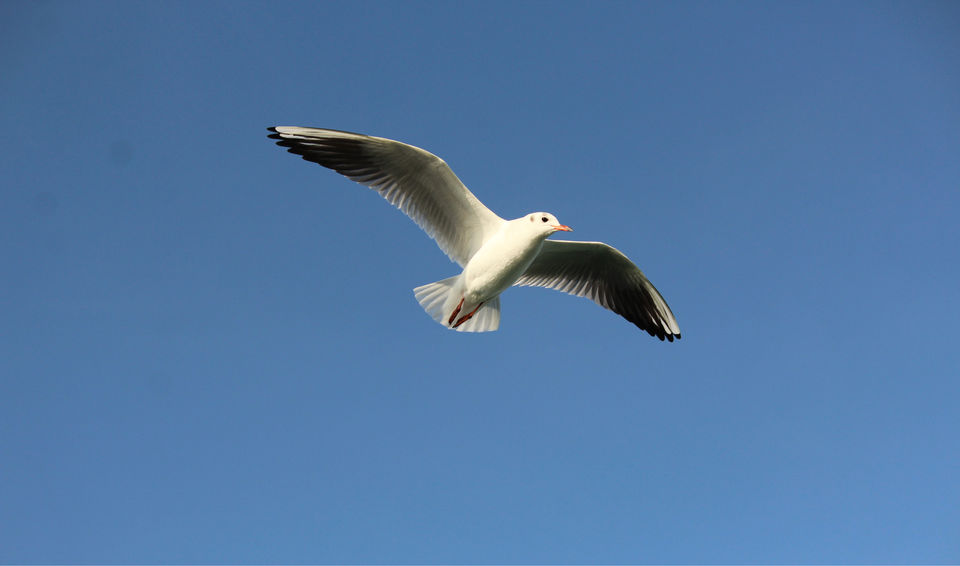 The temple is not very far away from the jettyw and shall take you not more than 10 minutes of ambling to reach there. Since mobile phones and cameras are a strict no inside the sanctum santorum of the temple, we had to queue up for a bit to keep them in the safe. It didn't not took us more than 5 minutes and in the meantime we have booked ourselves a guide who can tell us history behind the Sunken City. Well, we really cherish the decision of consulting a guide mainly for two reason: First, he enlightened us with all the information about the Lord, City and history making up this wonderful place of the worship even more significant. Second, he took us to all 16 deities with their cover stories where Lord Krishna was the epic silhouette of the entire narration.
The temple was hugely devastated in year 2001 during the catastrophe of earthquake which shook Gujarat to its core. The temple was later refurbished with materials brought in from Rajasthan. All thanks to the government's focus on elaborating tourism in the state. Overall the Shrine looks a complete structure now. As usual for any Shrine, this was also crowded but not so densely that one cannot manage to have a good view of the Lord. All thanks to Gopalbhai (our guide) for him hacking us to all the places swiftly with the comprehensive background about all the deities. The artefacts of the main Lord Krishna Temple is believed to be 5000 years old and are of pure gold still making it look stunningly lavish. The Darbaar of Lord glistening yellow truly speaks of the Swarna Nagari that Dwarka would have been 5000 years ago. As they say 'what your brain can conceive, your heart can believe.' Conceiving the stardom of god, we moved ahead to the later part of the temple and covered them all in a jiffy.
Remember the temple is being managed by trust and we were advised that it is not necessary to give money anywhere except one place. That place was the last that we went to. It is said to be the exact point where Sudamaji met Krishna and given him some 3 handful of rice as bhent (Gifted as a token of gesture). The name Beyt Dwarka is a derivation of the same story. It's very common practice today that people donate rice at the very point which is used as provisions of the 350 bhahmins serving in the sanctums of Krishna.
Legends of Beyt Dwarka:
Beyt Dwarka, as it is known now was a city of Gold back then (5000 years) in the times of Lord Krishna. It's believed that the deity used to stay at Dwarkadhish and spend his leisure time on the island city which he used to fly on his garud. Sudama, a childhood friend of Krishna visited him here once amidst his dry poverty with rice as gift (it was believed that one should not visit someone's place empty handed). The rice Sudama brought was chipped in by his wife who collected it from several other households. When Sudama was seeing off Krishna after meeting and gifting, he expected that he will be offered something in return but in order to keep the dignity of Brahmin that Sudama was Krishna did not offered him a thing. If legends are to be believed, Krishna as a gesture requested Lord Vishwakarma to convert the old hut of Sudama into a palace of gold before he reached back his home.
The ritual of donating rice at the temple has cropped up out of the same belief that doing so will keep your world full of prosperity and joy.
The story behind the Lost city or the Sunken City was also very intriguing. There's another mythology which says that Lord Krishna foreseen Kalyuga and the berserk among the people for the yellow metal that was so ubiquitously present, whence he requested the God of Ocean to submerge the city deep into the waters.
Finishing the rounds at the temple we got to know about Makardhwaj temple which is located on the same island. It's said to be the only temple of Hanumanji's son on the planet. This was enough information to incite interest for visiting it after coming this close. The temple is towards different end of the island and takes around 15 minutes from the main temple if you hire an auto. The auto took some ₹300 for return trip. The route is through a very secluded place but the vicinity of the temple has a local shop and few more autos were parked there. We did not spent much of time here and left the sooner we did Darshan. It's very thinly crowded and can be easily accommodated if you have any little space in your itinerary.
Demographics of Beyt Dwarka:
Beyt Dwarka has a very unique mix when it comes to demographics. The island is famous for Hindu mythology and shrine. But if you talk to the locals to know more about the place, you will come to know that out of total 8000 population of the island 7000 of them are Muslim. This makes it a wonderfully secular island, perhaps one of its kind! The locals don't miss a chance to applaud the contributions of the government for connecting it through drinking water (Ground water is way to salty) and electricity which made life easier for them.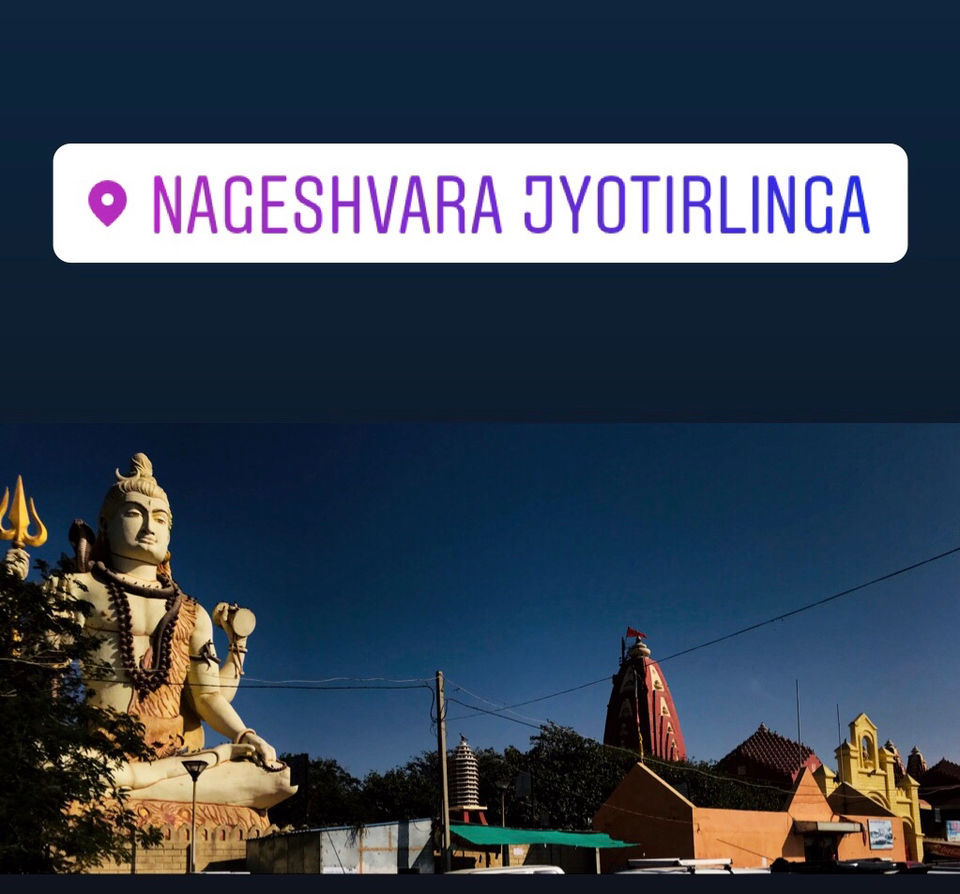 Till the time we reached Dwarka or say Beyt Dwarka, none of among us were aware that Nageshwar is a Jyotirling and hence it was nowhere in our list of places to visit. It is among the 12 Jyotirling spread across various geographies of India. The route for Nageshwar is through Mithapur when you access from Okha. It takes you some 25-30 minutes to reach there and roads are not in a very good shape in this part.
It was 13:45 when we reached the temple and were astonished to see the crowd. We never expected that it will be this packed. Actually, we later interpreted that the time we reached this place is the period when Dwarkadhish and Beyt Dwarka, both the temples are closed as a routine which might be the reason of sudden soaring in the numbers to this place. However, keeping the statistics at bay, we first put one of our mate to queue up till we searched for shoe shelves and locker rooms for mobile phones, but in vain! We later had to go back to car to keep our phones and shoes after which we joined the queue midway and thankfully not from the tail end. It took us a total one hours time for completing Darshan. The periphery or the temple has a lot of shops where you can find snacks and juices or even food for lunch. Exerted with the queue, we chose to have some juices till we left for Dwarka. This place is directly connected to Dwarka and one does not need to travel back towards Okha.
By 15:30 or so we were already in Dwarka and were desperately lurching for food but to no avail. We were misinformed about the food options of this place. It was only after this incident that we came to know that post 15:00 it's quite alien to find food in the city, till evening. We decided to find some street food to satiate the instant hunger and we found the promising Dabeli that we ate the very last evening. We munched it again and gathered some more info about the places to be visited after we are done with Dwarkadhish Temple.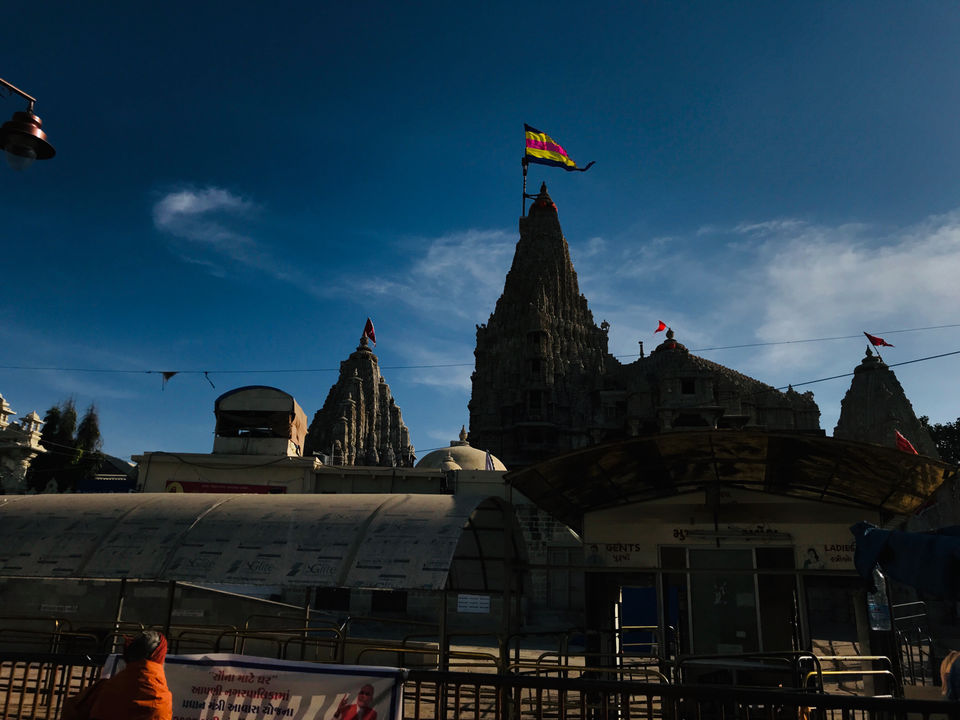 The Dwarkadhish gate opens up at exact 17:00 in the evening for which the devotees assemble at the main gate from 16:30, or even early. We did the same in order to avoid long queues and save some time, for we had plan to see sunset near sangam. The main gate was opened at 16:45 which allows access till the shoe shelves and locker room. To the amazement, the locker room was digitally equipped and had provision for phone chargers as well. For a person travelling all day, there can be nothing better to get his phone charged till one is doing darshan inside the temple. Sharp at 17:00 the temple gate was opened and we were let in. Don't know how but the Shrine was already so crowded that we were not able to have darshan from the front. Anyways, we believe that you just have to have faith in god and not to reach him for he is omnipresent. The temple is on the banks of Gomti River with Arabian Sea towards the western side of it making it very windy. The outer walls of the temple brilliances the work of art which solemnly meets perfection. It took us around 20 minutes to do a full round tour of it from inside.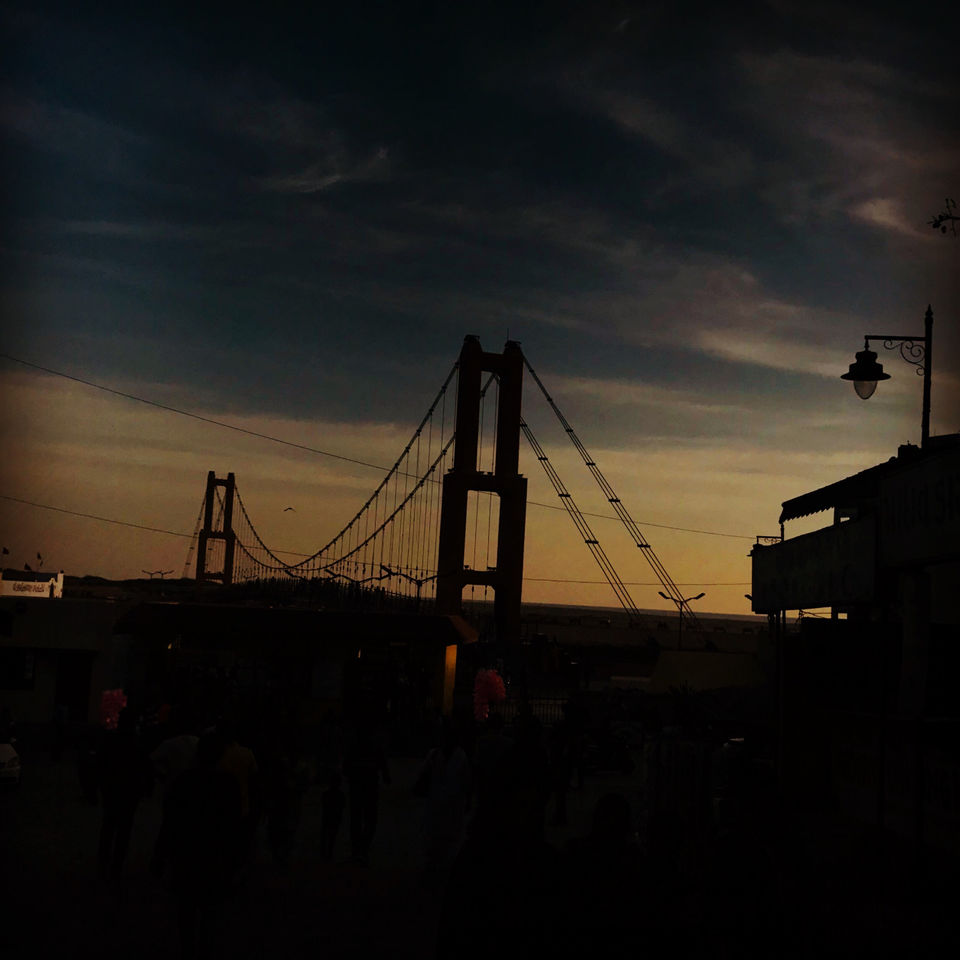 When you go to the back side of the temple, you will find a newly built bridge named after Sudama. The bridge is on the Gomti River which meets Arabian Sea at a very short distance from here. The bridge is accessible during limited hours and has a nominal charge to be paid as entry fees. We reached there well in time to see sunset which is always fun to see with ocean to your west. Will recommend to take a walk on the banks of Gomti if you have plans to reach sea. The banks are well maintained and have seating provisions as well. By the time you walk around half a kilometre with river Gomti, you can see the formation of waves on the fag end of the river, thus amalgamating into ocean. You must see if you have never seen this natural phenomenon anytime in you life.
We reached at the end of the river to nestle ourselves on the rocks facing the sea which gave us a magnificent view of giant red ball of fire. Although this was not the first time I have experienced, but it was indeed mesmerising to see the sun dipping in the ocean and it will always be, even till the Nth time. By the time we left our sunset point, it was already turning gloomy and we had one more place to cover. On the left side of the Sudama bridge there's another small temple which, in its vicinity, has 5 small wells and colour of water in all of them are different (Although we were not able to see because we reached during dark). The legends also goes saying that this has something ominous behind it as it the only source or water in the surrounding area where the water is sweet, despite being on the beach. The water of entire Dwarka is not drinkable being salty and it is brought in through Narmada Yojna.
After doing this we decided to go to our hotel and freshen up for dinner. The locals suggested us to taste the meals at Dairo. We followed and reached there. The place has limited seating space and we waited for around 15 minutes for our turn to come. There are handful varieties of Thalis that you can choose from in here and the one we ordered, tasted good. Our bubble bursted only because we had huge expectations from this place listening to the reviews of the local people.
Overall I can say Dwarka was a good spiritual place with perfect blend of sugar and spice in terms of foods.
Itinerary:
Day 1
17:15- Started from Delhi
Day 2
14:00- Reached Dwarka
Stay- Hotel Shree Darshan (5 minutes walk from Dwarkadhish and 10 minutes from beach). Nice hotel for family stays too. Must try Bread Toast in Breakfast!
18:00- Sunset and Badkeshwar Temple on beach
19:30- Market and evening snacks (Dabeli is must have)
20:30- Dinner at Shrinathji Restaurant
21:30- Retired for the day
Day 3
07:15- Sunrise from Hotel Terrace
08:45- Left for Okha
09:25- Reached Okha and parked car at paid parking
09:45- Ferry started for Beyt Dwarka
10:05- Reached Beyt Dwarka
Hired Gopalbhai as guide for Temple tour
11:00- Done with Darshan
11:15- Left for Makardhwaj Temple
11:30- Reached
11:45- Done and left for Jetty.
13:15- Reached Okha and left for Nageshwar
13:45- Reached Nageshwar and queued for darshan
14:45- Dine with Darshan
15:00- Left for Dwarka
16:30- Reached Dwarkadhish main gate. Please note to keep all your electronic devices in the safe including smart watch as well.
17:20- Done with Darshan and left for Sudama Bridge
18:45- Left for Hotel
21:00- Left for Dairo for Dinner
22:00- Retired for the day
Day 4
08:15- Checked out for Porbandar
Some important costs:
Hotel- ₹6000 for two days
Guide charges at Beyt Dwarka- ₹300
Overall cost for two days (excluding commuting)- ₹9-10k
Cost per person- ₹3k
You can find more economical and more luxurious stays at Dwarka as well.
Happy Travelling!
P.S- It's only the tip of the iceberg, rest of the trip is another part and is surely gonna be more intensifying as it progresses. Game on!