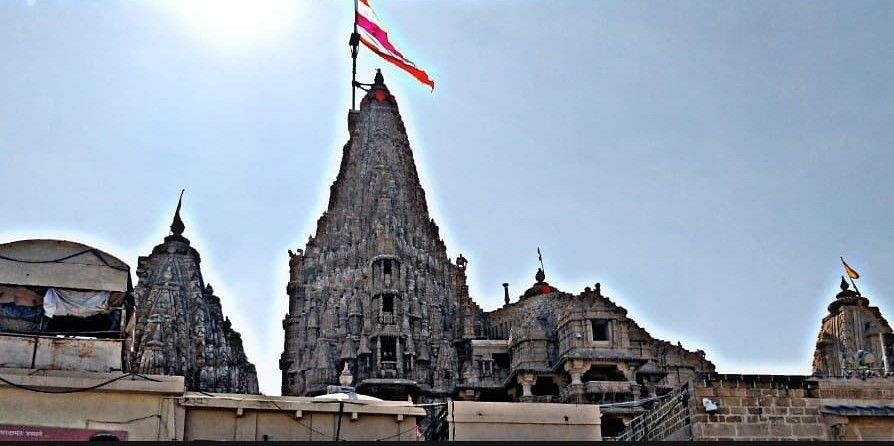 Dwarka is one of the most famous place in Hindu religion. Lord Krishna selected this area as his home and kingdom after leaving Mathura. I planned to visit this place during my trip to Gujarat in December 2019.
Date of Visit: 30th December 2019.
I started my journey from Ahmedabad at 11:30 pm IST and reached Dwarka early morning at around 06:00 AM via a private bus of Eagle tours and travels. Bus fare was around Rs 900. Bus facility was very good.
Accommodation in Dwarka: The Grand Radhey
The hotel is at a walkable distance from the main Dwarkadish temple, appx 700-800m. It has only 3 rooms for the stay. The rooms are spacious, neat and tidy.
After taking a nap for an hour in the hotel, I started my day in Dwarka from around 09:00 am IST.
Main places to Visit in Dwarka:
Dwarkadish temple:
Dwarkadish is a Hindu temple situated on the banks of Gomti River and is dedicated to Lord Krishna. The temple is a part of the Char Dham Yatra to Four Corners to India - representing West (Dwarka) East (Puri) North (Badrinath) and South (Rameswaram). It is amidst the city area of Dwarka. One key thing to note here is that you cannot carry the cellphones and bags inside the temple. There is a minimal cost of around 5-10rs for the deposit.
Visiting hours of the temple:
Morning 07:00am to 12:30pm
Evening 05:00pm to 09:30pm.
I started my day by seeking the blessings of Lord Krishna in Dwarkadish temple around 10:00. Luckily, the crowd was less and I was able to take darshan within an hour.
Temple was so beautiful and big with lots of positive energy all around you. It is amazing to see people from all over the country coming for the same cause, i.e. to worship.
Located right behind the Dwarkadhish temple, is Dwarka beach. It is believed that you must take a dip in the holy waters before visiting the shrine. Watching the confluence of the Gomti River and Arabian Sea and witnessing the sunset is a magical experience.
There is a long bridge that leads you to the sea and the scenic beauty is amazing. You can hear the people chanting all around and playing at the beach. There are small watersports also arranged for the public at the beach area.
Note:
Dwarkadish temple is something you need to explore on your own as it is in main city area. There are 4 more must visit places for which you need around 4-5 hours to explore. You either need to hire a private taxi, auto or local Nagarpalika bus. These are available in the market area itself.
Nagarpalika bus has two fixed slots for the tour.
First slot is 08:00am pickup and drop around 1-2pm in the afternoon. If you take this, you can then visit the Dwarkadish temple either early morning or after 05:00pm.
Second timeslot is 02:00 pm and the drop is around 08:00 pm.
Price: 100rs per person
Private auto: 800rs per person.
Private taxi: 1200-1500rs per person
You can test your luck on the prices by bargaining like me. I hired the auto for 600rs.
After experiencing the magical glimpse on Lord Krishna and the Dwarka beach serenity, I started my day tour of Auto around 01:30pm IST.
The places I visited are listed in the order of there visit and also the increasing order of the distance from Dwarkadish temple.
Rukshmani temple:
This is the first and the nearest spot to Dwarkadhish temple, approximately 5-6km away.
Rukmini, is an architectural masterpiece which must be included in your list of places to visit in Dwarka. You can marvel at the exquisite carvings and panels of this 12th century temple while listening to the interesting story narrated by the priest. It is a small temple and will take maximum 20 min of your tour.
Nageshwar temple:
One of the 12 famous self-existent temples, Nageshwar Jyotirlinga Temple houses a curious myth about its origin. The giant, beautiful and artistic statue of Lord Shiva mesmerized me and it had an aesthetic appeal. That huge statue is just wow that you cant stop yourself gazing at it continuously for few seconds and wonder about it beauty.
It is a beautiful place for quiet contemplation, serenity and spirituality owing to the divine presence. It is 25-30 minute drive outside the city. Big queue of worshippers can be seen here waiting for their turn to enter inside. The entry to the temple is free and there is no concept of VIP entry like few Jyotirlingas for fast entry.
Timings of the temple:
6AM to 12:30PM
5PM to 09:30PM
Gopi Talav:
Gopi Talav is a mid size lake located around 20 km from Dwarka on the way to Bet Dwarka. One can buy the famous Gopi Chandan from this spot. Many species of fishes and birds are found here thus contributing to a great atmosphere for photography.
You need max 30 minutes to spend here and then rush to the last and most important point- Beyt Dwarka.
Beyt Dwarka:
Part of the ancient city believed to be the real abode of Lord Krishna, this sacred island off the coast of Gujarat is a must visit for pilgrims and tourist alike. It's a small temple on bet island. Along with the holy temple, the scenic ferry ride to reach the temple from the Okha jetty is also an experience to remember. The beautiful island is home to many shrines and temples, the prominent one dedicated to Lord Krishna.
It will take around an hour to reach this place from Dwarkadhish temple. And then appx 15-20 min ride via ferry. It is situated in the Okha district.
Timings: The main shrine remains closed between 1PM to 5PM. It is a good idea to reach by 5:15 PM to avoid the crowds and enjoy the sunset views like me. I reached at the jetty area by 05:15 pm IST and on my return from the temple to the jetty point the sunset was awestruck.
Ferry cost: INR 20rs/person/side. The jetty carries around 100 people in one go. Bigger groups can hire private boats as well.
Note: Cellphone and big baggage is not allowed inside the Bet Dwarka temple. You need to deposit it outside by paying around 5-10rs.
This is not just the end of your visit to Dwarka. You can visit other places listed below as well.
Other places that you can visit:
Iskcon Dwarka Dham
Geeta temple
Dwarka lighthouse
Bhadkeshwar Mahadev Temple
Samudranarayan temple

After enjoying the whole day at Dwarka on 30th December, it was time to move to the next destination in my travel list and that was Somnath.
Tip:
My train was from Dwarka to Somnath at 08:30 pm IST (Okha express). This train starts from Okha station itself where Beyt Dwarka is located. Through my personal experience, I would recommend you not to board the bus from Dwarka after this, but from Okha itself. Please check in advance about the source of the train. As, it was around 07:00pm when I got free from Beyt Dwarka, I took the train from Okha itself instead of going back to Dwarka and then board the same train. My train to Somnath from Okha, named Okha express was scheduled for 08:05 PM IST.
The moment the clock showed 08:05 PM, my journey to Dwarka ended and I moved towards my next destination, i.e. 'Somnath'.