I am always fascinated by the mightly mountains, and the more I saw beautiful pictures of them, the more desperate I became to visit the Himalayas. I was in my final semester of my UG, and one of my astronomy friends - Siva said he was planning a road trip to Spiti Valley in the upcoming summer. I didn't knew much about the places to visit in Himalayas back then apart from Ladakh. To be frank, on hearing that we were going to Spiti, I thought Ladakh would be better option. I have seen pictures of the night sky taken by Navaneeth Unnikrishnan and Nimit Nigam in Spiti Valley and that's where I knew that a place called Spiti exists. Nonetheless, having an avid interest in astrophotography, I said yes, and I was very excited about my first trip to the Himalayas.
It was a 10 day road trip and we are 5 of us. Siva took the lead for planning this, and we decided to go with Incredible Spiti. We are from South India, and the itinerary was Delhi - Chandigarh - Shimla - Sangla Valley - Kinnaur - Spiti and Pin Valleys - Chandra Tal - Manali - Delhi. Spiti is not a typical tourist place, thanks to it remoteness and the travel time. So, this is a perfect place for travelers who wants to have some peace without the usual touristy buzz. There is a quote by Ibn Battuta - "Traveling leaves you speechless, then turns you into a storyteller." One single blog would be too long contain all the amazing experiences, so each day's story would be a separate blog.

Day 0: Reaching Delhi
We all were starting for different places across South India, and myself from Vizag. We had booked bus tickets from Delhi to Chandigarh, which was at midnight. The flight was  just after sunset. I have never seen such a colorful sky. It was very beautiful! Siva and Pravin were there, and 3 of us took a prepaid taxi to the bus stop, and the other 2 joining in another hour. Had a burger and a sandwich there. We boarded the bus at 11:30pm.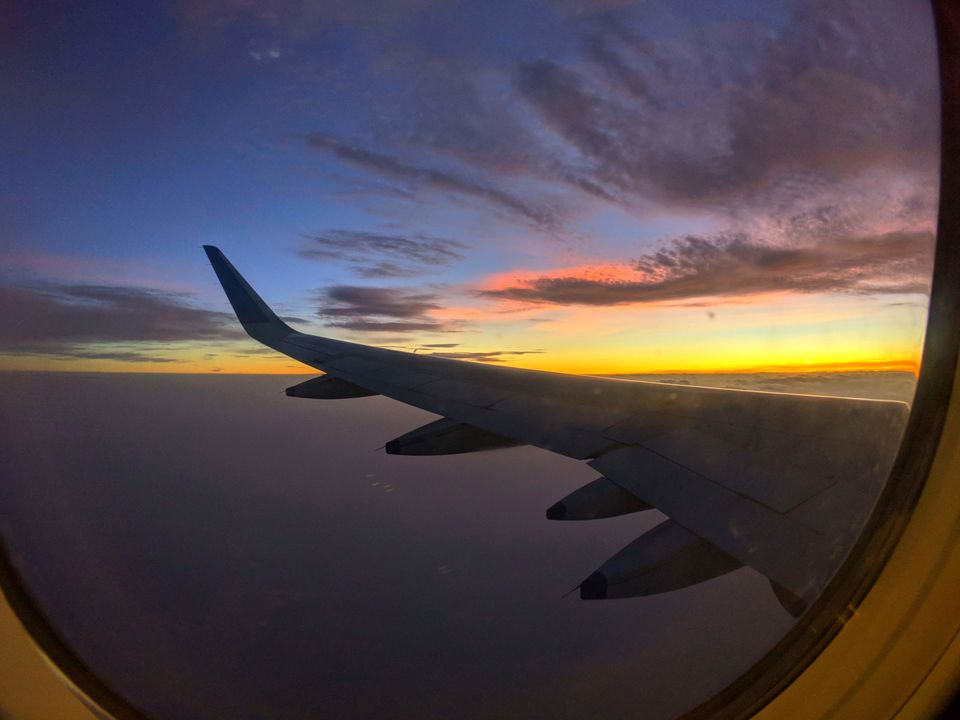 Day 1: Chandigarh - Shimla - Narkanda - Hatu Valley
Day 2: Hatu Valley - Sangla Valley - Chitkul(WIP)

Stay tuned! Check out the pictures from our trip meanwhile.