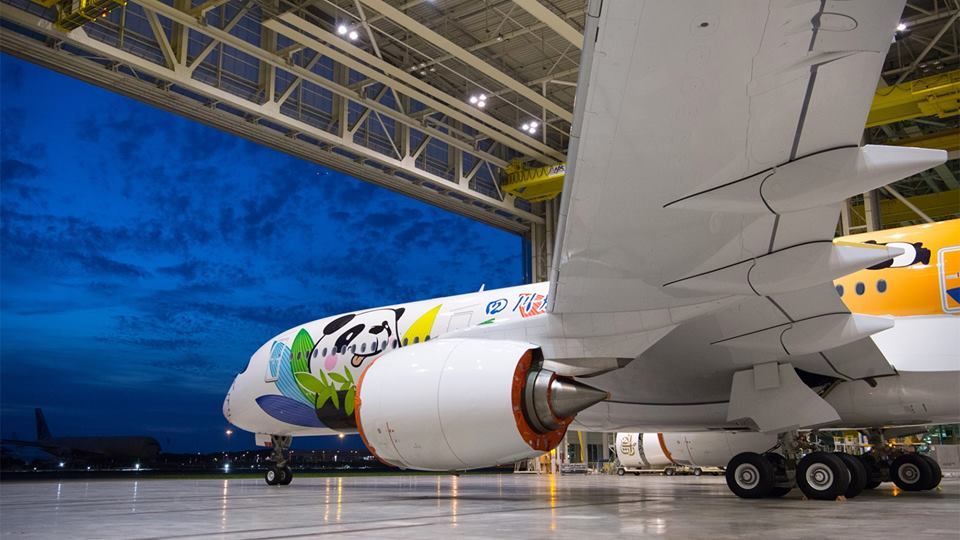 Here is something amazing for all the Panda fanatics out there. Do you spend hours on social media watching cute pictures and videos of pandas enjoying snowfalls and other treats? Then this will make you drop everything and book a flight to Beijing right now.
China's Sichuan Airlines has come up with a whole new panda-themed flight that is the first Airbus to feature cute pandas on its body instead of boring logos. Not just that, everything inside is also according to the theme.
What to expect?
The airlines offer you a complete panda inspired journey. You will be greeted by air hostesses sporting cartoons of pandas on the uniform. Even the meals are decorated in a way to look like the black and white bundles of joy. The dishes served here are inspired by the local dishes of Sichuan, a UNESCO City of Gastronomy. The flight has a special panda airport counter, where you can drop your luggage.
Destinations covered: The new flight, Airbus A350, connects Beijing to Chengdu (Sichuan's capital city).
The Panda Route:
This is not an ordinary flight; It is a part of a program called 'the Panda Route' launched in 2016. It"aims to enrich the airline's domestic and international route network, enhance passengers' transfer service experience and introduce more destinations in Southwestern China to the world."
Taking world's obsession with Pandas forward, the Sichuan Airlines adopted a panda, who was later named You You, in 2017 from the Chengdu Research Base of Giant Panda Breeding, and made it the mascot of the 'Panda Route' program. Thus, marketing the brand and panda culture of the country throughout the world.
In a press release Shi Zuyi, General Manager of Sichuan Airlines said, "We're excited to take this opportunity to introduce more people to Sichuan and pandas in a fun way." He further added, "Adopting pandas is one of our public welfare activities which supports the protection of endangered animals. It is also a part of Sichuan Airlines' commitment to protect Sichuan culture and to promote it to our international passengers and partners."
Upcoming flights:
The Sichuan Airlines is going to come up with more such theme-based flights; this time intercontinental. The upcoming plan is to launch a flight which connects Sichuan to Boston in the USA.
Share your stories, pictures and videos of travels around the world on Tripoto and be a part of the world's largest community of travellers. Click here to start sharing now!