This place has got nothing but chill. I'm sitting in the Eco park - Ambar , while writing this. The mist engulfs the coniferous trees. Its almost the closing time of the park. I couldn't go to the top, the monkeys made sure I returned. The best thing that happened today was my first hitchhike. An Uncle dropped me from the Surkanda Devi temple to Dhanaulti , and we struck up a conversation. Let me tell you , this is the best scooty ride I ever had. The chill winds blowing in your face, while you realize how much have you been missing while traveling with loads and loads of people. I'm gonna leave it at that , as the drizzling has started again , and I must go back to the room, and do nothing.
Yes. First SOLO( Alone, No one but you, and ' Dubara jaake dikha ' in my mom's words) Trip. You gotta try everything ,right?
Don't knock it , if you haven't tried it.
It was all good and full of excitement, until the final evening, when it dawned upon me that I was actually doing this ( Nobody called me up to check what all I had packed ).I left, missed some things ,like always . But I still had myself. One of the pros of traveling solo according to those YouTube videos , and other travel blogs was that when you are alone, you are easily accessible. It's easier for people to come talk to you, and vice - versa. I applied that rule and instantly hit it off with another traveler who was going to his home somewhere in the hills. He helped me with all the info he had. It was not much as he had always been around using his own car. He dissed at me many times for choosing Mussorie. I told him it was my first time traveling solo , and then he realised that this itinerary could work alright.
The journey started , and I got to Doon at 3 am.I straightaway took the sharing auto to Doon Railway Station or The Mussoorie Bus Stand. The bus stand was lifeless, except the chai wala ,and the taxi driver, probably waiting for his first passengers of the day. He told me that the first bus goes at 6, which was still 3 hours away and would quite easily fuck up all of my plans for Dhanaulti.
To my relief, we hear a bus coming and he tells me that this is a special bus which doesn't come often , and I should get on it.
Front seats are always the best, so I got on the bus and luckily got the staff seat by the side of the driver. I couldn't sleep the whole way and we were in Mussoorie at 5.
The town was asleep, except the chai wala who was probably doing the peak hours, all thanks to our bus . I decided to head to the Tehri Bus Stop, but google fucked me up bad . There I was , roaming around the mall road area at 5 am , following what google said, until I decided to actually ask a human ( Can You believe that , in 2016 , huh ? ) He told me it was 10 kms or 200 bucks away ,but google showed a 3km walk.
I say we walk
People were out on their morning runs, hotels were opening and I overheard someone talking about zero room availability and almost 3000 bucks for a room ( Time to get outta here )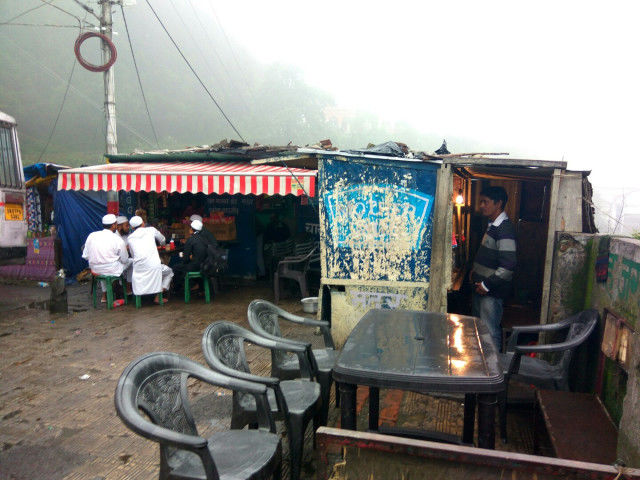 The visibility was zero , though it didn't rain much. After enquiring for the bus, which was gonna leave at 7, I went to the nearby dhaba , and had some breakfast, omelette and chai, the usual hill station breakfast. It had started raining a little, so after wandering around a bit, I settled in the ticket counter, where I was joined by some Chandigarh lads. These guys tried to get an affordable room, but they didn't realize they were going to Mussoorie, on a weekend. I told them I was headed to Dhanaulti( I was expecting cheap hotels there ) , which sounded like a strange place to them .After a long conversation , the guy at the counter gave me a heads up for the bus, so I went on my way. The views would have been great had it not been raining, and the whole world was not engulfed by fog. I just plugged in my playlist, and slept for some time. Everything seemed just so perfect, even the twisting roads, which woke me up after every few minutes.
After freshening up , I set out to Surkanda Devi. The weather was beautiful and not what google had expected. The bus was late , so I walked.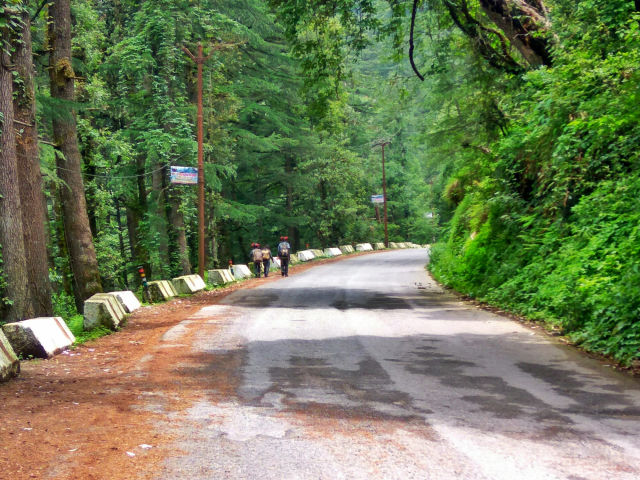 It's a beautiful feeling walking these mountain roads all alone, no one to disturb you ,except some horn honkers from our developed cities. But you can always block them with your headphones. The bus came , and I got in. There were lot of landslides on the way, which had been cleared. Mountains know their own. They won't hurt you if you don't hurt them. And there I was , walking the path to the temple. I took the kaccha raasta wherever I could , as the cemented path was going round and round and it would be a waste of time and energy to walk it.
After a struggle ( Yes it was 4 kms , so what, you're still allowed to struggle ), I got to the top. As always , mountain tops take everything away. This is why I do this , for this moment right here. You can do all the adventures , but the rush you get at this moment is impeccable. It won't ever be the same. Every mountain has a different emotion attached to it. My life will always be about catching them all.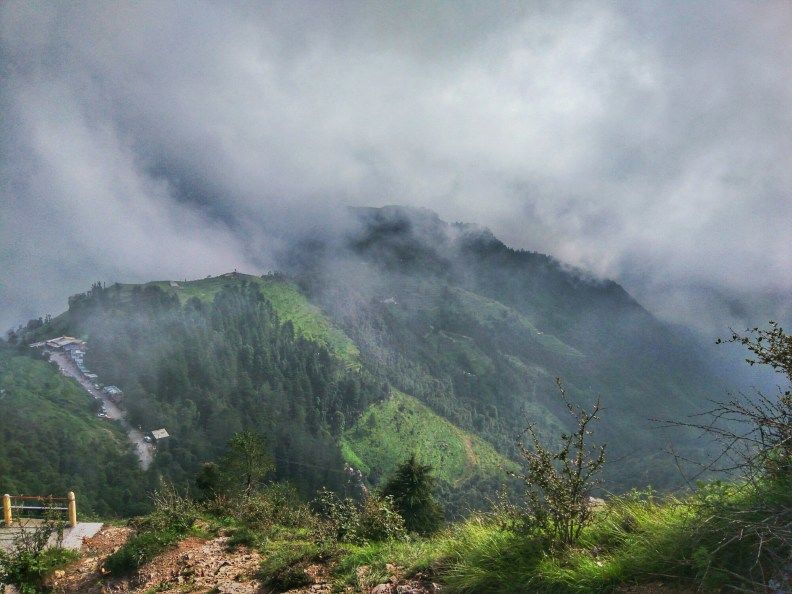 After taking in the views , I went to the temple. Then spent around an hour at the top, capturing whatever I could , penning whatever I felt. Staying true to the slow life , I took my time walking down , and was almost bitten by a snake , as I tried to take a picture. ( Ah ! The things we do ) As I got down and started to ask around for the bus, I saw an uncle who were getting ready to leave on his scooty , all alone. I asked him for a lift back to Dhanaulti. He said Ok, hop on !!
The ' Surprise Surprise ' moment was when he got to know that I was not a Garhwali and was from Delhi instead.
He gave me a lift assuming that I was a Garhwali and because he wanted to compensate for not going to the temple himself.
I thought to myself ' Now that this is out, Am I going to dhanaulti, or Is he going to throw me off here only '
No, he didn't. He was a good man, and he dropped me till Dhanaulti, explaining all his life philosophies to me as an add on. I gave him information about Delhi in return as he used to stay in Delhi and was in serious need of some nostalgia .
He dropped me off and I straightaway went to the Eco Park - Ambar. There are two parks - Ambar and Dhara i.e Sky and Earth.
Dhara was down below and was quite a walk away, so I left it for the next day.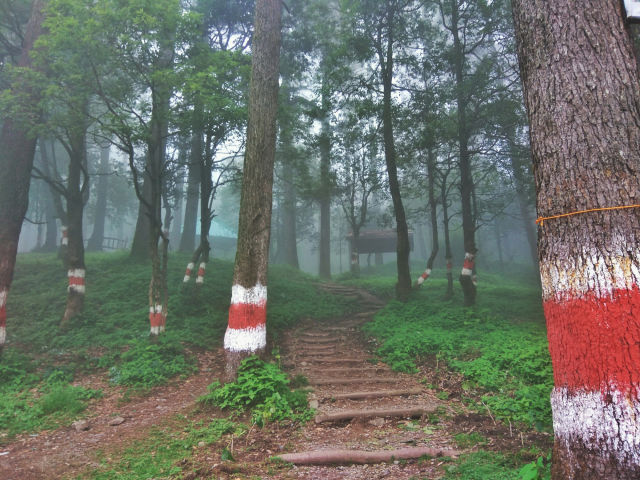 There was a peak inside the park , but I couldn't go to the top as there was a horde of monkeys who just couldn't bear to see me. Nobody dared to venture into the unknown and I was too scared to go with these monkeys covering me from all sides,making strange noises. I explored the places where there were people who could save me from these monsters. My bed was calling . So , I got down to the room and dozed off . The day ended with a plate of rajma chawal at the dhaba in front of the hotel. Everything is so mellow here, you can even go for a chai at 10 pm .
It's a really long post.Take a break. Look at these pictures.
This slideshow requires JavaScript.
Waking up amidst a forest is always nice. The weather was clear , and exactly opposite of what was expected. Even God didn't want to spoil my first bet at solo travel. After freshening up , I headed towards Mussorie , and I missed the bus by 10 minutes. I was told the next bus should be here in around half an hour. After waiting and waiting for almost two and a half hours, the bus came and it was packed as anything. I had to stand till we got to Woodstock School , and after a few minutes we were at the bus stop. There was quite a turn up at the bus stop , and I assumed it was the regular weekend rush .But I went in and enquired and I got to know that these people were waiting for the Doon Bus.
Questions -
What do I do now ?
Should I go back and catch the bus I got down from. ?
Should I go and try my luck of getting to Landour ( 4-5 Kms of walking distance )
Should I go and eat something in this road full of people. I say we walk. I was trying to go to Landour , but then I figured I was quite hungry. I turn to TripAdvisor and I get to Cafe By The Way. I couldn't really believe that this place was empty. Just the owner and some visitor having a conversation over a coffee. Isn't that how these mountain cafes should be. I turned around and looked back . Yes I am still in Mussoorie.
This place is a gem. I sat and wrote , the owner didn't disturb me, even once , for the order. I got up and asked him for a Oreo shake and some garlic bread. The shake and the vibes were awesome enough to assure my return here.
A little walk up the Landour road I realised I spent all my time at the café , and that queue might have grown longer. I collected my souvenir from the little tibetan shop , and headed back to the Bus Stop.
People were right there , nobody had moved even a bit.The tickets are only issued after the bus gets here. ( Why the hell would you spend your time standing in a queue in this beautiful place.)
The bus was here. I tried breaking the queue, but was shaken off by the frustrated people who had been standing there for hours. I realised the tickets will be over by the time my turn comes.
Fuck queues, I headed straight for the bus. Only those who had the tickets were allowed to board. This only happened till some people got up. I got in the bus somehow and took the best seat. There are no reservations for the staff seats. Some things are just meant to be.
And there came a guy and sat beside me , scared as hell that he might be thrown off. I calmed him down , and told him we were equals and even I didn't have any ticket on me. The bus started and the conductor asked us for the tickets , and I give him money and he gave me a ticket. Simple as that.
The guy beside me seemed happy.
Clouds floating around the mountains , a rickety bus going round and round, taking you back home. The seat gave me views heavenly enough to end this trip on a high. I got down at Doon, ate some more , and hopped on the bus back to Delhi.
Now that the post is almost over. Time for some more visuals.
This slideshow requires JavaScript.
There it was , my journey , all alone. All lucky sometimes, all shitty on some , but all worth it for the experience. I realised that you don't actually need people around you everytime. . There were loner attacks loads of times , but this is just what the doctor ordered.
Jab Zindagi Ek Baar Mili Hai to Do Baar Kyo Soche !!
In the end , Just dropping some quick tips for your first solo trip ( Yes I'm experienced now ???? )
 Explore with your eyes ( Don't let everything be about Snapchat.)
Go with your gut, always.
Trust the locals. They know more.
Go without a itinerary ( Smell adventure yet )
Ask for help. Nobody's gonna help by themselves.
Talk to strangers. You might meet a lifelong friend.
Don't tell your mom.
This blog was originally published on 'Reaching Solace'