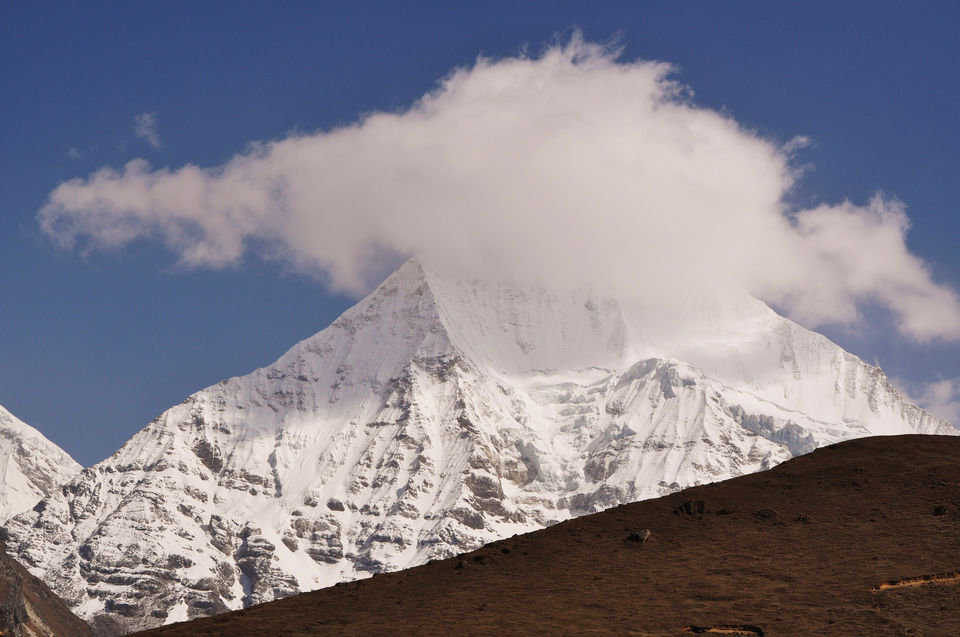 People in Bhutan have infectious smiles. Smiles that elicit warmth and instantly brighten up a dull day. This endearing little Buddhist kingdom boasts of an enviable charm that is hard not to covet. Having earned the well-deserved title of 'The Happiest Country in Asia' Bhutan continues to stun us with its awe-inspiring landscapes, rich cultural identity and warm people.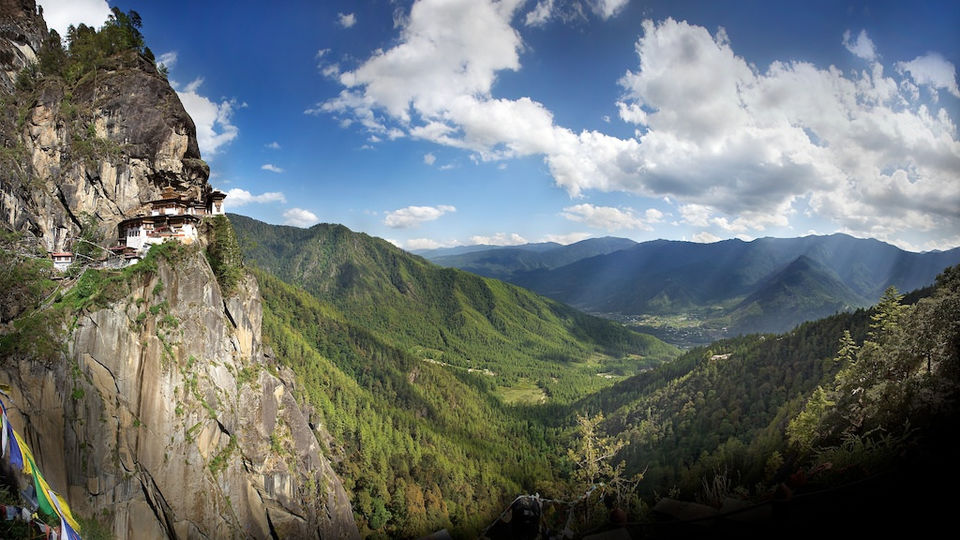 Bhutanese terrain – majestic mountains, sweeping valleys and some gorgeous views – makes it conducive to adventure activities, winding leisure hikes or rigorous treks, for those up for a challenge.
Out of the many gruelling treks around the region, one that stands out for its tough trail and spectacular views is the Jhomolhari trek, which can roughly be covered within a period of 9 days.
Where is it
After walking alongside the Paro river on a treacherous rocky trail for a few hours, you will find the path widening into an open space, surrounded by towering snow-capped peaks. This is your base camp at Jangothang where you will spend the night.
Before the start of your trek, you could spend a day or two in Paro, which offers a wide range of hotels to pick from. From luxury hotels to budget stays, it offers travellers plenty of choice. When in Paro, check out the pockey-friendly Ama's FarmStay which offers a pleasant and comfortable stay and gives you a taste of authentic Bhutanese culture. Another beautiful budget hotel is Silver Pine Hotel Paro, which is popular amongst travellers for some amazingly cheap deals.
Difficulty level
This is a moderate to strenuous trek. In the beginning, the trail will take you through lush pine forests and crooked little villages. The route gradually leads to high-altitude pastures, where you'll see lots of grazing yaks, and dangerously rocky terrain. You have to be reasonably fit to attempt this trek as the route is tough and weather conditions may be unpredictable. The trek spans elevations between 2,880 metres and 4,990 metres, the latter being the maximum elevation of the trek.
DIY or not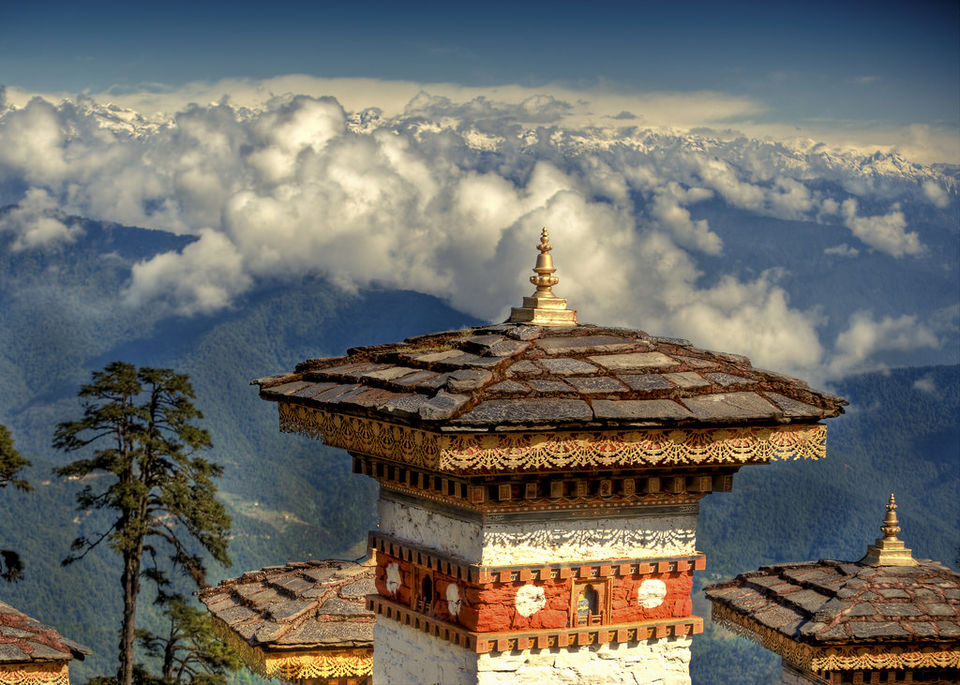 Although this is a high-altitude and rather challenging trail, it could be a DIY if you're in good physical shape. Work on your stamina and endurance before attempting this trek and make sure you hit the gym 3-4 times a day. Try and eat clean and avoid junk and starchy foods as much as possible. Load up on the protein. You should be well prepared before you embark on this expedition and carry with you sleeping bags, sleeping mats, blankets and tents.
If you wish to do this trek with an organiser, you can contact Druk Asia. This travel tour agency provides you all the special equipment required to successfully complete the trek. They also provide a cook, camping assistance and horses. Another tour operator that organises regular treks to the Jomohari trail is Bhutan Himalayan Experience.
Cost
The average cost to do a 9-11 day trek with a travel company costs around ₹3,00,000. These packages usually include an English-speaking guide, driver and private vehicle, all touring and transfers throughout your journey, Bhutanese style 3 star hotels with private bathrooms, all meals, Bhutan visa fees, Bhutan Govt royalties and local taxes, as well as camping equipment and haulage for trekking tours.
When to do it
The trek is best in either in spring (April and May) or in autumn (late September to early November). Avoid going during the monsoons (late June to early September) as the routes are often slippery and treacherous. Snow usually clogs the high passes during mid to late November, as the temperature plummets. They only reopen in April.
The route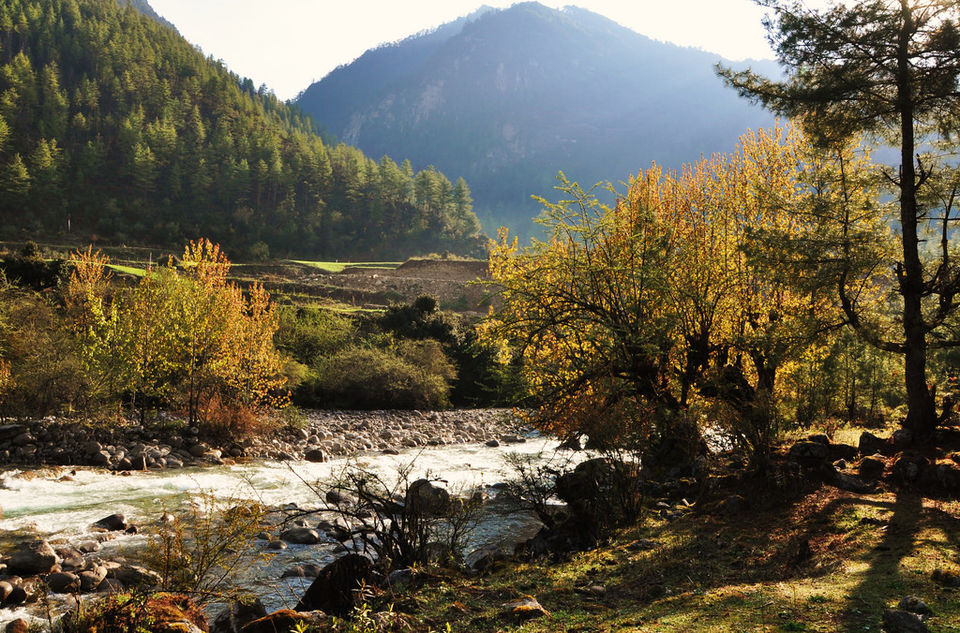 This nine-day trek begins from Paro, which is a valley town in Bhutan, and is situated west of the capital city of Thimpu. It is a town of great historical significance. You begin your trek from Paro to Shana Zampa, which is 5 to 6 hours away – a relatively easy day.
This is the route for the Jhomolhari trek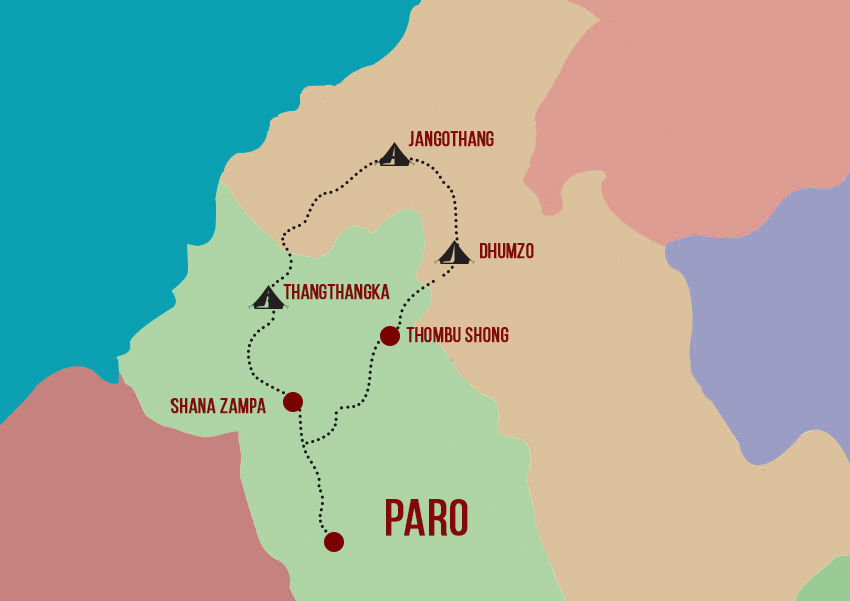 Paro – Shana Zampa* – Thangthangka* – Jangothang* – Dhumzo* – Thombu Shong – Shana – Paro
Paro to Shana Zampa (5-6 hours)
Today you start your trek from Drukgyel Dzong to Shana for about 5-6 hours. There will be a gradual ascent while you walk along the Paro river and go past green meadows and villages. You will stay overnight at a camp in Shana Zampa. The altitude here is around 2,870 metres.
Shana to Thangthangka (6 to 7 hours)
The trail continues to gradually wind upwards. You will continue to walk along the beautiful Paro river and go through lush green conifer and rhododendron forests. You will camp on a flat forested land. If you're lucky and the skies are clear, you will get a clear view of Mt. Jumolhari. This camp is at an altitude of 3,860 metres.
Thangthangka to Jangothang (5 to 6 hours)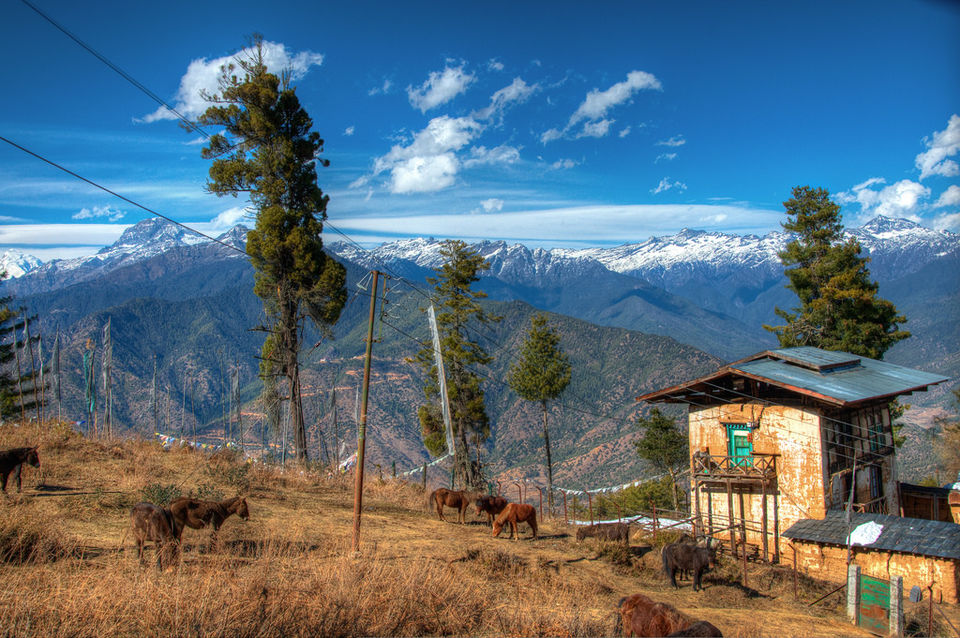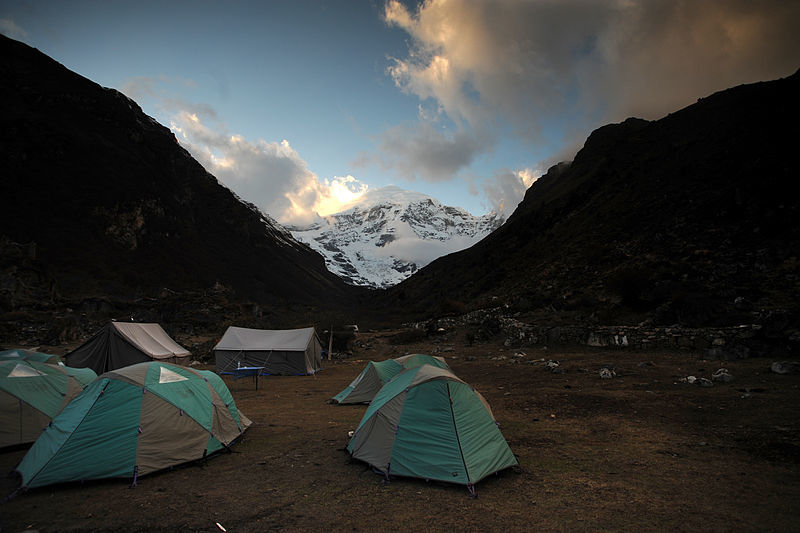 As you continue your journey the next day, following the Paro river on a demanding rocky trail, you will find the valley widening. This opens to a picturesque area surrounded by snow-capped peaks. Some yak-herding families are based in this region. You can camp under a ruined fortress at the base of Mt. Jumolhari. The altitude here is 4,040 metres.
Jangothang (Rest day)
Today you will rest and let your body get acclimatised to the high altitude at Jangothang. You may explore surrounding areas, visit the yak-herding families and possibly devour some yak cheese while you're there! Overnight will be at the camp.
Jangothang to Dhumzo (5 to 6 hours)
Today you follow the trail that leads up north, to the last settlement of the valley. After crossing a wooden bridge you will walk along the side of a hill that will lead to a cirque and to the pristine lake of Tshophu, which sits at an altitude of 4,380 metres. If you walk along the eastern side of the lake you will go past a second lake. Continue to climb the ascending pathway which starts getting more steep at this point. You will reach Bhonte La at an altitude of 4,890 metres. Follow the trail and you will find it winding down to a stream. Use a bridge to cross to the south side of the stream and walk to your camp which is pretty close and at an altitude of 3,800 metres.
Dhumzo to Thombu Shong (4 to 5 hours)
Today as you continue along the trail, it climbs up for 100 metres and then descends as you reach one more stream. After you cross it, the path starts to get steep again. Once the trail leads to a ridge it turns southwards. You will find yourself going past little settlements before you reach Thombu La, which is at an altitude of 4,520 metres. Climb downwards to Thombu Shong (altitude 4,180 metres) where you will find a river. Cross it and reach your campsite.
Thombo Shong to Shana
From here you will make a descent down the valley and along a ridge to a river, going down to an altitude of around 2,730 metres. Cross the river upon reaching it and climb upstream to the same camp you stayed at on the first day of the trek.
Shana to Paro (4 to 5 hours)
From here you just go back along the same path you came. From Shana to Drukgyel Dzong. Go past meadows and pine trees along the Paro river. Since you descend the trail this time, you will take less than the time you to took on your way up.
Departure
Today you depart from Paro
What to pack
Since high-altitude treks are synonymous with bitter cold, it's important to layer up! However, it's important to carry lightweight clothes that dry quickly. Make sure to carry thermal wear as it is usually small and light. Keep soft copies of all your documents instead of carrying paper.
Trekking poles, safety whistle, sturdy hiking boots, dried fruits and protein bars, headlamps, sunscreen and packaged drinking water are essentials. Your medical kit should contain the following: Ibuprofen or Paracetamol, motion sickness pills, oral re-hydration solution (ORS), diarrhoea medicines, antihistamine and insect repellents.
How exhilarating was your last trek? Share with Tripoto your experience and any tips you may have for fellow adventurers!
Frequent searches leading to this page:-
bhutan trekking tour, bhutan trekking trip, bhutan trekking places