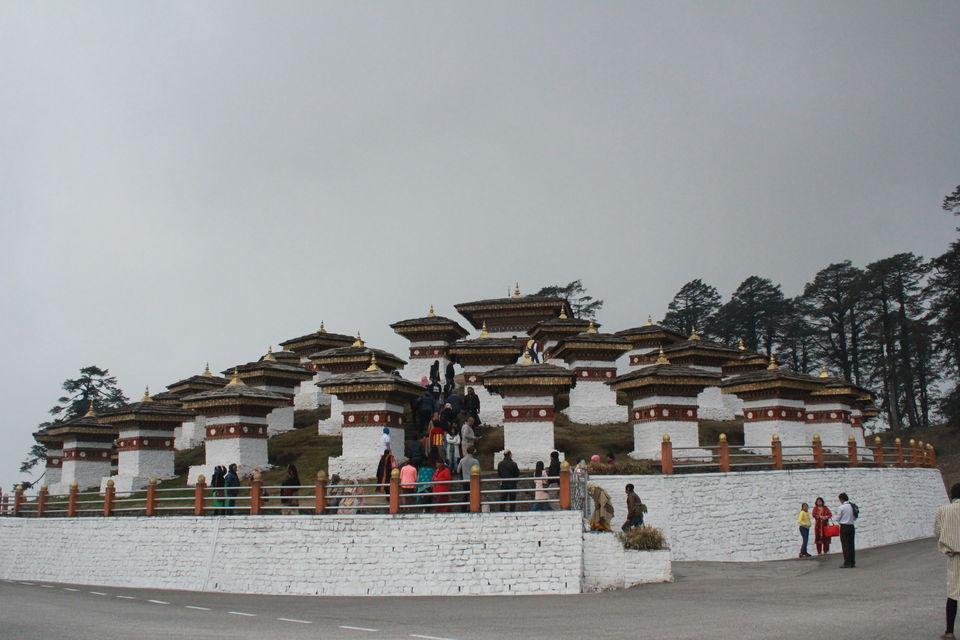 Oh Bhutan, you beauty! This is not a sentence but a feeling which will occur to you several times when you will visit Bhutan. I felt this in my gut a hell lot of times while I was there witnessing amazing lush landscapes. Bhutan is a stunning mix of history, culture, and spirituality.
To reach Bhutan you can get a direct flight to Paro(a valley town in Bhutan), or you can reach Bagdogra via flight or NJP station by train and get a cab/taxi from there to Phuentsholing(border town of Bhutan). Jaigaon is on the India side of India-Bhutan border, where as Phuentsholing is on the Bhutan side. You can easily see the cultural difference in India and Bhutan as soon as you cross this border. On one side people are so content and happy, on the other side you will witness chaos and population bloat up. It is really easy for Indians to travel in Bhutan since no Visa is required for Indian citizens and also for citizens of Bangladesh and Maldives. All you need is a permit which you can easily get from the Embassy in Phuentsholing.
Thimphu : This is the current capital of Bhutan(Punakha was ancient) and offer dreamy landscapes which are feasts for your eyes. The journey from Phuentsholing to Thimphu takes roughly 6hrs via taxi. If you will start your journey in afternoon from Phuentsholing, you will reach Thimphu by evening, after that you can checkin in your hotel, rest for the day, and then go for sight seeing next morning. This capital gives a mix of traditional as well as urban feeling since it has Buddhist sights and attractions, and also offers nightclubs, bars and cafes.
Places to visit in Thimphu are :
1. National Memorial Chorten
2. Trashi Chho Dzong
3. Changangkha Lhakhang
4. Buddha Dordenma
5. Motithang Takin Preserve
6. Handicraft market
You should also try the local Bhutanese cuisine when in Thimphu. I tried Saag Datshi(leafy vegetables cooked in Yak cheese) and it was really tasty and filling.
Punakha and Dochula Pass : You can have a one day trip from Thimphu to Punakha, and in between you can visit Dochula Pass also. It takes 45min to reach Dochula Pass from Thimphu via taxi and another 2 hour to reach from Dochula Pass to Punakha.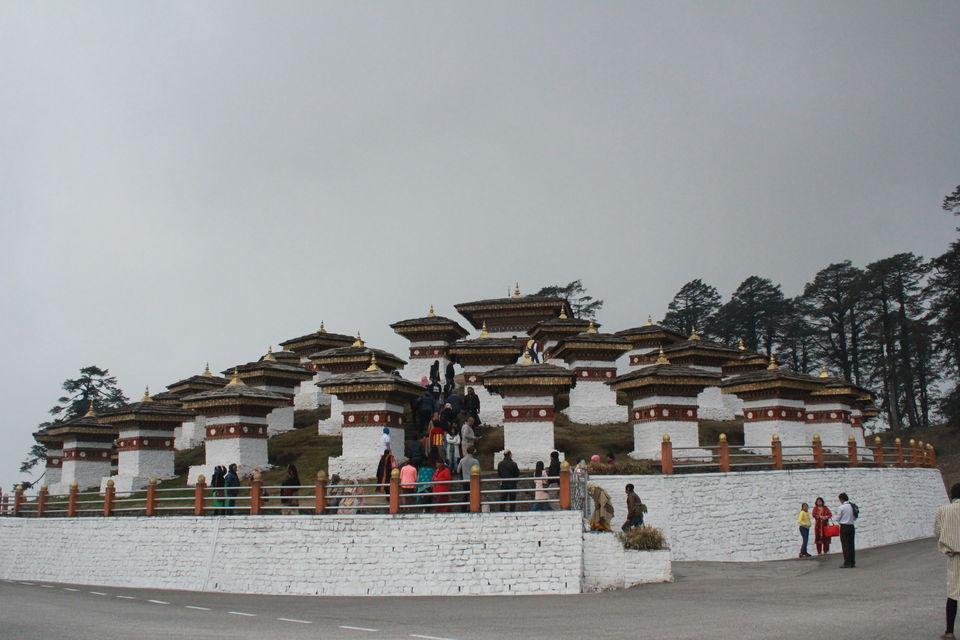 Dochula Pass gives an stupendous panoramic 360 degree view and have 108 stupas known as "Druk Wangyal Chortens", it also has a historical significance in terms that these stupas were built as a memorial in honour of the Bhutanese soldiers who were killed in the 2003 battle against Assamese insurgents from India. It is said that you can see mountain peaks of the Himalayas from this pass on a clear day. Well I didn't get this chance because the day when I visited it was covered with fog. This pass is located at an elevation of 10,200 ft and the wind is so chilled that you might need to cover your self with heavy warm clothes here. Visiting this Pass was one of the best moments of my Bhutan trip since it imparted a feeling of peace and spirituality. I felt like sitting there for hours and just feel the surrounding and myself.
I left for Punakha after my visit to Dochula Pass, the road from Dochula to Punakha is a bit teared. Punakha is the ancient capital of Bhutana and is warm as compared to Thimphu. Two main rivers of Bhutan, the Pho Chu(male river) and Mo Chu(female river) flows in Punakha valley. You must try Red Rice of Punakha.
Apart from the rivers, main attraction of Punakha is the Punakha Dzong(fort), which is the oldest Dzong in Bhutan. It has very high importance in the history of Bhutan. The coronation and also the Royal wedding of king happens in this Dzong. It measures 180 metres in length and 72 metres in width. You can see several monks praying and chanting in this Dzong. There is a Peepal tree(Bodhi tree) in middle of the Dzong which was brought from Bodh Gaya(Bihar) to Bhutan, it is said that under this tree Lord Buddha, attained enlightenment. The dzong was constructed as an "embodiment of Buddhist values". Punakha Dzong was destroyed countless times through history by fire, an earthquake and a flood, and each time, the Bhutanese people rebuilt it as it was earlier.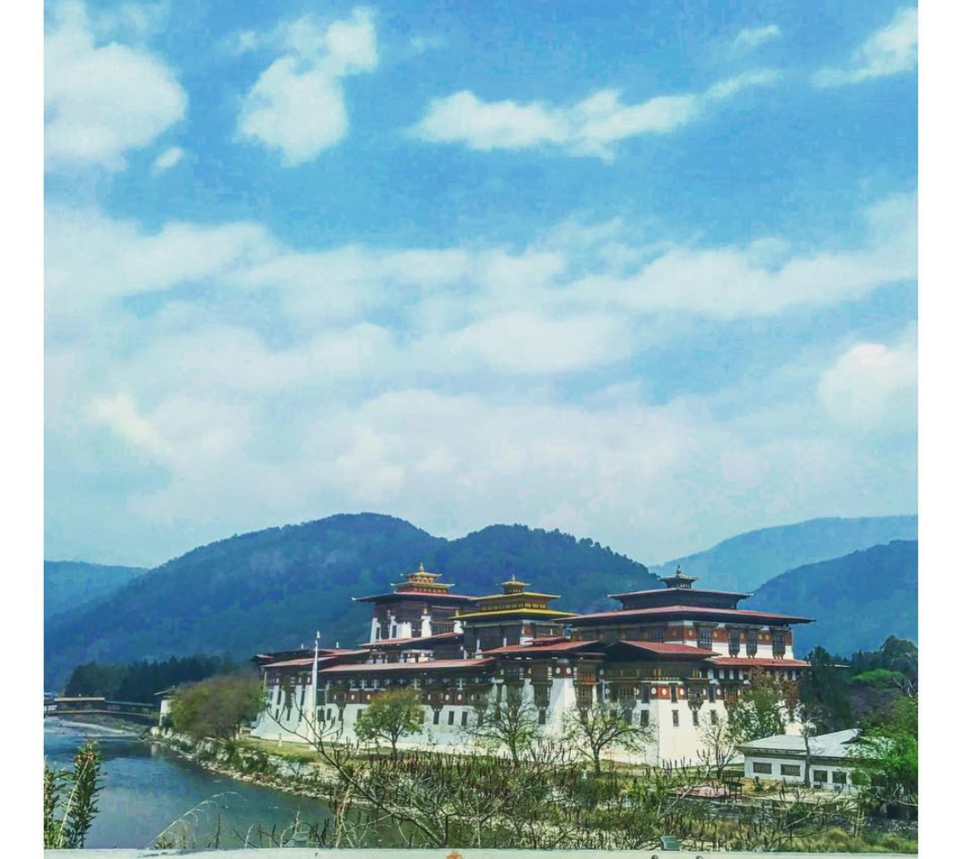 Paro : Lush green landscapes, river flowing alongside the road, roads covered with green trees, chilly winds, and peace! This is how I can describe the most beautiful valley of Bhutan, Paro Valley. You will fall in love with Paro as soon as you will enter it. Also the drive from Thimphu to Paro is really scenic. You will find yourself amidst huge rocky mountains. If you are a nature lover and enjoy gazing at the beauty which nature holds, this is the place to be. You will definitely leave a piece of yourself in this beautiful valley.
Tiger's Nest : Tiger's Nest(situated at 10,236 ft) is considered cultural and religious symbol and one of the most sacred pilgrimage sites of Bhutan. Guru Padmasambhava who introduced Buddhism to Bhutan is said to have meditated here for four months in the caves around which this temple is now built. And by my experience I must say you should definitely visit this place when in Paro. Reaching to Taktsang requires a total trek of 13km. This was my first trek and I enjoyed each moment of my journey of reaching there and coming back to the base.
You can start your trek around 8AM from the base in morning after breakfast, on your way to Tiger's Nest you will find a cafeteria which is the mid-distance stop for the trek. It takes around 1.5–2 hr to reach the cafeteria. You can refill yourself here and relax for few moments before continuing your remaining journey uphill. The trek after the cafeteria is more difficult as it includes climbing the stairs also to reach the Takshang. There were several breathtaking views on the way to Takshang which will force you to take out your camera and capture them. You will meet a lot of people along the way who will keep on motivating you while you loose your breathe and will make the journey easy for you. After another 2 hr of trekking you will see the amazing Takshang which from far looked like stone cliff hanging in the midst of the huge rocky hills. Don't forget to pat your backs once you reach there because it was a tough journey and you finally made it. Visit to this blissful place was a unique and an unforgettable experience for me.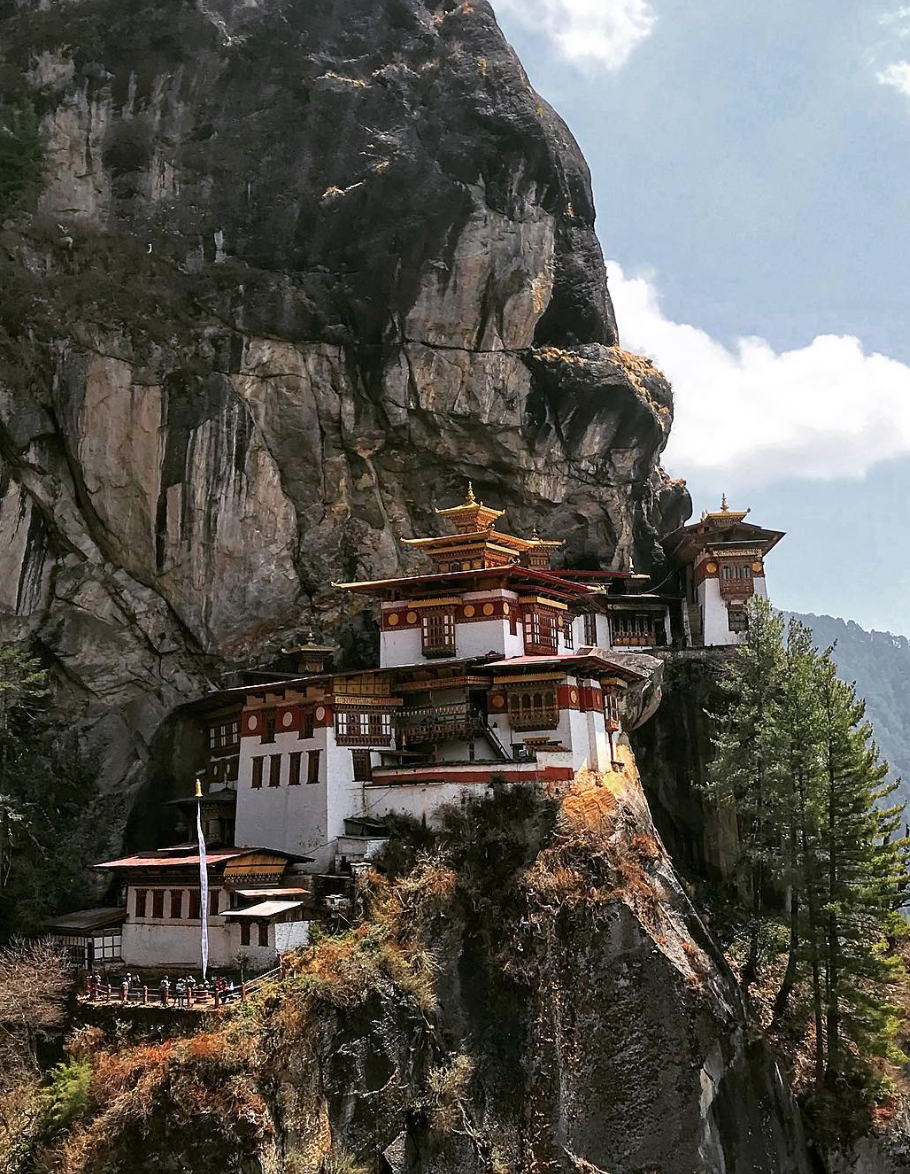 Other attractions to see in Paro are :
1. Paro Dzong
2. Chelela pass
3. National museum of Bhutan.
You can also just sit by the side of Paro river and enjoy your moment of peace while you are amidst mountains.
Apart from vivid scenic beauty Bhutan is also famous of the Bhutanese cuisine which you should must try. Yak milk and cheese is used primarily across Bhutan for different dish preparation and also for day to day uses. You should also try Chhurpi, which is candy made of Yak milk. Chilly is not used as a spice but as a vegetable here and you will find its presence as main ingredient in many of dishes. Don't forget to get souvenir for your friends and family from there. You can consider purchasing them form local handicraft market in Paro or Thimphu.
I am really thankful to Bhutan for giving me such great hospitality and unforgettable experience.