Bhutan remained isolated from the world till 1974, when the first tourists arrived. The country feared that the entry of non-Bhutanese people would dilute their culture and traditions. But in 2008, a new modernising king realised that growth in tourism was necessary, and his people were capable of embracing modernity without giving up on their way of life.
Today, Bhutan tops many travellers wish-lists. Most itineraries usually feature elaborate temples, fascinating dzong monasteries, and colourful local festivals. But one of the best ways to access the real Bhutan in its unspoilt and untouched glory, is to trek through its mystifying landscape. There are many treks in this stunning country, ranging from easy and scenic hikes, such as the Druk Path, to one of the toughest treks in the world, the Snowman Trek.
Here's a selection of the best treks in the country in order of increasing difficulty:
Druk Path Trek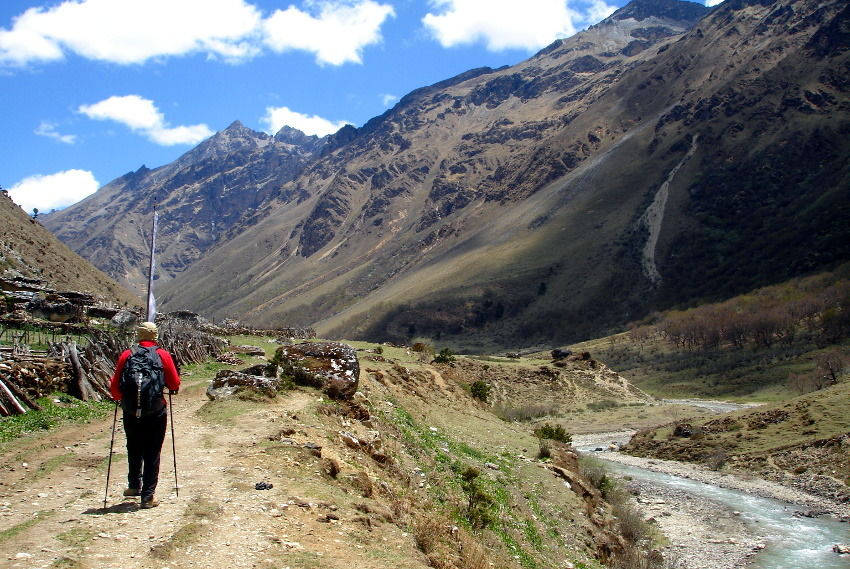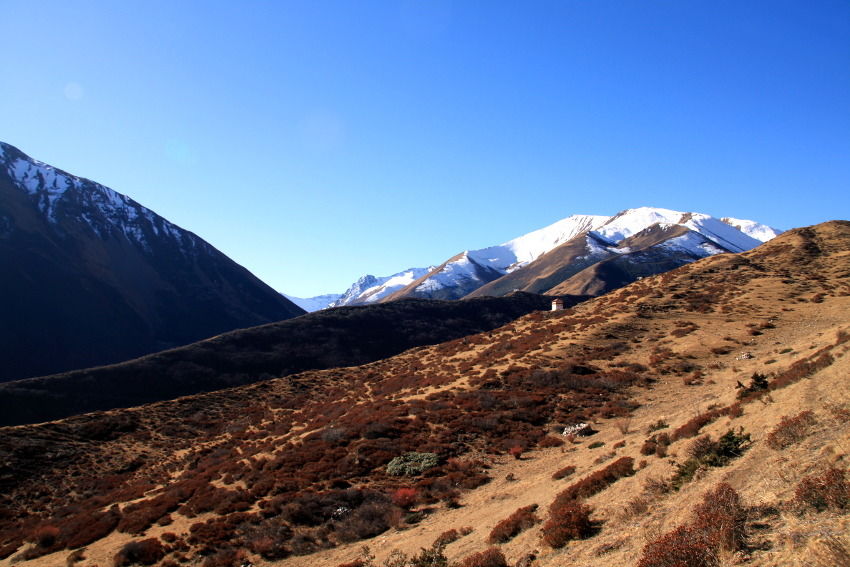 One of the most popular treks in Bhutan, the trail on this easy to moderate path is mesmerising and takes you from Paro to Thimphu. You start by walking through some apple orchards, past the ruined Jili Dzong and go through a stunning landscape of blue pine, fir, dwarf rhododendrons and several passes, which cover an altitude of 2400 to 4200 metres. The third day takes you to the pretty Jimiling Lake, the waters of which are home to gigantic mountain trouts. On other days you will encounter some dzongs, ancient lhakhangs (temples) and villages. The final descent goes through juniper forests and leads you to Thimphu.
Duration: 6 days
Level: Easy to moderate
When to go: March to June and September to November
Route: Paro – Jili Dzong – Jangchulakha – Jimilangtsho Lake – Jimgelang Tsho – Simkotra Tsho – Phajoding – Mothitang – Thimphu
Bumthang Owl Trek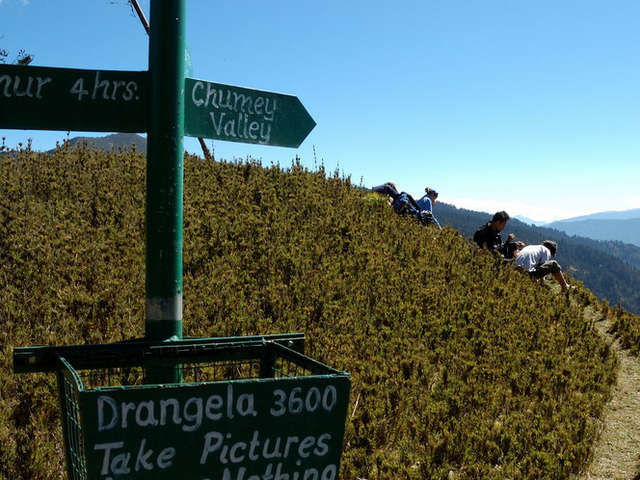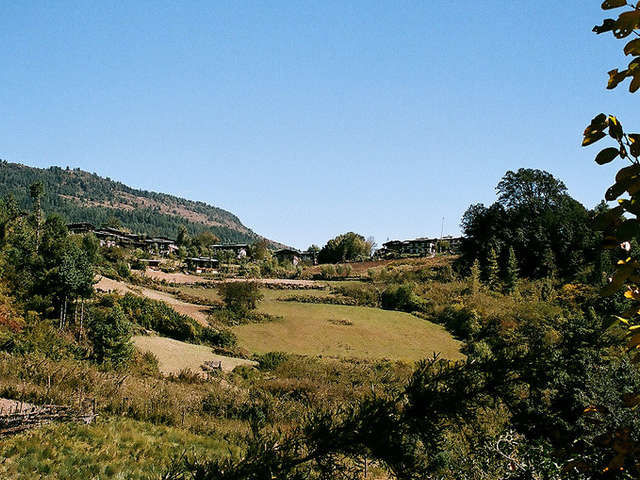 Bumthang is an unspoilt region in Bhutan with a lush green countryside, gentle mountain streams and a easy pace to life. And this trek takes you right into the heart of it. Day one of the Bumthang Owl Trek takes you to Dhur Village, the biggest village of the district, where you can interact with the local inhabitants, see the working of the traditional water-driven flour mill and witness life in the village. The next two days expose you to the flora and fauna of this lovely destination, such as rhododendrons, maple and birch trees, spruce and fir forests and vibrant monal pheasants. The trek ends at Tharpaling Monastery, which overlooks Chhume Valley.
Duration: 3 days
Level: Easy to moderate
When to go: March to May and late September to mid-November
Route: Manchugang – Dhur Village – Drangela Pass – Tharpaling Monastery
Dagala Thousand Lakes Trek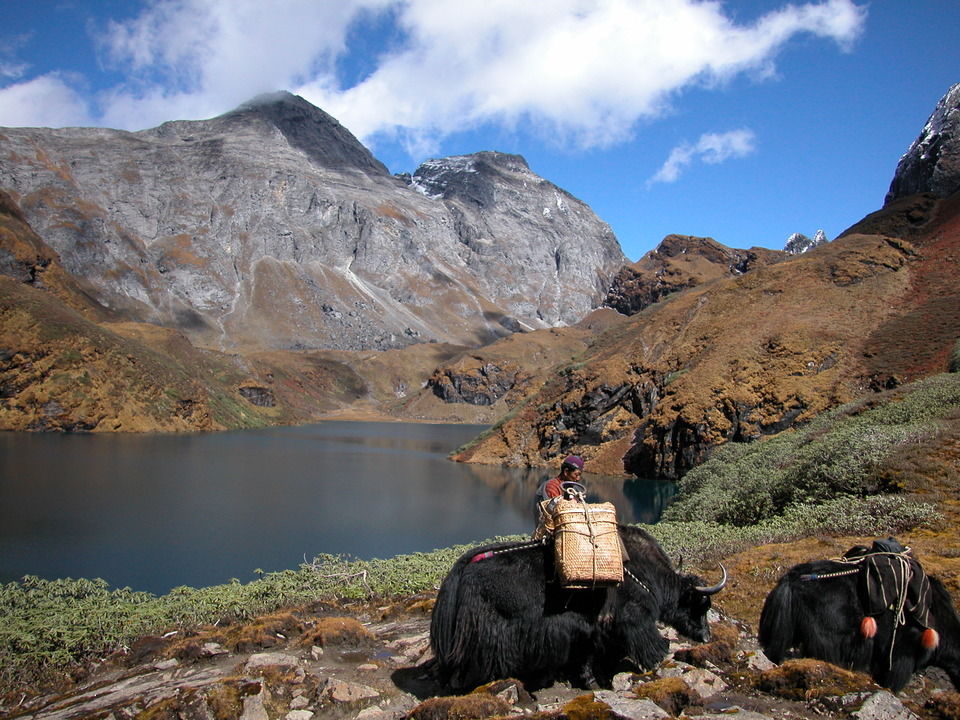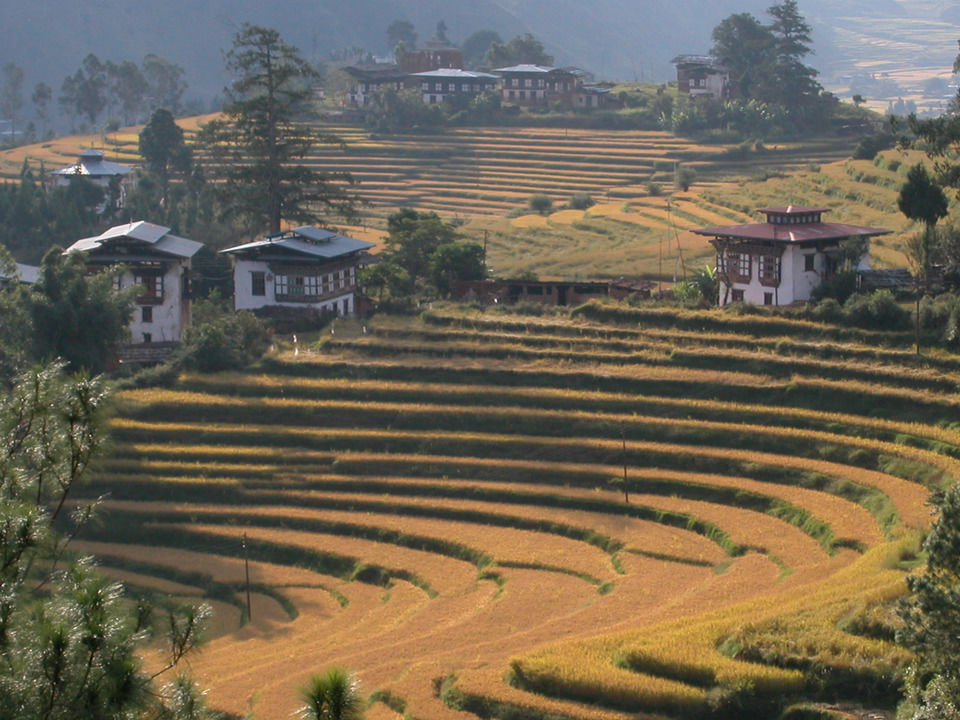 The sporadic bouts of strenuous climbing on this trek are definitely worthwhile, with rewards of magnificent views of some of the highest peaks in the world, including Mount Everest. A six-day trek, the trail on this one brings you to many, many high altitude mountain lakes, where you could get a chance to fish, and camp besides them. Days end quickly on this trek, while a few involve some difficult uphill climbing. If you take the route near Gynekha, you will encounter beautiful Bhutanese villages, where you can drop in to say hello.
Duration: 6 days
Level: Moderate
When to go: April to June and September to October
Route: Gynekha – Gur – Labatama – Panka – Talakha – Chamgang
Jomolhari Laya Gasa Trek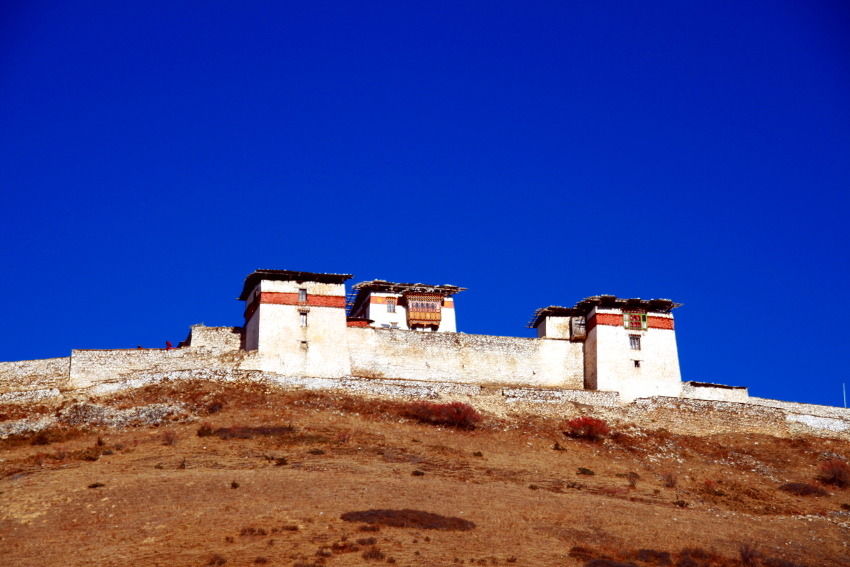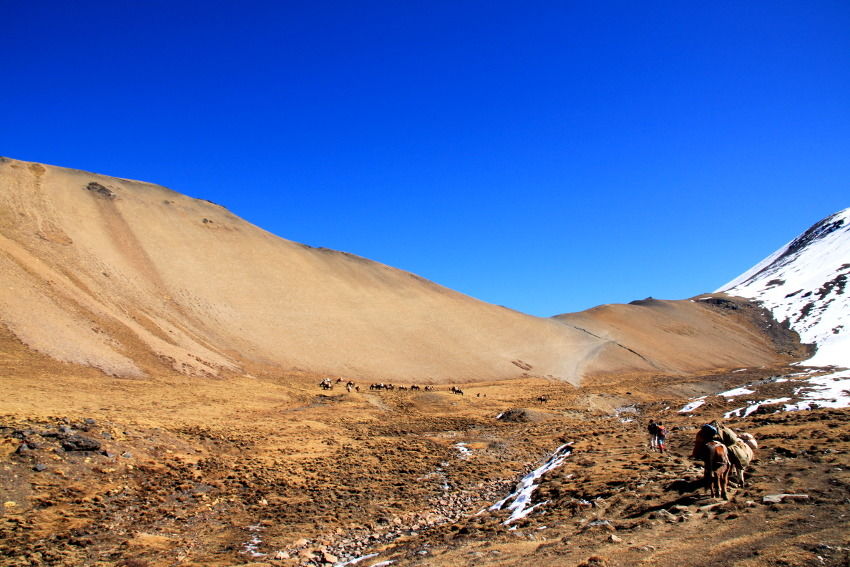 This isn't the same as the popular Jomolhari Trek, but it does follow the same route for the first five days. The Laya-Gasa Trek is one of the most scenic in the country and takes you through untouched landscapes, including pine meadows, dense sub-tropical jungles and high mountain passes. On the trail, you will even come across indigenous animals, such as takins and blue sheep. Meet the Layaps in remote mountain villages, who will introduce you to their unique culture and traditions. Ask your trek organiser to include a day of relaxation at the Gasa hot springs on the trek. This is a difficult trek and has many steep ascents and descents on the trail.
Duration: 14 days
Level: Difficult
When to go: April to June and mid-September to mid-November
Route: Gunitsawa Village – Sharna Zampa – Thangthangkha – Jangothang – Lingshi – Chebisa – Shomuthang – Robluthang –Limithang – Laya – Koina – Gasa
Dur Hot Springs Trek
The Dur Hot Springs is a natural, geothermal spring known as one of the most stunning in the Himalayas. A trek to these springs is challenging, as it overlaps partially with the trail of the Snowman Trek, one of the most difficult in the world, and involves steep ascents and descents, going till 4700m. Your trail will go through maple and spruce forests, and you will meet Himalayan black bears, blue sheep and musk deer. When you reach the springs, spend a day dipping your feet and resting.
Duration: 9 days
Level: Difficult
When to go: March to April and September to November
Route: Duer – Gorsum – Lungsum – Tsochenchen – Duer Tsachu – Tsochenchen – Lungsum – Gorsum – Duer Village
The Snowman Trek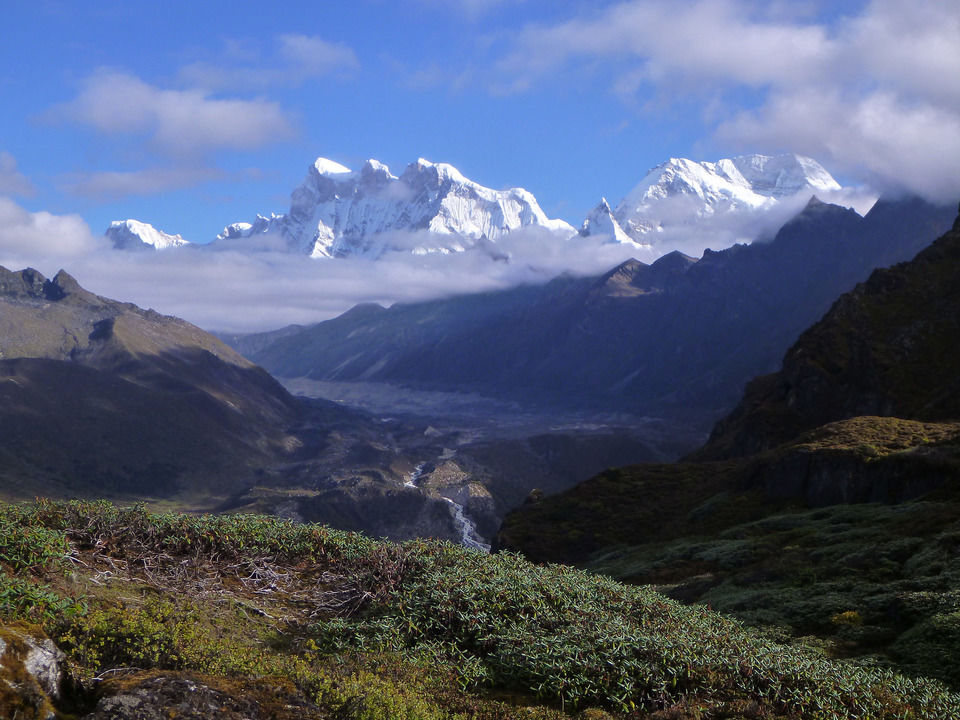 If you're up for the challenge, the Snowman Trek will reward you with not just incredible views, but bragging rights for the rest of your life. One of the most difficult treks in the world, this trek takes you through some of Bhutan's remotest areas. It is a high-altitude, difficult terrain trek, in which you cross 11 passes, all over 15,000 feet. The trek starts from Paro and goes along the Bhutan-Tibet border, culminating at Sephu Village in Central Bhutan. You will walk around 17km a day, for approximately 6 to 8 hours, and will need around two days before beginning the trek to acclimatise.
Duration: 25 days
Level: Difficult. Super challenging.
When to go: Mid-June to mid-October
Route: Gunitsawa Village – Sharna Zampa – Thangthangkha – Jangothang – Lingshi – Chebisa – Shomuthang – Robluthang – Laya – Rhoduphu – Narethang – Tarina – Woche – Lhedi – Thanza – Danji –Tshochena – Jichu Dramo – Chukarpo – Thampe Tsho – Maurothang – Sephu
Have you been on any of these amazing treks in Bhutan? Share your first-hand experiences with the community on Tripoto and become a part of our global travel community. Top monthly contributors on Tripoto win free trips to some of the most unspoilt places in the world. Find out more here.
Frequent Searches Leading To This Page:-
easy treks in bhutan, day treks in bhutan, walking treks in bhutan, small treks in bhutan, treks in bhutan in June