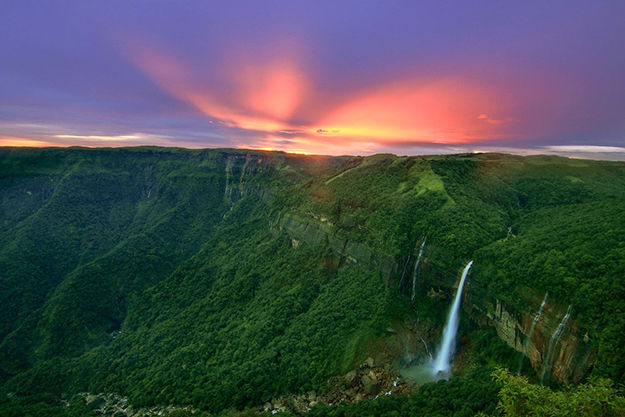 The Wettest Place on Planet Earth, Cherrapunji
#CoffeewithTripoto
The first thing you notice when you get down on the Railway Platform is the board saying this! Cherrapunji enormously known as 'Sohra' is known as the 'Scotland of the North'. It holds the World Record for the most abundant rainfall. Cherrapunji sits on an elevation rising 600 meters above the surrounding valleys. The green clean grasses give you the Scottish feeling. The root bridges of cherrapunji may give you GOT feels!
The Khasi's Town
Cherrapunji is famously known for its Homestay rather than in Hotels. Seven Sister's fall, is the best to visit in the month of August. Located just 1 kilometer south of Mawsmai Village, the Seven Sister's fall have the fame of being the fourth highest waterfalls in India. People in Cherrapunji are called as Khasi. What is the place without mysterious historical stories?! Well, Nohkalikai falls as the name can be translated from Khasi to 'Jump of Ka Laka' ( Ka is the prefix for the female gender in Khasi) has the mysterious long story around it which is narrated by the localities there. It is made of a dramatic free-fall from a Fairly well-forested drainage into a Rocky base accomplished by a pretty blue pool.
Rover's Glee
There are many root Bridges in Cherrapunji. Umshiang's Double-Decker Root Bridge is one of the popular Tourist allure. For all the Photographers out there, several contests are held to capture this Bizarre Bridge. The roots of the Bridge are trained by the khasi's to grow in such a manner as to be in a form of bridge on the Top of the River.
Food Peculiarity
Pork Rice is a Khasi Specialty that must be tasted once for all the Red-Meat Lovers. Sohra pulao is a delicacy that should not be missed with all the vegetables mixed with cooked rice and less spices added to it.
Cherrapunji came into trend after styledotme took some of the famous Indian Bloggers like thatbohogirl, Sejal Kumar, Niki mehra on a tri[p to cherrapunji and the social media was flooded with their vibrant pictures from the trip.