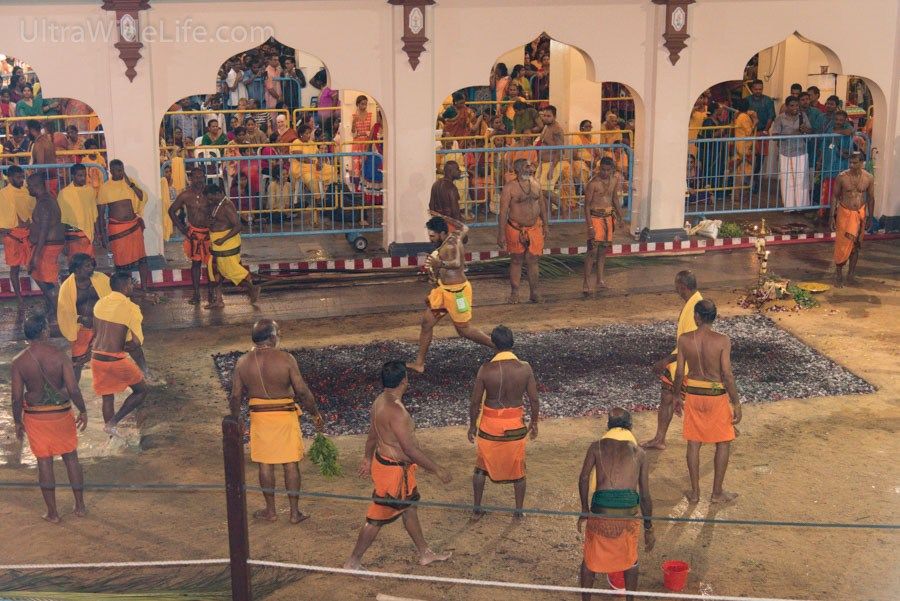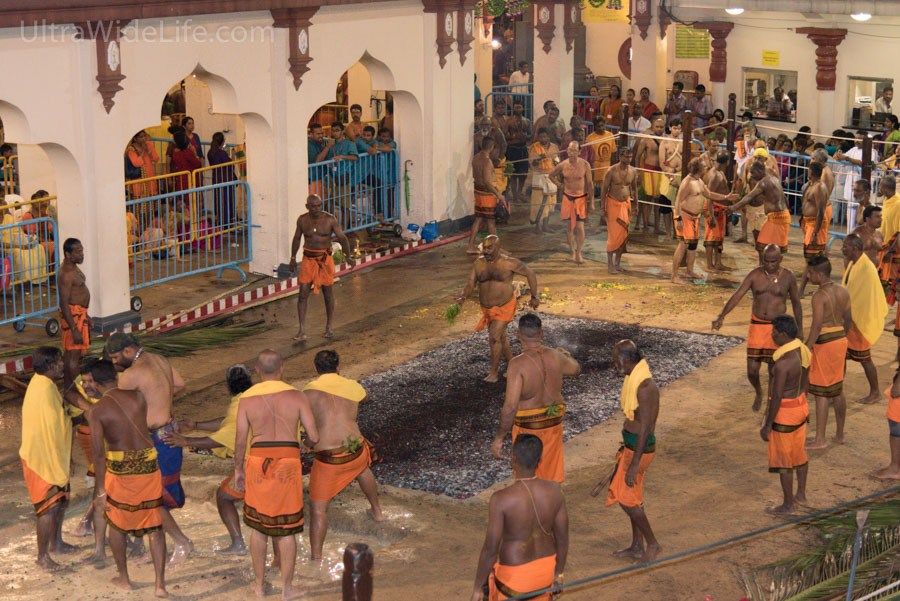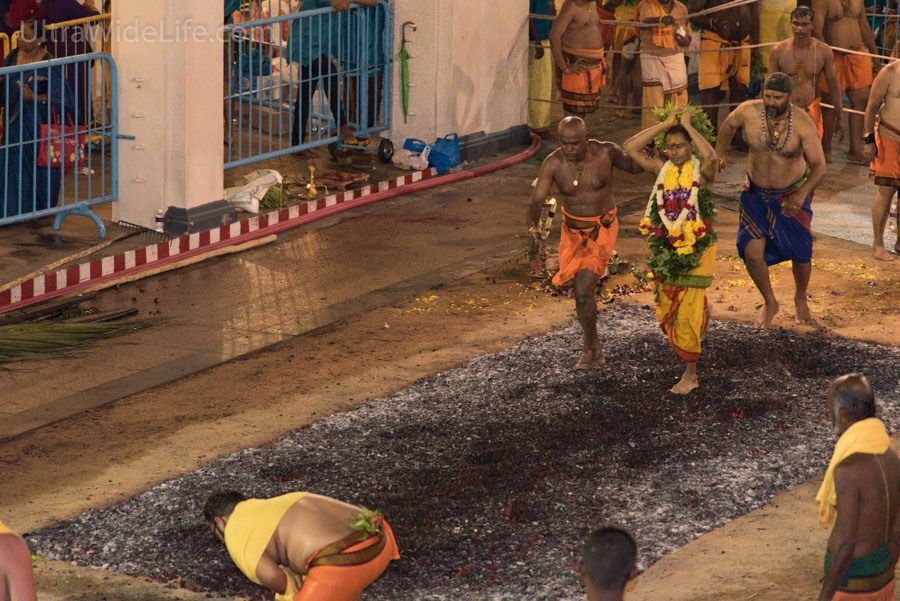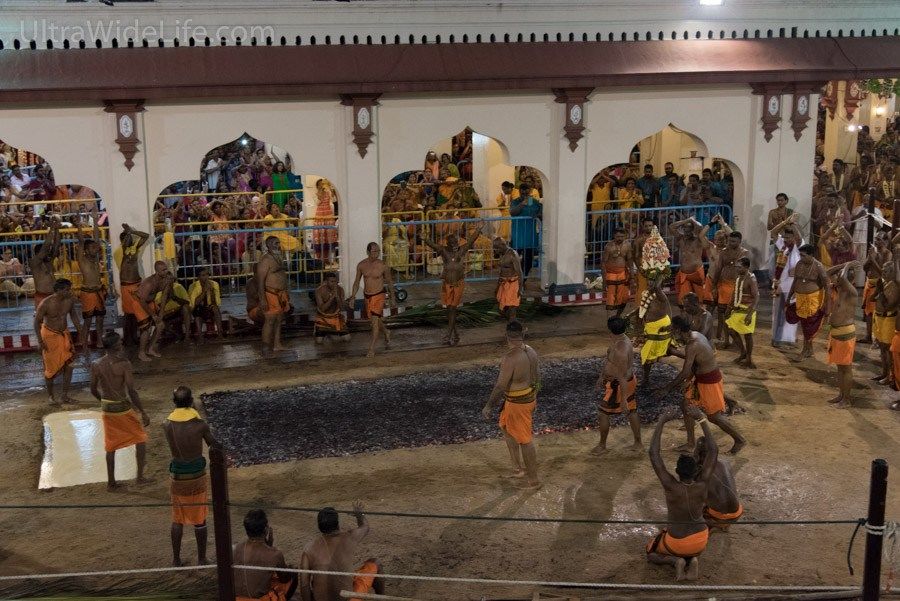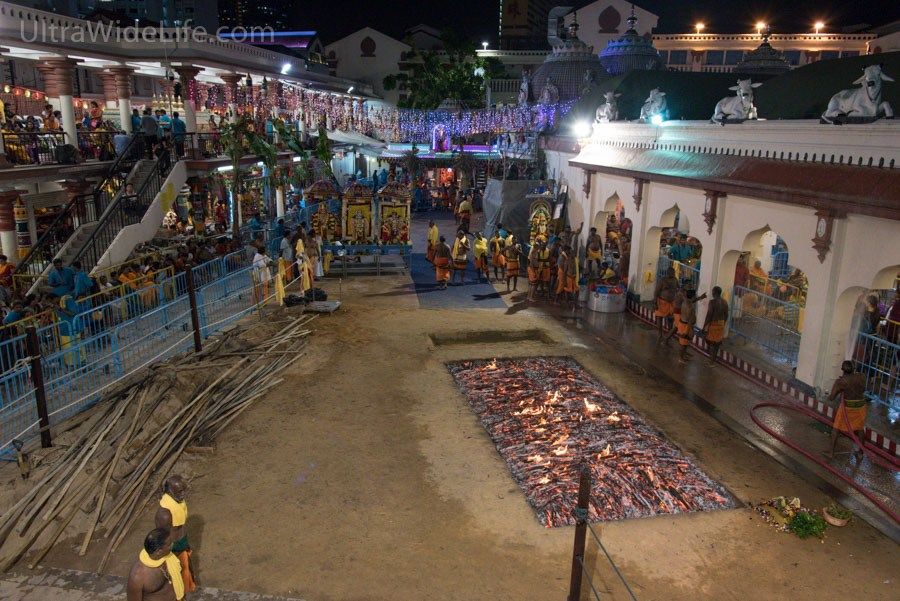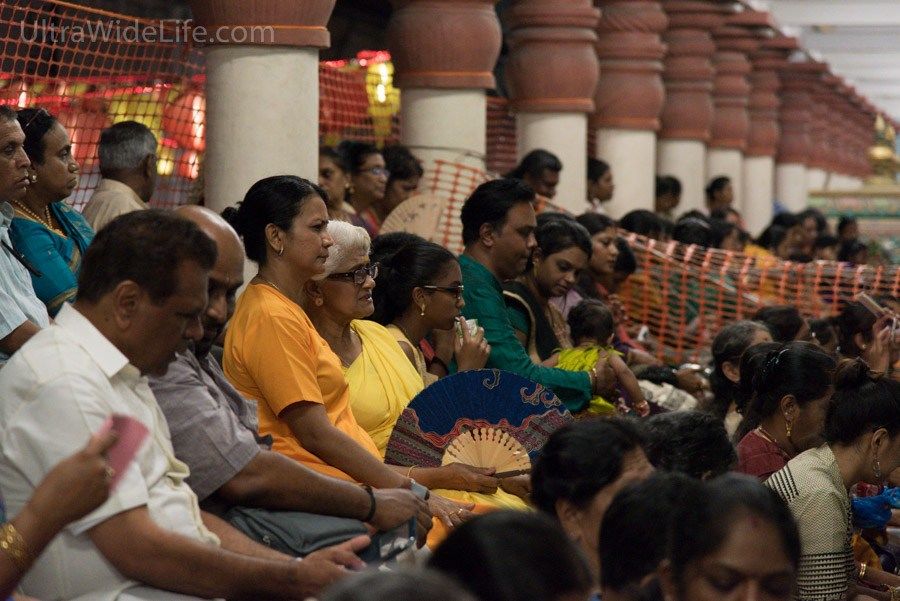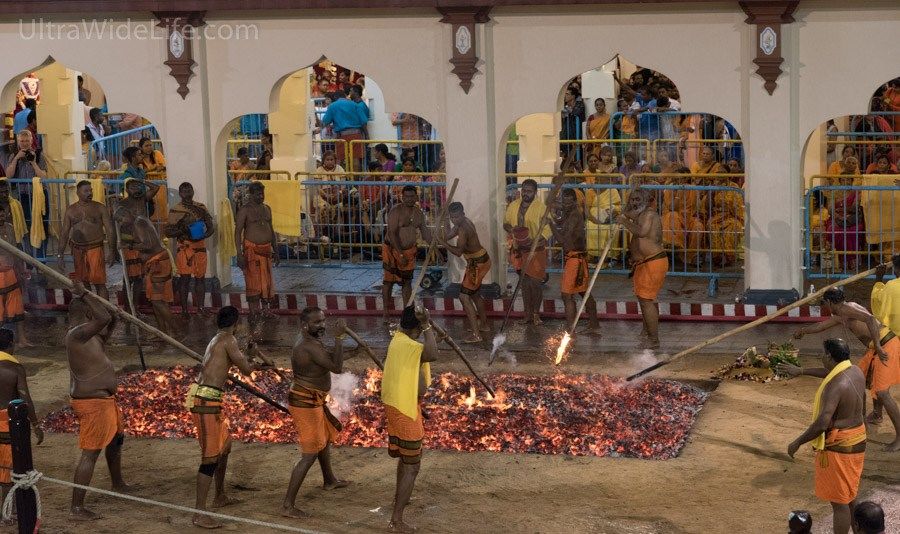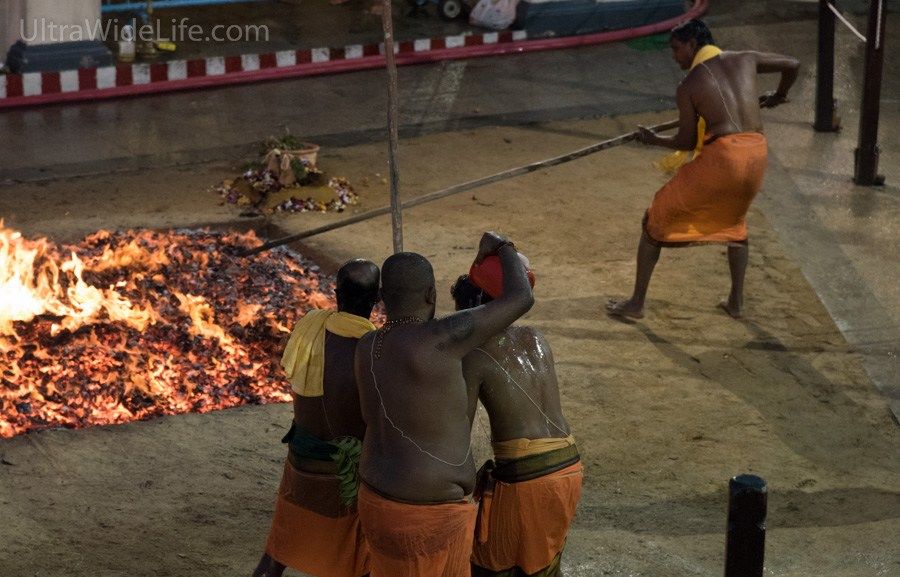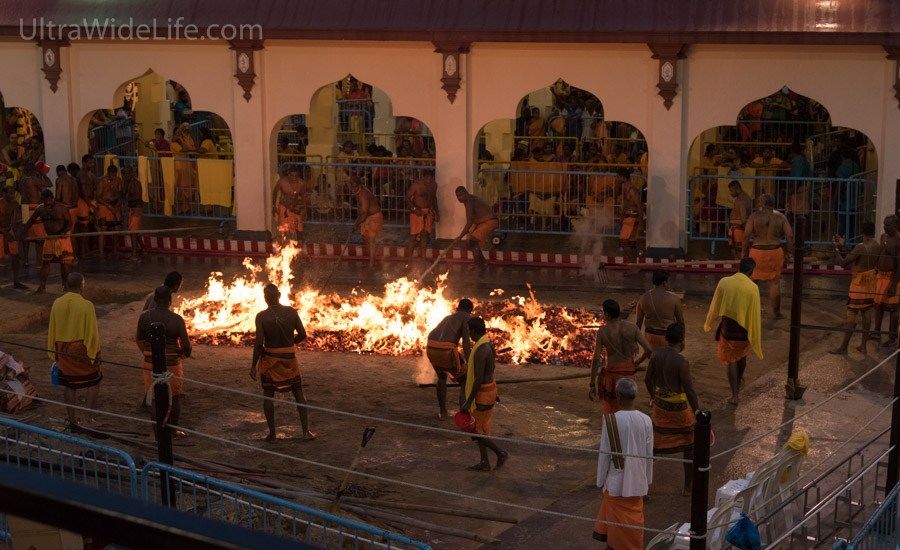 Continuous chant of "Om Sakti" is still ringing in my head. Environment so electrifying, you may have never seen or experienced. It was a state of trance. Drums were blaring hard but for an audience flying high in religious spirit, it was indeed musical. Flames, as high as 4 feet where making it unbearable to stand even in vicinity of temple complex. A huge "bowl of fire" was being prepared for devotees to walk over. One, who has a pure soul will pass unscathed, others will perish in burns.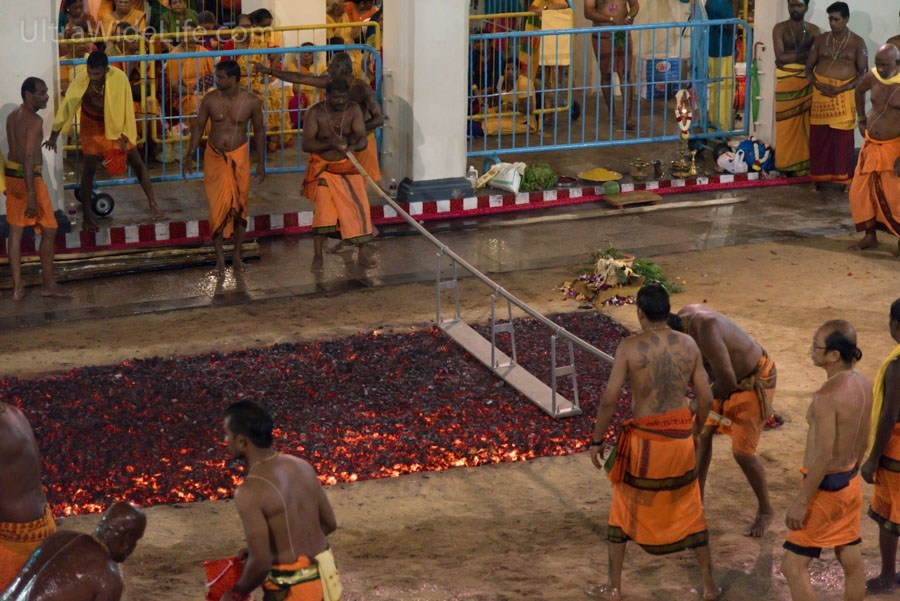 Would you walk on this pit of hot red burning charcoal in name of religion?
A firewalking ceremony, is celebrated by Tamil Hindus of Southern India. This event is grandly celebrated in India, Sri Lanka, Singapore, Malaysia and Mauritius in month of October/November in honor of wishes granted by Draupati Amman, who is considered the incarnation of Mariamman.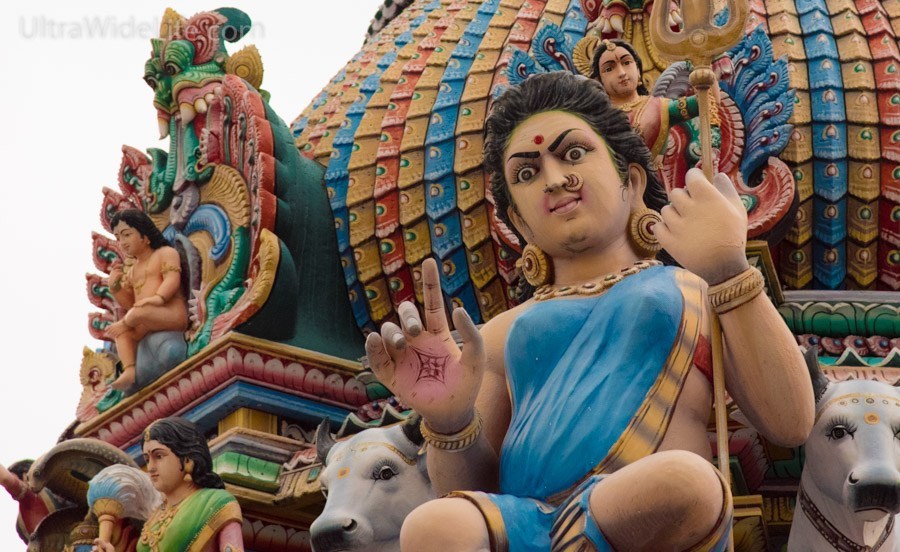 Guards of temple. I think she is saying, "Only one photo allowed."

LegendAccording to Indian mythology, Draupati was a main character of Mahabharata. She was wife to five brothers knows as Pandavas. When Pandavas lost Draupati to Kauravas in gambling, Kauravas dragged her in courthouse and played with her dignity. Draupati vowed to not comb her hair until she washed them with blood of one of Kauravas. 13 year later, Pandavas killed all Kauravas in a fierce battle and Draupati gets chance to complete her vows. She is also asked to walk over fire to prove her chastity and purity. Draupati walks over fire and comes out unharmed.The festival is celebrated to commemorate this event.
Event in SingaporeSri Mariamman Temple (China Town) is the site of Thimithi celebration in Singapore. Devotee walk 4 km from Perumal Temple in Little India to Sri Mariamman temple every year to participate in this celebration.
A 2.7m long pit is filled with burning red hot charcoal. Initially when fire is lit up, flames as high 4 meter makes it difficult to manage. Priest who volunteer to manage the pits are cooled by water poured over them by other priests. Thereafter, the fire is sustained, sometimes reaching such high temperatures that the temple walls need to be cooled with water. All devotee of Goddess Drapuati have to cross this pit bare footed. At the end of pit, a pool of cow's milk is created to cool down feet. Cow's milk is considered sacred in Hindu mythology. Many priests stand along the pit to make sure no devotees fall in the pit while crossing.
A devotee running across the pit. It is advised not to run over the pit to minimize the burns. The more you pressurize the feet (to run), more charcoal it digs into.
After this ceremony, there is a chariot procession in the evening. Although firewalking is the apex of the whole ceremony, the Theemithi cycle only comes to a close two days later. The final chapter of the Mahabaratha is read and the victory of the war is depicted by the lowering of the battle flag and the crowning of Yudishtra, the eldest Pandava brother.
Science says, time duration of contact made by human feet and embers is not sufficient enough to sustain burns. Also embers are poor conductors of heat so less heat is transferred to human feet. Devotees are high on enthusiasm so they tend to cross the pit without much trouble. All these factors explain the scientific side of firewalking.
Goddess Mariamman is considered by many to be the South Indian Incarnation of Goddess Kali. If Goddess is mother of all devotees, how can she be pleased by hurting her sons? Or is it just that people blindly follow religious gurus in search of enlightenment and it is these gurus of religions that inflict people with pain staking processes? Whatever be it, if one can find peace in inflicting burns so be it. At the end what matters is a peaceful and satisfied mind! isn't it?
This post was originally published on UltraWideLife.
Frequent searches leading to this page:-
Top Singapore tour packages with price, best Singapore tour packages for couple with price, best Singapore tour packages with price from Delhi, Singapore tourism best places to visit, Singapore tourism packages from India, Singapore tourism best time to visit, Singapore tour package for family