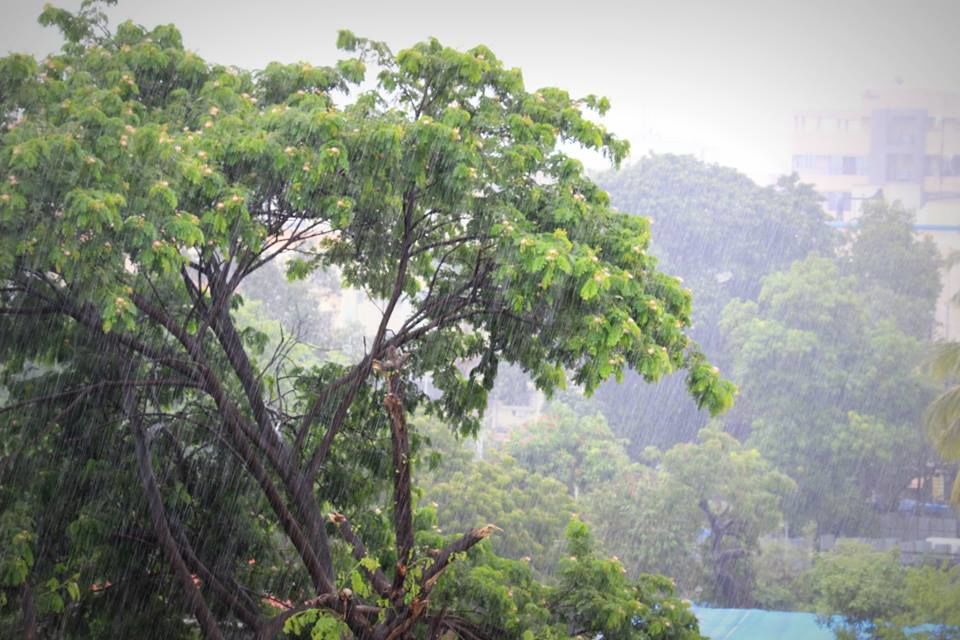 Gone are the sunny days that roasted us like a tandoor, rains are finally here to sprinkle excitement and masti on our weekends. Monsoon has the magic that makes even unkempt elevations and tunnels feel like a hill station during daily local train journey. (Thanekars, remember Mumbra?) Monday blues are washed while watching tiny droplets racing on the window.
Rains can also make you lazy with your warm blanket wrapped around. It's just until you venture out; and once you do that, you regret being at home whole day! I do not want you to spend a single dull weekend this monsoon so here are some ideas for what you can do this season.
First one is obvious,
WEEKEND GATEWAYS:
"Go to a place you've never been before. Do some activity you've never done before!"
Monsoon is the time when you don't have to go far to find beautiful places, even the hillock on the border of your town feels like a paradise. Chuck the usual touristy places and explore at least one new place this season!
~ Trek to new places ~
Gone are the days when you needed a plan and a group to go trekking. With so many tour organisers emerging, you can literally trek even solo the very next day you book! This is the best time to hike various forts (for starters Lohgad, Tikona, Korigad, Rajmachi in Lonavala) and hidden places like Devkund waterfalls. You can even indulge in water rafting or rappelling.
Infact why go so far, do you Mumbaikars know that you can even trek at Sanjay Gandhi National Park to the highest point in Mumbai 'Jambulmal'?
"Good, but how do I find them!?"
So here is what I do, I type the trek location in Facebook search box, click 'events' to filter only events, and in nano-seconds I have whole list of tours organised for that specific place! I also check their site and reviews or if they don't have any, ask for pictures from their recent trips to ensure quality and safety. It usually gives me enough options, if not google always comes to rescue!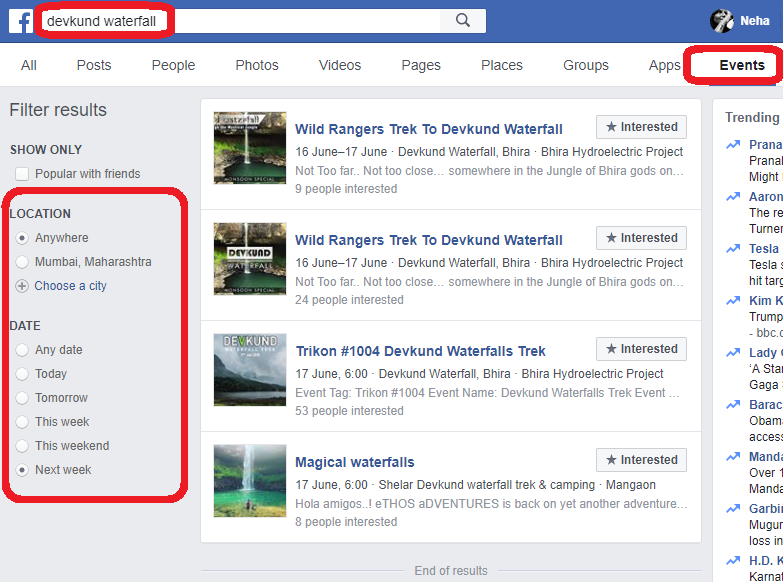 ~ Explore a new place at nature's lap ~
Mumbaikars/ Punekar can ditch the usual ghats of Lonavala and Khandala and head to Tamhini Ghats, Mulshi or Panshet. These equally scenic places are perfect for an unplanned day trip as well as detox stay. There are lot many budget as well as luxurious resorts tucked in here, for instance recently my friend visited Panshet Valley Resort. Imagine an Infinity pool in a budget stay!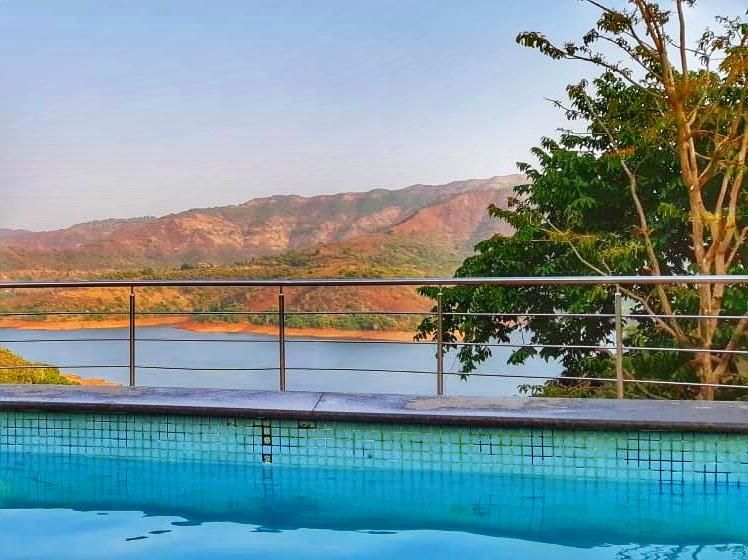 There are tonnes of places apart from costly options like The Machan or Hilton Shillim Retreat! From budget Agro Farms like Megh Malhar Agro Tourism, Saguna Baug (This one is near Matheran, worth a mention for their pool villa); to luxurious yet affordable options like Basho/ Bougainvillea, Malhar Machi, Jalsrushti Island (Jalsrushti does not operate during heavy monsoon, try in September or post monsoon!)
These places usually offer all meal inclusive plans as they are in a secluded environment, but are perfect for a break away from hustle and bustle of the city. I'm sure there are lot more, be an explorer and try new places!
(PS: Click on the resort names to open their details)
~ Explore Maharashtra ~
There are plenty places across whole of Maharashtra to host you best in monsoon. The whole state flourishes in shades of green. Ratnagiri- Sindhudurg- Malvan- Konkan regions are just like heaven during rains!
A roadtrip to Igatpuri- Bhandardhara- Nasik- Saputara, or Wai- Satara- Mahabaeshwar is best done this season. Some less known places here are Tapola (Mini Kashmir near Mahabaleshwar), Lonar Carter (lake created by meteor impact, best travelled from Auarangabad), Kaas Plateu Satara. (Experience the bloom in September)
~ Plan a long weekend ~
As beautiful are snow clad valleys, the fog cover on mountain peaks is equally breathtaking! There are many long weekends lined up in August/ September, ideal for a trip to places like Munnar, Wayanad, Coorg, Kodaikanal, etc. Infact these months are also best to visit North destinations like Ladakh, Valley of Flowers, Cherrapunji, Mussorie, etc. The list will be unending! So start planning now!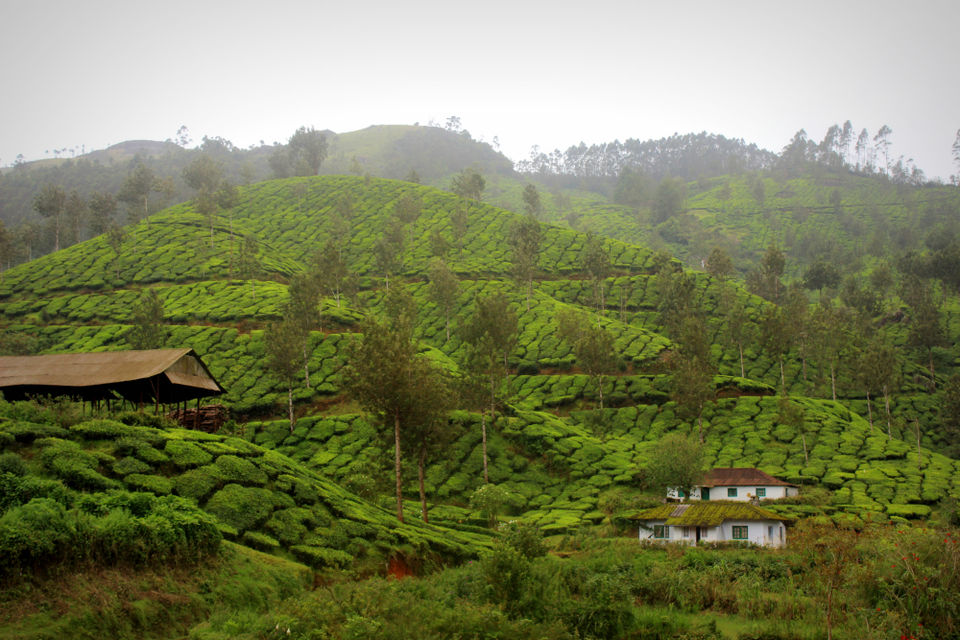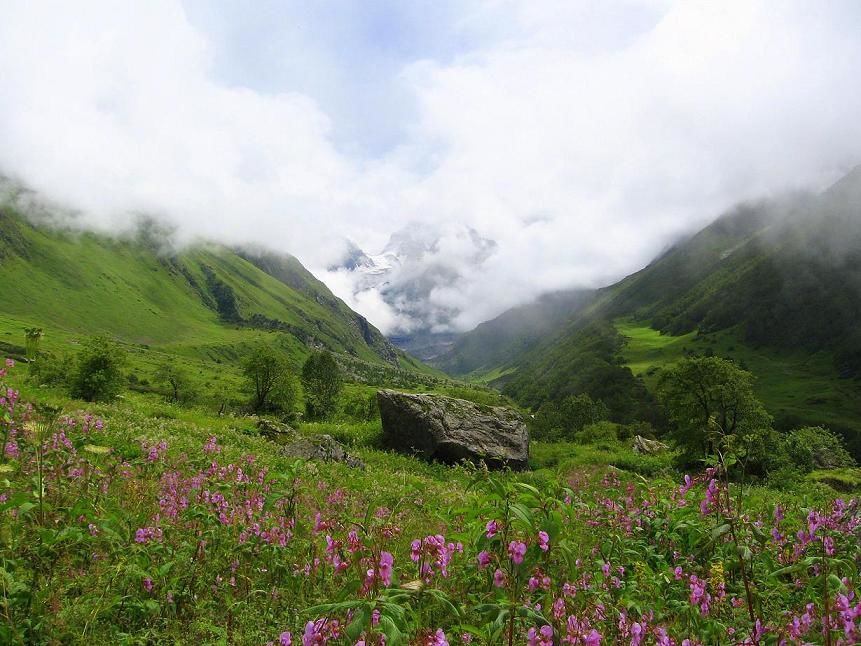 Places like Goa can be a lot cheaper during monsoon, while there definitely are lot many things to do there even in monsoon! Dudhsagar waterfalls, Salaulim Dam (Picture below, Niagara of Goa!), Arvalem Caves and Waterfalls are just few names to get your plans started! In fact I'm gonna list out Goa itinerary for monsoon in coming posts. So stay tuned for that.

Secondly,
EXPERIENCE MONSOON IN YOUR OWN CITY!
While hopping places on weekends, don't forget to leave some time to enjoy the monsoon in your own city!
Enjoy the unannounced showers the day you forget your umbrella home,
Experience rains at Marine Drive or seaface and get drenched in showers in a filmy style, (God, it's hard to hold the pee thereafter till you return to your house! :P)
Sky will be painting a new painting everyday with clouds, simply bask in those views from your own sweet window!
How about a movie marathon, with bhajjiyas replacing popcorn on a heavy rain day?
Or just a masala chai or coffee as you watch the rainfall from your office window on weekdays!
It is more important to experience the season as whole, even in your own city, even on weekdays!
Soak the freshness around, for Monsoon is finally here!
Happy Monsoon folks! ????
Let me know your dhassu plans/ ideas for this monsoon in comments down below!
This post was originally posted on my blog here.
Follow on Instagram for more pictures from my trips.
I'm also available on YouTube, Facebook and Twitter.
Just a girl with dreams of travel…