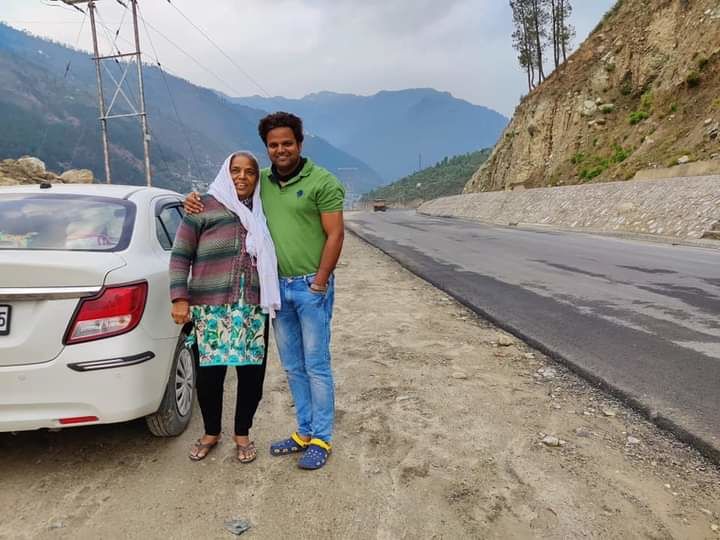 Do you people know..
Who is your biggest strength...
Who is your biggest supporter.....
Who is your biggest hope in life.....
Don't think much. It's your mom. We call her
mom, mommy, mummy, ammi, amma maa. etc
Mom is real blessings for us. I believe God can't be present everywhere so he send mom in every home. And also I realize that the older generation they didn't travel much due to some reason like lack of of confidence, lack of money, lack of support, lack of sources, etc.
Traveling is awesome & it becomes so special when mom with you. There were the time when she did everything for you, she gave her time, energy, strength, age, etc. now it's our time to pay back.
Some lines I wrote for her (mom)
कि जिसकी उंगली पकड़कर सीखा था चलना हमने
माकूल वक्त है उसे दुनिया दिखाने का ...
की जिस से सीखा था पहला कहकशा हमने
आओ कुछ कहानियों का हिस्सा उसके साथ बने ...
Now days people love traveling solo, with friends. Why not with mom. Guys believe me
It's really unparalleled. It's sheer genuine happiness. Now it's the time to show your mom everything mountain, sea, forest, historical sight, foreign countries etc. show her the world. This will give you real blessings & pleasure. I am doing the same. Wanna inspire more & more people with this I have started
You can do. Traveling with mom it sounds amazing. Do that please. like in Chilhood mom use to do everything for you. She sings for you. She acts for you. She tells the stories to you.
It's the time we have. The opportunity we have
Travel with mom as much as you can. Make memories with her.
I did some travel with mom like
Manali, shimla, nanital, mussurie, Rishikesh, haridwar, agra, mathura, Badrinath, etc
It's just a starting many more will come.
This will become your greatest Tresure...
Share your travel stories ...
Thanks & regards
Kapil sharma