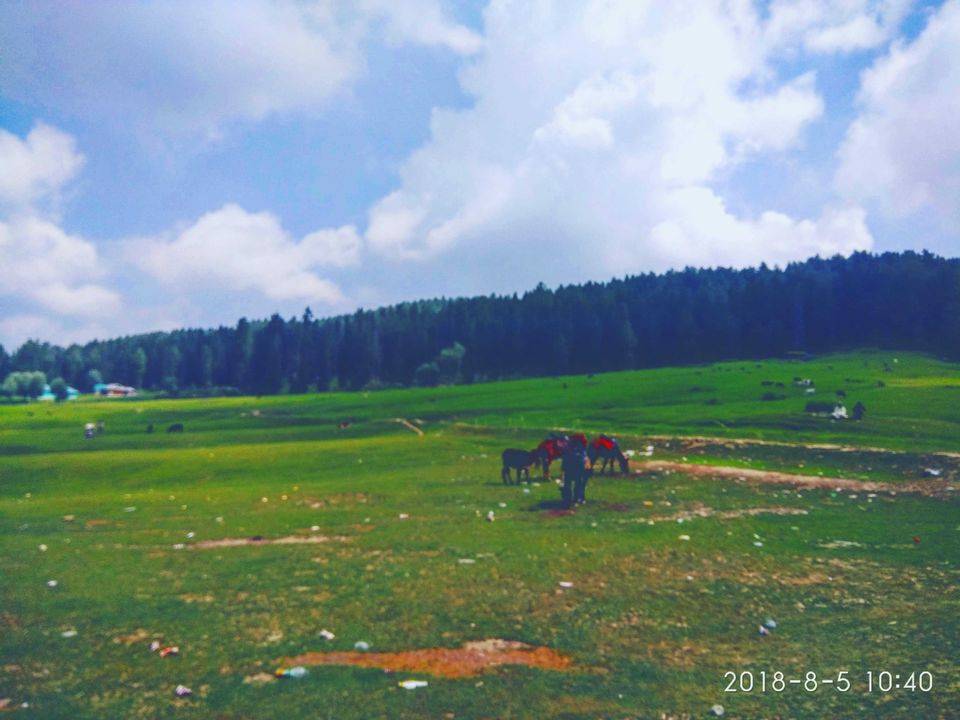 Yousmarg or yusmarg which translates to "Meadow of Jesus"!
It is a hill station in western part of the Kashmir valley in the beautiful state of Jammu and Kashmir, India.It is situated 47 km south of Srinagar the capital of the state.
Going by the myth prevelant in the valley  It is believed by Ahmaddiya Muslim Community that Jesus came to Kashmir and stayed at Yusmarg for some time. It is an Alpine valley covered with snow clad mountains and the meadows of Pir and fir, It lies 13 km south of Charari Sharief town of Budgam district of Jammu and Kashmir. It is situated at the bank of Doodganga river which is a tributary of Jhelum river. It is located in the Pir Panjal peaks, a sub range of Himalaya. The Peaks are: the sunset Peak and the Tatakooti Peak  for which the expeditions lead from this hill station. It lies at an altitude of 2396 metres above sea level.
Yousmarg should definitely be on your travelling list as it is very economical. The place has several tourist huts which will definitely fit in your budget
This place is about 1km from Pulwama, the journey by bike is surreal!!
The famous places to visit in yousmarg starts from Doodh Ganga, Sang-e-safed valley,Nilnag lake,Charar-I-Sharif and Tosmaiden
Tosmaiden is another beautiful meadow with rich flaura and fauna and scenic beauty
Crashing through big rocks and boulders, this stunning stream creates a milky white foam, that is why the name Doodh Ganga. 
Charar-I-Sharif is counted as one of the most scared Muslim shrine in India. The holy wooden shrine built in praise of Sheikh Noor-ud-Din Noorani, as Sufi saint. Approximately 600 years old the shrine receives devotees of all faith.
Sang-E-Safed Valley (white rock) is an oval shaped meadow bisected by the River Doodh Ganga. It is located around 10 kilometers uphill from Yousmarg. Trekking is the thrilling way to reach the heights
And in the last was Nilnag Lake is 4 kms away from the valley. The Frozen Lake is one of the most visited tourist destination. The lake is located at the height of 2180 meters above the sea level. Through a rough trekking path in the middle of dense forest the lake can accessed. The water of the lake are crystal clear blue color, after which it has got the name 'Nil' (blue).
This place is best to visit throughout the year if want a view of snow clad mountains then visiting in December and January are ideal months and July and August are the camping seasons!
DO VISIT YOUSMARG FOR AN UNFORGETTABLE EXPERIENCE :) :)