"Death is not the opposite of life but an innate part of it. By living our lives, we nurture death."
― Haruki Murakami
Despite these wise words, humans have always had a hard time accepting death. It probably has something to do with the absolute finality of it. The idea that we might not continue to exist at some point has man looking for ways to discard their mortal shells after they cross over to the other side. Some return their bodies to the earth from whence we came from, some look to preserve their bodies even after they no longer use them. Since humans are everything but boring, here are some fascinating cemeteries which range from spooky to bizarre. Take a look:
The Fontanelle, a blend of natural caves, tufa mines and Greek and Roman tunnels of yore, has a fascinating story behind it. When church yards and cemeteries started overflowing in Naples, Italy, owing to the number of victims the plague of 1656 claimed – victims who died were tossed into the cave in the wake of the disease without last rites or grave markers. The large chunk of Catholic populace considered this method as nothing short of purgatory and so the cemetery was shunned as haunted unless more corpses had to be offloaded into the cave.

The caves, brimming with anonymous skulls gave way during the floods in one instance and inundated the city with skulls and bones. In 1872, Father Gaetano Barbati started the enormous task of cataloging the anonymous remains which were stored in boxes and crypts. Workers muttered prayers for the souls of the deceased as they worked and thus began a unique bond with the dead. Widows adopted skulls, named them and cared for them – talking to them and asking them to fulfill small wishes which they would write down on paper, roll up and stick into the eye sockets. The cave is now open for visits by reservation.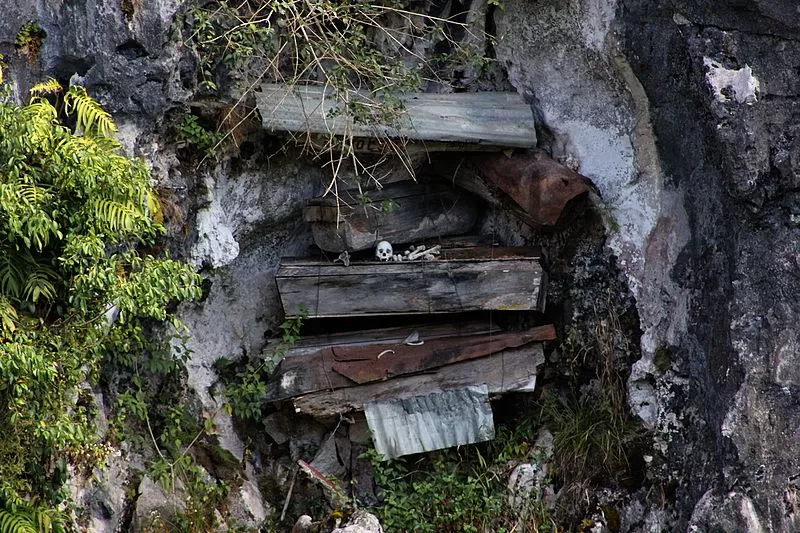 Thrill-seekers who want a touch of risk even in the afterlife might sign up for hanging coffins. These are coffins placed on near-vertical cliffs. These coffins can be found in China, Indonesia and the Philippines, some of them over hundred years old. An ancient funeral more, especially among the Bo race of southern China, coffins were carved from a single piece of wood and placed on beams projecting outwards from cliff sides or caves and natural rock projections. The custom ensured that wild beasts could not access the body and spiritually, mountains were considered as the stairway to heaven.
Sedlec Chapel or the 'Bone Church' near Kutná Hora, Czech Republic has rather unconventional tastes when it comes to choice of decoration. Bones from 40,000 human skeletons were employed by František Rint, a woodcarver in 1870, to carve out an ornate chandelier using all the bones present in a human body.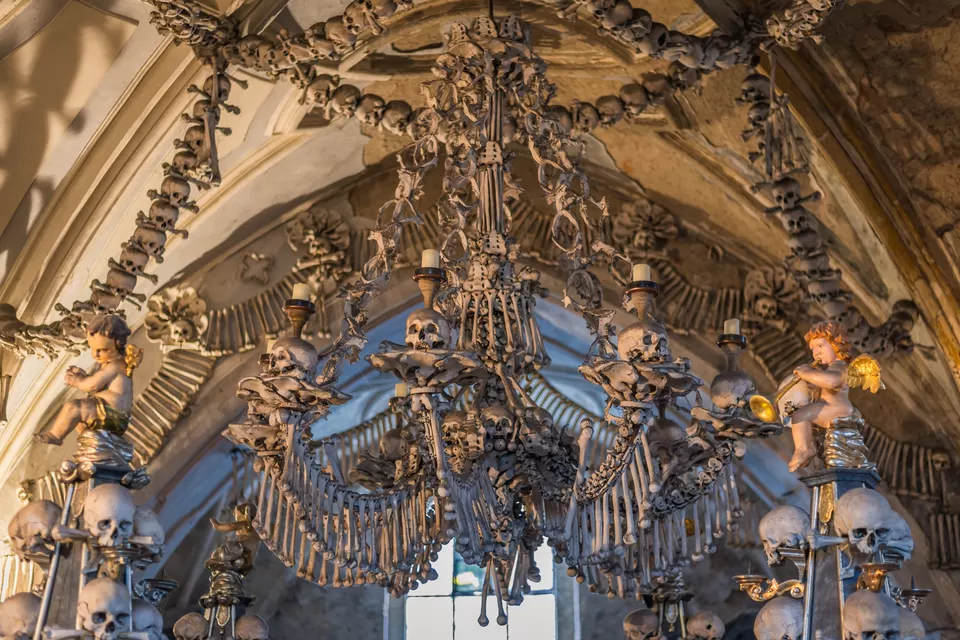 He also created two bone chalices, four detailed candelabras, six huge bone pyramids, two bones monstrances, a family crest in bone and wait for it, skull candle stands. A gothic person's wet dream, the church stands decorated with bones looped festively across like streamers. The Sedlec ossuary was a burial ground for nearly 900 years until more number of dead forced people to dig out the older bones to in new ones.
Colma Necropolis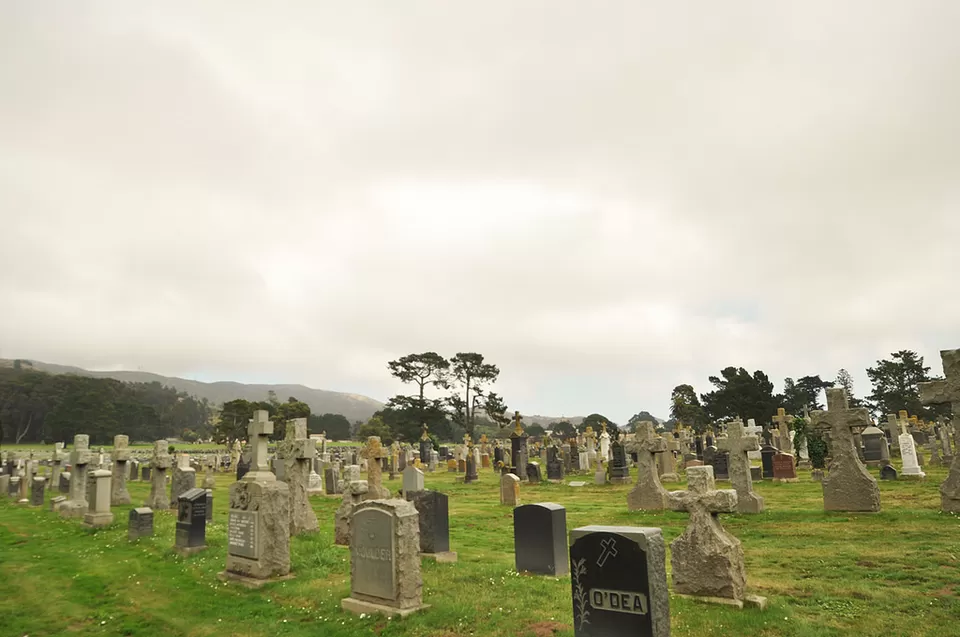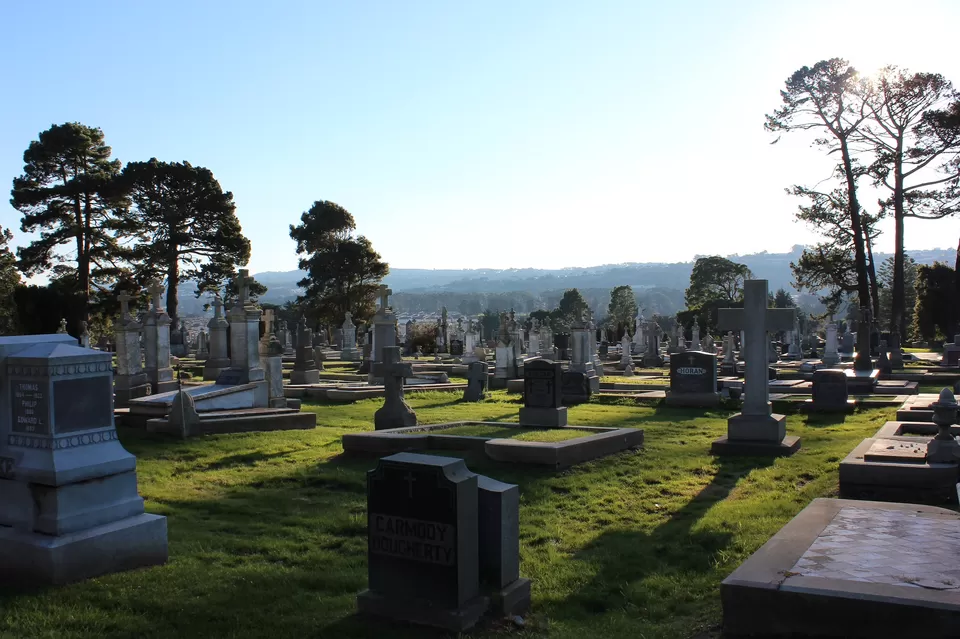 Colma, California is a town in which the numbers of dead (1.5 million) overwhelm the number of living (1,500) residents. Ironically the town motto is, "It's great to be alive in Colma." San Francisco in 1900 issued a decree prohibiting the building of new cemeteries and burials started taking place in Colma instead. San Francisco's cemeteries were moved to Colma which presently holds 17 cemeteries with an additional one for pets. The area looks scenic with rolling green hills dotted by mausoleums, towers and tombstones.
For those who've always loved the blue, gleaming expanse of the ocean, there's an option for your remains to be part of Neptune Memorial Reef which aims to be the world's largest man-made reef underwater. The memorial reef is 3.25 miles east of Key Biscayne, near Miami, Florida.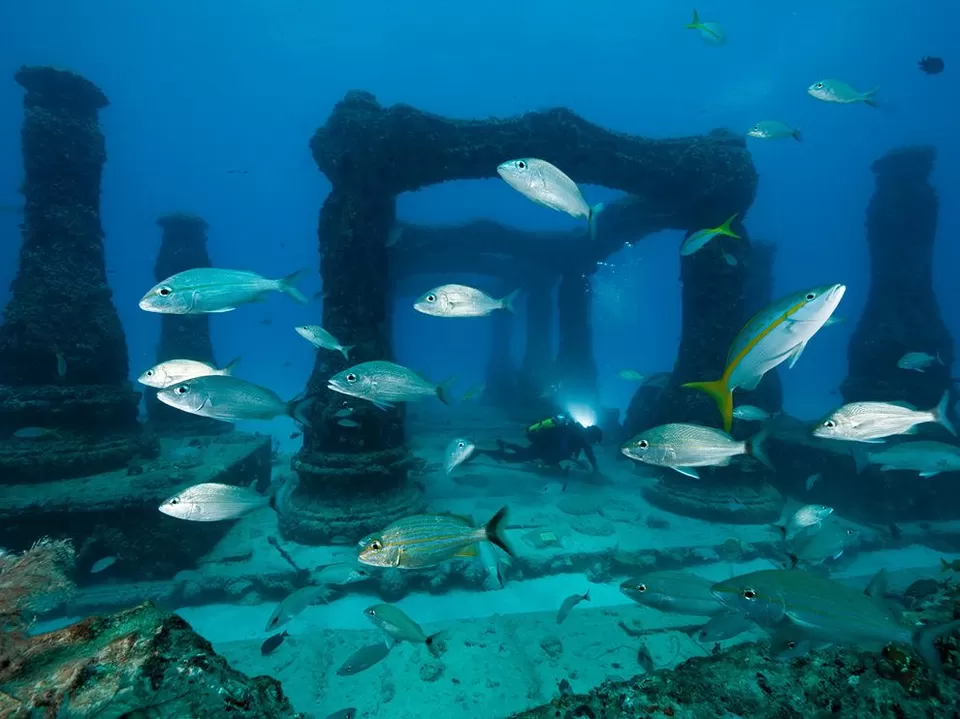 Modelled as an artistic interpretation of the Lost City of Atlantis; cremated remains of people are mixed with cement to form pillars and other features along with memorial plaques. Reef-building coral has started developing at the site and brightly coloured fish have been inspecting the structure curiously - as a result, the reef has turned into a coral reef. Loved ones can deep sea-dive to it with wonderful marine creatures to keep you company.
City of Dead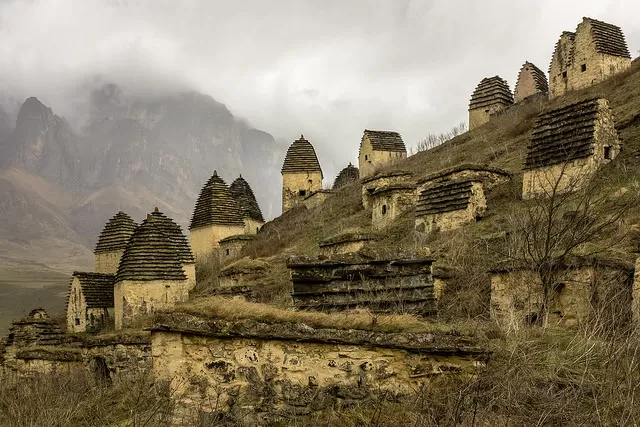 Dargavs in Ossetia, Russia is a necropolis and Ossetians are of the opinion that the cemetery helps understand how people lived 400 years ago. Legend has it that in the 18th century, the plague swept through Ossetia. Those afflicted by the plague were locked up by family members in quarantine units and were given food but not allowed to come out until they died.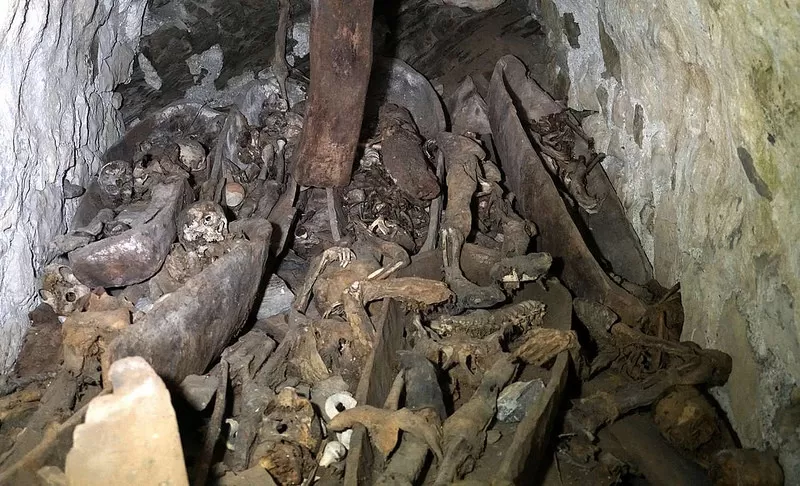 Those without family members would just wait out their suffering in the cemetery and die. Its bleak history ensures that no locals like to visit the cemetery. There are about 95 stone constructions in the City of Dead. The road to the city of dead is cumbersome and not many tourists come here. It takes one hour from Vladikavkaz on narrows roads and hills.
Capuchin Catacombs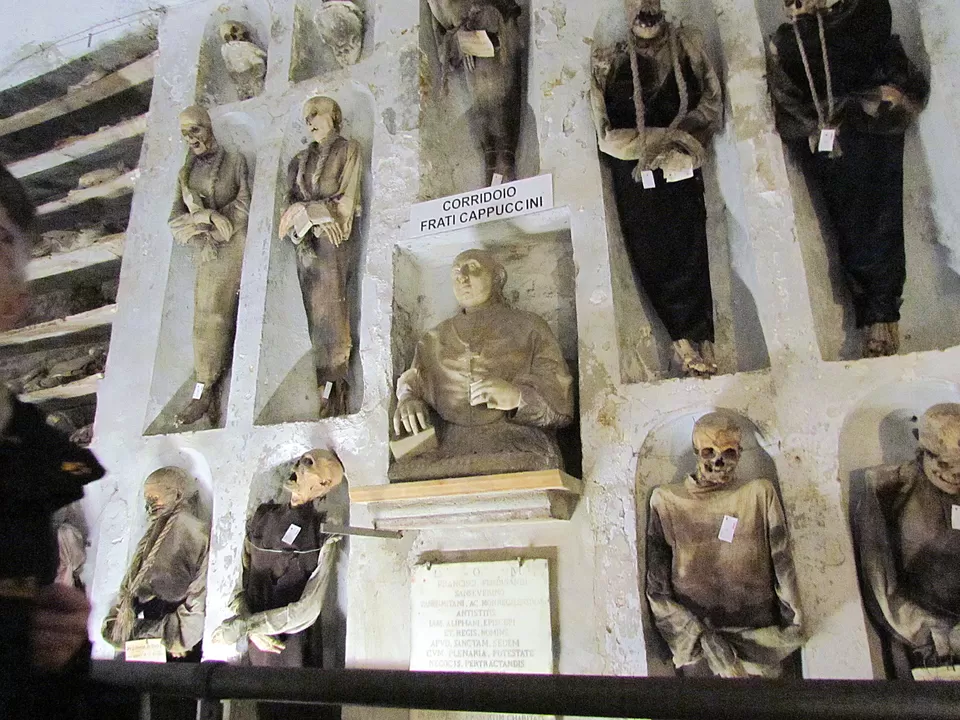 If you have a taste for the macabre, you should take yourself to Capuchin Catacombs in Palermo, Italy for the thousands of mummies that stand on display. When Capuchin monks discovered in 1599 that their dark catacombs contained a mysterious substance which could preserve the dead, more than 8000 Sicilians from all ages and class groups preferred their mortal remains to be preserved there.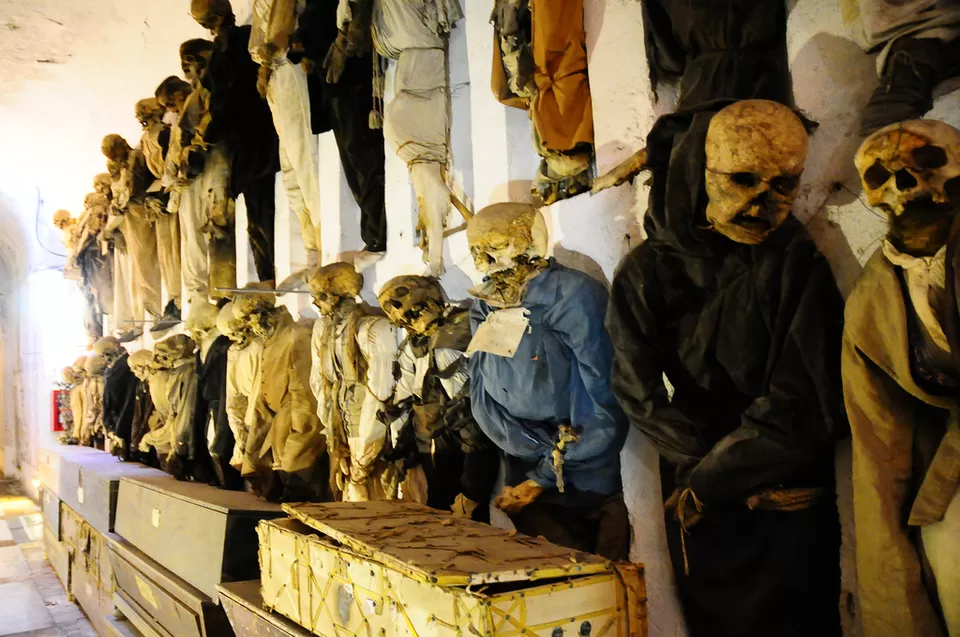 Stroll through the dank subterranean tunnels to look upon mummified bodies dressed in lurid clothes. Some bodies mimic tableaux while others are frozen mid-laugh. The ravages of time have not been kind to bodies that have horrifying expressions frozen on their faces while others are missing some limbs. The last corpse to be buried here was that of a 2-year-old and has been preserved so well that she has been nicknamed the 'Sleeping Beauty'. The catacombs are open to the public daily.
Got something interesting you wanna say? Type out your story here.
Get travel inspiration from us daily! Save and send a message at 9599147110 on Whatsapp to start.