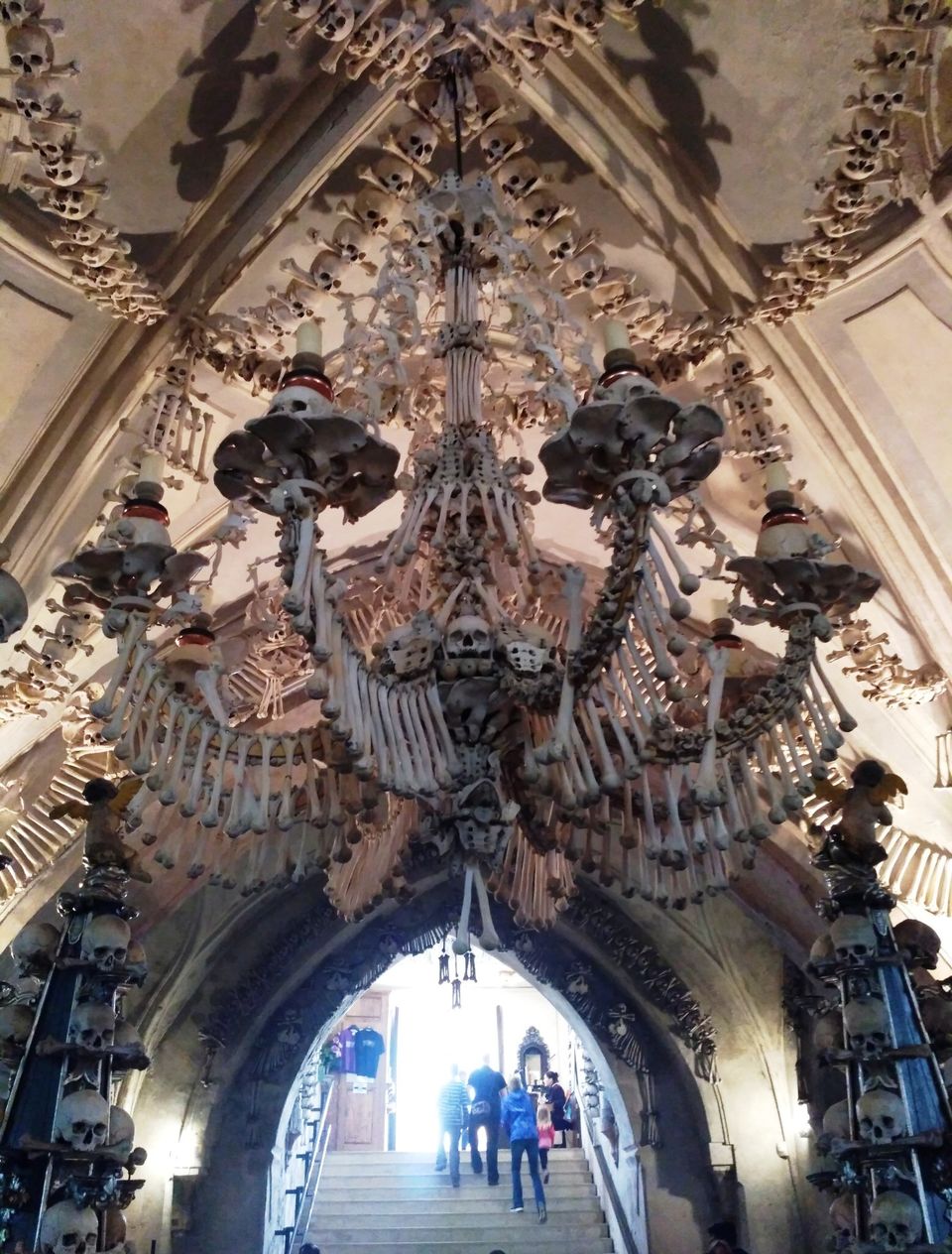 In the Czech Republic, a 90 minute drive from the capital, Prague, lies the quaint little village of Kutna Hora. On the outskirts of the village lies a cemetery and in the middle of the cemetery is situated a Roman Catholic chapel. The Sedlec Ossuary is the name for it, but to tourists from across the world it is simply Kutna Hora or Bone Church.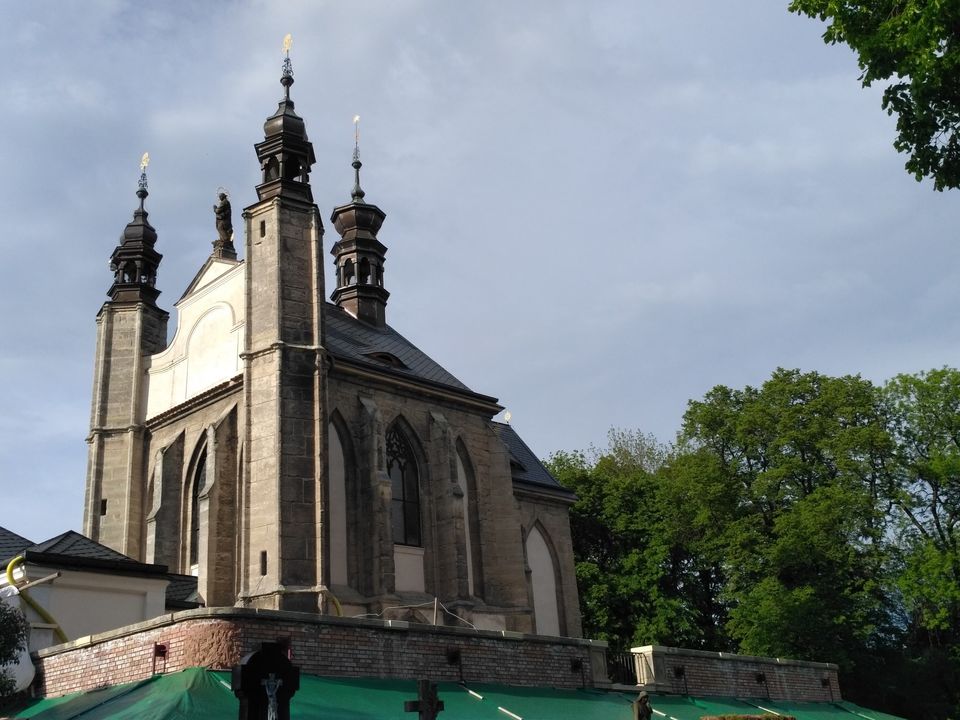 Step inside and you are shocked beyond belief. Skulls and bones in piles and heaps. An assortment of bones dangling from the ceiling in grotesque geometric shapes. Babes and angels, candelabra and crosses. The chapel supposedly holds the bones of 40,000-70,000 long departed human souls.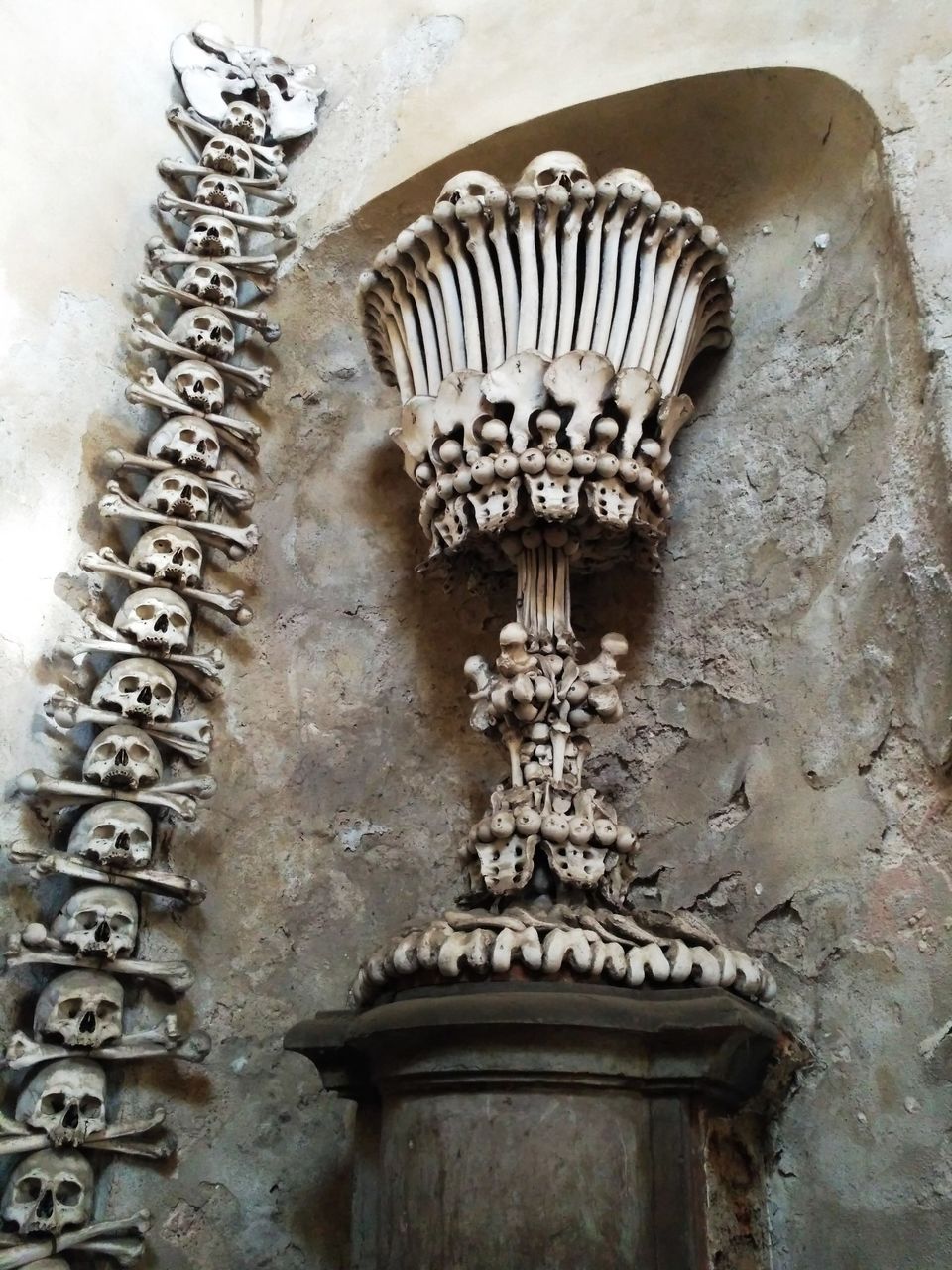 The chandelier forms the centrepiece of the cross-shaped interior. It is said to contain every single bone in the human body. A coat of arms of the House of Schwarzenberg adorns the entrance. A cross above, crown below, and on the bottom right a bird pecking a dead man's eye. Or is it a woman? The skull has no gender.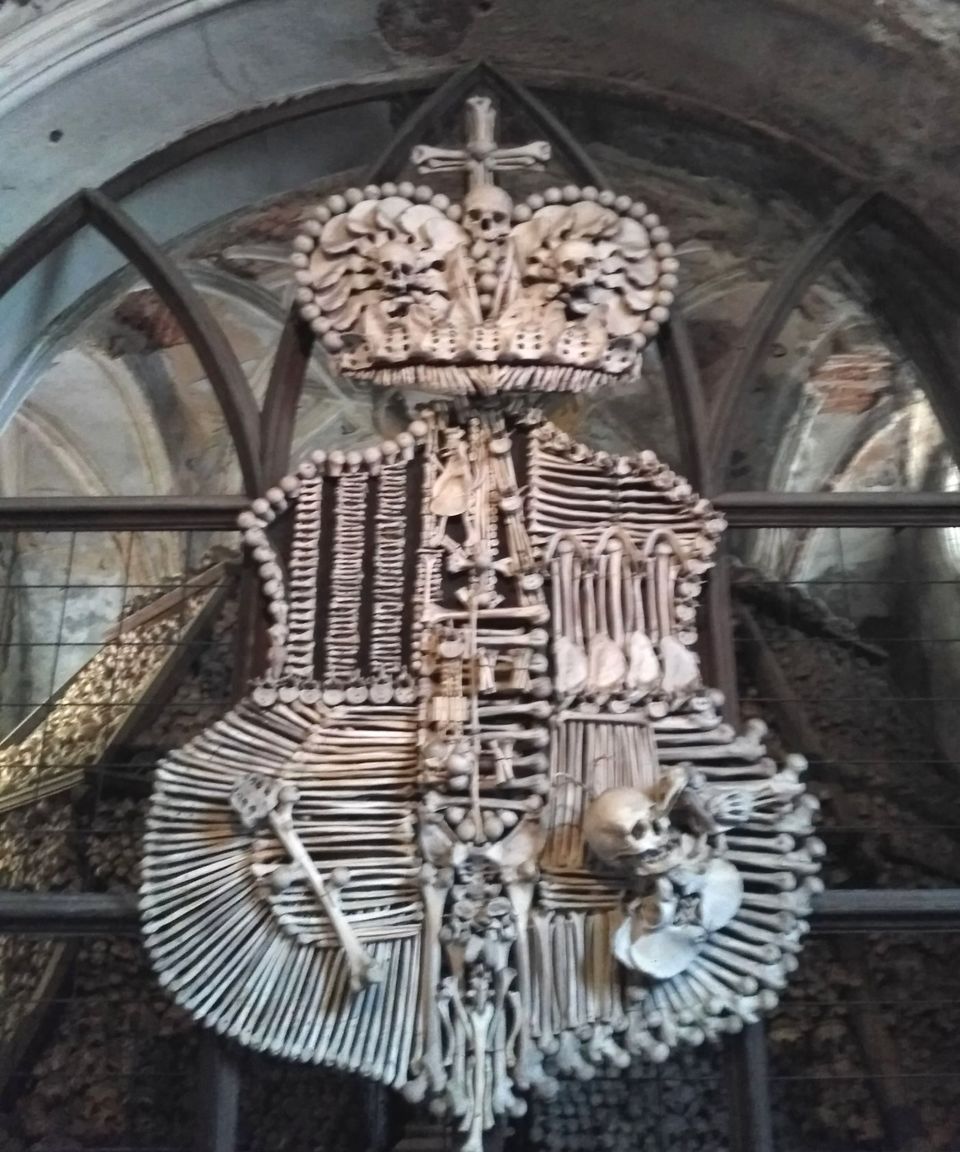 Who was the architect of this medieval horror? It's a long story. A sect of Cistercian monks settled here in 1142 and thus the first Cistercian abbey in Bohemia came into being. In the 13th century a fistful of earth was brought from Palestine by the abbot of Sedlec and sprinkled on the cemetery surrounding the Chapel of All Saints. Thereafter the chapel became a favoured location for burial –and the bones began piling up fast. In the 14th century came the Black Death resulting in many mass graves. Wars and more deaths followed. Partially blind monks exhumed skeletons and stacked the bones in the early 16th century. And finally in 1870 a woodcarver named Frantisek Rint designed the final product that we see today.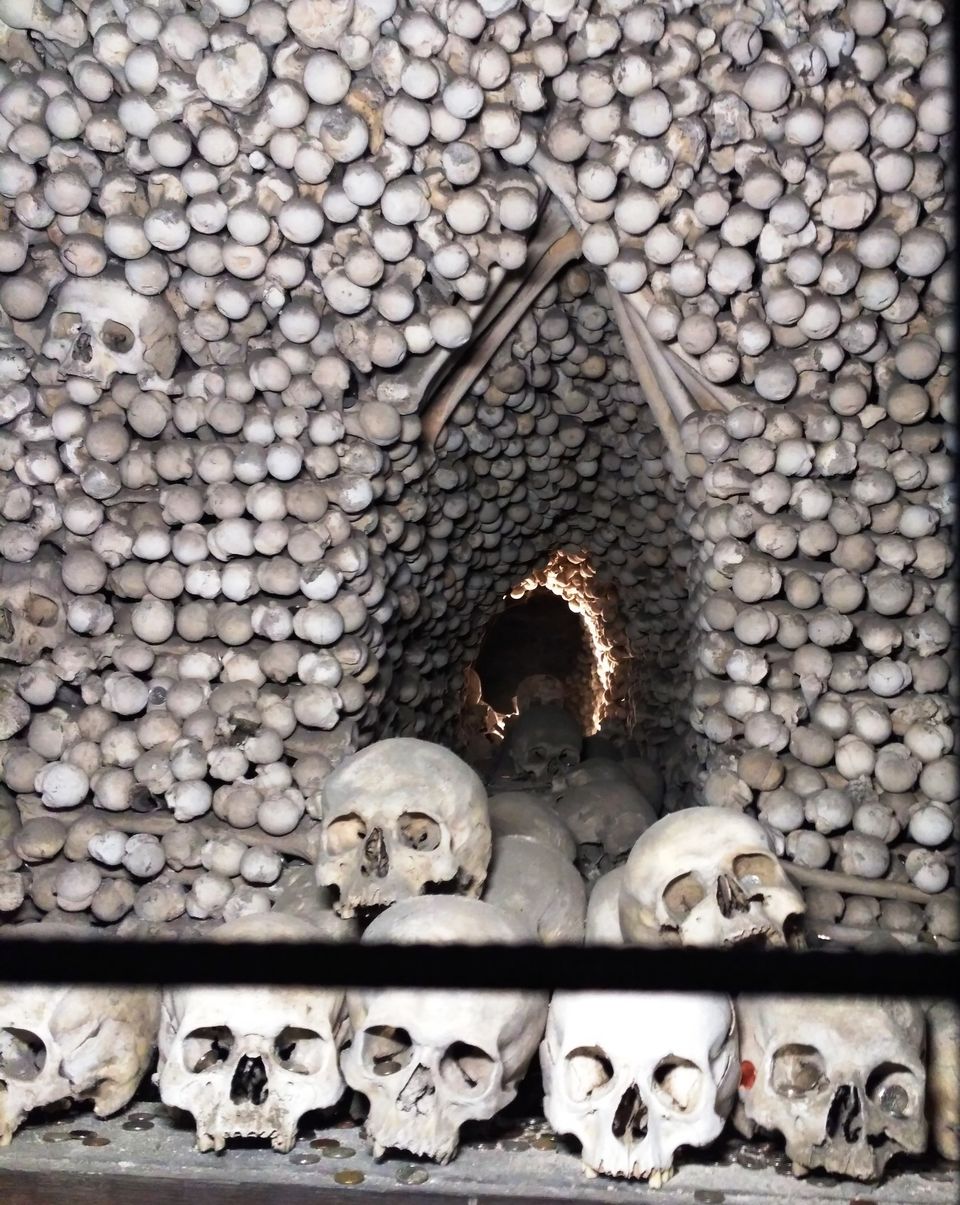 Kutna Hora was once the richest silver mine in the kingdom of Bohemia, today it is known by the heaps of bones that draw global visitors in hundreds of thousands. A bone-chilling testimony to death and destruction, the Sedlec Ossuary serves as a humbling reminder of the transience of life on earth.
My heart sank as I lit a candle. To say that it sank to the depths of oblivion would not be an exaggeration. (I actually typed 'deaths' instead of 'depths'.)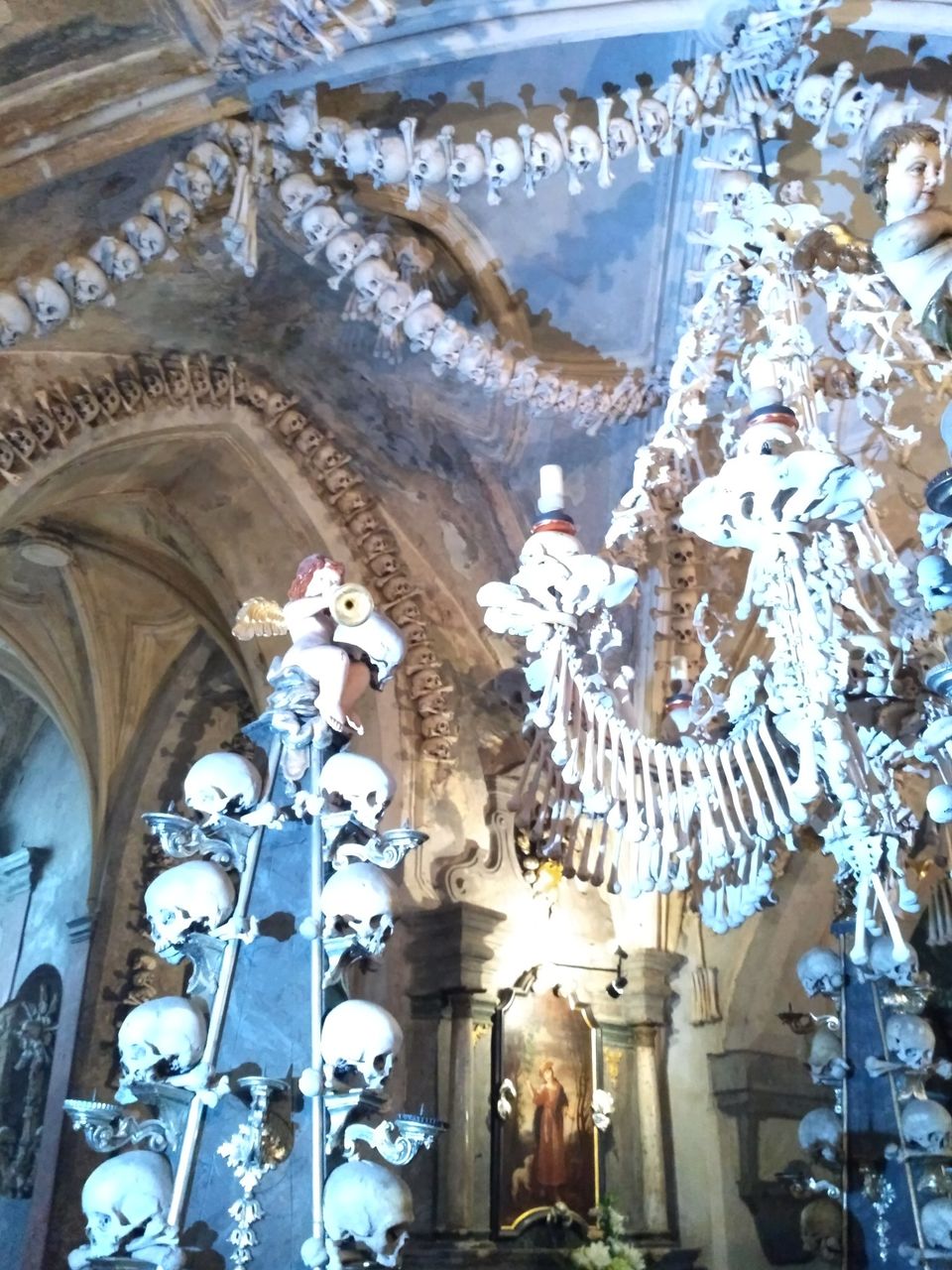 Is the Bone Church one of its kind? Well, no. There's another one in Czermna, Poland and yet another in Evora, Portugal. A few more could be scattered around Central Europe. A skull tower built by the Turks with 952 skulls of fallen soldiers stands in Cis, Serbia.
As we drove back to Prague the mustard fields seemed an even brighter shade of yellow and the roads felt smoother. Raindrops embellished the windshield. The wind blew. Death had just stared us in the face. But life is not over.