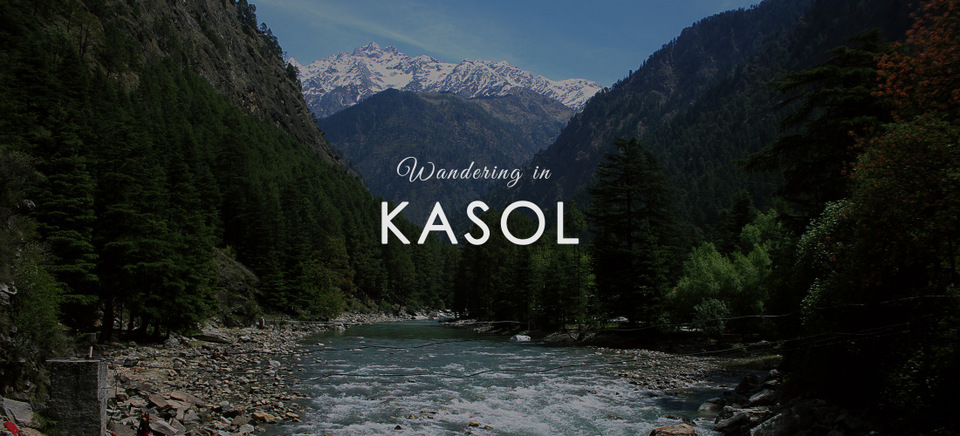 Tap here to read the first part.

_________________________________________________________
After an amazing insightful first day and a great night's sleep, day two shined like a classic summer's sun (quite literally!) It wasn't so cold, as the night earlier, as I woke up in the morning. I walked out of my tent, to see the best view I had ever woken up to (Okay, second best.) As I had described in the previous post, the small stage, the tall standing mountain tucked under a rug of lush green pines, the spine-chilling river Parvati flowing at its foot and a sky, dotted with a few clouds, bluer than ever! I strolled out, and the instant I left my tent, my nose was attacked by the sharp smell of weed. In the small lawn opposing my tent were a few tables & chairs, lined around a bonfire which had now died out. These were occupied by the campers living in the tents beyond the small lawn. And of course, needless to say, a joint is considered as breakfast around here. I couldn't help but smile, looking at them; they generously smiled back. One of them even offered me a drag, but I was barely awake and I reflexively waved a 'No, thanks' as I would to anyone who offers me a smoke.
It was a morning as fine as it could get and quickly after freshening up, my hunger pangs kicked in. I headed for the camp's small cafeteria to see if I could grab some food. Luckily they had some really breakfast today! There were the Aloo Parathas (North India's staple) with dahi (curd) and chhole-bhature (a famous dish of spicy chickpeas and a type of Indian bread). After a sound sleep, my stomach was screaming for food and the breakfast was a savior. And the best part was, it all tasted so damn good! Soon I was joined by some of my group mates - Deepa & Neeta, Murli & Charu, Shubhi and others... It was a good half an hour. Rufus came along shortly with a stub in one hand, and a quarter paratha in another. With his shaggy full beard and a clean bald head, he does come off as a sort of a fanatic. That guy is full of life, and then some more.
It didn't take him long to get everyone's attention; he then briefed us about the day's plan. The basic plan was that we'd trek to the village of Malana but of course, as promised earlier, everyone had a choice if they wanted to do something else. After about 10-15 mins of discussion, it was decided that a majority of us wanted to go to Malana, while one guy chose to go to Kheerganga and another chose to stay in Kasol and explore. Kheerganga is a trek, harder and longer than Malana and in the end, there's a Gurudwara - a one of its kind. The best part was that there's a Hot Spring near the Gurudwara, where one can take a dip and relax. But apparently, they also cook food in the same hot spring. So well, once everyone was ready we chucked our carry-ons on our backs and headed for the New Kasol area, where our taxis were waiting. In about an hour or so, everyone was en route to Malana. Some people stocked themselves with juice boxes and chips and what-not, while others merely carried a bottle of water.
As our taxi screeched away on the muddy roads, it reminded me of our bus ride the day we got in here. I just hoped this wouldn't be of that level; but well, little did I know. We were back on that winding road, all those pine trees swayed with the wind. The river below gushed whiter than ever with a surge of happiness, of some sorts. I looked beyond the pine trees and saw a huge long pipe-like structure running the length of the hill on the other side of the river. A little later we took a turn into another road, a bridge towards Malana. We passed by the local area's main power supply plant - The Malana Hydro-Electricity Plant; this is where that long pipe originated. Once you pass through the gates of the power-plant, the road further is another hill to climb. As we ascended on the hill, the road got more and more muddy and tighter. We couldn't spot another soul for a good 10-15 minutes, just rough mountains and blue skies; and then suddenly another loaded taxi would come screeching from the opposite direction. It would be just a matter of moments to make a decision to either stop and give way or stay the course. It was as dangerous as exhilarating. In about 30-40 minutes of this ride and endless blind-turns later, we finally reached.
There were already a few taxi-cabs stalled along the roadside, a small kiosk-like shop selling refreshments. We got out of our taxis and grouped at what seemed like the entrance gate for Malana. It was, but well, not really. The ones who reached before us had already started hiking and motioned us to follow. As I stood at the entrance arch, the whole hike-trail that led to the actual village of Malana appeared before me. Then it dawned on me. We stood on a hill, 'til where the roads came; and now we had to descend the hill and then ascend the one that stood in front of us, beyond which was Malana. Oh, boy, was I excited!? We quickly fastened our backpacks and took to the trail. This hiking trail is a mixture of steps, mud, and then more mud. We almost walked in a line, behind each other like ducks as we descended the hill on our side.
As we reached the foot of the hill, we had scattered further away. A small, rusty wooden bridge, under which flowed an icy cold stream was the only connection between the two hills. Now everyone took to their pace; some wanted to hike quickly and reach the top, while some wanted to hang around and let the serenity that surrounded us, sink in. I, of course, hung around, along with Upaasnaa and Charu & Murli (who later left us and went ahead). There was a dog on the bridge, who sat there almost as if that was his life's whole purpose. He gave zero attention to people around him who clicked anything they saw, including him. Within a few minutes then, we started hiking up the hill. It wasn't that challenging at first, but as the altitude increased it got slightly difficult.
It was my first time hiking at such a high altitude. Damn it was so exciting! We kept taking micro halts to catch our breath and hydrate and then we'd continue hiking. We shared stories among each other. Stories of their first trek, or how Charu was a lazy bum but Murli always pushed her further on treks just as he was doing right now! It took us an hour, which felt like 3 to reach a vantage point. The skies were clear and the sun shined like a crystal; and as the cold wind that blew past us, it helped us keep our cool. From this height, we could now see all the winding roads and the adjacent hills that we crossed to get here. We reached vantage point, which seemed like the start of Malana, except that it was not. It was a cafe built at least half a kilometer away from the Village. We decided to take a half and grab something to eat as it was way past afternoon and we hadn't had any lunch. So we grabbed the Himalaya's Staple Food (for plateau dwellers) 'Maggie!' The owner of that cafe was a friendly person and asked about us as well as told us about himself. We saw his daughter play in the mud nearby and she was so damn cute! So we asked her (well, made her) to join us. That Maggie tasted as if it came down straight from heaven; coupled with a Masala Chai that perfectly complemented it.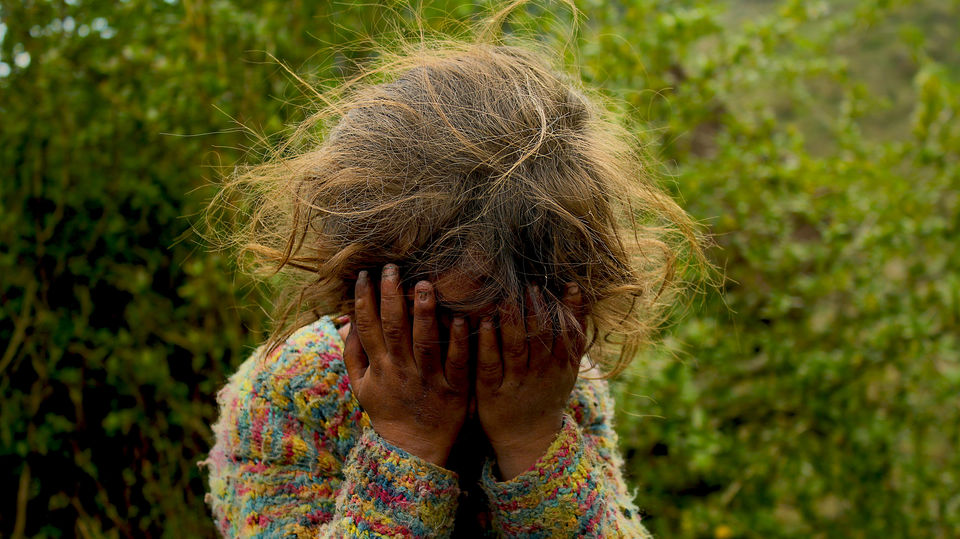 It had just been about half an hour and we decided to continue to Malana, which was just at the end of a long ridge that was wide enough only to accommodate two people, with a high mountain-wall on one side and a deep, terrifying valley on the other. Just as we started, within moments grey clouds gathered almost as if on cue. And the next thing we know, it started pouring. We had all our camera gear in our hands so we rushed back to the cafe. We settled and dried our equipment first. And then watched the clouds and skies make love in monochrome for the next hour, whilst sipping over more Masala Chai & stories.
By the time it stopped pouring, it was already time to head back because it would soon get dark and a trek down on that muddy trail in the dark, is next to suicide. With some remorse, we started our down-hill hike. The mud was now more slippery and loose and we'd slip so many times. Slowly and carefully, trying not to fall off and die we made our way down to the bridge. There was still beautiful golden hour sunlight that played hide-and-seek with the thick clouds. We didn't stay for much this time at the bridge and quickly made our way back to the entrance arch where the cab left us. On the way, we met two local women who were carrying a load of chopped wood. I wondered how they'd hike up all the way to the village, with that much weight and a baby on their back. It was fascinating to see them smile like it was the happiest day of their life, as one of my group-mate clicked a picture.
In a matter of minutes, our cab arrived and we were on our way back to Kasol. The winding roads, the pine trees, the white river, it seemed like a routine, an awe-inspiring one. By the time we reached, it was almost 7 and thus dark. The dinner today was going to be on us, for the freedom to explore the numerous lip-smacking cafes that Kasol had to offer. One of us had been here before, more than once; so he knew a few good cafes around. Now if you ever come to Kasol you'd notice a lot of foreign tourists around here. A lot of them are from Israel. They come here to spend a few months in peace, in the woods and the mountains, smoking weed and playing music. So to say, Kasol has a lot of various cuisines to offer. From Indian to Italian, to Thai, to Middle Eastern, to Japanese, and of course American. A lot of these cafes' have a similar story. Some tourist from another country came here, fell in love with the place or someone from this place and decided to stay. Then they went to start a cafe of their own offering cuisine from their home country.
One such was the Jim Morrison Cafe, which we hit for dinner. The way to the cafe was another small 5 minutes trek through the woods. It was a small cafe, at least looked so from the outside. It was almost dark now, but the cafe was dimly lit from the outside. We took off our shoes (I wondered why?) And then we walked around the cafe and entered from a door on the right. (I'll try to be as descriptive as possible, but what I saw is impossible to put in words. Couldn't capture an image as my battery was dead.) The moment I entered the Cafe, it was dark, complete dark inside. There was a lone light, that illuminated a wall which bore the most beautiful, most fascinating, most spiritual, most artistic form of the syllable 'Om'. It almost felt as if I had entered a Shiva cave and that om was inscribed there millions of years ago. I was transported to a whole another world which was a complete void and had nothing in it, except the OM. I came to reality only when I felt a tap on my shoulder by someone asking me to move, as apparently I was blocking the entrance. I quickly regained consciousness as I met reality and joined the others. The cafe had a Japanese style seating. A short table, with a floor seating setting. As we occupied one, someone from the cafe came and lit the candles that illuminated our table. That's it, that's all the light there was. It was a multi-cuisine cafe. We ordered some Hummus, a bread to go with, a fresh fruit salad, and a round of watermelon juice for everyone. We spent the next half an hour chatting, laughing and sharing more stories with each other.
After dinner, we sat around sipping some shakes and watching a movie called 'The walk' that played in the cafe and later on around 10 pm we left for our campsite. On our way back though, we visited the New Kasol market which housed a lot of local artifacts and clothing, and other souvenir items. There were beautiful pieces of clothing made out of hemp, the weed plant. I so wanted to buy one, but there was nothing for men. So I ended up buying a tote bag with the peace sign printed on it; not made of hemp though. After a while, the shops started closing and we had to leave. We headed back for the campsite with our merchandise tucked into our backpacks. It was pitch dark once we had crossed the first bridge, no lights whatsoever. The lone trail that stared from Kasol and connected the other villages was the only beaten path to traverse among the places. Our camp lied just along the trail, so it was too hard to find. But the trail itself was adventurous, with huge random rocks (that had names of cafes and Shiva scribbled on them.), deep valley leading straight down to the river on our left and a wall of loose soil on our left. Somehow, with our little torch-lights guiding our way, we reached the campsite. Some of the guys were there. while some were still away. Everyone was busy with something, but they were all relaxing. Some smoked pot, some gulped good booze while some just sat around a campfire, talking, under a billion stars. I so wanted to shoot a star trail that night but unfortunately both, my camera and I, were running low on energy.
It was a little over 11 p.m. and I was almost dead with the exhaustion. I had to call it a day after a hung around the campfire for a bit and bid the others a good night. Went back to my tent and hit the sack, I don't even remember how quickly I fell asleep, but I slept like a baby. The next thing I know, it was around 8 in the morning and I woke up with a smell of weed teasing my nose and music of trance teasing my ears. It was a good morning, indeed. I got out of the tent, the air was cold, but not so much. I saw few of the girls that took up the tent adjacent to mine crawling out of it. The morning fresh sun rays arched through the meadows before they reached me. I waved at one of the girls a 'Hi', and she waved back. She asked me if I'd join her to the river, with motioning her head; and of course, I said yes. I drank some water that was left in my tent and went out. We were accompanied by a couple more girls and we quickly made our way to the river. Man the river was colder than I remembered. It sent chills all through my body, the moment I dipped my toe in it. I retracted in a quick motion saying 'Fuck!' We spent an hour sitting by the river, while someone played music on their portable speakers.
It was a little over 9 am now, which meant it was time for us to leave. But I didn't want to! It was so peaceful, so serene, so content here. But alas, I couldn't help that. One by one we all took our bags and headed out of the campsite. Fortunately, as we reached the pick-up point we learned that our cabs were running late. I was hungry so I, along with a couple more guys went to a sandwich bar right outside the cabbie's office. It was pretty good, given the fact that it was the first thing I had since I woke up. I sat there, for the last time, breathing in the freshest air I had ever breathed, listening to the leaves of those pine trees rustle and make their own beautiful music, listen to the river that gushed with all joy and of course the Bob Marley song that was omnipresent. It was the sort of bliss that can't be put in words.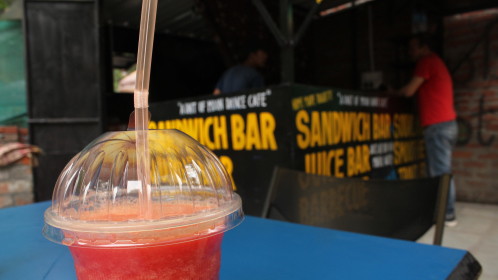 Kasol, made a mark on my conscience and got me hooked. I vow that I'll be back here and present it again, hopefully with fewer words and more visuals.