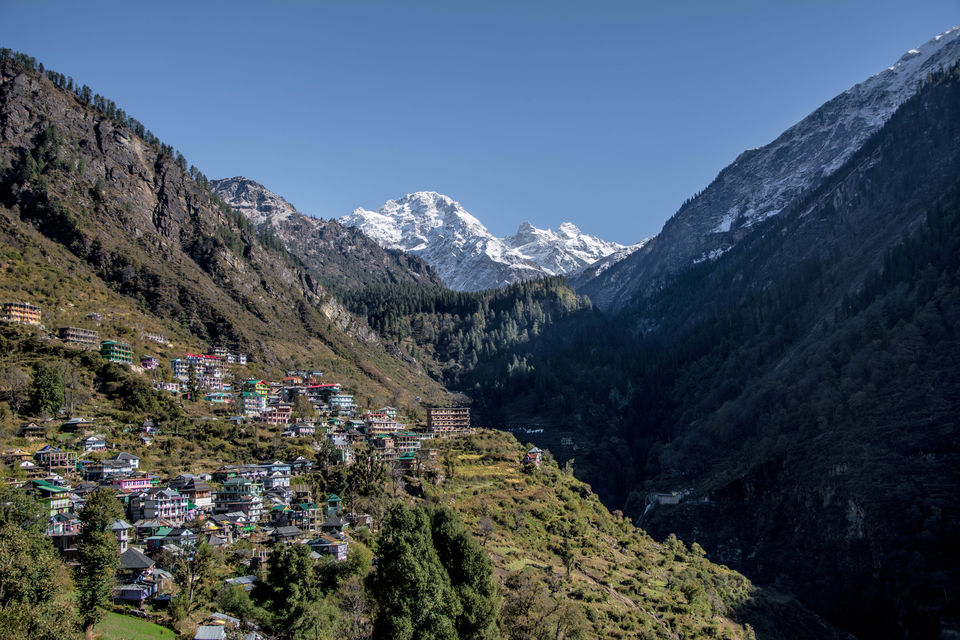 Parvati Valley is situated in the northern Indian state of Himachal Pradesh. From the confluence of the Parvati River with the River Beas, the Parvati Valley runs eastwards, through a steep-sided valley from the town of Bhuntar, in the Kullu district of Himachal Pradesh in Northern India
On a crowded Dusshera eve we touched down at Delhi airport quite early. Avoiding Delhi traffic thankfully we reached a place called Majnu Ka Tila from where the real journey began. From here we boarded our bus which took us to the mountains we have been craving to see for long. Himalayas here we come.
The overnight bus journey which took almost 12 hours took us to a place called Bhuntar. It was chilly but the sun soon rose casting a mystic light over this region. We took a cab and plugged in our headphones, for a brilliant drive along the winding roads of the mountains to Tosh. The condition of the road was moderate and after around 2 hours we reached Kasol.
Kasol, the hippie's paradise, was not awaken yet, as it was just around 8:30 in the morning, but we managed to find a suitable place for breakfast.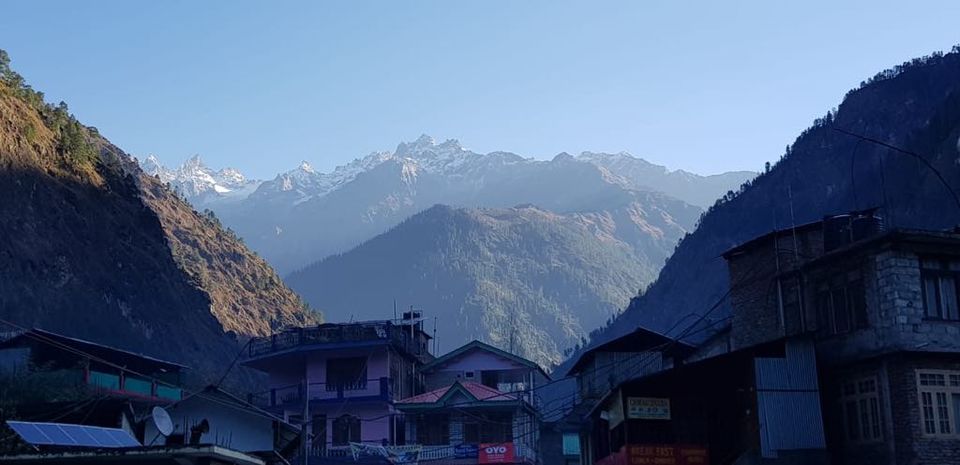 The temperature further descended as we started our journey. Soon after crossing Manikaran our car crossed a bridge and we drove to the other side of Parvati river.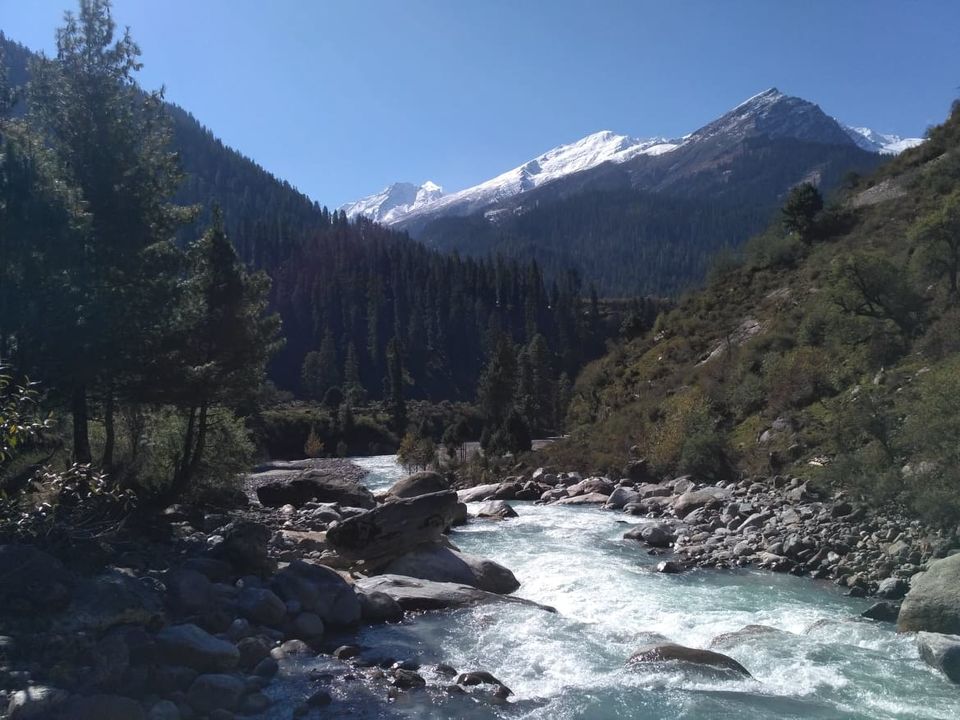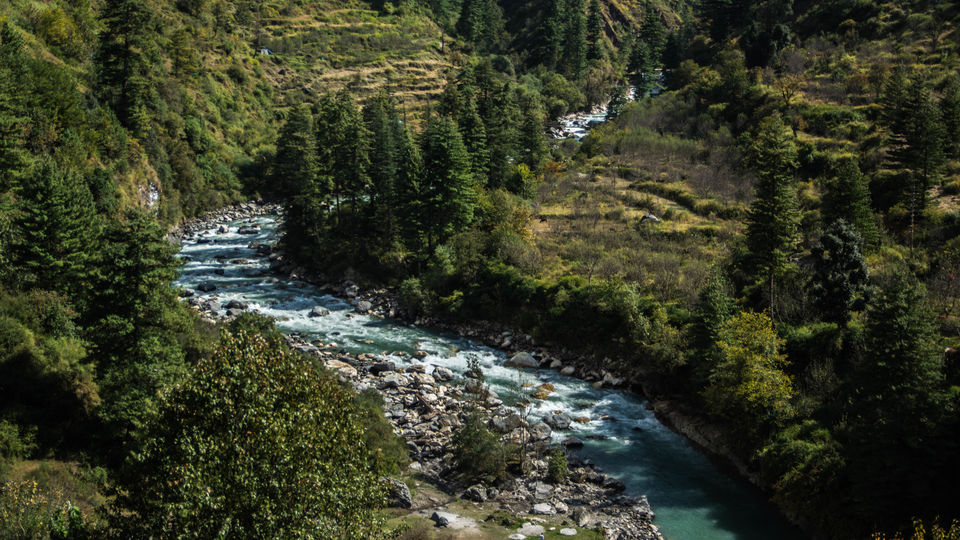 From here you can actually see that the number of people that you see on road have drastically decreased. Its only after reaching Barsheni that we got to see a proper town. Barsheni is the commercial hub of this place. This is where you will find regular groceries and gadgets. Beyond this point resources become a bit scarce and overpriced. The cab union based of this entire Parvati Valley region is also based on this place. We drove further and finally after 4 hours after starting our journey from Bhuntar, we reached Tosh.
I was simply awestruck by seeing the beauty of this hamlet. A small cluster of hotels, homestays surrounded by the high snowy peaks of the Himalayas. Seemed like a postcard perfect picture.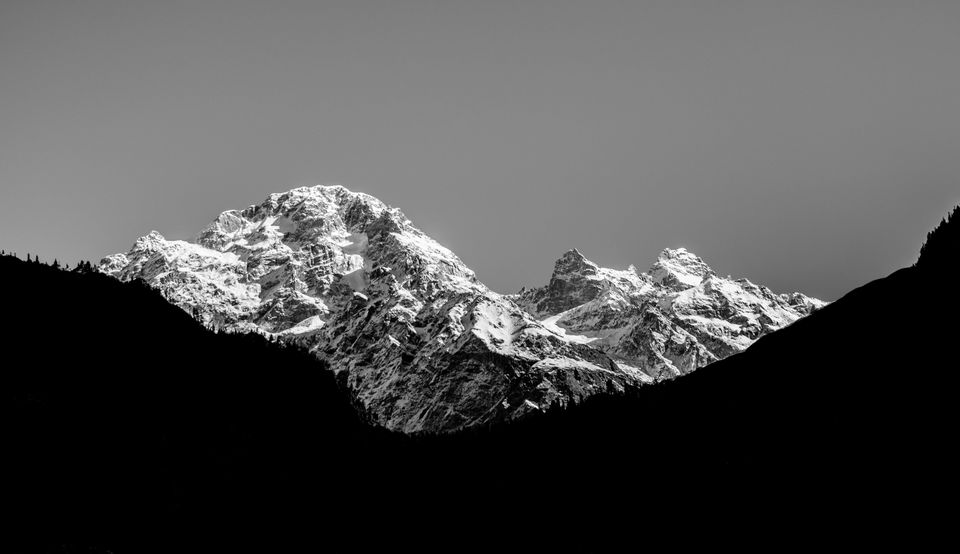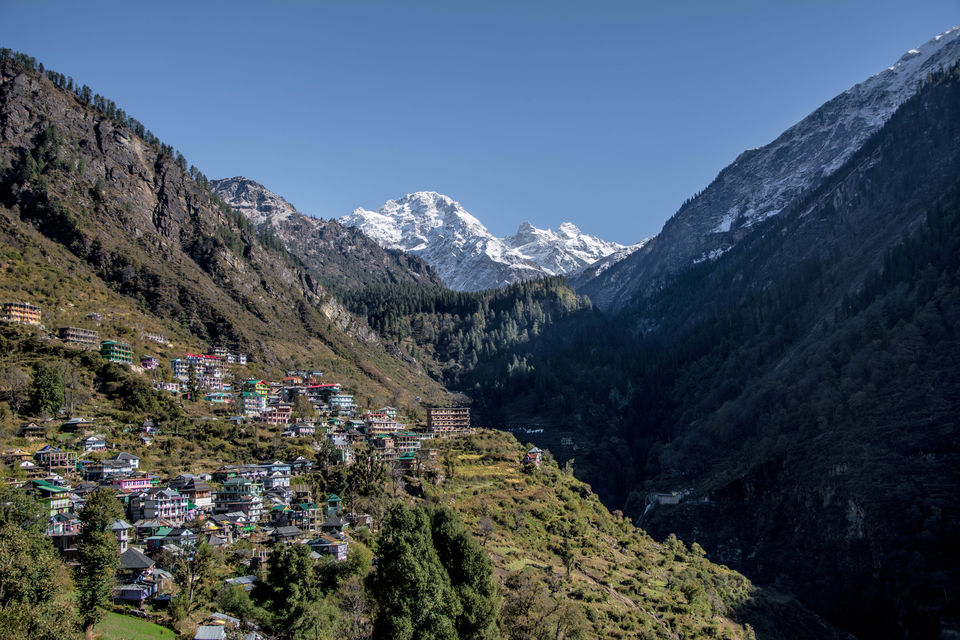 We got down at the doorsteps of Tosh from where we had to carry our luggage to our hotel. No vehicle is permitted beyond this point. So after crossing a wooden bridge on foot we took a steep climb and reached our hotel. You might feel a bit exhausted as you need to hike a bit at this altitude and you are not acclimatized properly.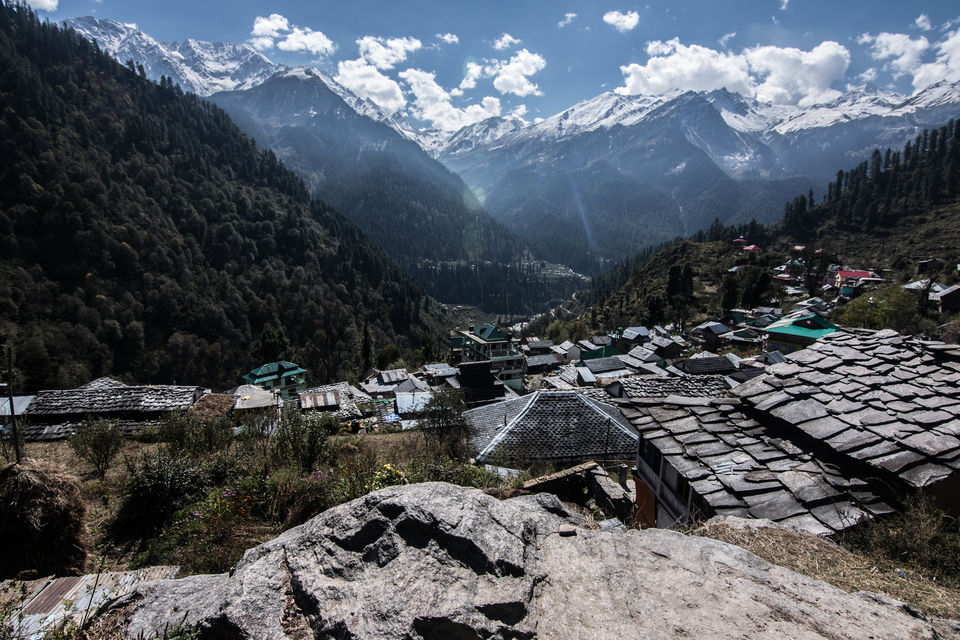 The weather was brilliant. The sun was shining on top of the snow capped mountains and blinded our eyes.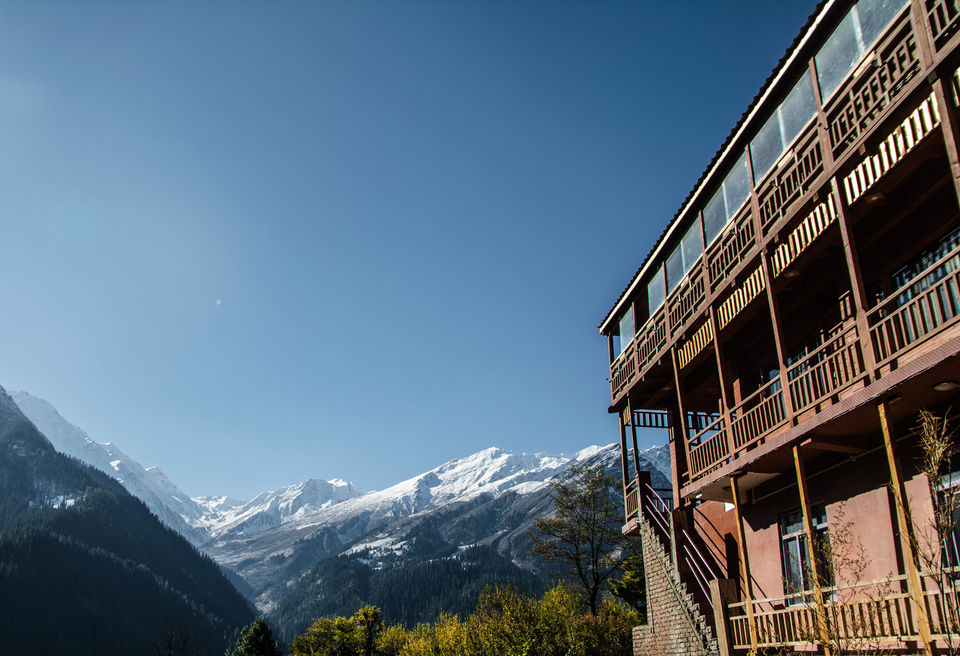 Soon we were overwhelmed as we were handed a mound of freshly rubbed Tosh cream. We smoked up sitting under the sun and couldn't stop ourselves from appreciating the sheer beauty of this place. If you consider listed sight scenes in this region, let me tell you there isn't one. This is a place where you just stay, relax and remain transfixed by the beauty of the Himalayas.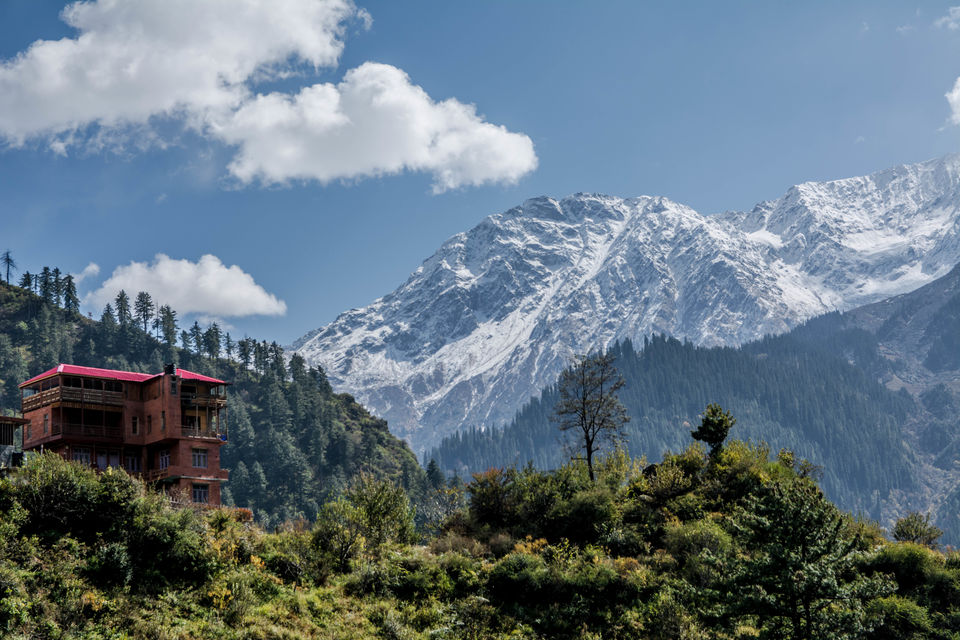 We had our lunch at Pink Floyd Café. The food was brilliant. The desserts were even better. After that we took a stroll to the Tosh waterfalls. It's a small hike for about 20 minutes or so. After reaching the place, we decided to take rest in one of its open cafes.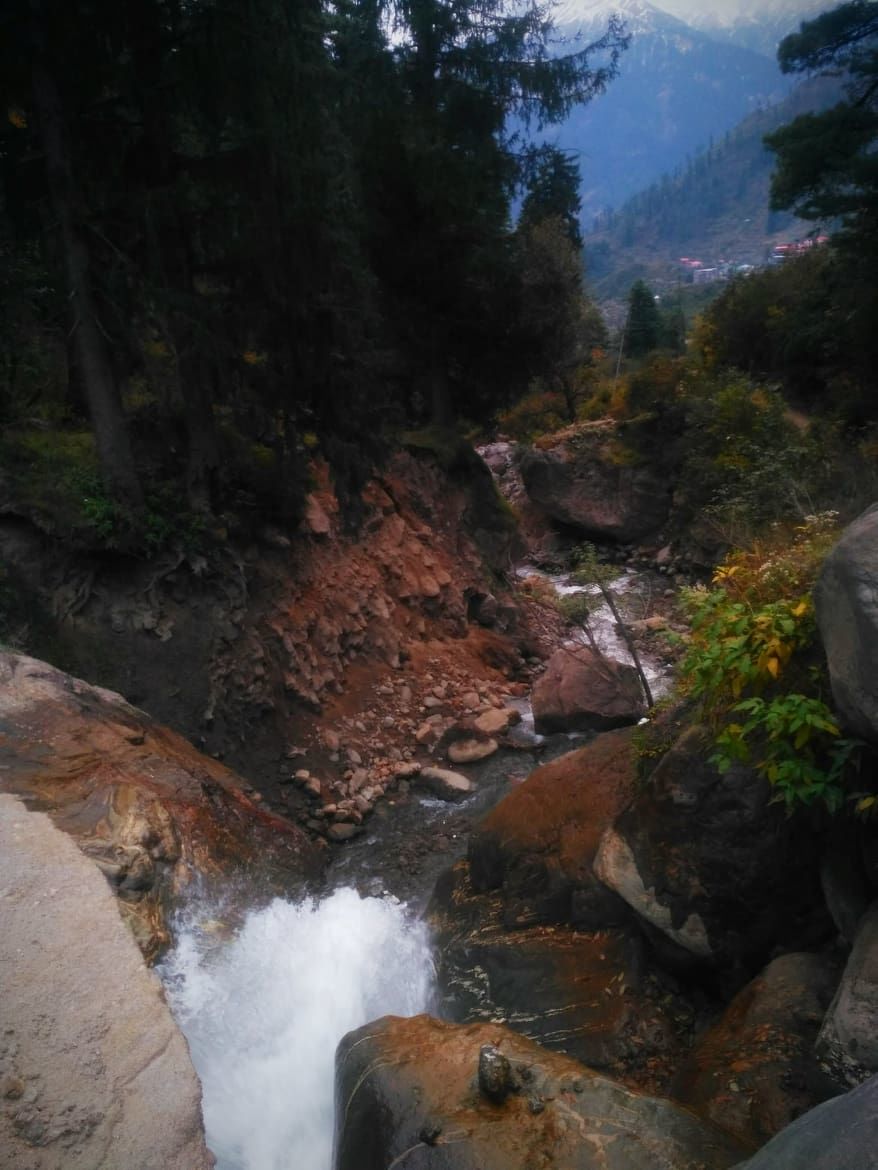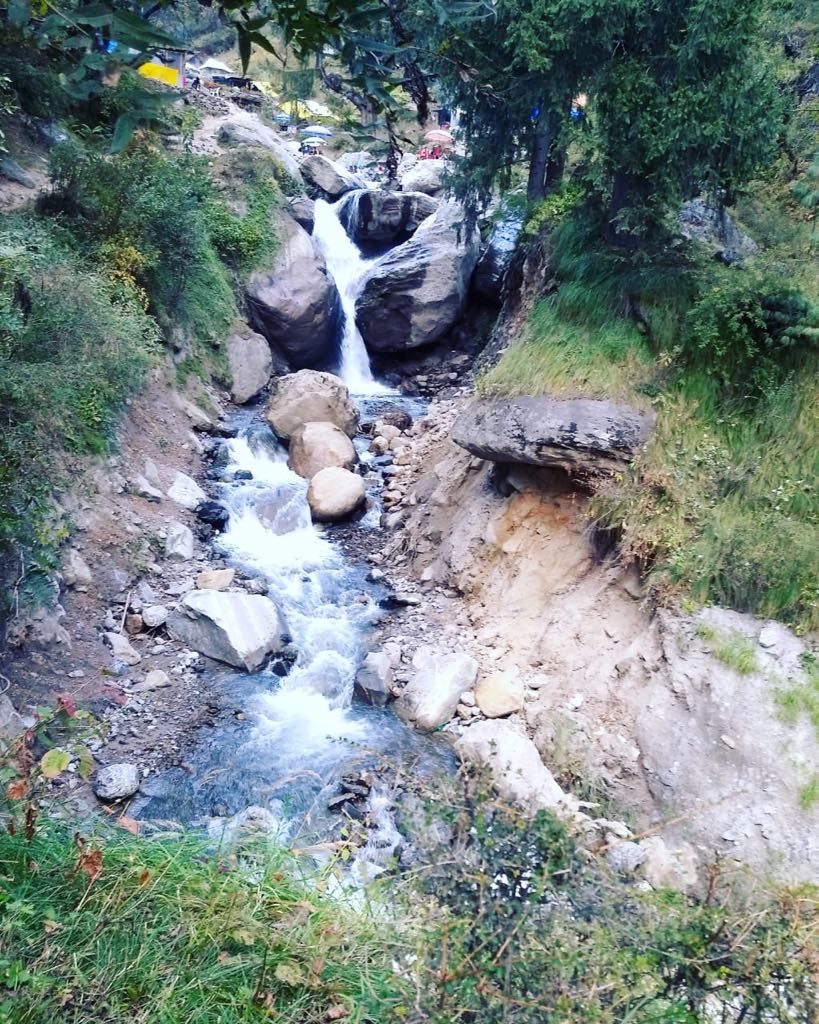 It was a sound sleep, with its effect quite late in the morning. Again a brilliant sunny day. We saw that some closer mountains have received its first snow of the season.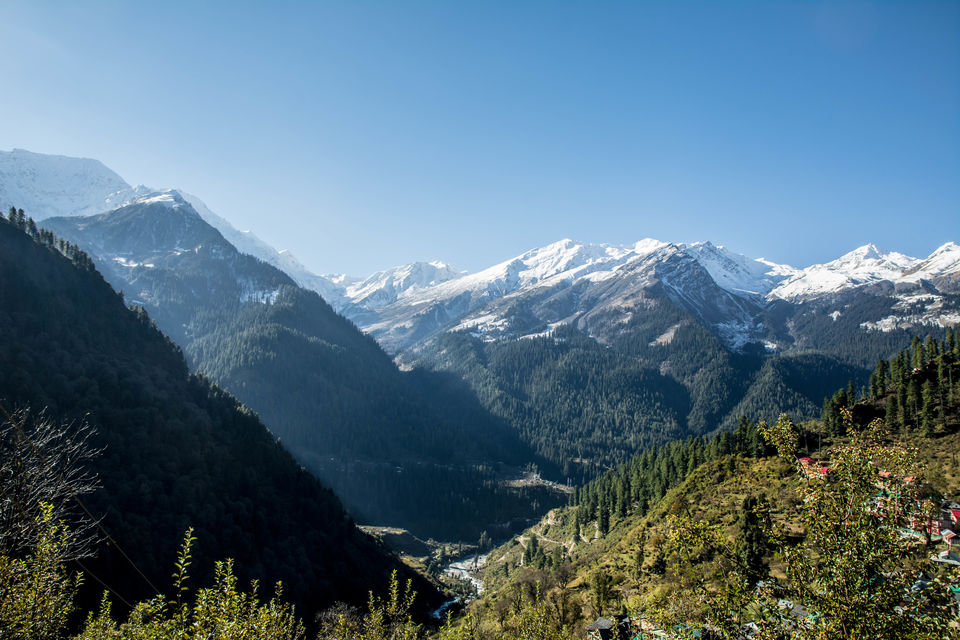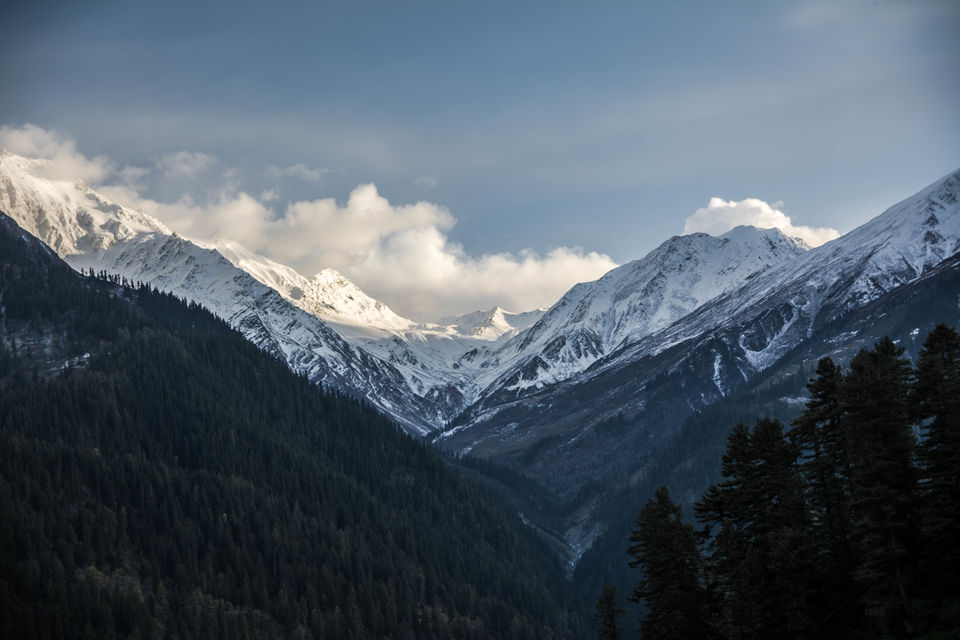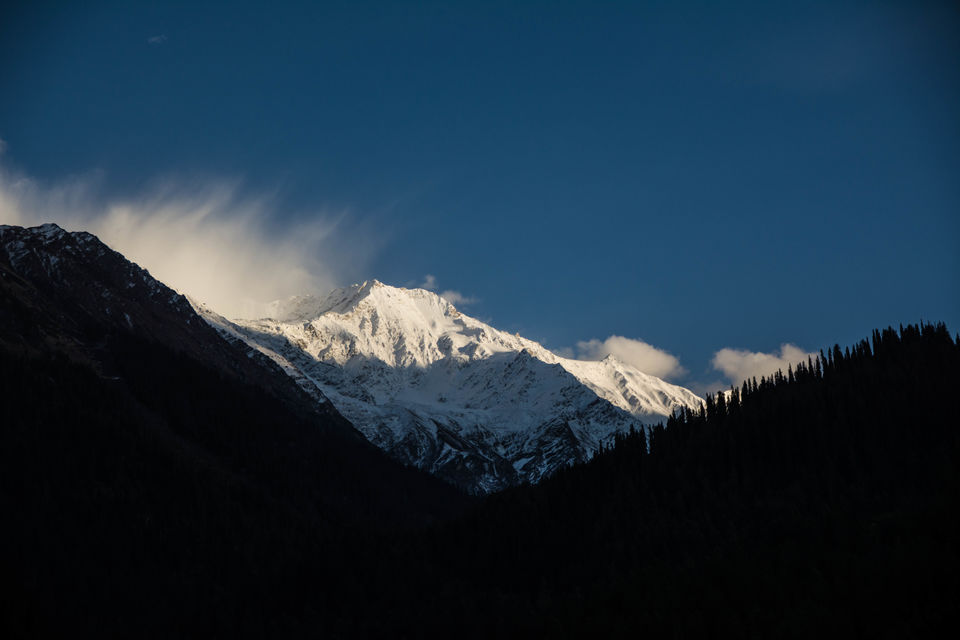 After a mild breakfast we started our venture towards Malana. From Tosh we took a cab which took us to Barsheini. From Barsheini we took a cab that would take us to a point from where we have to trek for the village. Malana being a taboo village has a unique style and aura in the entire atmosphere. We had brief lunch at Malana Gate and started the trek.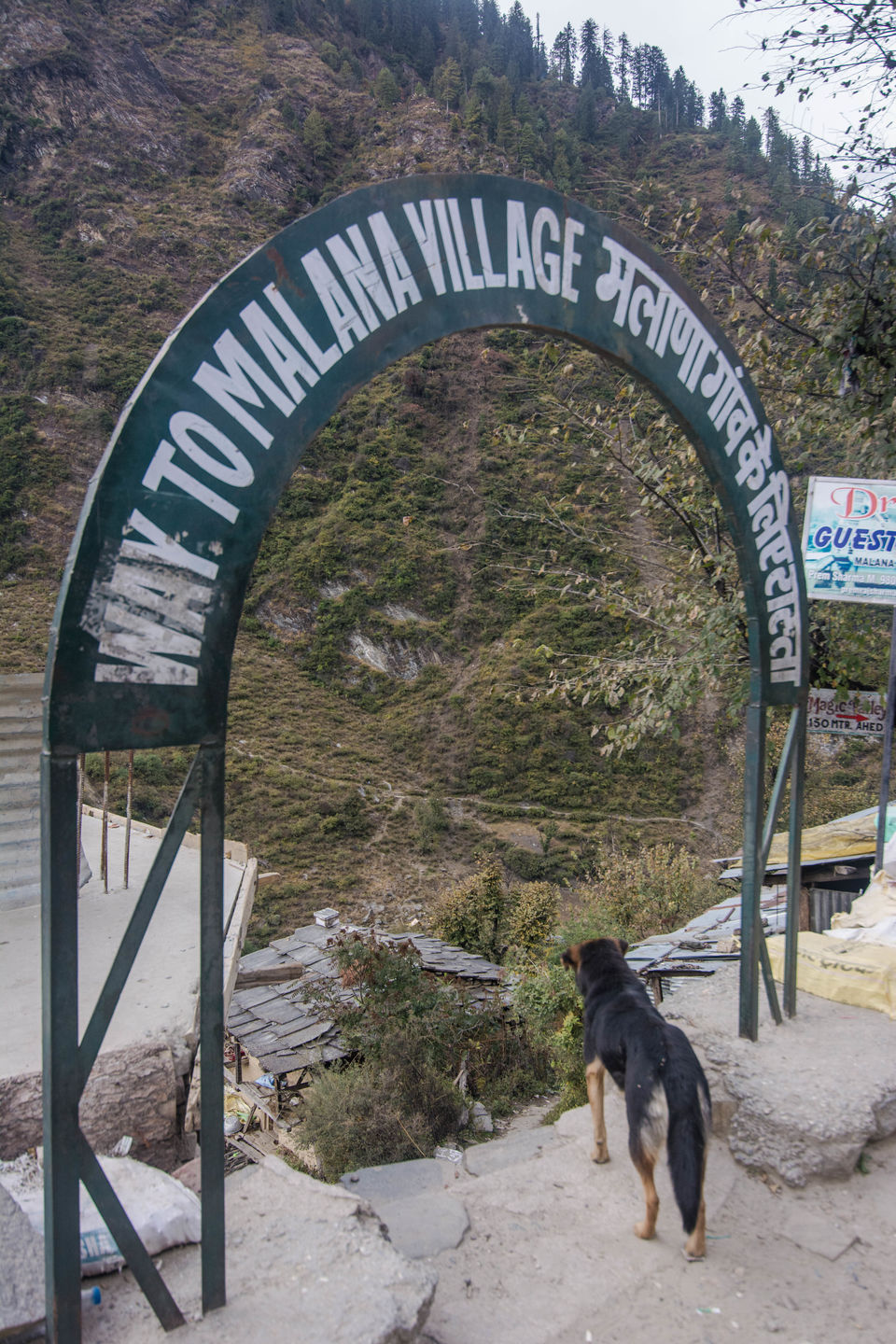 The trek mostly comprises of stairs.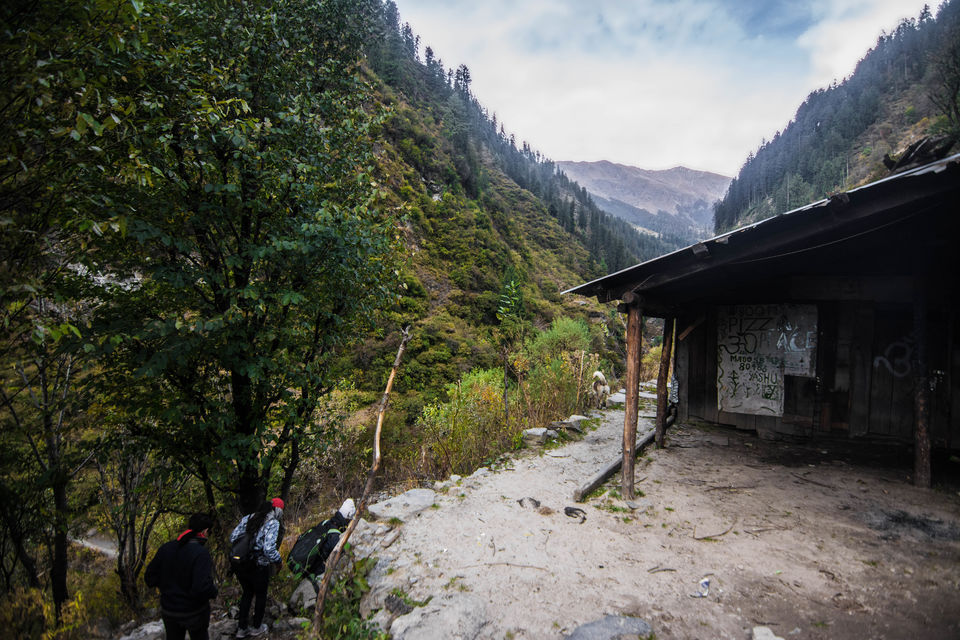 In the initial part it was mostly descent, after a point we crossed a bridge from where the ascent starts.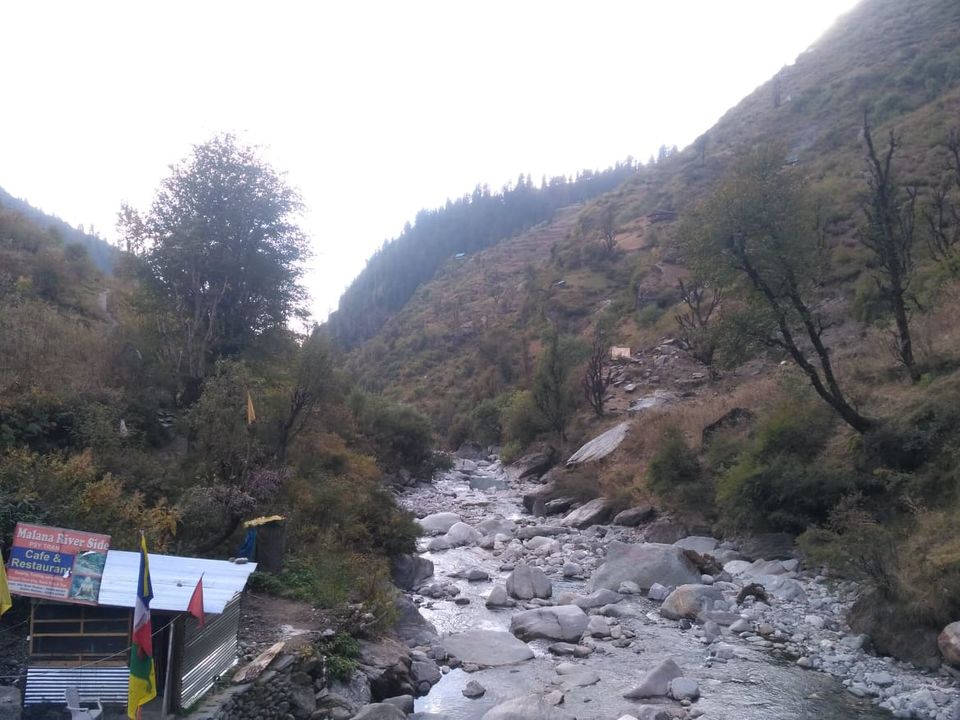 It took us nearly one and a half hours to reach there .The villagers mostly survive on money which they get in exchange of the purest form of hash. Yes Malana creame is world's most potent and famous hash.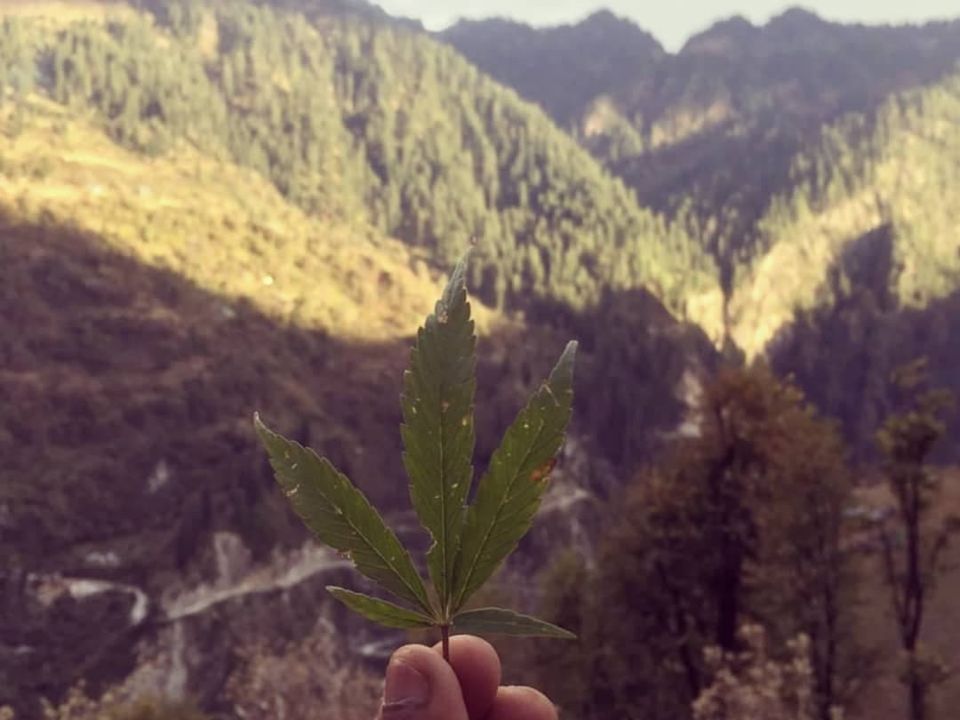 Inside the village we reached pretty late. We couldn't find any villagers over there.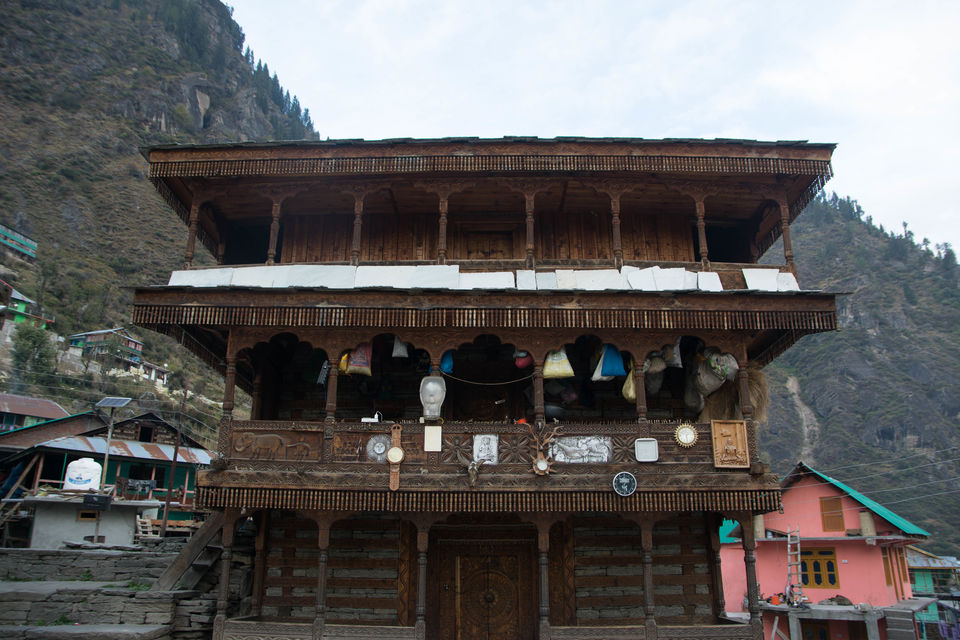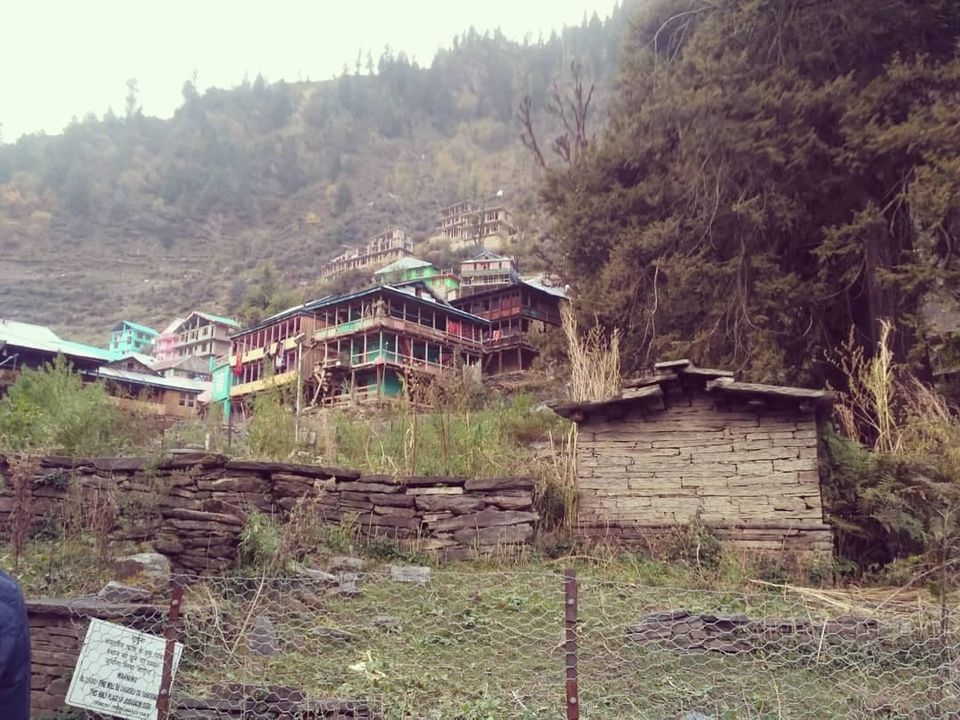 So in search of some café, we ventured a bit. After crossing the entire stretch of the village we reached at a café at the end of the village.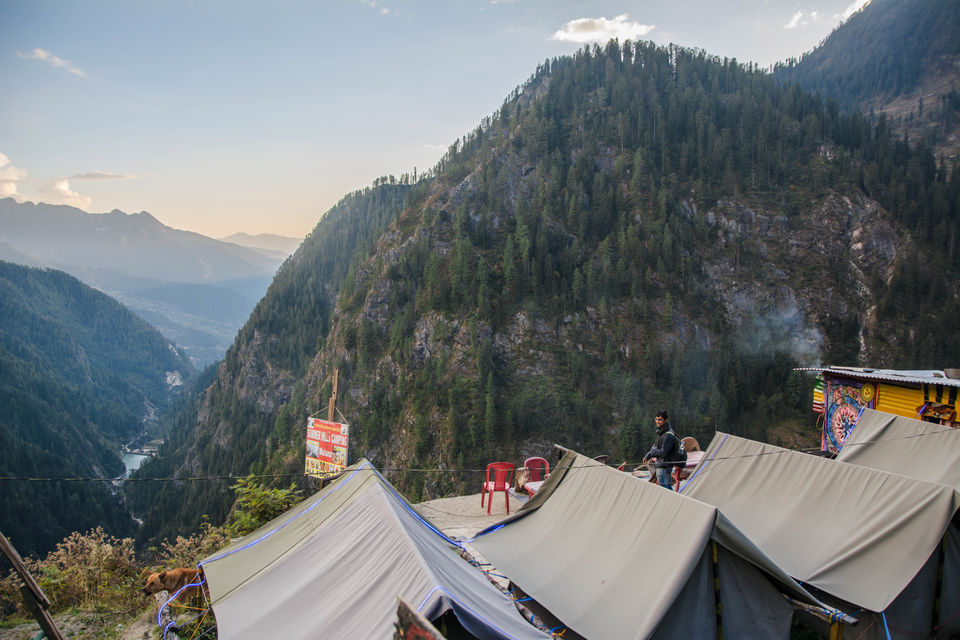 There were tents which were put up. We enjoyed a blissful sunset overlooking the beautiful Malana village.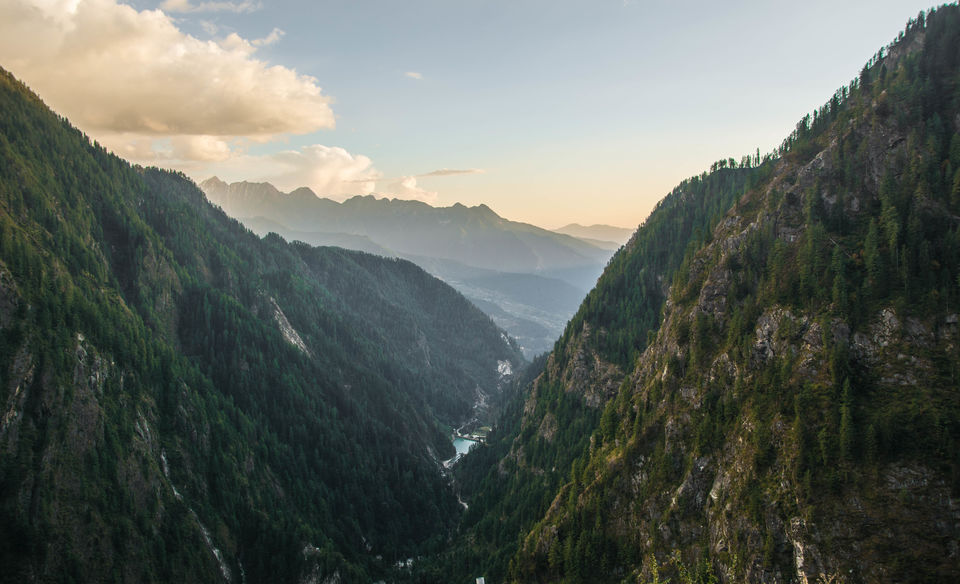 Post sunset we hiked back to our car and drove back to Tosh. We had our dinner pretty quickly as tomorrow our big trek starts.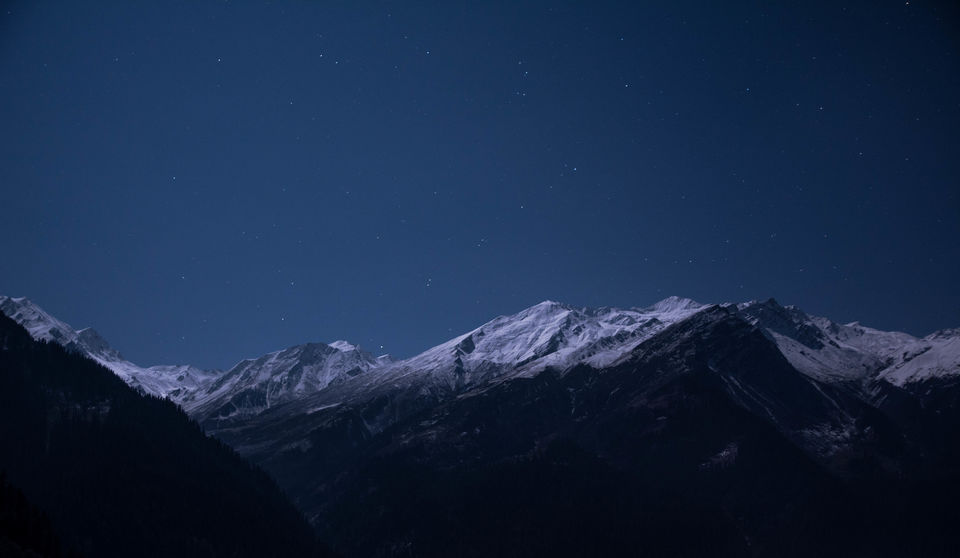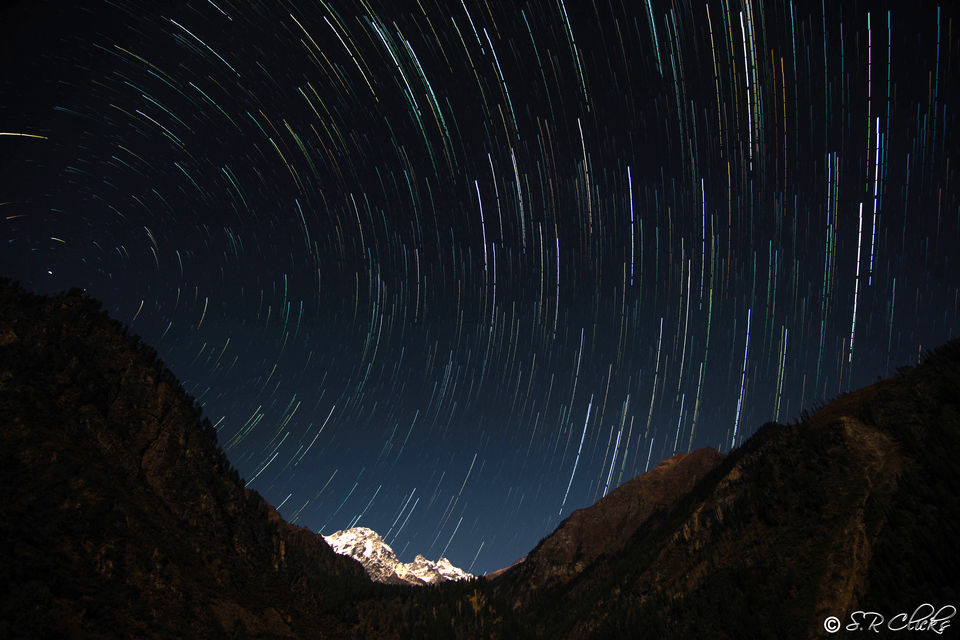 We woke up early in the morning, as the trek would be long and tiring. We took a cab from Tosh which took us to a bridge near Barsheini. This is the starting point of the Kheerganga trek.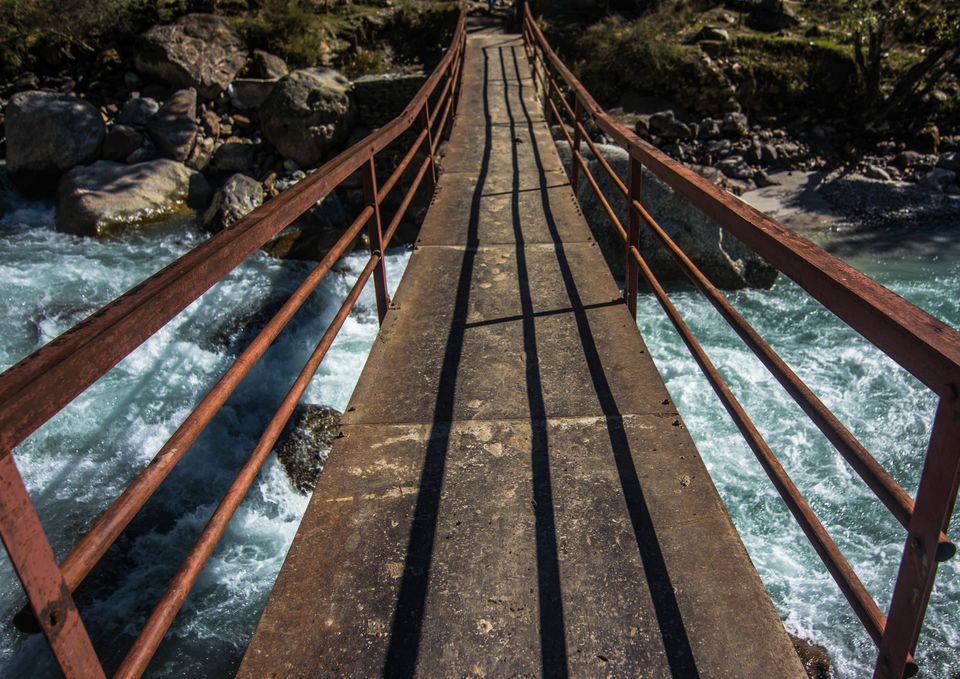 There is a shop near to the starting point from where we took walking poles and started our trek at around 10:30 in the morning. We didn't take any guide as the 13k ft Kheerganga top has a pretty well defined trail. We crossed the bridge and started our trek with high spirits. The initial part of the trek was quite easy with dusty roads and gradual ascent.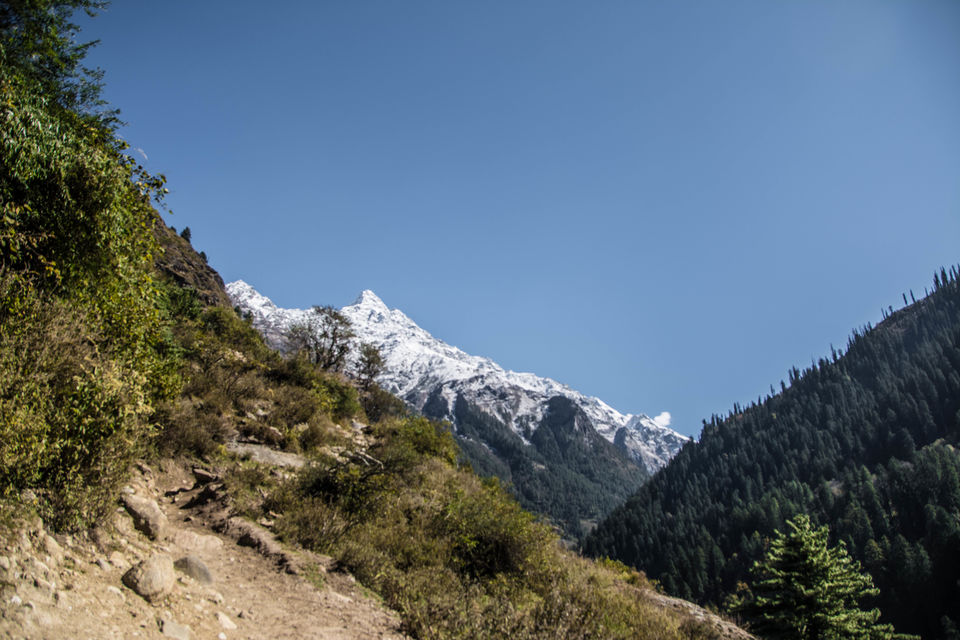 The scene on the right was pretty beautiful as we were able to see the entire valley along with the Parvati river.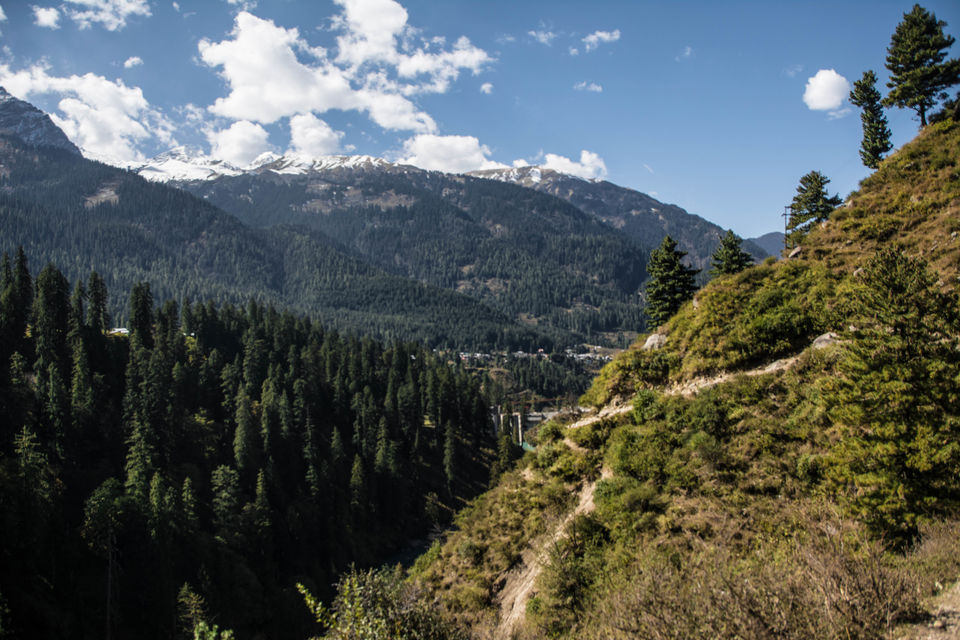 There are occasional shops where you would get some refreshments, but the cost is pretty much on the higher side. After walking for about two hours we reached a small village called the Nakthan village.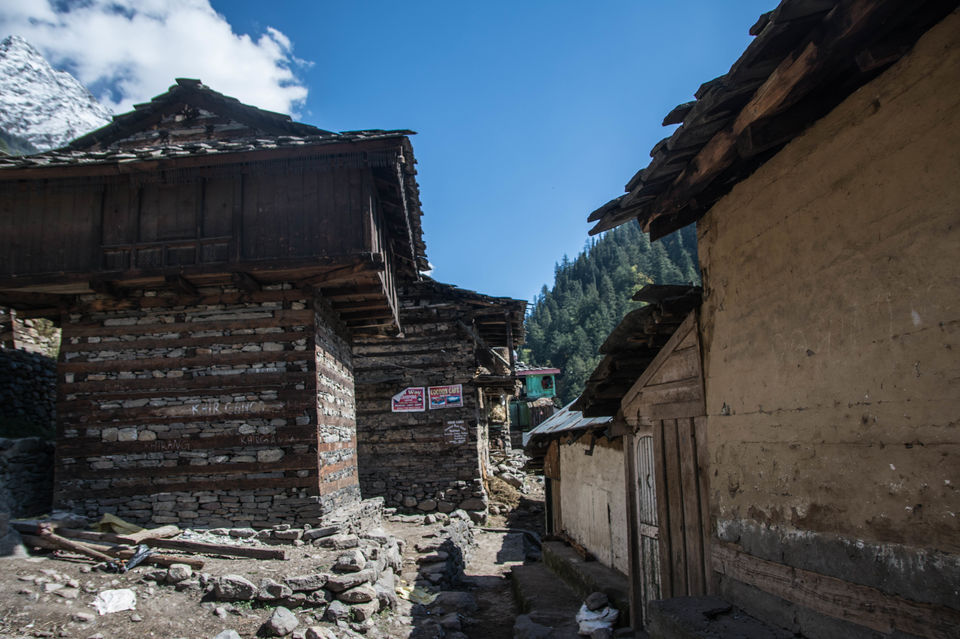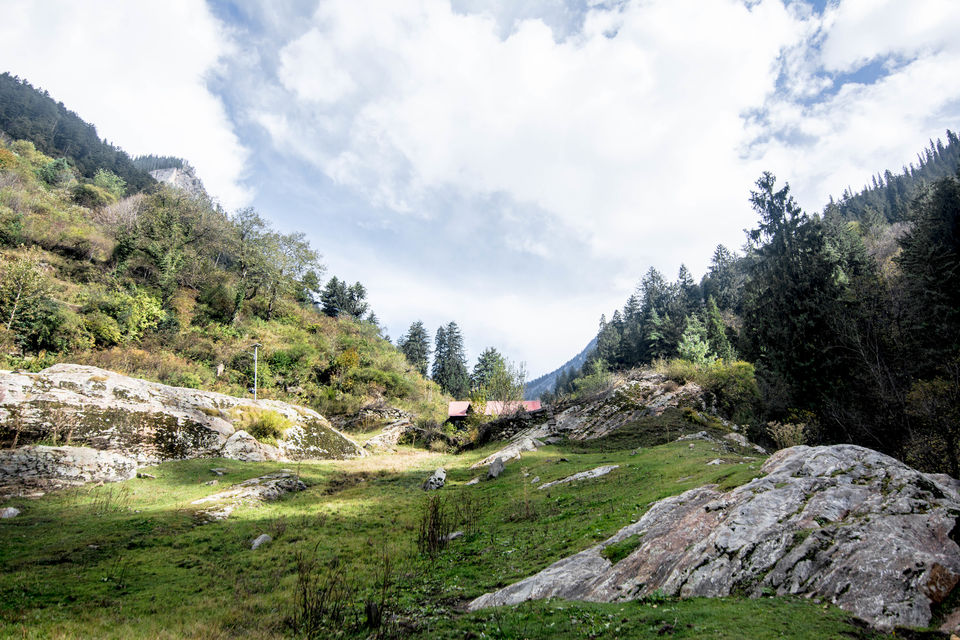 We were very tired by this point and took rest at this place. After having our lunch we proceeded our journey. The sun was vertically above us and even in this altitude we were literally sweating. After nearly 1 hour trekking from Nakthan village we reached a point from where the road is divided.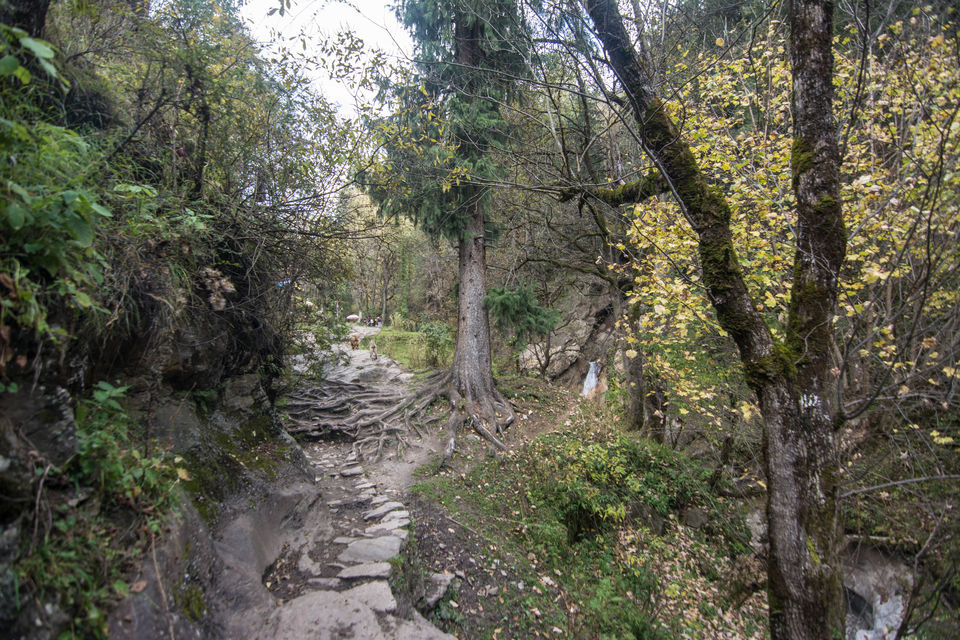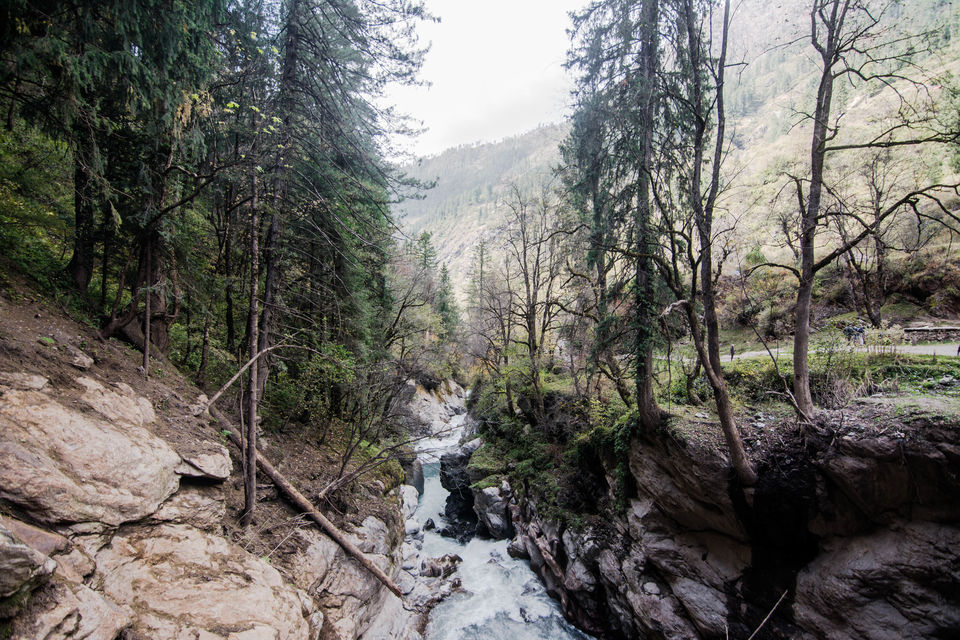 One road leads to the Kheerganga top while the other leads to a village called Kalga. From here we were really pleased to see canopy of trees above our heads as we have entered a thick forest.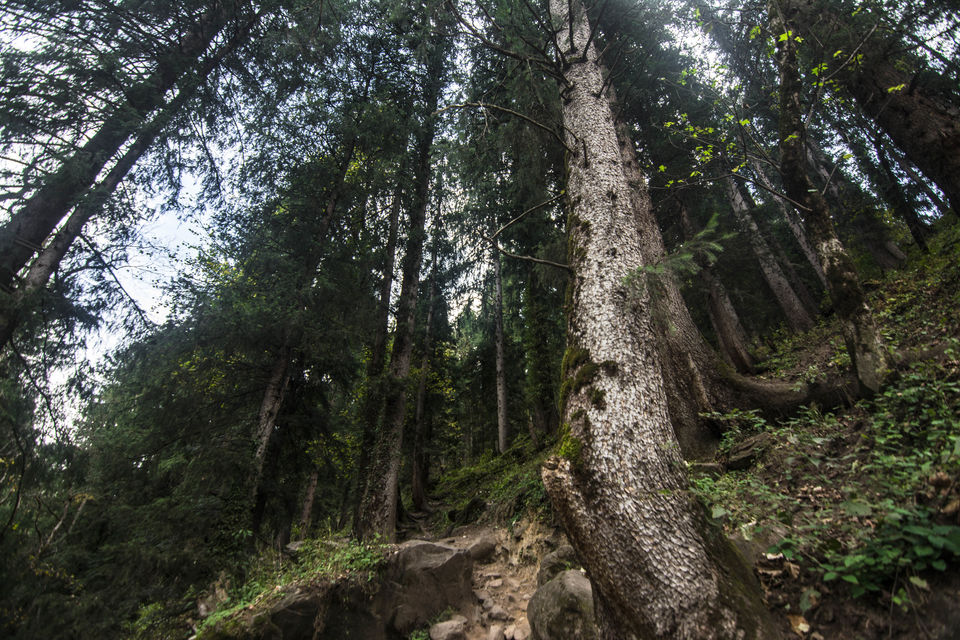 From here the road became muddy and the ascent became steep.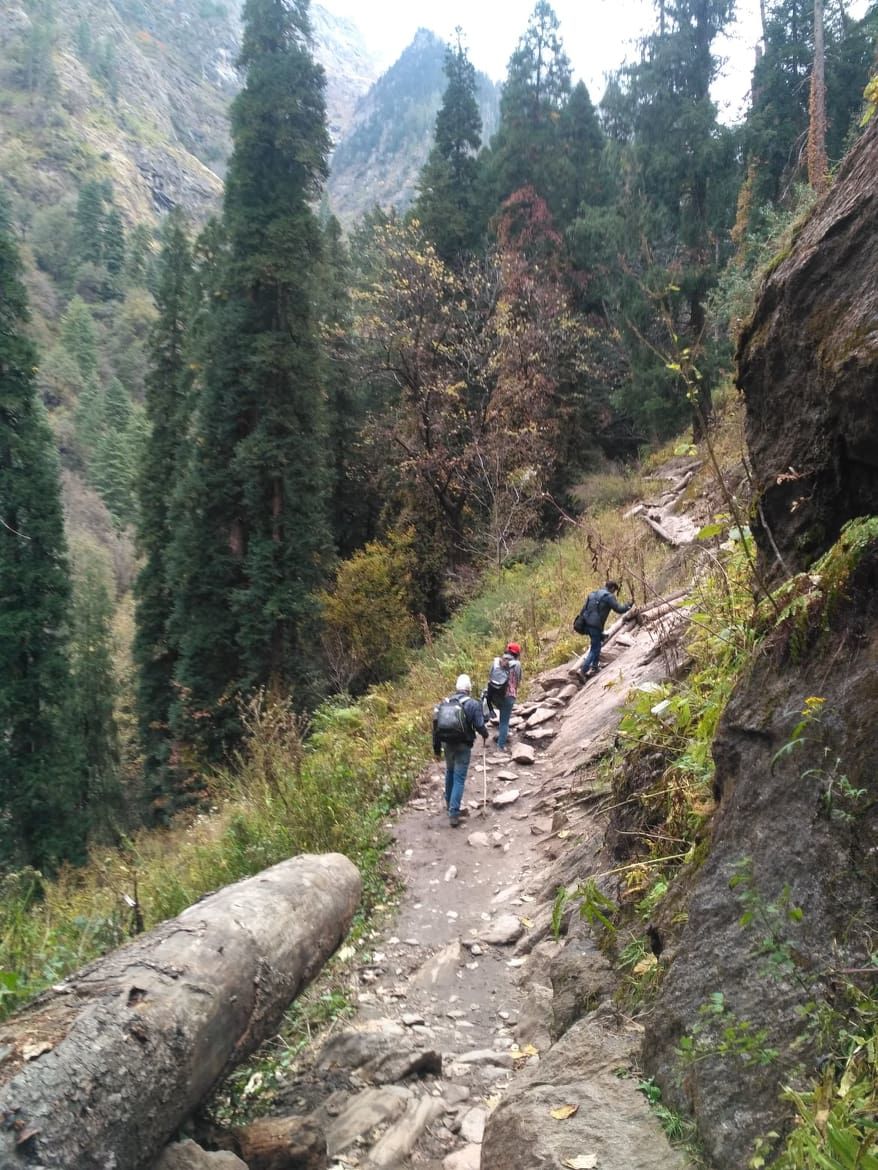 Nearly around 2:30 in the afternoon we reached the forest department checkpoint. We bought tickets costing Rs. 50 per person. Suddenly the sun hid behind a cluster of thick clouds and the temperature dropped considerably. At some places there are no proper roads. Logs and tree trunks have been used to make the trail.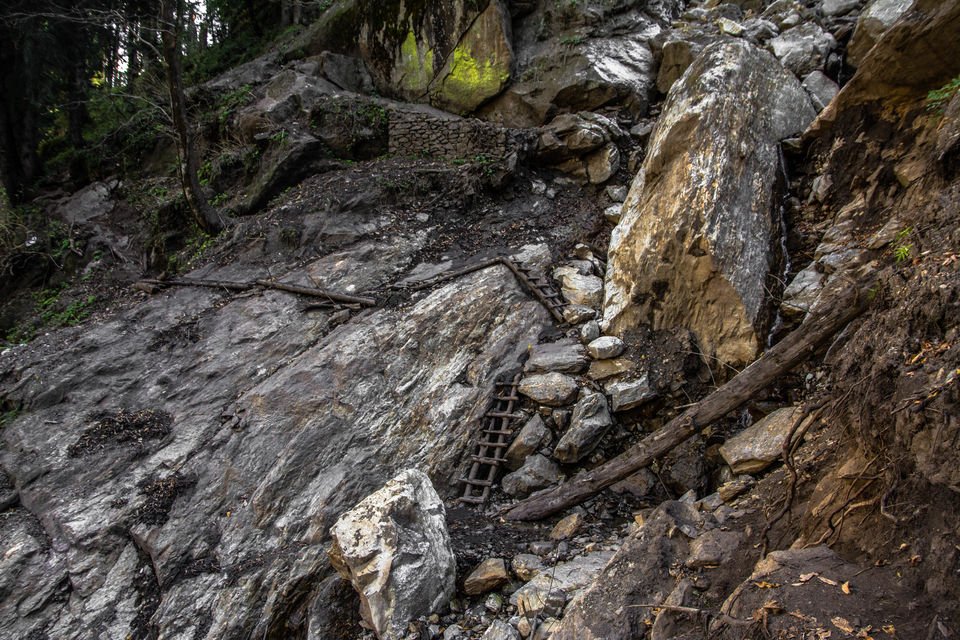 At this point of time, we were completely exhausted as we have gained considerable amount of altitude and we have now been trekking for nearly 5 hours. We crossed a waterfall on foot and continued our ascent.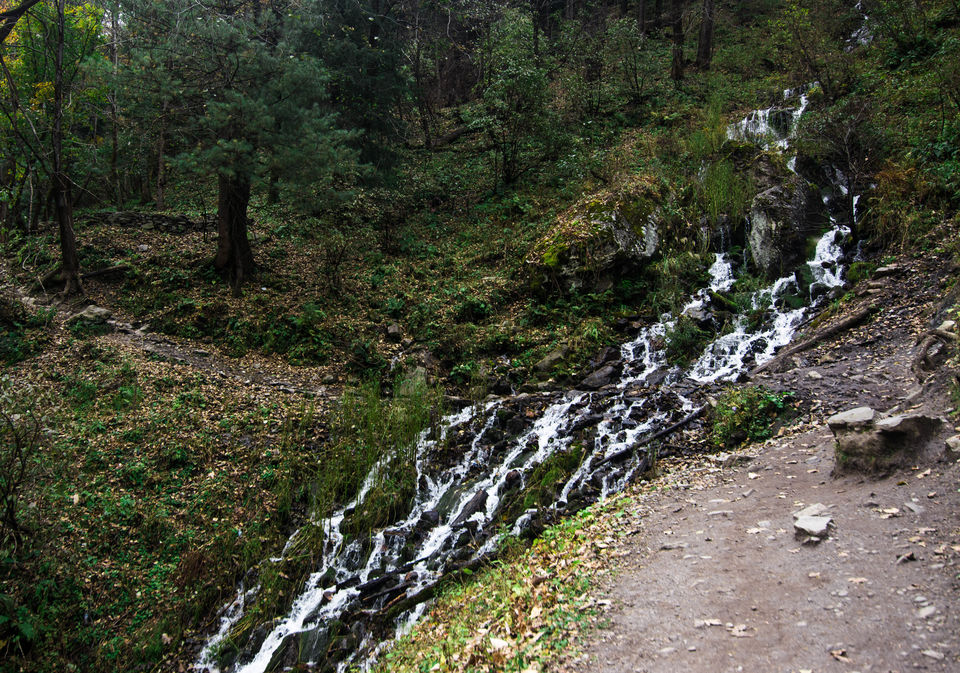 Finally at around 4:40 in the evening we reached the Kheerganga top. What a relief it was. We found our shelter in a place called Om Shiva café. Around the Kheerganga top there are tents which you will get at 500-600 bucks. We dropped our luggage and almost didn't feel our legs. We asked our tent owner whether any sort of food is available or not, and to our surprise, even at this altitude, we were provided with a menu card having a list of brilliant veg delicacies. After satisfying our taste buds, we decided to take a dip at the Kheerganga hotspring. Oh what a thrill it was, taking a dip overlooking the brilliant sunset. Soon after even the dusk lights faded away, leaving us in complete tranquil. We were still inside the hot spring waters, and we were awestruck to see millions of stars forming a canopy above us. Trust me the hot spring water does have healing powers as all our fatigue It was around -6 degree Celsius, and as soon as we got out of the hot spring we realized how cold it was. Soon we covered ourselves up with the maximum number of apparels that we were carrying and ran towards our tents. We had our dinner in the kitchen tent. Thankfully it was warm inside the kitchen tent. At around 9 p.m after a brilliant round of star gazing we slept.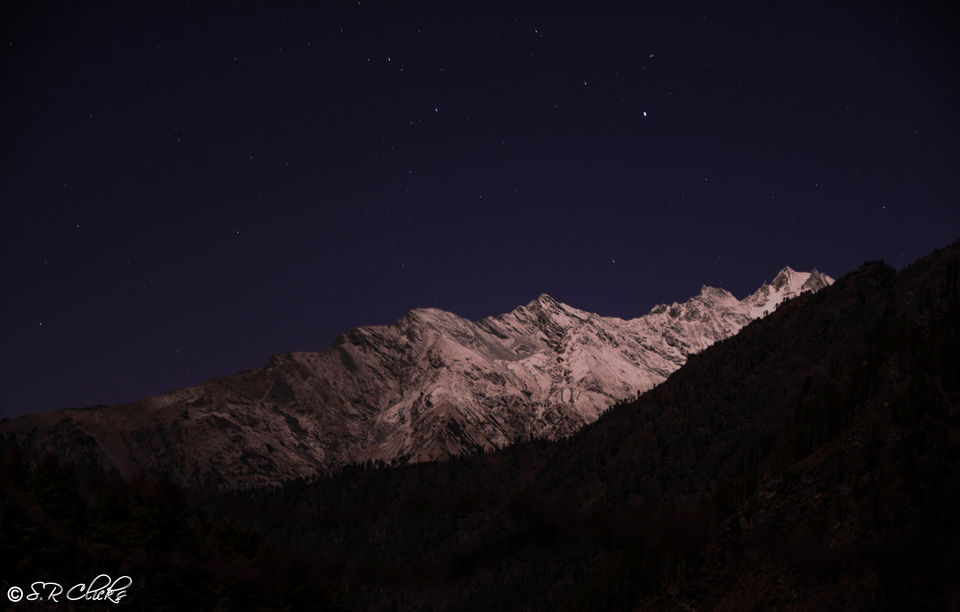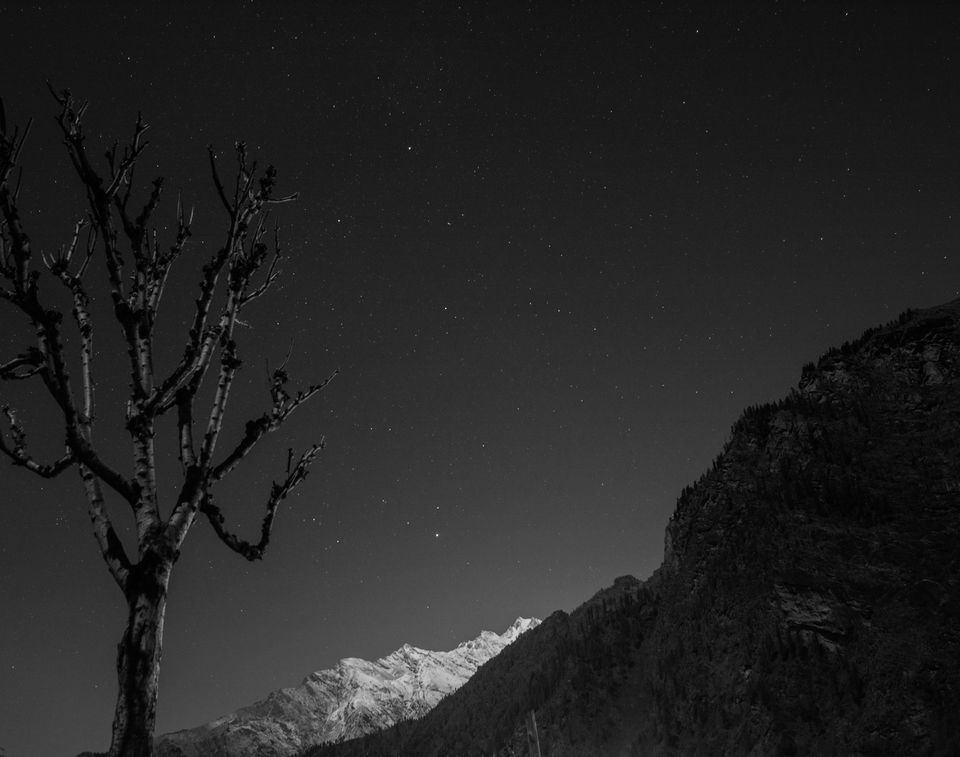 Next morning was clear and sunny as expected.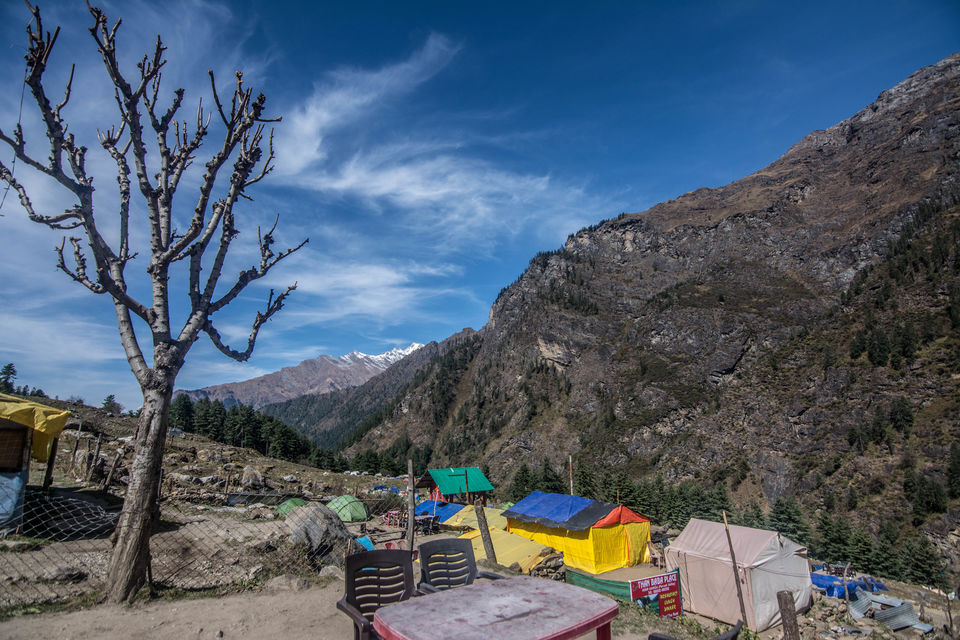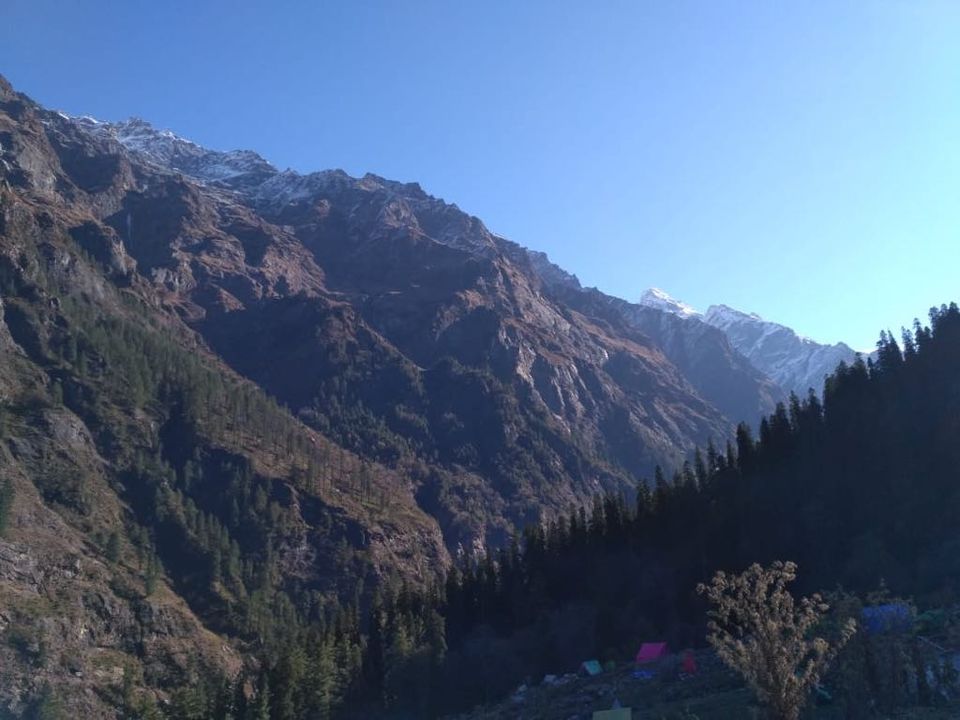 We woke up feeling rejuvenated and decided to take a final bath in the hot spring before our descent.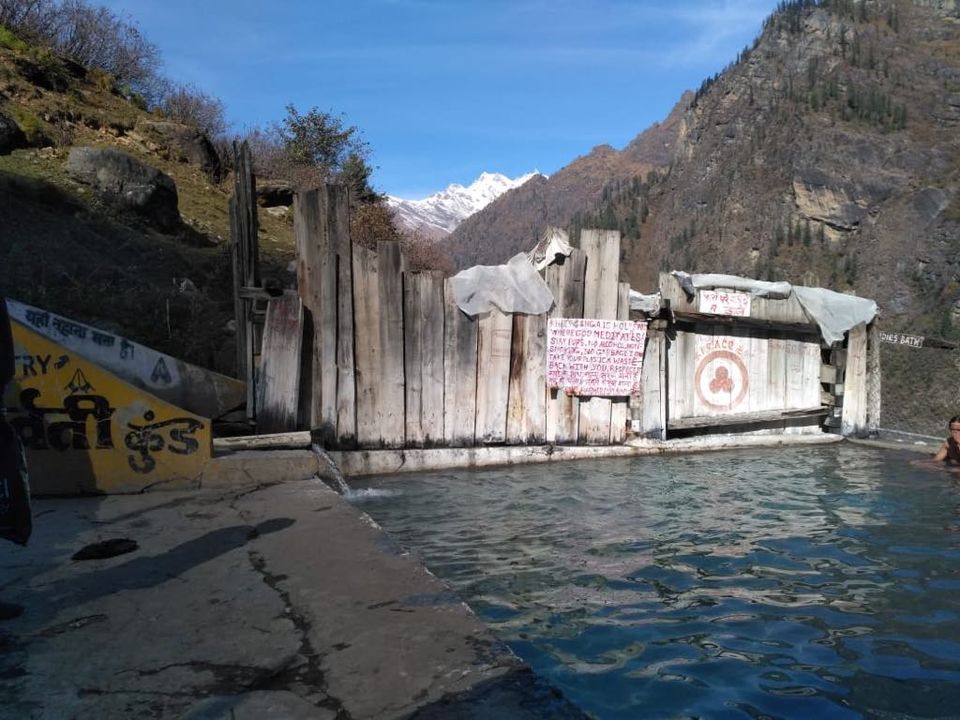 At around 11 a.m we started off from Kheerganga top. The initial phase was quite steep and muddy. With slow steps and caution we kept walking our way along the trail. Our next destination was Kalga. So for that, we had to take a deviation from the path that we followed while coming up. The road towards Kalga was more or less easy.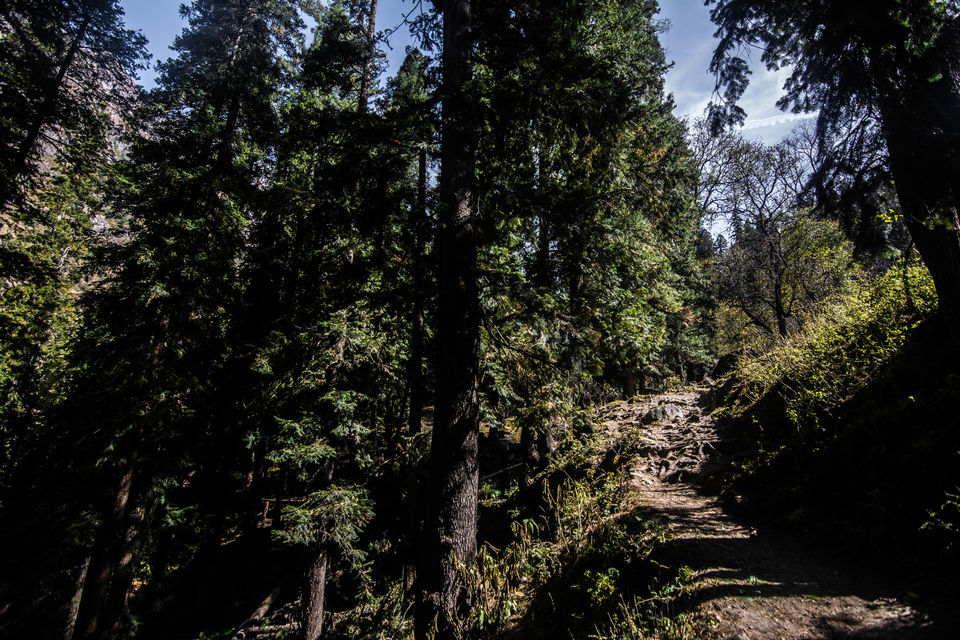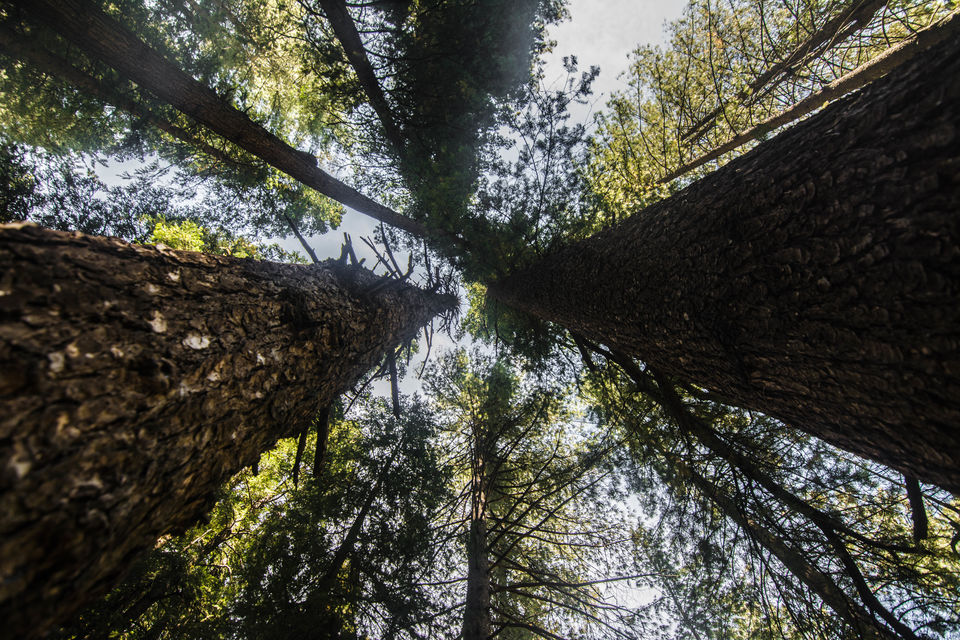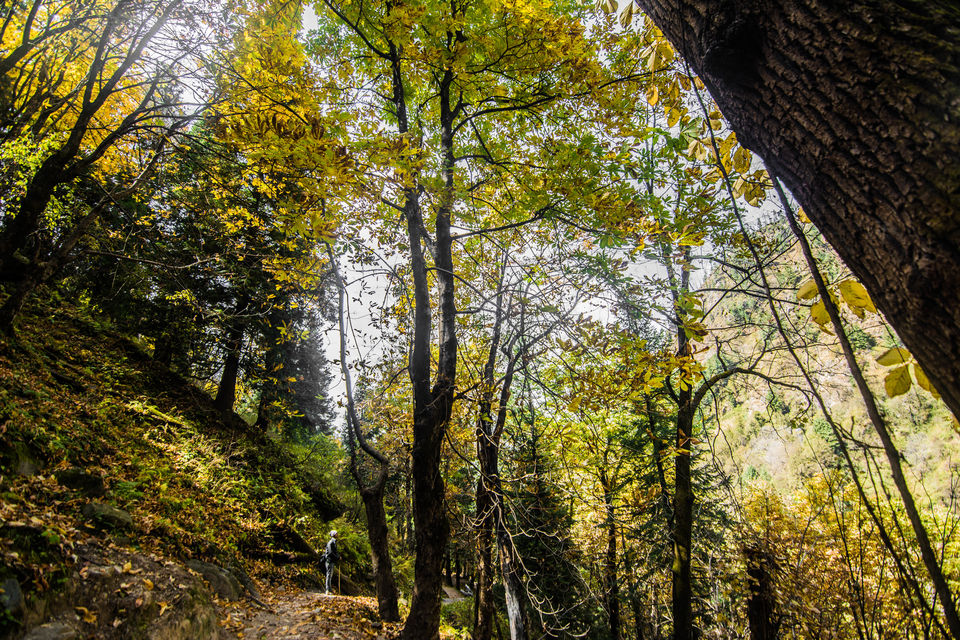 With a canopy of trees above us, it took us nearly 4 hours to reach Kalga. On the way we came across some waterfalls.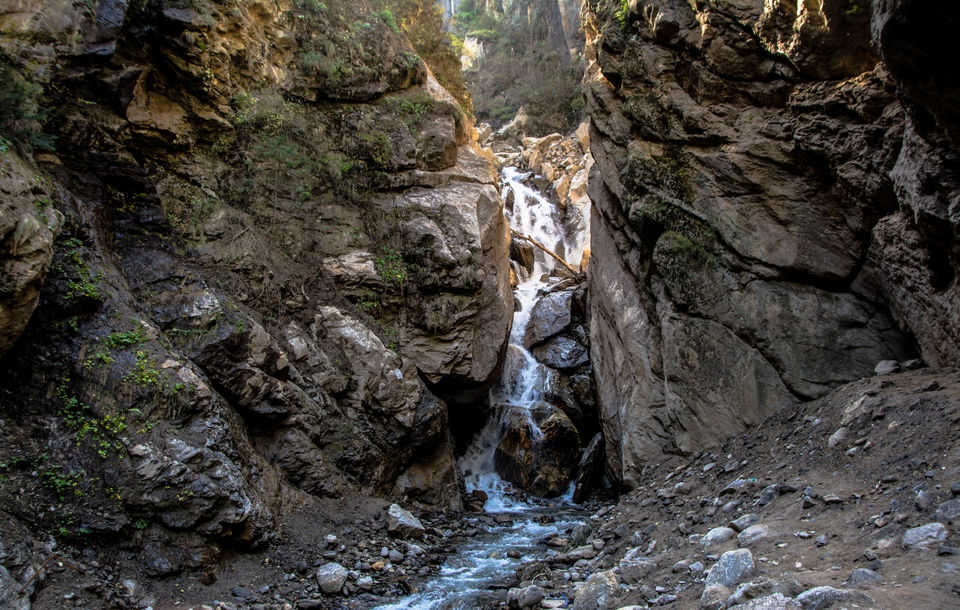 There are no settlements on the way towards Kalga excepting a few tea shops. When we reached Kalga it was almost dusk.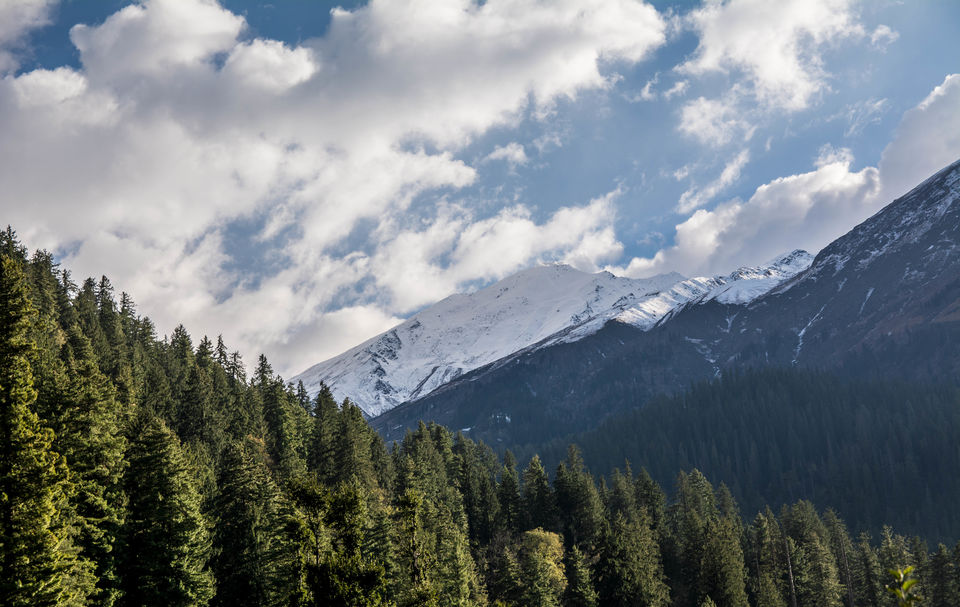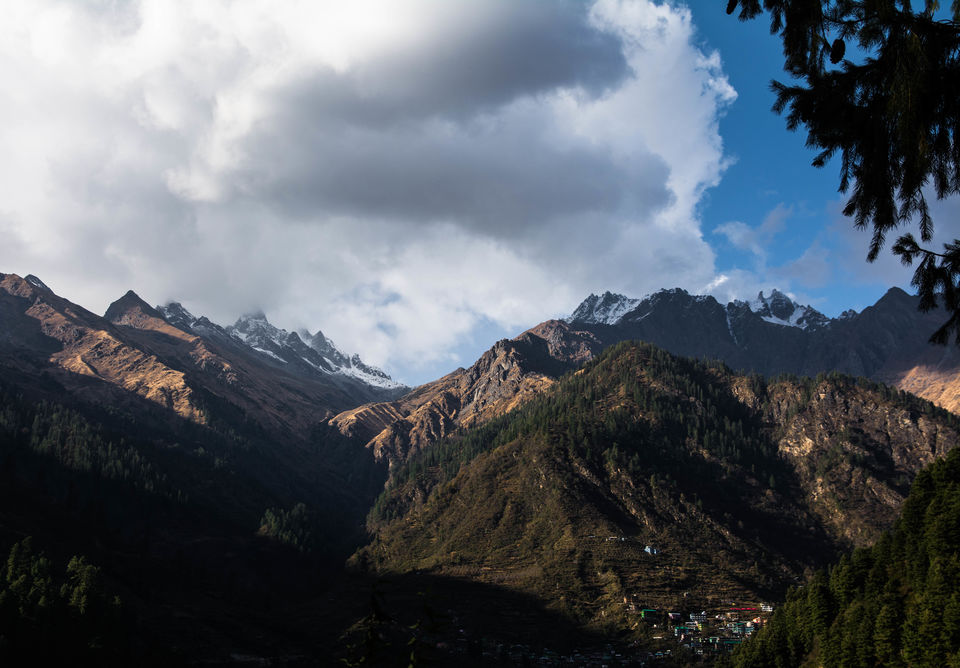 We took shelter in a homestay called Peace Café. The homestay owner was amazing. He gave a warm welcoming smile, bowls full of warm soup and told us that he would arrange for bonfire. We checked into our rooms and felt each muscle cry for some rest. After one our Raveen bhayia (Homestay owner) called us for the bonfire. The entire setup was brilliant. Fire, Mountains and Lucky Ali songs.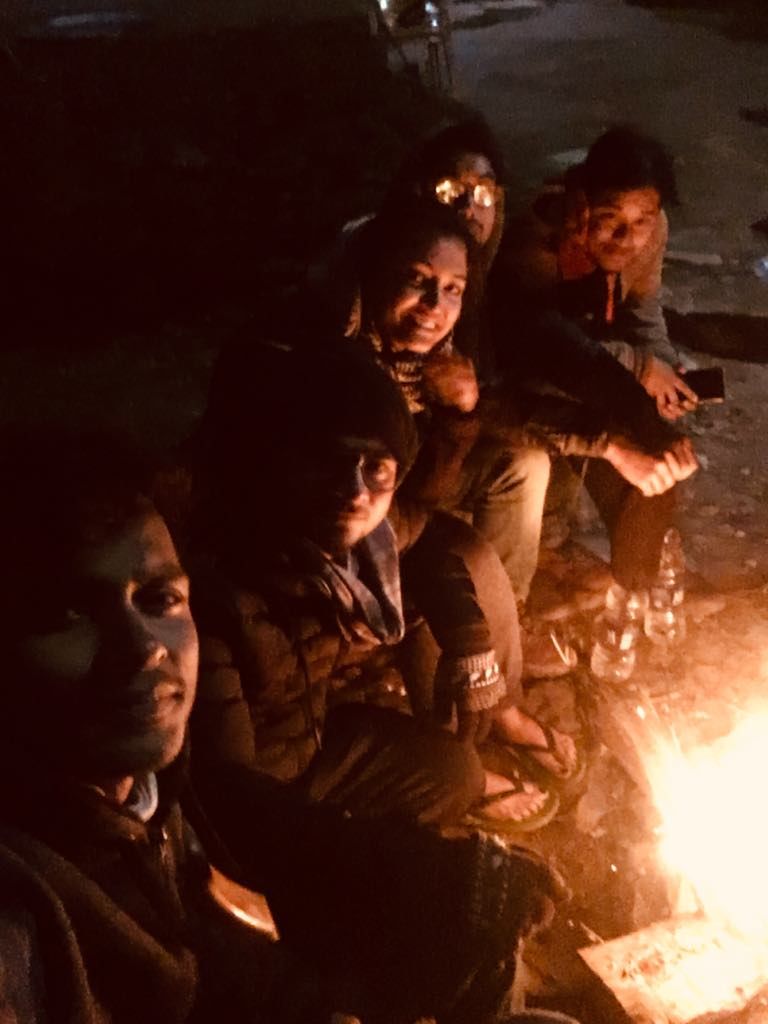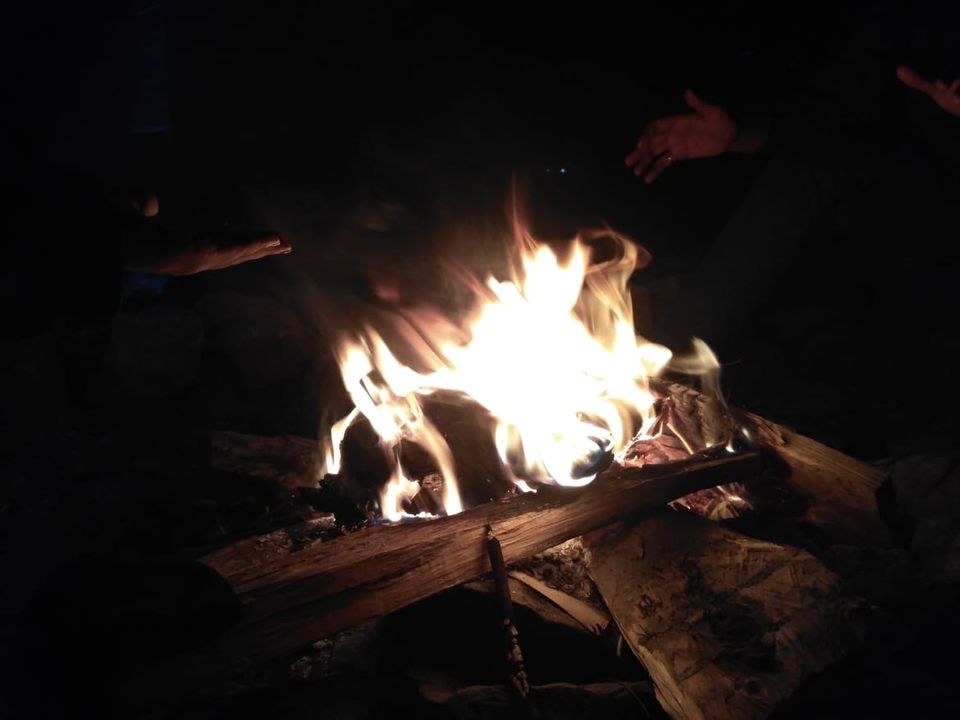 What more do you want on a trip ? The small village of Tosh was shining like diamonds on the foothills of the mountains in front of us.
We flew in the aura of the small village of Kalga, which gave us enough memories of a lifetime. Finally we had our dinner and went for some much needed sleep under the comfortable quilts.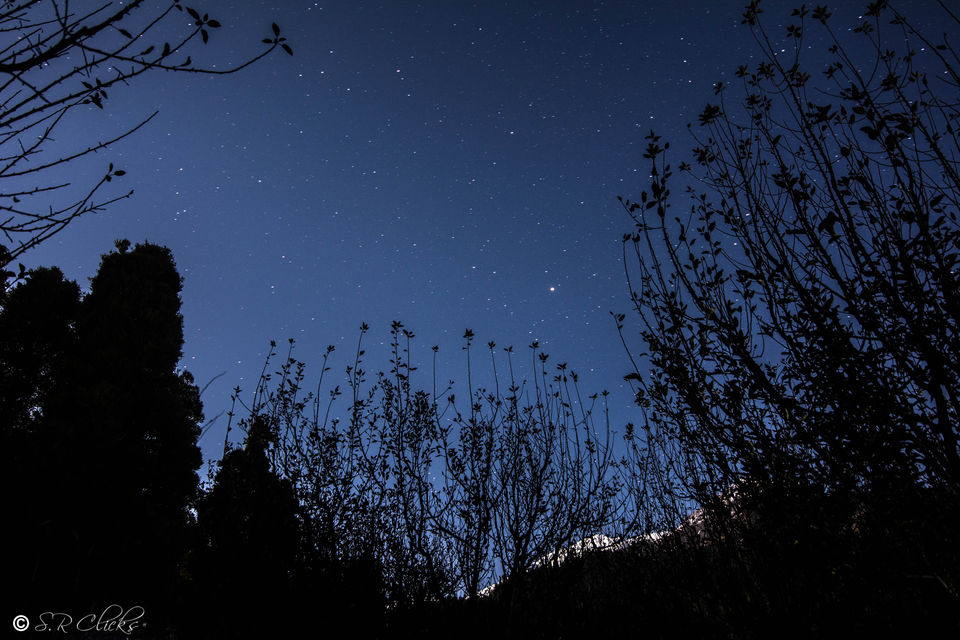 We didn't have a hectic schedule today, so we woke up pretty late. After having lunch, we decided to take a stroll along the winding trails of Kalga. It is a small village nestled among apple orchards.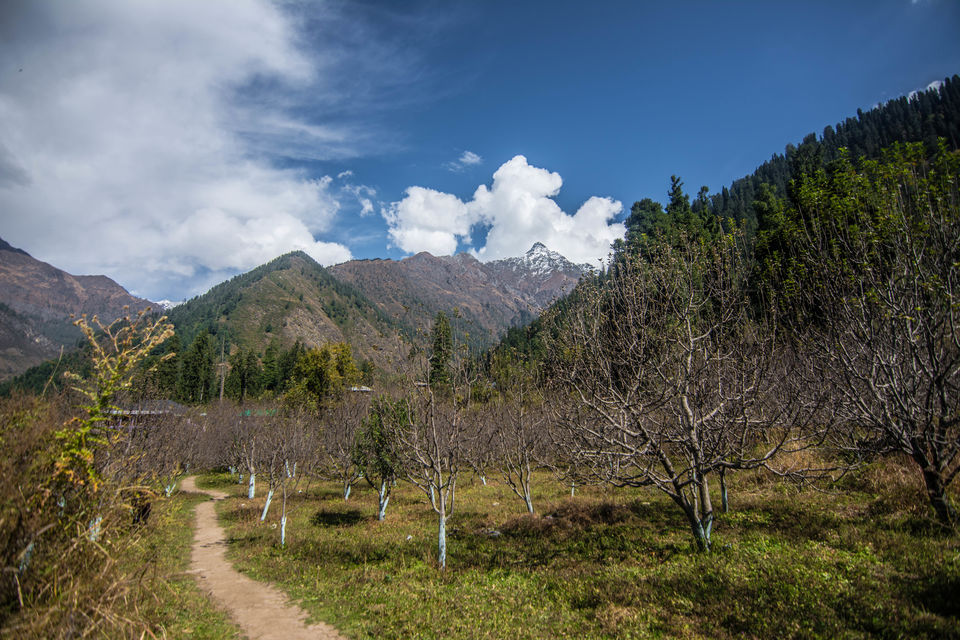 Since we went there in the month of October, there were just a few apples in the trees.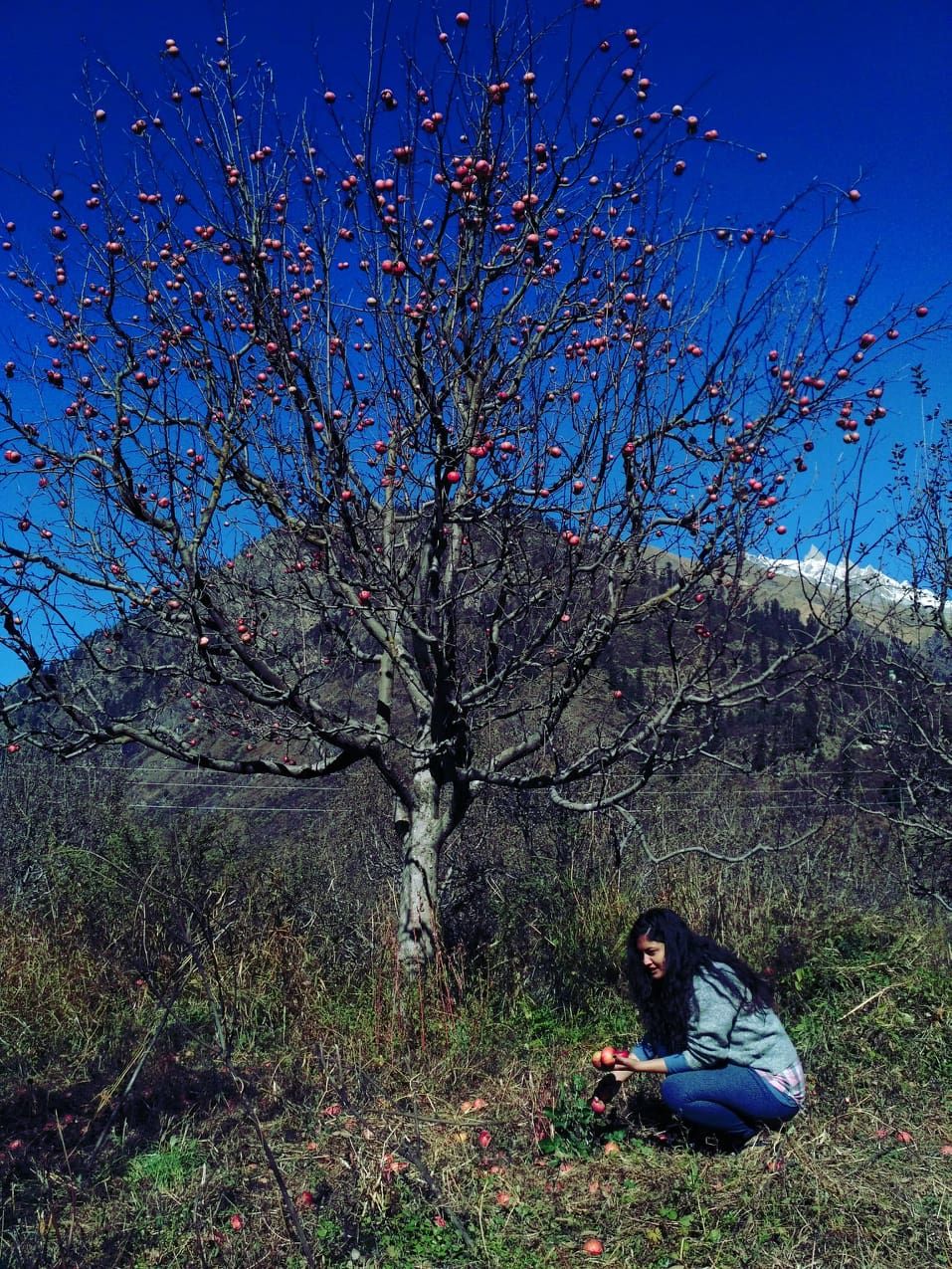 The villagers are quite friendly and showed us path along the village and were always ready with a smile for a conversation.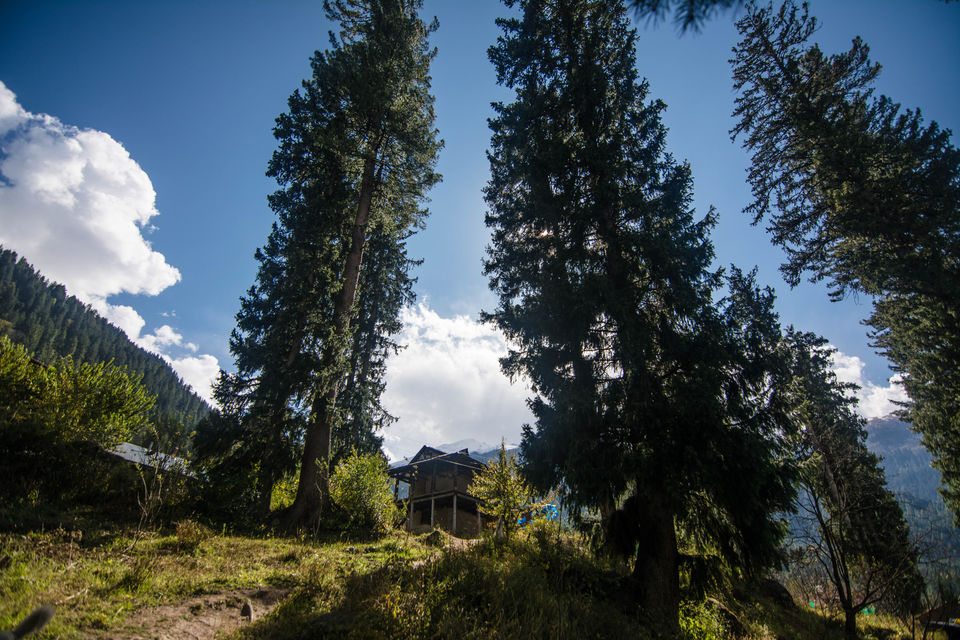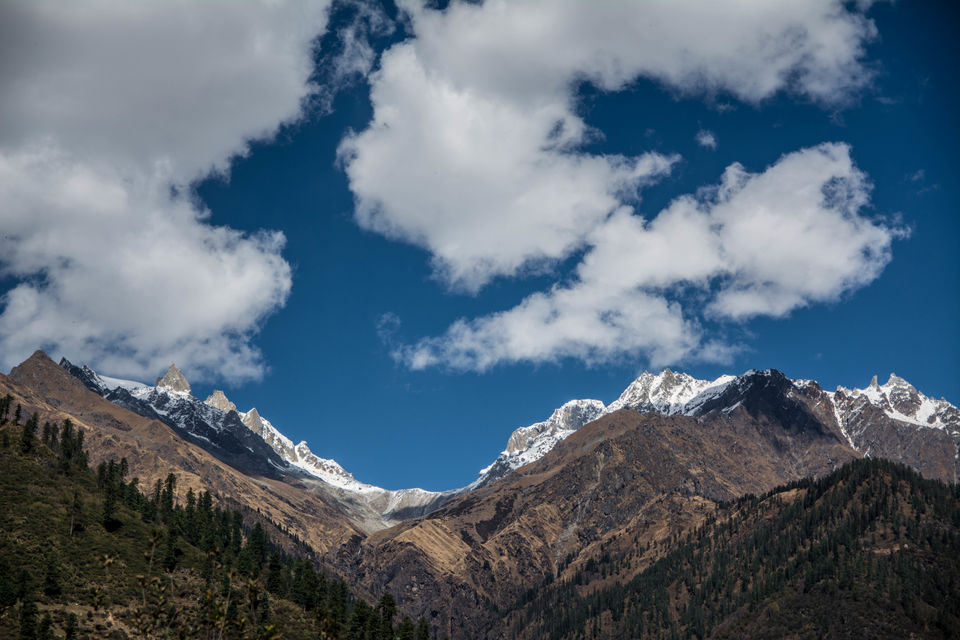 We had our lunch at our homestay and started our descent. We started at around 3 p.m in the afternoon. A 20 minutes steep descent led us to the Barsheini dam.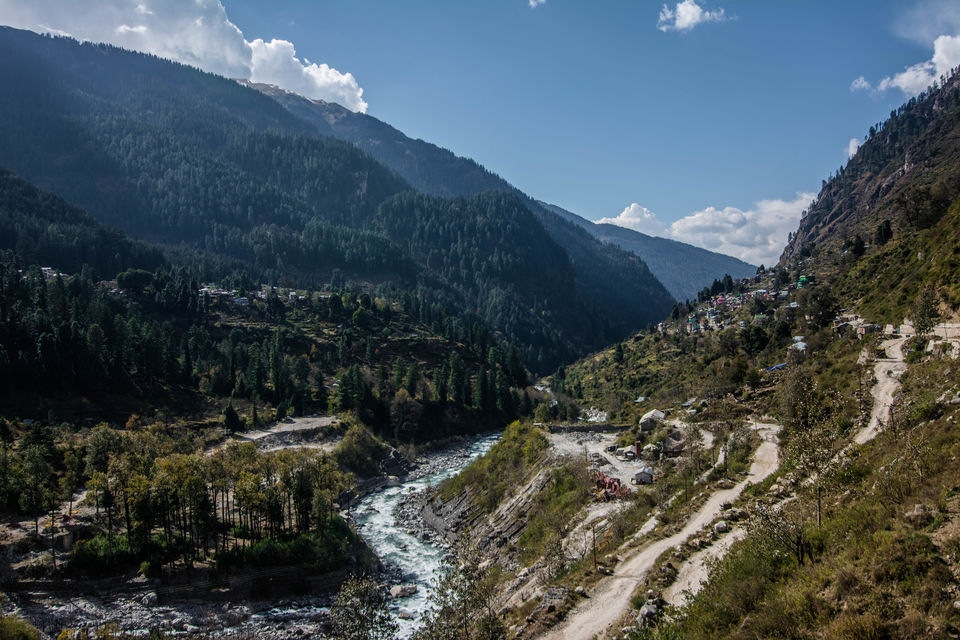 We crossed it on foot and reached the cab booking center at Barsheini. The cab took us to Kasol. When we got down, we honestly found Kasol to be very congested. As we were fanatically searching the internet for an alternate place to spend the night, that's when the localities told us that there is a place called Chalal which is about 20 minutes walking distance from Kasol. We picked up our rucksacks and took a right before the main bridge in Kasol. A picturesque trail awaited. We crossed a foot bridge across the Parvati river and followed the trail.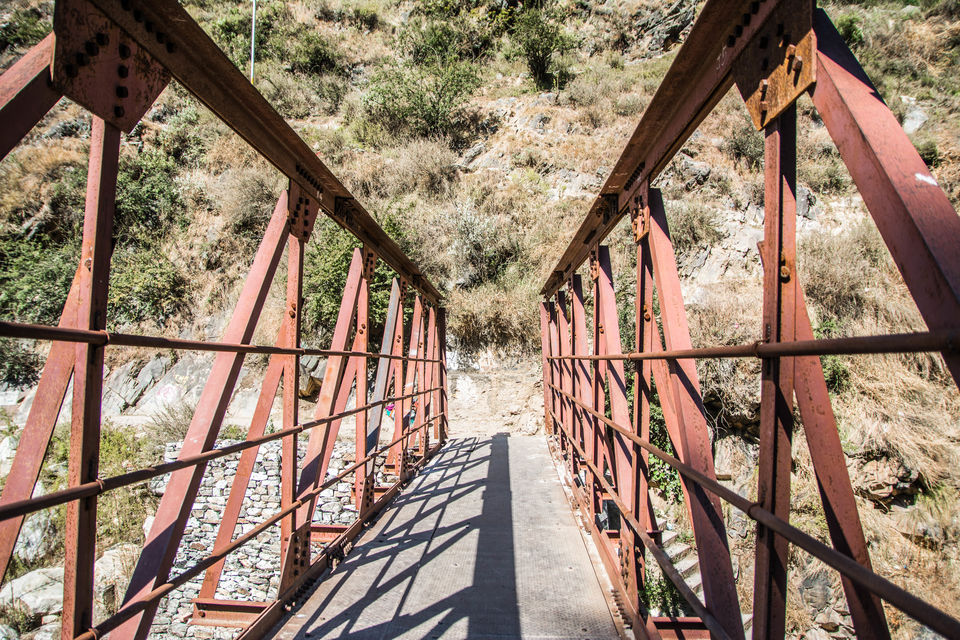 It was almost 6 p.m when we reached Chalal. We stayed at the Om Namo Café. Here in Chalal there are no hotels as such. Mostly there are tents on camping grounds along the shores of Parvati river. Since today was the last night of our trip we decided to stay up for a while as the tent owners put up a bonfire. We had a gala time beside the fire. With numerous stars above us and the thunderous sound of the Parvati river, we indeed had a memorable night. Dinner was served at around 10 p.m and we dozed off after that.
We woke up late in the morning as our bus was scheduled to depart in the evening from Kasol. After having breakfast we took a walk along the shores of Parvati river.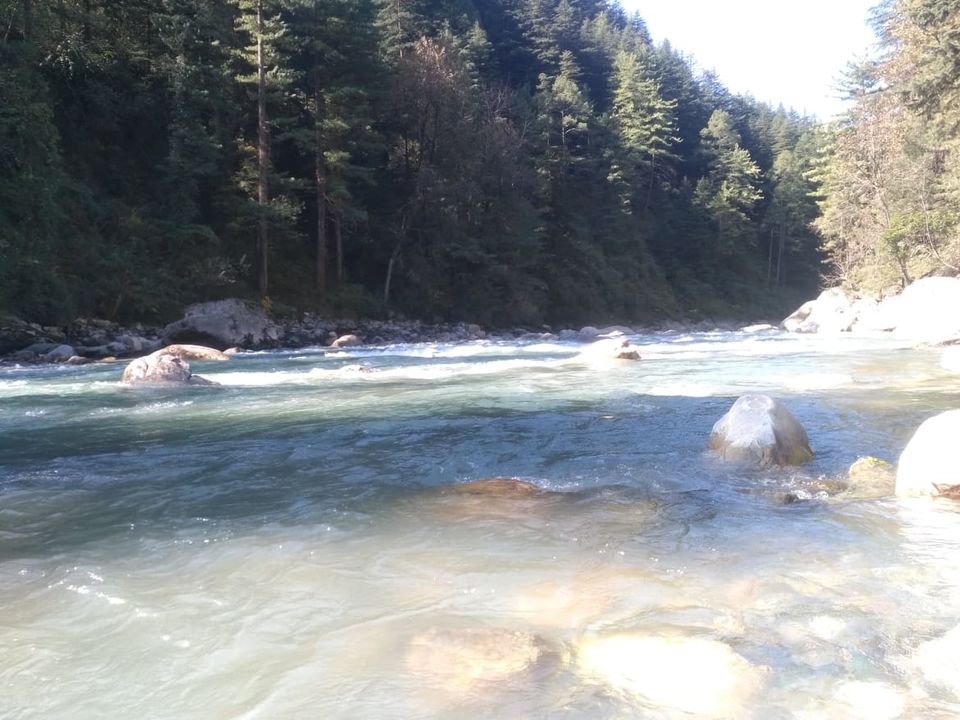 The water was crystal clear with colorful pebbles all around.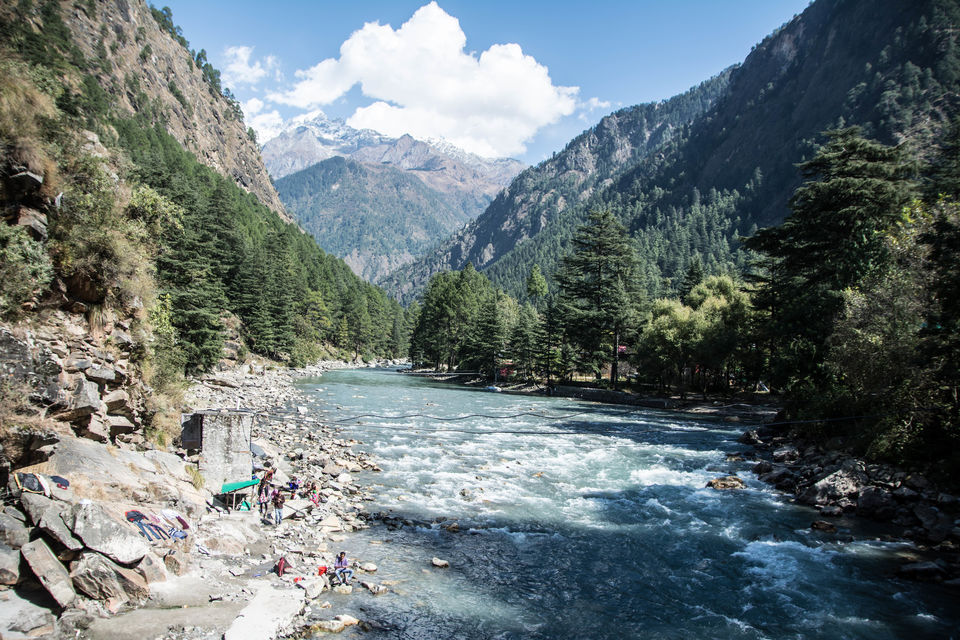 After a while we took our rucksacks and followed the same trail to reach Kasol. It was around 2 p.m. We had a brilliant supper at Little Italy restaurant at Kasol. Post that we did indulge ourselves in some shopping. At dusk, we witnessed a brilliant sunset as we bid goodbye to the Parvati Valley. We boarded our bus from Kasol at around 6 p.m, which was scheduled to reach Delhi at early morning, the next day.
Parvati valley was very special to me. The people, the nature, the food and the ambiance was simply magnetic. With the promise of returning to this place soon, we all headed home with memories that would last a lifetime. After an overnight journey, we reached Delhi at around 7a.m in the morning.