The gospel of trekking in the monsoon boils down to two words: stay dry! From packing effectively to trekking with the right rain gear, every aspect of monsoon trekking is to maintain dryness, which in turn, guarantees a successful trek.
While it's true that most trekking routes are washed away during the monsoon, nevertheless, there are some trails that are safe and can make for an exciting adventure. So don't let the weather hold you back. Monsoon is possibly the best time to trek the Himalayas, as the rain washes the air clean and transforms green meadows into multi-coloured flower beds. As long as you are packed right and travelling with caution, there is no reason for you to fear mountainous trails during the rainy season.
Here are a few key aspects you need to keep in mind before heading out for a monsoon trek in the Himalayas:
Pack smart... with a lot of plastic bags
This is the time to reuse your plastic bags, as they really come in handy on a monsoon trek. While packing, compartmentalise your clothes, socks, undergarments, and others and wrap them in separate plastic bags before packing. Give your electronic devices such as speakers and chargers double-layered protection by putting them first in a ziplock bag and then in a regular plastic bag.
Swathi, who runs a Youtube series Trek With Swathi, demonstrates this packing technique in the video.
Protect the backpack
If you are wearing a poncho, then that will also serve as a waterproof layer for your backpack. But if you are trekking in a raincoat, then definitely carry a rain cover for your backpack. You can order one online or buy one from wherever you got the backpack.
Pack only dry-fit/waterproof clothing
There are a wide variety of clothing options available for trekking in the monsoon. From expensive waterproof pants to affordable dry-fit clothing. Take a call according to your budget. The purpose behind dry-fit or waterproof clothing is not just to protect you from the rain while trekking, but also ensure quick drying if you do get wet.
Be prepared
Despite a good layer of protection, it is entirely possible that you might get drenched in the rain. Therefore, carry extra sets of dry-fit clothing that you can change into after a day's trek. NEVER sleep in wet clothes or socks. Given that your feet will definitely get wet, carry at least two to three extra pairs of socks as well. Apply the same rule for inner and intimate layers as well.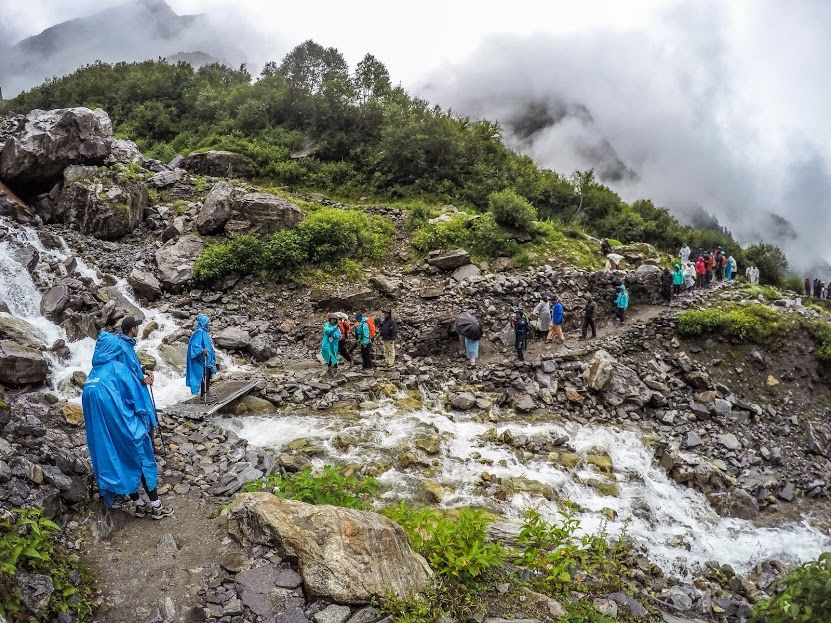 Take care of your feet
Since these will the most exposed and vulnerable parts of your body on a trek, take extra care of them. After a day's trek, make sure you change your socks at the campsite immediately and put your shoes to dry. Also, invest in good ventilated shoes with deep hooves as without proper ventilation, your feet will become prone to blisters, and without a decent grip, you will easily slip on muddy patches. A great tip to avoid blisters is to carry anti-fungal powder on the trek, and apply it generously at the end and beginning of the day.
Beware of leeches
Monsoon is the season of leeches, and they are found in abundance in forests and mountains. If you are taking a break while trekking, and standing at a spot, keep an eye out for these bloodsucking worms. Avoid any physical exposure by tucking your shirt into your pants and pants in your socks. The best way to stay clear of leeches is to keep moving. If at all one does latch onto you, do not try to pull it out. Instead sprinkle salt on it and the leech will drop off.
Now that you know what's needed for a monsoon trek in the Himalayas, take your pick from the best three monsoon treks in India.