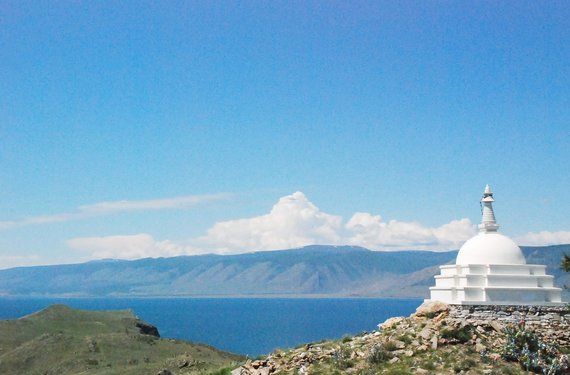 Winters in Siberia are relentless. On Lake Baikal, the largest freshwater lake in the world by volume, the ice freezes meters thick. The temperature regularly reaches the negatives. The only salvation is the banya, a Russian sort of sauna where one sits in steam and then runs outside and plunges into ice-cold water before returning again. Good for circulation, they say.
But in the summer, this place transforms into paradise. Warmer temperatures bring vacationing Russians to Baikal's shores in swimsuits. Verdant taiga forests curtain glistening blue water, where the nerpa, a freshwater seal only found by Baikal, plunges below water and resurfaces. This is the "Galapagos of Russia," after all, teeming with endemic wildlife, and one of the oldest lakes in the world, at around 25 million years old. The region's historical shamanist and Buddhist beliefs lend to the mystical atmosphere. Thousands of miles from any major city, the Siberian isolation at last feels glorious in the summertime, like a retreat, zapping the troubles and cares of this world on expansive beaches.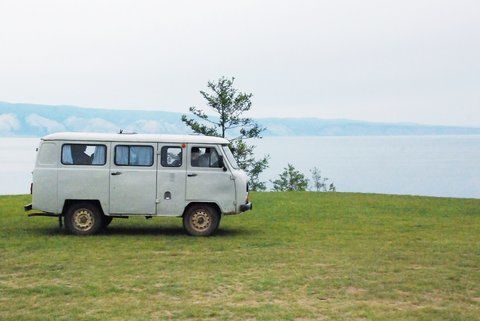 Unlike western Russia, eastern Russia has a distinctly Asian and Central Asian influence, with China and Mongolia at its border to the south and Kazakhstan to the southwest. What's more, the Russian republic of Buryatia surrounding southern Baikal has developed its own distinct culture. Olkhon Island, with shamanism, Buddhist landmarks, Buryat influence, and a window into Baikal's diverse wildlife, is a testament to the incredible variety of culture yet to be experienced by many on Russia's soil.
For those who call the island of Olkhon home, the largest of the lake's 27 islands, it often possesses a powerful spiritual calling. Spirits are said to inhabit the landscape as natural formations take on otherworldly roles. Olkhon is a shamanist stronghold. The local people have believed in spirits here for centuries. Shamans communicate with these spirits in ritual as they access a deeper spiritual world and express it to shamanism's believers. Today, several tours fill old Soviet-era military buses with visitors and circulate the island's most sacred spots on well-worn dirt roads. Tour guides tell stories of the lake's spiritual powers and where they are concentrated, like at Shamanka on Cape Burkhan, a rock formation at the tip of a U-shape on the coast of the village of Khuzhir, the dwelling place of the lord of Lake Baikal, according to Buryat tradition.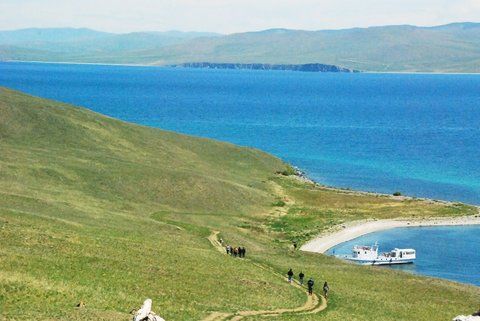 Shamanka has always been one of the most sacred places in Asia. Even when Buddhism spread here, the spot retained significant spiritual power. Locals and visitors tie colorful ribbons to formidable towers that stand on the land above the rock and pour one out as an offering to the gods. The nearby Baikal View Cafe lets diners look out over an incredible vista of Shamanka and Baikal, a lake that contains more freshwater than all of the Great Lakes combined. Back behind the café, the small village of Khuzhir contains several other small cafés with Buryat and European specialties, like Cafe Kudesnitsa, Russian saunas, and a museum of local culture and history.
In 1996, UNESCO declared Lake Baikal a World Heritage site for its exceptional uniqueness, recognizing the wealth of natural life and history. In visiting the lake's shores, Olkhon Island, somewhat near to the major Russian city of Irkutsk yet still a little difficult to visit, is more than worth the trip. Whether eating fresh omul, a Baikal fish, stewed into a soup, touring a Buddhist stupa, or swimming in the crystal clear waters, something about Baikal breathes wild, organic, and spiritual, leaving visitors entirely renewed. Several companies offer tours of Olkhon from Irkutsk, a city worth a day or two of exploration in its own rite. This three-day tour of Olkhon offers easy viewing of all the major shamanistic attractions with time also spent walking along Baikal's beaches. Take advantage of it while staying at the luxurious Angara Hotel in Irkutsk. For the brave, there are many opportunities to take a private car at a small cost out to the island and stay at the Baikal View. The hotel offers exquisite rustic suites along with several tours of the island; a helicopter tour; ATV, bike, and horse rentals; a sauna; a barbecue area; and an outdoor pool. Just make sure to bring enough cash, as there's no ATM on the island. This is Siberia, after all, what would it be without a little modern-day survivalism?