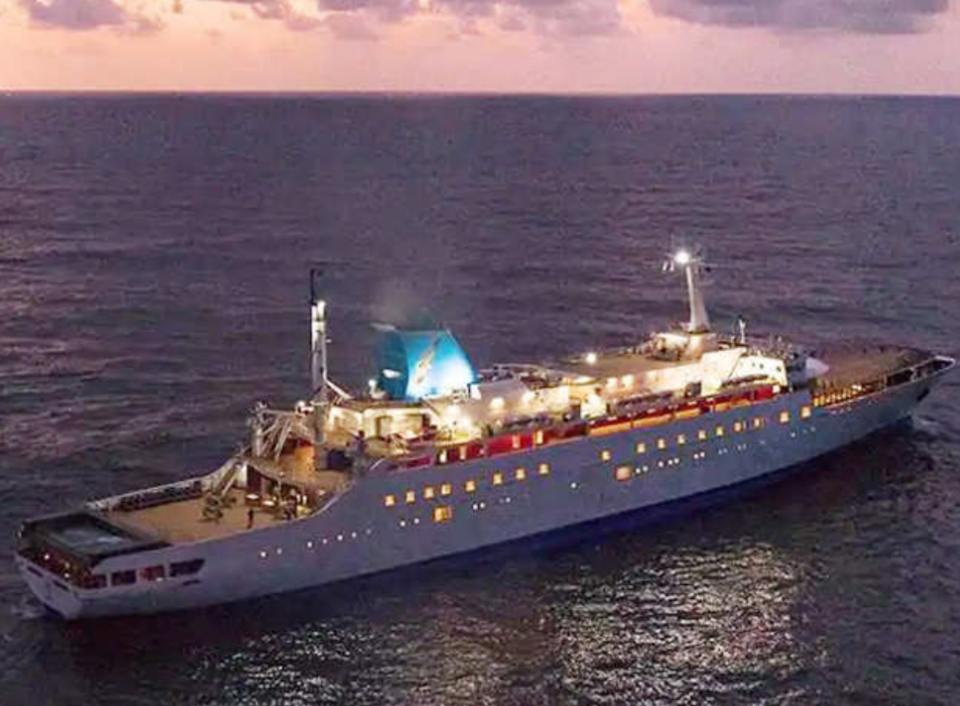 The recently launched Angriya cruise - a complete banger for your money and time, is the first cruise liner in India which goes from Mumbai to Goa. This luxury cruise liner has a tonne of facilities on board which will start your Goa trip from Mumbai itself. "Goa for me started on the cruise itself. It was a great party extravaganza with amazing food and drinks and a hell lot of things on board!"
With Angriya, there's no chance of you ever getting bored. They have a never ending variety of restaurants and a great lot of food which they serve on the cruise. In Mumbai as soon as you reach Victoria docks (around 3PM the first day), they check your ID's at the gate and let you in. After that you have to check in the luggage and collect your boarding pass. You have have to buy an expenditure card in which you can fill some money and spend on the cruise for food, drinks and the spa. Your Goa experience starts right there with a small boat ride to the cruise with a grand view of the city like never before. It is one thing to be able to see the city from land, I got the chance to see the city from a distance at the sea and absorb the breathtaking view slowly. You can enjoy this grand view while sipping on your favourite drink.
The cruise is packed with a lot of activities from morning to night. Their idea is to only let you go back to your room after you want to crash your bed. As soon as you reach, you can enjoy a beautiful sunset overlooking the city from the "Sea Breeze" deck of the cruise. You can also have their High tea at the "Coral Reef" restaurant.
One of the best things about the cruise is their infinity pool which has live music from 7:30 PM -12:00 AM. The live music is hosted by a band called Rooh which translates to "Music for the soul" . While enjoying the live music, you can sip on some drinks and enjoy food at their bar just nearby. Who says no to drinks and good food on a cruise? The poolside also has disco lights and you can enjoy a wide variety of nice music and lights by their poolside. This live music experience was just like a seaside live experience at Goa but it was topped with the cream of luxury.
The dinner on the cruise is at Ancora as well as the Coral Reef restaurant. You can also order al- a- carte from other restaurants as well. The food here is fantastic and it sets the party scene just right.
One of the things that you want to do in Goa is party till late. The cruise is fantastic in acknowledging that. They have a huge nightclub which is two floors and has a separate VIP section. This is on till 3AM at night to make things even better for you. They also have an open deck with music till late.
While on the open deck, you can enjoy some great views of other boats and the sea waves. It is just perfect! Before you know it, you'll be at Goa in the morning. They do serve breakfast on the cruise as well. You will reach Goa around 9:30 in the morning and leave with the best memories. It was such a luxurious experience, you can imagine!
Here are 5 things which you should know before going on the cruise. These 10 things will surely make you more headstrong about going to the cruise.
1) Sea sickness - You will not get sea sick on the cruise because you can barely feel the movement. The ship navigates at a slow speed and they have a mechanism for maintaining the centre of gravity. Sea sickness is not a problem. Hence, if you are telling yourself that you will be sea sick, stop lying to yourself because you won't.
2) Cruises are for all age groups- Contrary to the belief that cruises are for couples, the cruise is for all age groups. In fact, people in large friend groups and families will enjoy the cruise just as much. They have couple rooms as well as family rooms and large dorms which accommodate a lot of people.
3) Angriya is not an expensive cruise -This is a classic excuse that people give when they don't want to do something "It is too expensive for me?". But let me say this to you, Angriya is not expensive at all! Generally people think that because the cruise is so luxurious, it must be expensive. But if you account for all the things which are on board like live music, DJ, good food which is included in the package. You will realise that this cruise is not expensive. It costs around RS 13000 for two people, which is similar to any other five star hotel. However, other cruises cost around INR 70000 on an average. Hence, this cruise is one of the most cost friendly cruises.
4) The rooms are huge and you will be able to sleep well - Generally people have the notion that it is difficult to sleep on a cruise but I slept like a baby on this one. I was so tired after the day was over because of the huge host of activities to do on board, I knew that I'd be coming back for again on the cruise. I just went back to my room and hit the bed and slept.
5) Angriya is one of the best Mumbai and Goa experiences - you may think that you will party in Goa or in Mumbai anyway so why go to Angriya. But partying on a ship surrounded by the Arabian sea is very different from partying in the city. Here, you have your own privacy because cruises can accommodate a limited number of people, but a nightclub in Mumbai or in Goa will be very crowded and the experience is completely different. This is a must do for both the cities.
So hop on the cruise and make all your luxury dreams come true!
For bookings, please go to:
http://angriyacruises.com
Frequent Searches Leading To This Page:-
weekend getaways from mumbai, cruise in mumbai to goa, mumbai to goa cruze, mumbai to goa in cruise, goa mumbai cruise, bombay to goa by cruise, cruises from mumbai to goa