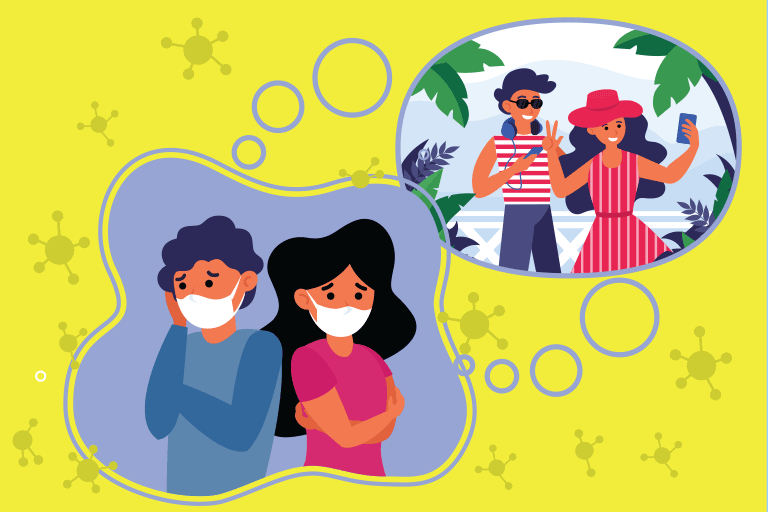 "Is it safe?"
"Do they sanitise?"
"Are things fully open?"
"What if I get covid?"
"Do they clean?"
"Should I travel?"
"Do I need to get tested?"
"Should I? "Do you?"
As someone working in the travel industry, I am bombarded with these questions when I speak of travelling in the current times. The covid pandemic may have thwarted travel plans, but with the world pulling down their walls and slowly opening their borders, it is just a matter of time that tourism gets back in action.
The big question however, remains "How safe is it?". On a scale of 1 to 10, I am going to go with 11, where plus 1 is for the extra efforts that go in maintaining the hygiene and safety of tourists. Specifically talking about this, tourists' safety and hygiene were always a prerequisite for the travel industry and were never a topic of compromise. However post covid, the deliverables have only risen. Health and safety of tourists are of supreme priority and every particular rule and regulation is followed in this matter. Right from temperature checks of the staff members, to ensuring that social distancing is followed, to sanitisation of hotels, locations, to make certain that they wear masks and gloves at all times. Also, masks that cover not only the mouth but also their nose!
What are the new changes? What should you look for?
#1 Make a checklist!
Make a covid checklist of the below line items. Feel free to screenshot this.
a. Digital Tickets — Almost everywhere digital tickets are accepted. Most sight seeing locations also have the convenience of digital tickets and purchasing tickets through bar code scans. Organise a folder on your phone and keep them handy to avoid the last minute cluster search.
b. Masks — Carry disposable masks as per the total number of days. Avoid reusing your mask as it increases the chances of your exposure to the virus. Since you may be visiting several public locations, restaurants and travelling throughout the day, it is best that you avoid re-using your masks and rather dispose it.
c. Sanitiser — Sanitiser stands are now more easily available than water coolers, but even then carry your own little bottle.
d. Medicines — If you are on regular medication, please make sure you carry all your medicines with you.
e. Wash your hands at frequent intervals wherever possible.
#2 Download the Aarogya Setu & Air Suvidha App!
Aarogya Setu app is mandatory if you are visiting the airport. It is extremely crucial to update your health information on the app and show it while entering the airport. In case the app is not downloaded or not configured, you will not be allowed to enter the airport premises. The same protocol is to be followed for the railways.
Air Suvidha is another important app, especially if you plan to travel internationally. There is a health declaration form, that needs to be submitted on the app and shown before you board your flight. It also has provision to upload your RT PCR report.
#3. Consult a Travel Agent!
Most of us are accustomed to booking things on the go, on the comfort of our phones. However, a travel agent is really the best person to consult for your post covid trips. Do not blindly follow the reviews on online web sites in these testing times. There is hardly any verified data mentioned regarding the quality of sanitization and protection measures that are followed at several places of your contact.
Most domestic destinations are now fully operational, but it is important to know the rules and regulations specific to your location of travel before you proceed with the bookings. Most places have their set of norms, be it curfew timings in the night, airport / railway precautions, covid restrictions or sight seeing timings. Also, these rules are changed on regular basis and online websites may not always be updated with the latest information. You don't want a rude shock once you arrive at the destination only to find that you have been misinformed and the latest guidelines are not what you believed.
Another benefit is variety of options and discounts that they may offer you with respect to your travel. They are also aware of future changes and can help you plan better. They have got your back secured!
#4 Public Transport? Uber? Ola?
Uber and Ola are now operating everywhere with safety measures. Public transport like metro and buses are functional however, they run on specific times only! Ensure you check for the timings to avoid being stood up.
Uber and Ola are also conveniently available at most places.
However, my personal suggestion is to rent a cab during your stay for all days. This will avoid hassle to look for cabs online. It will also give you the liberty of time as they are full day cabs. Also, since you and your co travellers are the only people renting this cab, it reduces the risk associated to public cabs.
Self drive is also a great option and cars are now easily available for the same.
#5. Fundamental Right to Good Food
Food is a top priority for us, especially when we think domestic travel. Who doesn't like an authentic plate of piping hot chole bhature when in Delhi or a buttery dosa on a banana leaf in Kerala. We all crave it on our trips and have a mental check list of dishes we want to try, don't we? But let us not get too carried away. Do not rush to any random stall for a quick plate of paani puri. Check for good rated restaurants on apps like Zomato or again consult your travel agent. They will recommend you the best places to try the local dishes at.
Another pro tip is to carry packaged food, fruits and juices for your day trips. The only reason being that the packaged food is more safe than what you would pick on the streets. You can carry protein bars that are filling, healthy and curb any instant food cravings. In the worst case scenarios, you can always go for anything that is served hot.
#6. Be a Responsible Tourist
Don't be a puerile! Remember we are still dealing with a pandemic, so abide by the rules and regulations. Wear your mask at all times in public, that cover your nose too. Continue sanitising your hands at regular intervals. In case you are paying cash money, try to render the exact change. Avoid minimum exchange. Most places also have the provision of digital tickets, so switch to the digital medium.
Be patient with lines and time lines. Most places are operating at half capacity and limited time. Adhere to them. Cooperation will take you a long way.
Leave tips. Lockdown has been hard on all, but it has been hardest on local vendors and suppliers who relied on tourism for a living. Make someone smile by tipping the waiter or buying a local souvenir during your holiday.
#7. It is the Year of Sustainable Tourism!
2020 has been a life changing year for all. While the pandemic has surely given us a new outlook towards life and lifestyle, it has also been an eye opener with several environmental problems. Be it the bushfires of Australia or the Amazon Fires, the floods of Indonesia, the repeating earthquakes in Asian countries, locust attacks, windstorms and cyclones, the year has seen it all. The root cause is the blind eye towards protecting the environment. But contribute towards the change. Start with yourself. Avoid littering. Avoid spoiling the place. Your one empty packet trashed by the roadside can eventually lead to clustering of drains. Go eco-friendly as far as possible. Prioritise the use of reusable products or recyclable products. Reuse your towels when at hotels. Switch off the electricity when you leave the room for your day visits. Most places and airports are encouraging digital tickets, use the same. Pay through digital mediums and avoid using customer copy. Not only do these methods offer big discounts, but you also minimise paper wastage. Also, you will instantly receive copies on emails and as text messages. And most importantly avoid plastic.
Travelling has started, but please make sure that you take care of yourself when on a trip. Obey all the required rules and regulations and do not create a fuss if you are asked to wait. A little kindness and patience goes a long way.
At any given point of time if you feel sick, contact a doctor immediately and inform the hotel as well as your tour agent if you test positive for covid. This will help them take necessary precautions.
Be Positive and book that trip you have been eyeing for several days now. Happy & Safe travels!