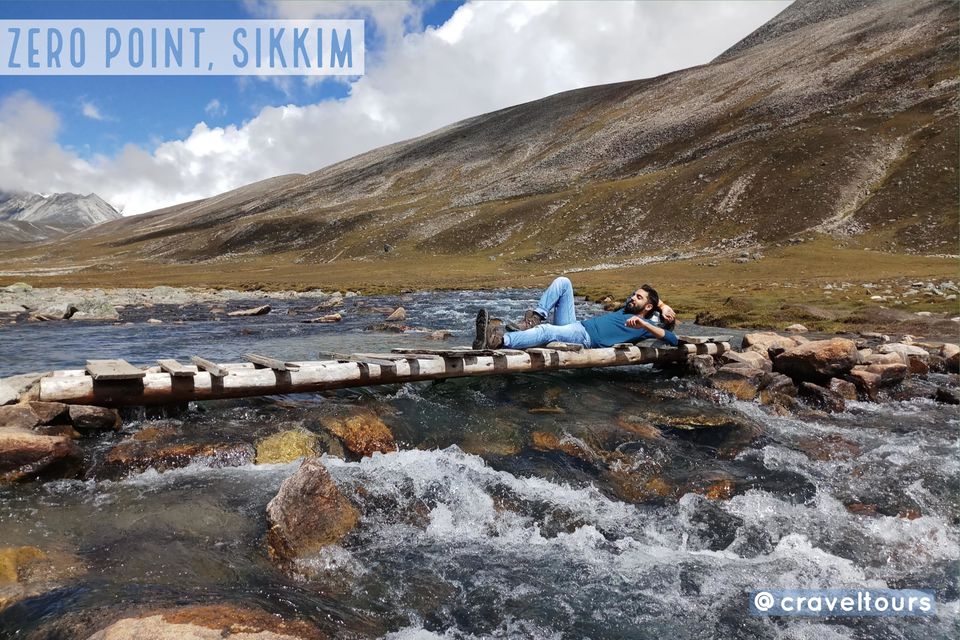 The title has multiple significances, the most obvious being the picturesque location seen in the above picture. However, it can also be attributed to the partial-glimpse ('some'-things) of Sikkim out of the many that we had planned to cover during our trip owing to unapproved permits and also an uncanny resemblance to a certain popular publication where 3-idiots make a journey to discover their calling despite countless hindrances.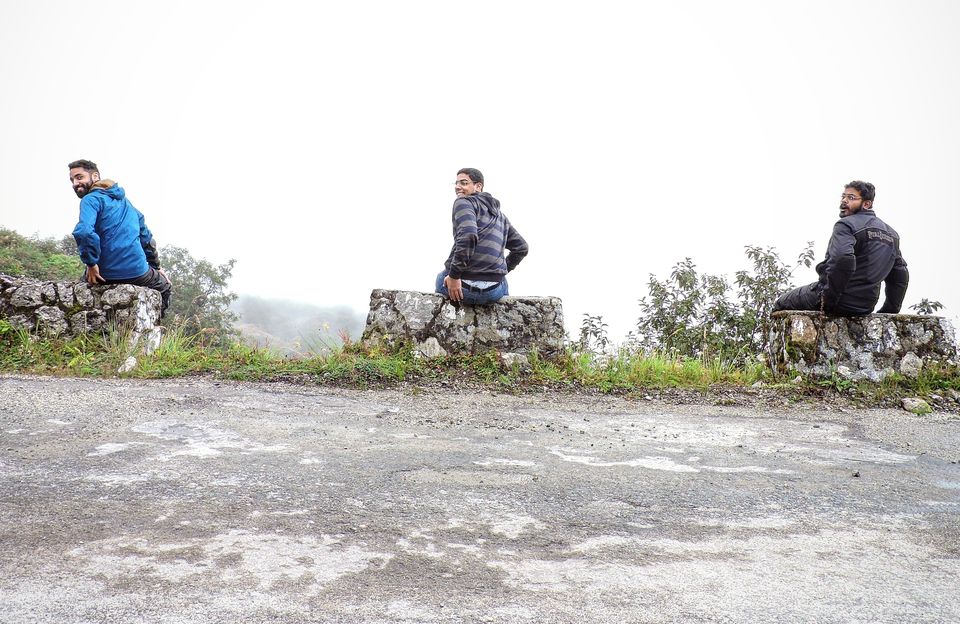 Initially there were 4 of us who had decided to go on the Sikkim quest. But an unavoidable circumstance for one meant that he had to cancel, which left 3 people and only 1 bike (as the 4th person was going to get his bike to Sikkim).
So we had to arrange one more bike which we decided to hire from Sikkim itself. We could have rented the bike from Siliguri also where we were going to disembark from our flight, but then permit for hired bikes meant getting additional documents of authority transfer and getting it gazetted for which we were not willing to waste a whole day.
So on the appointed day, we reached Siliguri where one guy collected his transported bike and 2 of us took a shared cab which took 4 hours to reach Gangtok, our halt for the night.
We woke up early morning and went to the only bike rental agency in Gangtok - BB Lines Tours to complete formalities for bike pickup: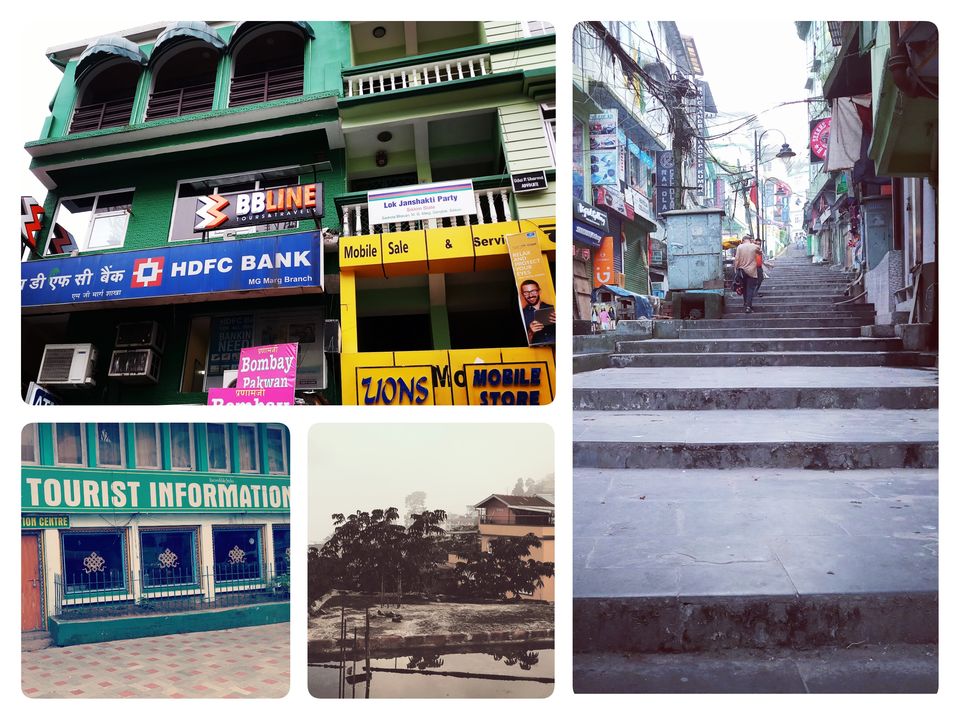 We took the bike, deposited documents for permit (PhotoID, photographs, Bike RC, insurance and PUC) and left with our bike to get acquainted with it and discover some local places, starting with MG Marg where we had a delicious breakfast at Baker's Cafe: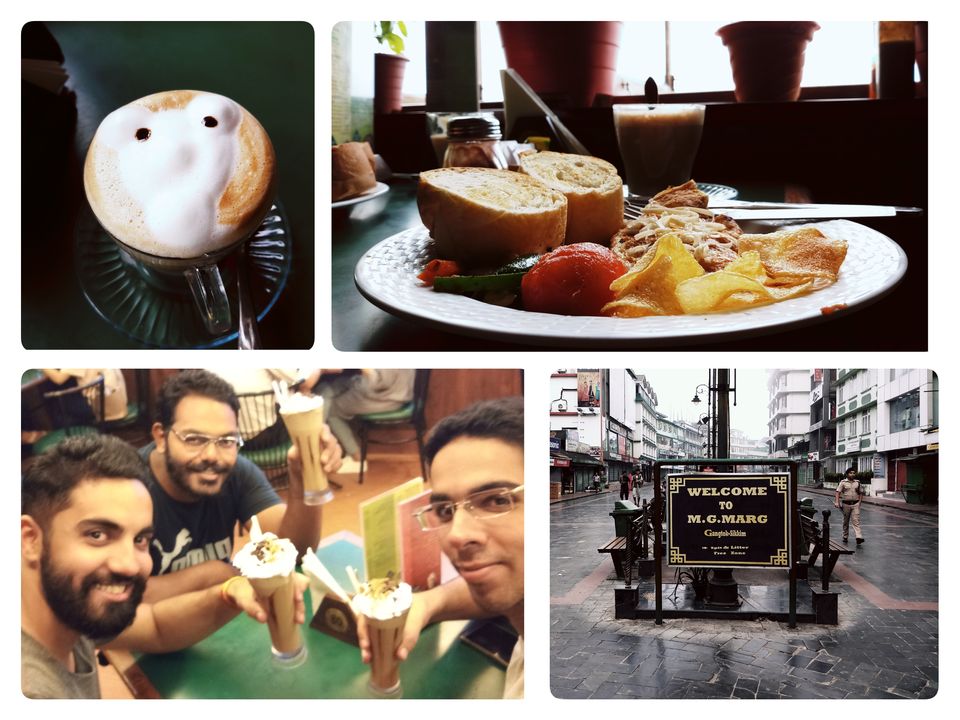 Next we went to Bhusuk after crossing Chandmari Forest Checkpost where our eyes were treated to a spectacular waterfall: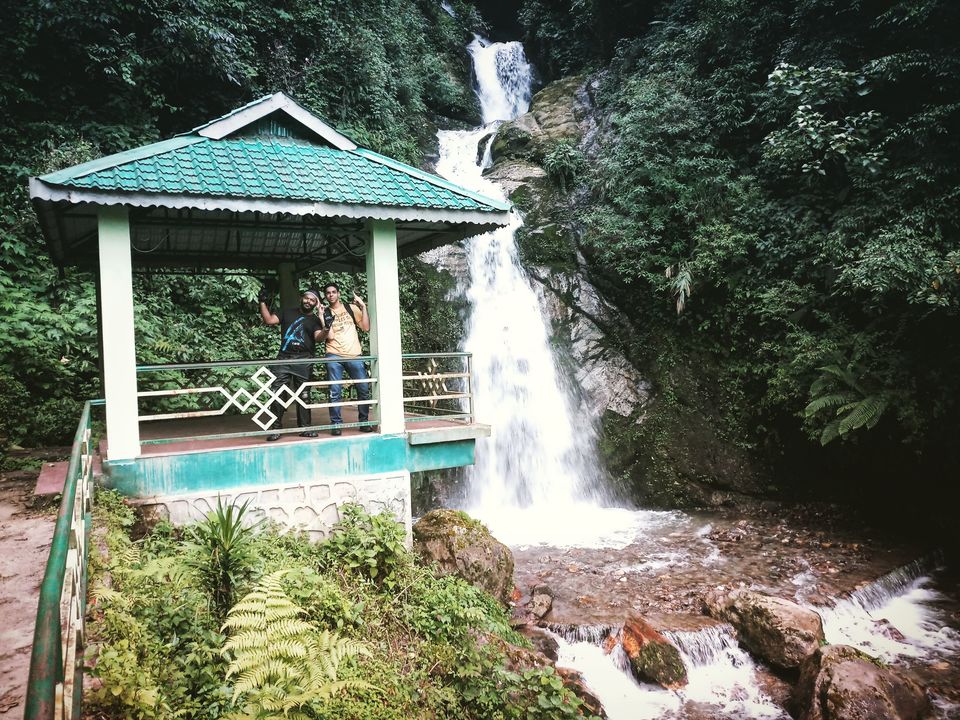 Relaxed a bit near the waterfall and returned to our Hotel Travellers Inn in Gangtok town for a early start to East Sikkim next day.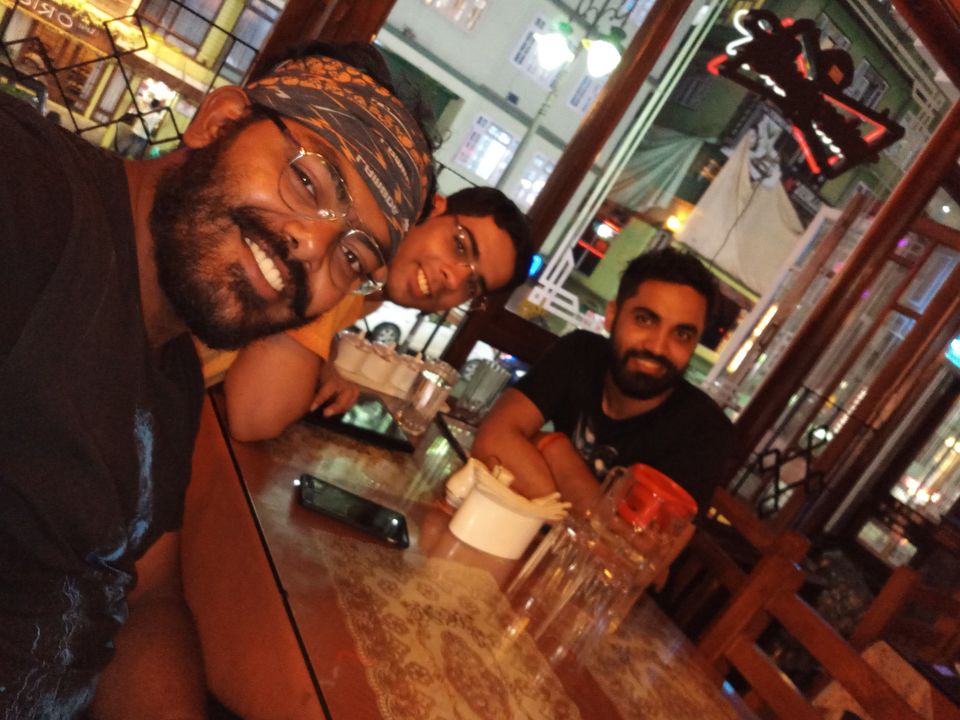 Morning 7 am, we collected our permits for Zuluk and Changu Lake from our bike rental agency (BBLine tours). We could not get permit to legendary NathuLa because of political situation and army movement, but we were excited to ride on the famous Silk route!
We went through Lingtam-Rongli route and decided to climb up the hairpins as people suggested it would be more fun and thrilling rather than going down via Kupup. The road meandered through beautiful villages and gave us a keyhole peak of the things to come.
Some scenes on way to Zuluk: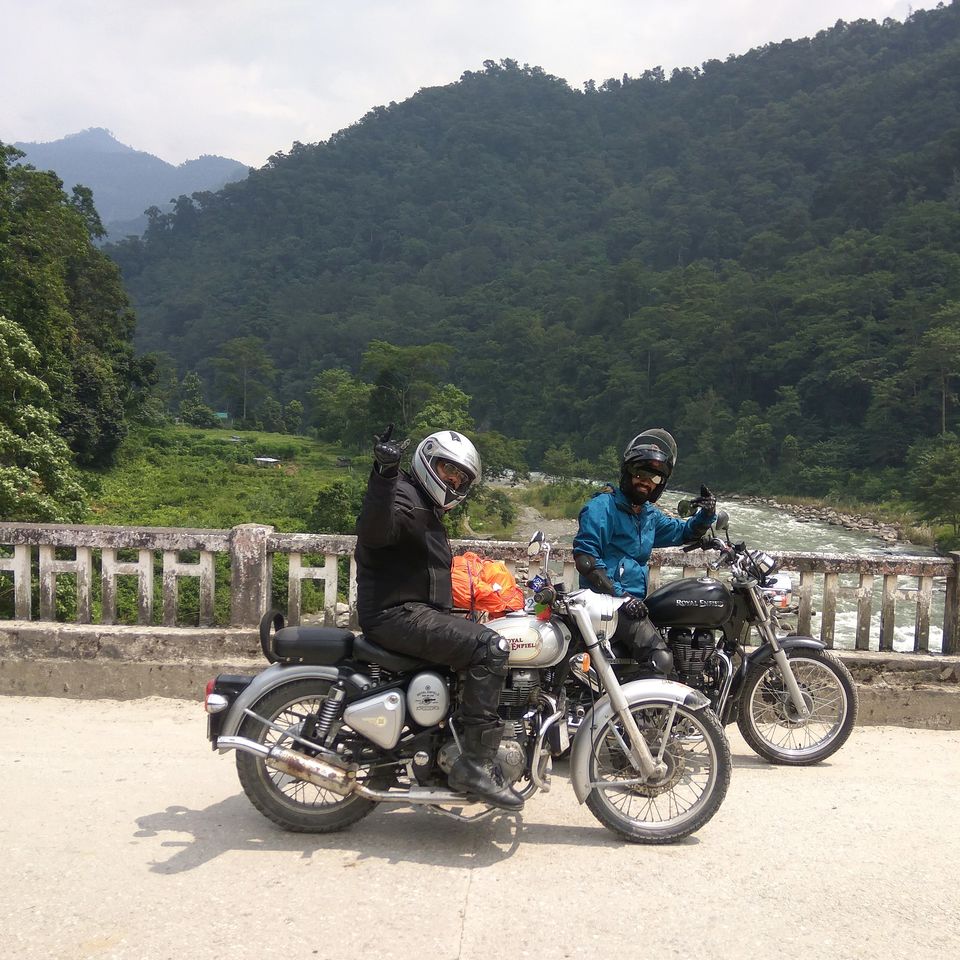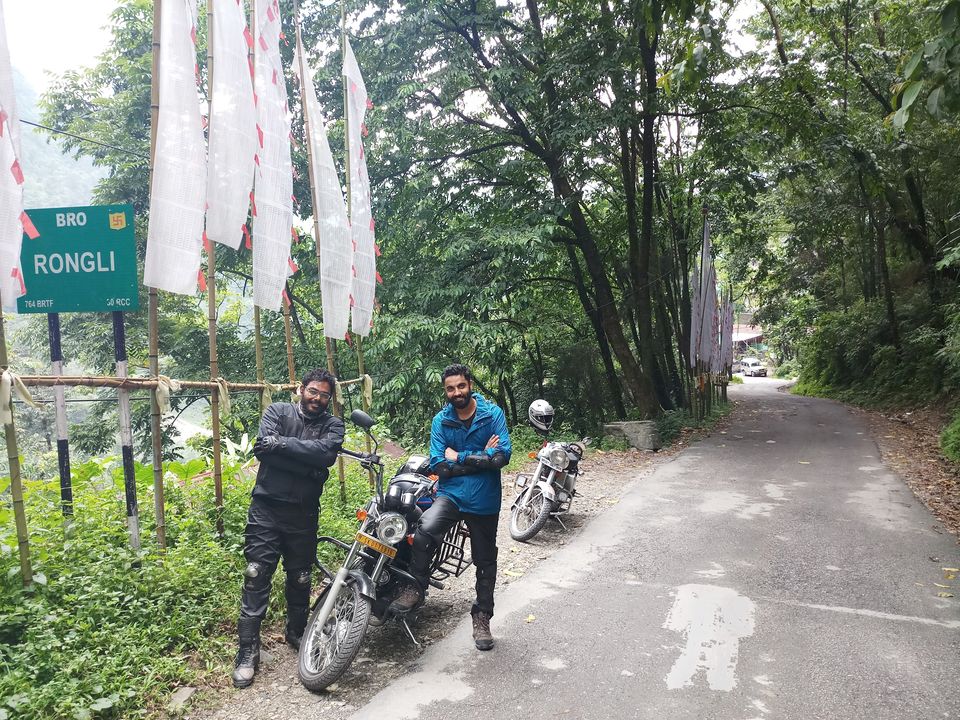 At Rongli, we encountered check-post where we had to show our permits. The officer pointed that there was printing mistake related to bike no. on permits because of which he won't be able to allow us to go further. We immediately called BBLines where Mr. Yadav, the man in charge helped resolve our situation by talking to police officer in response to which he manually corrected the error and put sign and seal on it so that we can move ahead and show it to other check-posts without any problem.
A few minutes later, we crossed our first water crossing for the day and we could not help but feel elated now that we were going through terrain that biker's crave for: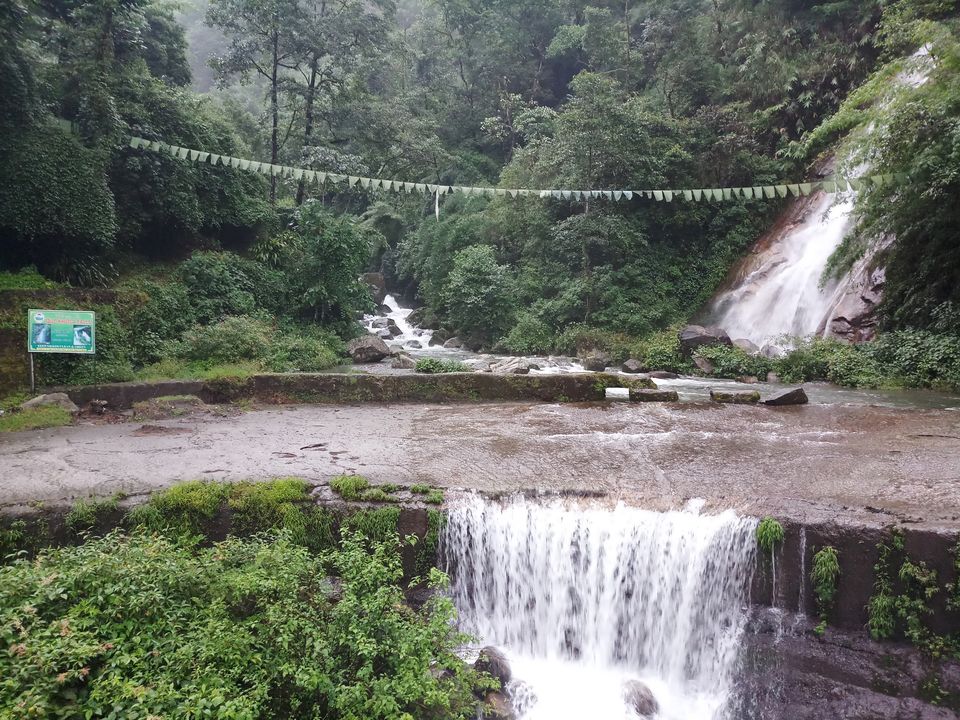 As we were clicking pictures, heavy downpour started, so we had to pack our cameras and head out. We crossed 1 more checkpoint after that, where we showed our permits and continued to move ahead.
We reached Zuluk village around 6 pm and spotted this amazing army base where we stopped to click some pics and inquire about place to stay for the night: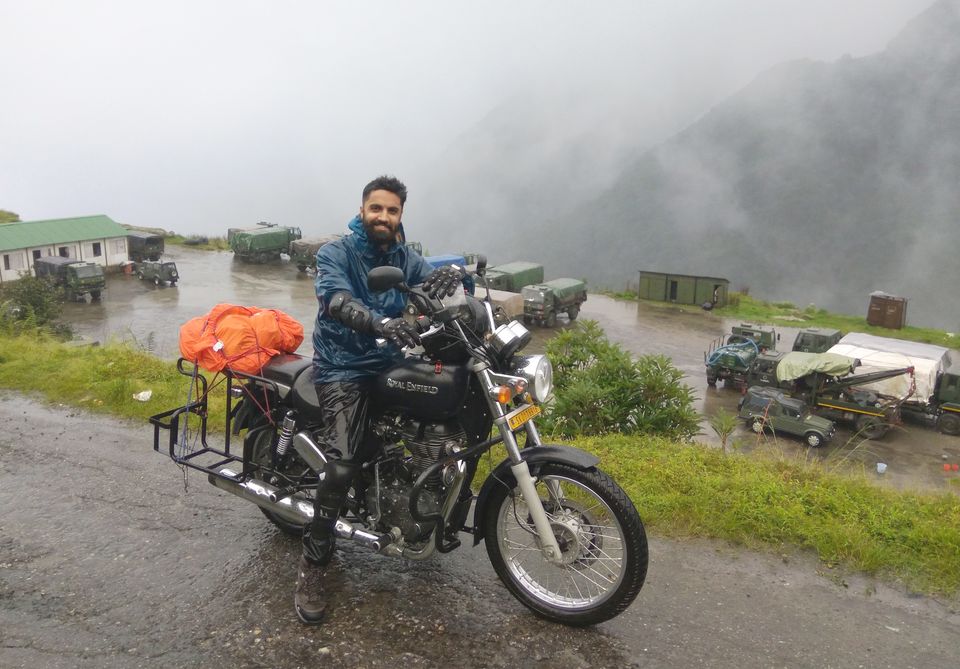 Meanwhile a family passing by spotted that we were looking for an abode and graciously offered us there place to stay. It was a blessing not having to search further in that rain so we scurried to their place at once. They offered us warm water and sumptuous food which felt very comfortable after being drenched in rains for so many hours. We quickly hit the sack after that calling it a night.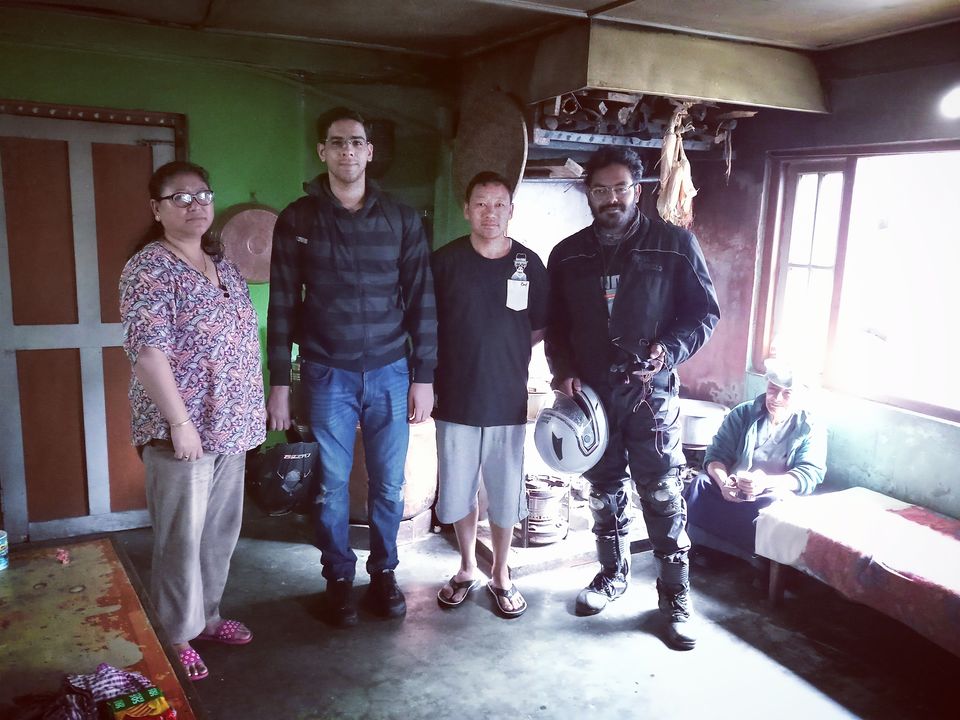 Early mornings are best to explore the place and spend some quiet time with yourself amidst the nature. I left for a walk at 5am in the hills of Zuluk to witness the sunrise.
Some views while I walked up the mountains: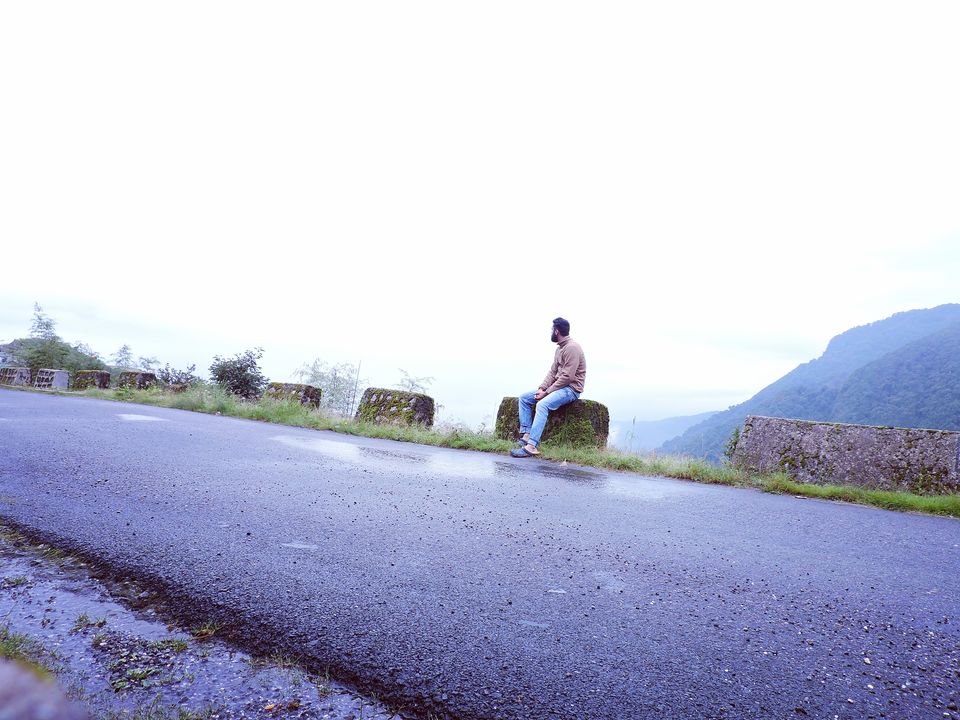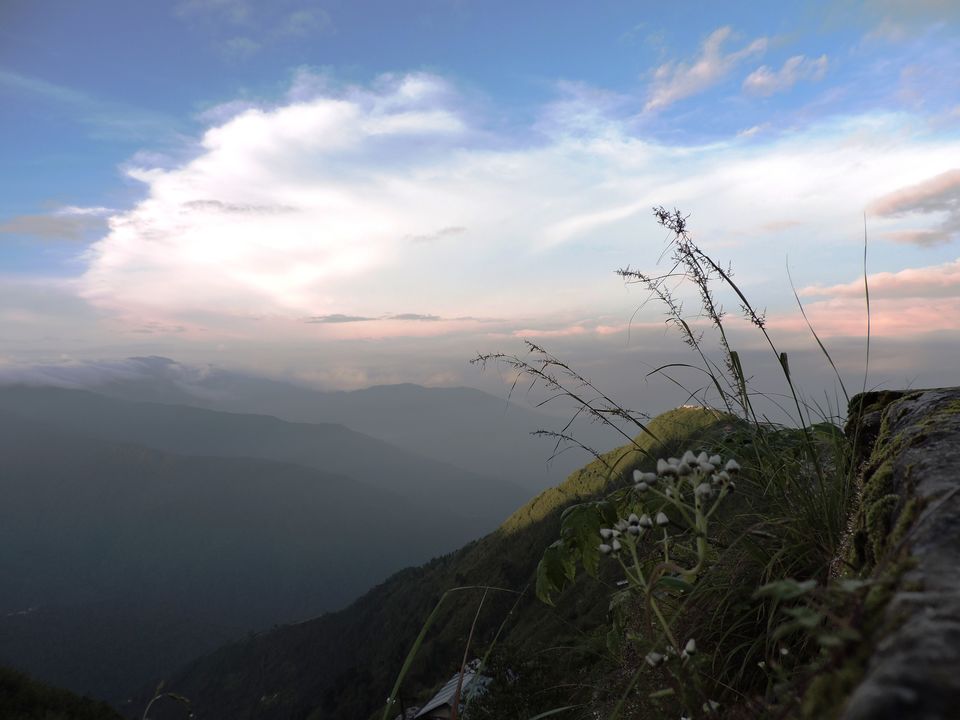 The quaint village and lush green valley served as an exuberant start to the day. I got in conversation with a local who started telling about the place and his routine: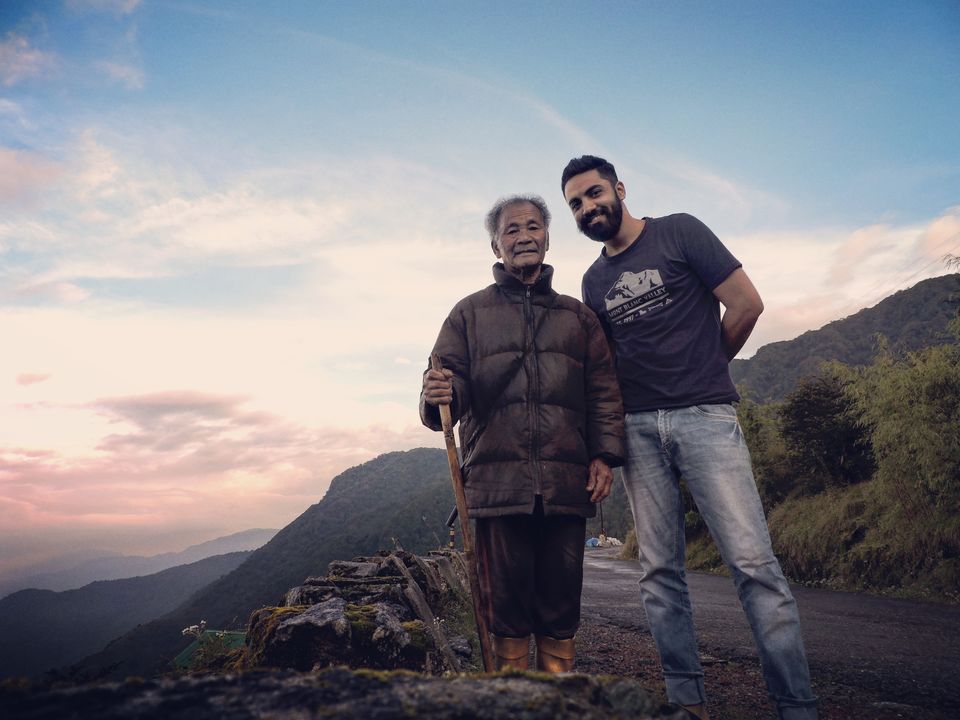 After interacting with him, I returned to our home-stay where we geared up for the adventure that lay ahead.
With just 17 km to Thambi View point and a vibrant sunny day in sight, we accelerated our enfields through the 32 hairpin bends. They were a delight to conquer and we felt a victorious satisfaction going through every bend in the road. But while we propelled forward, so did the fog which was moving at a considerable pace hiding everything and as we reached Thambi View point, all we could see was the thick envelope of white fog everywhere. We could not even gather how high we were because the whole valley was hidden. We clicked few pics of the area visible: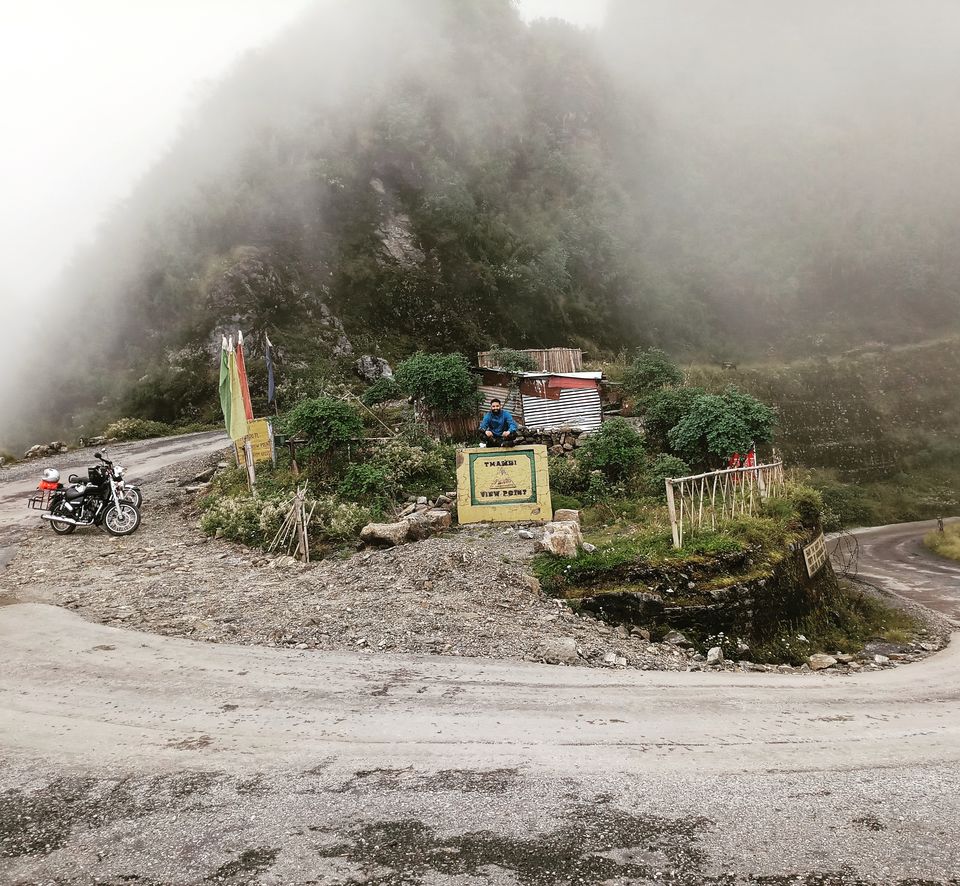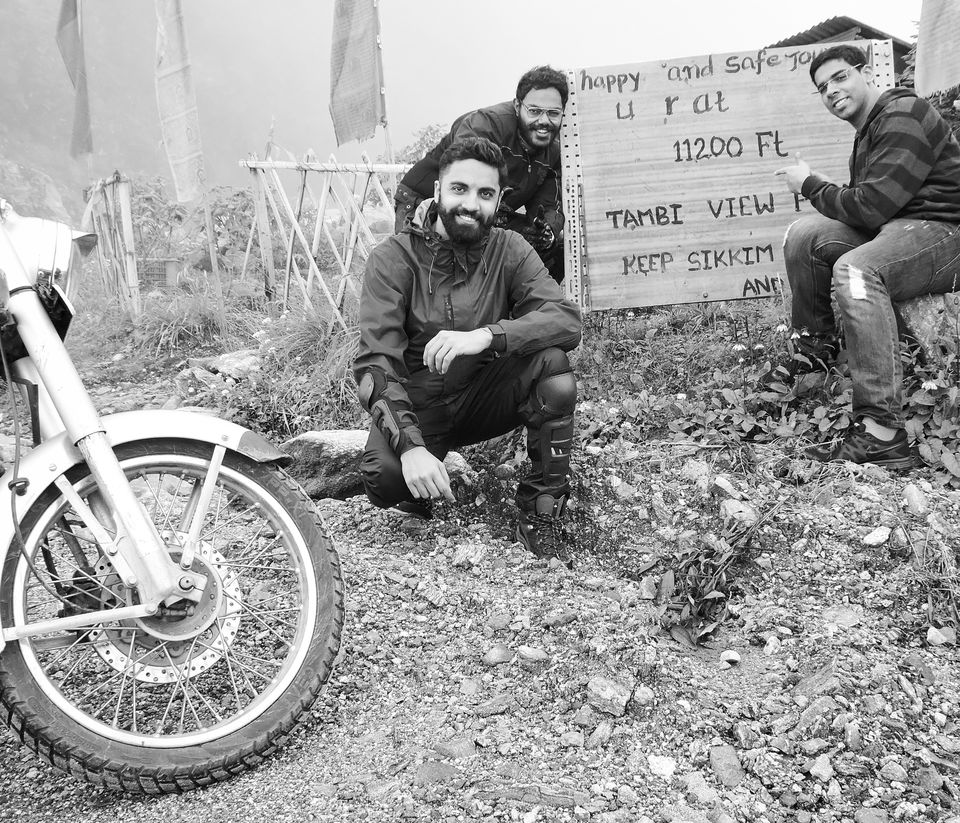 The glorious view of hairpins evaded us even while we waited for an hour at the peak, after which we finally decided to move on.
Next we visited Harbhajan Baba Mandir, a martyr's temple built for his contribution during floods and believed as safekeeper for army: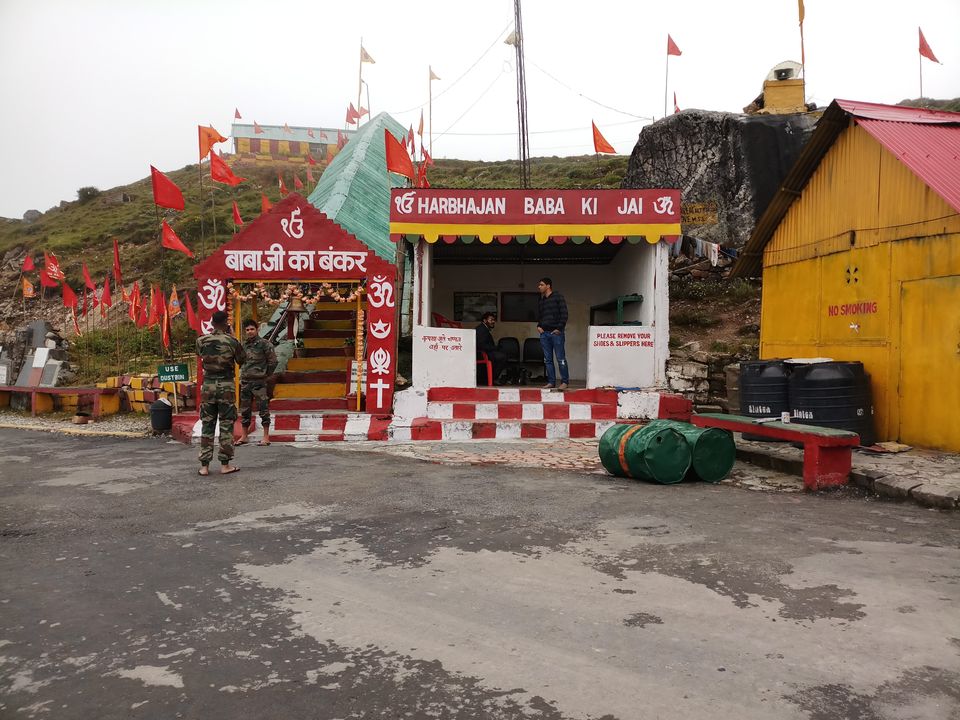 We encountered more fascinating vistas on our way ahead of Baba temple:
Changu lake was next, where we halted for a while before rain poked us again to ride further: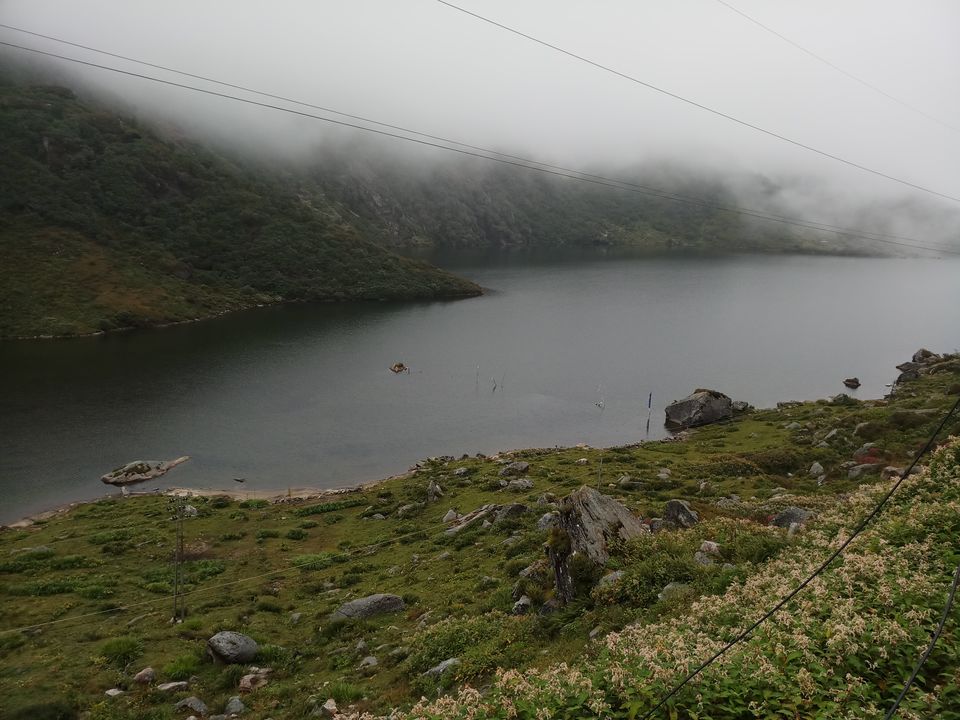 We reached Gangtok in a couple of hours and had a celebratory dinner to commemorate our ride of the SILK ROUTE.
The next morning arrived with doleful news that permit to Gurudongmar lake was not issued by State department owing to some ongoing court case. Still, we atleast had Yumthang Valley permits in our hand. Bear in mind, make enough photocopies of permits because its a pain to search for xerox in distant North.
The rain had reconvened with us to accompany the journey to North and we began slowly riding towards Lachung, our next halt. The roads are mostly good with some very bad patches of landslide struck areas where we had to carefully tread on.
Enroute we got to witness numerous army caps, a helipad, 30 story waterfall and glorious fog enveloped green mountains: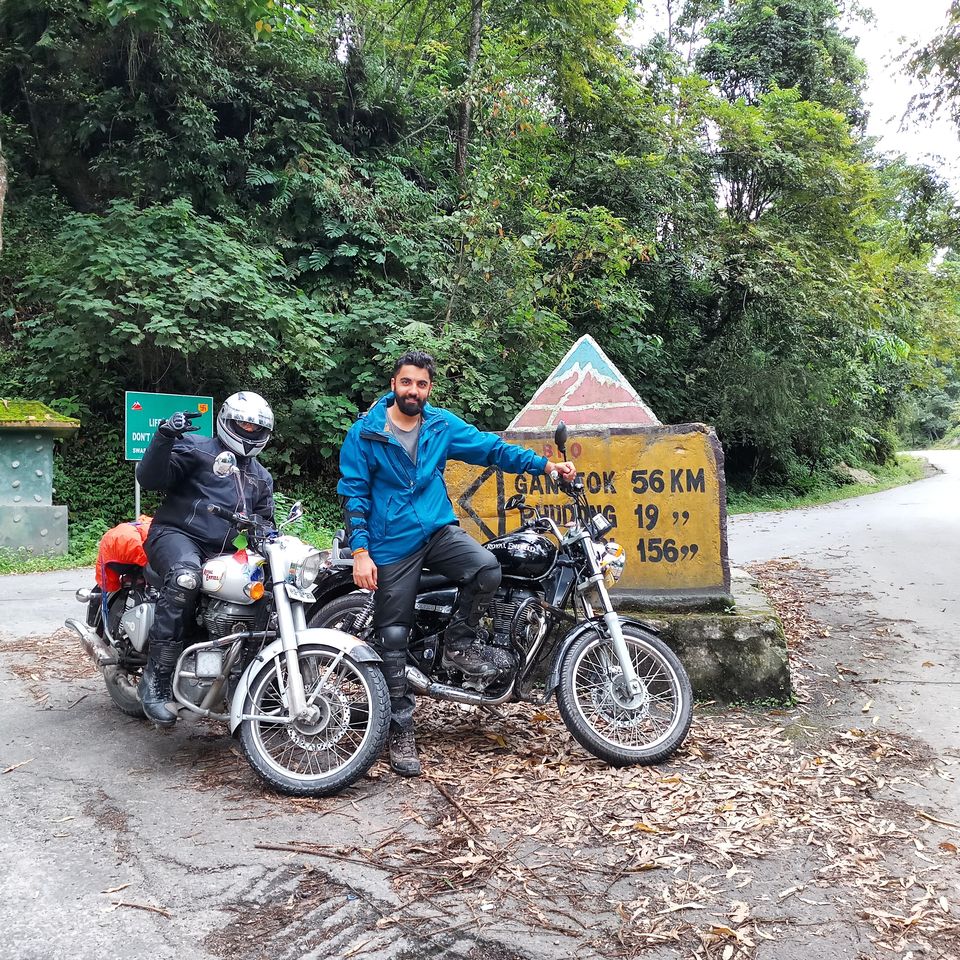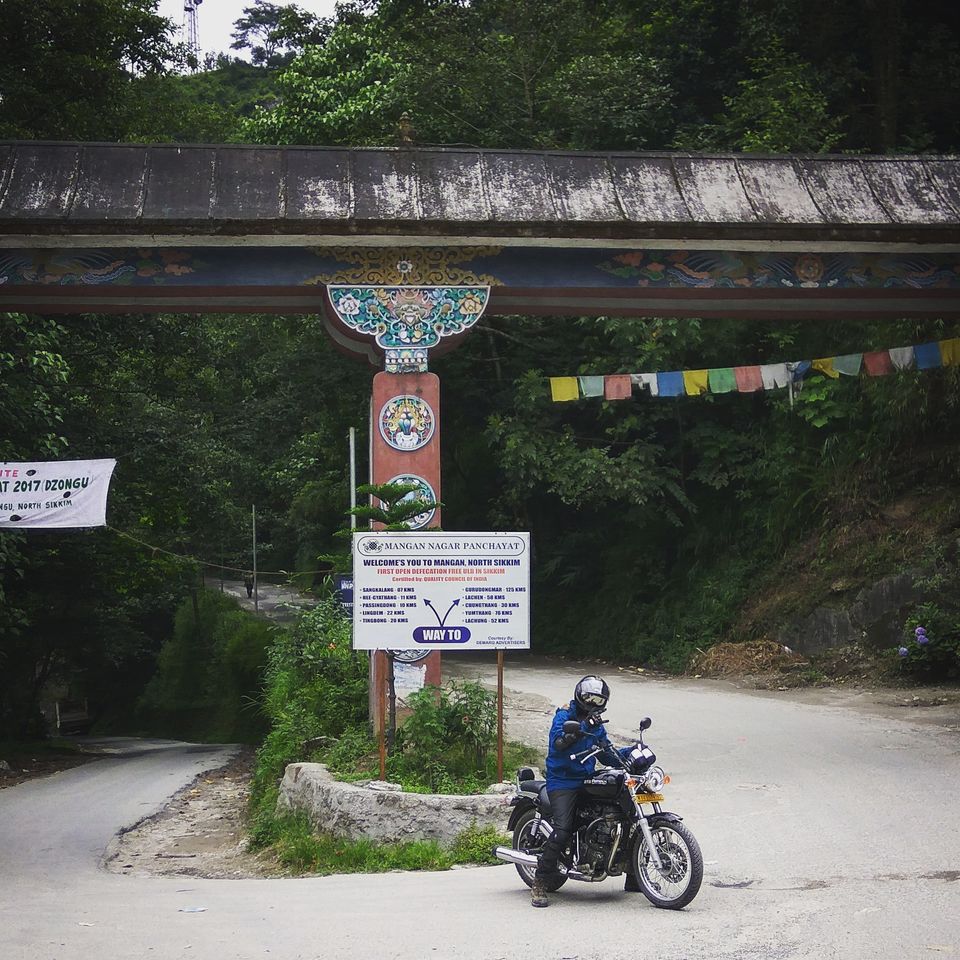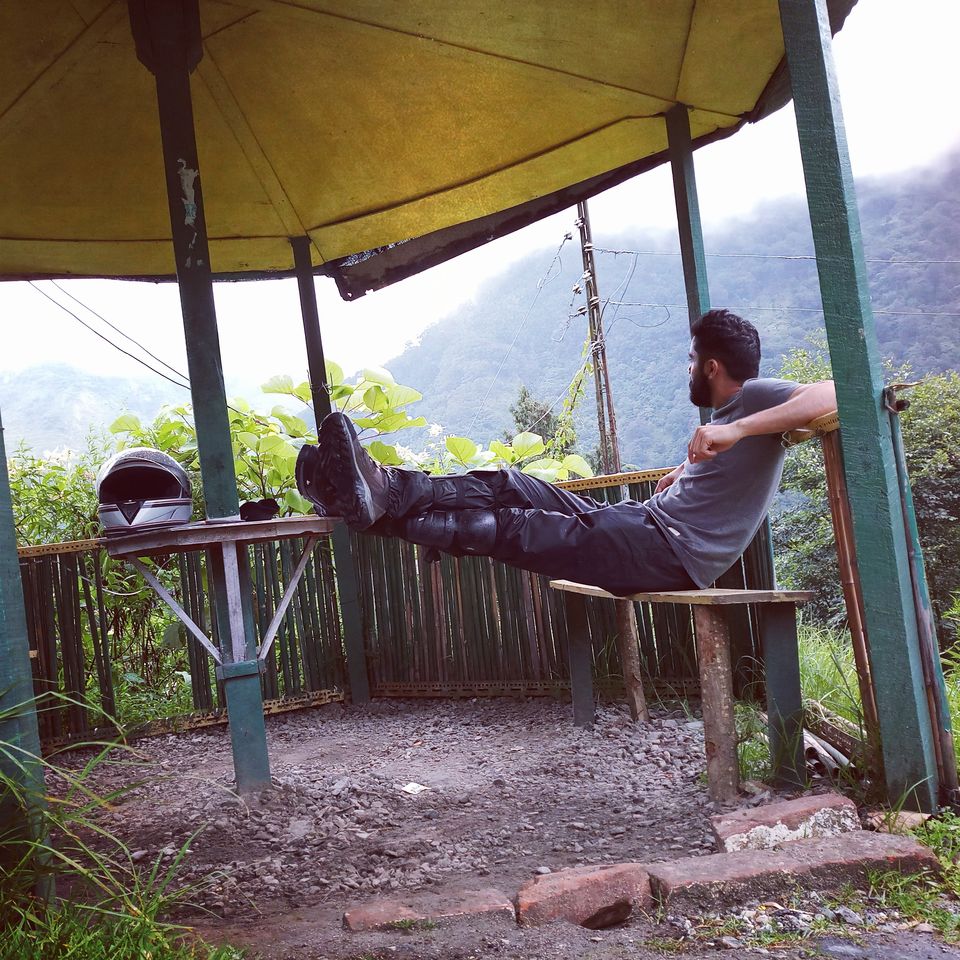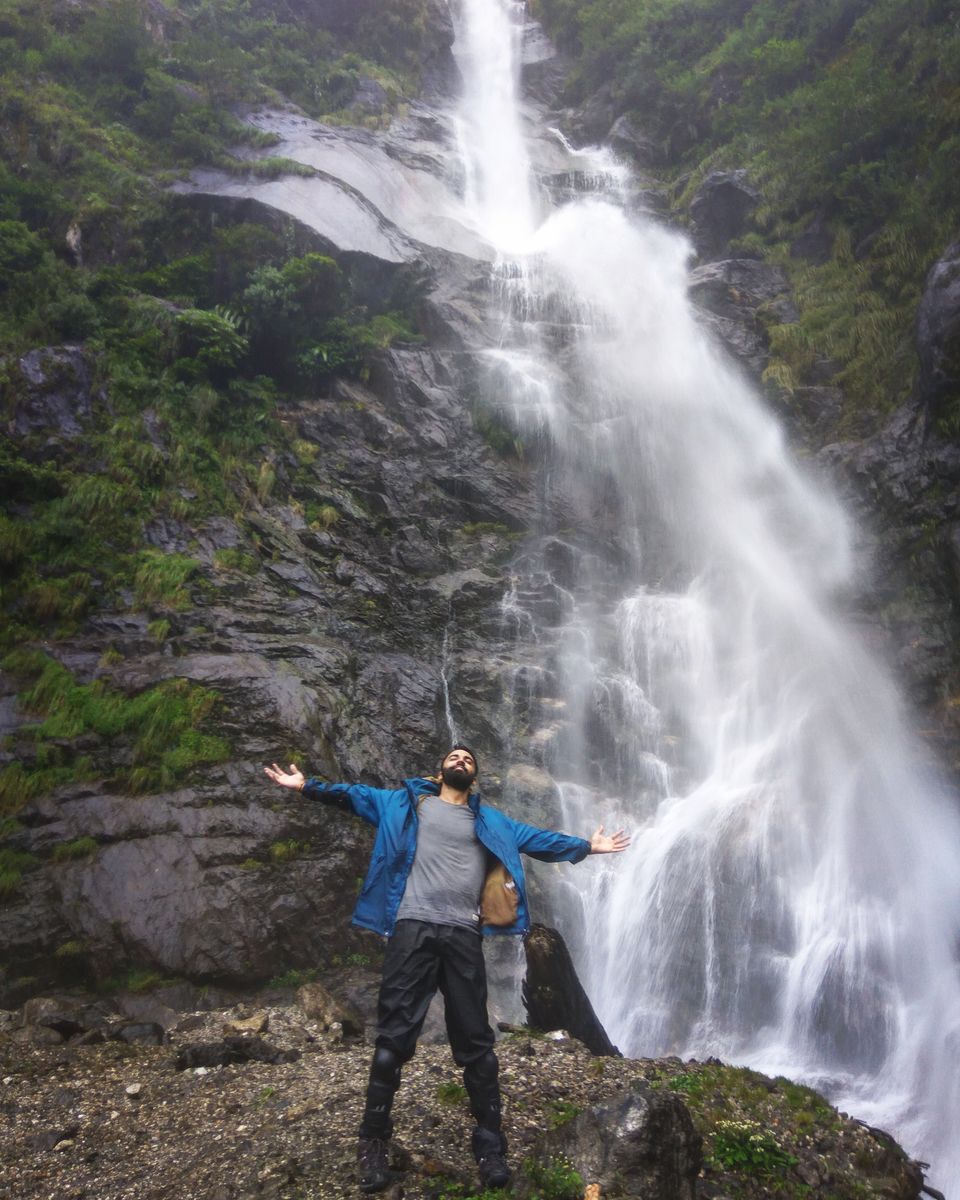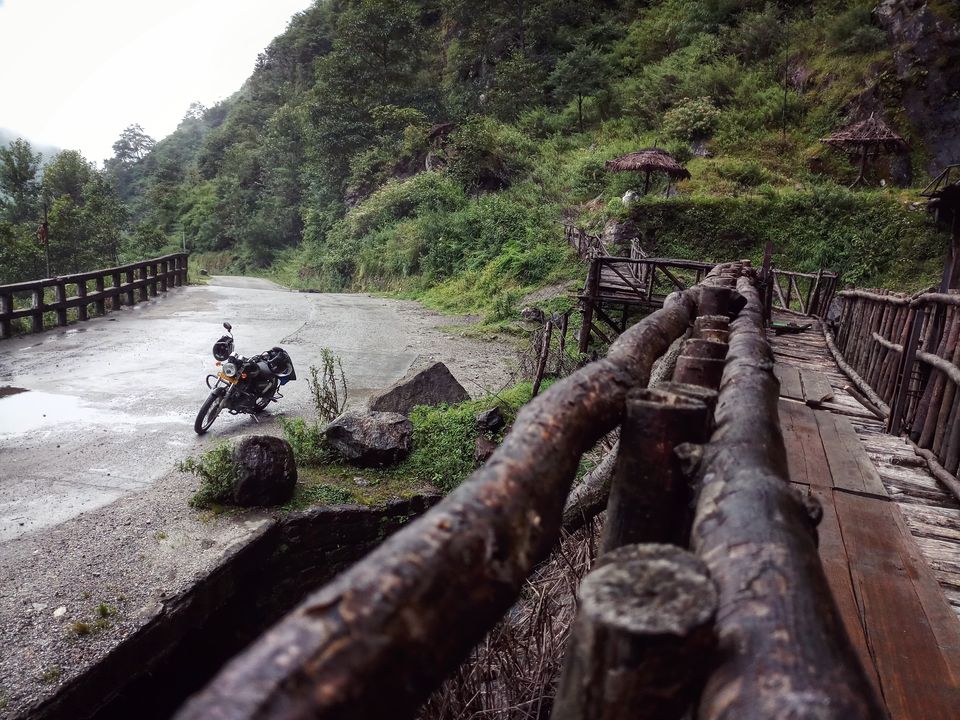 We reached late in the evening, had maggi and retired for the night.
We woke up excited seeing the sunshine filtering through the glass windows. Clear blue skies greeted us, so we quickly got up to head towards Yumthang Valley and Zero point.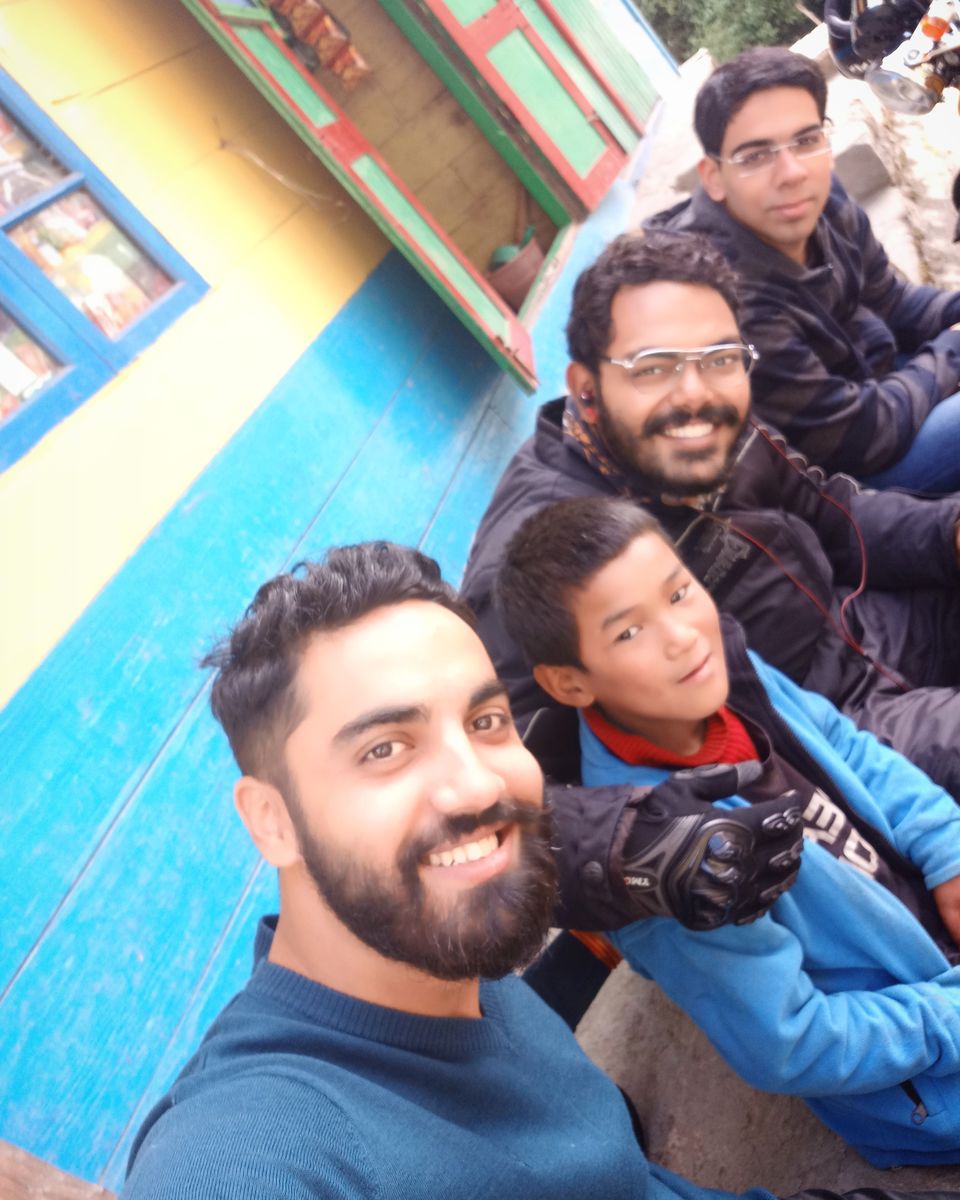 Legendary routes engulf you into an illusion of being teleported into a nirvana with its galore offerings. As soon as we crossed the first security checkpoint towards Yumthang, the scenery evolved into exquisite movie set designed by the most skilled artists and imagineers of the world: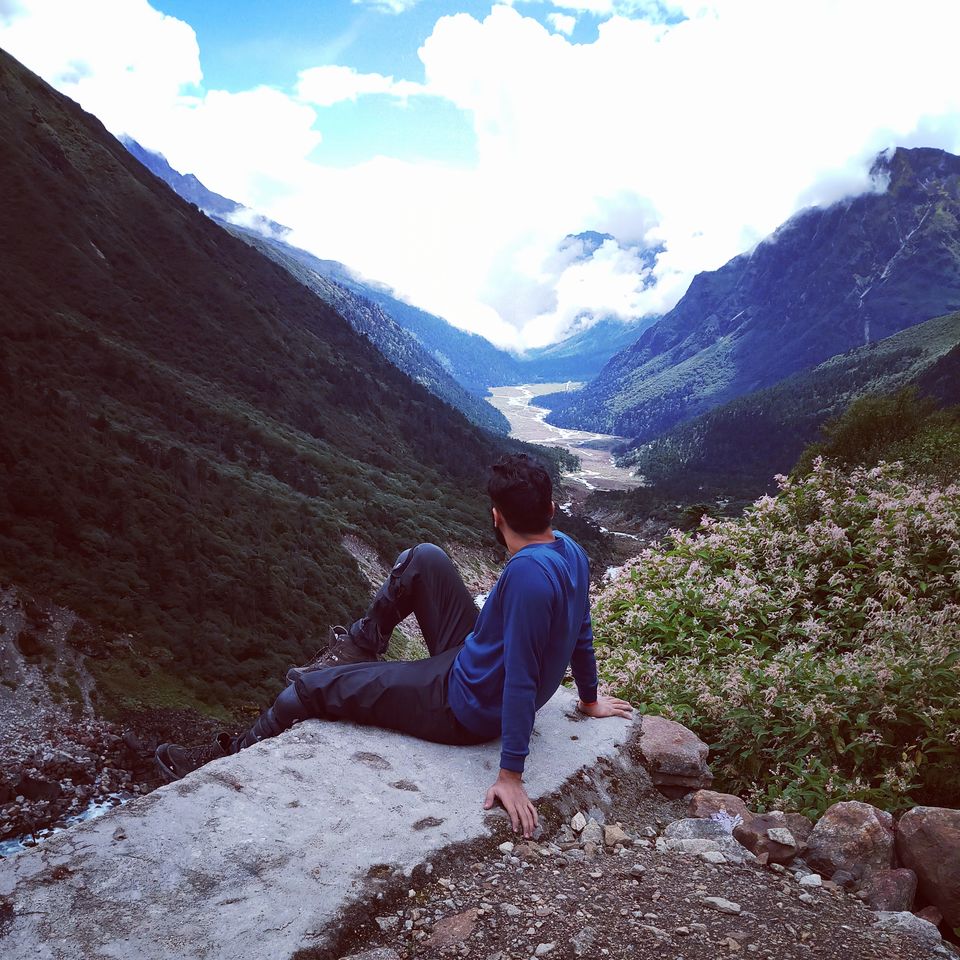 No rains and sublime views meant we were stopping more than often to take in the scenery and capture it in our lenses: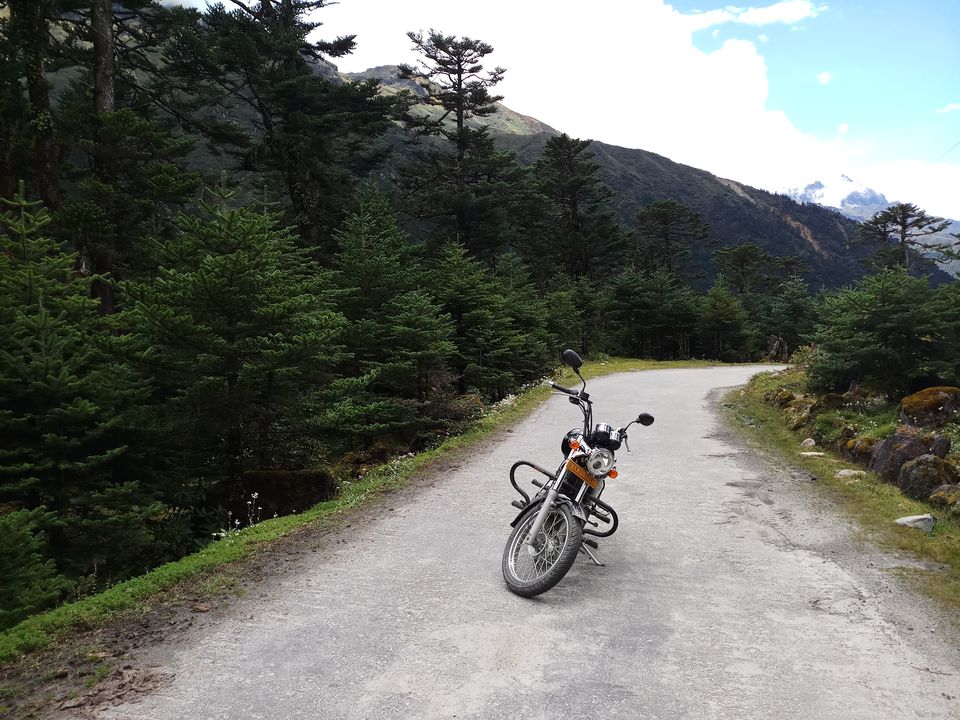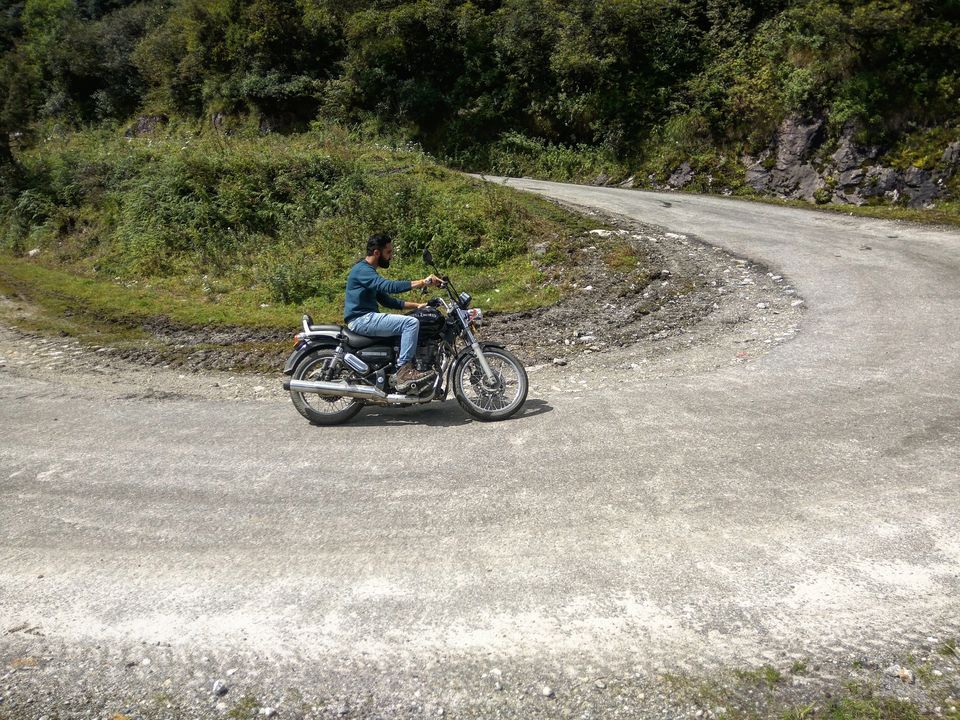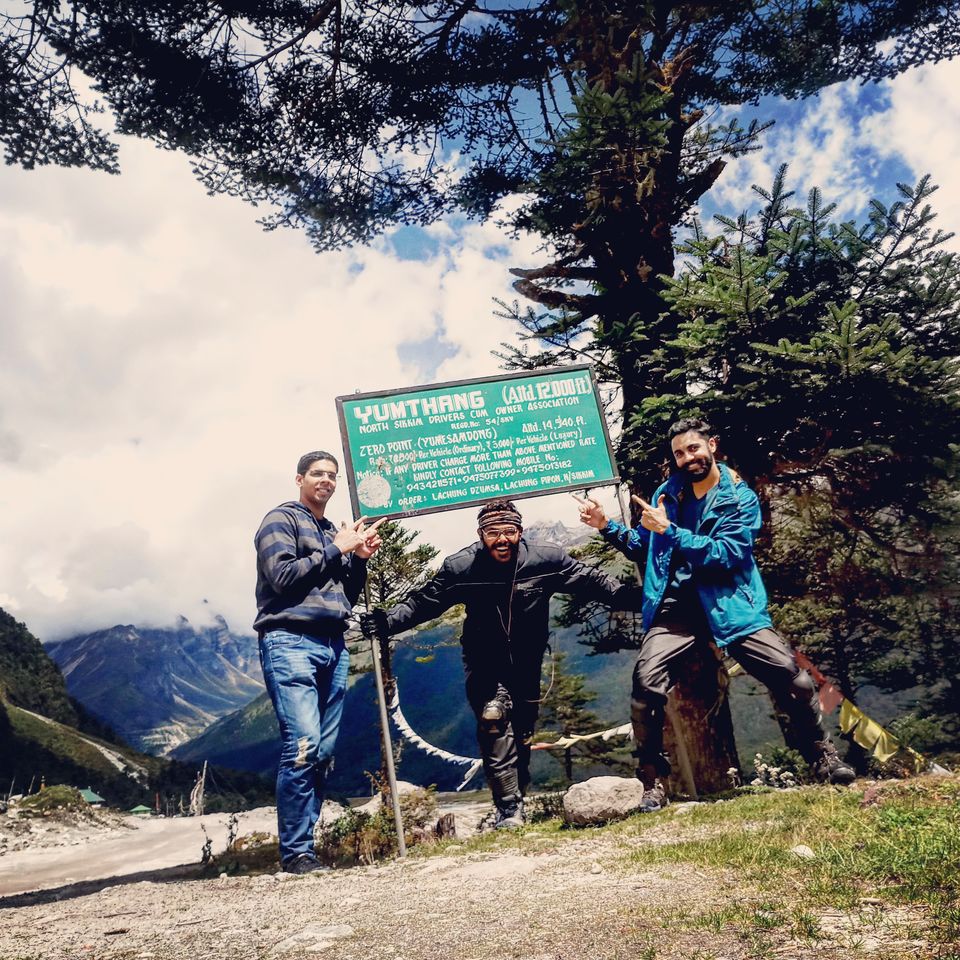 After a brief halt at Yumthang, we proceeded for the highlight of the trip- Zero Point: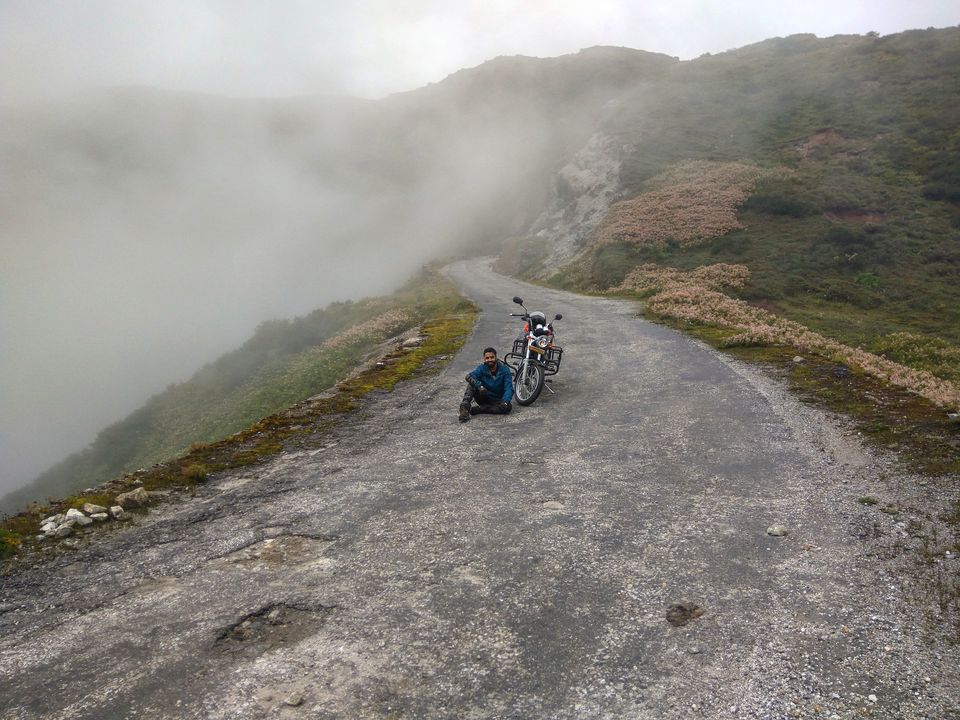 The occasional off-road stretches slowed us down a bit, but we continued soldering on the way up the hairpin curves of the mountains: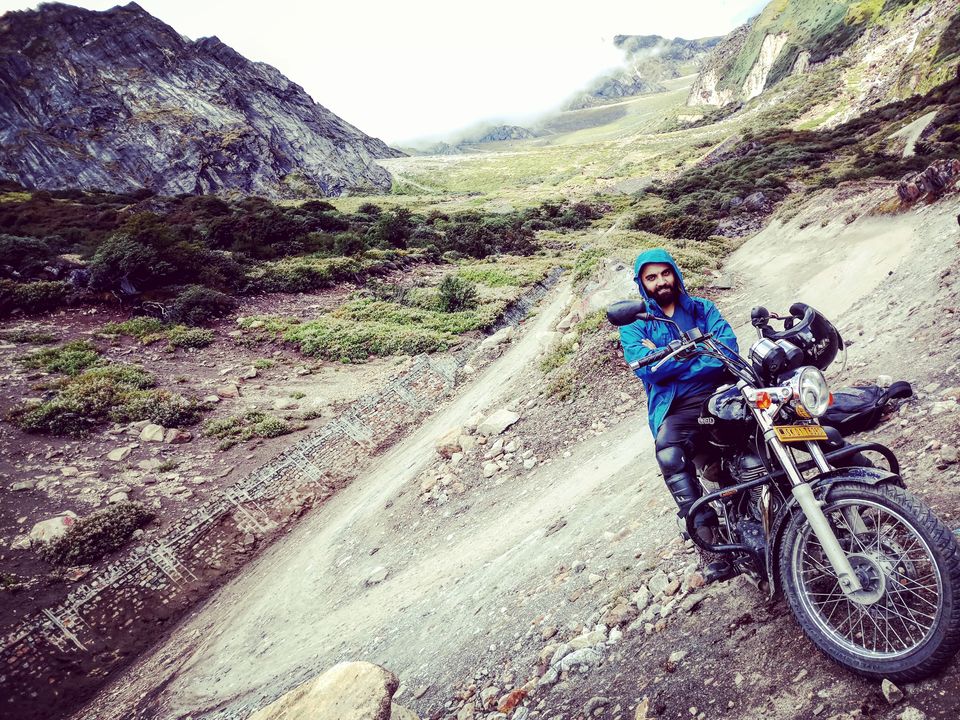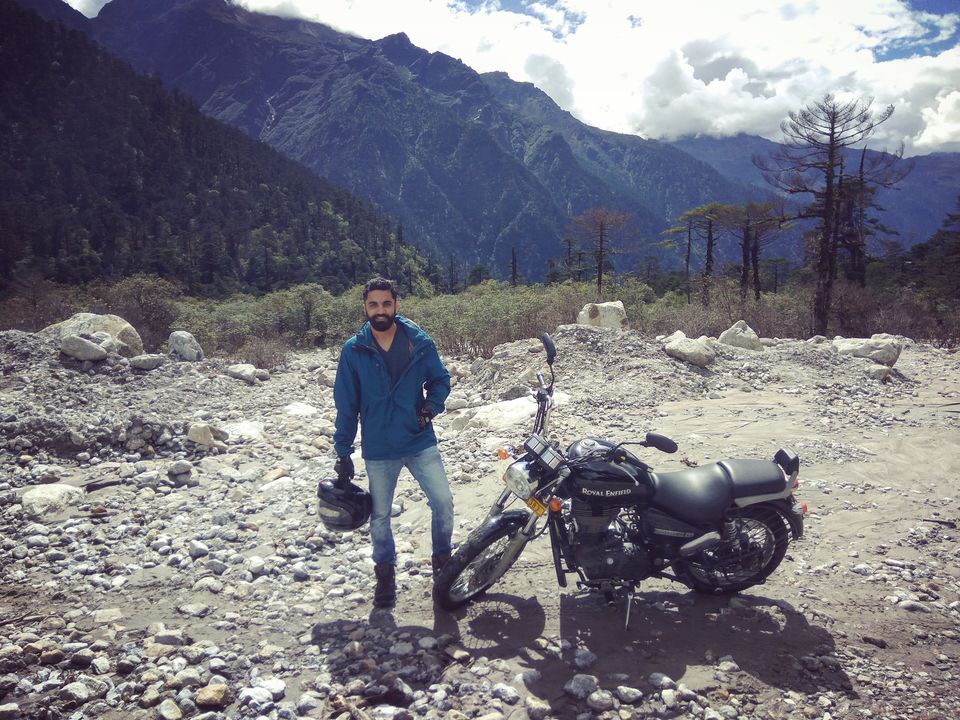 We reached Zero point at around 12 noon at which point the overhead sun made the blue waters glisten with its rays. The crystal clear water was so alluring that it made all the efforts, pains and mishaps seem worth this moment. We thanked the gods and Sikkim government to allow us passage to this unexplored and extremely wonderful land: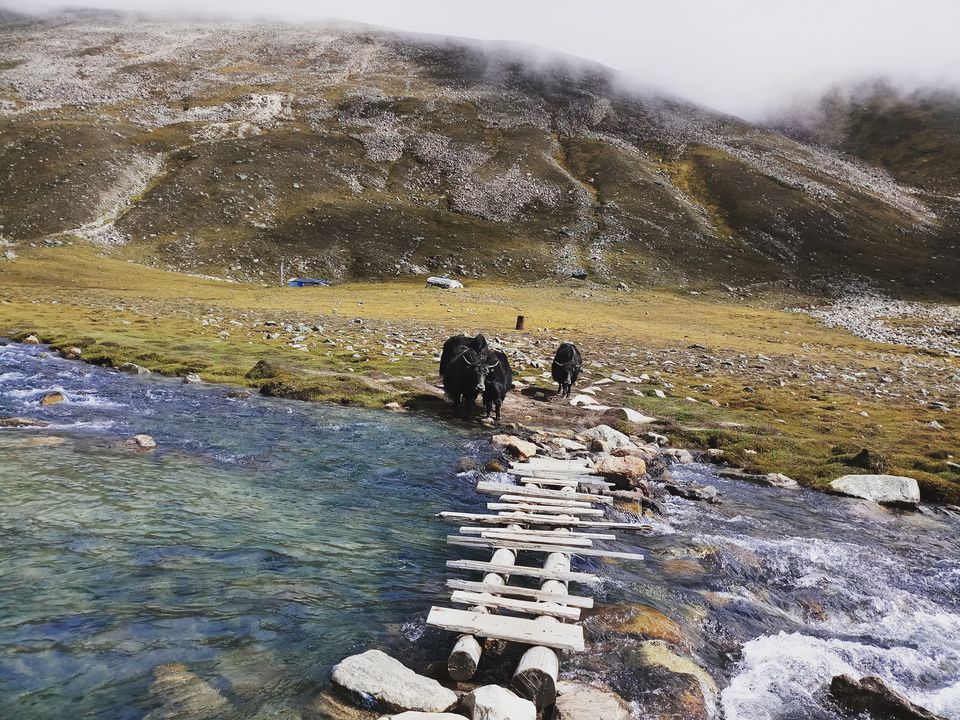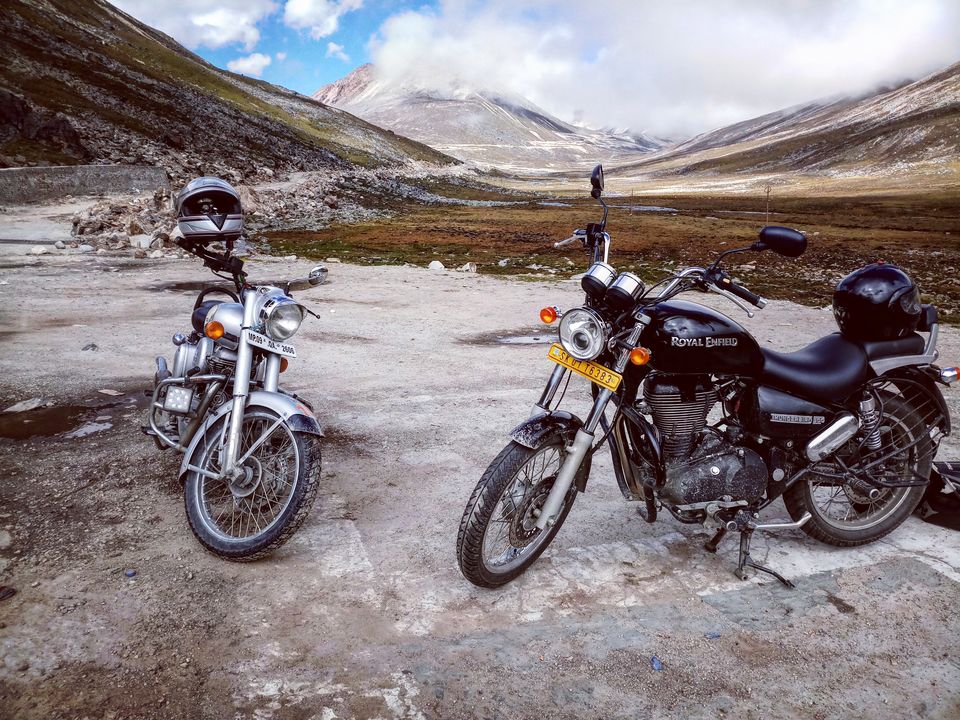 After couple of hours playing in the water, relaxing on the bridge and capturing the mountain yaks in our lenses, the clouds had started colluding to send the rains, so we bid adieu to the place and headed to our hotel in Lachung.
Katao was the last on our list before we ended our tour. And as the saying goes, last but not the least, Katao proved to be the perfect closure to a short but an amazing trip. Katao mountains provided a glorious bird's eye view of Lachung. Its a place nestled close to Lachung with good roads upto summit and quaint surroundings: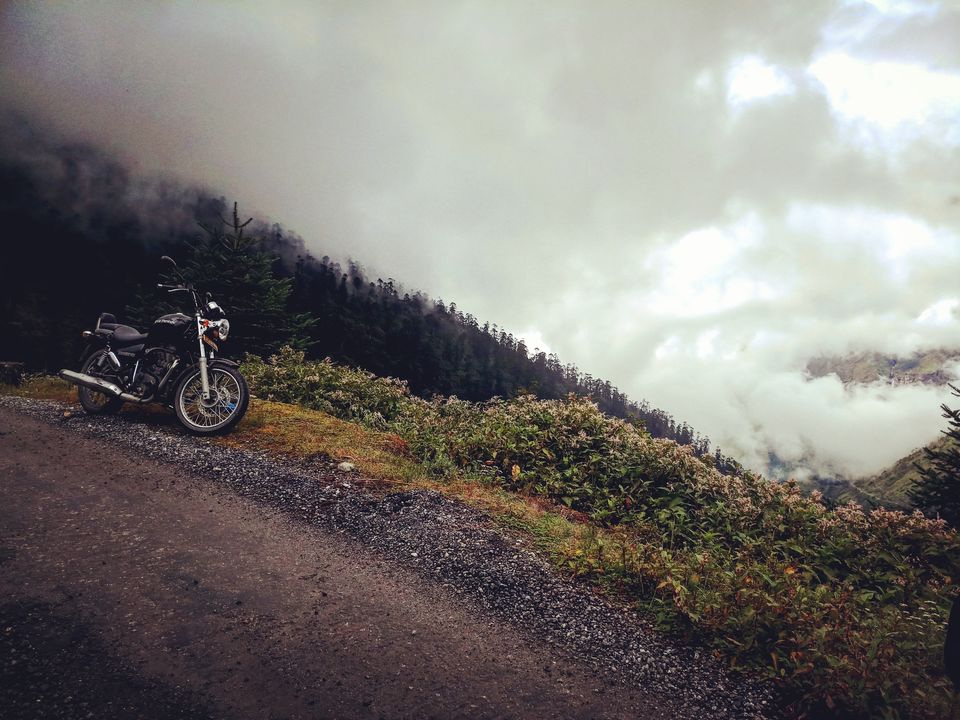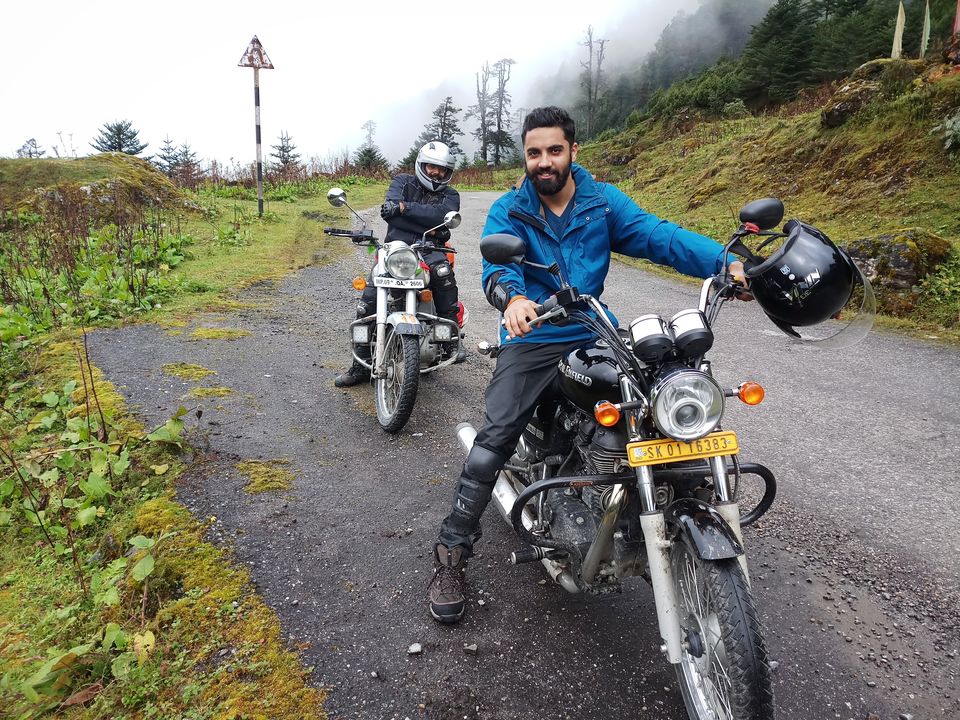 Its a good alternative in case permits for zero point do not get issued or time is a constraint.After just about 45 mins from Lachung, we reached the top beyond which point army restricts civilians from going ahead due to border rules.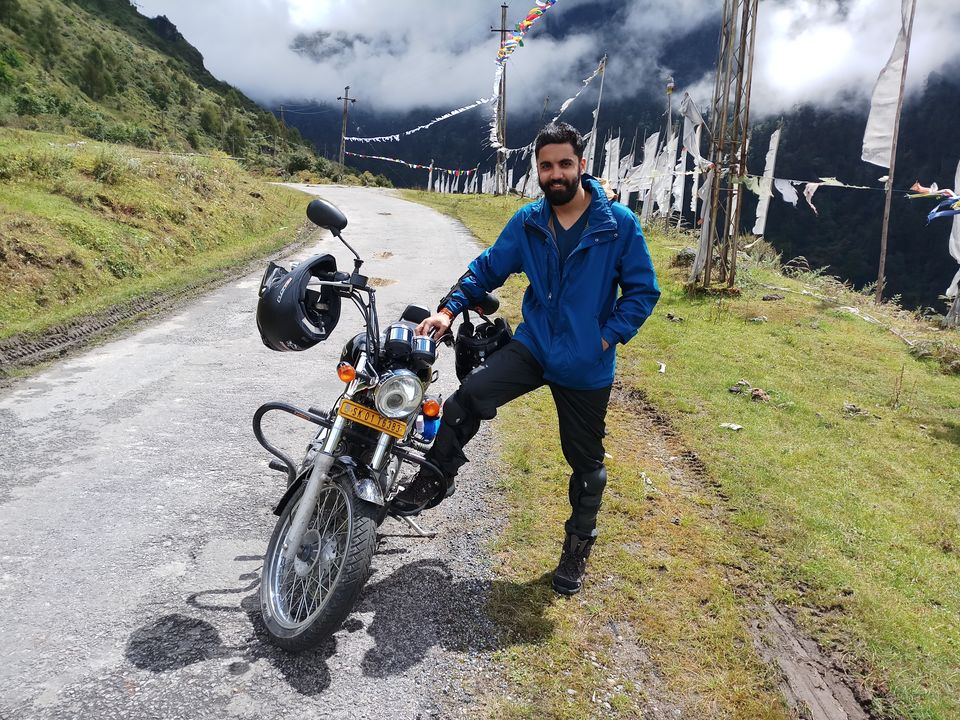 Although mountains welcome everybody as their own child, I felt that we ourselves have created boundaries and restricted areas which leaves us asking for more. We were not able to cover Nathula Pass and Gurudongmar Lake in this journey owing to permit issues, but surely the enchanting lands of Sikkim have us hooked and will be prodding us to visit again to this mystical and fabulous land once again soon.