It all started with a 10 PM message from a friend that went like "Bro, it's Ramadan holiday. Let's go for a trek to this hill-fort nearly 100 km away" And just like that the plan was made.
We were 3 friends, and one of us decided to honor this trip by taking his brand new car on its maiden voyage to a lesser known place called Channarayan Durga.
We started at 5:00 am in the morning, via Tumkur route, courtesy Google Maps. In less than an hour we had already crossed Neelamangala toll plaza and saw the beautiful artwork of dawn slowly presenting itself to us in the skies with the dark colors of the night making a steady exit only to be replaced by the gorgeous reddish orange hues of early morning.
We continued driving for about another hour till we found an open eatery next to highway NH 48, about 20 minutes from Dobbaspet. We filled our by then hunger stricken bellies with some hot idlis and a cup of tea which felt no less than divine at that moment.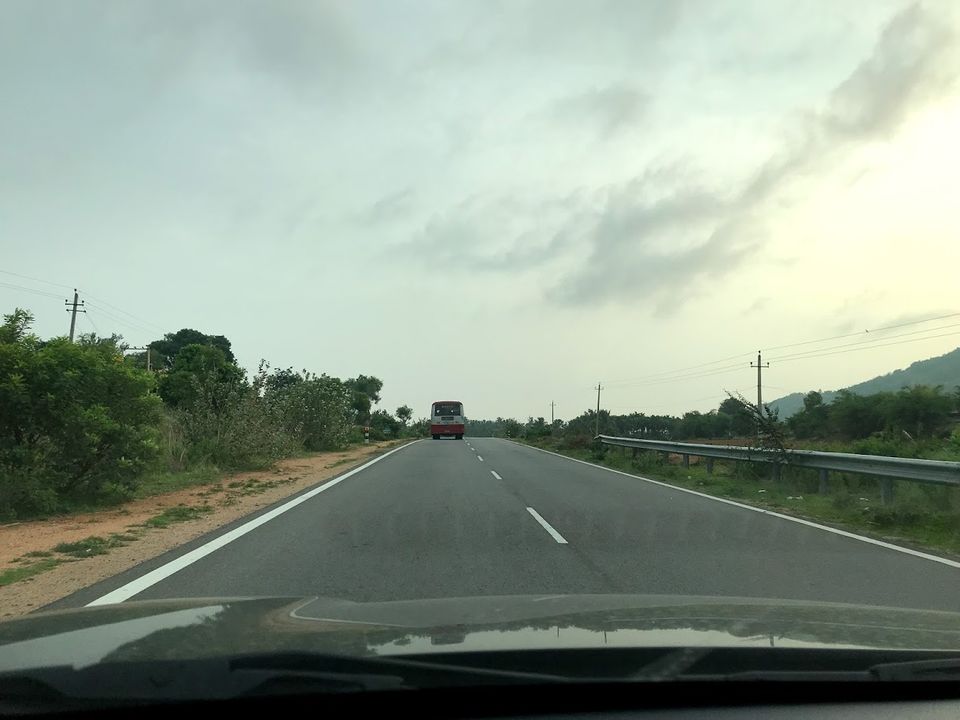 After the quick breakfast, we continued our journey in search of this lesser known fort. We kept driving with Google maps as our guide. On the way we managed to identify few other landmarks like Madhugiri, however the place of our interest remained elusive from the signboards. For a moment we became skeptic of whether we were on the right road or not and whether our so planned trek might end up simply as a long drive on a good lazy day. However, at that very moment saving us from our pessimistic thoughts was Google's voice echoing in the car instructing us to take a left turn in 200 mtrs from Tumbadi village. And like that, after that turn and yet another 15-20 minutes drive, were the words written on a board that we had been waiting to read all this while "C H A N N A R A Y A N A D U R G A". Our hearts jumped with joy at the sight of that signboard, which signaled the end of our search and the beginning of another phase of this journey. With another right turn, the road turned from wide and smooth to a narrow one riddled with potholes but we were not ones to complain as we were finally reaching our destination.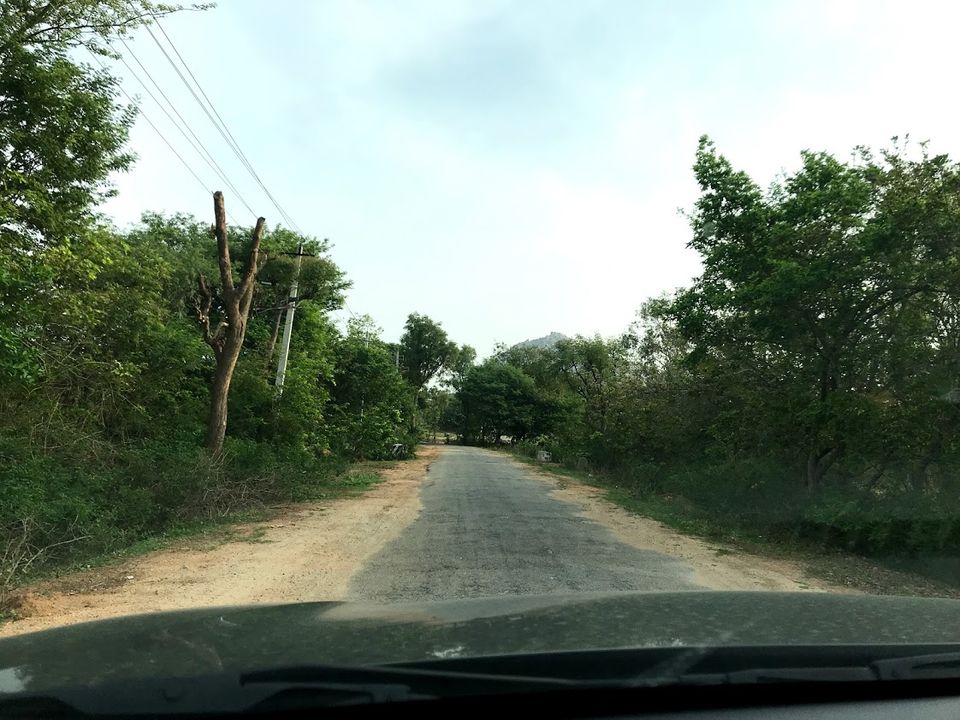 Driving carefully for yet another 20 minutes we reached this small quaint village at the foothills of what seemed like the remains of an old fort. We asked the villagers in our broken Kannada if this was the place we were searching for, and they graciously confirmed. We parked our car under a big banyan tree. By that time my wrist watch's hour hand was at 8. After about 3 hours of road trip, we had finally reached the point from where we were to start our trek.
We took our bags filled it with 2 water bottles each, and some snacks, and started ascending the steep slopes of the hill after taking guidance form the villagers about the starting point. There were no signboards there, nothing to tell us where to start and if not for the help of these villagers, one might actually get stuck taking a wrong route. The slopes are really steep and it is advisable to wear proper trekking shoes or shoes with good grip in such treks cause in case it rains or even drizzles the difficulty increases many-folds.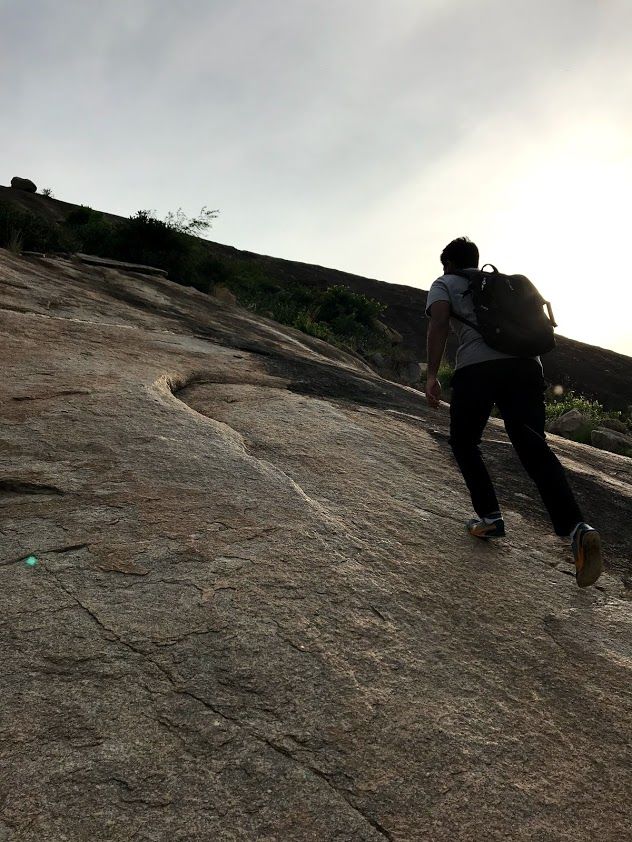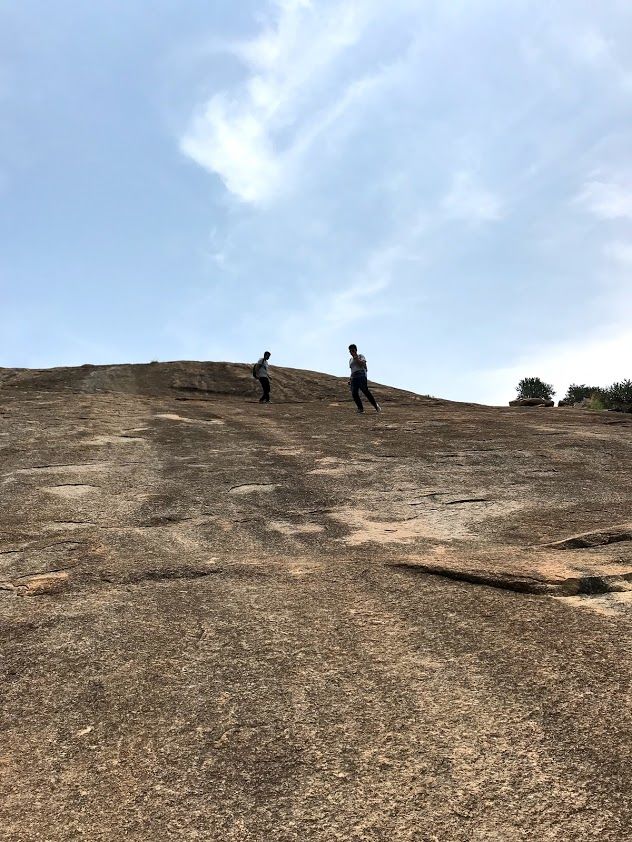 The fort was in ruins, yet beautiful and untouched by human Development with minimal signs of plastic and pollution which brought a smile to my face.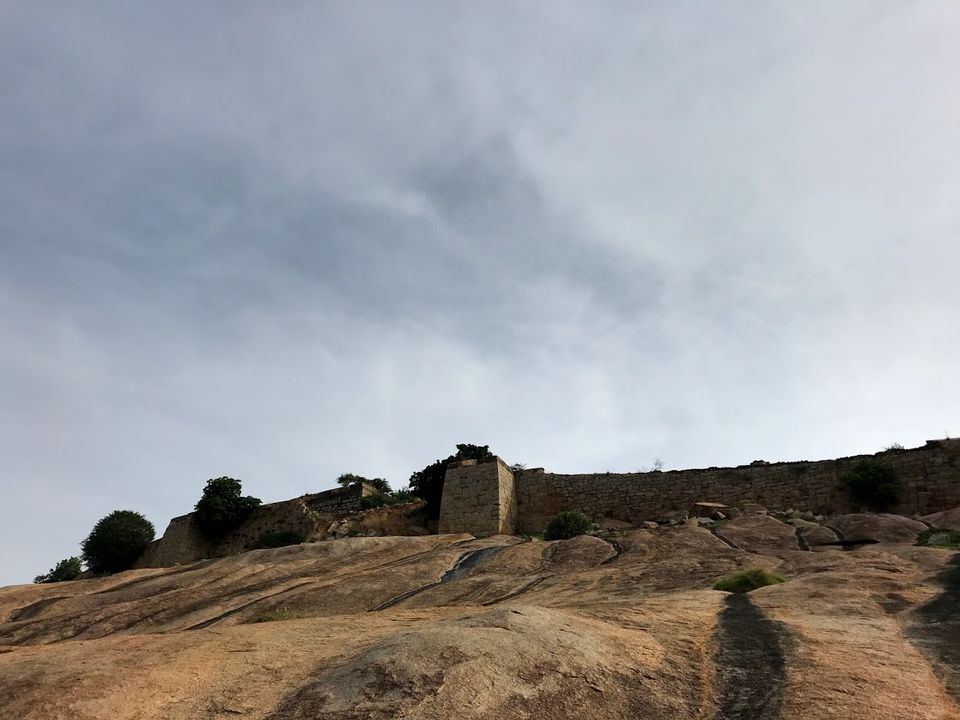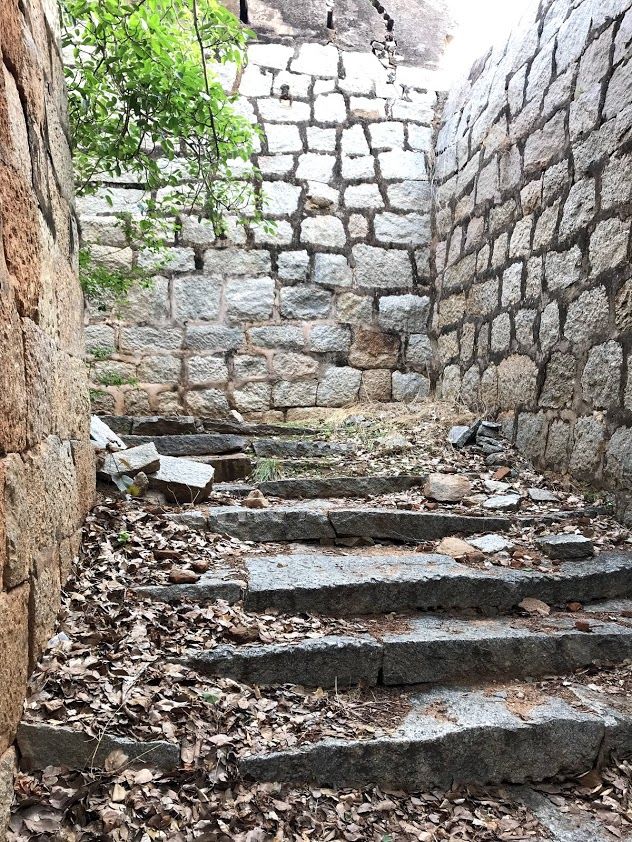 There was a beautiful big pond inside the fort boundary and a Ganesha temple that sat next to the pond. After spending some time over there, we started walking towards the highest point.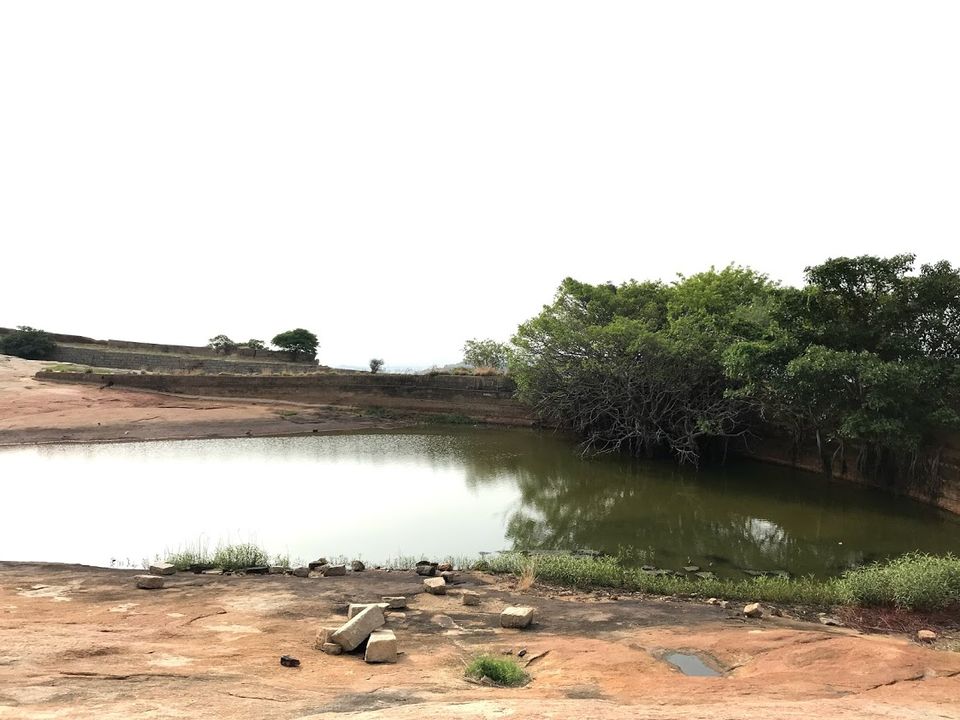 Unfortunately or perhaps fortunately we took a wrong turn and ended up at the rear side of the fort, which in itself was at a very high point from where one could see the nearby villages and hills.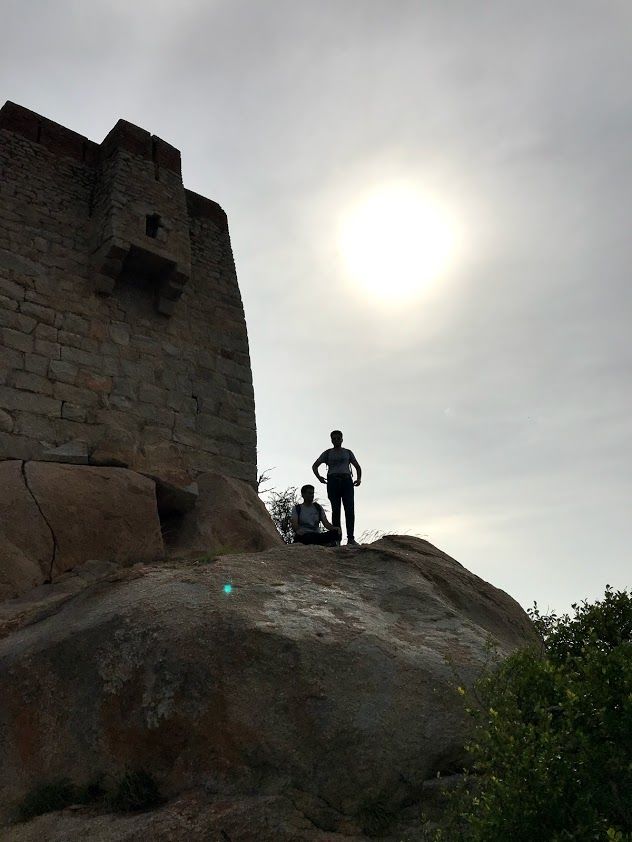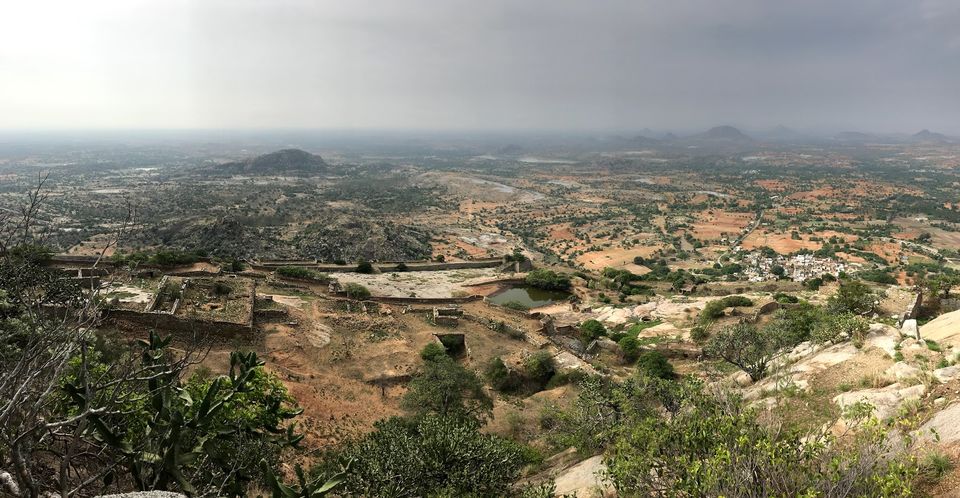 After resting there for a while, and we decided to continue our search for the entrance to the highest tower. We went down to the pond and started walking in a different direction. By 9:40 am we had reached the highest tower. Sitting in the shadow , we had another round of breakfast and rested for another half an hour. At 10:40 we decided to walk back to the village and begin our return journey back to Bangalore. We traced back our steps, collecting whatever trash we could find and by the next hour, we had reached the foothill.
There we found an elderly lady who asked us to pay some amount, Which I vaguely remember to be around Rs. 50 and she gave us a receipt for the same. We finally left for Bangalore by noon after this wonderful spontaneous adventure of ours and were back in comforts of our houses by 3:00 pm.
At the end of the day, the expenses came about Rs. 1500 including petrol, toll, and food, which was distributed among 3 of us.
P.S. - If you are visiting any place try to collect trash and don't just drop it at the nearest place, make sure that when you collect waste it reaches the proper dumpsite.
P.S.S - Thanks to my friend for proof reading it.