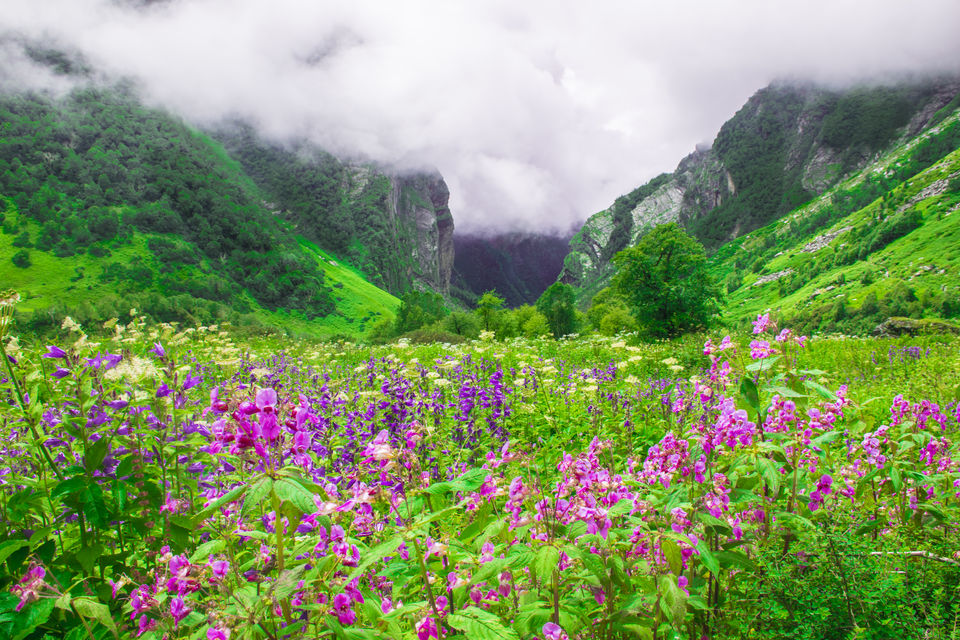 The Valley of Flowers National Park- the UNESCO World Heritage site along with Hemkund Saheb – the highest Gurudwara in the world was on my bucket list for last two to three years. So I decided to explore these two places in this monsoon. Indiahikes is one of the leading trekking company in India and I had a long wish that once I trek with Indiahikes. So I signed up with INDIAHIKES this time.
If you register with Indiahikes, you start getting emails from your trip coordinator, regarding fitness criteria, things to carry, difficulty level, food on the trek and above all Green Trail initiative. Indiahikes are very strict about fitness approval. They ask you to cover 5 km in 40 minutes and upload the screenshots of the run. Although I never run in my life even in childhood, still I could able to manage 5 km in 43 minutes. They also ask you to bring your cutlery and after every meal, you have to wash it yourself.
Initially, our pick up point was Haridwar railway station. But suddenly 20 days before I got a message that due to ongoing Kanwar festival at Rishikesh our pick up point was changed as there were huge crowds and traffic between Haridwar and Rishikesh, causing very long delays. So, there would be two pick up points, one from Dehradun railway station at 6 a.m. and another from Rishikesh (At Zostel on the Rishikesh – Badrinath Highway in Tapovan) at 7 am. I opted for Dehradun railway station. As usual, I reached Dehradun one day before the scheduled pick up day and stayed in a home-stay near the railway station. The day was cloudy and after 1 p.m. it started raining on & off all day.
Day 1 : Dehradun to Gobindghat : 270 Km
Monday 12th August was a holiday on account of Id-uz-Zuha. It had been raining in torrents since 4.30.am. Hence I was a little worried whether I could get an auto in time or not. Although the Railway station was walking distance but due to rain it would be better to take an auto. But it was raining hard and I could not able to get any. The Home stay host was a very amicable person. He left me at the station with his Honda Activa by 6.15 am.
Indiahikes had arranged a Tempo traveler for our pick up. It was parked at the parking lot of Dehradun railway station and set off around 6.30 am. Initially, I shared the journey with 4 other fellow trekkers. We were headed towards Rishikesh through the heavy downpour. Another 3 girls joined us from Rishikesh and we all 8 trekkers continued the journey towards Govindghat.
Around 9 am, we stopped for breakfast in a roadside Dhaba on the bank of river Ganga. The rain had stopped by then. The view of the river was mind-blowing. A layer of fog was floating over river Ganga, giving it a mystic look.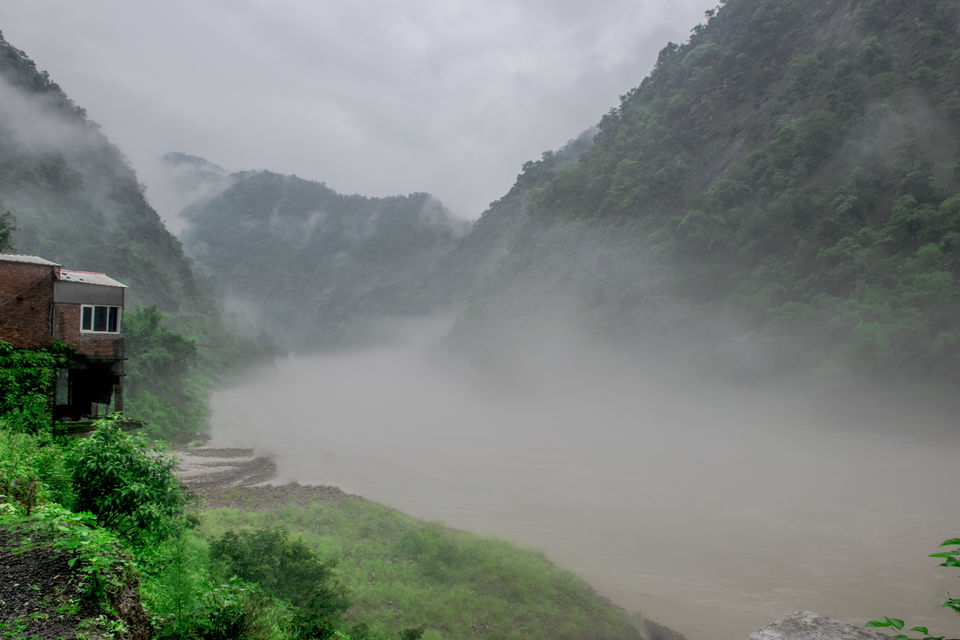 Having done with the breakfast, we hit the road again and soon came across the first landslide zone. We had to stop there as loose earth and small rocks were coming down the slopes on the road continuously. There was a heavy traffic jam at both the end. After 10 to 15 minutes waiting, we continued our journey. We passed two to three more landslide areas and reached Devprayag- the confluence of river Alaknanda and Bhagirathi.
After Debprayag, the road was smooth and the beauty was spectacular. Lush green mountain with dark cloud floating on the slopes. We were travelling along the river Alaknanda on the Badrinath Highway.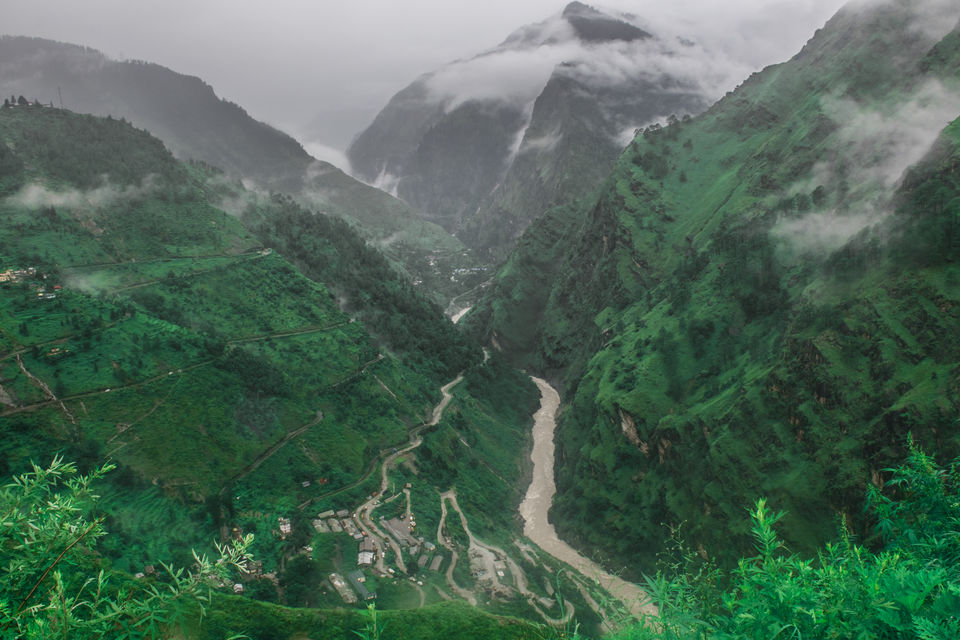 We took a stop once more for lunch at a roadside Dhaba around 2 p.m. for an hour and then continued. We passed rest of the four Prayags (confluences) namely Rudraprayag (Alaknanda meets with river Mandakini), Karnaprayag ( meeting point of Alaknanda and Pindari river), Nandaprayag (Alaknanda meets with river Nandakini) one after another and at last Vishnuprayag (meeting of river Alaknanda with Dhauliganga) by 7 p.m. and reached our Base Camp Gobindghat by 9 p.m. The journey was exciting and adventurous. By this time, we came to know more or less everyone in our group except the other 4 people who were travelling on their own and joined us at Govindghat. There was a guy in our group who came from Delhi, but he is a Bengali and lives in Kolkata. We were staying here in a lodge. I had to share the room with those 3 girls. There were two girls from Bangalore and one from Chennai. After freshening up quickly, we assembled in a dining area and attend a small introductory session with our trek leader and trek guide. After verification of ID and other medical papers, we all were issued to a 'Health Card' and asked to keep this 'Health Card' handy. After completion of all these formalities, we were served with a hot dinner.
Gobindghat ( 6,300 ft.) :
Govindghat is a small town in Chamoli district, Uttarakhand, India, located at the confluence of the Alaknanda and Lakshman Ganga rivers. It lies around 22 kilometers from Joshimath on NH58. It has two parts.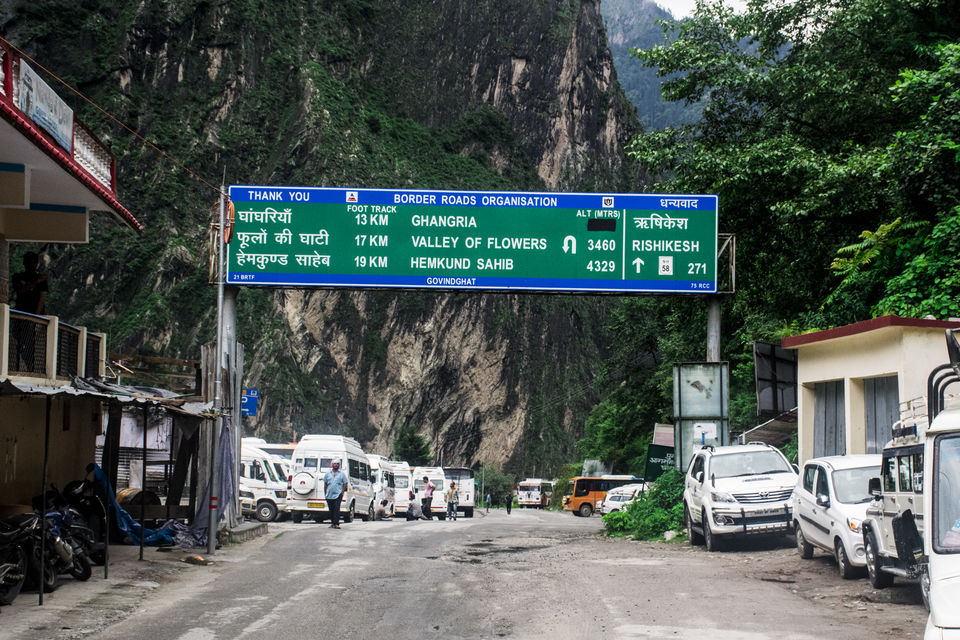 The upper part has few shops and hotels. This part is right on the main road which connects Joshimath with Badrinath and
the lower part is right beside the Alaknanda river. This part has a small Gurudwara that offers free food and shelter to tourists and pilgrims. You can find a few shops cum hotels on the way to Gurudwara. This is the last place where you get the IDEA & BSNL mobile network.
Day 2 : Gobindghat( 6,300 ft.) to Ghangharia (9,600 ft.) via Poolna ( 7,200 ft.) :
[ 4 Km drive to Poolna and followed by 9 Km trek ]
The morning was cloudy. Weather was pleasant. Our accommodation was in the upper part of Gobindghat. Around 6 am our trek leader came to check our BP, pulse and oxygen saturation level and he did these check-up every day before dinner and noted down the reading in the 'Health Card'. It was really impressive. After a small briefing session, we were served with delicious breakfast around 7 a.m. Before starting, our trek leader gave a demo on how to pack bags, tie the shoelaces and Eco-bag concept etc. We all were given Eco - bags to put our trash into and collect the non-bio-degradable trash on the trail. This is a part of the Green Trail initiative taken by Indiahikes. Most of us opted for backpack offloading except one. So, we left our luggage and set out along the bank of river Alaknanda on foot. On the way, I bought a stick from a roadside shop. If you don't have or rent a trekking pole then a bamboo stick will be helpful, available for only 30 INR. After passing Gurudwara, we reached the parking area.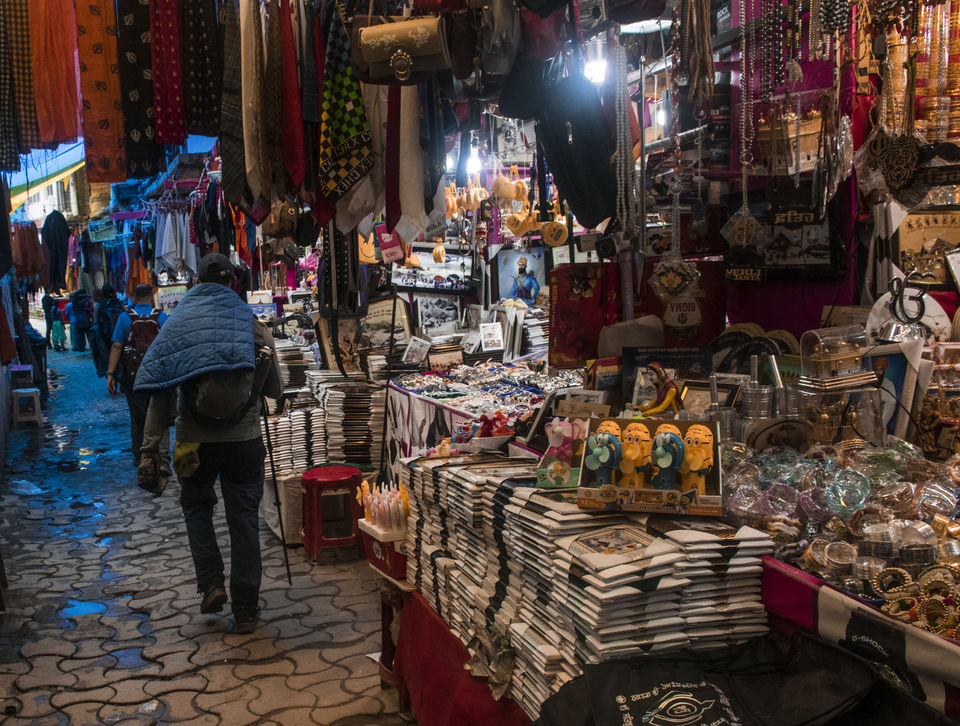 There is a small registration counter of Uttarakhand Tourist Development Board at one side. A small queue was there in front of the counter.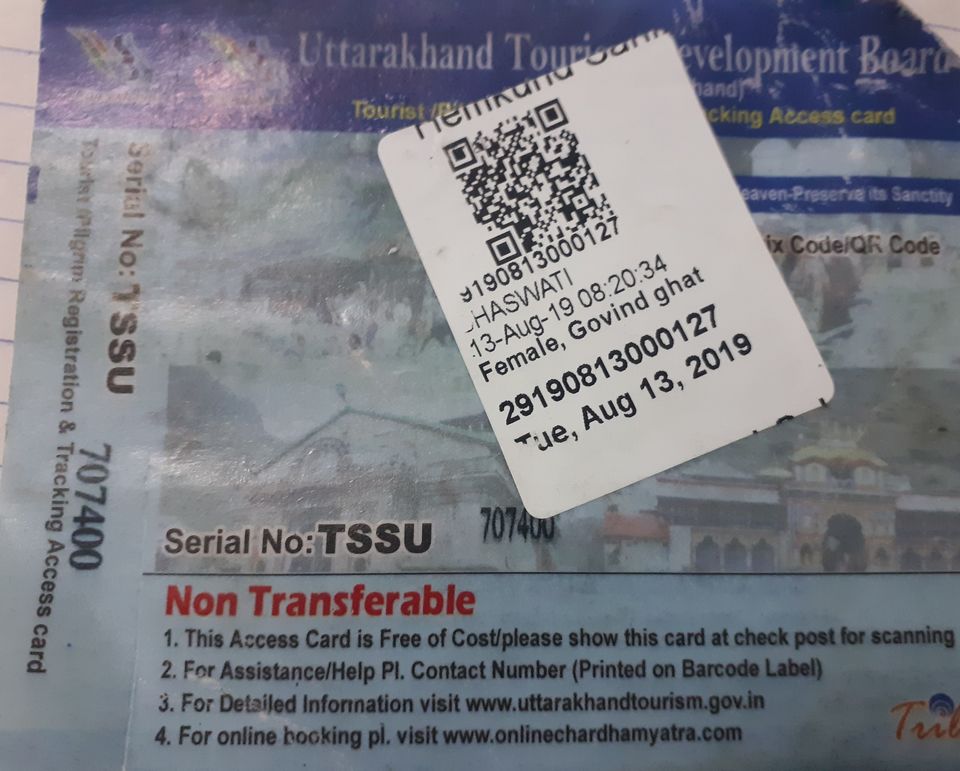 After making registration, we all twelve trekkers boarded the vehicle that dropped us to Poolna, 4 km ahead of Govindghat.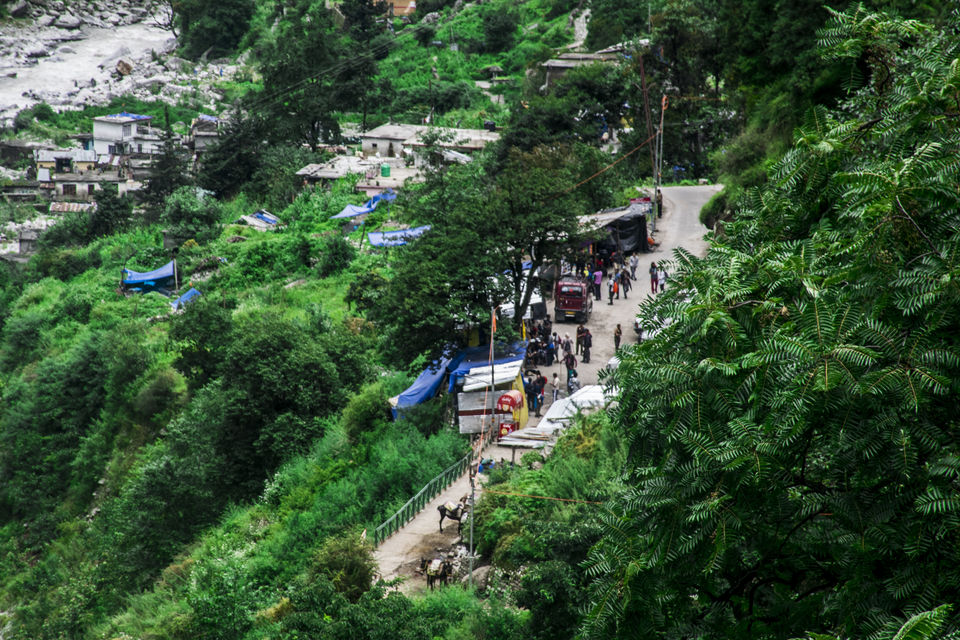 Trek started :
Poolna was the starting point of the trek. The trail is well-defined with the manageable ascent. The branches of the trees form canopy throughout the trail on and off.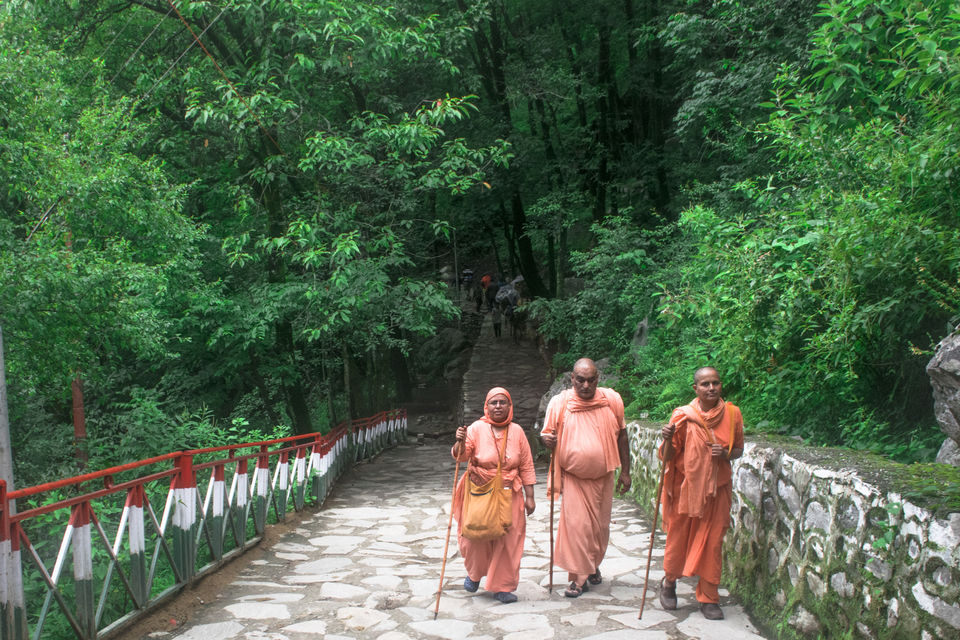 Here and there the sight of waterfalls, lofty lush green mountains add a charm to the trail. The river flowing below at a distance accompany us on the right.
There are a number of roadside shops and dhabas at regular interval. They are selling fruits, Maggie and cold drinks.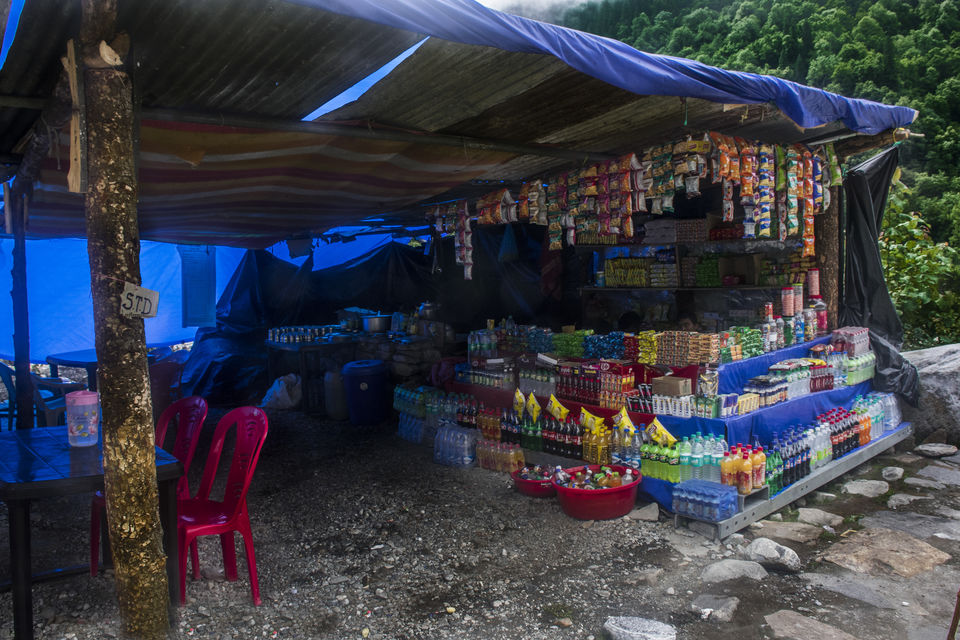 So you don't have to carry food and water in this trail. Benches are there along the trail at many places to seat and take rest. You can find public washrooms as well in this trail. The trail was much crowded. The mules and ponies are seen carrying pilgrims as well as luggage.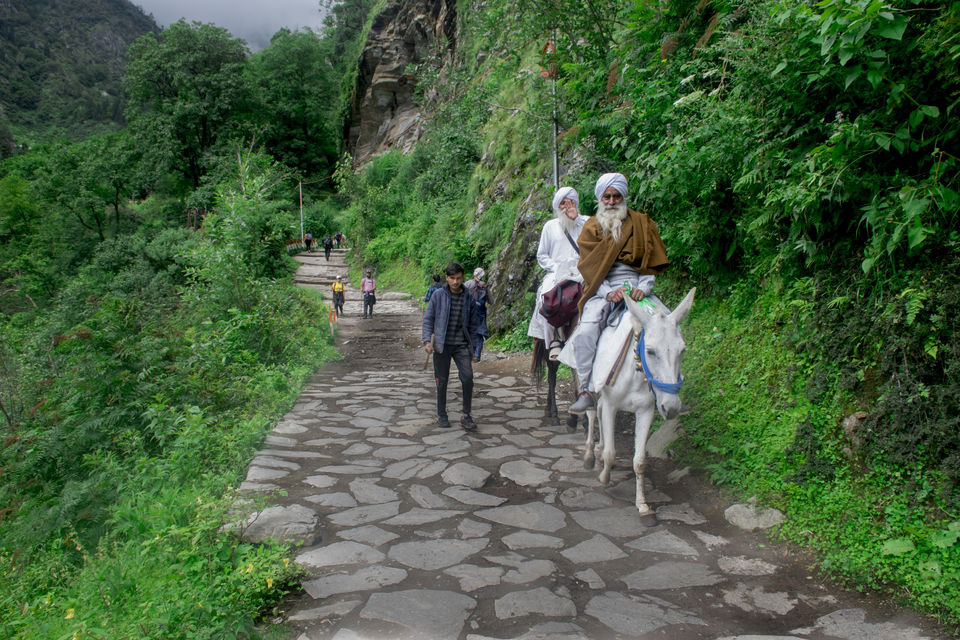 They are decorated with colourful tassels. The bell around the neck jingle as they walk. The entire trail is dotted with the horse dung. Although the sweepers are kept cleaning the trail throughout.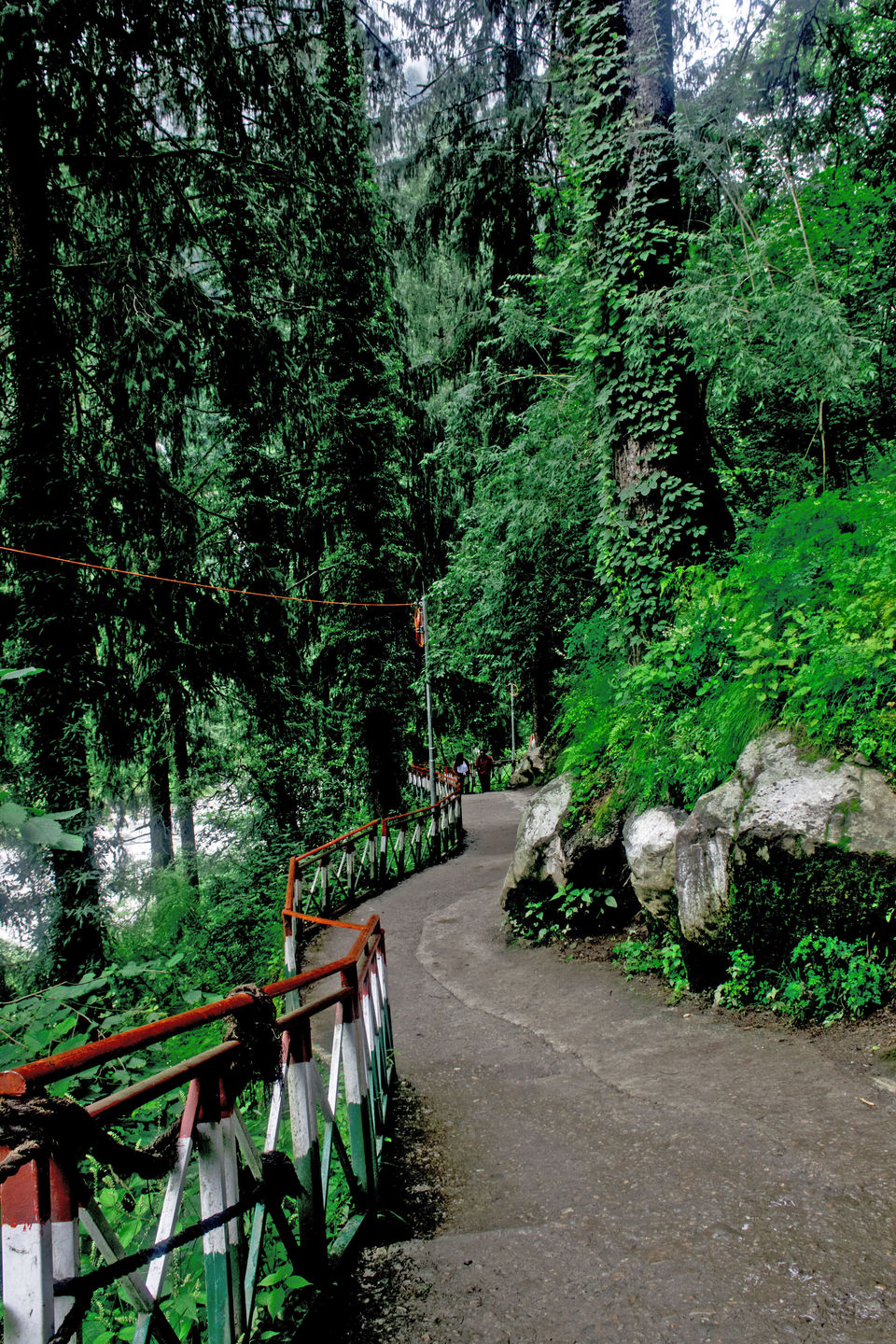 We stopped for a delicious lunch with the hot rice and rajma in one of the roadside Dhabas. After a couple of hours into the trek, we came across the bridge over fierce flowing Laxman Ganga river. After crossing the bridge, you enter the Bhuynder valley.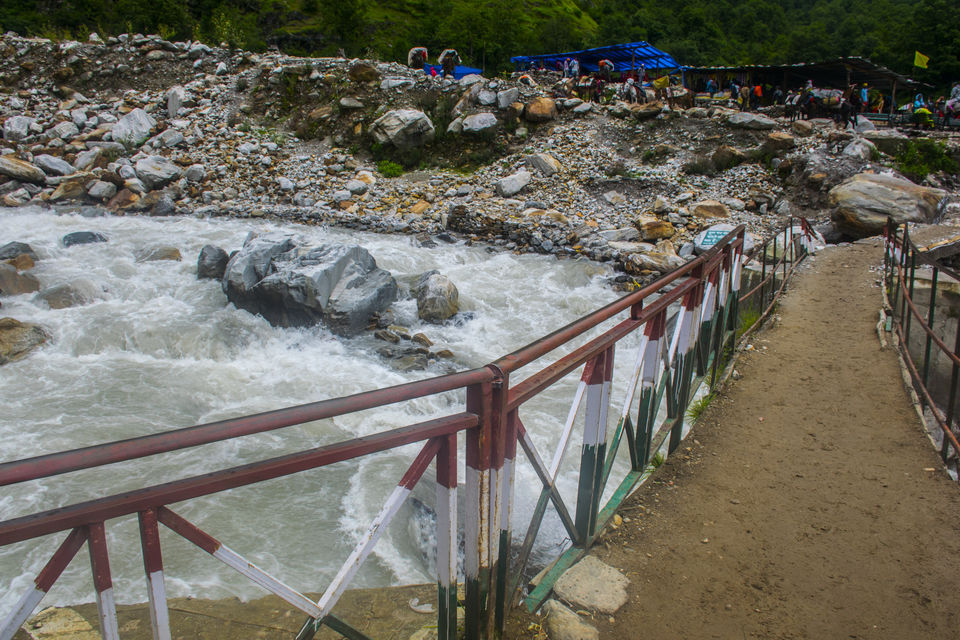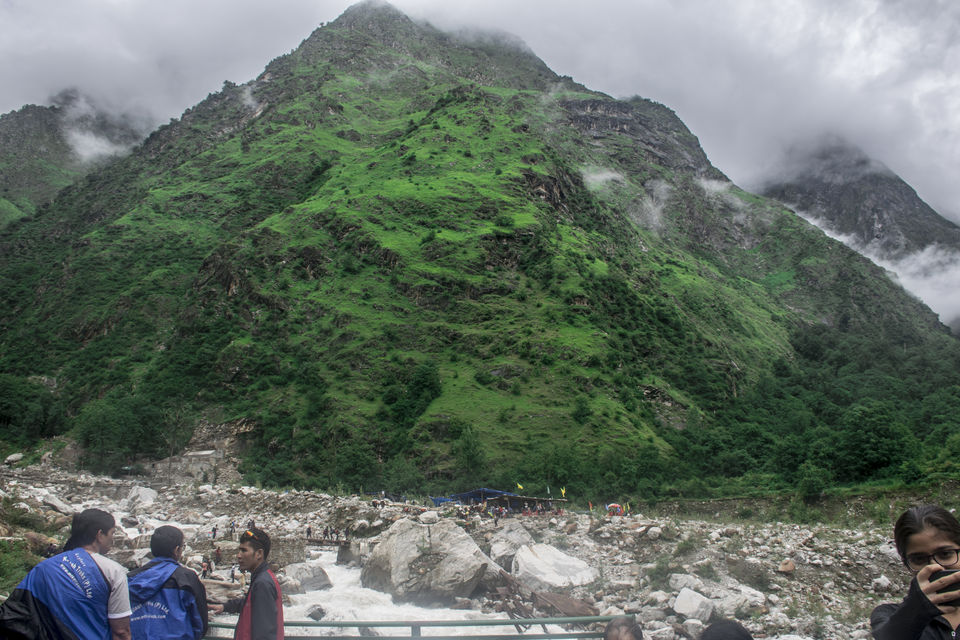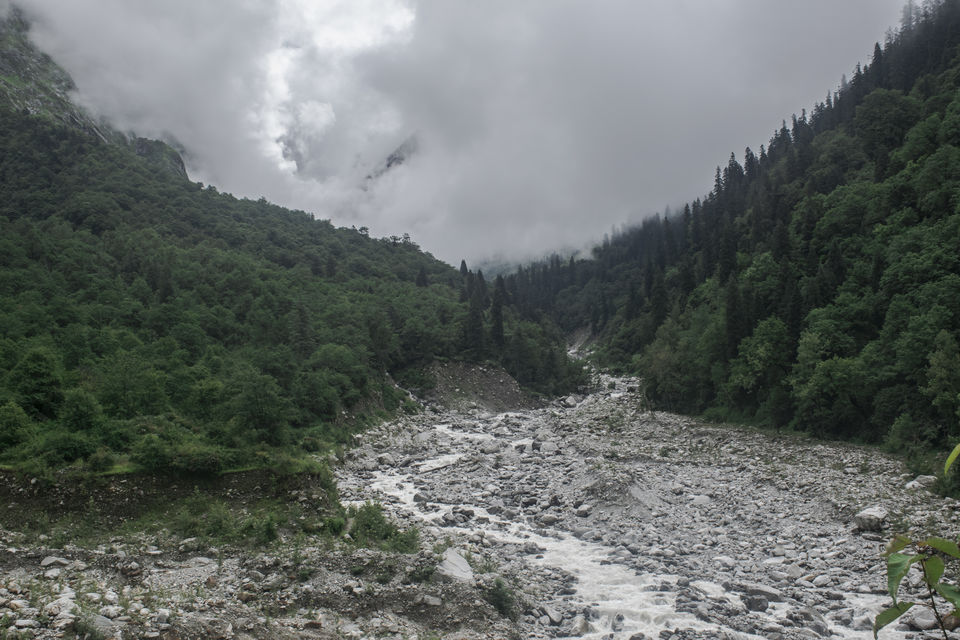 From there, the trail became quite steep and the sight of the river will be lost. We got one or two spells of drizzle on the way,so we had to wear our rain gears.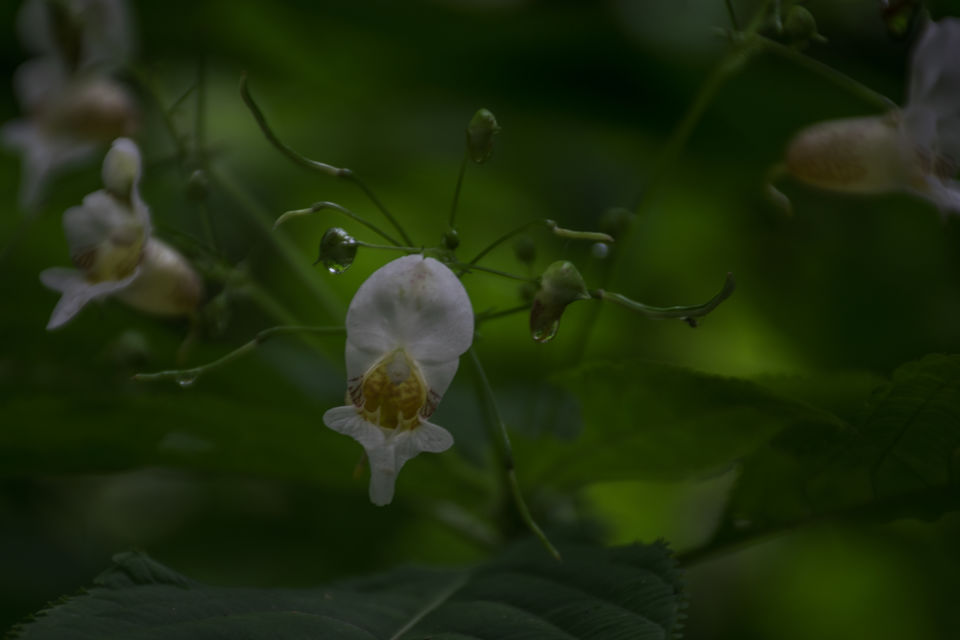 Otherwise, the rest of the time was dry. We continued to climb up through wide stone steps, green canopy overhead and multi-coloured flowers on either side of the trail until we came to an open valley.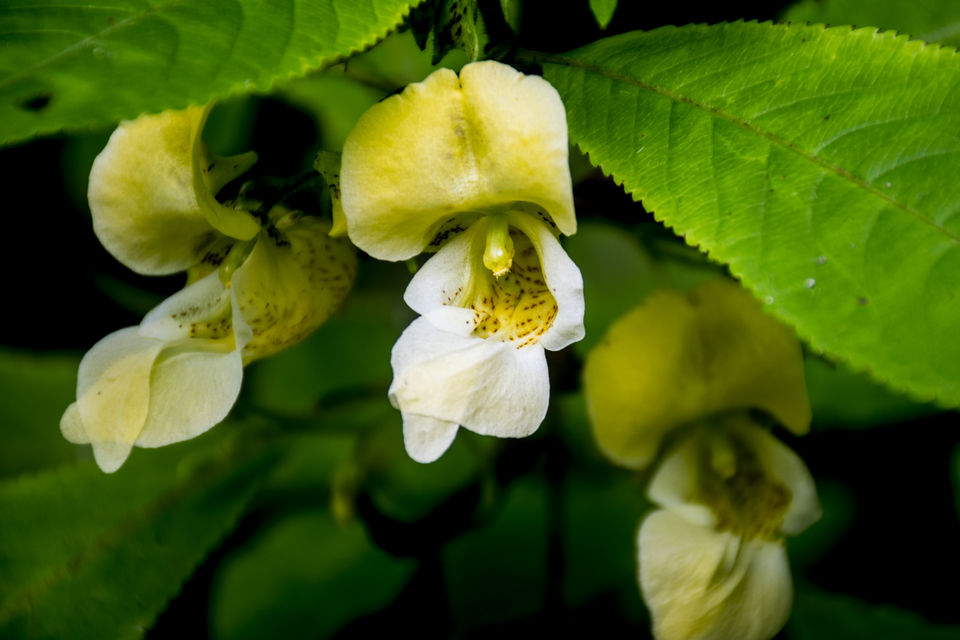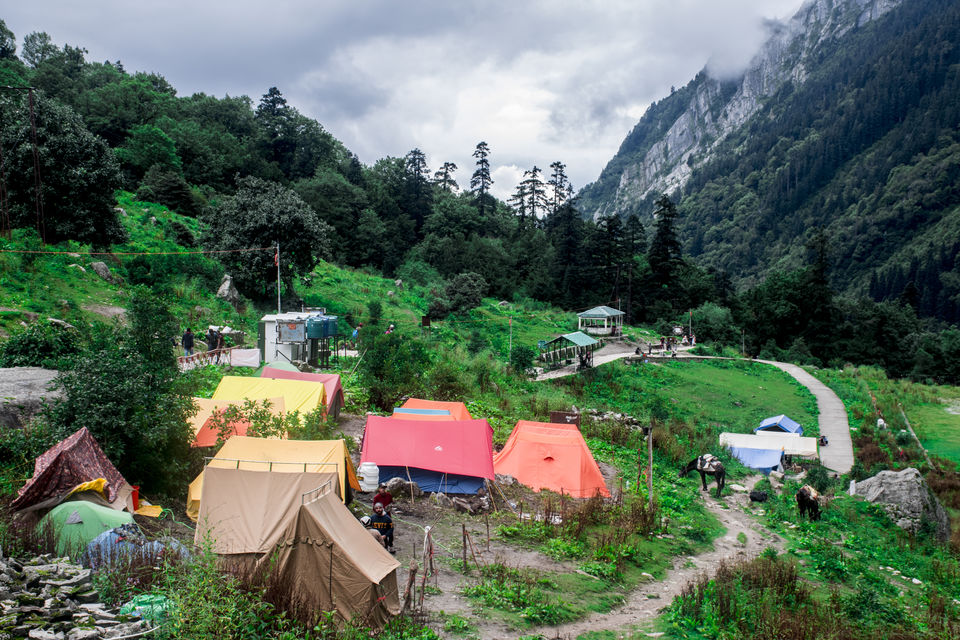 The valley consists of a small helipad and a multi-coloured tent colony. That was the Ghangharia helipad. Indiahikes has its own settlement at Ghangharia, further 500 meter from helipad across the pony stand.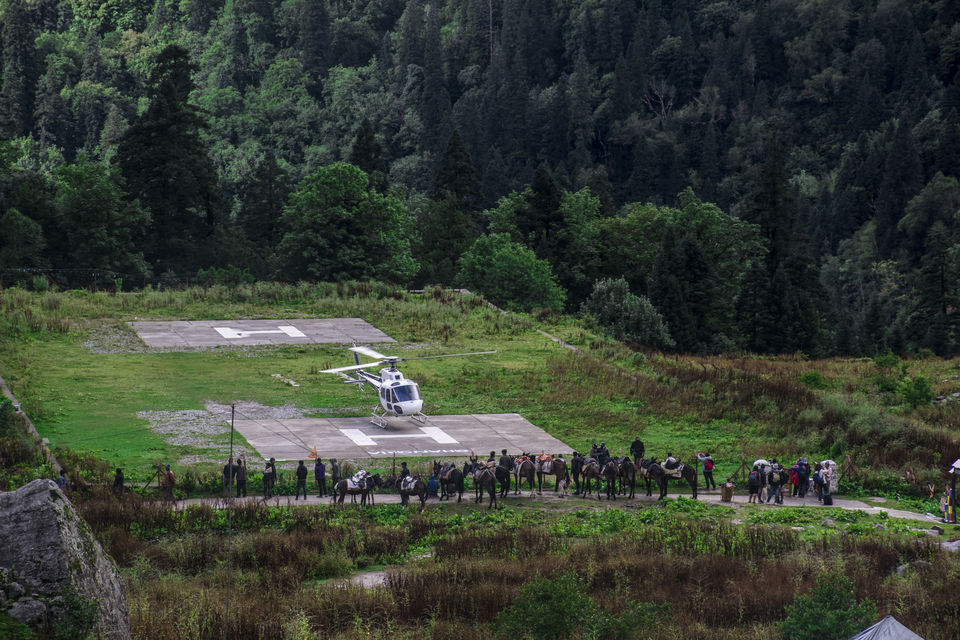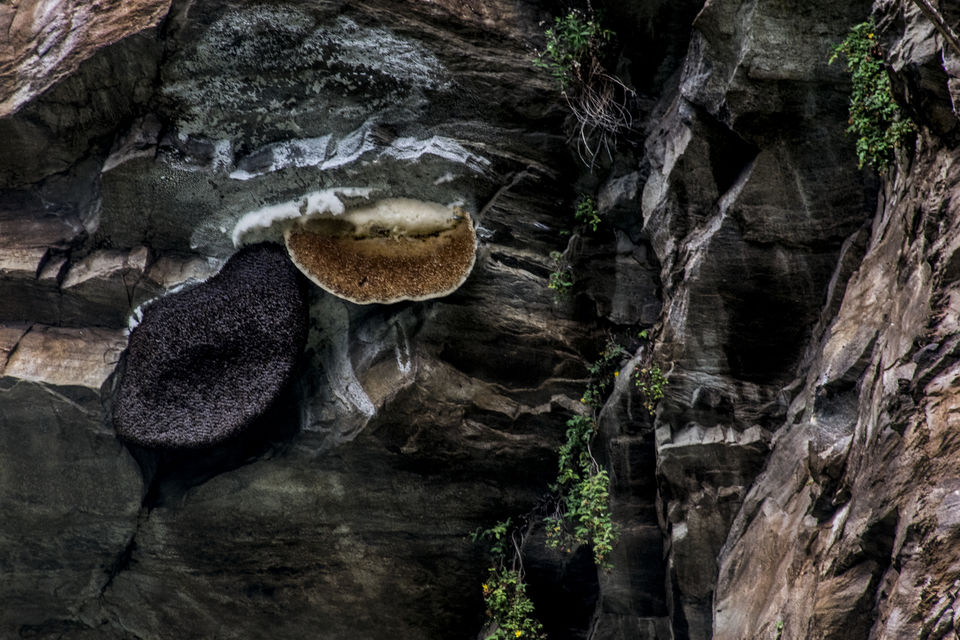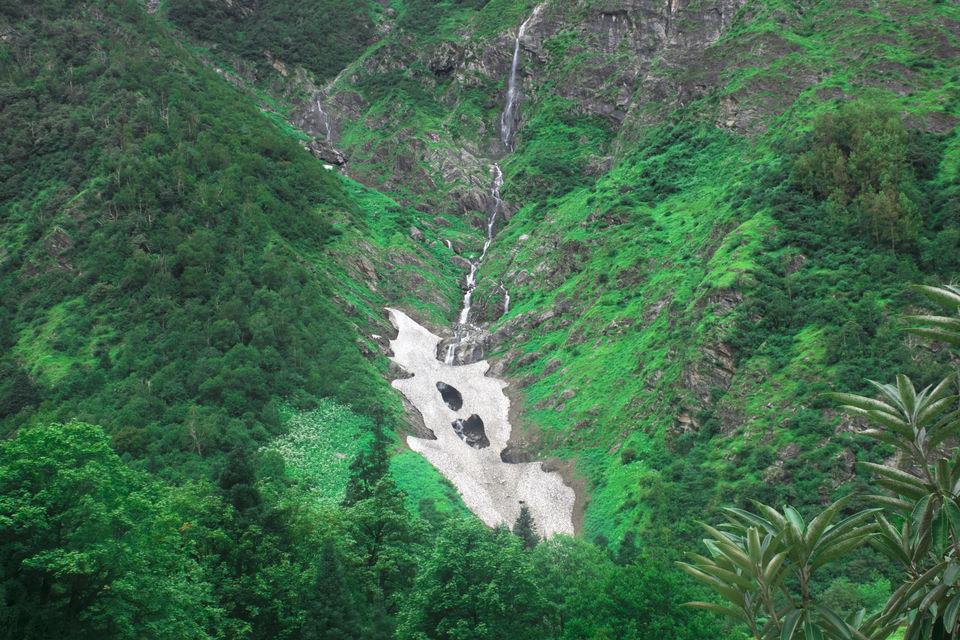 Ghangaria ( 9,600 ft.) :
Ghangharia is a small village located in the northern Himalayan ranges in Uttarakhand. The Valley of Flowers national park is about 5 km and Hemkund Sahib is about 6 km from here. It is situated at the confluence of the rivers Bhyundar Ganga and Pushpawati, which forms Lakshman Ganga, that later meets the river Alaknanda at Govindghat. It is the last human habitation in the Bhyundar valley. There is a small Gurudwara here also.
By the time we reached Ghangharia- our Advanced Base Camp, everything was soaking wet with the rain and sweat. The trek was exhausting. My legs were paining. One girl and I were slow walkers. I took too many photo breaks also. But our Trek Leader was always patient and kept motivating us and guiding us throughout the way.
We were greeted with hot tea and chowmin followed by cool-down exercises by the Trek Leader at the camp. No mobile network is available there. We were also advised not to take a bath the next four days.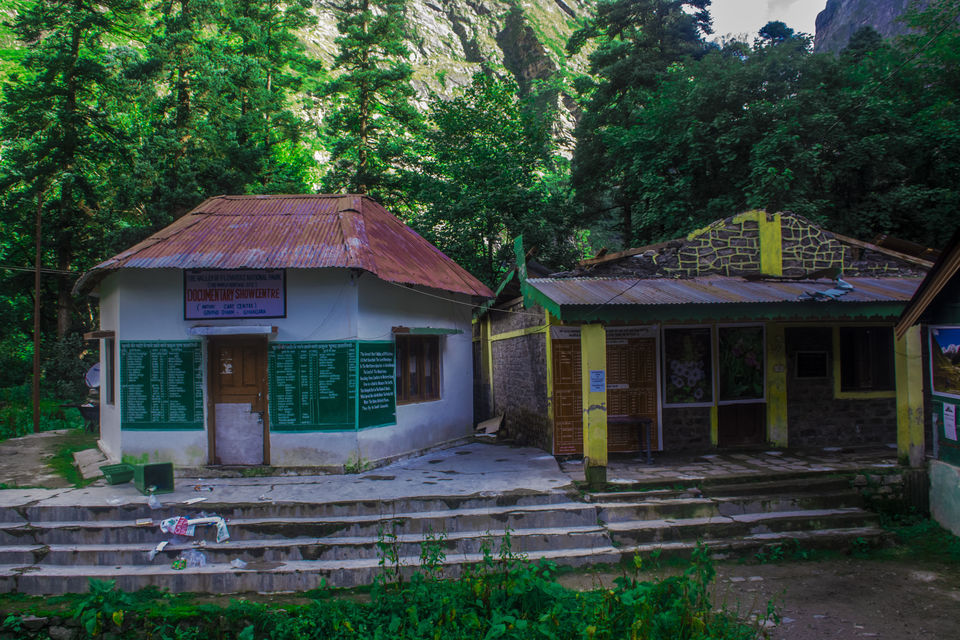 There is a small establishment, near our lodge, where a documentary is played every evening. It was a half an hour movie on Valley of Flowers.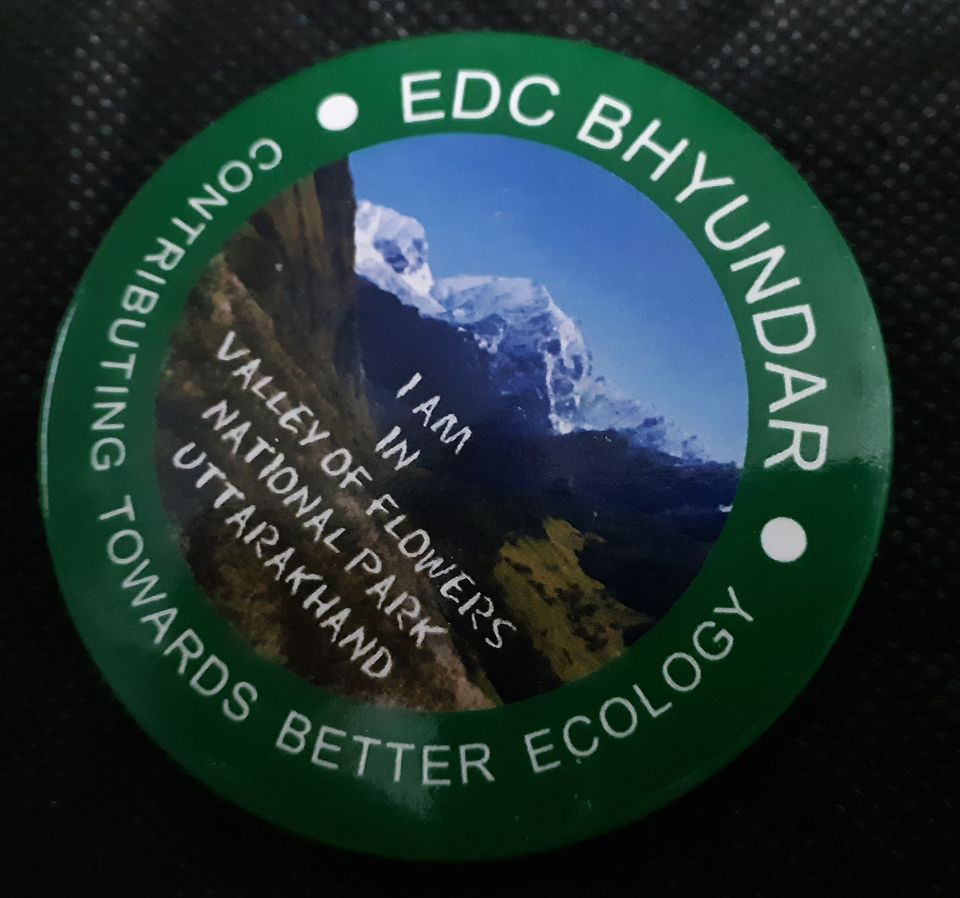 We all went to watch it. I would suggest that everyone should go and watch this short movie on VOF. We were served with a hot and delicious dinner by 7.30 pm.
Day 3 : Ghangharia ( 9,600 ft.) to Valley of Flowers (11,500 ft.)
The next morning, after breakfast, we took some essential things, water bottle and packed lunch for ourselves and started trekking from Ghangharia through cloud & mist for Valley of Flowers. Luckily it was not raining. We first cross the Pony stand followed by a bridge over Lakshman Ganga and take the left turn.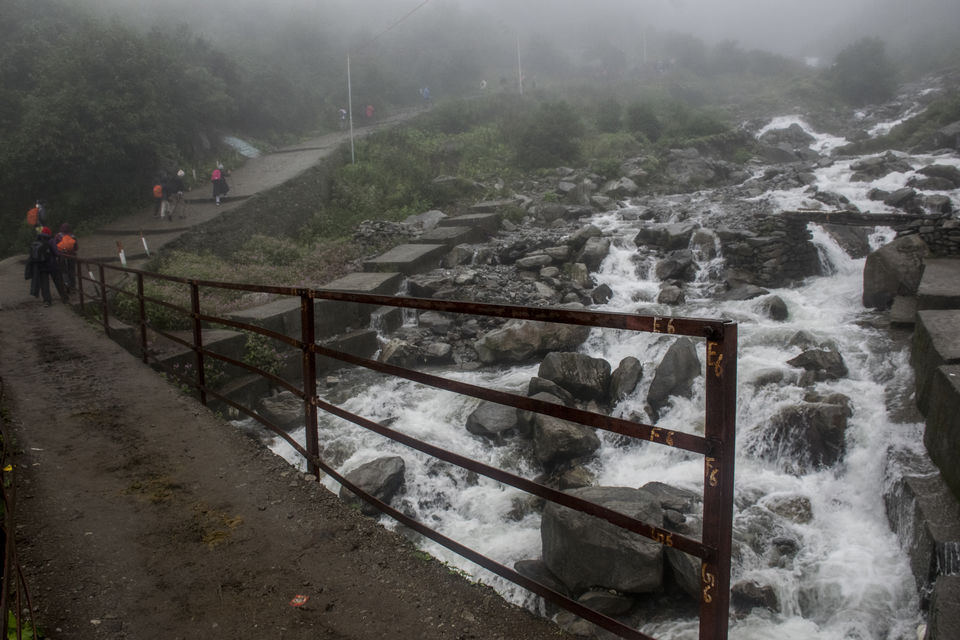 You will find the Forest Department Check Post within a kilometre. You need to take permits from this counter. This is the official beginning of the Valley. As it was a package, our Permits were booked by our trek guide. In a while, you will cross another small bridge over a gushing stream and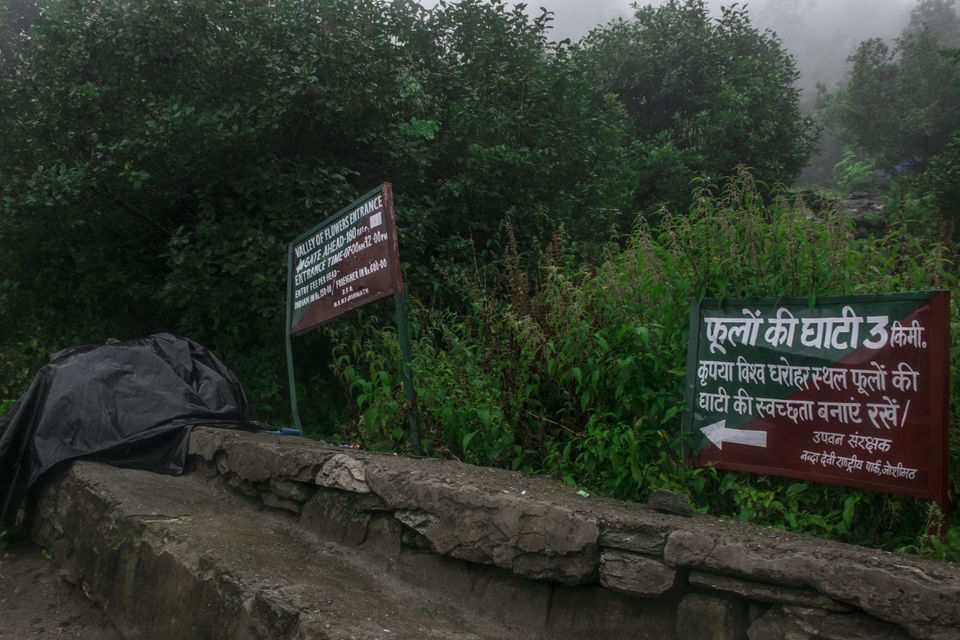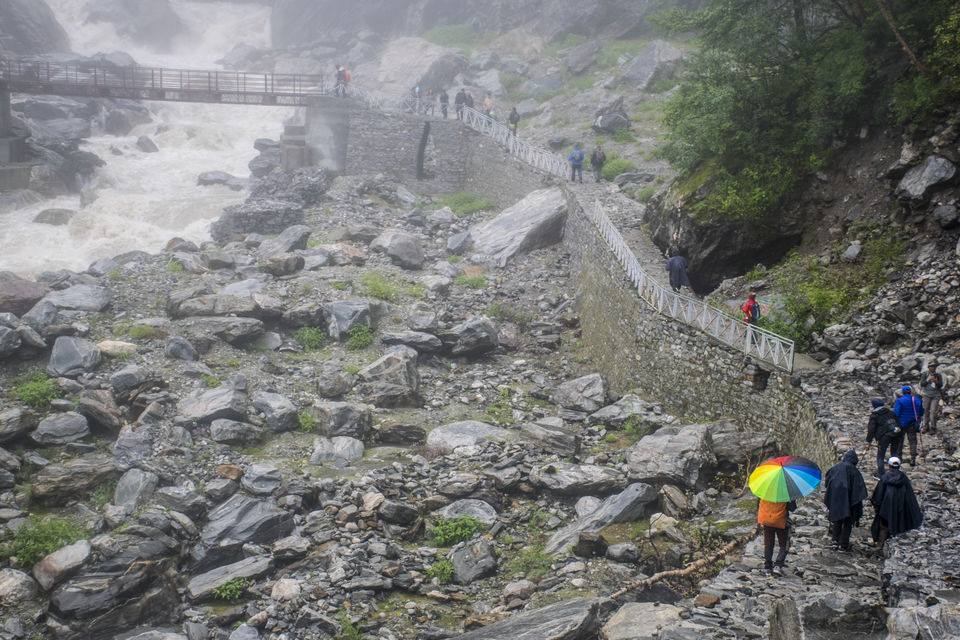 then you will cross the bridge over fierce flowing Pushpavati river. I took some photos and continued the trek within the mist following the steep narrow rocky mountain slopes. You came across numerous small streams on the way. You can refill your bottle from any of them. The variety of beautiful flowers adorned either side of the trail making it a spectacularly beautiful. Few hours of climbing, you reached a point from where the trail is almost flat.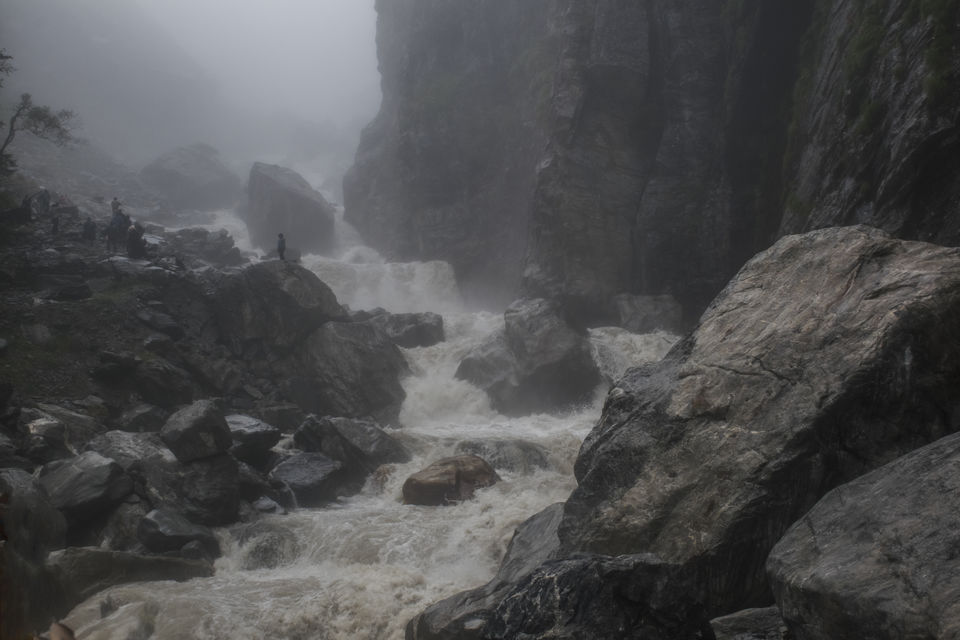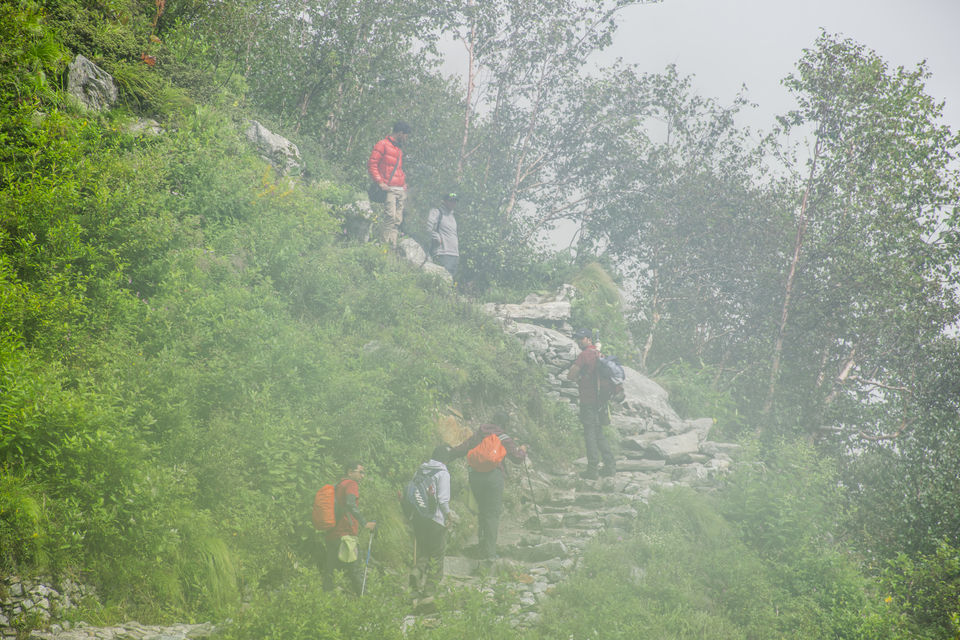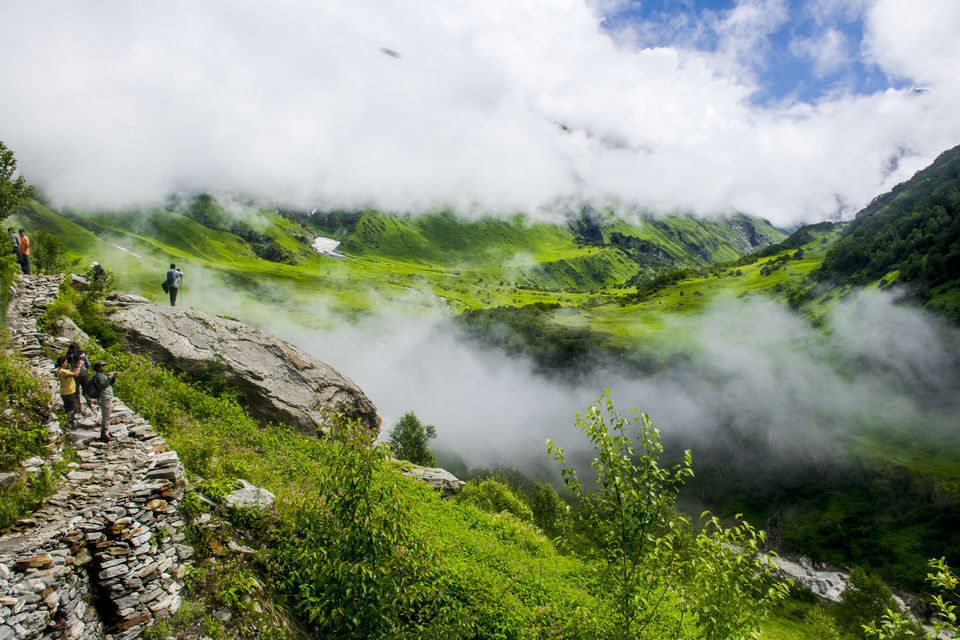 The weather started getting better by then. The fog was cleared. The sun started peeping out of the cloud.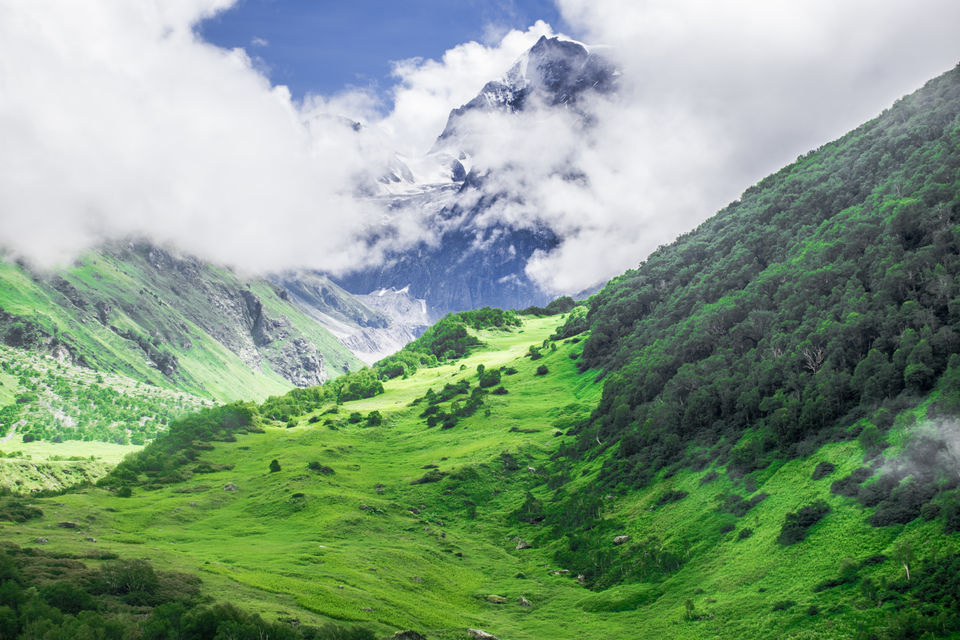 Mighty peaks were playing hide and seek with the cloud. The lush green valley with low hanging pretty clouds left you spellbound. We went ahead traversing a small stream and came across another bridge on river Pushpavati and finally reached the much-awaited Valley of Flowers. Most probably I was the last to reach the valley.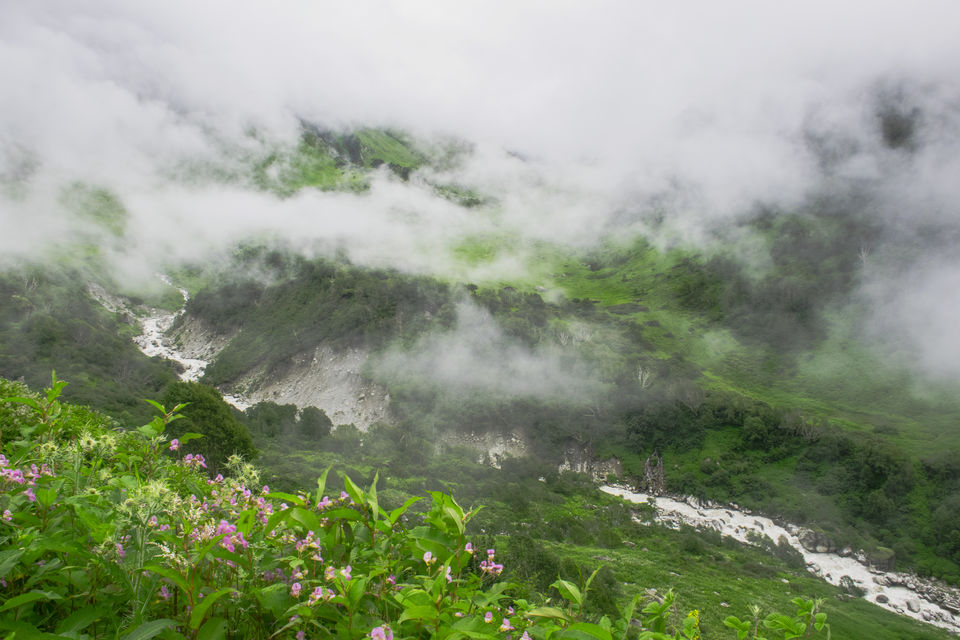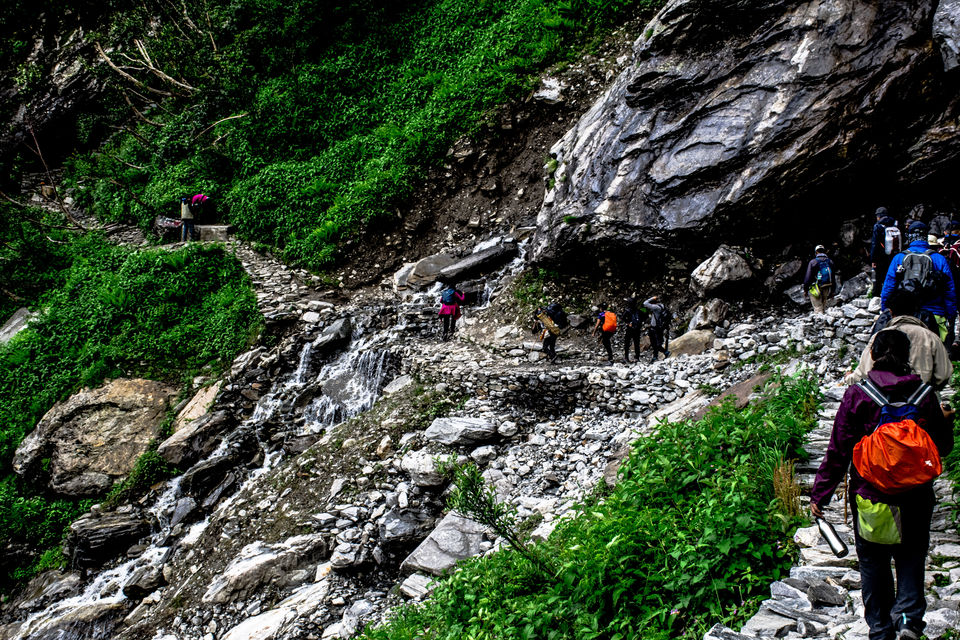 Valley of flowers :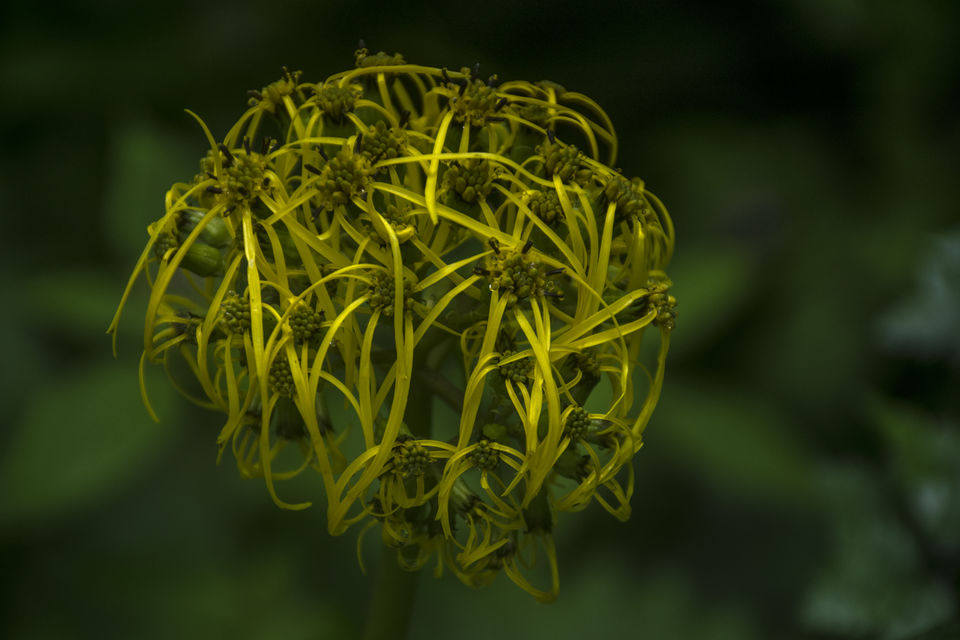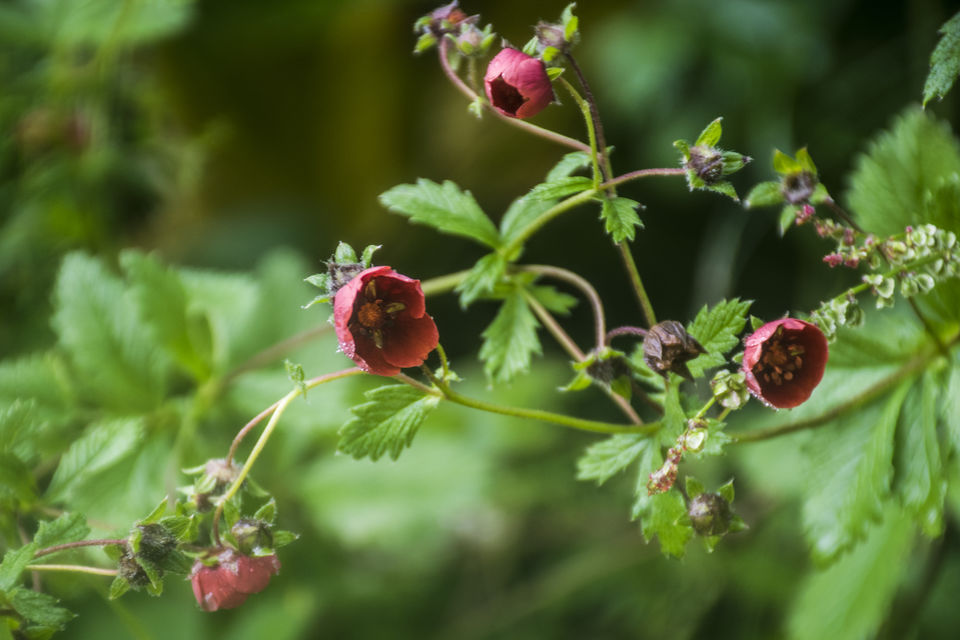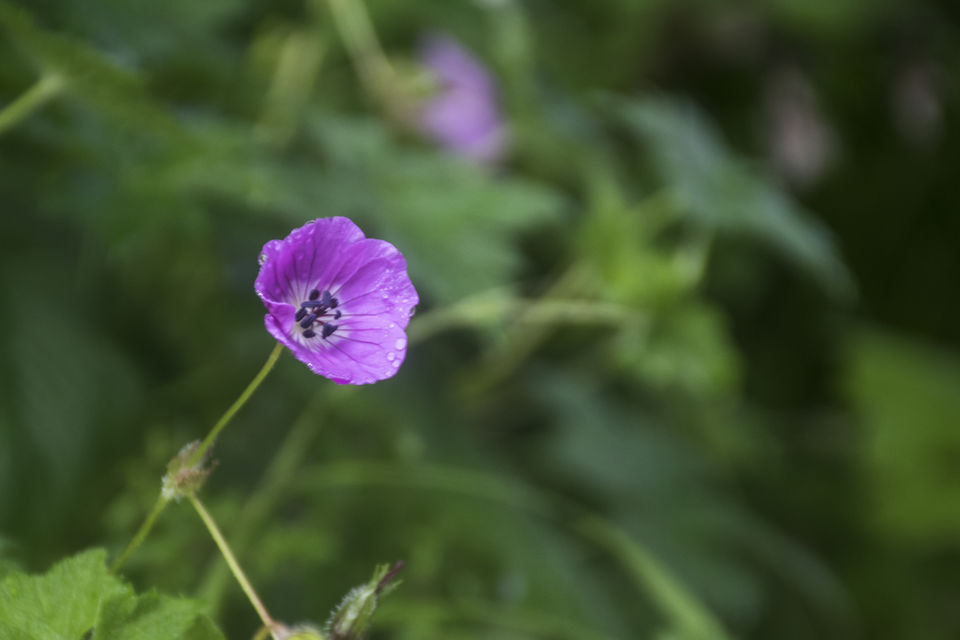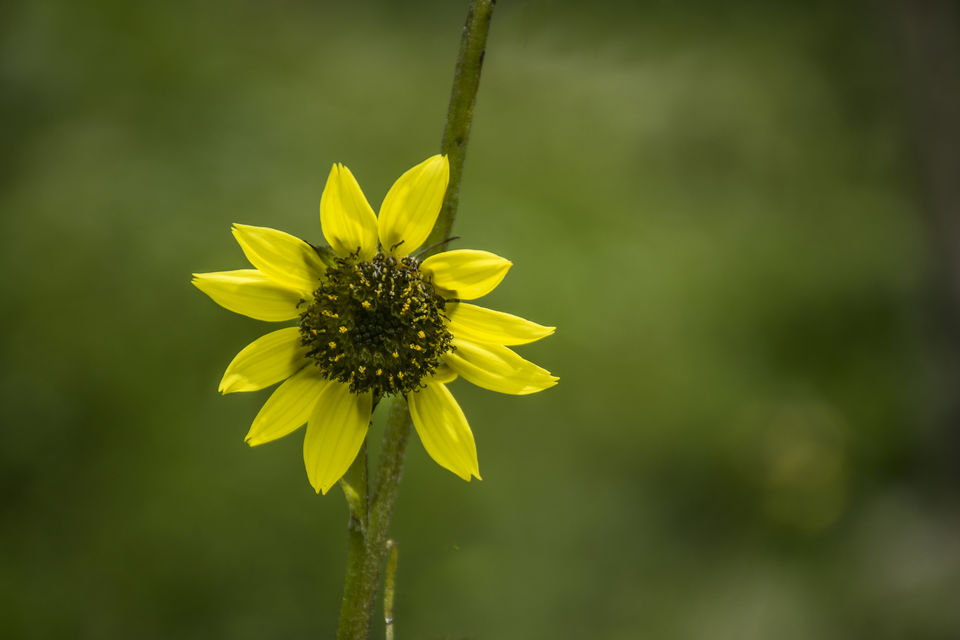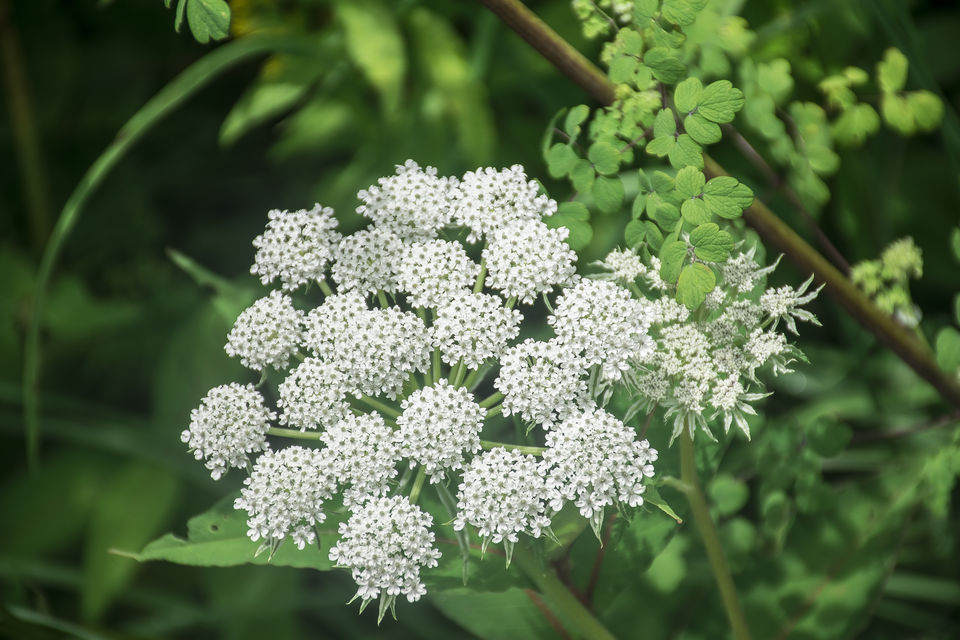 The Valley of Flowers National Park is a high altitude Himalayan valley located in Chamoli Garhwal. It was declared as the national park in the year 1982 and it is now a World Heritage Site. It is part of the Nanda Devi Biosphere Reserve. At the meeting point of the Himalayan ranges, Zanskar and Western and Eastern Himalayas, the valley of flowers discovered by Mountaineer Frank S Smith in 1931. It opens at 7 a.m. and closes to 5 p.m. daily. The camping is prohibited there. The last entry to the park is at 2 p.m.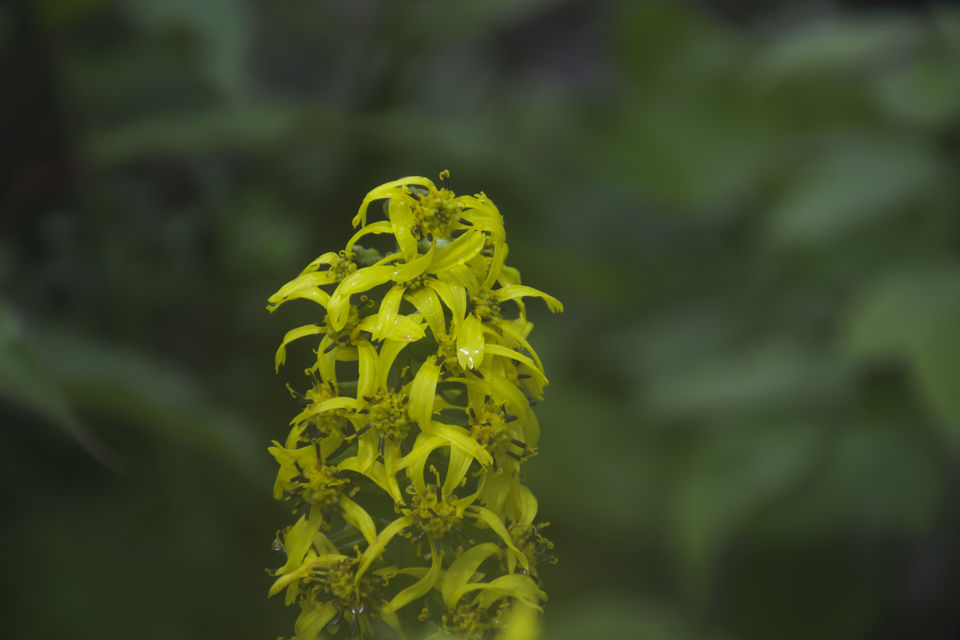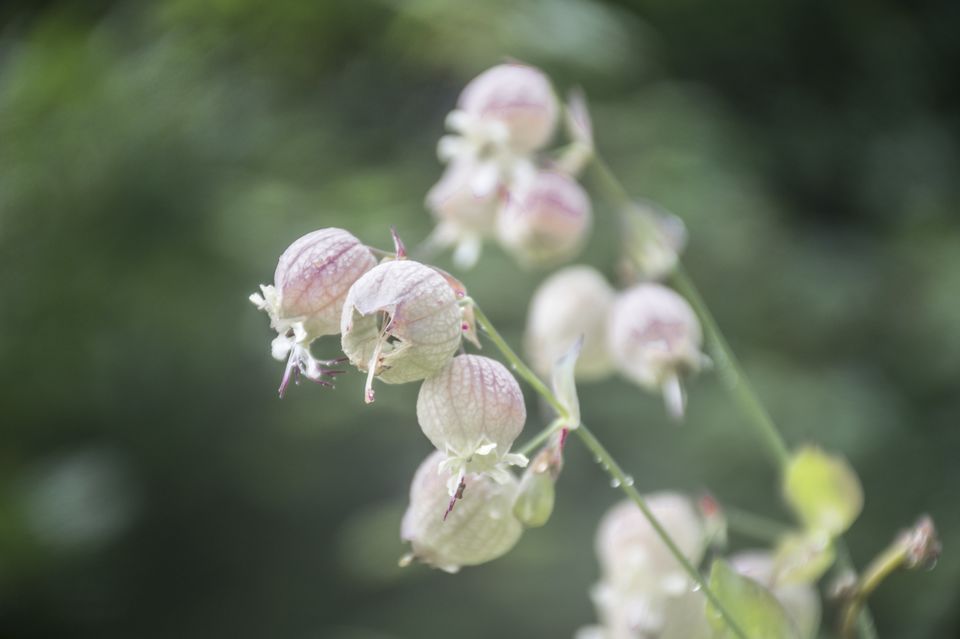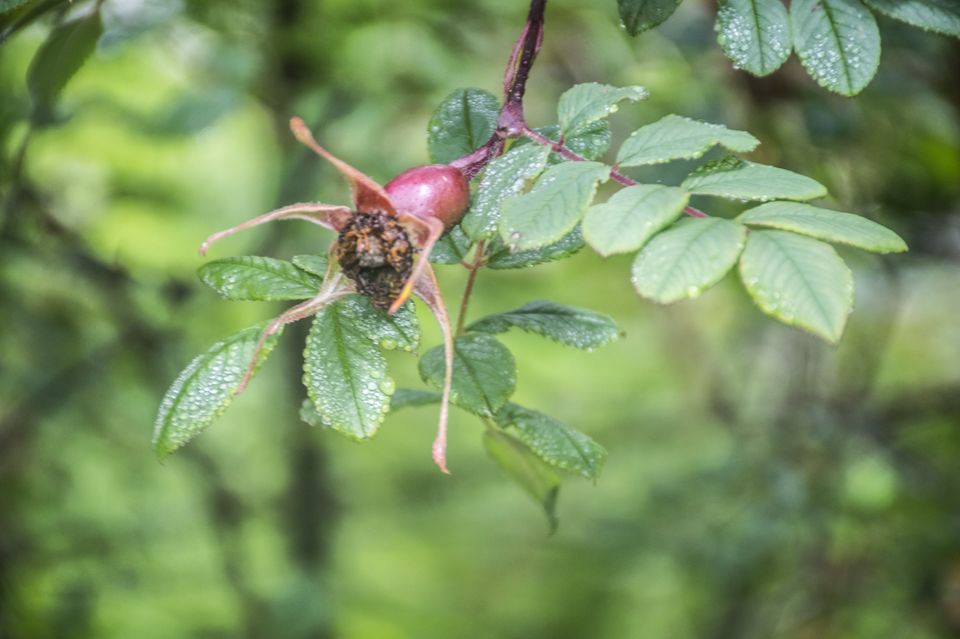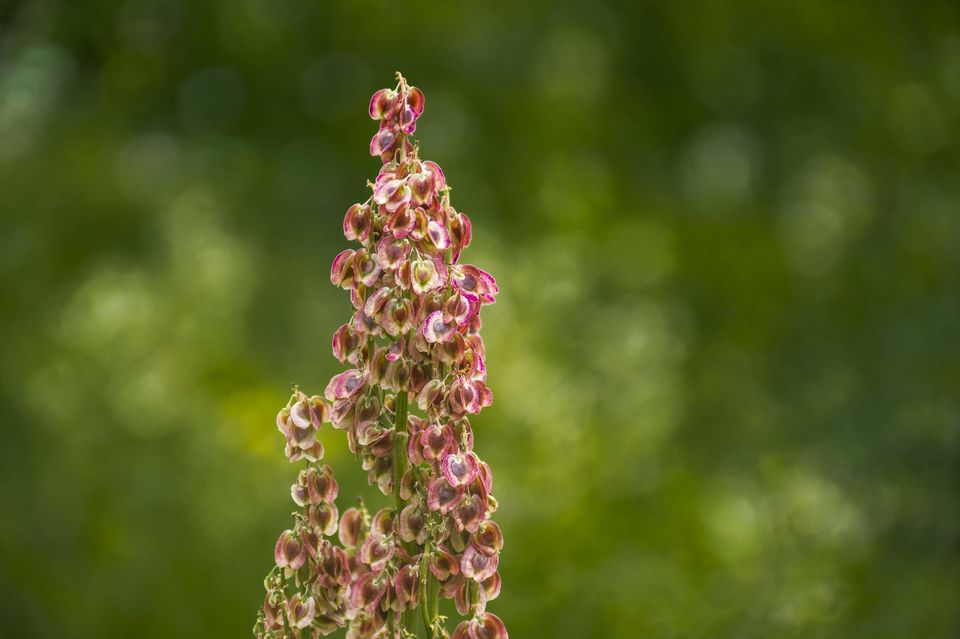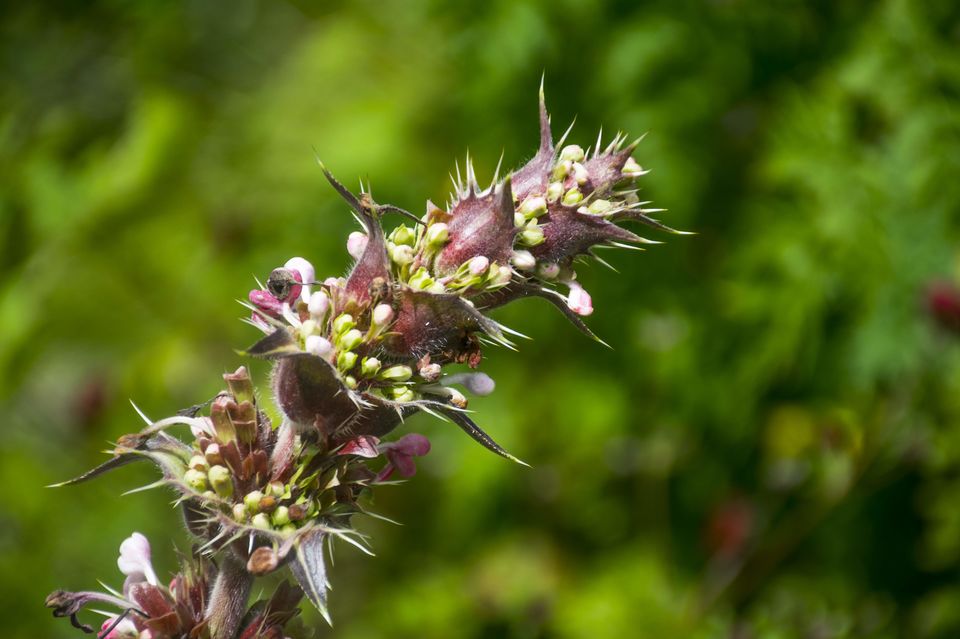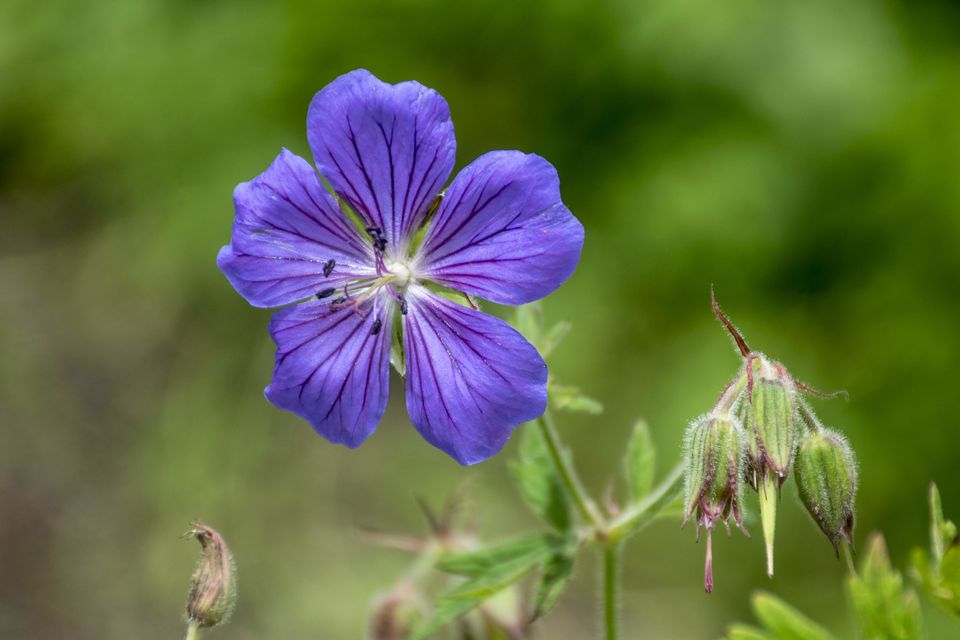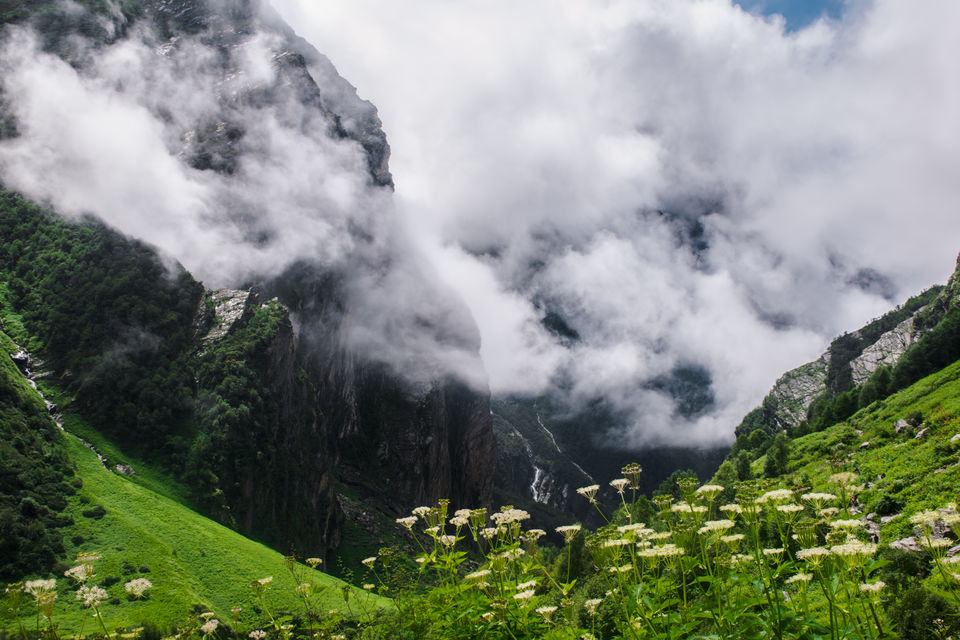 The entire valley is covered with full blooms of different colours – yellow, red, blue and pink. Himalayan Fleece flower, Geranium, Epilobium Latiflolium, Himalayan knotweed, Cobra Lili, Spinach dock(Common sorreal), jacob's ladder, bhutkesi, Fernleaf milk Parsley lingularia and many more. The weather was perfect. The cool bridge was blowing. The cloud was floating over the valley gives it a mystic look. There were a few large rocks scattered around the valley.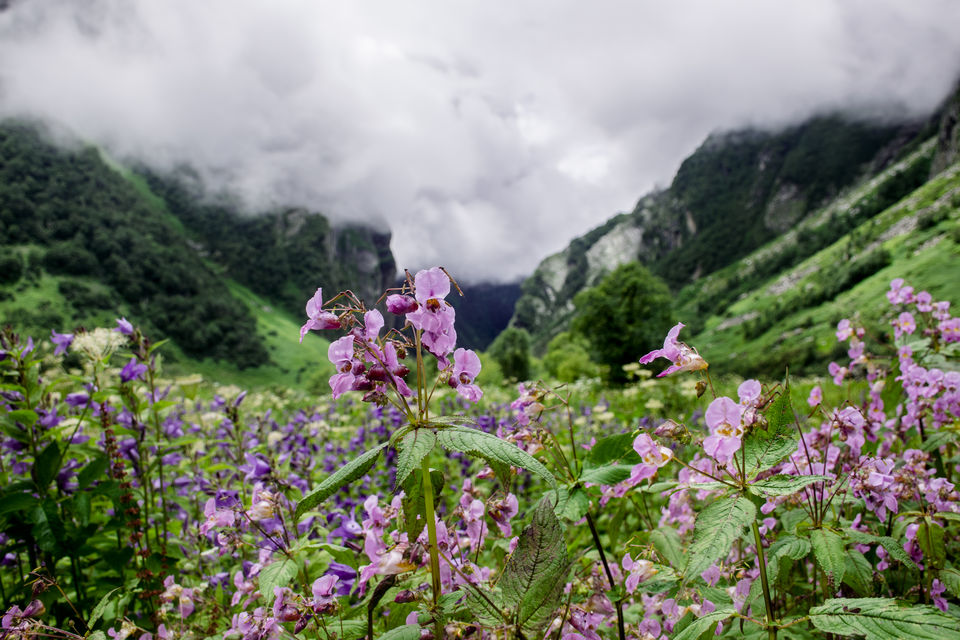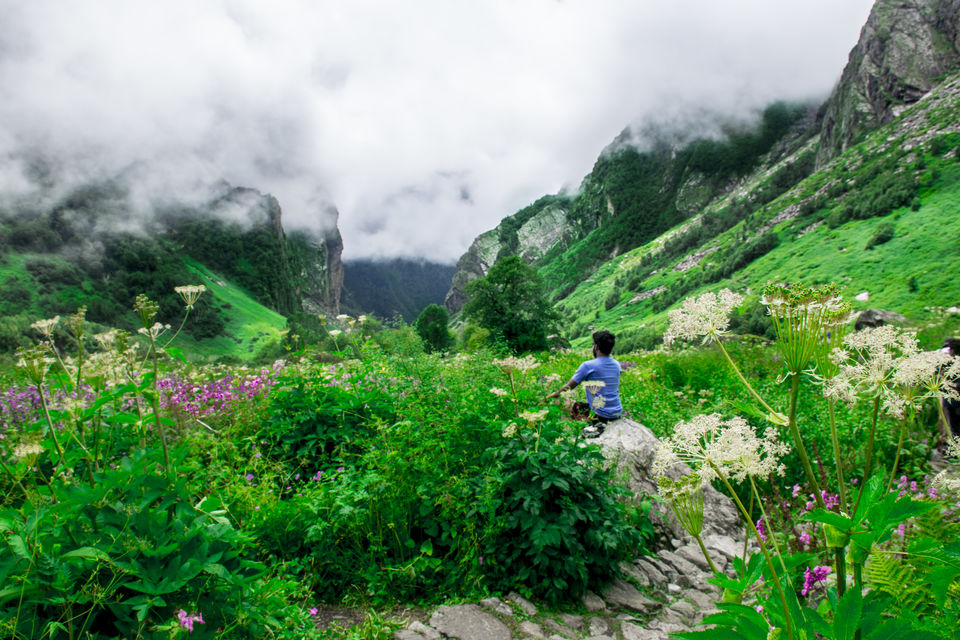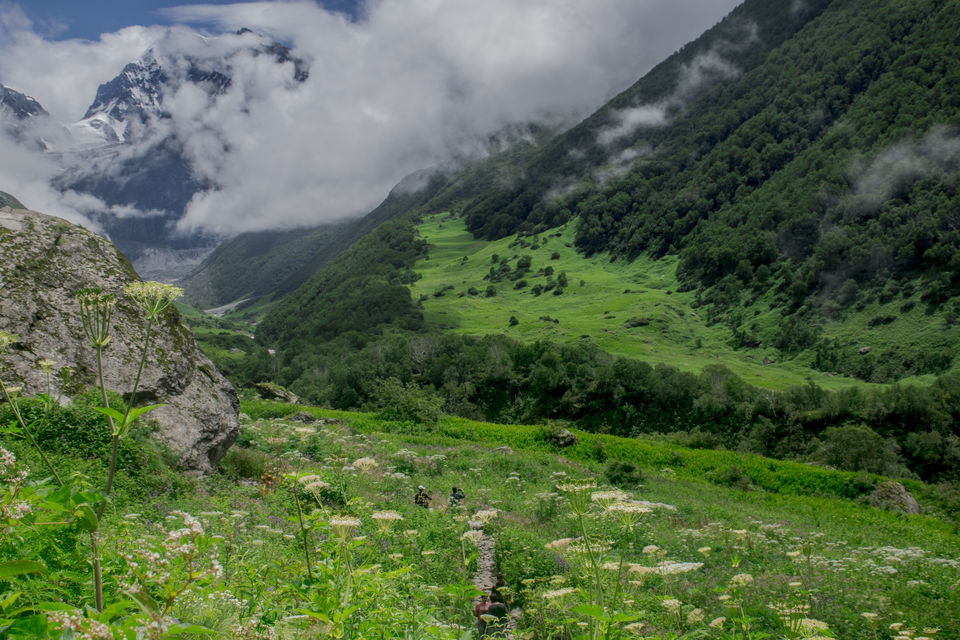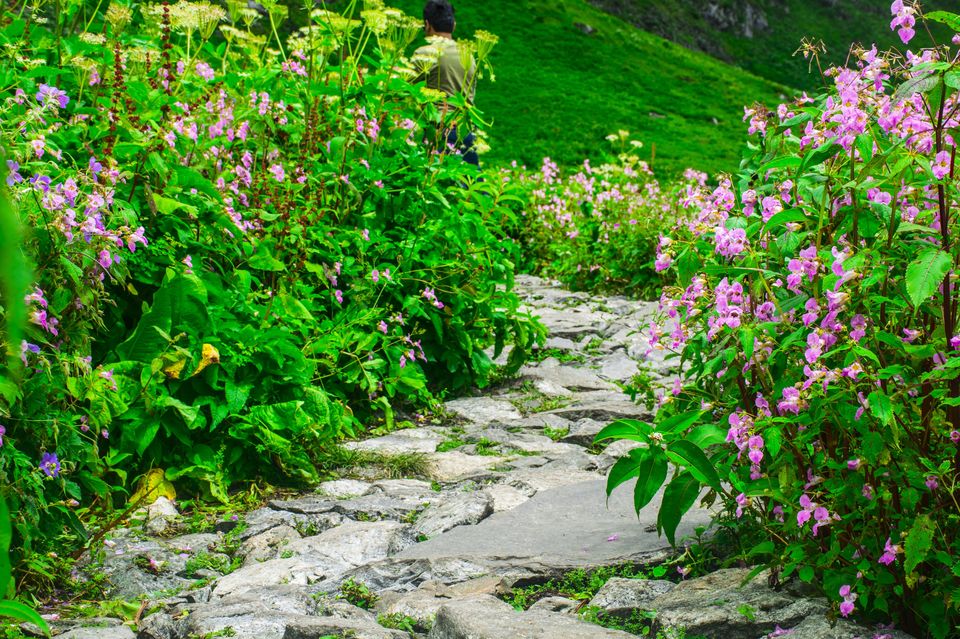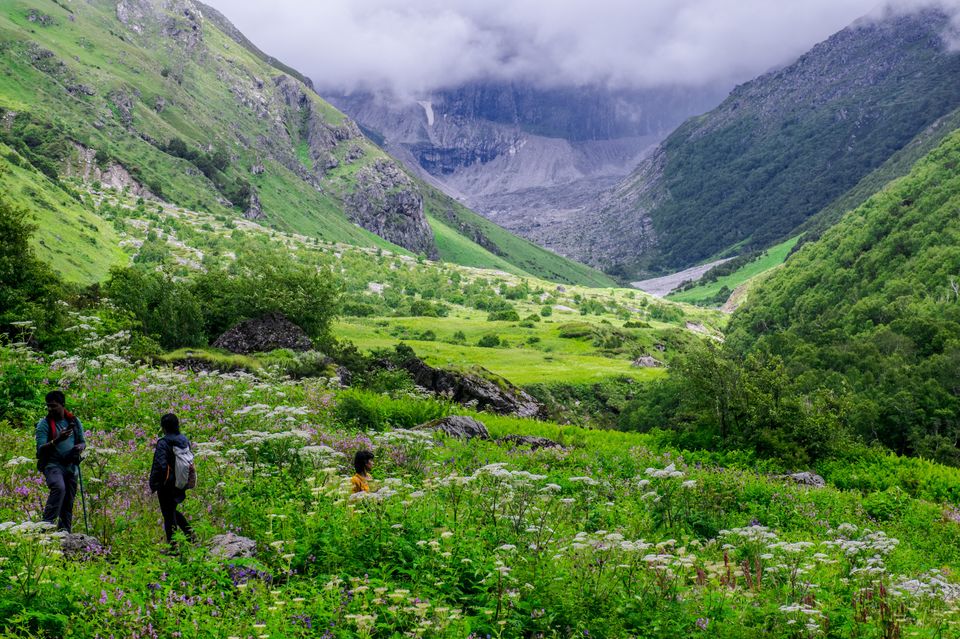 The people seating over all those rocks were enjoying the beauty of nature. The view was mesmerizing. After spending a few hours and having our packed lunch we started coming down the trail. The return trek was not easy. It developed a pressure upon the knees. However, I managed to climb down as early as possible.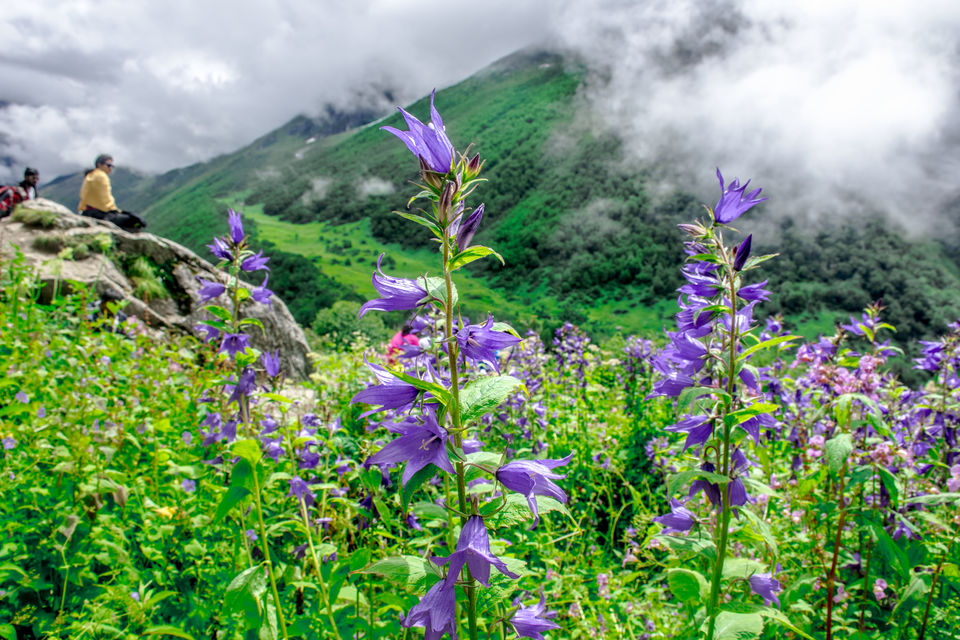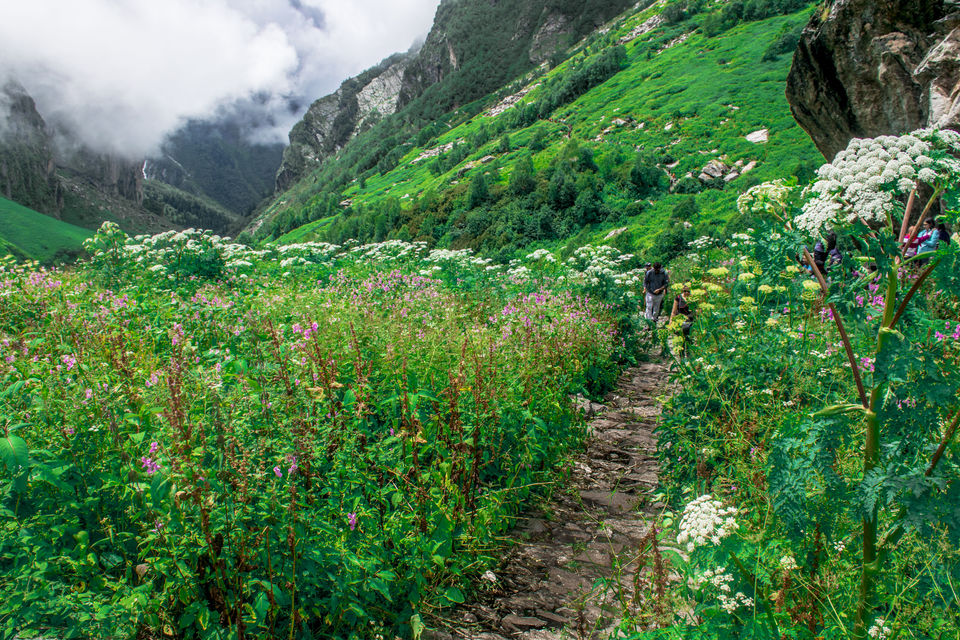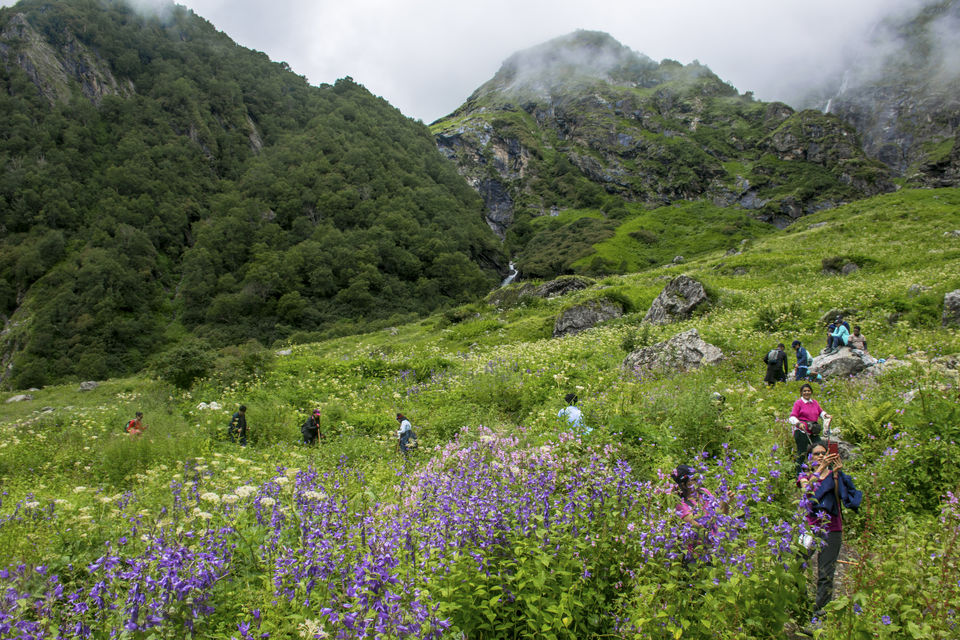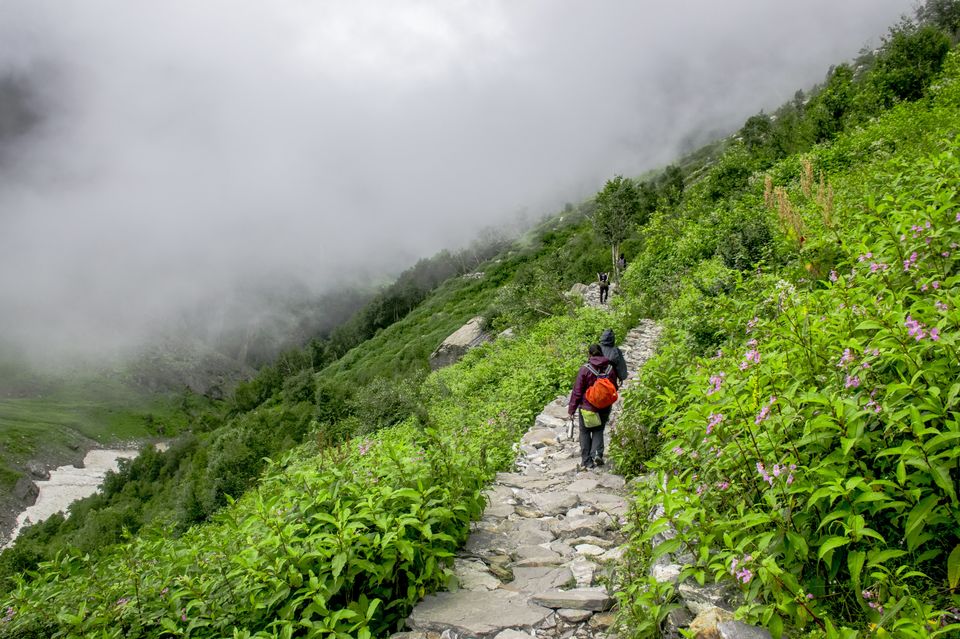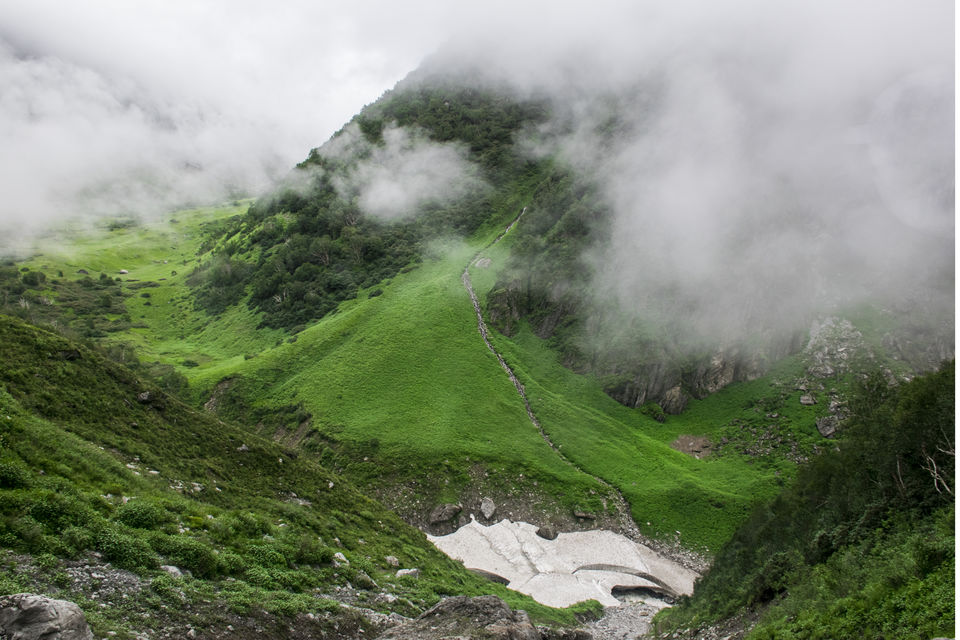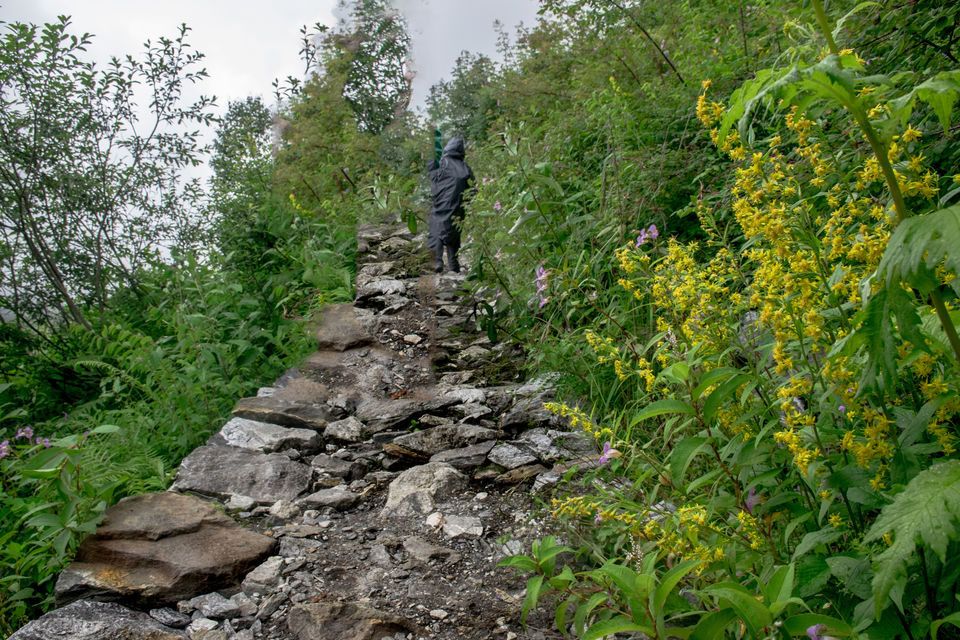 When we reached near the first bridge over Pushpavati river, it started drizzling and we continued the rest of the journey through the drizzle.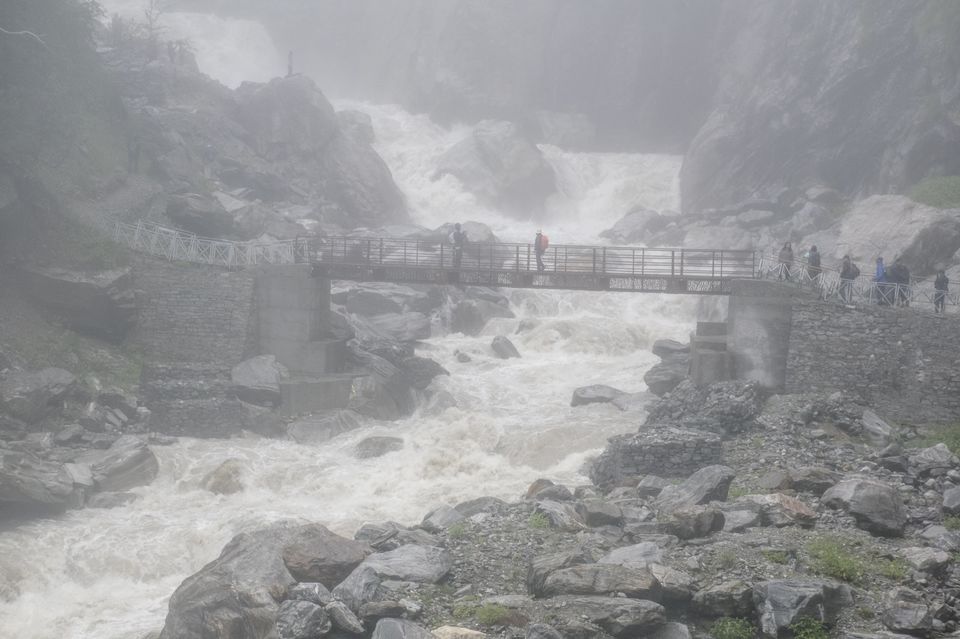 We reached the lodge by 4.30 pm. After having snacks and hot tea, we attended a brief pranayam session conducted by our TL. Our trek leader, being a yoga practitioner and yoga trainer, always kept us showing different yoga poses to ease our pain. You can have a foot massage here at a height of 10,000ft. to reduce your pain. We were served dinner with rice, dal, lauki ke sabji along with semui by 7.30 pm. Today after dinner we all played a round of cards to pass the time.
Day 4 : Ghanghari ( 9,600 ft.) to Hemkund Saheb (14,107 ft.)
The next day was Independence Day. A small flag hoisting ceremony was observed in our settlement. We took early breakfast and went to visit the highest Gurudwara – Hemkund Saheb.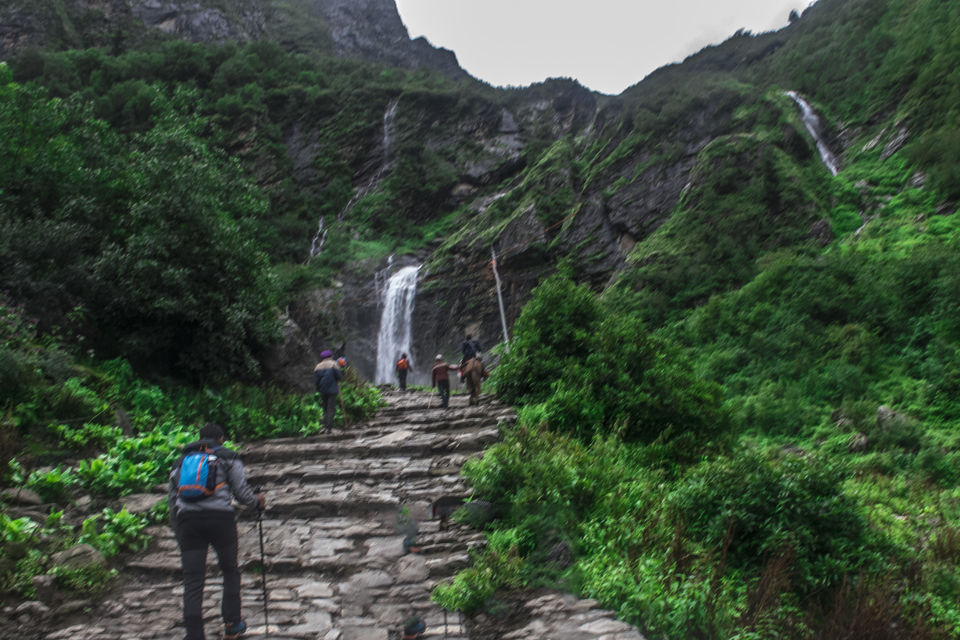 That day I was totally exhausted, my legs were paining. I opted for horse riding. The weather was beautiful. the blue sky with white fluffy clouds, lush green mountains, small waterfalls here and there and shining glaciers made the journey mesmerizing. The trail was steep but it was well paved.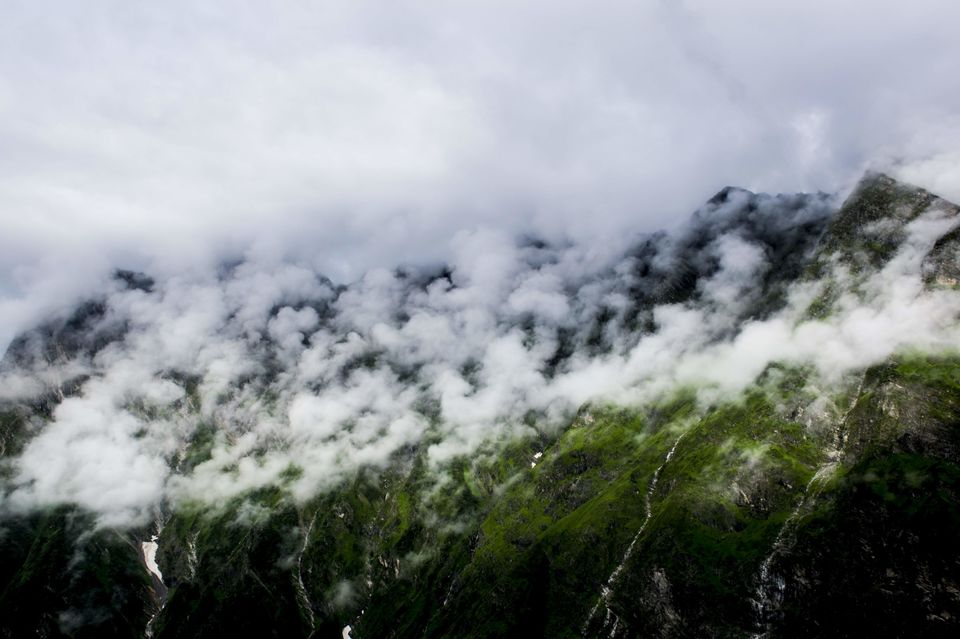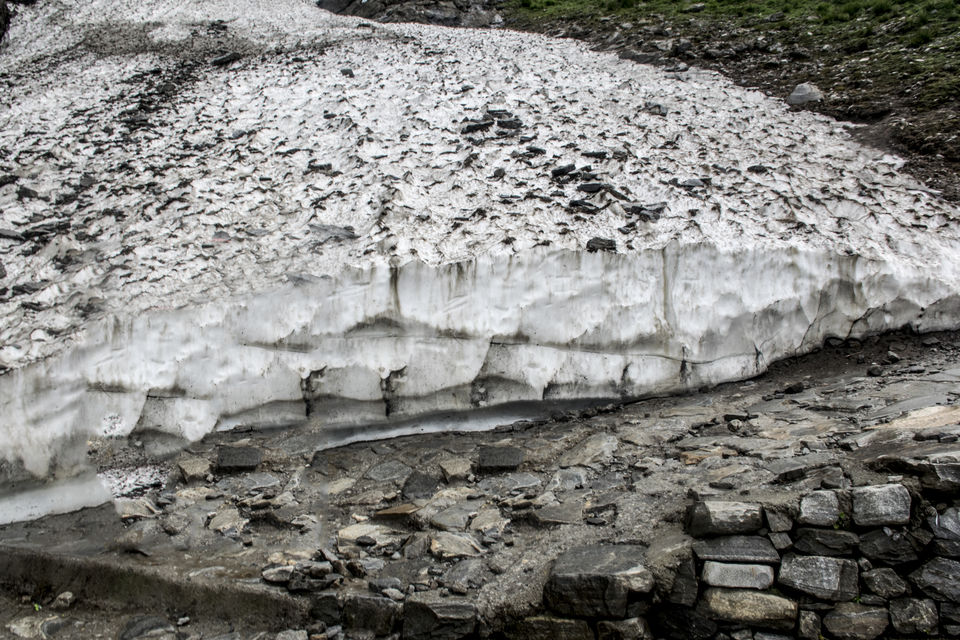 After the glacier, there are two paths one is through climbing around 1000 steps and another is a relatively straight path which most of the trekkers, pilgrims and horses follow.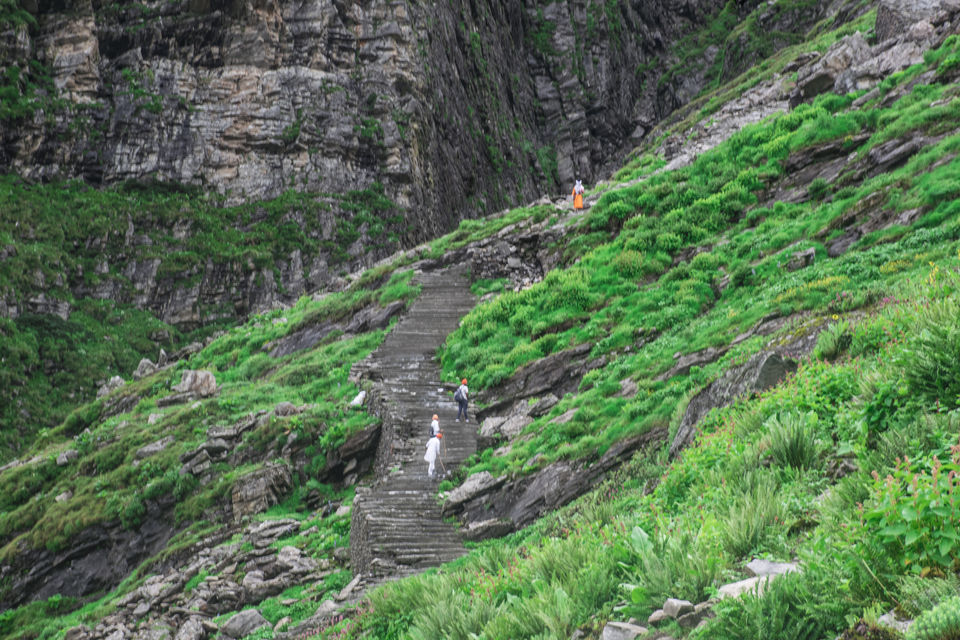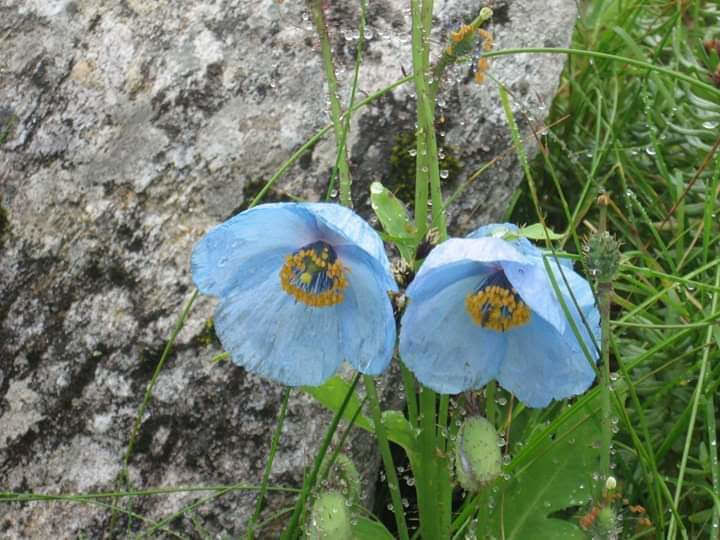 As you climbed, on the way one can witness abundance Brahmakamal and pretty Blue poppy flowers. After reaching the top, I went straight to visit Gurudwara.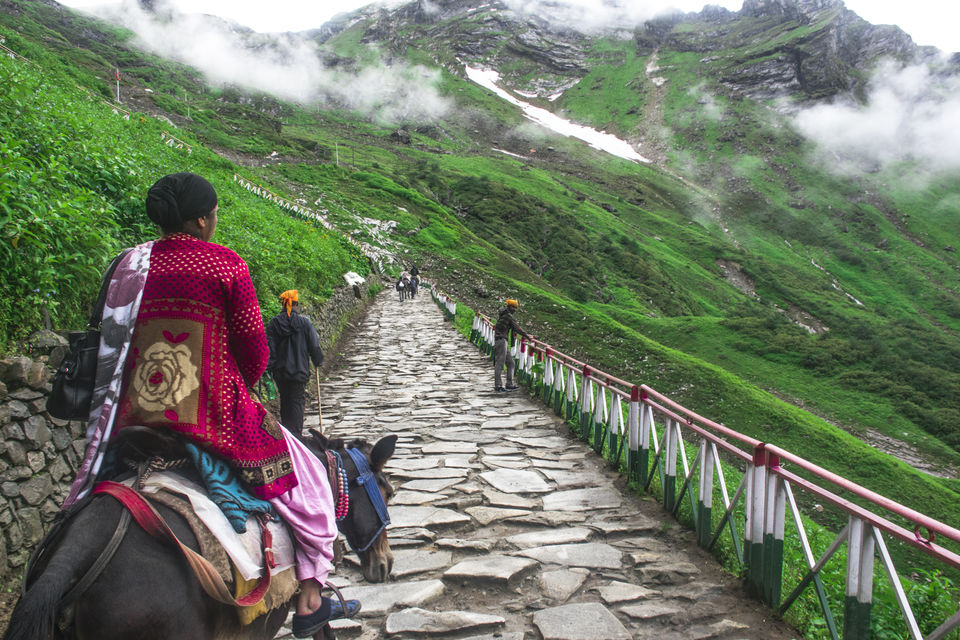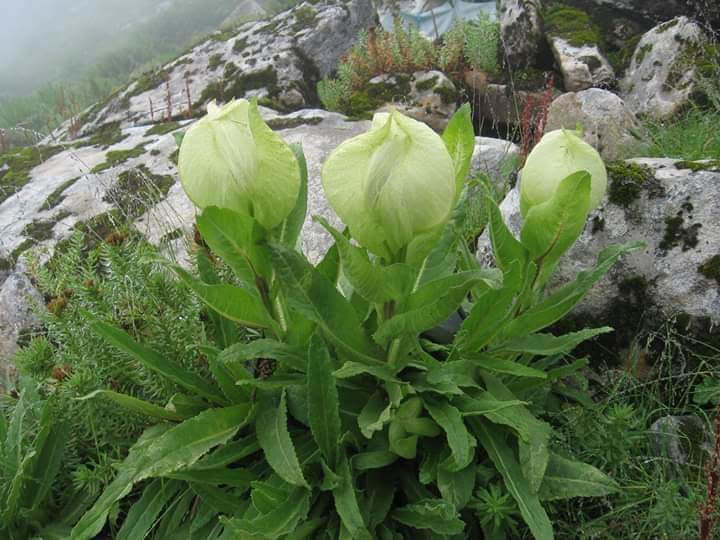 Hemkund Saheb :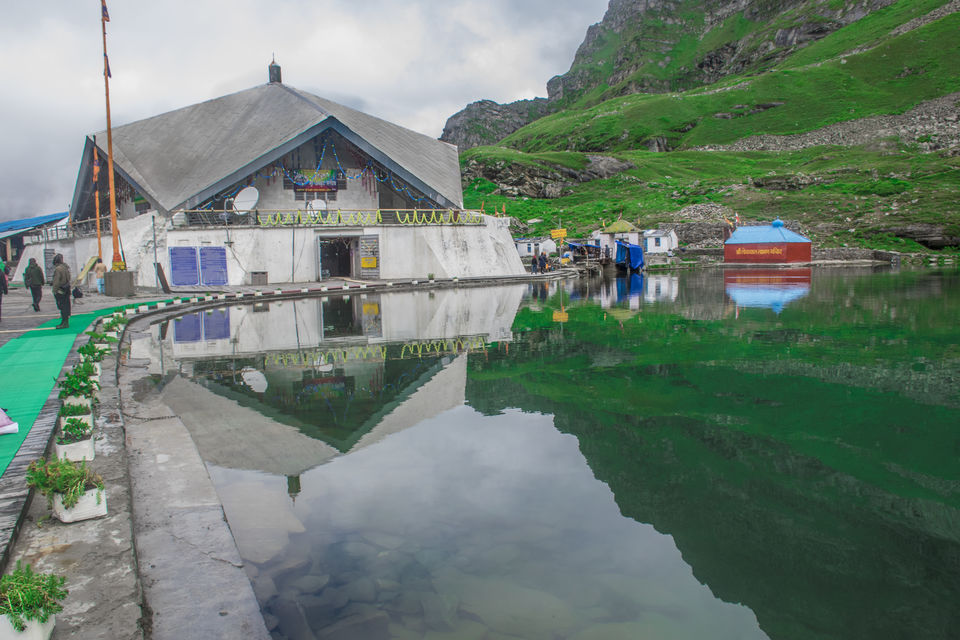 There is a small lake just behind the gurudwara which is fed by the glaciers. The lake and the gurudwara are surrounded by lofty snow-covered mountains. The water of the lake is crystal clear and you can get the reflection of the mountains surrounding it but it's freezing cold.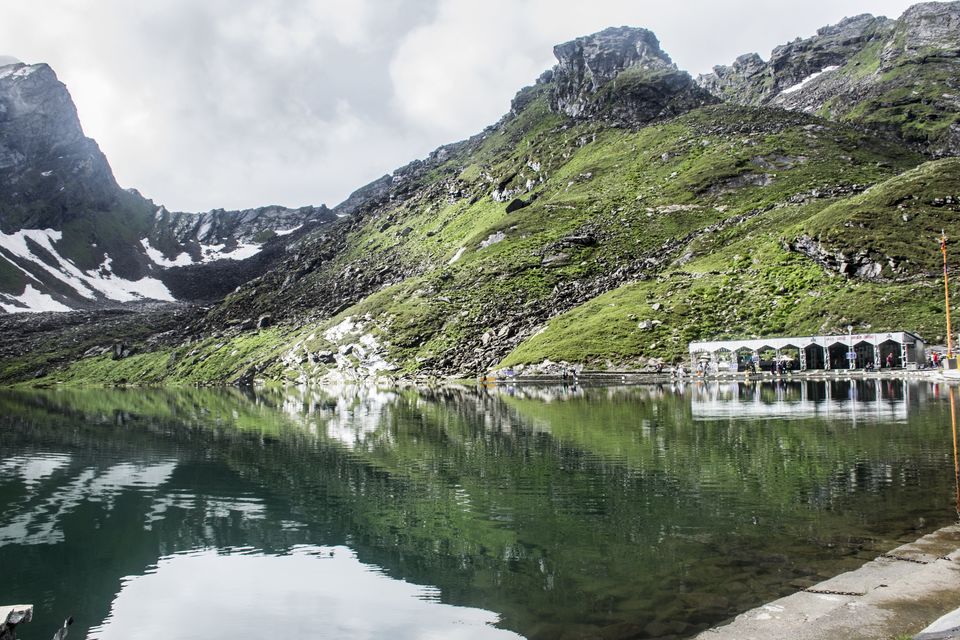 There is a shoe stand where you can keep your shoes for free and other belongings except mobile purse and camera, if you want. I kept my shoes there and dip my toes in the chill water of Hemkund Saheb. It was amazing. I took some holy water in a bottle. Then I started roaming the entire place in barefoot. I went to the inside where Sikh devotees listening to the holy chants. It was so calm and peaceful place.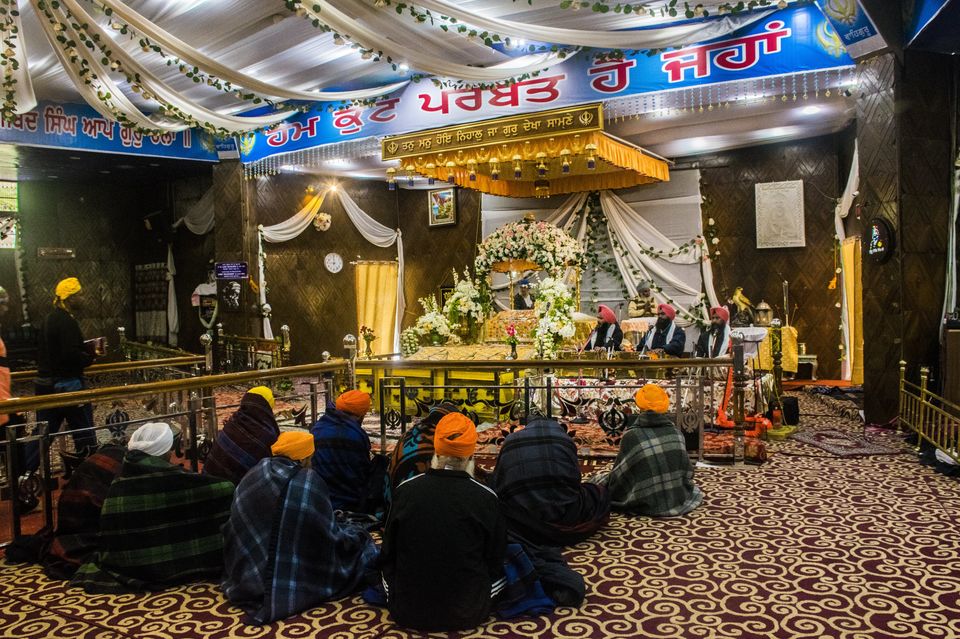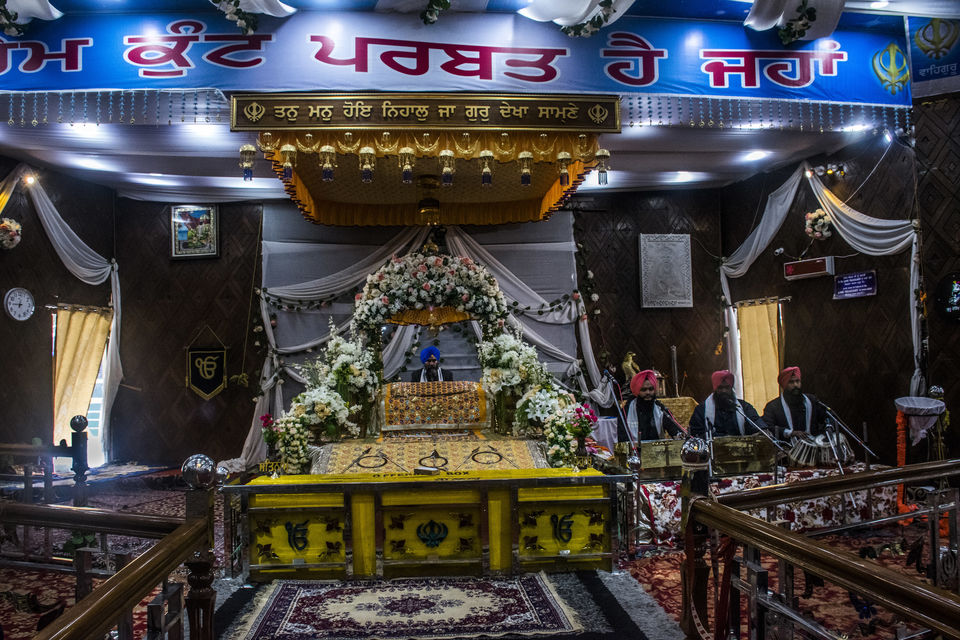 After spending some time there, I went to Langarkhana and have some delicious Dal- Khichri and hot tea. There is a Lakshman temple near the Gurudwara. It is said that the younger brother of Ram was penanced there.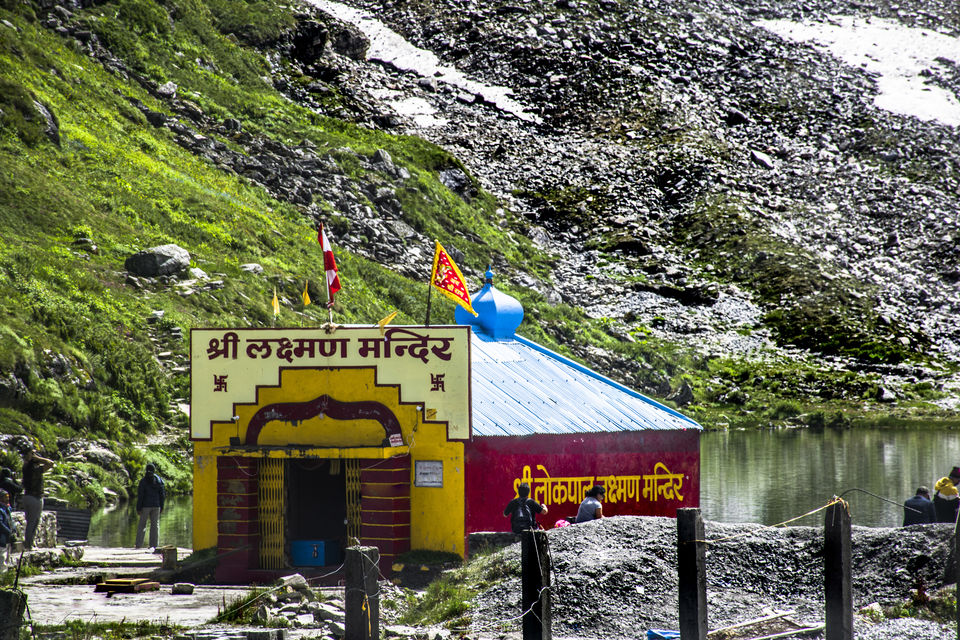 The weather started getting worse by then. The sun disappeared. The cloud covered the entire gurudwara and pond totally by 10.30am.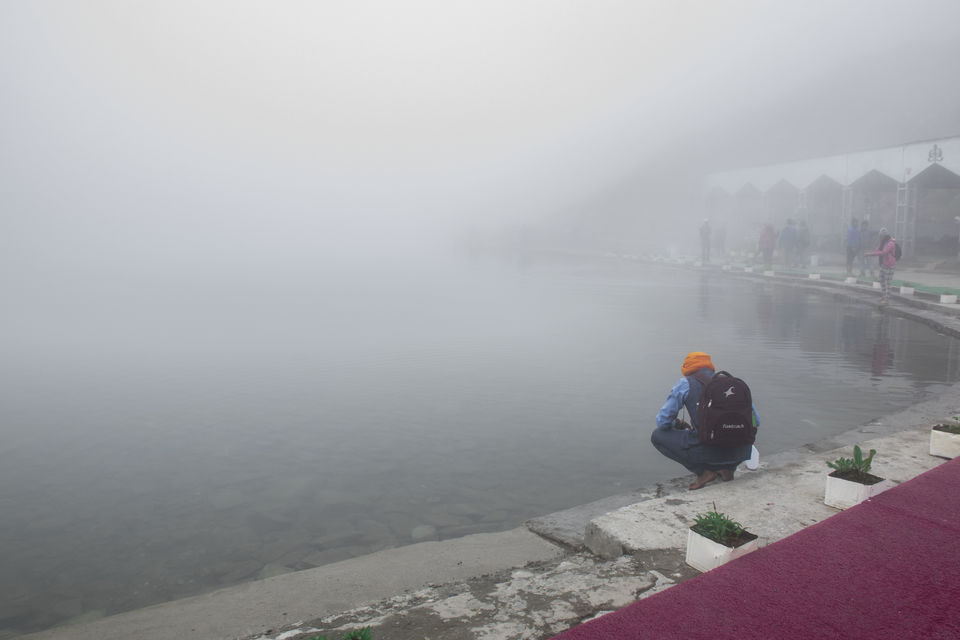 I was waiting there for my fellow trekkers who reached by 1 pm. Halua distributoin was started by 1.30 pm. We all had the delicious halua. After some time it started pouring. So, we all started our return journey amidst rain and reached the lodge by 4 p.m.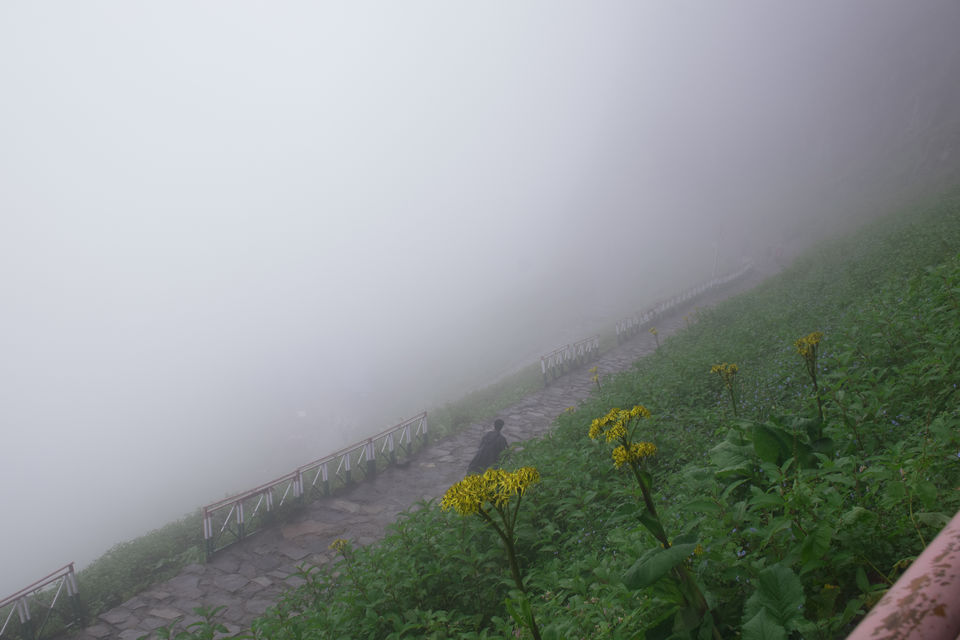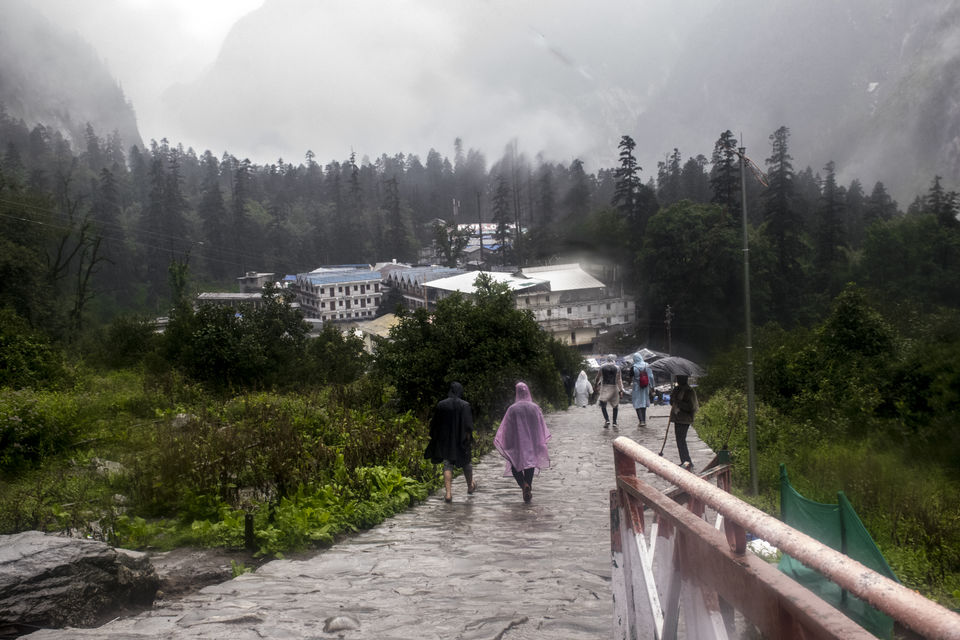 That day, we all went to a local sweets shop just in front of Ghangharia Gurudwara to satiate our test -bud with some sweets -Gulab Jamoon and jalebi.
After having sumptuous dinner, we had played a few rounds of cards before retiring to bed.
Day 5 : Ghangharia to Govindghat
That day after breakfast, we started return journey to Govinghat. The weather was good. There was no rain at all. Trail was almost empty.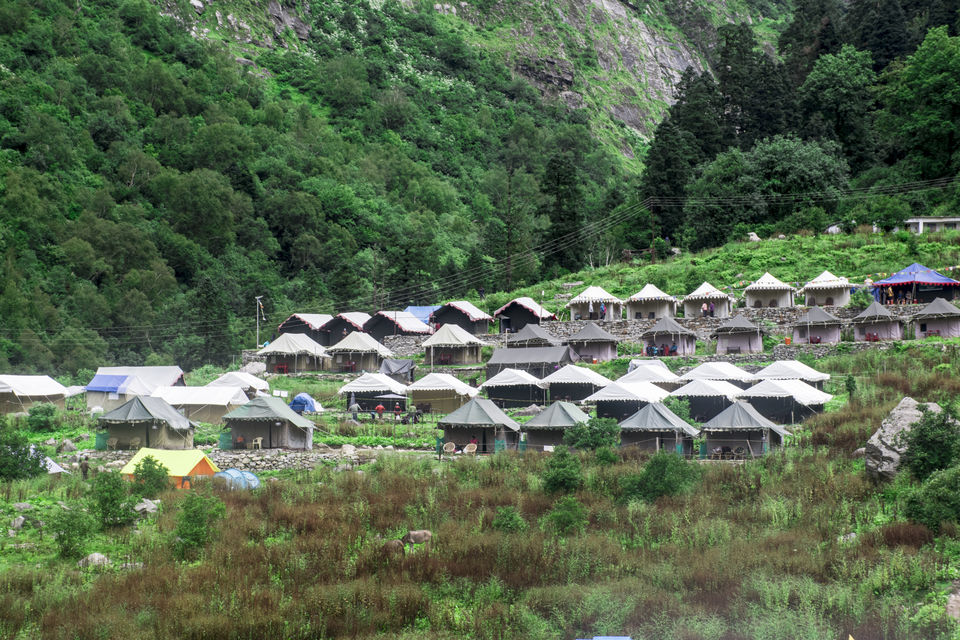 We reached Govindhat by 2 pm. The trek was finished but not the trip. We all had decided to visit Badrinath and Mana village – the last Indian village. So post lunch, we started our journey. After a while, the Mana team joined us in the temple.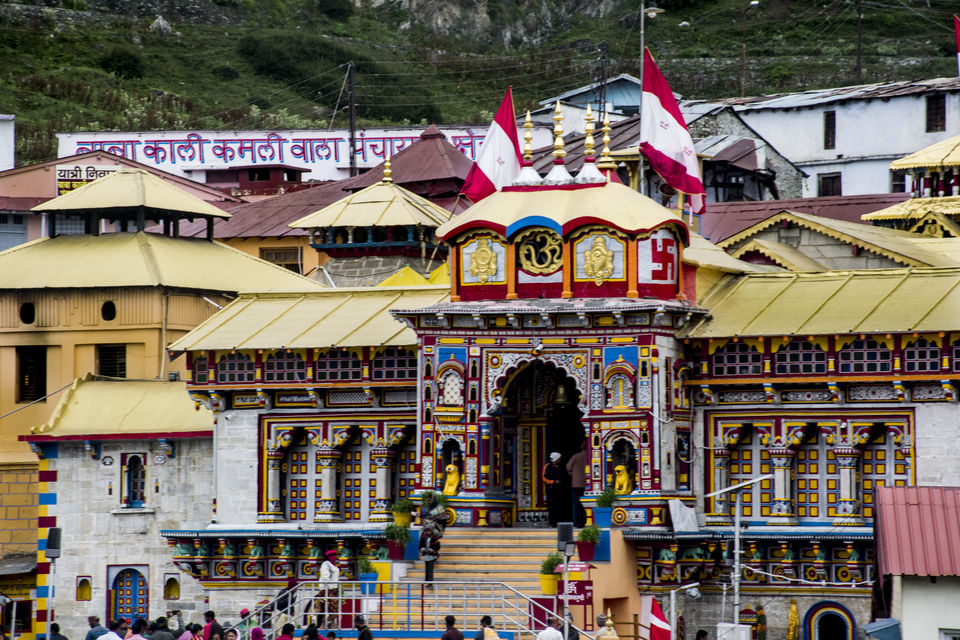 After spending some time, we all back to Govindghat following the same route. That was the last day of the trip. We had our last sumptuous dinner at Govind ghat. Indiahikes really fed us well. Variety in food was also seen. Hot water was readily available. Kudos to Indiahikes team.
Day 6 : Govindghat to Dehradun railway station
We started as early as 5 a.m. in the morning as some of us including me had to catch train that night. On the way, we came across a number of land slide zones and kept waiting to clear the road. We reached Dehradun railway station by 8.30pm.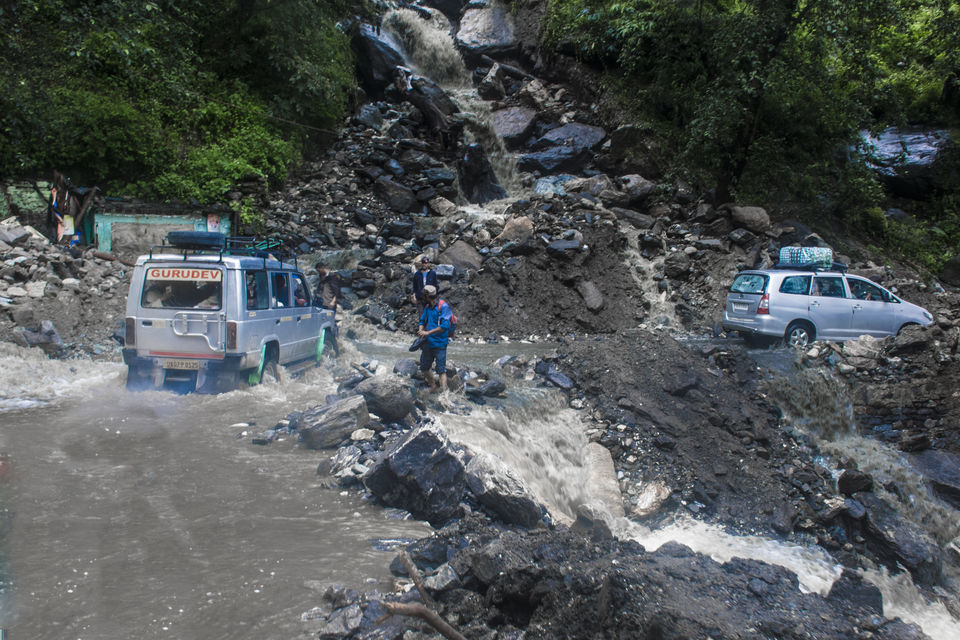 Trekking with Indiahikes was a great experience. I back home with lots of happy and unforgettable memories.
Trek Details :
The duration of the trek -5 days
Highest Altitude – 14,100 feet
Level of difficulty : Although difficulty level is Easy to Moderate but I think trek is quite difficult mainly trek to Hemkund Saheb.
Best time to visit :
July and August
Vehicle fare details :
Dehradun to Gobindghat – Rs 6,500 / – one way per vehicle (Sumo type) Rs 9,500 / – one way (Tempo Traveler) .
The Route from Rishikesh
Rishikesh-Devaprayag-Srinagar-Rudraprayag-Karnaprayag-Nandaprayag-Chamoli-Pipalkoti-Joshimath-Govind Ghat
The nearest airport is in Dehradun, 295 kilometers away. The nearest railway station is in Haridwar, 276 kilometers away.